One of the big advantages touted of the Canon 40D is the autofocus. While one can get a
"feel"
for how fast/accurate focus is, it's difficult to measure objectively without specialized equipment. I did some earlier
autofocus testing
with the 40D and a 70-300DO lens using a "target" of my son Kyle playing soccer. So when I obtained a
Canon 55-250 EF-S lens
, I was curious to see how well it did. Fortunately,
Superman Kyle
was willing to help out again! ;-)
These were shot hand-held in the early evening (sun was coming in & out of the clouds) on a 60° day There are two sets of pictures and the animated slide-show below shows the full-frame resized 20% and then the center of the frame resized 50% - both smart sharpened. Sorry about the jpeg artifacts, but in order to save bandwidth, they were saved in low quality. The settings for the first set of pictures was the full 250mm, F/5.6 (fastest that lens will go), ISO 800, and (mostly) 1/800 second. The second set was similar but ISO 1600 (clouds came over, and then sun pops out halfway through) but I unzoomed as Kyle got closer, so the focal length changes - i.e. a good test of the auto-focus in this situation. Auto White Balance and AI Servo Mode with Center Focus point only.
If you look closely at the grass, you'll notice this 40D and 55-250 combo has a little bit of back-focusing at further distances. However, given that, I thought the tracking was pretty darn decent. A more challenging test of the 40D AI Servo tracking would be a faster moving object such as car racing or bird in flight - the later can be especially difficult given the small relative size and more random motion. However, based on this test (and real life shooting such as a Dog/Coyote Battle and Ultimate Frisbee), I'm quite happy with the Canon 40D autofocus tracking and 55-250 lens.


Canon 40D Autofocus - Superman Kyle!
Watch in real time and use the controls to play, step, pause, slow-down, and speed-up the animation.
| | | | | |
| --- | --- | --- | --- | --- |
| | | Frame Rate | | ... loading images ... |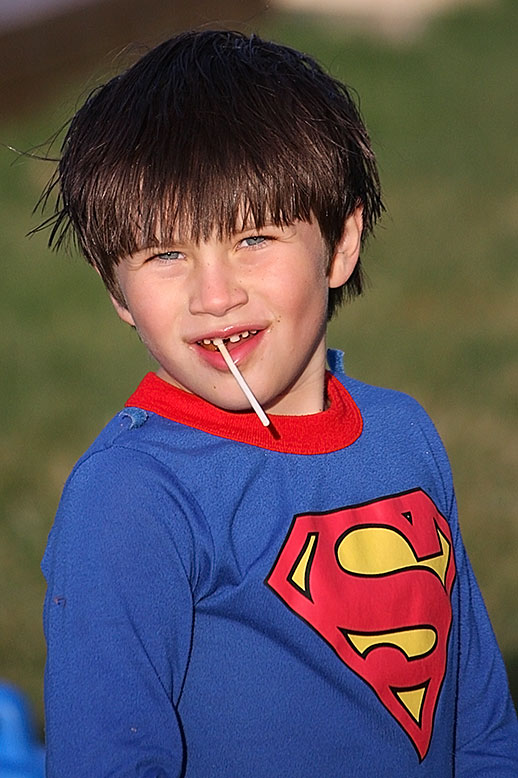 Superman Kyle enjoys a well-deserved lollipop after the AutoFocus Tracking Testing