Lights back on Web in flash
Geek who posted holiday hoax says this year it's real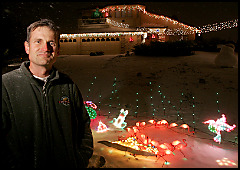 Joe Mahoney © News
Alek Komarnitsky stands outside his home in Lafayette. Komarnitsky got his 15 minutes of fame - and then some - last year when he claimed that anyone in the world with a computer and an Internet hookup could turn his Christmas lights display on and off. However, it was fake. He promises this year's display is legitimate.
Despite the dismay of at least one Web site watchdog, the chagrin of a local TV station and the moral indignation of the august
New York Times
, Alek Komarnitsky wants to make one thing clear: He is not the Geek Who Stole Christmas.
Actually, he's the geek who tried to lend the holiday a mischievous sparkle.
And what's more - hold onto your jingle bells - he's baaaaack.
Komarnitsky, a 42-year-old self-professed "computer geek" from Lafayette got his 15 minutes of fame - and then some - last year when he claimed that anyone in the world with a computer and an Internet hookup could turn his somewhat garish, wholly wacky 17,000-strong outdoor Christmas lights display on and off merely upon a whim.
Actually, the guy who is labeled by his wife as "extremely generous and caring, but very eccentric," had been making that same claim on the Internet for the two previous yuletides, as well, a claim that earned his rambling, sprawling Web site 100,000 hits in 2002 and 400,000 hits in 2003.
Ah, but those numbers were mere nibbles compared to what happened in 2004 when a story on Komarnitsky ran in the Boulder Daily Camera, got picked up by the Associated Press, and became the chum in a media feeding frenzy that had Komarnitsky (OK, let's call him AK from now on) being gobbled up by international, national and local media outlets.
Maybe the most fun of all was getting a free ride in Denver's 7's "Skytracker" helicopter, which provided viewers with an aerial view of AK's lights going on and off like winter fireflies, while the man who had orchestrated it all chatted effortlessly with the station's news anchors. Not bad for a military brat whose family had moved 11 times in 20 years - once to Taiwan - and who was such a reclusive book nerd as an 11-year-old that his worried mother once told him half-seriously in frustration, "Don't come home unless you bring a friend with you."
Before the month of December was out, the grown-up AK had a lot of new cyber friends. That is to say, his Web site had been overrun with 4.3 million hits. Turning on and off AK's Christmas lights from afar was apparently big fun, it was fabulous, it was free-form.
It was also fake.
Caution: Man-child at play
Recently, sitting in his home office, AK looses a smile halfway between sheepish and defiant, and says, "Why did I do it? I don't have a good answer, really, except that it was just kind of fun." Or, as media star AK was quoted in the Jan. 10 Time, "I figured I could provide some holiday cheer to folks."
What he certainly didn't figure was the speed at which the hoax "had gotten out of control . . . the frenzy of the media was intense."
Probably too intense for any novice, but certainly for an easy-going man-child computer whiz. After all, once when making conversation at a party, Wendy Komarnitsky - AK's wife - observed, "I have three boys at home: 4, 7 and 42."
Indeed, the best way to describe the enthusiasm with which AK talks about last year's Web scam and this year's version - which he promises is legitimate - is "boyishly manic." Ask him a specific question and you will not get a concise answer. What you will get are great sheets of conversation, segues to tangents, geekspeak and, eventually, an answer.
Not that he is evasive. As he says, in the middle of a rambling digression that encompasses the number of lights (this year it's 26,000), the power the lights consume ("Sixty amps. . . that frickin' rocks!") and the cost of said power ("Close to $200."), sometimes "My brain is thinking ahead of my mouth."
What his brain was thinking of last year was a way to run what he saw as a "good, clean, fun hoax."
What he came up with were 32 high-resolution digital photographs. They were divided into four different sets, each showing the lights in various states of off-and-on, with varying amounts of snow on the ground. A complex program - which he devised with a friend - would broadcast the appropriate set, depending on the weather.
AK also added other digital touches, such as automobiles occasionally driving by his house and airplanes flying overhead. He even created scenes showing human-shaped shadows, stars in the sky and an open garage door.
All in all, it was no small feat, even for a computer specialist like AK, who majored in aeronautics/aerospace engineering at the University of Washington and holds a master's from the University of Colorado.
But if AK did his homework, then the media did not. No one checked out the "webcam" he had mounted on a neighbor's tree. Actually, the camera was a Christmas lights projector and some duct tape. And when one TV reporter asked to see how the setup worked, AK said the camera was down. Everybody, it seemed, took him at his word, especially Denver's 7. During AK's helicopter ride, the only reason his Christmas lights were flashing was because inside his house, wife Wendy was turning them on and off with a wireless remote control.
Eventually, the need to tame the beast he had created compelled AK to call the Wall Street Journal two days after Christmas and expose his hoax himself.
Outrage among the duped
But taming the ire of some in the media was another matter.
In fact, judging from some of the sound and fury AK inspired, the remarks of Denver's 7 news director Byron Grundy ("We took the guy at his word, and obviously that was a mistake . . . I'm disappointed, but the responsibility for putting it on the air falls on us, not him.") sound almost conciliatory.
After noting that AK's ruse had helped draw paying advertisers to his Web site, the Ethics Scoreboard (http://www.ethicsscoreboard.com)/affixed its "unethical Web site of the month" to AK.
Pulling no punches, the Ethics Scoreboard gave AK a big fat goose egg. To wit: "When the world reaches the sad state where the only way one can distribute holiday cheer is through lies, maybe there will be a place for Web scams like Alek Komarnitsky's.. . . Alek's stunt, though essentially harmless, stands at the entryway to the truly sinister and hurtful Web frauds that undoubtedly lie ahead. He has shown some very scary people how easily people can be fooled, and when they use his techniques to take money or worse, http://www.komar.org/will not seem so harmless after all."
Equally piqued, but more succinct was New York Times tech expert David Pogue. After dismissing AK's explanation about spreading good cheer and a chuckle as a "nonsensical declaration," Pogue wrote, "I consider Komarnitsky a glorified liar, a shameless media hound who tried to make a buck (via Web site ads) from people's trusting nature."
Almost a year later, AK still seems overwhelmed by some of the vitriol directed at him from the media. He says he received over 1,000 e-mails from people who had fallen for his ruse and "for every nasty one, I got 10 'attaboys.'" Furthermore, he insists that while he did make some money from selling ads, his take amounted to "mere pennies" and was "about enough to pay for a nice 40th birthday party for my wife."
He steadfastly maintains that all he wanted to do was spread that holiday cheer, a claim wholly supported by neighbor Kitchie Cipolone. Sure, says Cipolone, AK is "eccentric," a "mad-scientist type." But his wacky lights display and his fun hoax helped "bring the spirit of Christmas back into the world.
"Alek is bringing it back - the lights, the spirit, the good cheer. He has a genuinely good heart," Cipolone said.
And this year, it seems to be hoax-free.
Proof almost positive
First of all, thanks to the addition of three genuine webcams, AK insists you can turn his lights on and off.
Leery of playing Charlie Brown to AK's Lucy-holding-the-football, the Rocky Mountain News dispatched a team from our crack Internet department to check out AK's latest claim.
"It would require more labor for him to fake it than to build it," says News Web journalist Tim Skillern. "I tried to prove that it wasn't working, and I can't."
In other words, the chaotic syncopation of on-and-off lights (pink flamingos, butterflies, icicles) and inflating and deflating creatures (Frosty the Snowman, Frankenstein) is the handiwork of real people, people who might hail from Malaysia, Lithuania, Antarctica or even Commerce City.
Meaning the 100,000-plus daily hits AK says his Web site is receiving are not in vain.
While AK is no computer lightweight, he does caution all you control freaks there is as light wait.
"There's a three-second delay," says AK, explaining that's so there's some slight semblance of order as the seven different "zones" of his front yard segue from light to dark and back to light.
But even more rewarding than going from cyber flimflam man to honest Internet icon, is AK turning his Web site into a fundraiser for the University of Maryland's Center for Celiac Research.
Celiac disease is an autoimmune affliction triggered by the protein gluten, which is found in wheat, barley, rye and possibly oats. When a celiac sufferer ingests gluten, the resultant reaction can lead to damage of the intestines. Both of Alek and Wendy's two sons - Dirk, 7, and Kyle, 4 - have celiac disease.
As of early December, about $3,000 had been pledged, enough to earn the gratitude of Pam King, the celiac center's direction of operations.
"I think Alek is a really geeky computer guy," she says with a laugh, before quickly adding, "But he is definitely a very, very caring person who cares deeply about his kids. He wants to help us fight this disease in any way he can."
So much so that he's donated last year's bogus webcam to the center for an eBay auction item.
Yes, AK is still selling ads on some of his Web sites - and he has enough of the latter to comprise a cyber archipelago - but he sees nothing wrong with that. Furthermore, he maintains, he is not posting any ads on the page that contains directions for adjusting his lights and his solicitation on behalf of celiac disease because "that doesn't seem right."
What does seem right is that the lights go on. Sure, AK says, "I'm the first to admit my display is gaudy." Sure, "I'm the first to admit it's a little wasteful." But, in the end, all the kids in the neighborhood - including a certain 42-year-old one - "get such a big kick out of it."
And now, thanks to three working webcams, so can the world. Which is just great as far as Alek Komarnitsky is concerned. Because, say what you will about him, he is someone utterly determined not to let his latest computer lights drama end up as a geek tragedy.
Online
• Lights on, lights off: Turn Alek Komarnitsky's lights off and on at http://www.komar.org/