One of the big advantages touted of the Canon 40D is the autofocus. All 9 of the
Canon 40D autofocus sensors
are cross-type and the center one can do high-precision/diagonal focusing with F/2.8 lens or faster.
While one can get a "feel" for how fast/accurate focus is, it's difficult to measure objectively without specialized equipment. Over the years, I've shot most of Canon's DSLR line (including some limited time with the 1-series), but my day-to-day shooting has been with the Rebel XTi. After a few days, it's clear that the Canon 40D's autofocus is much faster and really locks on. This was especially evident shooting 6-year old Kyle's soccer practice as you can see in the pictures below. I had similar good results from his game that weekend.
These were shot hand-held in the early evening (decent sun) on a 80° day with a Canon 70-300 DO lens. There are two sets of pictures and the animated slide-show below shows the full-frame resized 20% and then the center 40% of the frame (resized in half) - both smart sharpened. The settings for the first set of pictures was 210mm, F/5.6 (fastest that lens will go), ISO 400, and (mostly) 1/1600 second. the second set was 110mm, F/5.6, ISO 400, and (mostly) 1/2000 second. Center Focus point was used and AI Servo mode did a pretty darn decent job of tracking.
A more challenging test of the 40D AI Servo tracking would be a faster moving object such as car racing or bird in flight - the later can be especially difficult given the small relative size of the target. However, based on these pictures, I'm quite happy with the Canon 40D autofocus tracking! ;-)


Canon 40D Autofocus - Kyle the Soccer Star!
Watch in real time and use the controls to play, step, pause, slow-down, and speed-up the animation.
| | | | | |
| --- | --- | --- | --- | --- |
| | | Frame Rate | | ... loading images ... |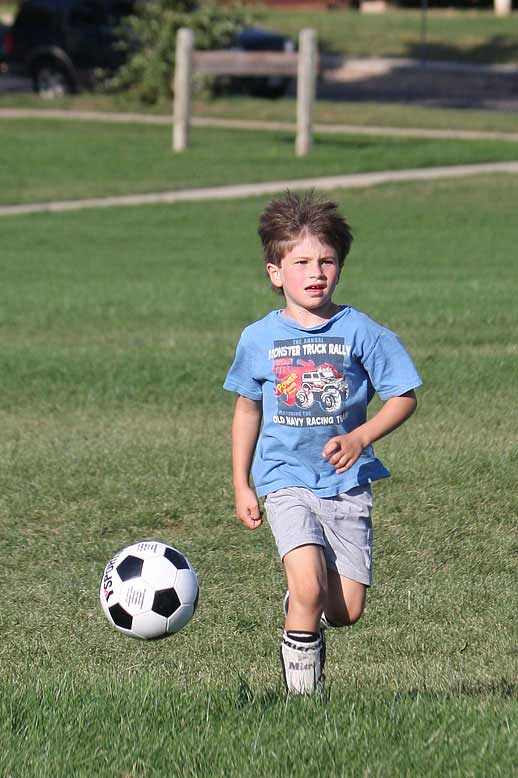 The Autofocus system is pretty darn good ... see if
Canon's Live View
can do better. Photohounds may also find the
High ISO shootout
interesting along with the
Canon 40D/Rebel XTi comparison.