With Spring approaching in April/2008, a bird decided to build a nest in a wreath that hangs from our front door. Our first hint of this was when we walked out of the house, it would fly off. So one evening, I had seven kids over - it was Mom's night. When they walked in after 10:00 that evening to pick everyone up,
the bird came inside the house with 'em!
Needless to say, this provided entertainment for everyone.
I've had experience with flying animals in my house before
, so the first thing you get is ... your camera!
Fortunately, the bird stayed in the main entryway flying back-n-forth from a giraffe at the top of the stairs to the nearby Tin-man. We then got the idea to open the door to our master bedroom (and turn on the light) which was next to the giraffe. When the bird next flew up there, my wife held a towel to "block" the bird going down the hallway while I stood in the stairs. That worked, as the bird went into the bedroom and I could then close the interior door, and open the door to the outside deck.
The bird decided there were three locations to his liking in the master bedroom; the armoire, a light fixture, and the smoke alarm. After flying several laps around (and me taking numerous pictures), my wife had the smart idea of taking a flashlight outside, and shining it toward the deck. I gradually turned the lights down in the master bedroom ... and eventually, the bird decided that going toward the light source outside was the best thing to do. I'm glad we got the bird outside the house without ruffling his feathers! ;-)
The Bird perched on the Giraffe's Head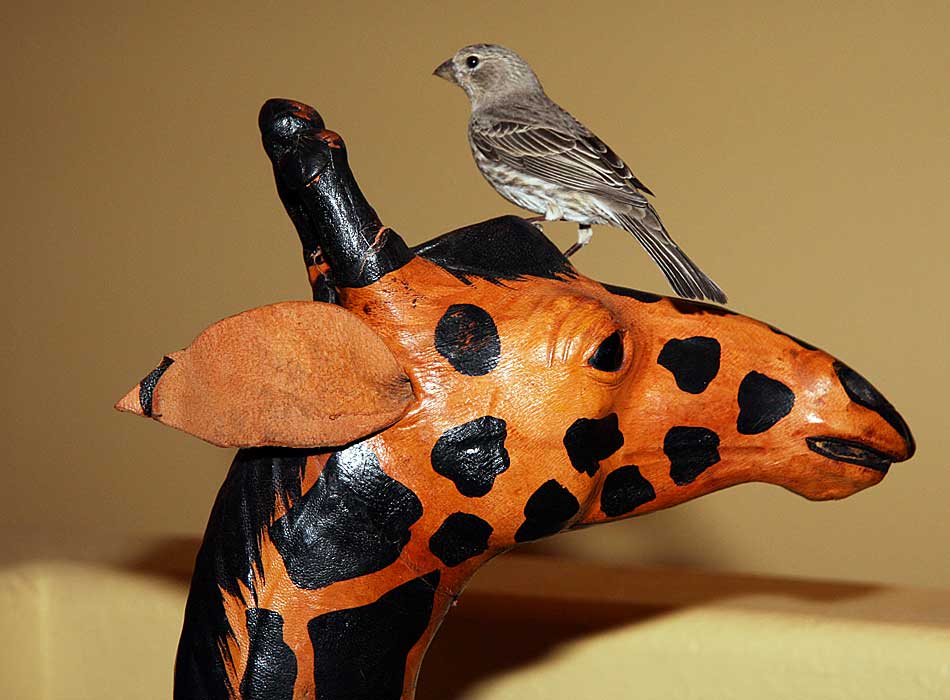 Gently "nudging" the bird off of the Tin-Man ... Giraffe is at top right of stairs
Bird on top of the Bedroom Armoire - I closed the closet door after taking the picture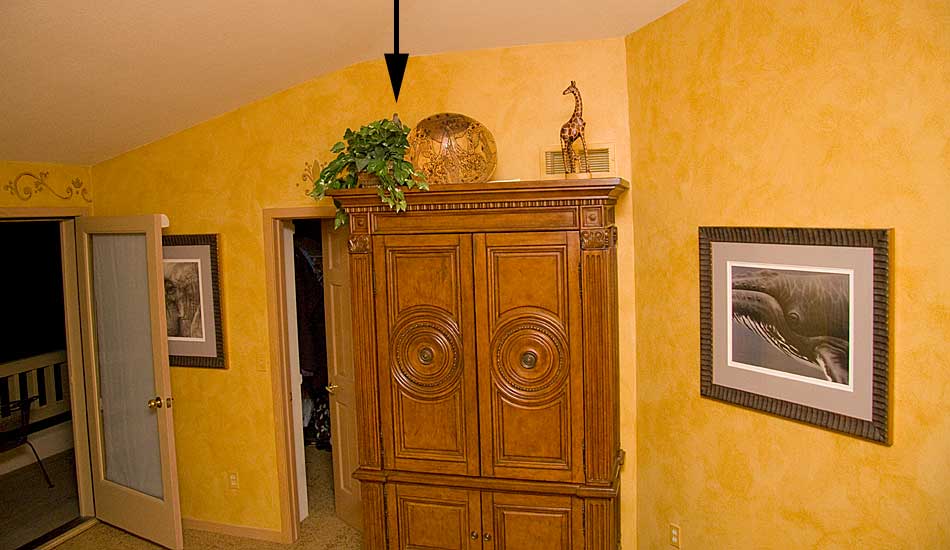 Hey, just like hanging out in the wild on a bush!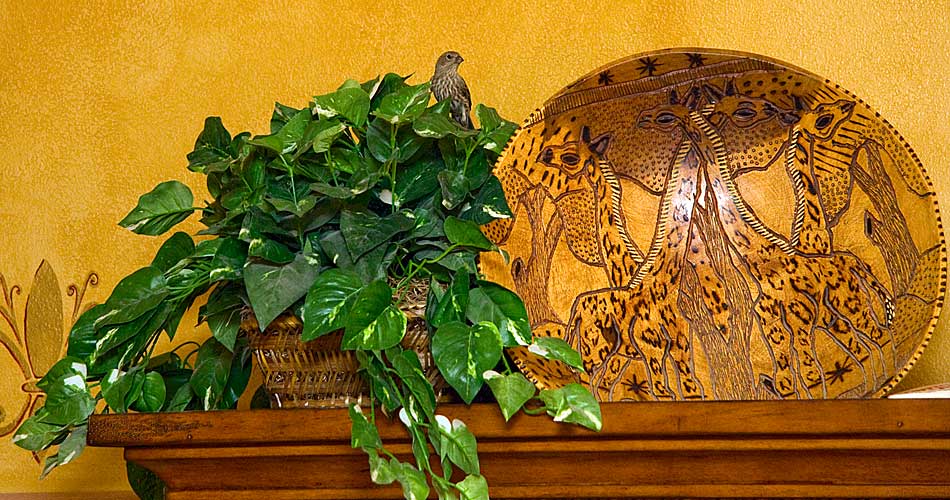 Moving on to the Light Fixture on the other (West) side of the Bedroom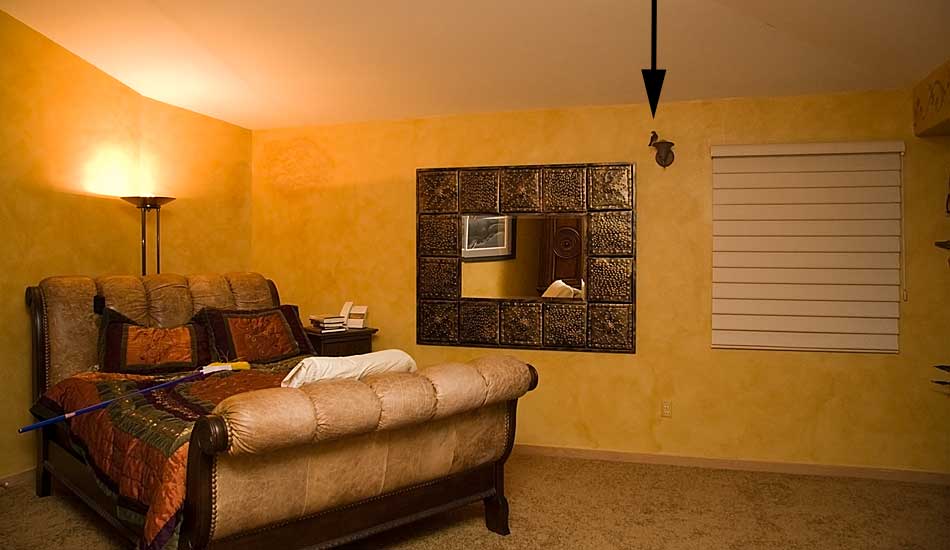 Closeups of the bird hanging out on the Light Fixture
Now the Smoke Alarm on the South Wall - wife noticed the broom on the bed - BUSTED!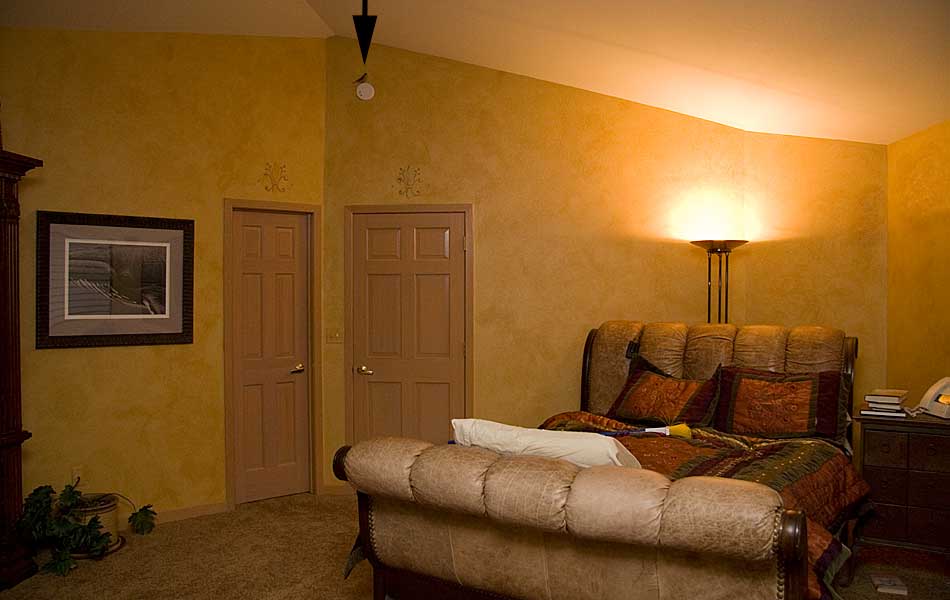 Now, the Smoke Alarm will really "chirp" when the batteries are low!
Finally, the bird flew outside of the house and perches on the deck chair
Birdie on the Outside - Wifee on the Inside