Oleg R. Komarnitsky (1961 graduate of the USAFA) passed away unexpectedly on Aug. 29, 2010 at age 71. He was a wonderful father and devoted husband and will be sorely missed by his family and friends.
Oleg was born Sept. 2, 1938 in New Jersey, the son of European immigrants. Oleg spent much of his early years growing up in rural Pittsburgh, Pennsylvania, where, foreshadowing his later career, he often snuck through the woods to Pittsburgh Army Airfield to watch P-51, P-47 and F-86 fighter planes take off and land. In 1957, Oleg was accepted to the U.S. Air Force Academy in Colorado, where he met his future wife, Betsy, the love of his life, who he married in 1962 a year after graduation.
After finishing UPT at Willie, Oleg flew the NKC-135 for four years which included flights to both the South and North Poles among various faraway places. He then spent a year at the Air Force Test Pilot School and subsequently flew F-104 test flights. This was followed by a year in Vietnam where he flew 170 sorties in an F-100.
After Vietnam, Oleg was back in the KC-135 flying various special missions, including the Zero-G flights in the "Vomit Comet" for the Apollo 15 Astronauts. After getting a Masters Degree, he spent several years at the Pentagon, and then off to Taiwan as an flying advisor for their F-104 and F-5's. His last Air Force assignment was testing the KC-135 AWACS and after 20 years of service, Oleg retired in 1981 with the rank of Lt. Colonel.
He then went to work for Boeing as a senior flight instructor, flying every major Boeing aircraft in existence during his tenure - B727, B737, B757, B767, B747, B747-400, and the B777. After 14 years, he grew weary of the world-wide travel, so he retired at age 57 to spend more time with his family.
Oleg was intense, fun-loving and could not be matched as a hard worker. He was always on the go and always ready to lend a hand to help both family and friends no matter how much it might inconvenience him. He was a firm believer in doing a job well and instilling that idea upon his children. He was conservative in his financial philosophy, a strategy that also served him well in many fondly remembered family card games of "Hearts" where he almost never tried to "shoot the moon".
As a handyman and someone who looked down on wastefulness, he kept many appliances inside and outside the house running far beyond their years and was invaluable to his children on innumerable projects. Oleg's expertise at repairing model trains earned him a reputation as "Mr. Fix It" resulting in people from all over the country sending him their broken stuff to restore back to working condition. He loved playing games and was active all the way to the end, whether it was swimming, playing tennis or trying to perfect his golf game. His goal in his later years was to golf his age.
He is survived by his loving wife Betsy, sister Inna Hays, sons and daughter-in-laws Alek and Wendy Komarnitsky, Kris and Katherine Komarnitsky, Kurt and Mary Komarnitsky, Myke Komarnitsky and Li-Ming Ueng, and daughter Stephanie Nowers and son-in-law Stephen Nowers. In addition, he is survived by his six grandchildren: Dirk, Kyle, Nick, Kara, Hannah, and Sophia.
A memorial service was held on Saturday, September 11, 2010 at Sacred Heart Church, Bellevue, Washington and Oleg's final resting place will be at the Air Force Academy. His children setup a memorial/remembrances website at http://www.komar.org/oleg/ (Provided by his family)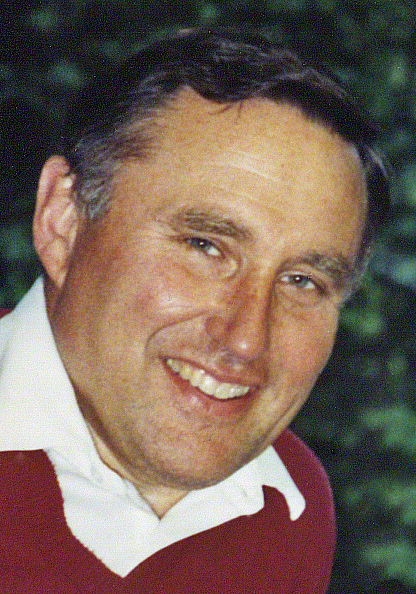 A few extra words from a fellow graduate about the memorial service:
From Jack Taylor, a 1961 Air Force Academy classmate of Oleg: Today, a beautiful Saturday in the Puget Sound area, with blue skies and 75 degrees, we said goodbye to Oly. Some several hundred family members and friends gathered at Sacred Heart Catholic Church, Bellevue, for a memorial service, a traditional Mass, followed by a reception where family and friends, some who worked with him at Boeing, and others who knew him from his days on the golf course, tennis court and socially, shared our recollections of him and came to learn of the love his children and their children had for him.
All of the members of the Class of '61 and wives who reside in Washington were there (Cochran, Hopp, Kerr, McMonigle and myself). We were also honored and pleased to note that Paul Hinton joined us from Broomfield, Colo. The family and friends were most pleased to learn of our presence. As you know, Oly will be interred at the Air Force Academy Cemetery.
Displayed in the reception foyer were items from Oly's Air Force career, medals, photographs and documents, along with several items from his days as a Boeing Co. flight instructor. And, we were well-reminded that Oly's life was centered on family, to represent and model the highest in character and honor to them, and to nurture and teach his children as they grew into maturity. Amusingly, we were also let in on one of his hidden agendas in life, to shoot his age in golf! He almost did that, passing just before he turned 72.