AWDK's 2002 22,000+ (Wind Powered) Christmas lights? ;-)

Xmas/2002 is over - here are some quick links to more info:
Xmas lights from previous years - 2001 and 2000 ... and click here to see latest christmas lights
What was new for 2002 including installing more GFCI outlets!
The christmas_webcam was a BIG hit - read about it in the christmas webcam FAQ and Other Sensors FAQ
Check out a screenshot of the christmas_webcam interface and here is the latest version of the christmas webcam
Some more cool webcam pictures - NOT just cars driving by, people walking, garage up, etc.
Over 100,000 web hits from folks looking at and/or controlling the xmas lights - click here for the details
Digicam shootout of 22,000 Xmas lights: Canon G3 vs. Nikon 5700 ...and even an HP612.
Thanx to David Kovsky, Wind Power was used used to power the lights!
Various Updates/Press/Media Sightings - Alek's 15 Seconds of Fame ... or is that 15 MegaWatts?!? ;-)
Email Santa selected messages and responses from Santa
What will be new for 2003!

Questions/comments/whatever about this extravaganza - send Alek a public Email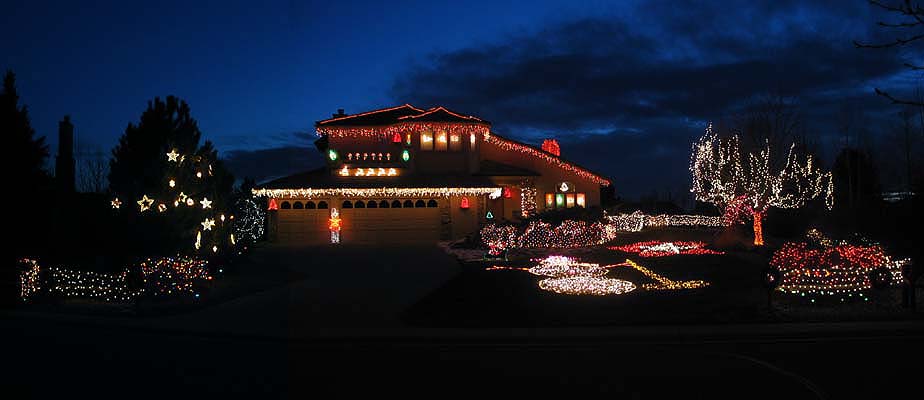 Wellllllll ... Alek decided that 16,000 lights from X-mas 2001 and 12,000 lights from X-mas 2000 weren't quite enough ... so he waited until a week after X-mas last year, and hit the 75% and especially 90% OFF sales hard - came back with a buncha lights, and especially cleaned up on white ones as Wendy had proposed we do a Frosty the Snowman theme this year. In addition to a LOT of help from my lovely wifee, I also had assistance from my 4-year old son Dirk and "distraction" from my 20-month old ... I must have said "don't step on the lights Kyle" about 22,000 times!

It took about 4 days (working ~5 hours/day) to get all the lights out, and at least double that amount of time to write the thousand+ lines of Perl Code & misc. HTML, and then integrate it all togather into the webcam/webcontrol demo talked about below. BTW, we got 'em all down in ONE day ... but it was a long day. So it's a lotta work deploying this whole production - we might take a break next year, so enjoy 'em this year!

You may recall in years past (and as you can imagine) that balancing the power/amperage was quite a challenge. Over the summer, I installed some gfci outlets directly from the breaker box to an outside panel. While this helped greatly with the power issue, even a few more circuits would have been nice. So in the future, I might enable the two "standby" circuits in the panel above, and I especially need some power on the East side of the house, so I may consider "tapping into" the 40-amp/220-volt Air Conditioner fuse box ... needless to say, I don't think I'll need my A/C while the Xmas lights are up! ;-)

Since I wired the above with X10 outlets, all lights (except one set of indoor novelties) are auto-controlled ... so when it auto-fires-on at 4:30, the neigherhood lights dim a bit ... and then return back to normal at 10:00PM! An even cooler (nerdier?) trick is using the X10 remote control to make 'em go on-an-off for the kids ("make Frosty come back please"). BTW, this turns out to be pretty handy also when you are deploying 'em for testing purposes. Hint: ALWAYS have your lights plugged in and ON when laying 'em out, so you know right away if something goes out.

I said last year that doing a demo of how a webcam and webcontrol would work with 22,000 xmas lights would be cool. I.e. show how one could use a wireless WebCam to take real-time pictures of the lights and then even demonstrate web control of the lights - you could turn them ON & OFF by clicking on a web page, and see the results real-time. This would be an interesting test/study of human behavior, not only for the remote web users, but also for the neighbors and myself if there is a lotta lights flashing on and off. Check out the christmas_webcam and even turn the lights ON & OFF via the web in real-time! ;-)
BTW, the folks at http://blinkenlights.de/ web-controlled the lights of an entire building!




Here is the breakdown of how the lights are deployed with amperage measured from a multi-meter:

X10#    WEB      Outlet         GFCI             Fuse           Amps   Lights    Description
 1      NO       Garage         NO GFCI          Garage          0.2        7    Driveway Lights
 1      NO       Front Switch   NO GFCI          Front Lights    1.0      300    Lower Red Bells

 2      TRY IT!  Garage         NO GFCI          Garage          8.9    2,000    Blue lights and ALL Left Side 
 2      TRY IT!  Gas Meter      Bathroom         Bathroom        6.0    1,800    Chimney, Upper Icicles
 2      TRY IT!  Back Deck      Basement         Basement        8.2    3,100    Front Junipers and Fence Wraps
 2      TRY IT!  Upper Deck     Master Bedroom   M-B lights      9.3    2,200    Garage Icicles, Green Tree, Upstairs Novelties & Red Bell

 3      TRY IT!  Panel-1        Panel-1          Panel-1        11.0    3,200    House Junipers & Column Wraps
 3      TRY IT!  Panel-2        Panel-2          Panel-2        11.5    3,100    Snowman White Background

 4      TRY IT!  Panel-3        Panel-3          Panel-3        11.5    3,200    Snowman Accrutamants, Santa, Star
 4      TRY IT!  Panel-4        Panel-4          Panel-4        10.0    3,000    Right Tall Tree, Back Wraps and Purple Lights

TIMER   NO       Scary Room     NO GFCI          Living/Dining   1.0      200    Downstairs novelties

TOTALS                                                          78.6   22,100 (approximate ;-)

Note: For mini-lights, a ballpark is 3.5 millamps (0.42 Watts) per bulb, but there are different voltage lights,
so the ratio varies a little bit above. Plus those that are blinkers/chasers pull a little bit less. 


So the total current draw is just under 80 amps, compared to last years 60 or so. I didn't quite get to 10 KiloWatts - darn! ;-) So suffice to say that the power meter spins like mad when I turn 'em all on. And since I leave 'em on from 4:30-10:00PM, that's about 70 KiloWatt-Hours a day, times about 30 days is over 2 MegaWatt-Hours. Would you like to pay my electrical bill for me?!? ;-)

UPDATE: thanx to David Kovsky, these lights are wind-powered; click here to read the whole story on that and donate/sign-up for the cause!
And there was a bit of press about this, not only in the local paper, but also on the other side of the world - so click here to read about Alek's 15 seconds of fame (or is that 15 MegaWatts! ;-)

Oh yeah, a "few" extension cords were needed to tie this all togather - I forgot to count when putting 'em out, but a ballpark estimate would be about 50 cords (2-50', 3-25', 20-15', 5-12', 20-9', and several 3-1 plugs). totalling 700+ feet.

So ... if you happen to be flying into DIA, take a look down about 30 miles West/NorthWest and wave to Frosty! ;-)
Send Santa a public Email about this extravagnaza!


P.S. These pictures were shot with a Canon G3 Digital Camera (4 Mega-pixels with lots of nice features) which is a leading-edge pro-consumer digicam and is a real treat to use. However, despite various contortions, I wasn't able to get it to capture the colors in the snowman as well as they are in real life without really underexposing the shot (although the Canon did much better than some other digicams I tried). This is a tough shot as there is a lot of contrast and light range. Pictures were shot from on top of a ladder using the timer to minimize shake. Camera settings were "default" with no zoom (I actually could have use more wide-angle), F2.0 aperature, 1/6 second shutter speed (several stops underexposed), ISO 50 equivelent.

BTW, the top picture is actually a composite/merged picture of two different shots - I did a so-so job last year and a few folks figured it out ... but I seriousely doubt you can tell where they are joined this year.




Click here to see a closeup of Frosty the Snowman and here's a map of the world. As noted above, it was a challenge to capture the "glow" of the lights without washing out the colors - this picture was shot at 1/30 second shutter speed. So you can see most of the colors: purple hat, blue eyes, orange (small traffic cone with pile of lights inside) nose, multi-color garland, purple buttons, orange/purple rope lights for arms, and the broom (or is it a shovel?) is yellow/gold lights. But the overall glow/sparkle of the lights is gone with the faster shutter speed.

Click here to see some pictures from a digicam shootout on 22,000 Xmas lights: Canon G3 vs. Nikon 5700 ... with HP612 tossed in for good measure.




Author: Alek Komarnitsky