Grilled Peppers
Here's a super easy recipe for grilling red & green peppers that you can prepare ahead of time and not only tastes great, but adds a nice splash of color (red, green, yellow, orange, etc.) at your dinner table or as a classy easy-to-eat appetizer.

Costco carries what I call the "pepper pack" - it's not only Red & Green Peppers, but also some yellow and orange peppers - these are all bite-size. Dump 'em into a ziplock bag, and then drizzle some olive oil on the peppers - don't use the whole gallon as shown in the picture - you gotta love those Costco containers! ;-) I then put a fair amount of McCormick's Montreal Steak Seasoning in the baggie, you'll figure out how much for your personal tastes after you make this a few times. Close up the ziplock, and shake-shake-shake ... until the yellow, orange, red, and green peppers are all coated with oil and seasoning. I let this sit for a few hours at room temperature, but probably not neccessary.

You can cook the peppers one of two ways:
BBQ: Put the peppers in a basket and lay on your BBQ grill at moderate heat - turning a few times so the bottoms aren't burned. This should take about 20 minutes or so - easy to do while making some of the other yummy BBQ Grill Recipes.
Oven: Put the peppers on top of a cookie sheet and stick in your oven - I do it at 375F° (in convection mode) for an hour - again, you might take a spatula and flip 'em around a bit. I tend to do a little longer as I like mine a bit on the crispy side.
Dump the peppers into a serving bowl and go directly to the table - you can eat 'em almost right away and just grab by the stems which will come off at you bite 'em ... so if serving for appetizers, put a "leftover stem" bowl next to your colorful display - makes great finger food.
Back to main BBQ Recipes page - ©2003-2005 Alek Komarnitsky



Prepping the Grilled Red & Green Peppers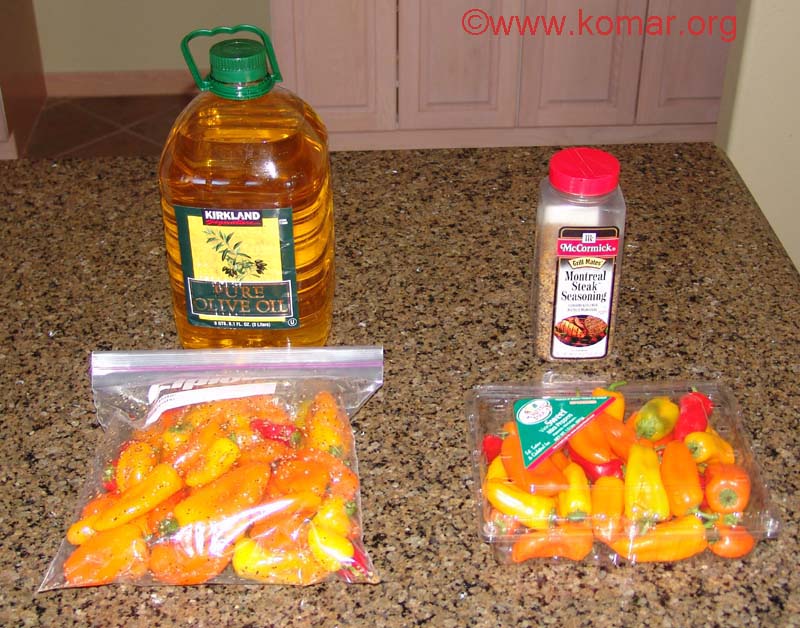 Dirk reaches over for the Yummy Grilled Peppers