Amanda Naus donates $100 toward Celiac Disease Research for Cluttered Basement Picture
Over time, my www.komar.org website has gotten cluttered with tons of stories and pictures. But it's nothing compared to my basement where I store my bazillions of Christmas Lights, especially before I finished my crawl space which includes the picture below. But thanx to the generosity of Amanda Naus, that picture was worth another $100 donation to the Center for Celiac Research to help find a cure for this malady.

Read the Emails below (printed with permission from Amanda), but in summary, she and her husband are starting a new venture that involves clutter cleanup. She came across a picture on my web site and was polite enough to send an Email asking if she could use it - most people would just scrape the image without asking. I replied back that I appreciated her asking, but would she be willing to donate $100 toward Celiac Disease Research and I would send her the digital original, which would print a LOT better than the downsampled image on the web site. Sortly thereafter, she send me the confirmation receipt from CFCR showing her $100 donation. Needless to say, I was happy to send her that original picture, plus another "clutter" image I found.

Who would have thought that basement clutter would be worth a $100 toward Celiac Disease Research?!? And thanx Amanda for contributing and good luck in your new venture ... and for those living in/near Mequon, Milwaukee, give SpaceLift, Inc. a call at 262-923-0444 for painless clutter removal.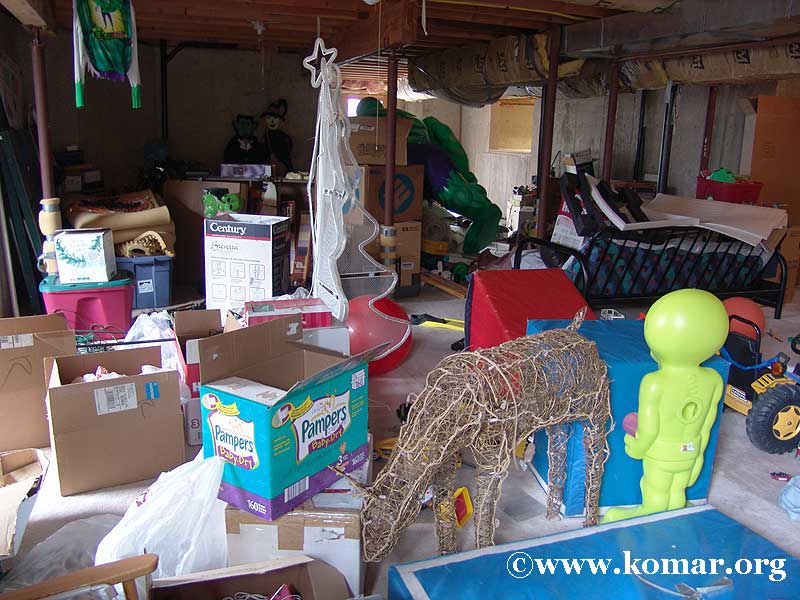 From: amanda_n@bellsouth.net
Date: 2005/12/02 Fri AM 12:55:02 EST
To: alek@komar.org
Subject: Re: clutter picture
 
Sure - post away while I watch the video!



>> From: "Alek O. Komarnitsky" 
>> Date: 2005/12/02 Fri AM 12:47:26 EST
>> To: amanda_n@bellsouth.net
>> Subject: Re: clutter picture
>> 
>> Cool.
>> 
>> BTW, I really liked your Email ... can I have your permission to post our
>> entire Email exchange on the web site. BTW, I JUST uploaded the video
>> of the reporter who might call you - you can view the semi-funny video here:
>>     http://www.komar.org/xmas/movies/
>> I'll send you an Email shortly with that image.
>> alek
>> 
>> 
>> 
>> amanda_n@bellsouth.net wrote:
>> 
>
>>> >Hi Alek,
>>> >
>>> >I get me email backward (read the last one first). Sorry about not getting back to you earlier - got tied up trying to find a credit card processing option for our new biz. ARGH! Isn't that a good time!
>>> >
>>> >The picture I loved was on http://www.komar.org/projects/crawlspace/basement-flooring/ and you've got it labeled basement-junk.jpg. Hope that helps.
>>> >
>>> >Sure, I'd love to be posted as a $100 donator. And I've got no problem with the reporter having my name, etc. either. I only wish that I was in Boulder or you were in Milwaukee so that I could get some local publicity to maybe help the biz off the ground. 
>>> >
>>> >I hope this doesn't sound too ___ (what's the word?) but if you'd come back asking for $100 for the picture, I'd have found something fun to put with my basement junk and just taken my own picture. But because you wanted the money donated, I was proud to do it. 
>>> >
>>> >Thanks again - I look forward to the file. No hurry, I have another two weeks to lay out the ad. (And a good thing too, since I'm awful with graphics! Should have taken a course.)
>>> >
>>> >~Amanda
>>> >
>>> >  
>>> >
>>
>>>> >>From: "Alek O. Komarnitsky" 
>>>> >>Date: 2005/12/01 Thu PM 03:37:49 EST
>>>> >>To: amanda_n@bellsouth.net
>>>> >>Subject: Re: clutter picture
>>>> >>
>>>> >>Give me a little big to dig around and find the original and I'll
>>>> >>send it out to you later today. Thanx for the compliment on the
>>>> >>web site ... and THANK a BUNCH for supporting Celiac - can
>>>> >>I post your name as a $100 donator on this page?
>>>> >>     http://www.komar.org/cgi-bin/xmas_webcam
>>>> >>
>>>> >>alek
>>>> >>
>>>> >>
>>>> >>amanda_n@bellsouth.net wrote:
>>>> >>
>>>> >>    
>>>> >>
>>>
>>>>> >>>Done deal. I've just made the donation online. 
>>>>> >>>
>>>>> >>>Yes, I knew we could have used the picture and you'd probably never know - but I just couldn't bring myself to do so. 
>>>>> >>>
>>>>> >>>Thanks so much for allowing us to use the picture. As I said - it's just such FUN clutter!
>>>>> >>>
>>>>> >>>BTW: When I went looking for an email address to ask for permission, I thought I'd check out komar.org to see what it was all about. I fully expected it to be a website either of the company you work for, or somewhere that blogs are hosted. Or even a website for home improvement projects, since the page I first saw was about your basement crawl space project. I was delighted to find that komar.org was a personal/family website and have trolled around much of it. You have a beautiful family and it looks like you all know how to have a lot of fun. On behalf of MY family, thanks too for all the fun we're having by reading about yours.
>>>>> >>>
>>>>> >>>Thanks again,
>>>>> >>>Amanda Naus
>>>>> >>>
>>>>> >>> 
>>>>> >>>
>>>>> >>>      
>>>>> >>>
>>>>
>>>>>> >>>>From: "Alek O. Komarnitsky" 
>>>>>> >>>>Date: 2005/11/30 Wed PM 10:10:40 EST
>>>>>> >>>>To: amanda_n@bellsouth.net
>>>>>> >>>>Subject: Re: clutter picture
>>>>>> >>>>
>>>>>> >>>>Ummmmm ... I don't usually do this type of stuff ... but on the other hand,
>>>>>> >>>>you could just "scrape" the image and I'd never know ... so it was pretty
>>>>>> >>>>classy of you to ask.
>>>>>> >>>>
>>>>>> >>>>So tell you what ... how 'bout take a look at this page:
>>>>>> >>>>    http://www.celiaccenter.org/news_xmas.asp
>>>>>> >>>>I'm trying raise money for Celiac Disease with my Christmas Lights;
>>>>>> >>>>yea, crazy sounding idea, but we already have over $1,000.
>>>>>> >>>>
>>>>>> >>>>If you'd be willing to donate $100 (tax deductible), I'd be happy
>>>>>> >>>>to send you the digital original of that image which would print
>>>>>> >>>>a LOT better than the one on the web site.
>>>>>> >>>>
>>>>>> >>>>alek
>>>>>> >>>>
>>>>>> >>>>
>>>>>> >>>>
>>>>>> >>>>amanda_n@bellsouth.net wrote:
>>>>>> >>>>
>>>>>> >>>>   
>>>>>> >>>>
>>>>>> >>>>        
>>>>>> >>>>
>>>>>
>>>>>>> >>>>>Hello Mr. Komarnitsky,
>>>>>>> >>>>>
>>>>>>> >>>>>I am writing to ask permission to use a photo from your website as the background for an ad. I've attached a quick mock-up of what I'm thinking of doing with it. 
>>>>>>> >>>>>
>>>>>>> >>>>>My husband and I are embarking on an adventure that involves our new venture: clutter removal. What we loved about the clutter that used to live in your basement is all the FUN stuff. Although the Hulk is not very visible in the picture I'd like to use, there is the alien and the Christmas tree that make your clutter fun. 
>>>>>>> >>>>>
>>>>>>> >>>>>Anyway...
>>>>>>> >>>>>Because our new business is clutter removal, and because the picture of your basement clutter is so great, we'd like permission to use that picture as a faded out background in a Valpak ad. Please let me know if you'd agree to this.
>>>>>>> >>>>>
>>>>>>> >>>>>Thanks so much,
>>>>>>> >>>>>Amanda Naus
>>>>>>> >>>>>SpaceLift, Inc. 
>>>>>>> >>>>>262-923-0444