Dirk-n-Kyle go to Washington DC - April/2009
The Boulder School District had a
"second"
Spring Break in 2009, and fortunately it timed with a family reunion in Baltimore to celebrate Grandpa Carl's 95th birthday. So after a weekend of festivities, we spent an entire day in Washington DC doing the tourist thing. We were traveling carry-on only, so I didn't bring my
good camera
and my point-n-shoot takes so-so pics.
Dirk-n-Kyle watching "Clone Wars" to pass the time on the Southwest Airlines DEN-BWI flight
Jedi Knight versus Sith Lord with imaginary light sabers at the BWI rental car place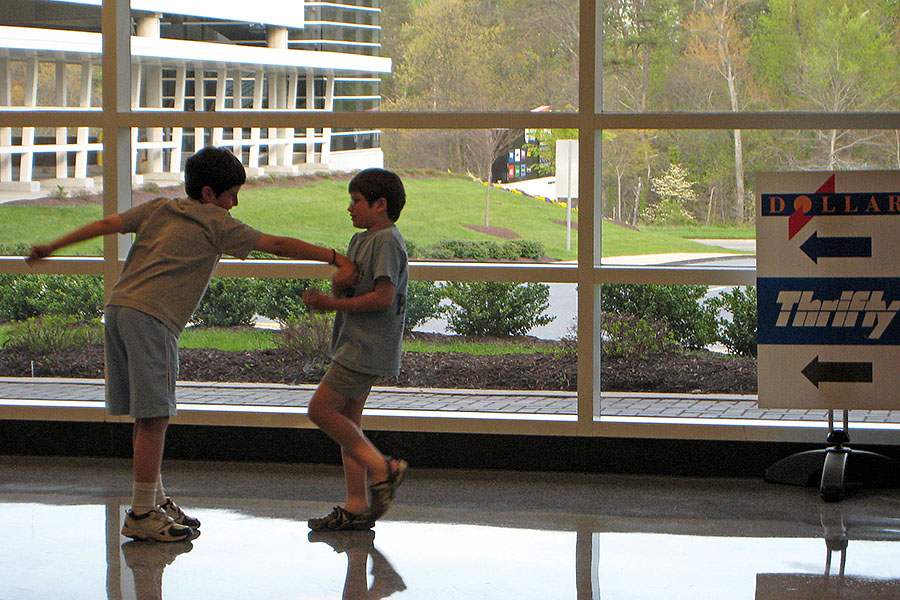 Uncle Ronny was playing Lacrosse that night so Dirk tried out his stick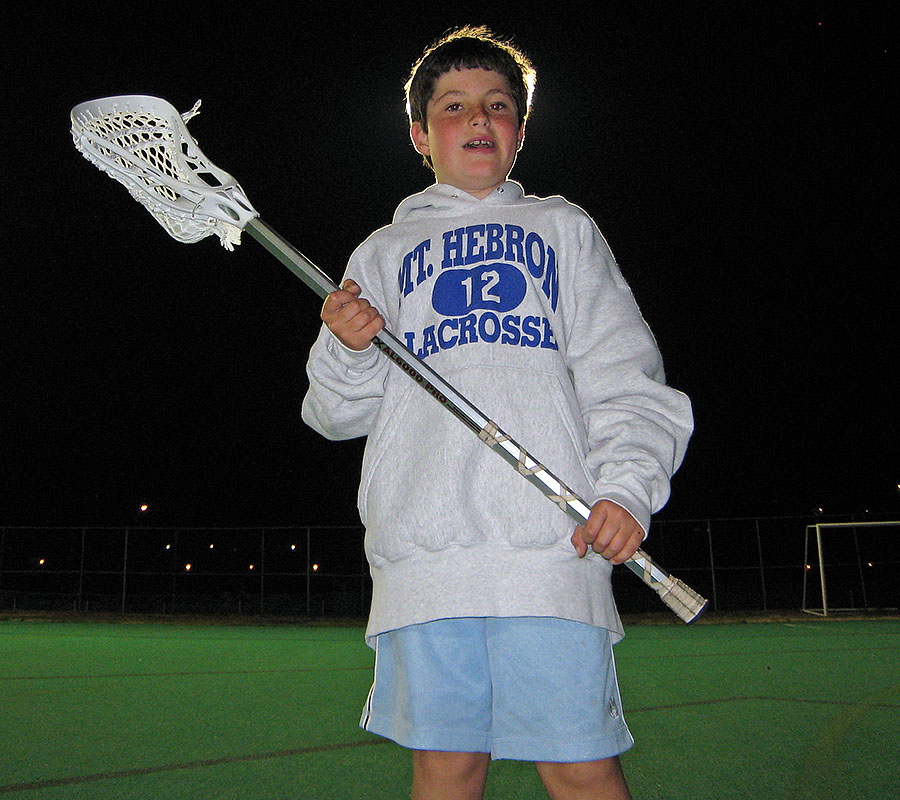 My wife took this picture of Dirk, yours truly, and Carl playing some ball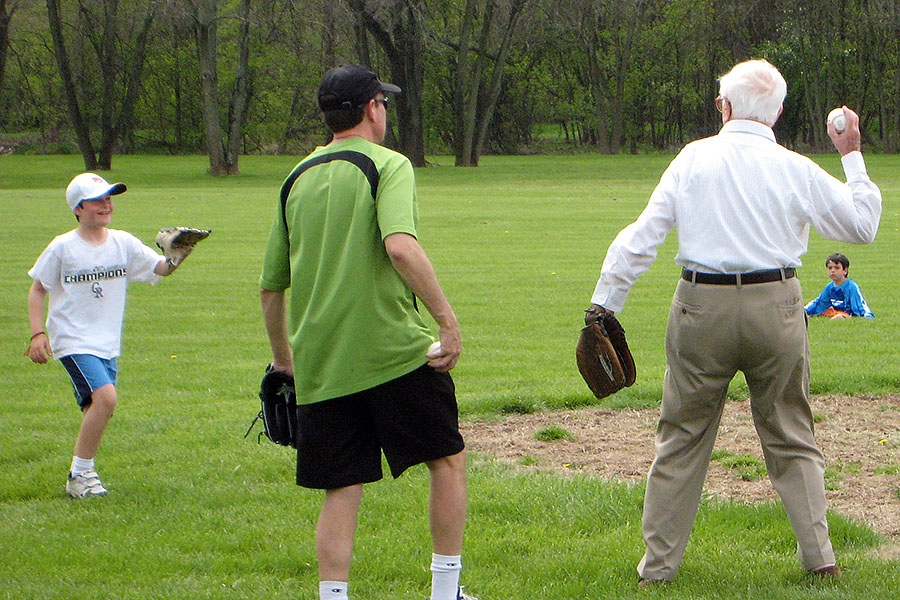 While 95 year old Carl wasn't throwing 95 MPH fastballs, he did darn good - movie interview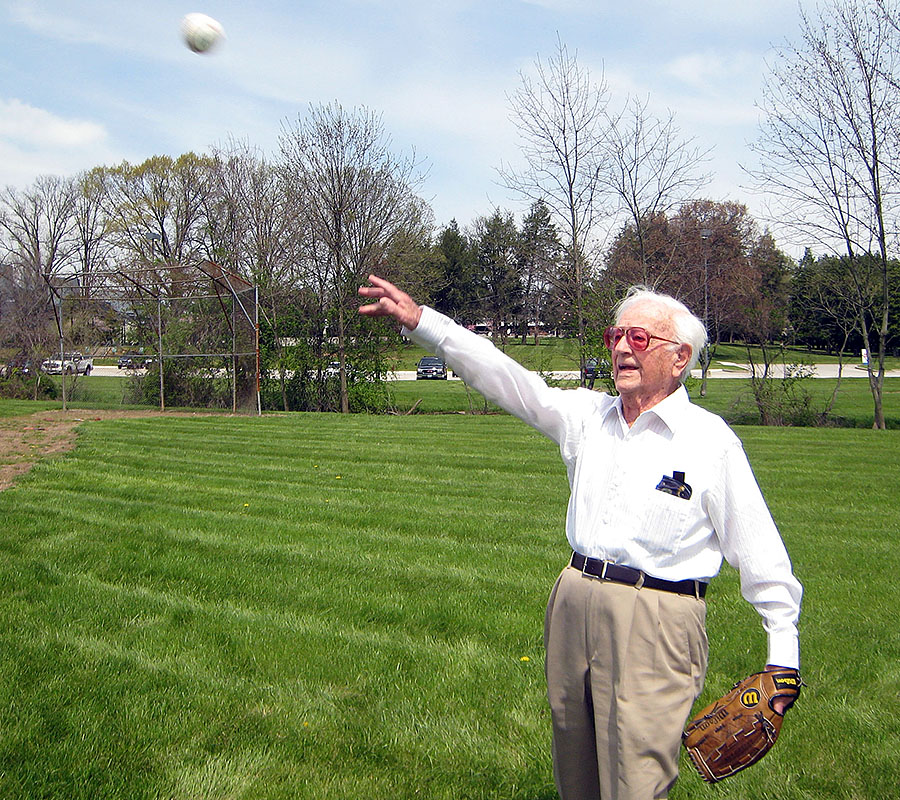 Fotunately, we didn't put 95 candles on his cake!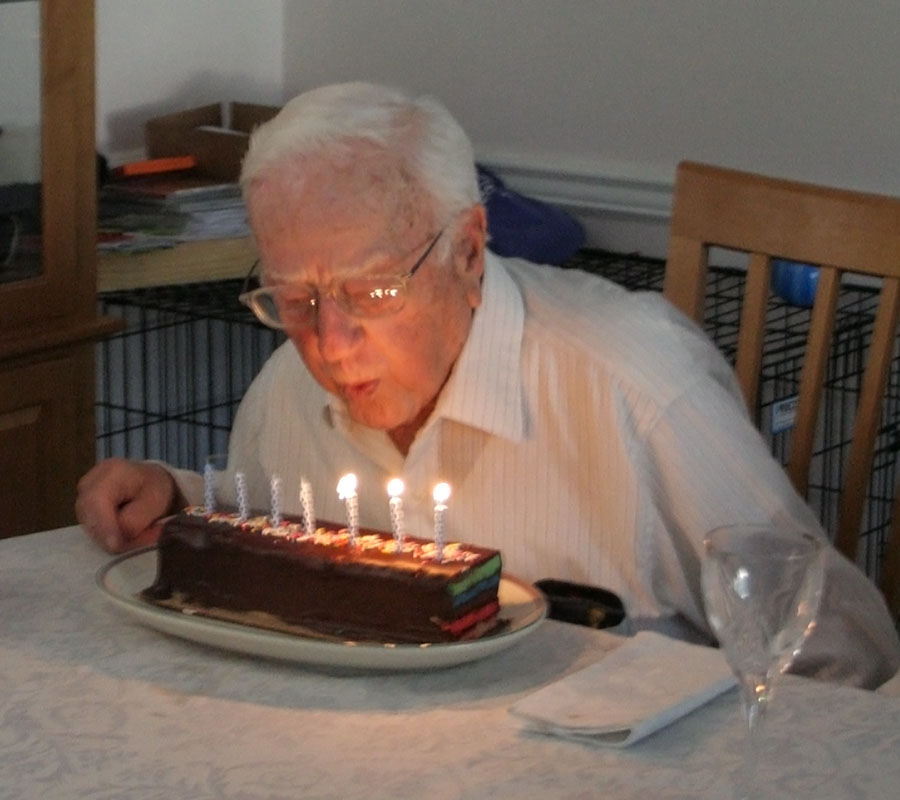 I hope I look this good at 95 ... heck, even at 75 - ignore the fuzzy picture, he's doing great!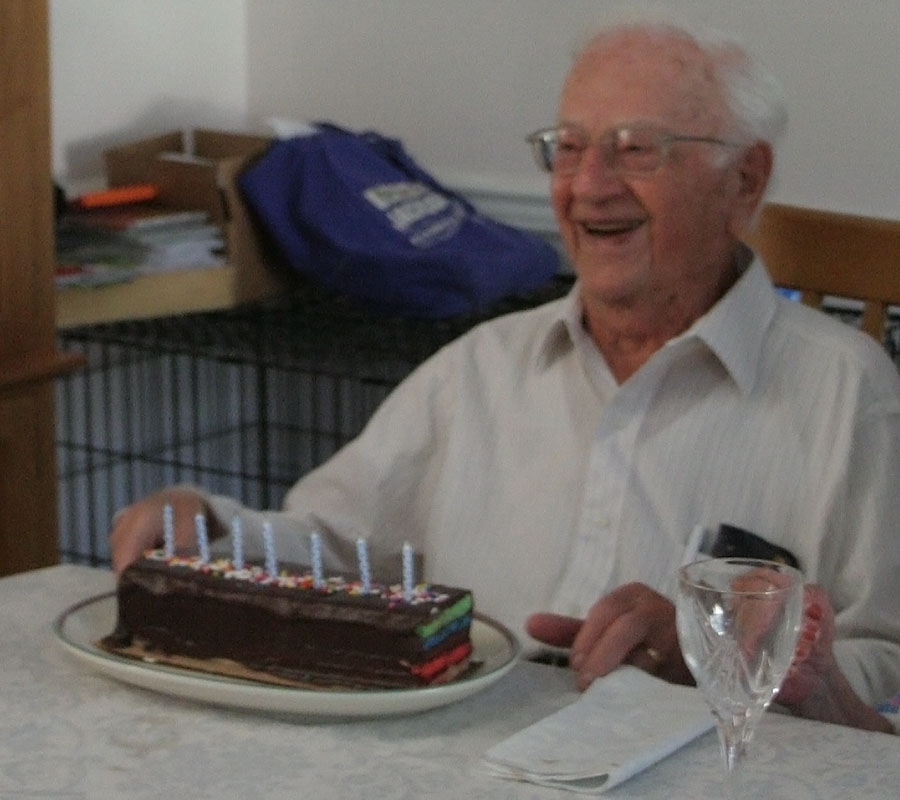 After parking near the Capitol, our first stop was at our congressman's (Jared Polis) office so we could get tickets for the gallery to watch Congress ... even though it was a night session that evening. His office was also nice enough to get us tickets to see the Capitol tour. We then walked a mile or so NW to the recently opened Spy Museum - this was pretty nifty and we spent a couple of hours there. Then a quick break for a late lunch at the neaby Legal Seafoods restaurant (they have an extensive gluten-free menu) and then another mile or so walk to the White House. From there, we walked South to the Washington Monument, and then back East to the American Museum which was pretty nifty couple of hours. We stayed there until the 6:30PM closing and as we were walking back on the National Mall, saw that the Smithsonian Natural History Museum was open until 7:30 ... so we got an extra hour of tourist stuff.
So we finally saw Congress in "session" around 8:00 ... but that was a bit of a letdown. Some Congressman had blocked out an hour starting just before we arrived ... and was basically droning on about how bad the other party was ... to about a half dozen people ... and (of course), the C-SPAN camera's - welcome to government! Upon leaving, it was a glorious warm Spring evening with a hint of residual blue on the sky over the Capitol Bldg - darn shame I didn't have my good camera with me, but here's a few "attempts" (at best) to capture it - hard to take hand-held pics of kids with long exposures! ;-) After this, we did drive-by's of the Jefferson and Lincoln Memorials ... and then back home arriving just after 11:00PM ... a long day!
A nice house on Pennsylvania Avenue in DC ...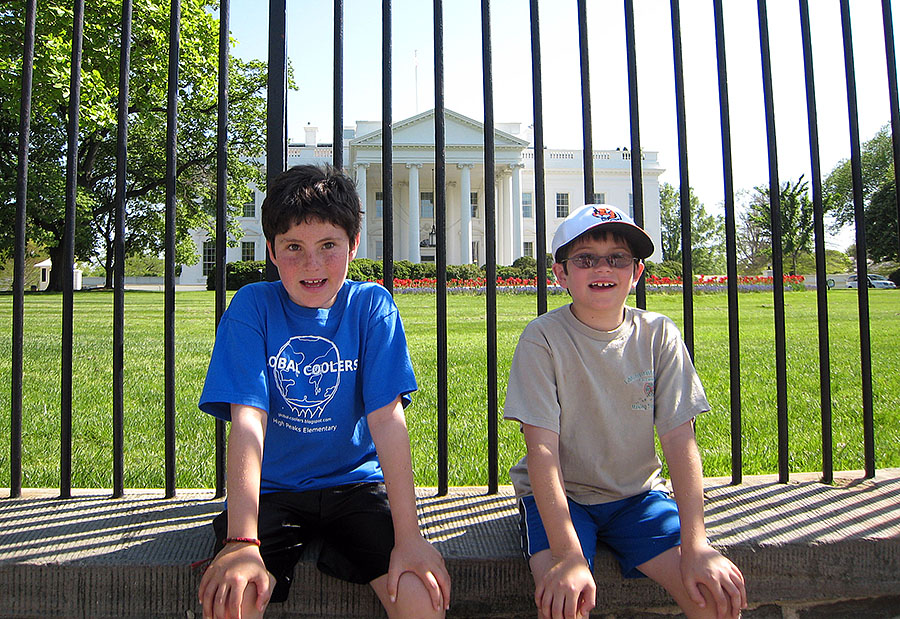 Back side of the same nice house ...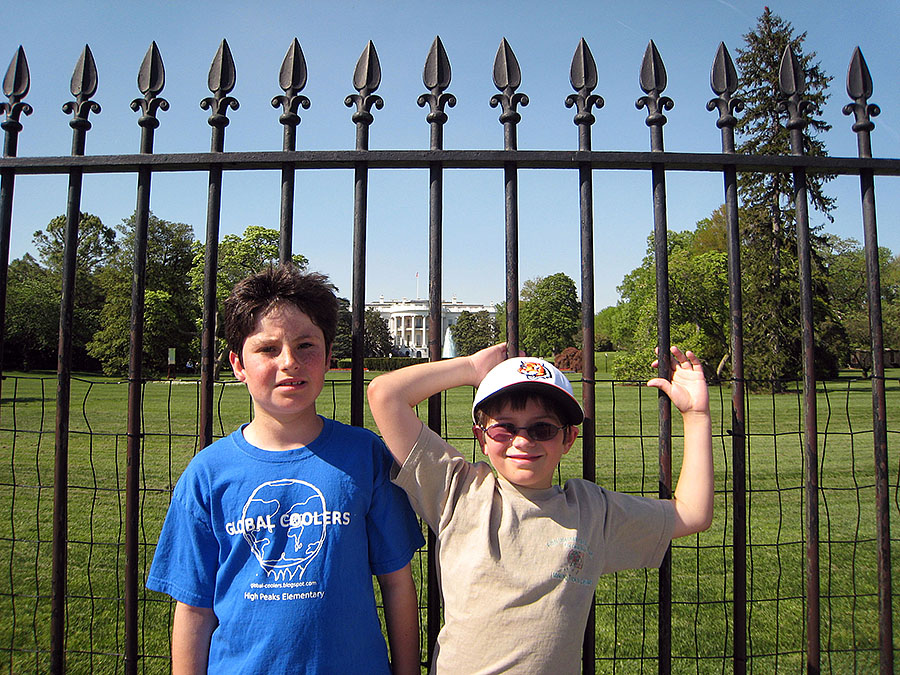 And a closeup ... I suggested we do a ring & run ... ;-)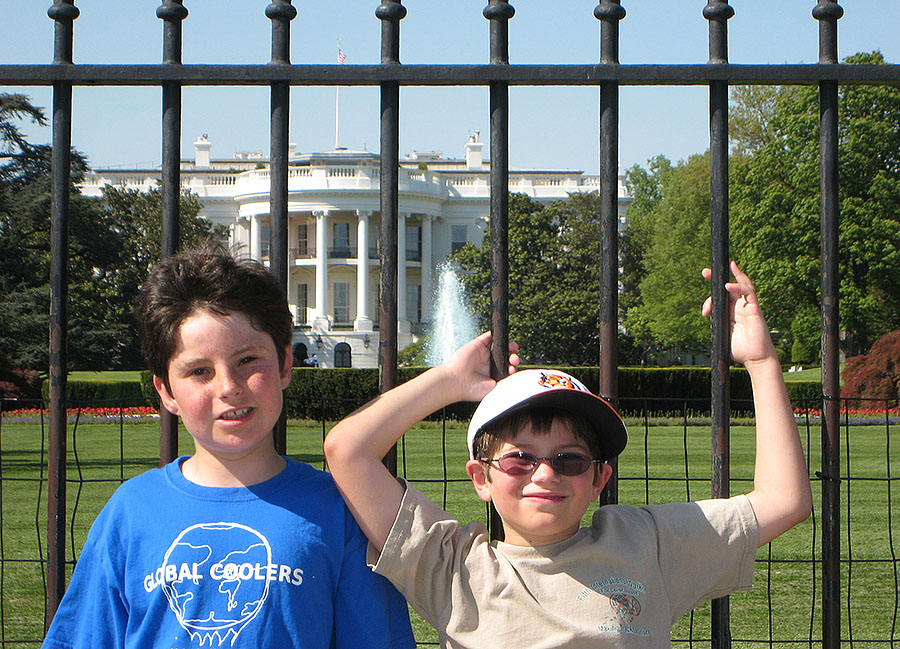 Kyle Addresses the Nation as (VP?) Dirk looks on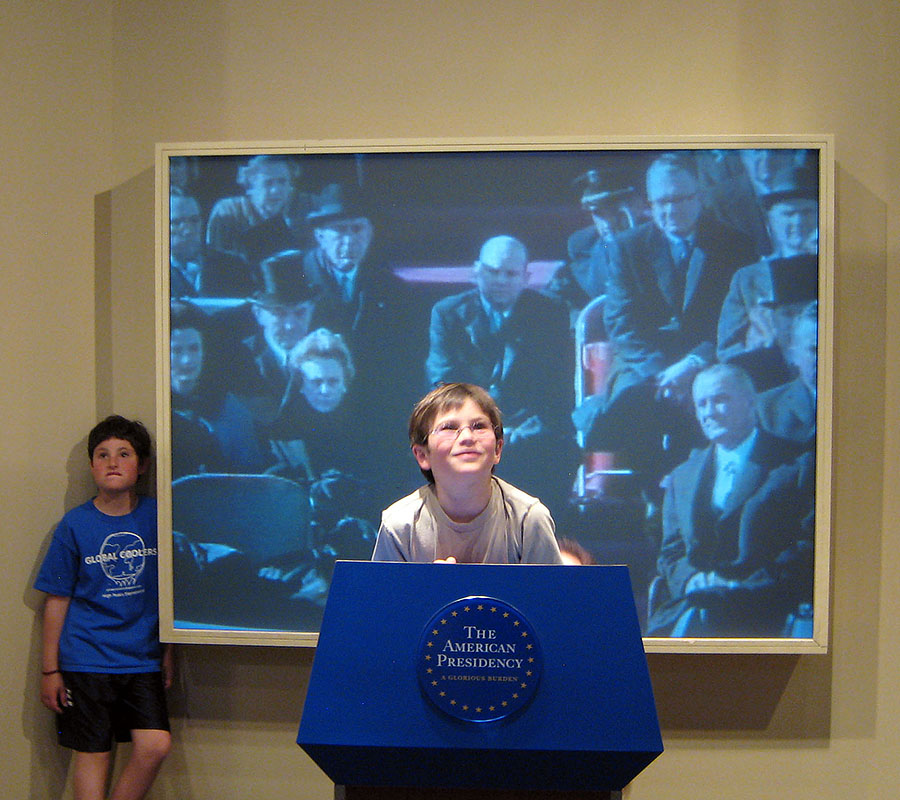 Kyle smiles as he does the "Spock Pinch" on Dirk in front of the Capitol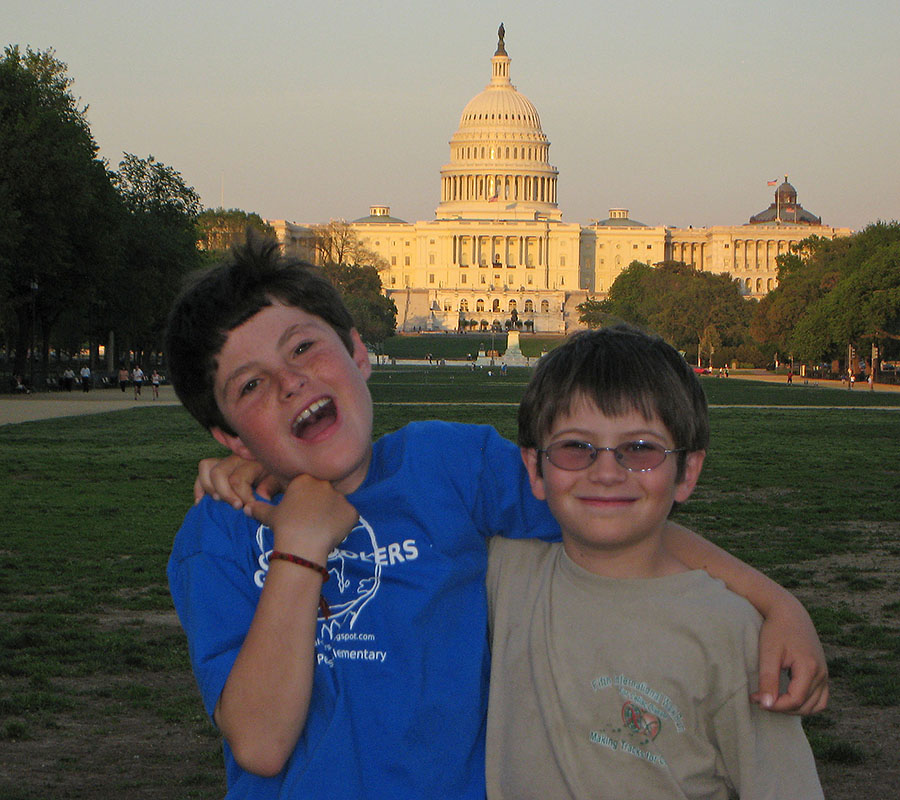 Kyle mixes it up again with Dirk later that evening on Capitol steps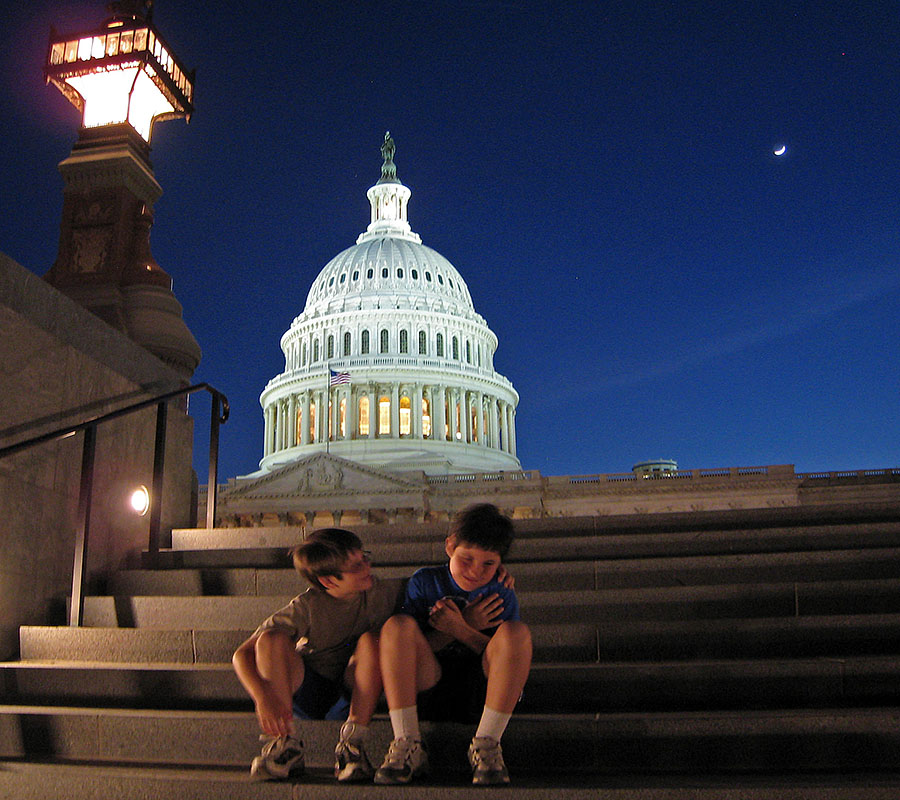 Hard taking a hand-held long exposure pictures of kids - too bad I didn't have my good camera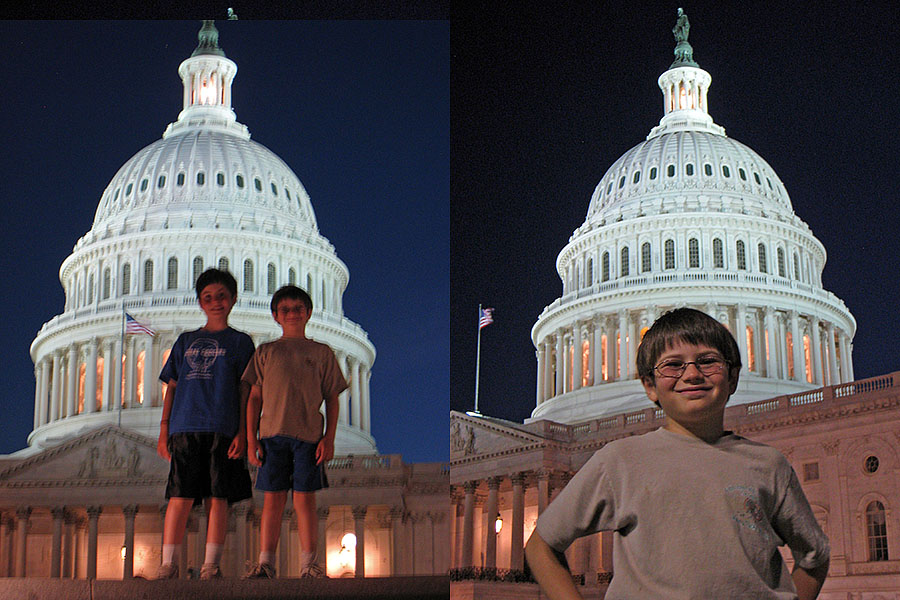 Lincoln Moumenent - note Kyle is about to put the "Spock Pinch" on Dirk again!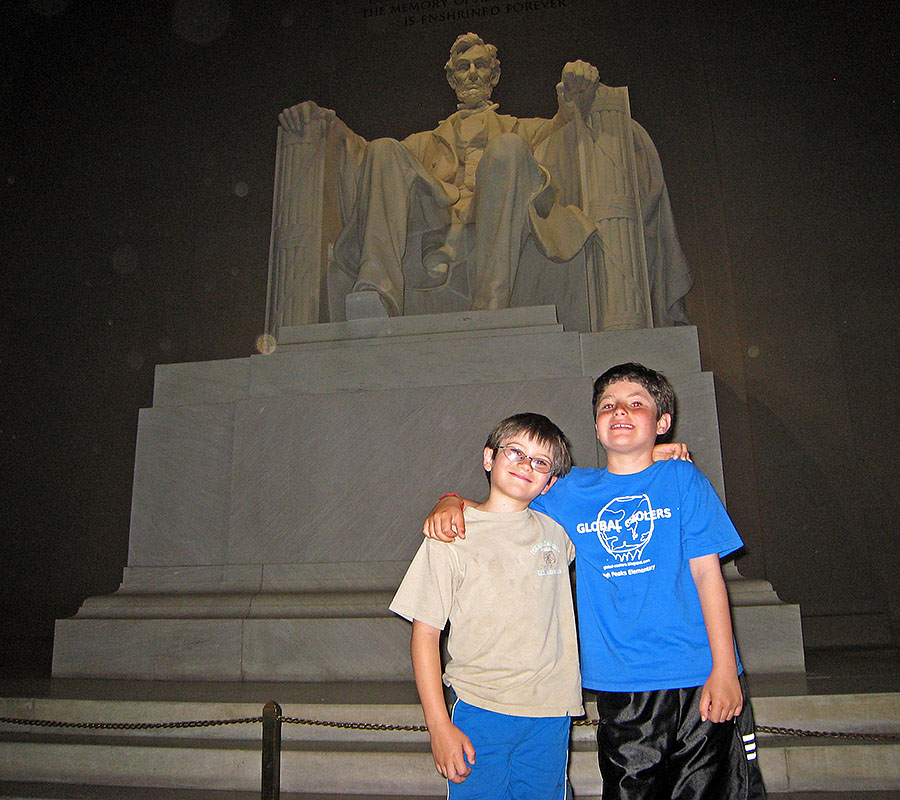 Washington Monument in Reflecting Pond - composite picture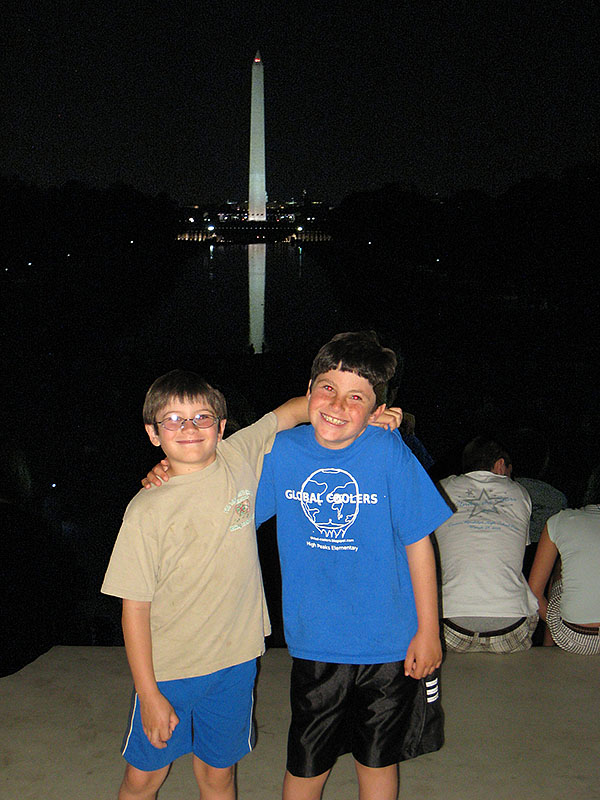 We packed up the next morning and had another nice flight on Southwest Airlines - they even got us into Denver 20 minutes early plus a "victory lap" around Terminal C (due to construction). But what's up with having Wheat Starch in their Peanuts?
Kyle takes Bella for a walk just before leaving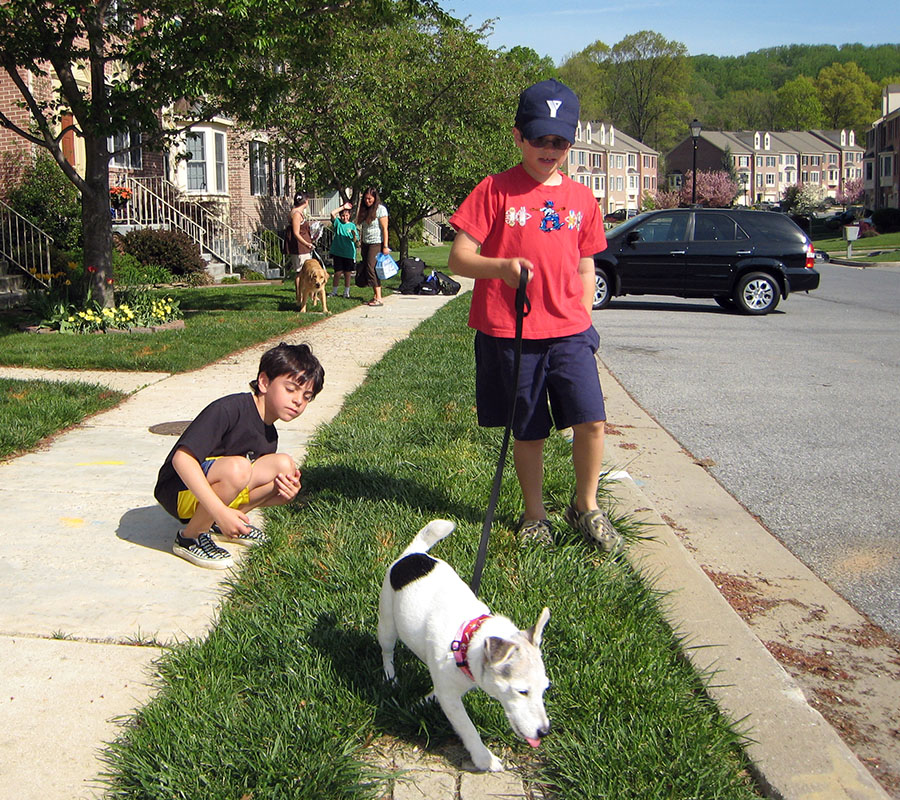 And then a kiss goodbye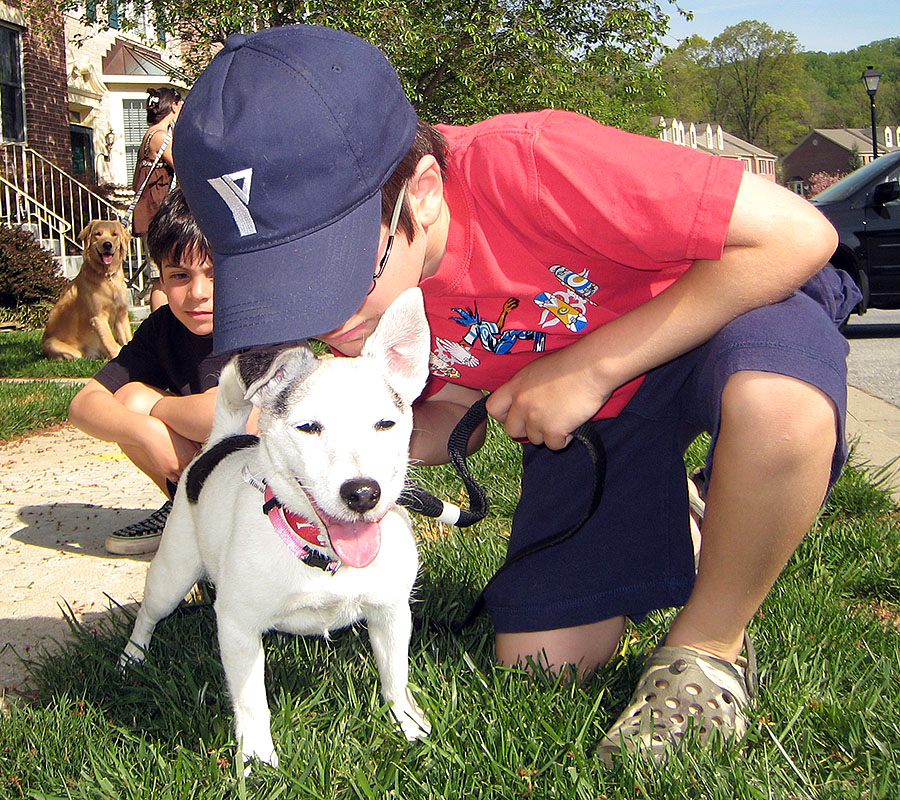 Kyle considers ordering the "Jack & Ginger" before departure from BWI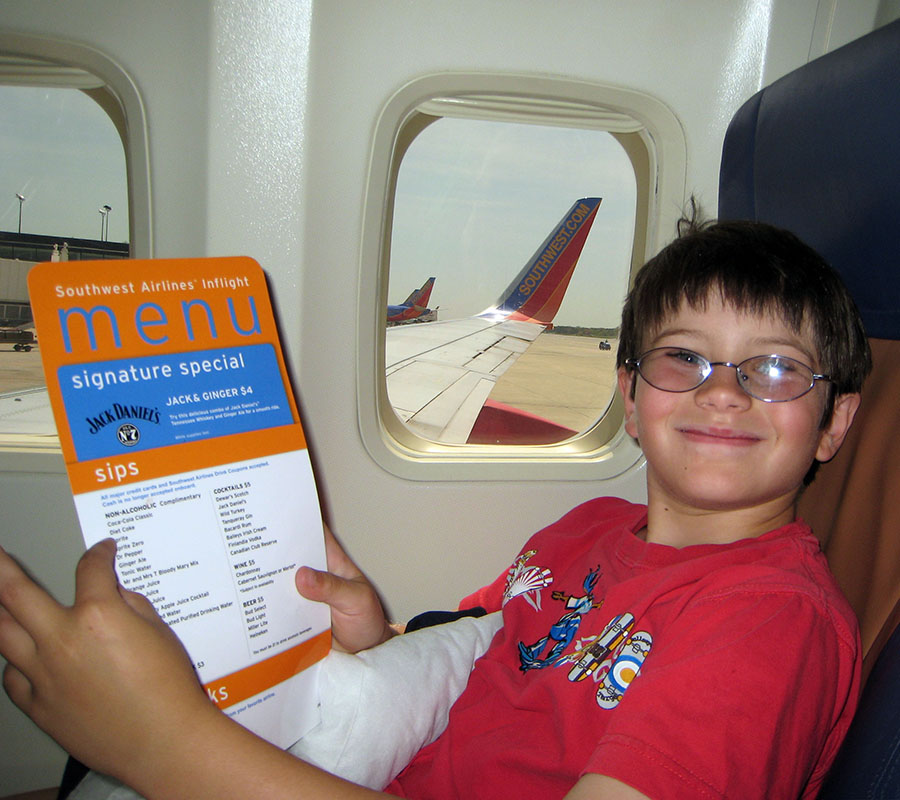 Southwest Airlines Peanuts - why do they add Wheat Starch - not good for Celiac Kids!