My father Oleg Komarnitsky passed away unexpectedly the morning of Sunday, Aug 29th, 2010 -
Memorial/Remembrances.
My brothers Kurt and Myke live close to our parents house in Bellevue, Washington and were there with my Mother shortly. My sister Stephanie and brother Kris arrived from out of town in subsequent days. My wife recently had Cancer surgery, but I was able to fly from Colorado to Seattle on Thursday, September 2nd ... which would have been Dad's 72nd birthday.
One of my Dad's favorite foods was Ribs, which ironically is what I had for breakfast that morning of my trip. There are two peach trees behind me in the picture below that a week earlier had over 1,000 peaches on them - my Dad helped plant the one on the right. The white T-shirt I'm wearing is from Dad's 70th birthday party when we had all golfed together.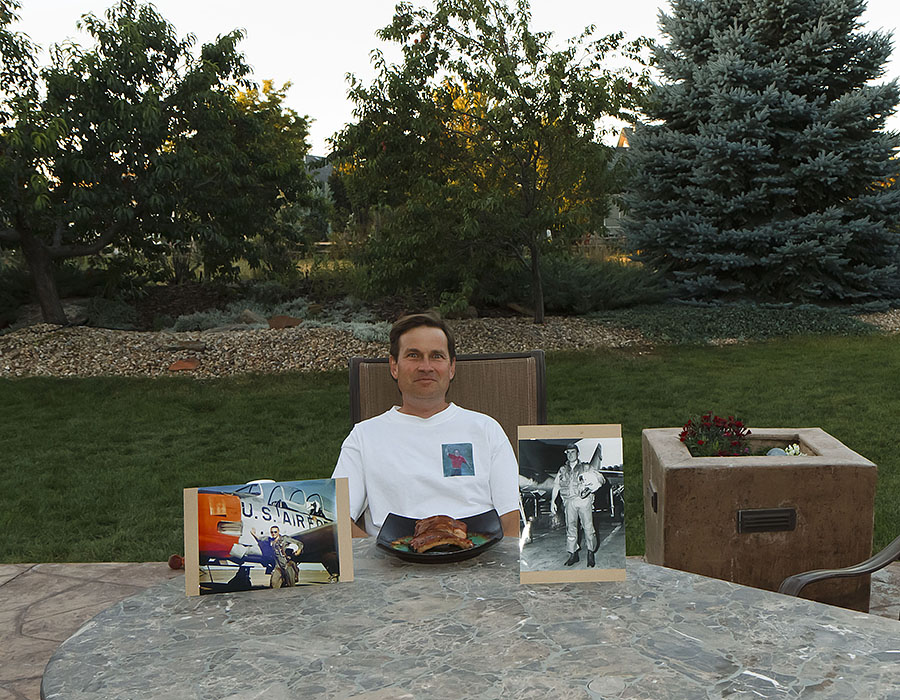 We carpool with our neighbors for the kids, so after dropping Dirk off at school, the airport bus stop was on the way to Kyle's school. It was even on the right side of the road and was also perfect timing - ultra efficient - Dad would have been proud.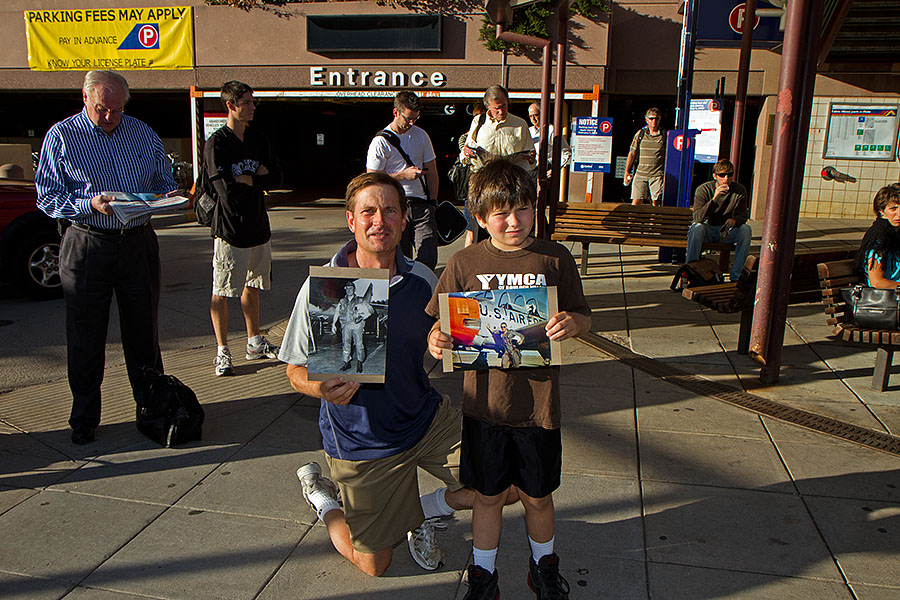 I had some extra time before the flight, so I stopped by the USO - Dad would say that I really need a haircut in this picture!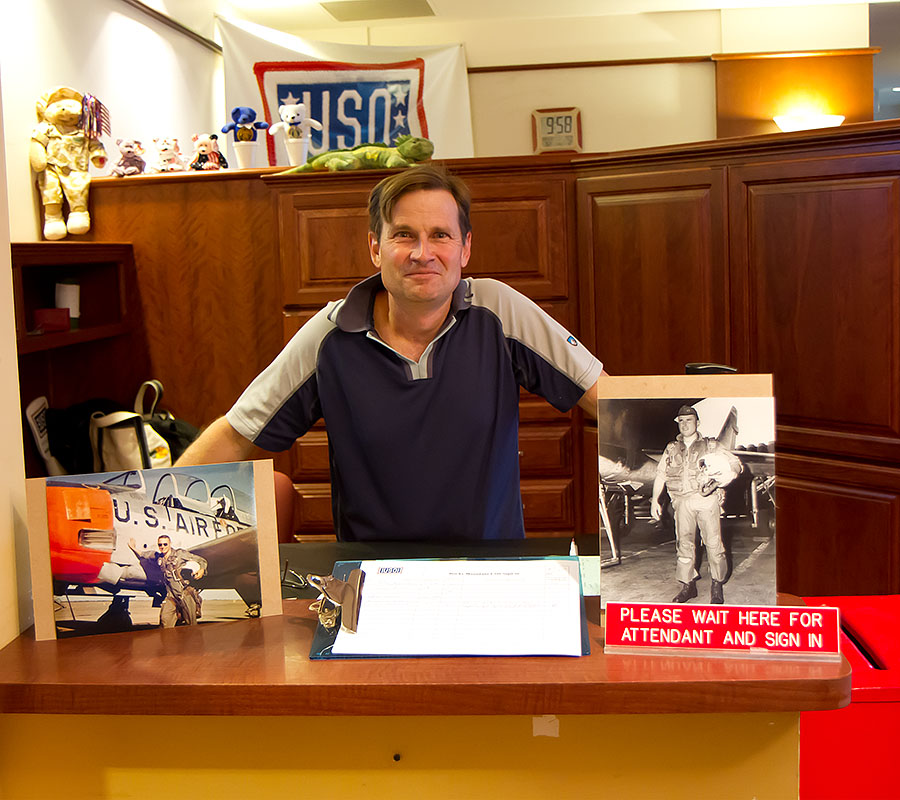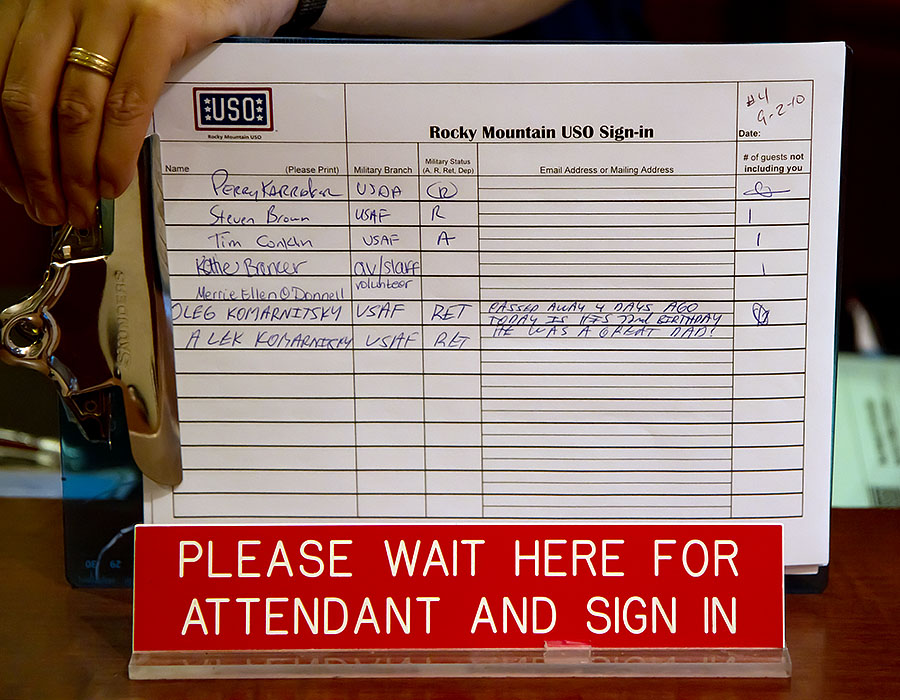 Getting upgraded to First Class was pretty nice - real plates and real silverware - shades of an earlier pre-9/11 era.


Mouseover image to see me make a toast to Dad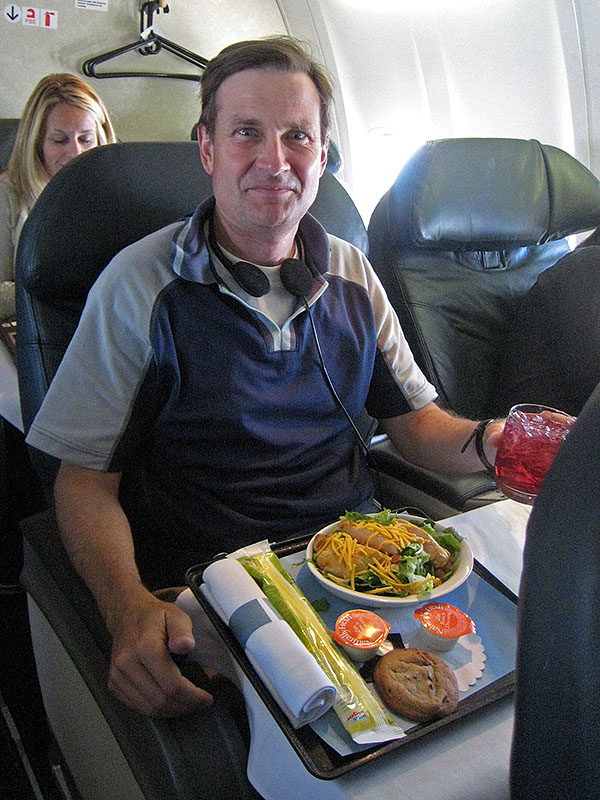 On the descent into Seattle, there was a great view of Mt. Rainier off the left side -

mouseover image to see wide-angle view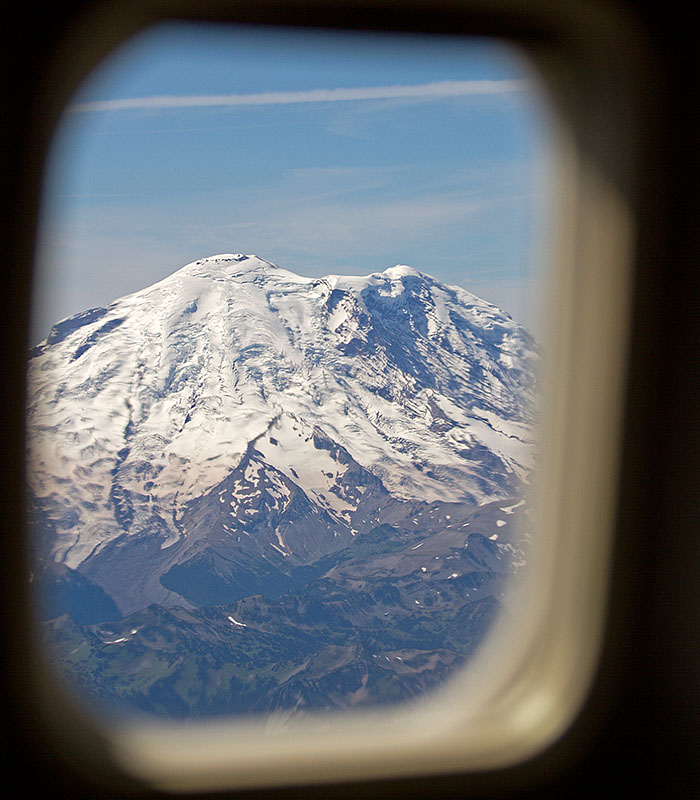 I asked the flight crew if Dad could fly "up front for a better view"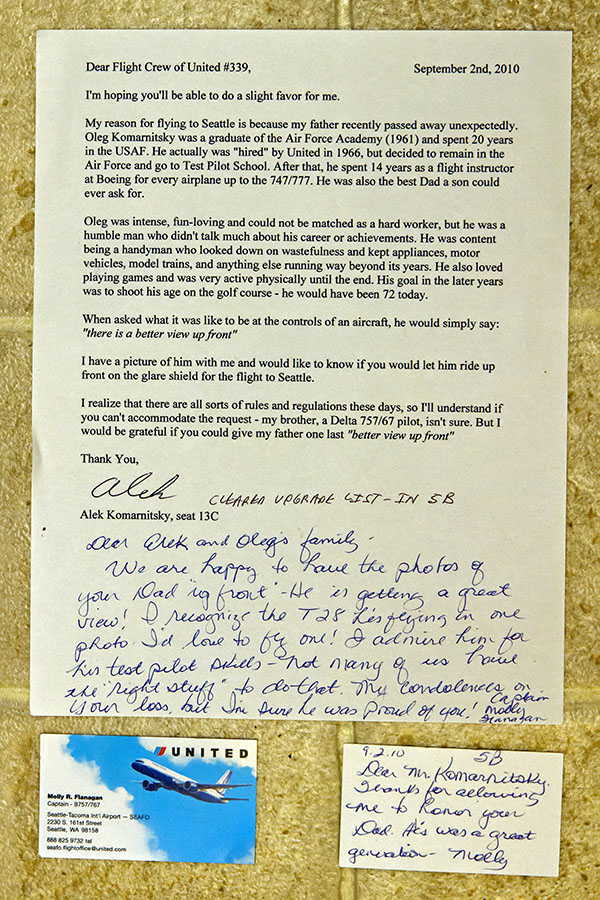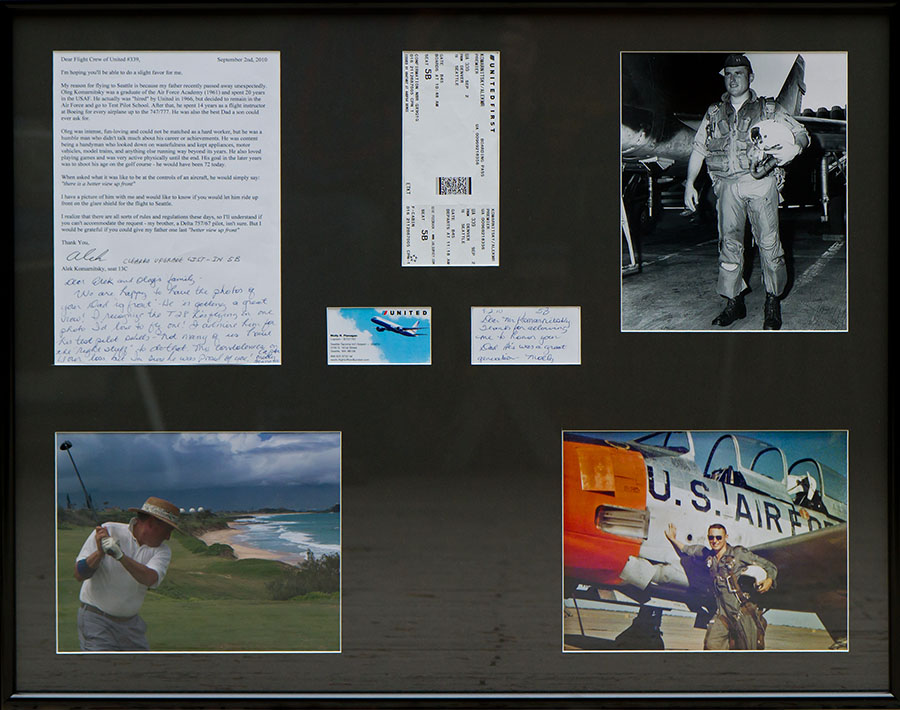 Some more details about the flight home
First, when booking the flight online, I used a recently received a United VISA Card, so not only did I get 30,000 bonus miles for the first-time usage, but also triple miles on United flights. Dad was always look for a "deal", so he would have approved.
Because my wife works in the travel business, my family was fortunate to be able to make a trip to Africa in June - over 20,000 air miles. Shortly after returning from there, United sent me, Dirk, and Kyle Premier Cards ... but Wendy did not get one because she had not come to Hawaii in early/2010 which was enough to push us over 25,000 miles. Needless to say, the boys (especially Dirk) thought it was the cat's meow to be "Premier" ... and it worked well on this trip.
When I booked my trip, the United website asked me how many bags I was going to check and instead of having to pay $20, it said I get the first two free - nice! At the airport, I went directly to the Premier check-in which had no lines - sweet! And then at security, you can use your "Premier" card to bypass that long long too - I was starting to feel pretty special.
After a stop at the USO, I walked to gate B45 ... on the other side of the concourse was United flight #42 which is the daily non-stop Denver-Honolulu flight ... I've taken that numerous times over the years and always been excited to board it for fun times in Hawaii with Mom, Dad, and the rest of the K-Krew. Unfortunately, I wasn't getting on that plane today. :-(
I made it to the gate just as they called for First Class to Board. After that, they called the Premier's so I figured I might as well take advantage of my "special status" and board early. As they scanned my pre-printed boarding pass with seat 13C, there was a big BEEP and the scanner turned RED. I had never seen this before, and the attendant said oh-uh ... I'm thinking please no problems on this trip. She then pressed a button and said "you got an upgrade" and printed off a ticket for seat 5B - WOW!!!
While I was the last person in the full First Class, there was a spot just across the aisle that was a perfect size for my rollaway and camera bag ... like someone had saved it there for me. After stowing my bags, the flight attendant asked me if I'd like a drink ... man, I could get used to flying this way! ;-)
I declined the drink as I grabbed the letter that asked the flight crew if "Dad could get a better view" (by putting his pictures on the glare shield) and walked up to the cockpit. As I usually do on United, I asked if they could turn on Channel 9 (which is ATC communications) and the Captain replied "sure, it's always on for my flights." I then said I had another request for her to consider, handed her the letter, and walked back to my seat.
After some kids visited the cockpit, she came to my seat and said "I'd be honored to have your Dad fly up front with us today" so I handed her an envelope, saying everything is in there. Just before takeoff, she addressed the First Class cabin in person saying thank you for flying United, that she was Seattle-based and therefore liked to "go really fast to get home" - nice touch.
We pushed back from the gate 5 minutes early, and rotated 9 minutes later, departing to the North. Not long after takeoff, I heard on channel 9 that flight #339 was "cleared direct to Yakima" and at one point, ATC asked us to speed up to 0.81 Mach for traffic, so needless to say, the flight to Seattle was a quick one.
As I typically do when flying, I pulled out some Wall Street Journals and started reading those ... but was "interrupted" by meal service ... on real plates and real silverware ... shades of an earlier pre-9/11 era in aviation when Dad was flying.
On descent into Seattle, there was a glorious view of Mount Rainier off the left side, so I snapped a few pictures. We landed to the North and I retrieved the pictures of Dad from the flight crew. The Captain commented that it was her Dad who taught her to fly and she thinks of him everytime she is in the air. I thanked them for letting Dad fly up front for the better view.
My brother Kurt called me soon after that saying he was on the way to pick me up. I retrieved my checked bag and as I walked outside, Kurt drove up. I.e. a perfectly timed airport pickup - again, Dad would have been proud!
We had a nice drive back to my parents house where I saw Kris, Stephanie, and my Mom, giving them all tearful hugs. I had asked them for some private time "with" Dad, so I then walked in the house and upstairs to the kitchen where he died.
Barring accident/illness/etc., I've always known the day would come when (not if unfortunately) I'd see a parent pass away. So that walk upstairs was the hardest thing I've had to do (yes, much tougher than climbing Longs Peaks with Dad and my Bro's on my 40th birthday! ;-) and again, while I knew that day would sadly come, it didn't make it any easier.
I laid out the pictures of Dad that had flown up to Seattle with me, said a few things, shed a bunch of tears, and said good-bye.