Oleg R. Komarnitsky passed away peacefully, but unexpectedly at home on the morning of Sunday, August 29th, 2010.
The memorial service was held held on Saturday, September 11, 2010 at Sacred Heart Church, Bellevue, Washington.
Oleg was a loving husband to his wife Betsy and wonderful father to his kids Alek, Kris, Kurt, Stephanie, and Myke, plus a super grandfather to Nick, Kara, Dirk, Kyle, Hannah, and Sophia. He was looking forward to spending time with Kaelyn who was born on September 7th, 2010. All have many fond memories and will miss him dearly - click here for the formal obituary. If you'd like to share your thoughts about Oleg, which are posted after the pictures, please click here to Email his son Alek.
---
Your Mother left a message on our phone this morning regarding the shocking news that your dear Father unexpectedly passed away this morning. Needless to say, Ann and I and all his friends are devastated by that event and wish to express our sincere condolences to you and your entire family. Oleg was a prince of a fellow and a total joy to be around and play tennis with. Ironically, he usually had more energy than the rest of us and always wanted to to play "just one more set". He will always be one of my very best friends and I will miss him dearly. Jonathan & Ann Rigdon
Betsy. Don't know if you do the email but will try this for now. Sandy and I were shocked and deeply saddened by the news on Ole. He really fought the good fight with the bladder and prostate problems - so who could have expected this. We are so happy that we got to chat with you two recently, but it will take a while for us to get over this (not to mention you and your family). He was one my closest friends at USAFA. We will be checking with you when things have settled. Lowell and Sandy
I hope you, or someone in your family, is monitoring your email so that this message might reach you. Pat and I were shocked and greatly saddened by the news of Oleg's sudden death on Sunday morning. Please know that we are thinking of you and your family and we are holding you all in our prayers. If there is anything that we can do for you immediately, please don't hesitate to ask. Please let me or any other local Gray Tag know the details re Oleg's services so that we might have the opportunity to attend. Corky and Pat Cochrane
Dear Betsy, I know I have been an absent member of the Dogs for a while, but I still relish the emails and knowing what you guys are doing. You all seem so very near. So I am just so sorry to hear the news about Oleg, I can't imagine it. You are a special person to me, and you're in my thoughts during this sad time. I'm glad your children are there and I'm sending loving thoughts your way. Fondly, Pam
Oh Betsy, my heart goes out to you! What a shock. I'm so glad your children are with you. Of course you know if there's anything I can do, I will. Lots of hugs Gale
Dear Friend, Know that we both are so saddened by your shocking news. Oleg had been through a lot lately but in my mind he'll remain a vigorous, vital and very interesting man. Now the focus is on you. Be gentle with yourself for whatever way you need to grieve. You know we all will do anything, anytime to ease your pain and transition. Love and care for you and all your family, Kay and Mike
It was such a shock to read your email. My heart goes out to you and your family. You and I have spoken on several occasions about our desire not to linger at the end of our lives. It is good that Oleg went quickly and did not suffer. Our arms are around you. We send our love. Please let us know what and when we can do anything for you. Micki
Nan called me to thoughtfully relay this unthinkable sad news to me. I don't know what to say at this point as I am still processing the unexpectedness of the news. As soon as you are up to conversation I hope to talk to you. Meanwhile my thoughts are with you and your family. Love, Dory
My heart is with you. If there is anything, anything I (we) can do, please let me know. I love you! Pat
My heart is broken for you and your family. So few days ago we were discussing such positive options for his treatment and laughing at the funny characteristics of our spouses. He was a delightful guy. You created a wonderful family together. When you're ready to talk, please call one of us. You know we're all eager to be here for you in whatever way possible. Love, Nan
I second Nan's e-mail and sentiments. I send my love and hugs. I am thinking so much about you and your family. Love, Julie
I'm so shocked and saddened. It just does not seem real that dear Oleg is gone . he was such a wonderful person- very special among people. Things were going so well - it just doesn't seem possible. You know we are all so saddened and wanting to hold you in our arms and support you. And our love goes to Myke, Kurt and Stephanie as well. Just let us know how we can help - anything. Love and hugs, Barb
I know many of our classmates will respond individually, but on behalf of the USAFA Class of 1961, I offer condolences and pray that the Lord will be with your whole family in this time of loss. Sincerely, Thomas J. Eller, President, Class of 1961
Oleg and I first met as freshman at Carnegie Tech (now Carnegie Mellon U, Pittsburgh, PA). We roomed across the hall from one another. "Whach'ya doin, Oleg?" I asked walking into his room one day. "Oh, just applying to the Air Force Academy," he replied. "You have got to be kidding; I applied also," was my amazed response. Well, both of us made it, and we flew out to Denver together to enter. He was exceptional at Tech, and he was exceptional at the Academy (we were in many engineering and science classes together where I readily observed his continuing excellence). Regrettably, we had not communicated over the years, but he has been and will be remembered fondly. My sincere sympathy to you, his family, on his passing. Jack McDonough
Can't begin to tell you how sick at heart I am at your news. What a shock! Wish I had words of wisdom to offer at this moment, but the best I can do is to say that you're in my thoughts, and that this is the time when having your loving family together around you means the world. My deep sympathy goes out to you all. I hope I can give you a consoling hug in person sometime soon. 'Til then, please take care of yourself. With love, Joan
I am still numb after hearing the news about Oleg's sudden passing. Please accept Barre's and my sincere sympathy. I have rarely met a person so kind and so full of energy and enthusiasm as Oleg. My condolences to you and all your family. Julie S.
Betsy - We received with a shock the news of Oleg's passing. He was to all of us in Pilot Training Class 63-B a great competitor in flying, academics and athletics; but most of all, he was a great and reliable friend. We will all remember his great smile and sense of humor - he will be sorely missed. We are nearby, in Kent, WA., if there is anything at all we can do for you and yours. Donna & Duane Gregory
Dear Members of the Oleg Komarnitsky Family - By way of introduction, my name is Win Jones, Founder and Coordinator of the Jones Golf Group at the Willows Golf Course. Several years ago, Oleg was introduced to our group and fast became one of our favorite members. I recall his arriving at the course and asking me whether we had room for him for that days play. I would respond that there always would be a spot for Oleg regardless of reservations made. This morning, August 30th, we had a short prayer service in his memory before golf play. I know that his passing will leave a huge void relative to the ongoing activities of our group. We wish to express our sincere condolences to Oleg's entire family, and we stand ready to assist in whatever manor deemed helpful. With deepest sympathy, Win Jones and Golf Associates
I never got to meet Oleg's children but I did know Betsy and your father was a special friend. One of the many kind things he did was little known outside Betsy and him. I was stationed in Okinawa and bored to death with my job as the ADO of the 18th TFW as a boy Colonel in 1976. I cant remember how it came about but I was talking with Oleg about going to Taiwan to buy a sailing yacht and sailing it back to the states. I guess I mentioned that I was going to get a loan and Oleg volunteered to loan me the money. I don't remember signing a note but he sent me a check for $20,000. I bought a 32 foot double ender cutter rig and sailed it from Taiwan to Okinawa. Oleg was lucky I didn't die in the tropical storm which exploded on the second day in the East China Sea. Waves were breaking at the spreaders and I had to tie myself in the cockpit to keep from being washed overboard. I promised God if He would get to dry land I would never go to sea again. Finally made it to Okinawa after about 5 days. Later, a Navy buddy helped me ship "Grace"(as I named her) to San Diego on a Navy LKA and then trucked it to San Francisco bay where I sailed it while in Biz School at Stanford in 1978-79. Then sold it at a fair profit as there are few places in Texas for such a yacht. She drew 6' with her keel and weighed over 8 tons and had a 45' box spruce mast. I was sorry Oleg never got to sail with me. I did pay him back. That was always a kind of special thing between us as it was all on trust. That was Oleg. He was a good friend. May God bless and comfort your family. We will see him again. Howard Bodenhamer aka Bodie
Our sincere condolences on the loss of Oleg Komarnitsky. Your family is in our thoughts and prayers. Sincerely, Edward W. Avery, Jr. Son of Ruth Avery and Grandson of Theofila Olshanska
I have been told that you are not ready for calls and I of all people do understand, I understand so much and I am wrapping you in my thoughts and my love. I can truly imagine your feelings and what you must be going through. I do know that having the children arrive will give some support. It has been a great help here . Remember that you have many friends who love and care for you. Call on us as you need to. We will be there. With deepest caring Joan
Susan and I want you all to know how shocked we are at the news of Oleg; Oleg had overcome so many adversities; he was a survivor. I'm using email in lieu of a phone call, because I suspect that you are inundated with calls from your so many friends when a respite might be welcome. We also want to offer our individual and/or collective services if there is anything we can do, at any time and in any form, to be of be of assistance. If you need help, please don't hesitate to call. S&S
I am more than sorry to hear of Oleg's untimely passing. He was to me a beacon of intelligence and humor, not given to the herd mentality, and willing to speak his mind with conviction but without rancor. I am truly saddened.
Paul D Hinton
Your father was my last and favorite roommate at the Academy. He was a trusted friend and dear companion, with a gift of exceptional intellect and wonderful sense of humor. He has a treasured place in my heart. Dorene joins me in sending condolences and best wishes to the family. Please give your mother our special love; we all met in pilot training and shared many happy memories of that year. With deepest sympathy, Lee Butler
I don't want to bother you with a phone call so I decided this was the best way to communicate for now. I think about all of you a lot and I know what you must be going through. I too have been in such a situation and my heart aches for your pain and sorrow. Dave spoke with Myke last evening so we have a general idea of the plans. We will also keep close track on the family web site. Alek has done a wonderful job on that. Now we await the first appearance of "Miss Komarnitsky!" How marvelous that she is about to join us at this time. Love, Gail Rust
Thanks for all the good work you have put in on the komar.org web site since the sudden, tragic passing of your father. Oleg was a great guy, a wonderful brother-in-law - he was always cheerful, and I admired him for his many successes: family man, pilot, Air Force officer, financial advisor, fellow hiker. I remember very fondly the climb up Torreys and Grays peaks that we made together many years ago. Gail and I are very saddened by this death. It is a shock that, of course, falls hardest on your mother. I am grateful that she called us, and we are ready to do anything we can to help. Dave Rust
Remembering Oleg. Dear Betsy and Family, Holly and I are deeply saddened by the shocking loss of your Oleg. He was a truly wonderful man. Our hearts go out to you. Personally, Oleg became exceptionally close with me during a very trying time in my life and I am deeply indebted to him for that finely tuned support which he freely gave to me. I will always remember our time together flying out of Boeing Field and Bellevue Airport. Often, we would fly a new AWACS airplane from the factory to Tinker AFB and sign it over to the troops there. And naturally, we would always play a round on the Tinker Golf Course before we caught a flight back to Seattle. Clearly, Oleg always was a stand-out performer and a thoroughly caring friend to all who came his way. We shall miss Oleg always. And we will never forget Oleg. Sincerely, Art Kerr
True Friend. I was saddened to hear the news about Oleg. I knew Oleg only through tennis at the Bellevue Club. However just from playing with Oleg on the court you could tell what kind of man he was. In addition to being a pretty good tennis player, he was a personal pleasure to play with. He never had a disagreeable thing to say about anyone, made an effort to make less skilled players feel at ease, and was unfailing fair in how he called the lines. Simple things really but they often disclose something a persons character. Thus I was not surprised to see from your thoughtful web site what a remarkable life he led and what a wonderful family he had. My thoughts are with you and your family and my condolences for your loss. I will miss Oleg. Ken Whitaker
A True Friend. Ole was not only a special friend but a special gift to so many who knew him. I was fortunate to benefit from that during our pilot training days together. I arrived at Williams with no flying experience whatsoever so needless to say I was a step behind right away. During the first months of training I struggled but Ole came to the rescue spending many hours tutoring me on such dynamic subjects as weather and navigation, etc. He also spent many weekend days at our place during that year enjoying a BBQ and teaching Patti and I to play bridge. He always brought strong partners like Lee Butler or John Stackhouse but he was our "coach" and we could hold our own by the time that great year was over. That early friendship between us savored over the years and we were able to cross paths periodically always interested in one another's status. He was a very special person in many special ways and Patti and I extend our deepest sympathy to all the family in your loss. He will always be remembered as a true and lifelong friend. Pat and Patti Galbraith
Dearest Betsy and Family, Ron and I were heartbroken to hear of the passing of Oleg. There are so many memories that go back for years. I can only say we know he will be missed by us and soooo many people. It was a privilege and an honor to know him. Please believe me when I say our thoughts are with you. He was a special man and he will never be forgotten. Love to you Betsy and your wonderful family. Gail and Ron Behar
Dear Betsy. We were both shocked and saddened to hear of Oleg's passing. We're sure that your wonderful family will be a source of strength for you during this difficult time. Although we weren't in close contact with you and Oleg during the last several years, we fondly remember our visit with you in Washington in 1997 during a birthday celebration. That was very special. I can remember enjoying the family get-togethers in Pennsylvania while Oleg and I were kids, and these images will remain in my memory. Fondly, Boris & Joyce Dronoff
Oleg crashed. For the past several years, the first name on the "TO" list of the zingers I've been sending to you has been that of Oleg. Sadly, Oleg died last Sunday morning just short of age 72 of cardiac arrest. He had just beaten a bout with cancer and, with a clean bill of health, had the world, once again, by the tail. The loss of Oleg will particularly impact those of you who have an aeronautical bent; he was the source of a lot of the material I forwarded to you, and provided a great deal of the technical insight associated with pieces I sent to him and was later returned to you all with his observations. He was well qualified in this role. Oleg graduated from the Air Force Academy as an aeronautical engineer, was qualified in most of the aircraft the Air Force flew during the period of his career in the service, was subsequently a commercial airline captain and, until his retirement, a Boeing test pilot. Those of us who knew Oleg as a friend will all miss him as will you all, the insight he provided into the complexities of his chosen career field that so intrigues so many of us who were largely limited to ground bound careers; his contributions that so expanded our knowledge and pleasure will be sorely missed. We will miss Ole all the way around as will those who never had an opportunity to meet him, but enjoyed his contribution(s) to our little e-mail group that has maintained an on-going conversation and exchange of ideas on airplanes that has been going on for several years. I knew they would be stricken to learn that Ole wouldn't be with us anymore, and they are, as evidenced by expressions of sorrow I've received in response with comments as to how much they learned from your Dad. Susan and I are numb, but did enjoy reading the bio on your Dad. He was a real friend, and as you so succinctly put it, was a real fixer; he fixed an electric train engine for me, and was at the door almost as soon as I had hung up from asking him how to circumvent a problem with a recalcitrant DVD. Skip Voorhees
Skip, I'm so sorry for all Oleg's family and friends! He always presented an interesting perspective and will be Missed by all! Taps is playing ........ Semper-Fi. jarhead
Very sorry to hear that, but it's our loss and not necessarily Oleg's. I never met Oleg, but this little online community will miss him, as many others will, I'm sure. Among those in risk-prone professions/avocations, death is always there, sometimes standing with you at the bar, and an accepted part of life. It's the ultimate adventure. I hope Oleg's enjoying it. Roger
I am so saddened and shocked to hear about Uncle Oleg. I've had you in my thoughts and prayers all day, and all my cousins and their children too. I turn to poetry when I'm sad, just as Grandma Esther used to do. I found a beautiful poem that reminded me of Oleg--particulaly his love of the lake and the mountain where you two made your permanent home. It's from the book of poems by Robert Service. He was a lover of the Northwest, and a practical man, very much about doing, and very attached to place, as Oleg was. This poem reminded me of how he loved going down to the lake daily in good weather to swim, and to admire the mountain on clear days. I also remember, how he was always glad to have company, and he would ALWAYS urge you to come with us. "Bets? You coming?" I think after all your travels, and all his flying, it was being able to settle down with you and the kids in one beautiful place that made him most happy. Anyway, I hope this poem reminds you of Oleg, as it did me. My favorite times with him were those walks down to the lake, those peaceful morning and evening swims. I love you, Amy Rust-Higgins (click here to read the poem)
Oh Bets, Judy called yesterday with the news about Oleg. It just doesn't seem possible for someone as active and involved to be gone so quickly. You have been on my mind constantly, and I was relieved to hear that Kurt and Myke are in the area. The thought of no family being there for support was just too sad. I know you are probably swamped right now with all there is to do, but I am hoping that when things are a bit more quiet we can have a chance to talk. Pat and I send our love and prayers to you and all the kids. Take care. We're thinking of you. Love, Linda and Pat
It is with a heavy that I learned that my classmate and friend Oleg R. Komarnitsky slipped the surly bonds of earth. Each of us has fond memories of Oleg and that will make him immortal. Until we meet in the hallowed halls of heroes, we will miss him. Hector and Joan Negroni - USAFA Class of 1961
I knew Mr. Komarnitsky from the age of 16. His son Kris and I were very good friends. Subsequently, I would see Mr. Komarnitsky close to a weekly basis, because I was always over at their house hanging out with Kris. Mr. Komarnitsky would ask me how I was doing, how school is going and what I was up to. And then came time for graduation, he gave me advice to go into the Air Force as a Loadmaster. He would say, "it's a good job and a good way to see the world." In all those conversations, I got the sense that he was sincerely interested in my well-being. After moving to California I would talk to him and Mrs. Komarnitsky once or twice a year. I always enjoyed our all too brief conversations. I was always impressed how he and Mrs. Komarnitsky always had so many things going on and places to go or kids and grandkids to see. As it turns out, he knew my uncle; Jim Gannett, from flying at Boeing. My uncle had nothing but admiration for Mr. Komarnitsky, as a person, a pilot and a competitor on the tennis court. Having known all his children, when I was younger, and over the years vicariously through Kris I could see the good qualities that he imparted to his children most of all was the importance of what they meant to each other. One of the greatest impressions or lessons, if you will, that I will take for Mr. Komarnitsky is that he never had a sense of a braggart. His many personal and professional achievements and abilities were always well hidden by his overwhelming sense of modesty. Behind his Will Rogers persona was a person of great achievement and great values, and he will be sorely missed. Paul Hart
My sincere condolences. I was just diagnosed with Celiac this summer and my 6 year old grandson is getting tested next week as he has some slight symptoms. Hope you family is doing the best they can. Great photos on the site.
Lyle Gray - Cedarburg, WI - "The Old Guard" Honor Guard company (70-73)
We were surely shocked and saddened to hear of Oleg's sudden passing. I have always had the highest respect and admiration for him. He was really a leader by example, with a quiet strength, strong intellect, and infectious humor that was part of everything he did. We bought our very first house from Oleg and Betsy in Dayton, Ohio, when I was stationed there at Wright -Patterson AFB as a brand new test pilot in 1971. I was very apprehensive about the purchase, but Oleg gave me a good deal and some sage advice, and we "dove in" and have been grateful ever since. Looking at the family pictures, we can see he had a very full and wonderful life, and you all were the most important part of it. We wish you all the very best in the future, and our thoughts and prayers are with you in these difficult days. Love, Wayne and Mary Jones
I remember Oleg as my best roomate at USAFA. After graduation, Oleg went to Willy for flight training in class 63-B. I was in Class 63-A. At the time Oleg was getting very serious with Betsy and ask if she could stay with my wife and me in our two-bedroom apartment, the proper thing to do at the time. I did appreciate the evening when Betsy's father invited my wife and I to a wonderful engagement dinner in Phoenix later that year. The last time I met with Oleg and Betsy was just last year when my wife and I visited him after our Alaskan cruise. Oleg was very gracious to us and invited us to his friend's Chinese Birthday party, a very rare and real treat. My wife and my thoughts and prayers are with Betsy and Oleg's family. I know he will be truly missed but will forever be in all our memories. Ted Nolde
With our shared interests in tennis, golf and model trains, I've felt a special kinship with Oleg over these past thirty years, always appreciating his enduring talents and energy in pursuing these games/hobbies over a life time, so the news this past Sunday (August 29th) has left me (still, tonight) with a heavy, sad heart and a tearful countenance. Our Sunday morning tennis games followed by breakfast, enjoying wonderful discussions with the 'gang' around the breakfast table at the Bellevue Club with Oleg will be, sorely, missed with Oleg's absence. I and all of his many tennis and golf friends will treasure this wonderful human being and gentleman for the rest of our days. Ginny and I have you in our thoughts and prayers during this difficult time. God Bless - Chris and Ginny Arundell
Dear Bets, Alek,Kris, Kurt,Stephanie, and Myke, I'm still in shock of the news of Oleg passing. The one legacy Oleg left behind was he loved his wife, children,and grand children and what a good mentor he was to all of you. I remember when I stood up at your wedding Bets, I thought Oleg will always be the best husband you could find , and he was. We will all cherish those special memories. Your all in our thoughts and prayers.. Lovingly, Bob and Judy Purvis
I worked with your dad at Boeing for many years and enjoyed his friendship, counsel and great sense of humor. Please accept my condolences and pass them on to your entire family. His Final Check by the Chief Pilot will have all the marks in the far right column - "Outstanding in all categories as a father, friend and aviator." Bill Critch Flight Training, Boeing 1972 - 1992
I only had contact with Oleg during our year in pilot training and our paths never crossed again which is sad because he was such a great guy. I worked with him on our graduation book(which we got in trouble with the brass over some of the ads we put in it.) It is nice to see that he had such a great family and wonderful life. Our condolences and prayers are with your family. Hale and Dolores Quigley
Betsy, We knew Oleg mainly through you and the times we helped you with the Crossroads Meals program at Sacred Heart. We were shocked and saddened to learn of his passing and know that God will be with you and yours in this difficult time. Bob and Kiko Thompson
Dearest Betsy, so sorry to hear about Oleg. I will always treasure having known him. Goodness, we go "way back". I have just gotten back from spending three days with two of my college roommates whom I had not seen in 10 years. (We have a 50th reunion coming up.) Gigi's husband, whom I had also known in college, had died 4 years ago. And yes, I know that your life has changed. Gigi is doing well, but of course, it has been an adjustment. Life seems to be all about change at our age. I guess it has always been so, but I guess it just didn't seem so significant. I know that this is a difficult time for you. Talmage keeps telling me that "growing old is not for sissies!". And I know that you are not a sissie, so you will make it. Take care and know that I will keep you and your family in my prayers. It is always good to hear from you. With love to you ~~~~~~~ I just told Ed that you were a great, and sweet person, and that I probably wouldn't have survived living in Woburn without you (and Beth surely would have starved to death). Julia Floars
Jim and I were saddened and shocked to see Oleg's obituary in the Bellevue Reporter. This web page and photographs are, however, a wonderful way to capture the happy times and remembrances. Your family is beautiful and I'm sure giving lots of support. Somehow, we think of Oleg up in heaven playing a round of golf and flying the equivalent the latest Boeing jet. What a guy! Our condolences, Lourdes and Jim deMaine
I well remember Oleg, only my memory is of a pudgy, very happy, enthusiastic about 11 to 12 year old who came to the Meadowbrook pool every day it was open and was Always happy and did bug his teenage sister sometimes as I recall. Back then WWII planes would fly right over the pool and he would always stop short to watch and exclaim about them. One, in particular, the B-25 Mitchel bomber was so very loud as it would pass over our heads a few hundred feet high. We would all cover our ears and open our mouths due to the extreme noise. Little did I ever expect for Oleg to become such a pilot and aviator from all this. His obituary tells of a really cool sounding guy that I very much would like to have known thru his adult years. I am not at all surprised at how he lived his life. He just continued from the delightful little guy at the pool who could cannon ball me while I was standing over by the edge and he would come within inches of the edge to create a perfect cannon ball. completely soaking me and bursting with laughter when he surfaced. I am so sorry for you loss, you and now all the family had a really great guy to share life with. a distant friend Chick Curry
Dear Betsy, Alek, Kris, Kurt, Stephanie and Myke, Time has passed since we heard the sad news about Oleg but time hasn't made it any less painful. I've been thinking about what made Oleg so special and what his legacy is. His legacy is his family, you. Alec and I have been an add-on part of the Komarnitsky clan for the past ten years - since Stephanie married our son Stephen. I knew it was a going to be a special relationship when, at the wedding as Oleg was walking Stephanie down the aisle, the theme music from Jaws suddenly boomed over the speakers! This was only the beginning for us of hearing about all the pranks and jokes your close family played on one another. We love listening to the stories of who did what to whom and what the next prank will be. It is clear that Oleg has passed on his family values, integrity, honesty and accountability to his children. Each one is a measure of their father and each one is closely connected to the family. Of course, the children also have their mother Betsy's strong values and connectedness to family and community. Oleg and Betsy would have been married 48 years on September 18th. Together they created a special clan and can be proud of the upright, productive adults they reared. We will miss Oleg but knowing that his character lives on in his sons and daughter, helps. Raleigh and Alec Nowers
Dear Betsy and family, It is with saddened hearts that we send you our love and prayers. We are still truly stunned by Oleg's passing. Jim spoke to him for a half hour the night before he died and was encouraging him to hop on a plane and come down to Palm Desert for a few rounds of golf. Oleg said he wasn.t feeling too well and thought that he had the flu but that he might come down a little later. We were laying in bed Sunday evening and thought of all the special times we have had together in the past. The many, many tennis and golf matches. Our good ol' tennis group with dinners at our various homes and the picnic on the 4th of July when we honored Matthew and Lin Hsoia on becoming American citizens. Our New Years parties following our big tennis tournaments with Oleg trying to draw "something?" for his Pictionary word. And, oh, how Oleg could eat! ( especially at one of Matthew's big Chinese dinners! Always so much food.) What great fun and what great fellowship! We will truly miss our dear friend, Oleg. A friend that would do anything for you. A friend that would listen and give wise advice. A friend who was such a brilliant intellect and knew so much about so many things. A man who was respected by everyone and served honorably for us in the military where he was known as one of the most outstanding alumni of the United States Air Force Academy. One would never know of Oleg's many achievements because he was a man of humble servitude who lived with honor and integrity. We are both so proud to say he was our dear, dear friend. Lovingly, Jim and Jodee Harryman
To the whole Komarnitsky family I offer my sincere condolences. I was deeply saddened to hear of Oleg's passing. I was his AWACS Flight Engineer during his USAF assignment at the Boeing Company. I have many fond memories of our times together both on the ground and in the air. Oleg as you all know was a very special and unique man. He taught me many things and above all he was like a big brother and a great friend! There are a number of us here at Boeing flight test that were saddened by the news of his passing but memories of him still bring smiles to our faces as we share our experiences. George Kegebein
Please add our condolence to the others from Oleg pilot training class. We will surely lift a toast to his memory at our 48th class reunion next month in ABQ. Richard and Bonnie Benson
I was very saddened to hear of the loss of your father, and wish to offer my most sincere condolences to you and your family. I worked with Oleg at Boeing in Flight Crew Training, and have nothing but praise for him and his abilities as an Instructor Pilot. He quietly went about his job, successfully training even the most challenging students. It was a loss to Boeing when he left but it was obviously a choice he wished to make. I remember him very well and valued him as a friend and colleague. An illness prevents me from attending the memorial service, which I am sure will be a very touching celebration of his full and rewarding life. Kindest regards to you and the Komarnitsky family, Bill Royce
I just became aware of Oleg's passing and wanted to express my sorrow for your loss and also to give praise to a man, who like many others in Boeing Flight Crew Training did an outstanding job not only because of his flying abilities and knowledge of Boeing airplanes, but to his personal attributes in working with airline customers. Because of efforts like those displayed by Oleg, Boeing Flight Crew Training has been recognized as a leader in the Flight Training Community throughout the world. As Director of Training for several years in the early 1980's I had the opportunity and honor to work with a number of outstanding and truly professional people Like Oleg. As such his service and dedication to always doing a first class job touched many people and customer flight training organizations, all of which benefited and became more capable . What better legacy than knowing that ones efforts throughout life has left the world a better place. Jack Wires
Betsy, we were so sadden by your loss of Oleg. I was so impressed by the number and assortment of people that have crossed Oleg's path during his life. He truly was a man for all seasons. I want to thank you, in Oleg's absence, for all the wonderful times we have shared together. We were so fortunate that you would share your time with us and we would come to be your friends. The one special time I always recall was at the cabin in Allyn. We had been playing bridge until about 2 in the morning when we noticed the large snowflakes had created a foot of fresh fluffy white snow. The four of us decided to go for a walk in the woods. That walk through the fire roads, with very little conversation, just snow falling on our heads and the crunch of the snow beneath our feet allowed us to retain a memory that is so vivid to me today. Bless you and may your family continue to share your special relationship well into the future. Mary Ann and Bill Noland
Fond Memories of a Great American. To the entire Komarnitsky family please accept my sincere condolences on the recent passing of Oleg. Although we were only able to meet up a couple of times, Patricia and I remember our visits fondly . Oleg had such a wonderful attitude about life, which is sure evident in your tribute to him on this website. One part of Oleg that I remember most and admire, was his genuine ability to make you feel like you were the most important person in the room. I could have listened to him talk about his career and family for hours, but he always seemed more interested in what my wife and I were doing, hanging onto every word. Oleg and Betsy always made us feel special and most welcome in their home. One afternoon I was called into my commander's office and told that he received a special letter of congratulations on my recent selection as a Squadron Commander. When he read it to me and finished with the words, Oleg Komarnitsky, LtCol(ret) I was so moved that he took the time to write that simple and heartfelt note, a note that I still have prominently displayed in my office. You are all in our thoughts and prayers, LtCol Darrin Dronoff and Family RAF Lakenheath, UK
I have known and worked with Oleg since the day he hired on with the Boeing Company. We have had some Flight Training programs with several Domestic & International airlines. I have always enjoyed his upbeat smile, concern and interest in everyone's activities. Oleg was a "Class Act" and a "True Gentleman" in every aspect toward his fellow men & women he worked with at Boeing. I will miss him and our periodic telephone conversations. Morgan Barbour
Like everybody, this came as a great shock to me. I didn't know Oleg all that long, merely a matter of a few years, but from the first day I spoke with him, I could sense that he was no ordinary man. He was a true gentleman as well as a warrior in the air. It was only recently that I learned what he had done with his life which is what I had always wanted to, and that he was flying, soaring with the eagles. Oleg will always be rememebered by me, not forgotten. God bless Oleg, God bless all the family, my prayers are with all of you. Bob Slauson
I just learned of Oleg's death and want to convey my condolences, belatedly. At Mt. Hermon, Oleg was the roommate of my friend John Muendel and I met Oleg through John. I was unfamiliar with hockey players and was shocked when Oleg would get out his hockey stick and a puck and practice slap shots against the wall of their dorm room. There were black marks all over the wall! John seemed to accept this as perfectly normal behavior. They made good roommates...they were both crazy. I enjoyed your pictures of Oleg and his family. I am sorry to learn of his passing but glad to learn of his happy and productive life. He was a great guy. Bill "Bullet" Barrett, Mt. Hermon '56
I just want to add my condolences to you and your family in your father's passing. I first saw notice of your father's passing in the "Gone But Not Forgotten" section of the USAFA AOG website. I only knew your father from our time at the Academy. He was in some of my advanced Math courses that I took as a freshman. I was always impressed by him and his scholastic abilities and his engaging personality. I had contacts with him throughout our Academy years, but never had the opportunity to serve with him. However his name remained fresh in my mind. When I saw his name today, I went immediately to your website celebrating your father's life. What a wonderful tribute! By the time I finished viewing the photos and reading the tributes, I felt I new him very well. You can be very proud of your father and his contributions to the Air Force and Society. Thank you for giving us such an intimate view of your father and your family. Everyone should have such a dutiful son. Randall Schamberger, USAFA Class of '62
---
Last conversation with Oleg by his oldest son Alek
As many people know, my father was quite the handyman and was an expert at keeping appliances, motor vehicles, and pretty much anything running far beyond their years. So whenever anyone mentioned that something was broken or not working that well, he would take a keen interest. My last phone call with my father was good long one - we talked about various mundane stuff including a pesky squirrel that was taking peaches from my tree - needless to say, he had some suggestions for that! ;-)
I mentioned my lawn mower was periodically stalling on me and as always, his ears perked up immediately. He asked various troubleshooting questions and offered some possible remedies which I said I would try out. The conversation was especially funny because he got my mother on the phone ("you've got to hear this Honey") since the symptoms were similar to ones they had with their car years earlier during a cross country road trip ... and were tempted to shove the car into the Grand Canyon!
A couple of days went by and at 7:58PM (PDT) on August 28th, I received the last Email I would get from my father:
"How is your mower working?" (Classic Dad ... may he Rest In Peace)
The next morning, he passed away at 7:47AM (PDT) on August 29th, 2010.

After hearing the bad news Sunday morning, I removed the mower spark plug and carefully cleaned and re-gapped it to 0.03". The following day, I mowed the lawn a day after his death - he would have wanted that. And while I usually only do a single pass, my father always said (and set the example) to do the "best" job ... so I did a second pass just for him.
The shirt is from his 70th birthday celebration (we golfed of course) and click here to see a movie of me mowing the lawn.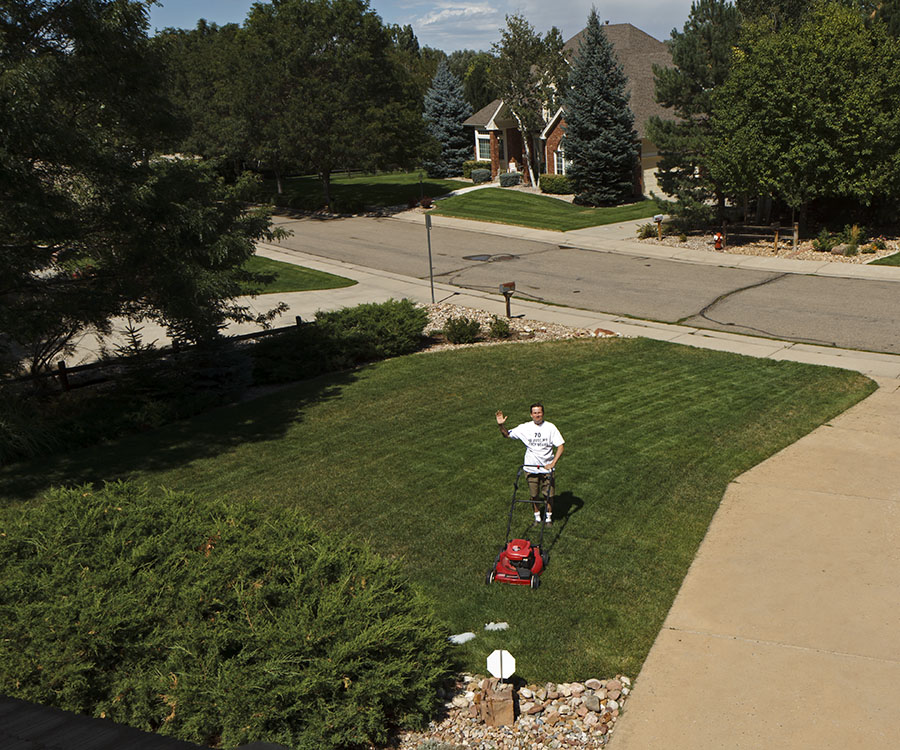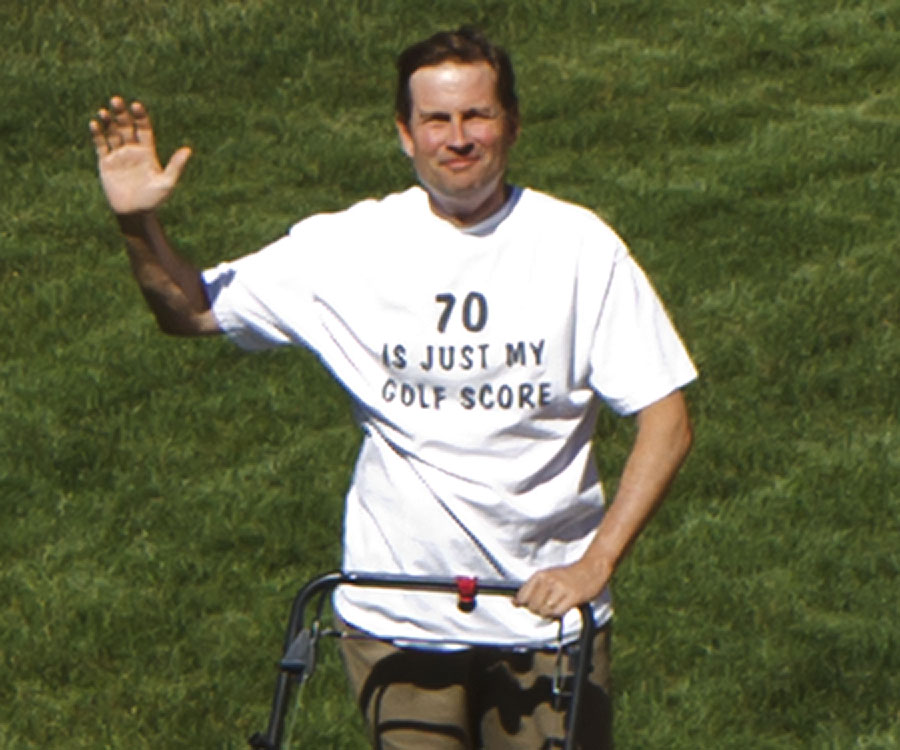 September 2nd, 2010: Alek flew to Seattle on what would have been Dad's 72nd birthday
He had a "nice view up front" on my flight home - click here to read the whole story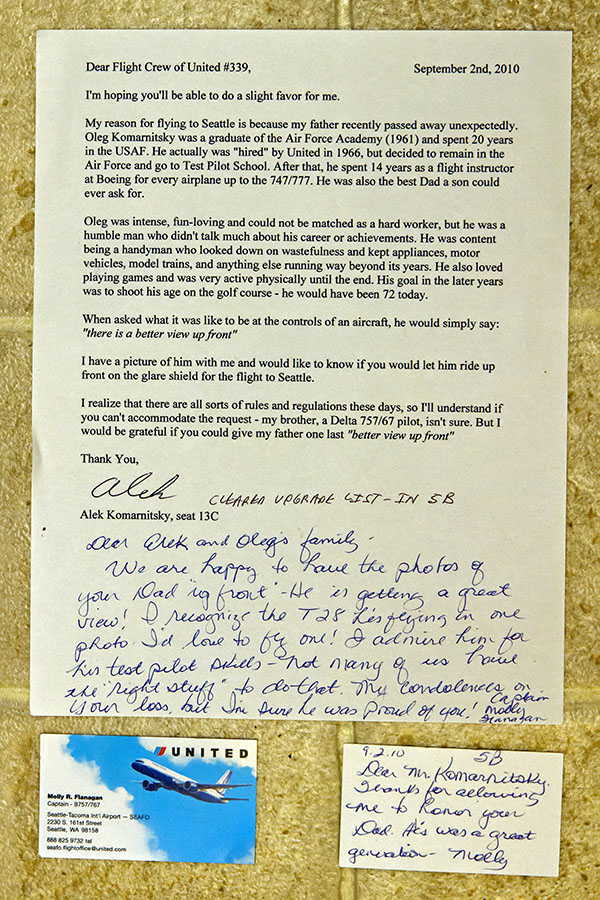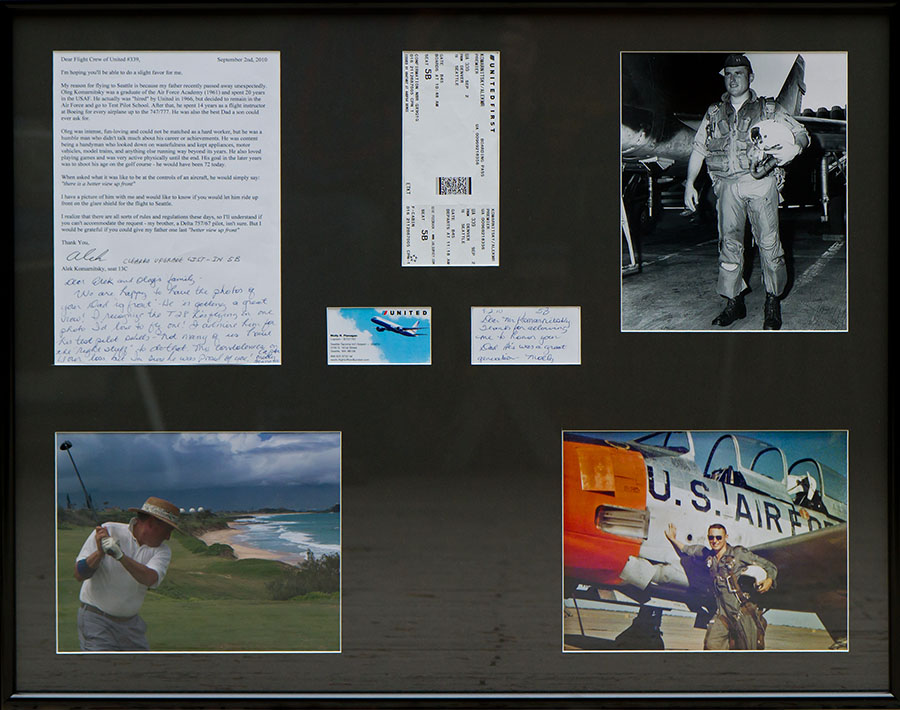 ---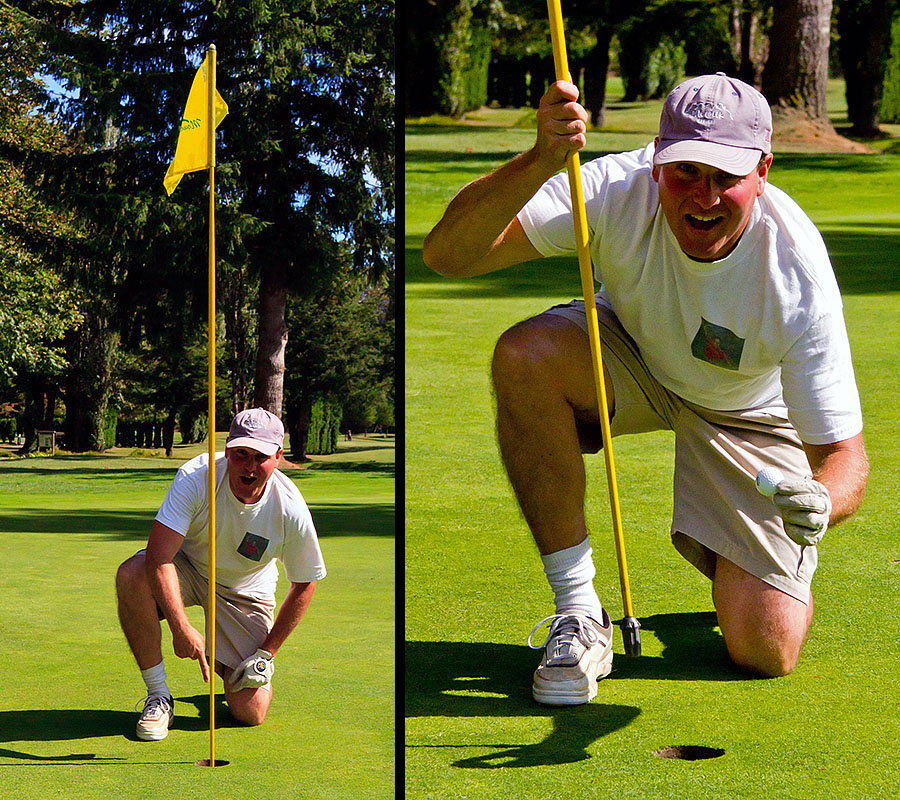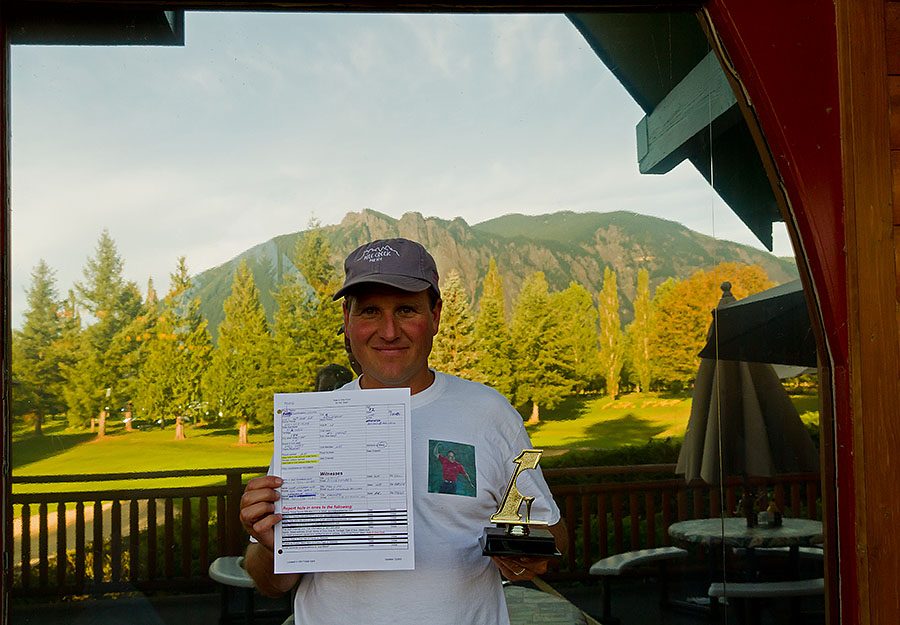 ---
September 7th, 2010: Kaelyn Komarnitsky is born to proud parents Li-Ming and Myke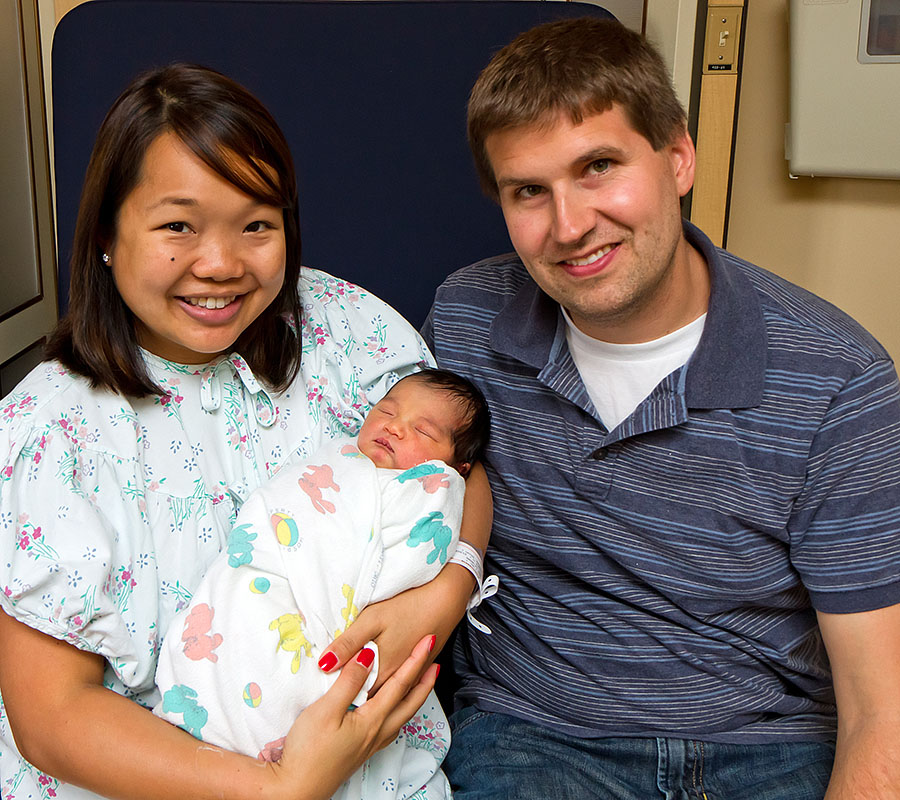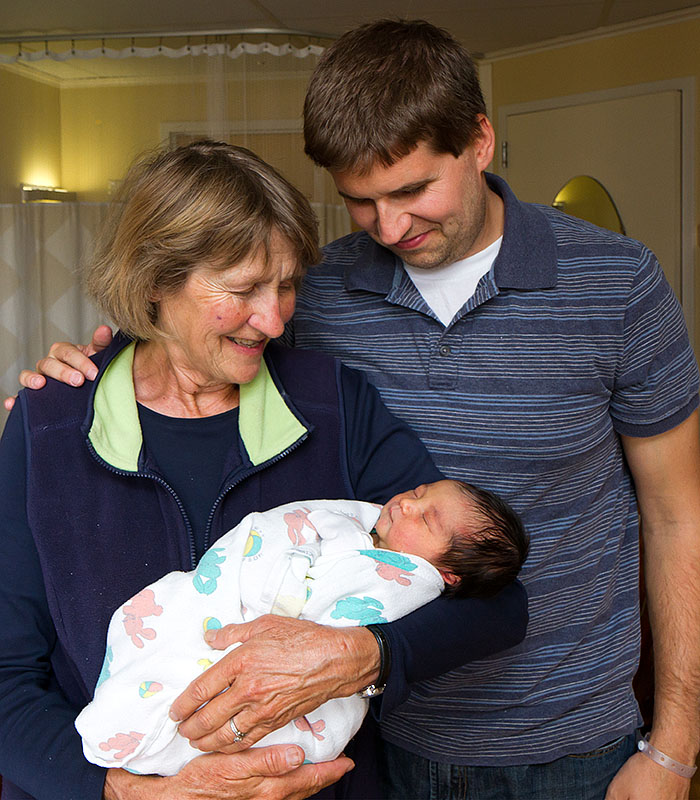 ---
September 11th, 2010: Oleg Komarnitsky Memorial Service at Sacred Heart Church
Click here to watch time-lapse video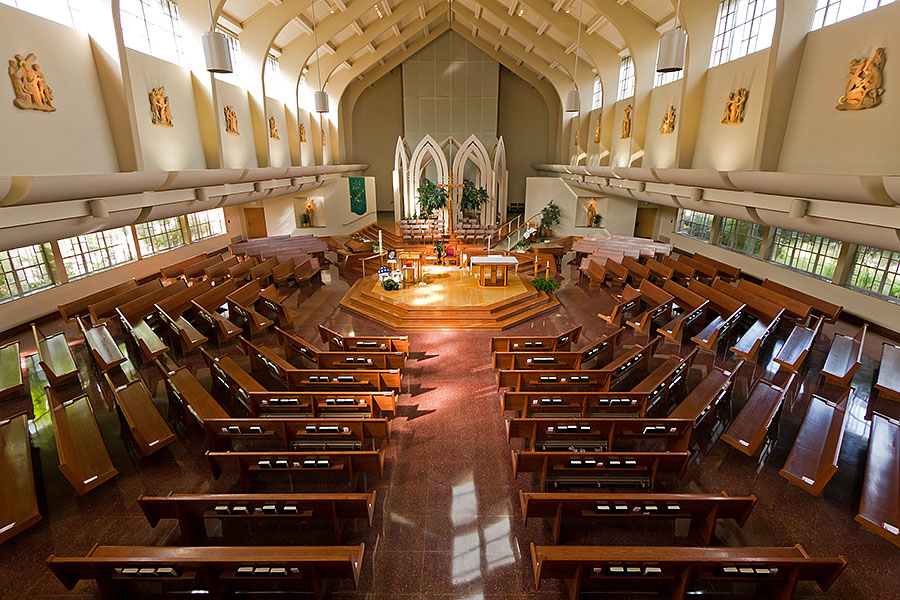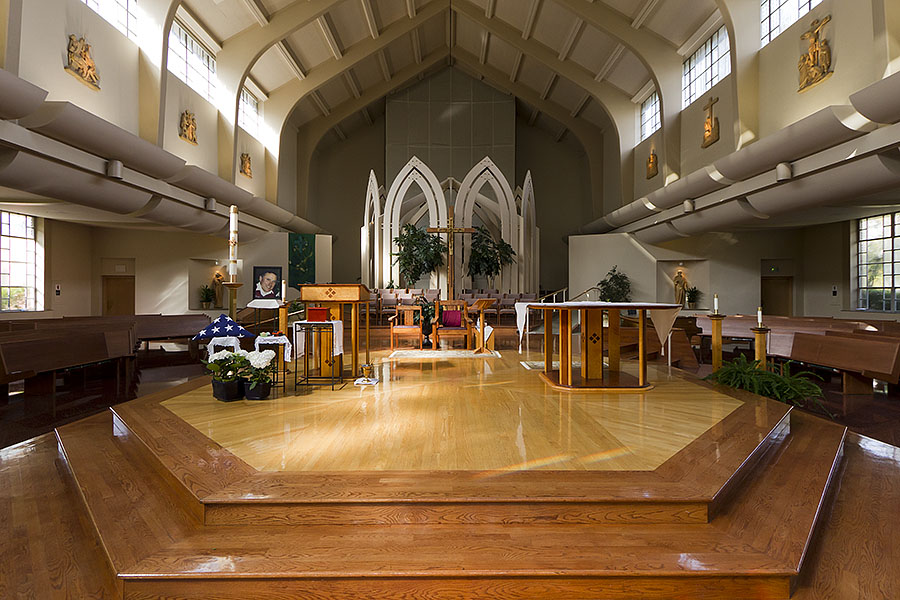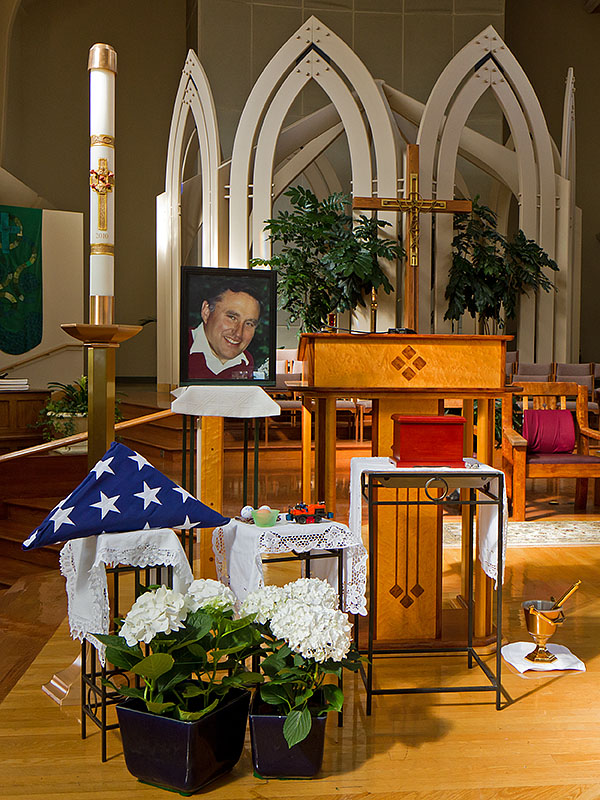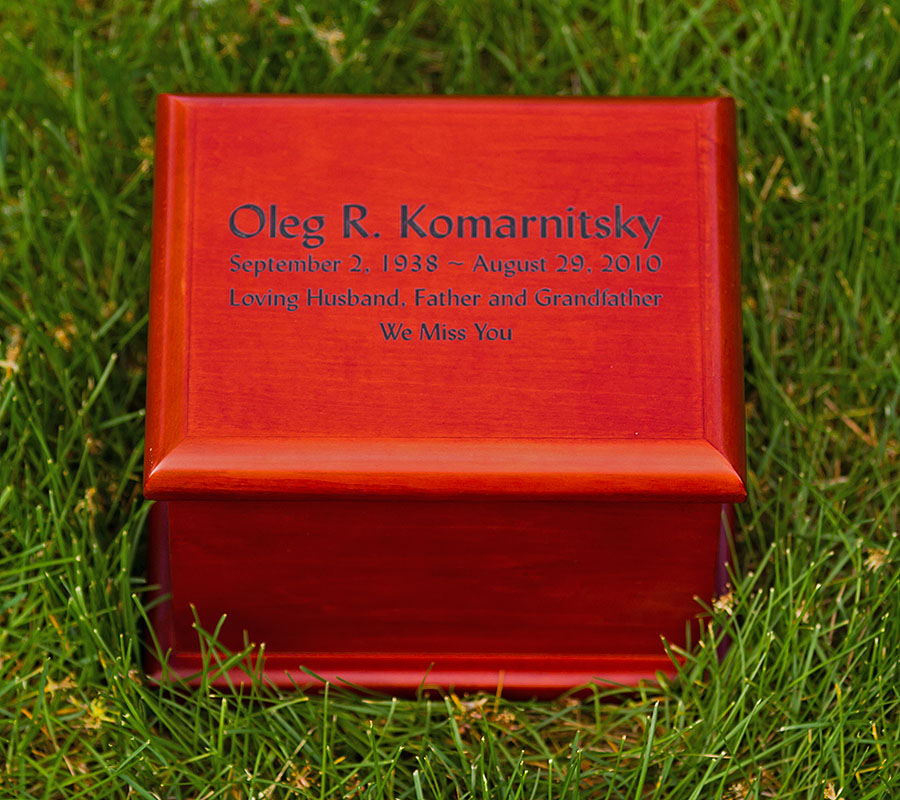 From Jack Taylor, a 1961 Air Force Academy classmate of Oleg:
Today, a beautiful Saturday in the Puget Sound area, with blue skies and 75 degrees, we said goodbye to Oly. Some several hundred family members and friends gathered at Sacred Heart Catholic Church, Bellevue, for a memorial service, a traditional Mass, followed by a reception where family and friends, some who worked with him at Boeing, and others who knew him from his days on the golf course, tennis court and socially, shared our recollections of him and came to learn of the love his children and their children had for him.
All of the members of the Class of '61 and wives who reside in Washington were there (Cochran, Hopp, Kerr, McMonigle and myself). We were also honored and pleased to note that Paul Hinton joined us from Broomfield, Colo. The family and friends were most pleased to learn of our presence. As you know, Oly will be interred at the Air Force Academy Cemetery.
Displayed in the reception foyer were items from Oly's Air Force career, medals, photographs and documents, along with several items from his days as a Boeing Co. flight instructor. And, we were well-reminded that Oly's life was centered on family, to represent and model the highest in character and honor to them, and to nurture and teach his children as they grew into maturity. Amusingly, we were also let in on one of his hidden agendas in life, to shoot his age in golf! He almost did that, passing just before he turned 72.
---
May 9th, 2011: Memorial Service and Burial at the United States Air Force Academy

Mouseover image to see flag flying half-mast even at the golf course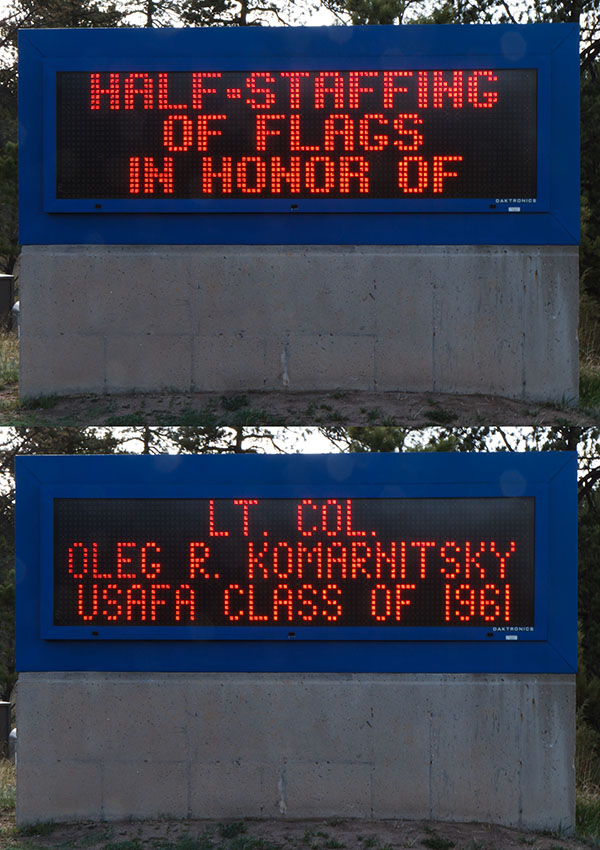 Alek, Kris, Kurt, Stephanie, and Myke played 9 holes after the ceremony - Dad would have liked that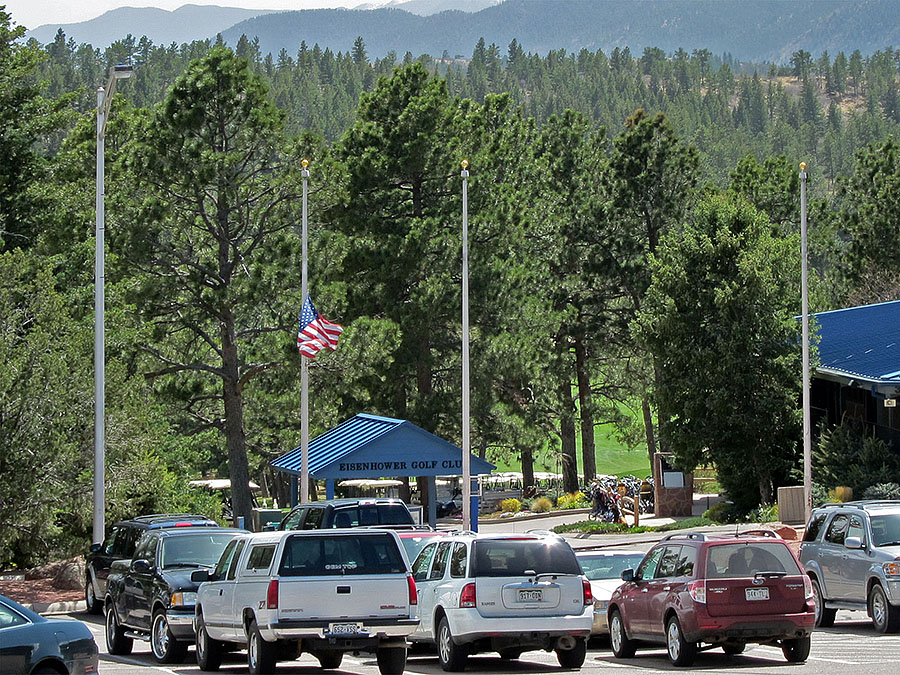 Kurt, Kris, Stephanie, and Betsy before the Memorial Service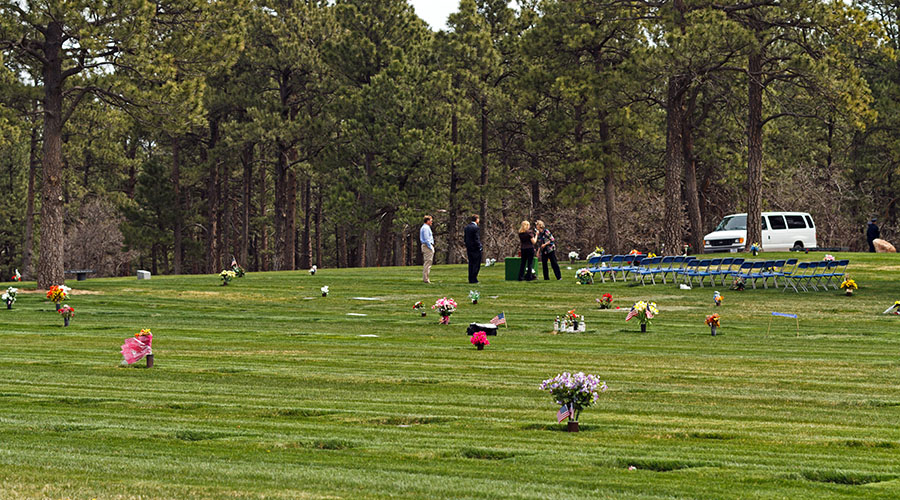 Honor Guard firing 21-gun salute just before the playing of Taps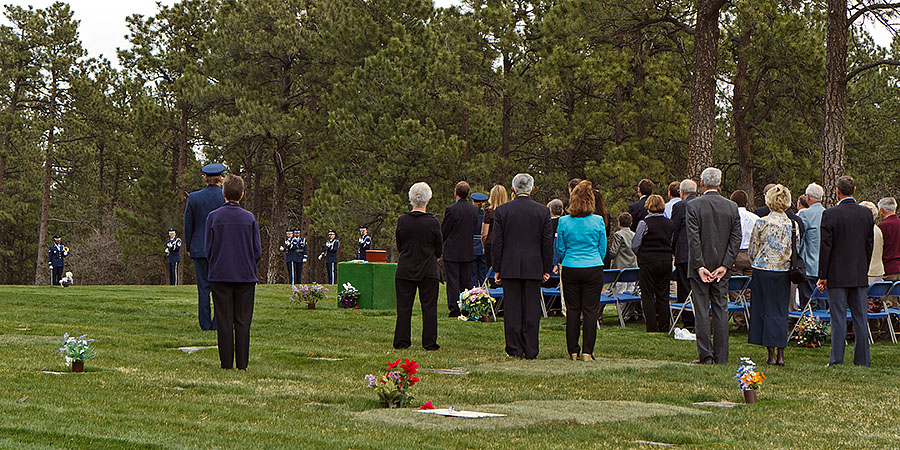 Various pictures of the Memorial Service as captured by Remote Camera
Betsy & Pat before Service - Delivery of Urn - Flag Folding - Audience Comments
Blessing - 21 Gun Salute - Taps - Presentation of Flag to Betsy - After Service
Use the controls to play, step, pause, slow-down, and/or speed-up the animation.
| | | | | |
| --- | --- | --- | --- | --- |
| | | Frame Rate | | ... loading images ... |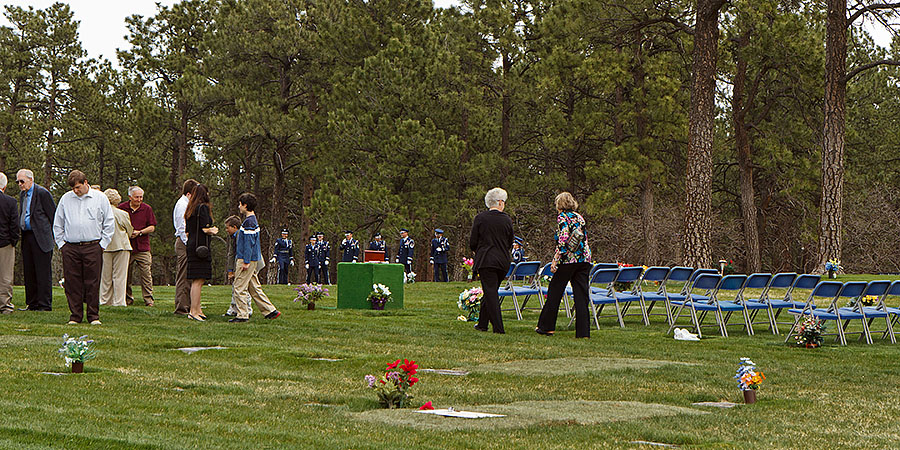 I always enjoyed this signed picture from my Dad so I buried it with him -
mouseover image for closeup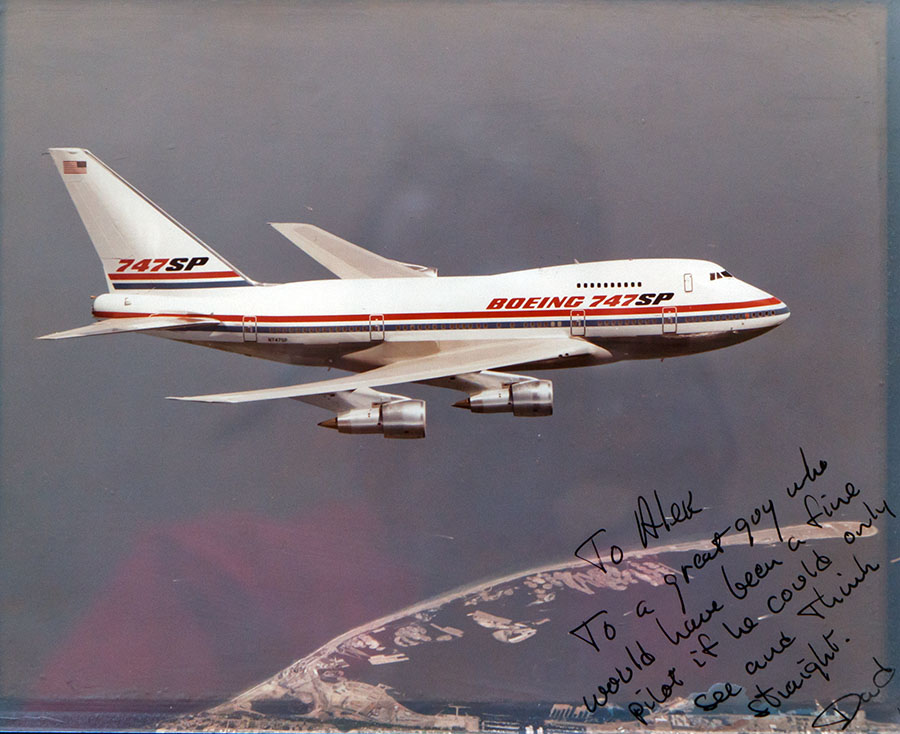 Judy Purvis took this picture of me placing it next to his ashes - after the ceremony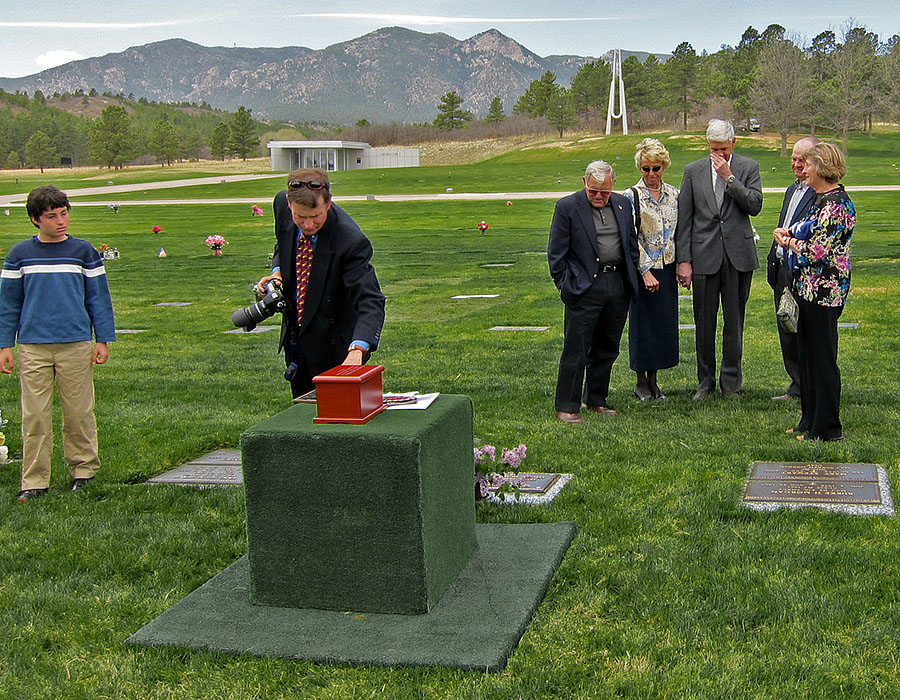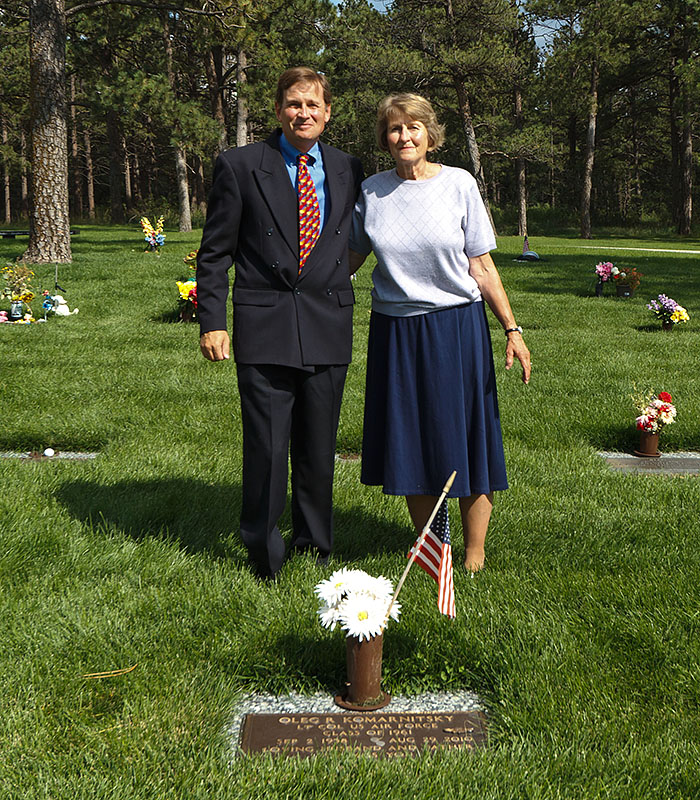 We stopped by the next day with Kyle and Dirk on our way to the USAFA football game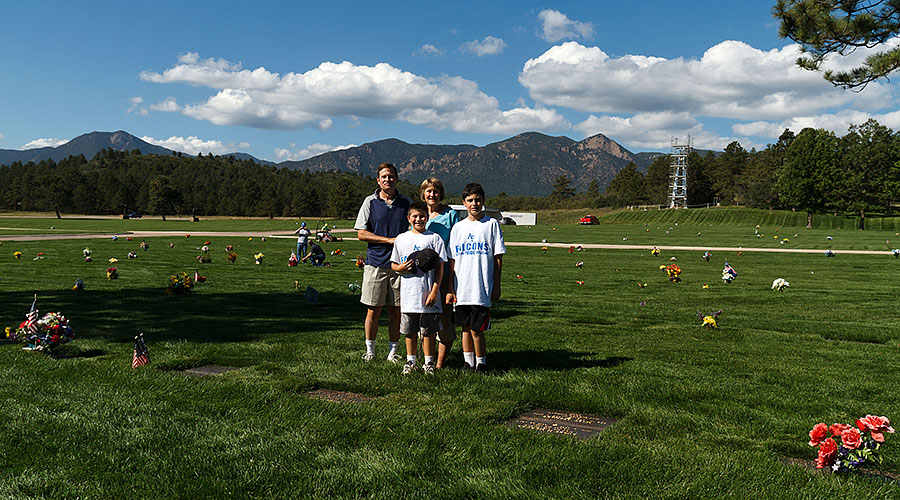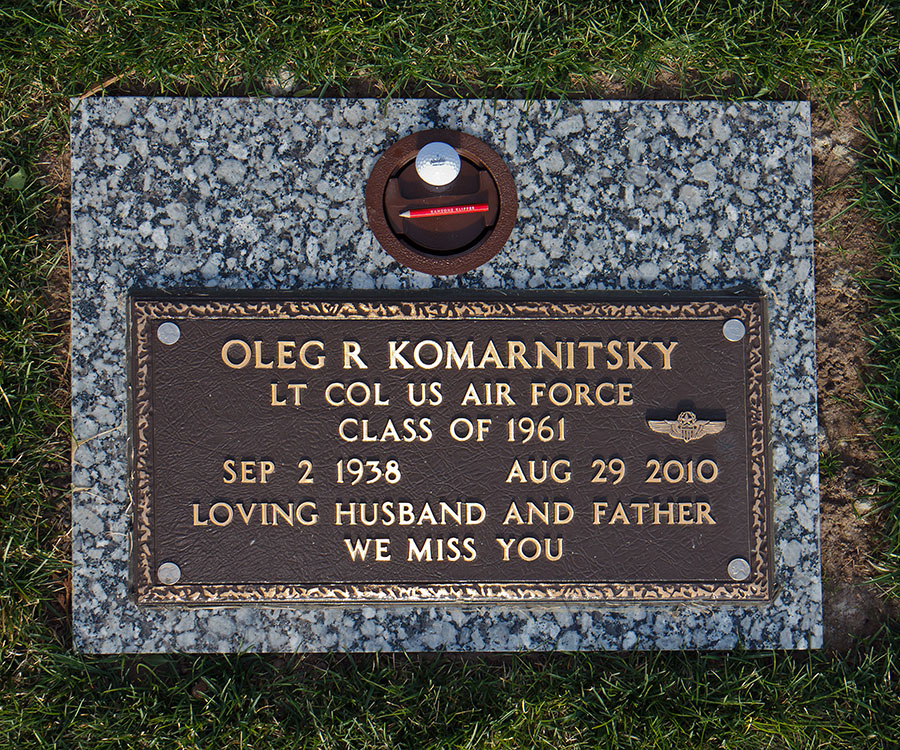 Dad's favorite golf ball was a "Noodle" and his favorite course was Kaneohe Klipper in Hawaii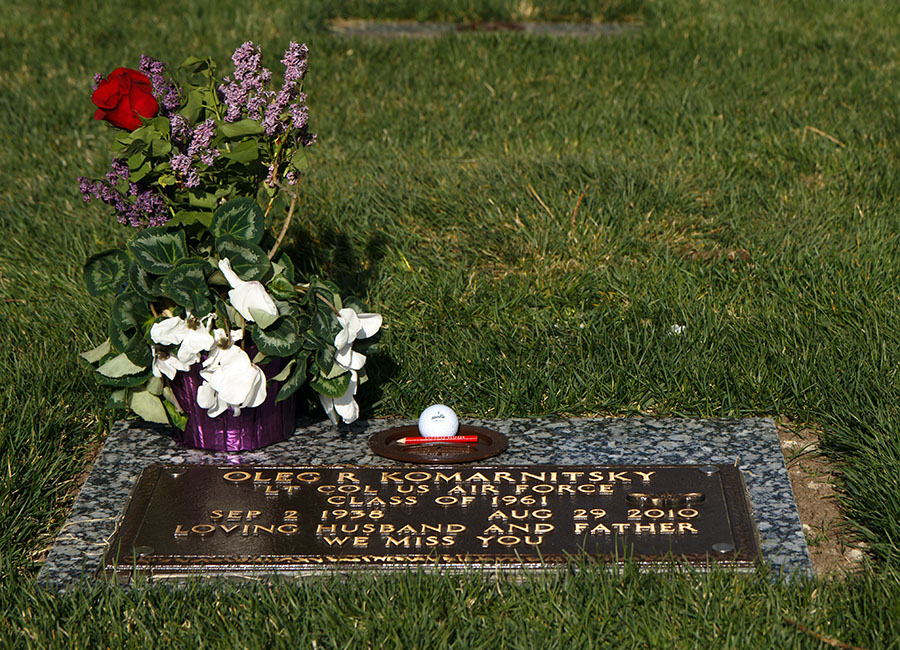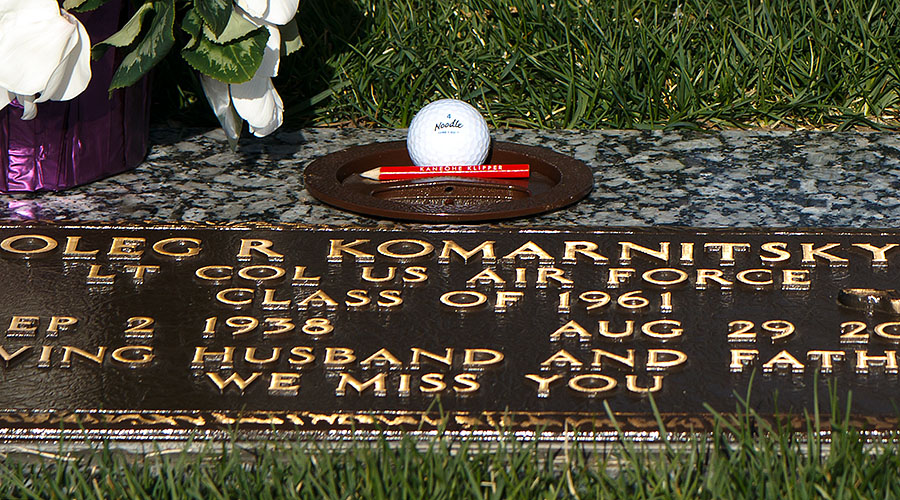 Related web pages (some linked above) about Oleg Komarnitsky:
In lieu of flowers, the family had donations made to the University of Maryland Center for Celiac Research to help find a cure for his grandkids.