Our Kitchen Ceramic & Mosaic Tile Table
Wendy and I needed a kitchen tile table for our new house and after reviewing a fair number of overpriced kitchen sets that didn't do it for us, we decided to design and build our own, using some ceramic tile and mosaic tile.

We got a lot of great help from ScottL at "A World of Tile" who after reveiwing what we wanted, helped us pick out some nifty ceramic and mosaic tiles. After numerous contortions, it is shown below - Wendy has been on Africa safari's several times and loves the animals. Her Dad Larry, visited in early July/1998 to see Dirk, reviewed our plans, provided a "how to tile your table" direction, and assisted us in converting our kitchen tile table design into reality with the mosiac and ceramic tile.
| | |
| --- | --- |
| The original kitchen tile table design | A math problem we had to figure out ... |
| | |
| Kitchen Tile Table takes shape | Larry, Alek, and Wendy caulking the ceramic tiles |
| | |
| Larry and Alek applying the grout | Putting the mosaic tile accents on the walls |
| | |
The completed kitchen tile table!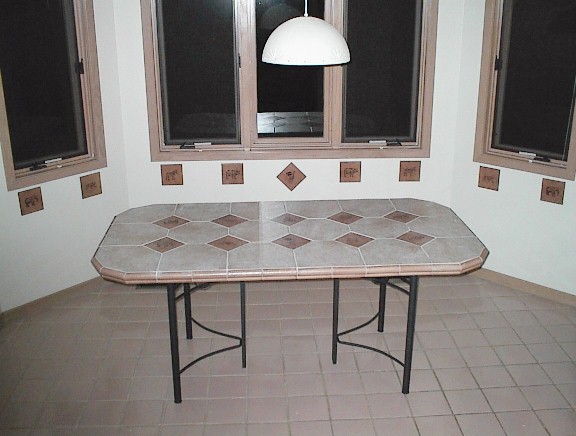 NOTE: The mosaic ceramic tile accents are acid etched ... but we had to paint in the etching to get a darker color ... that's where Alek got the nickname "Michelangelo" ;-)



So know you know how to tile a table!



Some African Safari pictures of the animals above and a list of house projects - ©1998-2004 www.komar.org Alek Komarnitsky