Alek (wearing shiny Michael Jackson gloves ;-) hanging out with some Polar Bears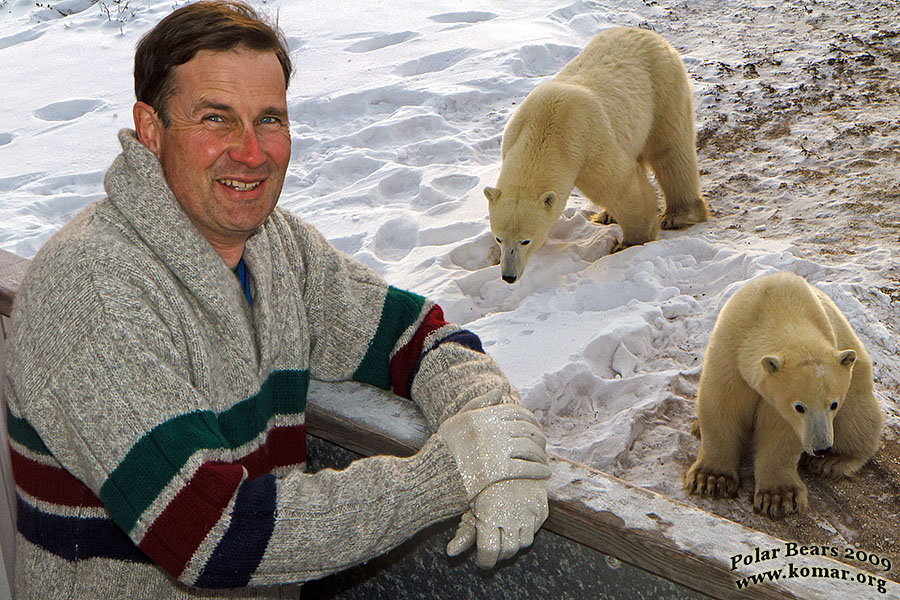 Plenty of viewing opportunities to see the Polar Bears up close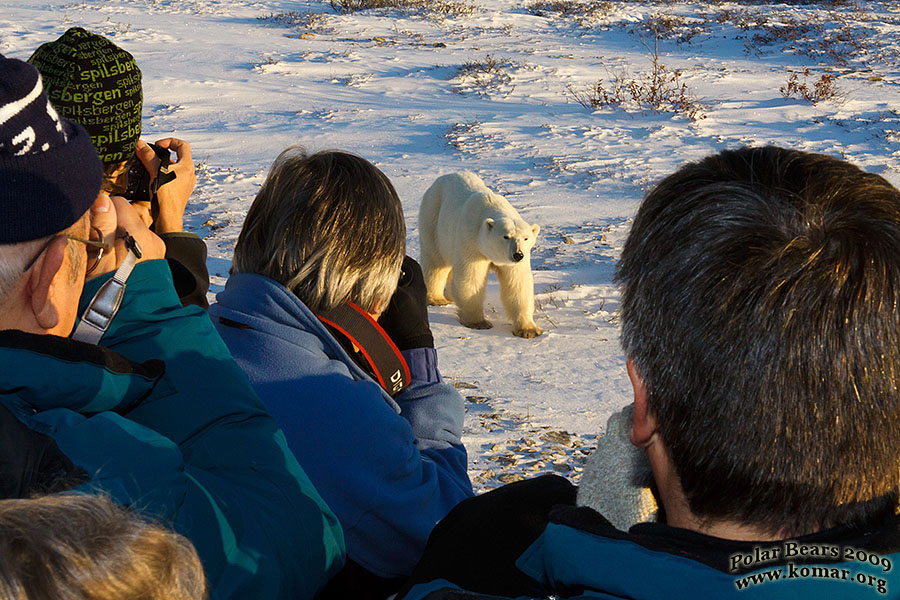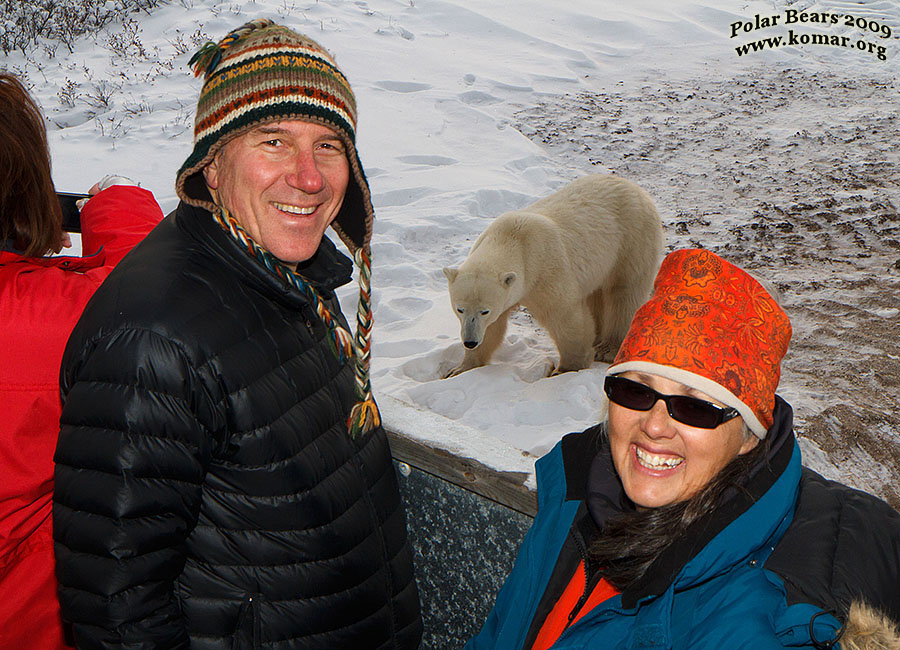 Polar Rover "stuck in traffic" on the Tundra! ;-)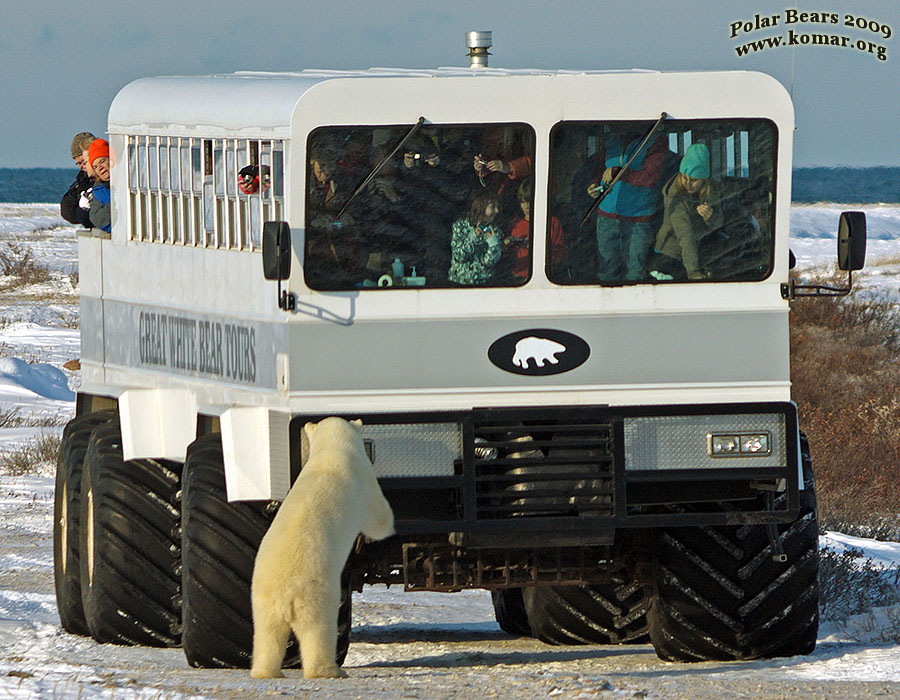 Polar Bear saying "hello" to the Polar Rover driver!

Mouseover image to see another camera angle
---
Google Map of trip to Churchill, Manitoba, Canada to see the Polar Bears
Shortly before departure from Denver International Airport on November 8th, 2009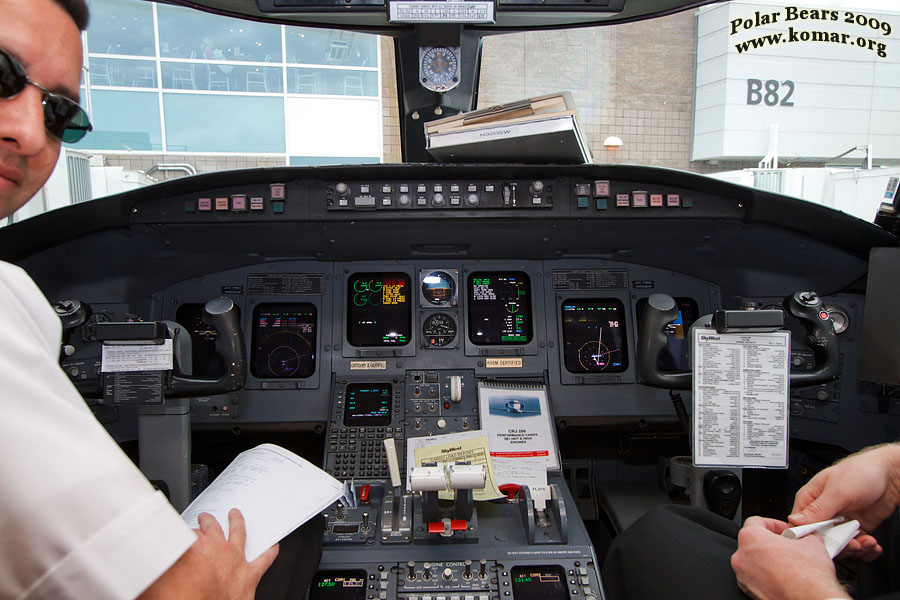 A beautiful day in Winnipeg, Canada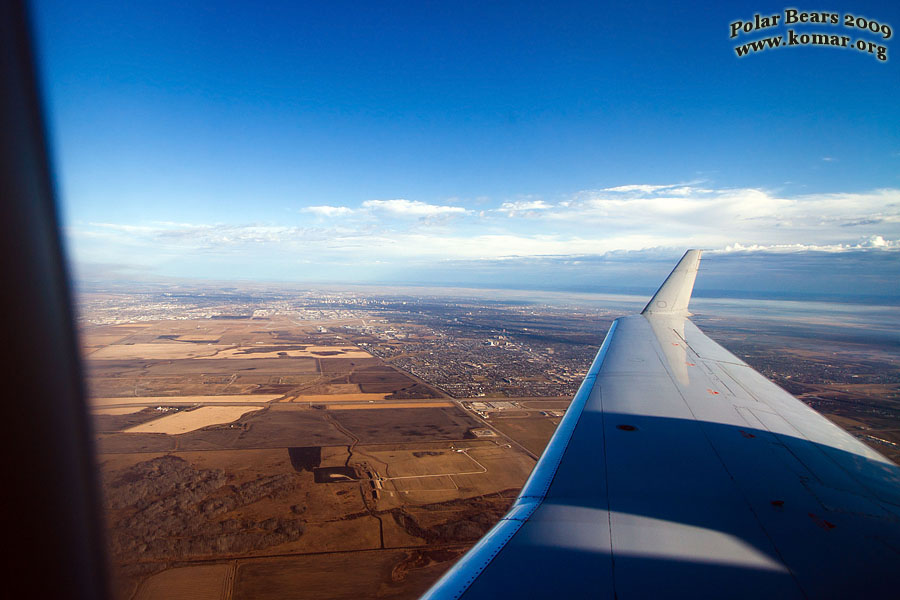 Upon arrival at Winnipeg Airport, I found the Nathab Booth right at the top of the escalator - can't miss it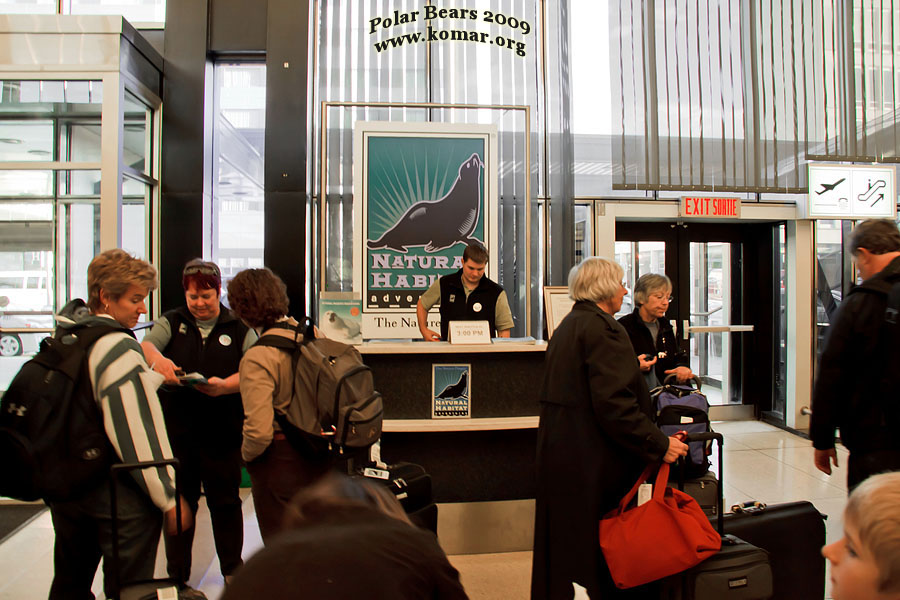 You know you are in Canada when you see a Tim Hortons doughnut shop at every corner! ;-)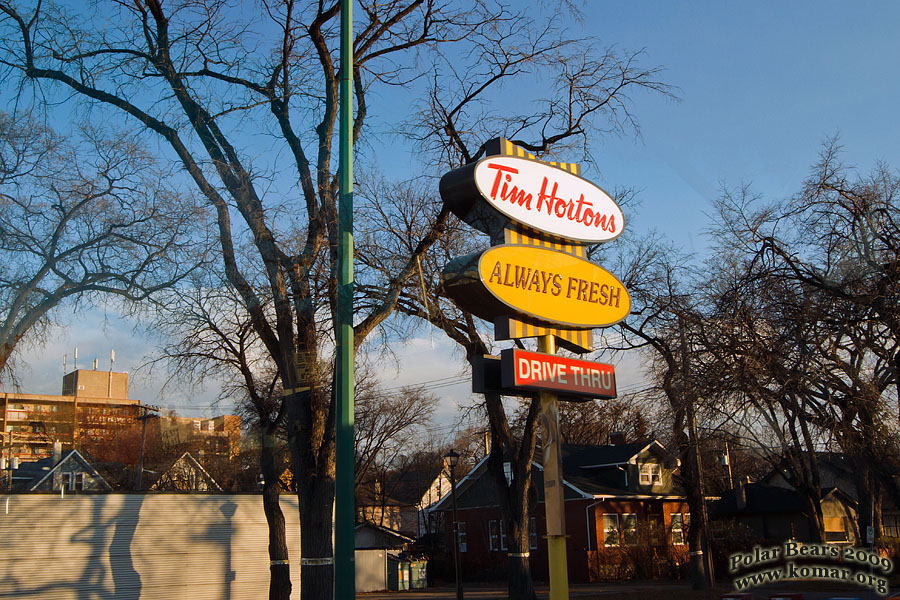 Polar Bear Guide Eric helps Jan, Betsy, and Will pick out some toasty/comfortable boots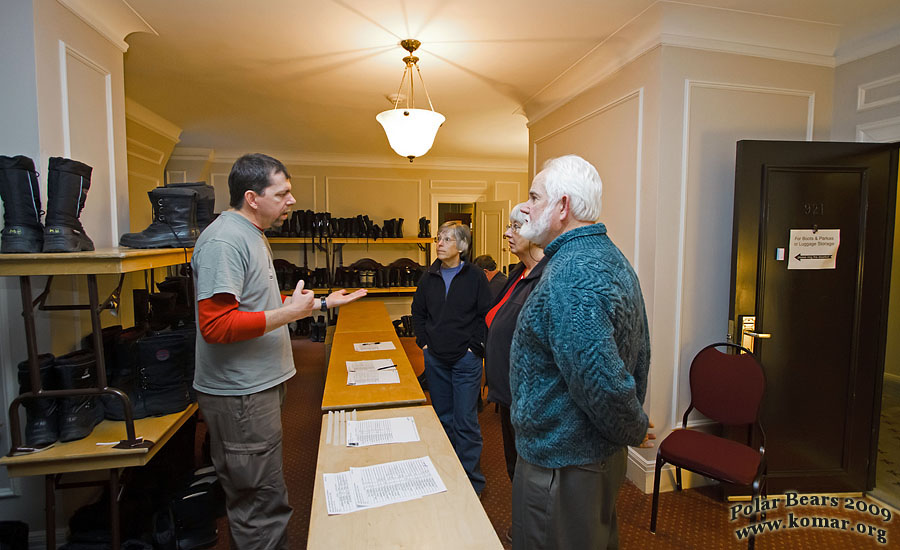 The first and last nights were at the Fort Garry Hotel - a block away from Union Train Station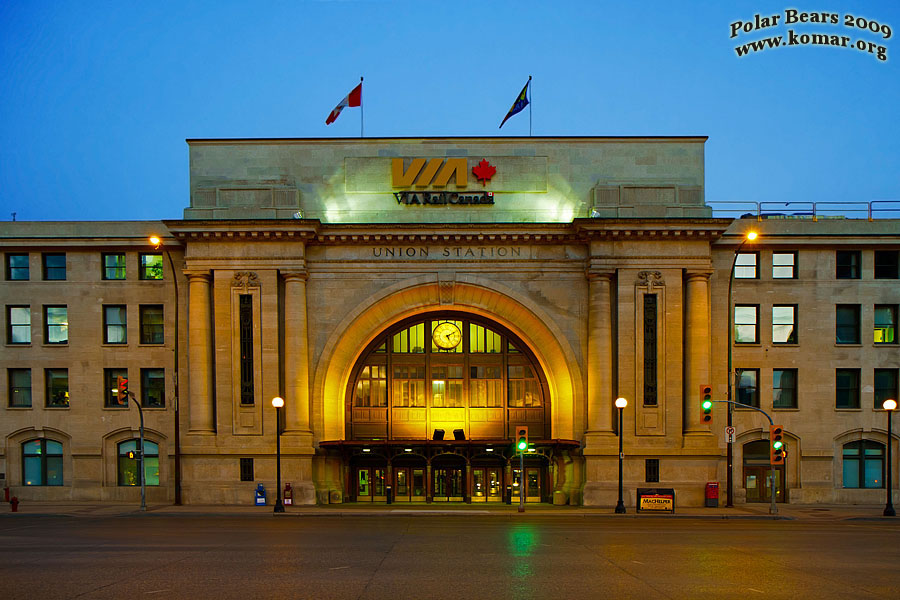 Polar Bear Guide Rinie goes over the schedule at the Welcome Dinner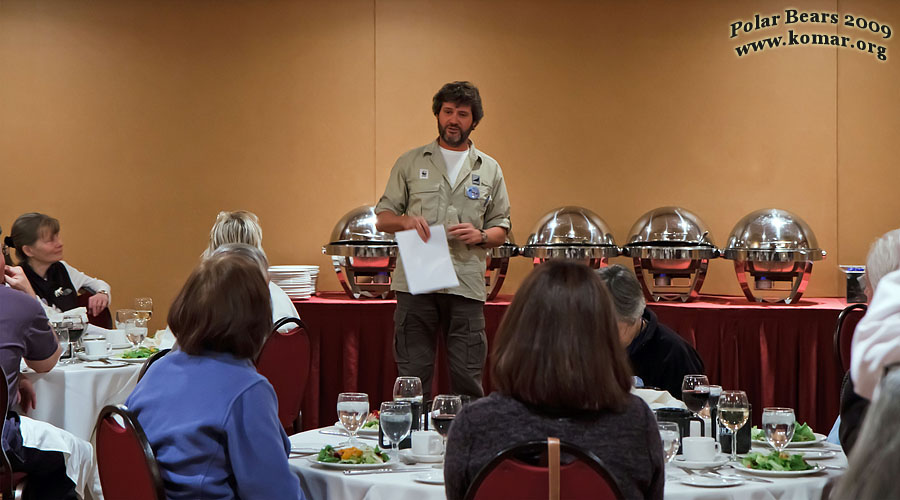 A yummy breakfast at the Fort Garry Hotel the next morning before heading North to see lots of Polar Bears!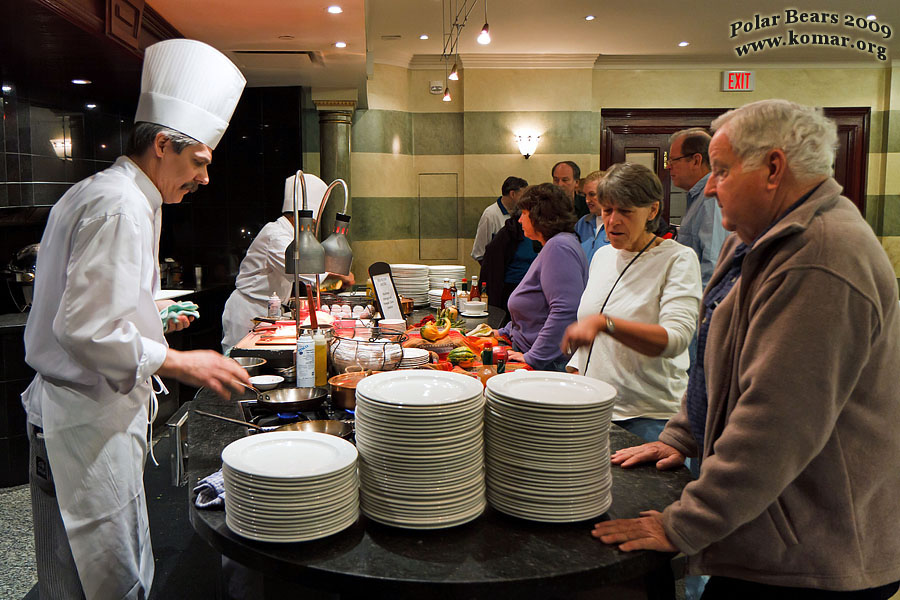 After breakfast, we are whisked away on our charter flight to Churchill Canada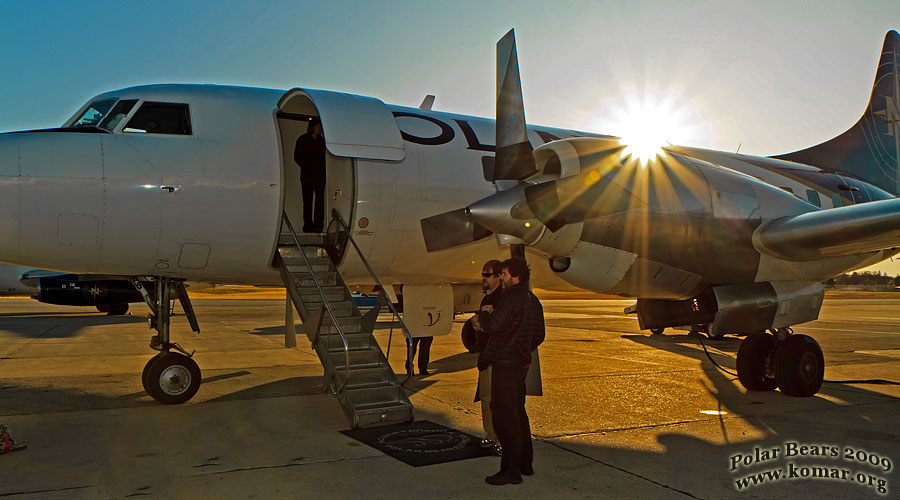 We flew over some beautiful landscape on our 2+ hour flight up North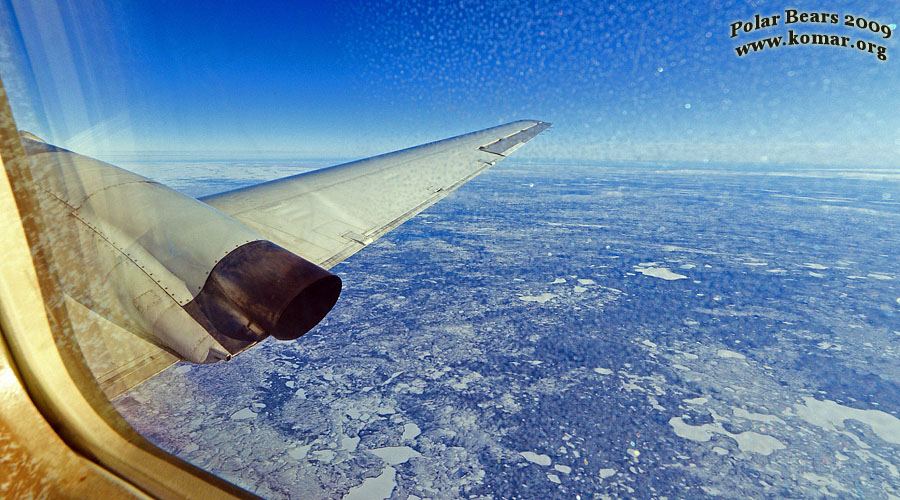 Disembarking in Churchill, Canada - the Polar Bear Capitol of the World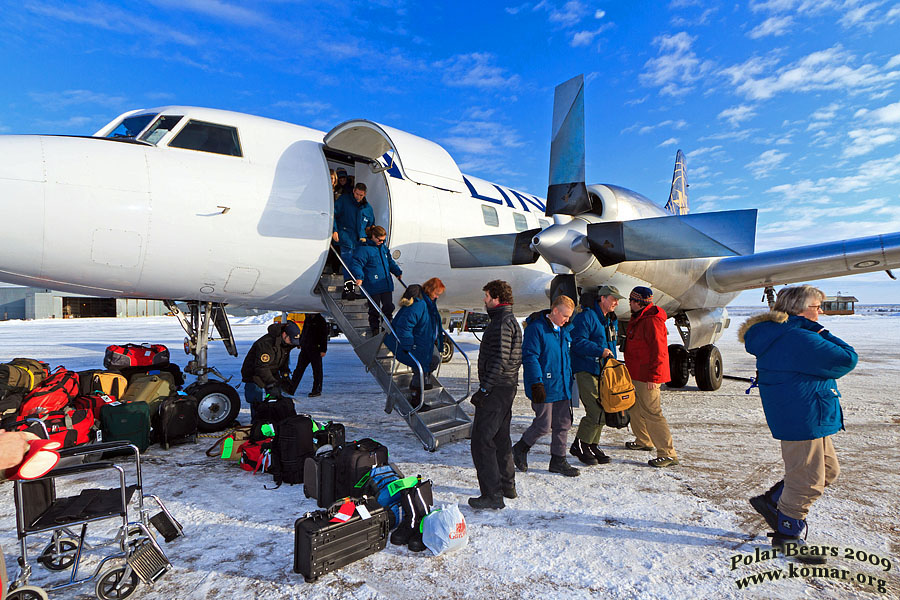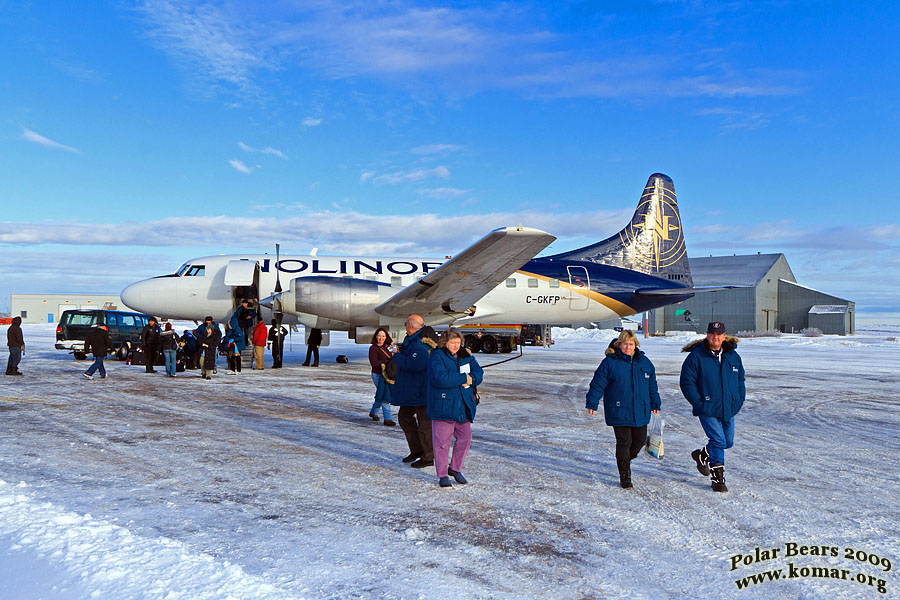 First Polar Bear sighting - a helicopter making a run from Polar Bear Jail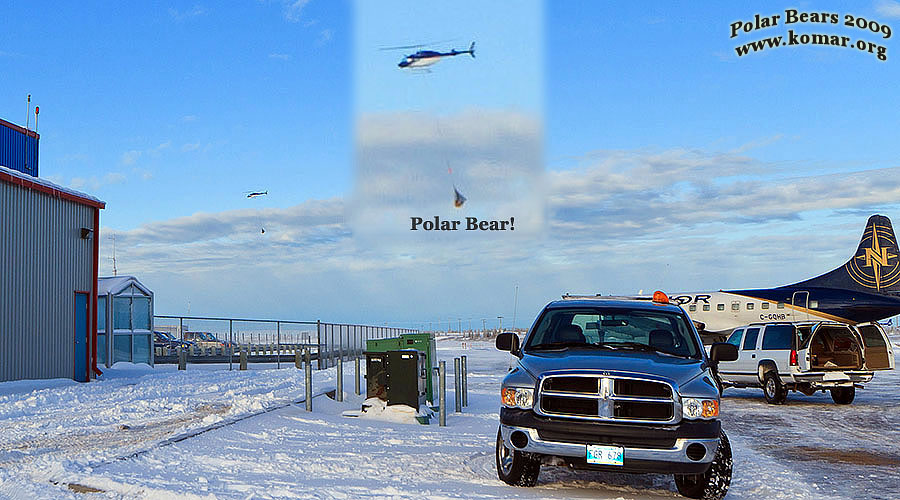 We took a school bus out to Polar Bear Jail where the "naughty" ones are kept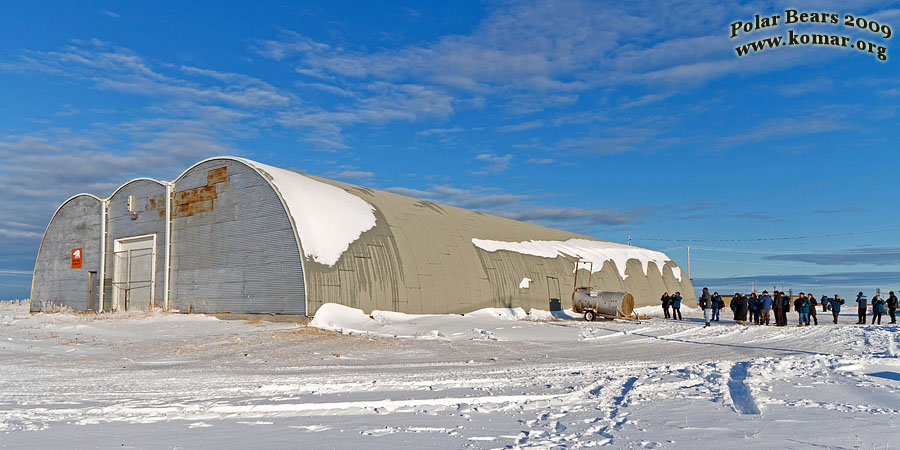 We saw a few "tagged" Polar Bears during our visit - an "escapee" from the Polar Bear Jail! ;-)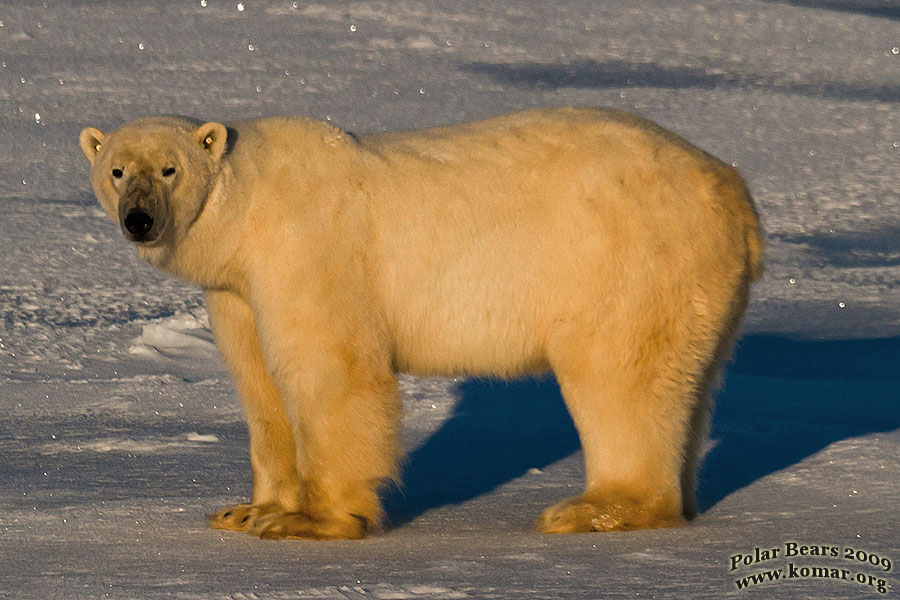 A picture from the last day of the trip of a "naughty" Polar Bear being chased away from town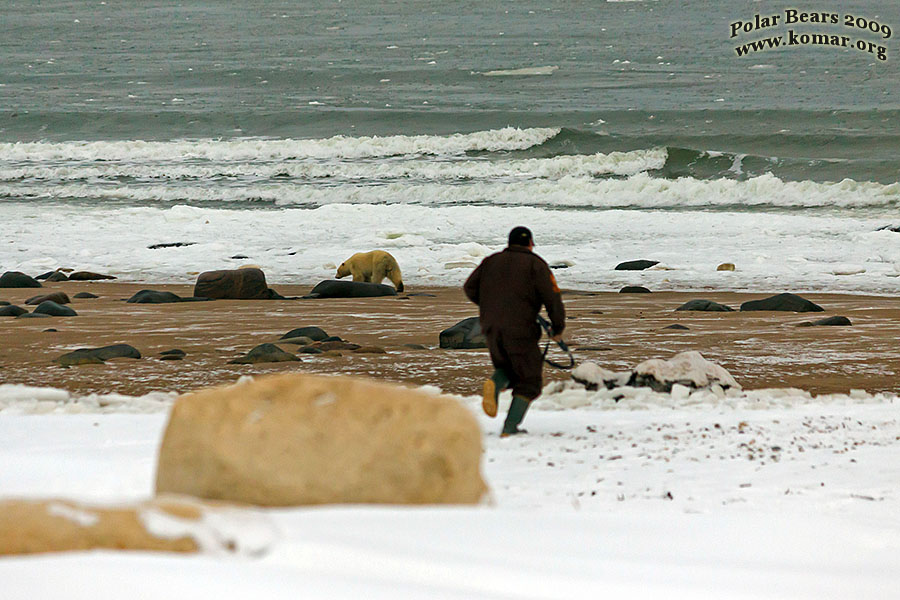 Betsy and Will standing by a Polar Bear trap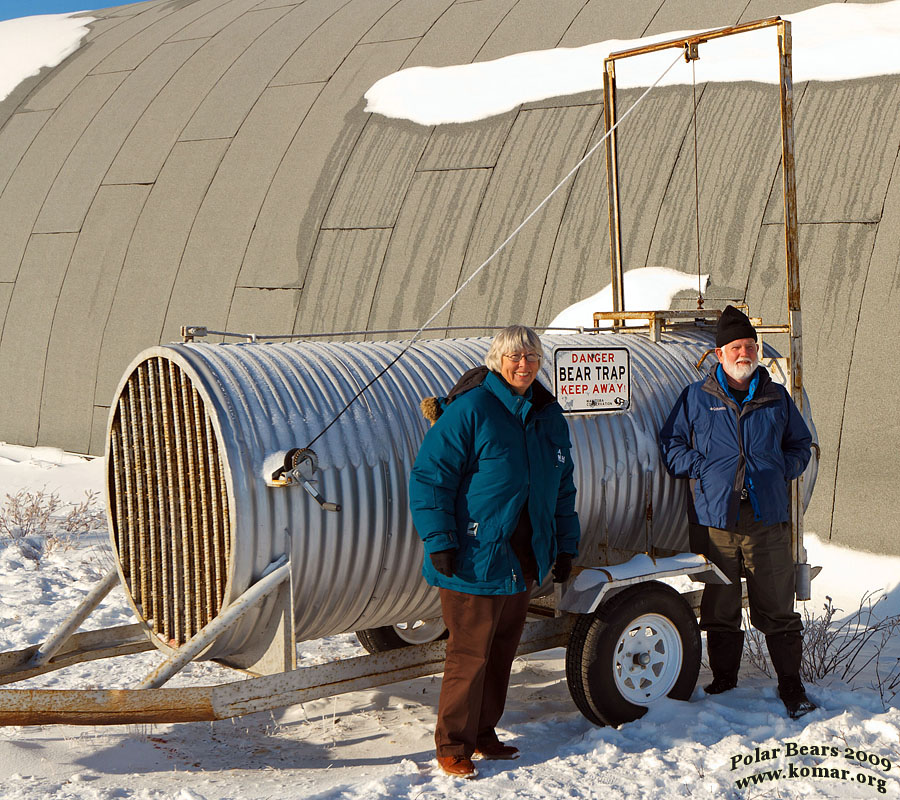 We then transferred from the School Bus into a Polar Rover to head out to the Tundra
NOTE: This was the last time my feet would touch ground until our return 4 days later!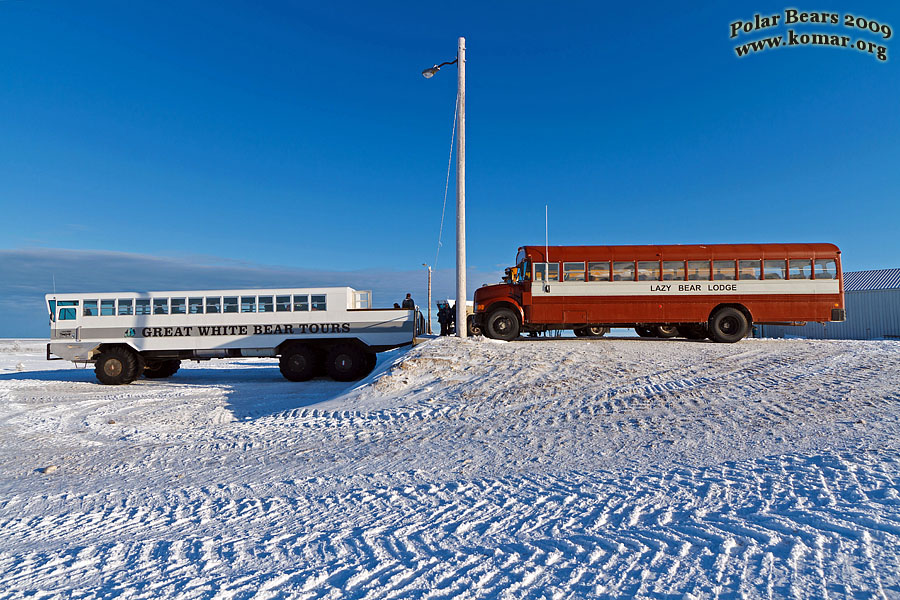 Polar Rover motors around the Churchill Tundra at Sunset - pretty awesome vehicles
Great viewing from the Polar Rover ... this is our super driver Devin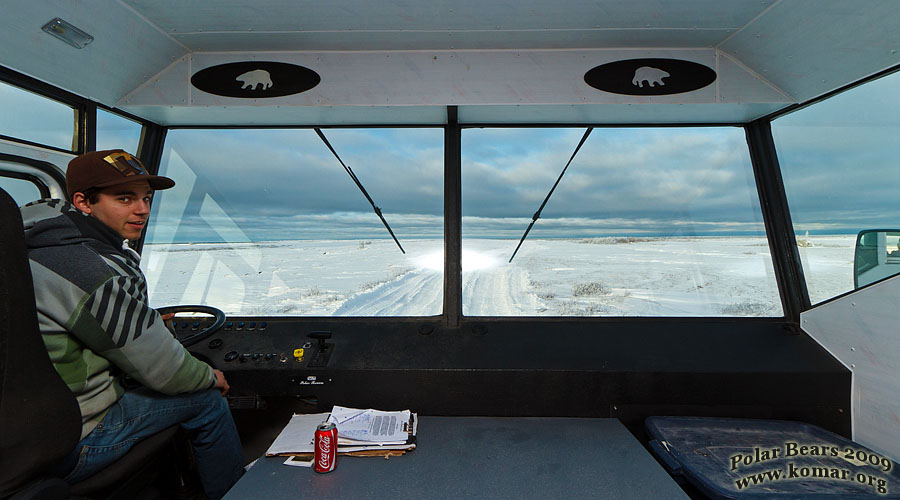 Polar Rover has good grub too as Devin, Rinie, and Leah serve up a tasty lunch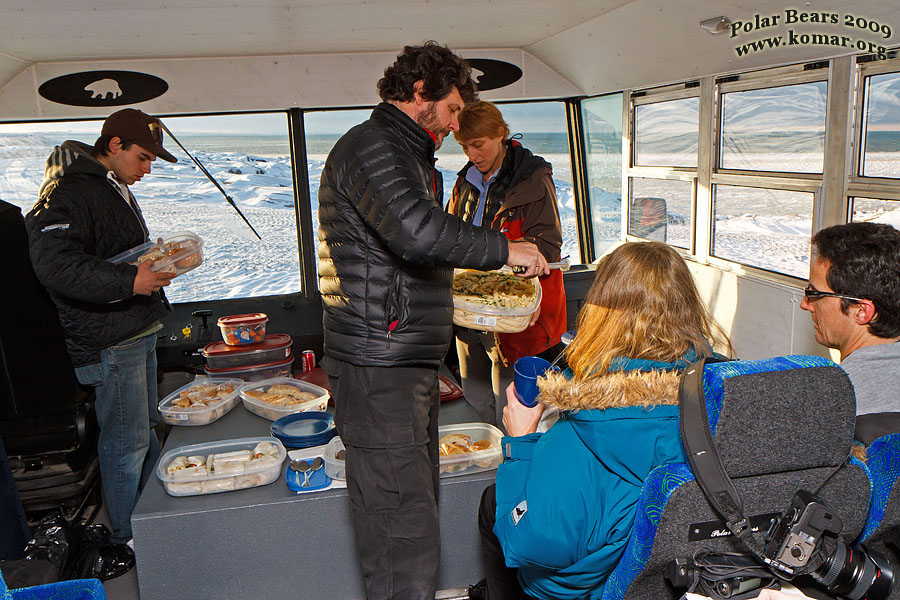 Lots of room in the Polar Rover -
mouseover image to see everyone on the left side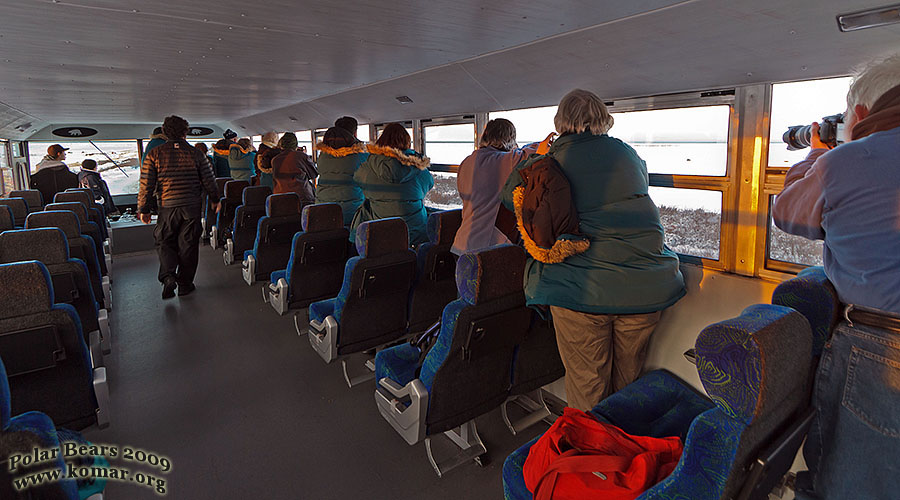 So it's very easy to shoot pictures from the windows of the Polar Rover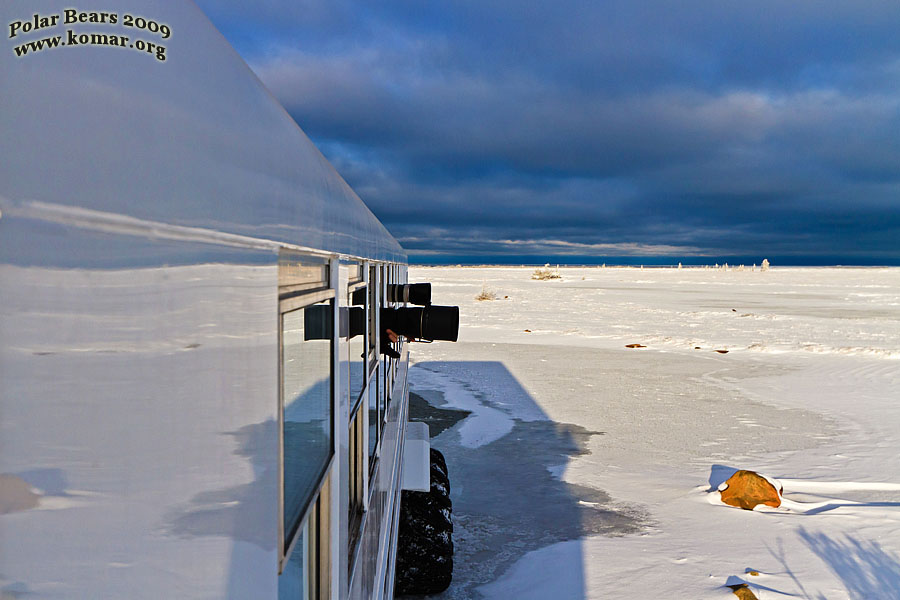 Polar Bear Guide Rinie was fantastic - very knowledgeable and an outstanding photographer

He's actually a Nikon shooter - mouseover image to see him with his gear at sunset
Clive & Bonnie and Bonnie taking pictures of a glorious sunset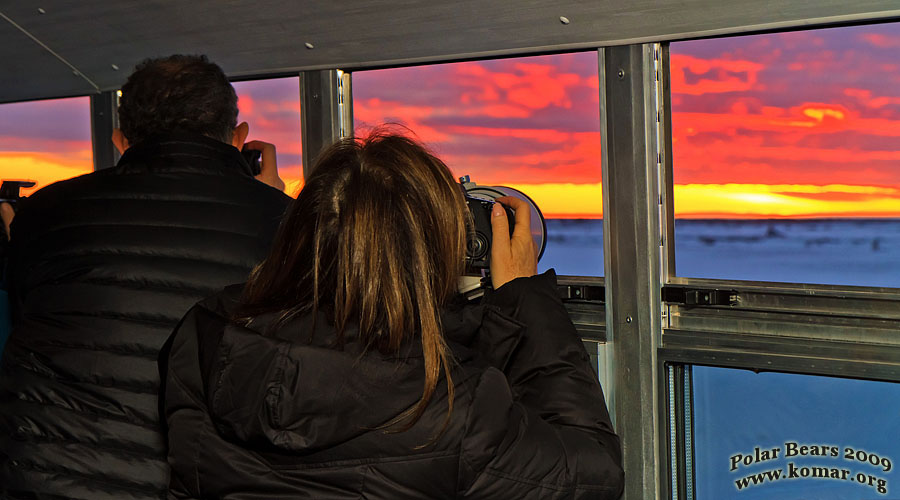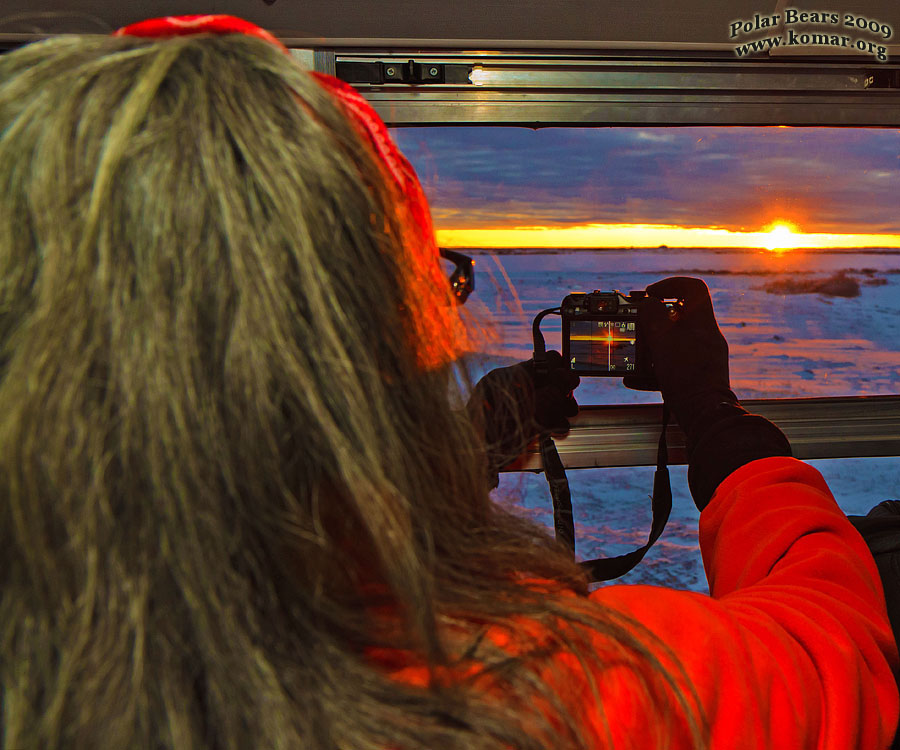 Polar Bears are still active at night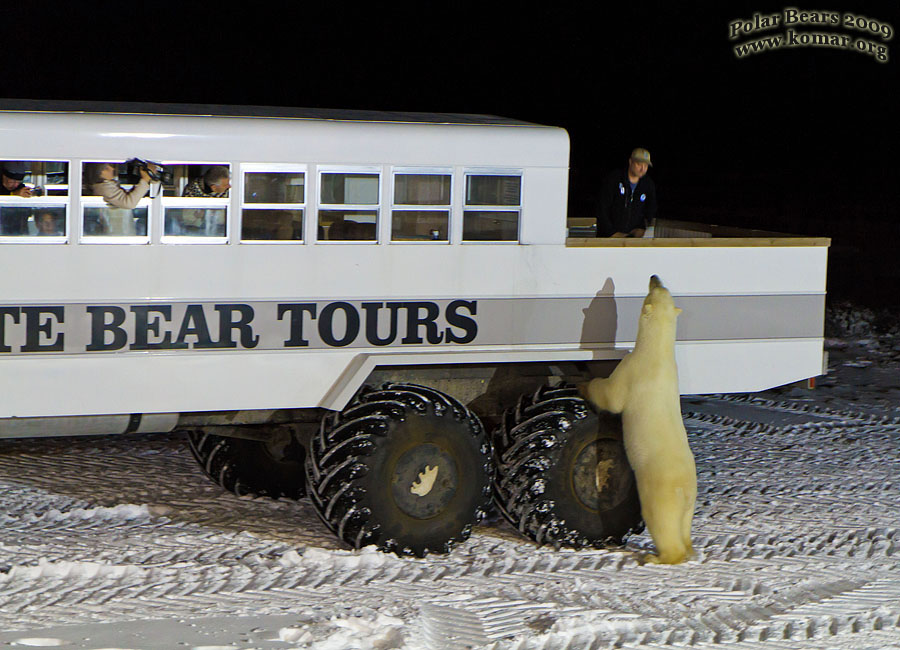 Tundra Lodge (where I stayed for four nights) on the Tundra outside of Churchill

Mouseover image to see without Polar Rover brake lights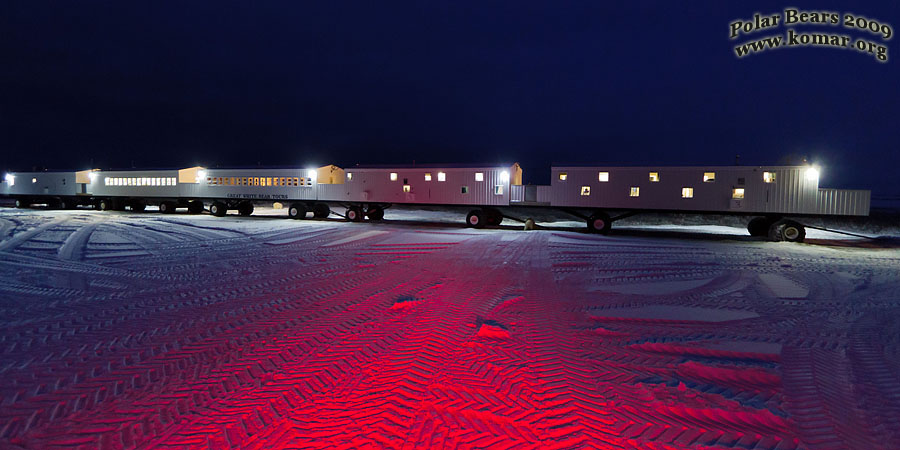 The Tundra Lodge in the morning near Hudson Bay -
mouseover image for twilight view from other side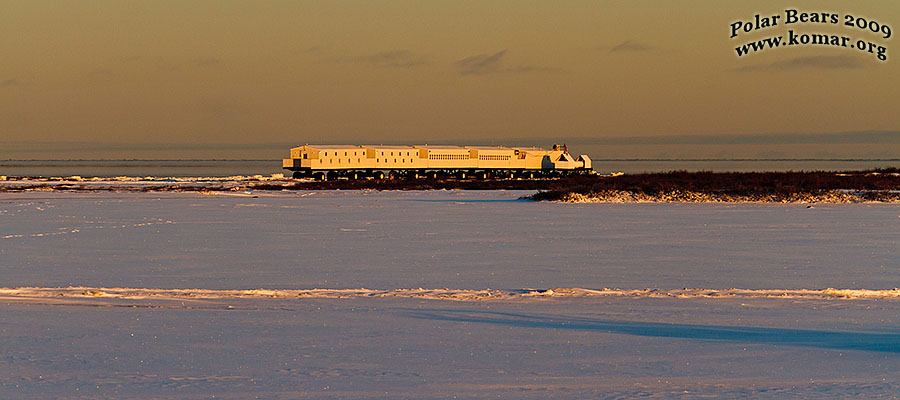 Sleeper car rooms were like closets ... but quite cozy and plenty adequate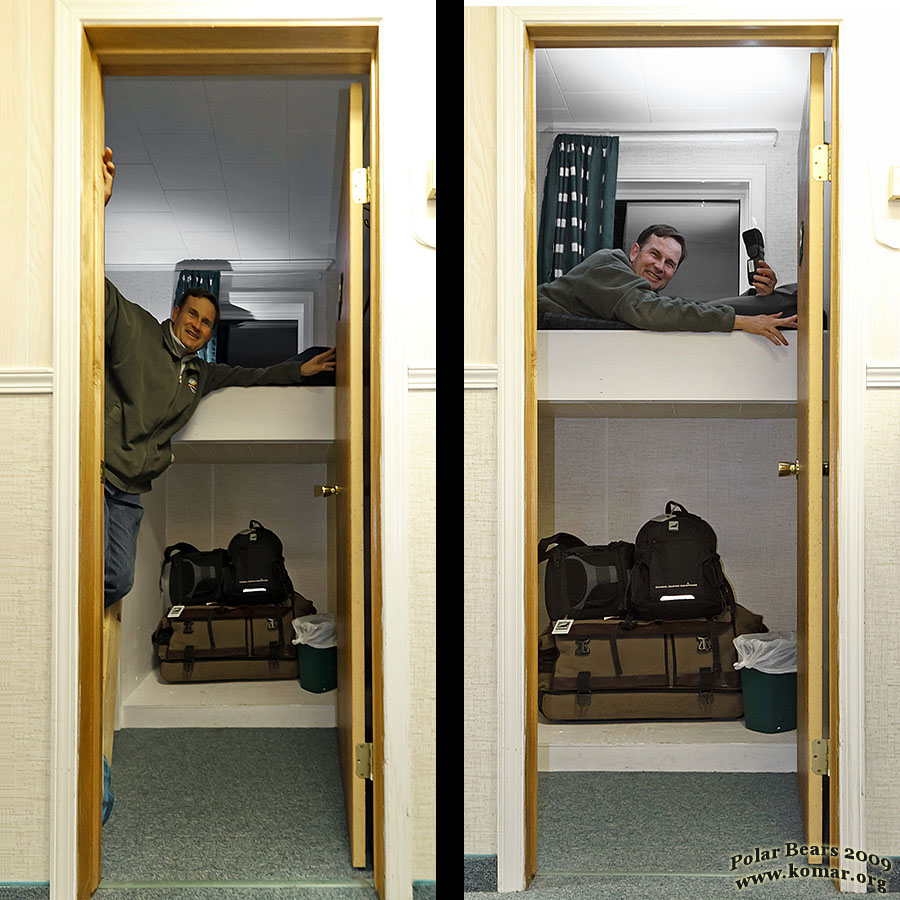 There were several common bathrooms - worked out fine -
mouseover image for another view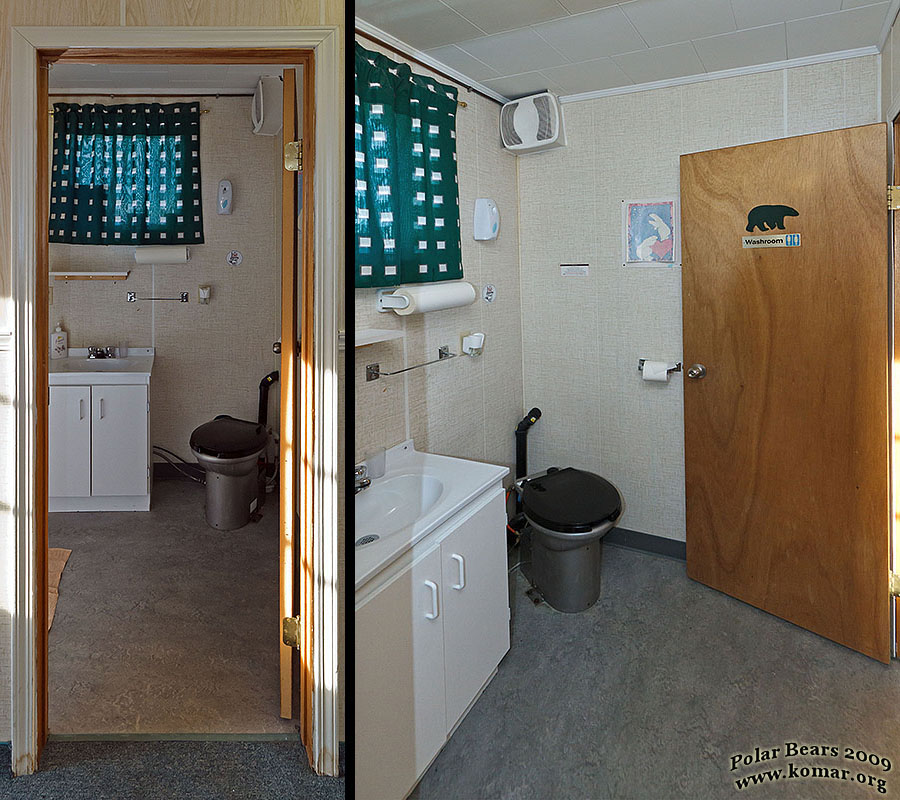 Tundra Lodge Food and Wine was fantastic -
mouseover image to see closeup of the bottles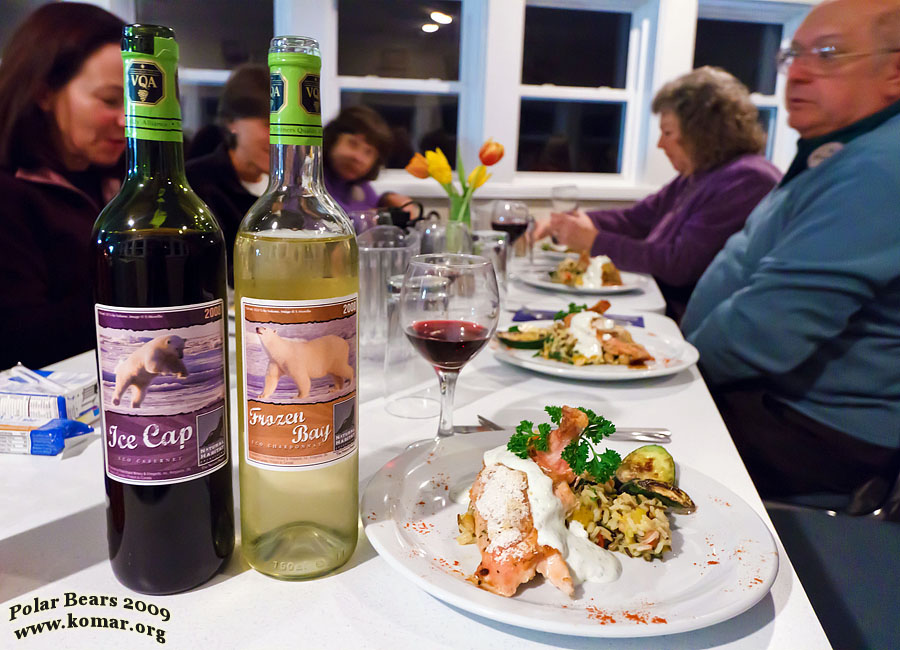 Toasting another fantastic day on the Tundra after seeing lots of Polar Bears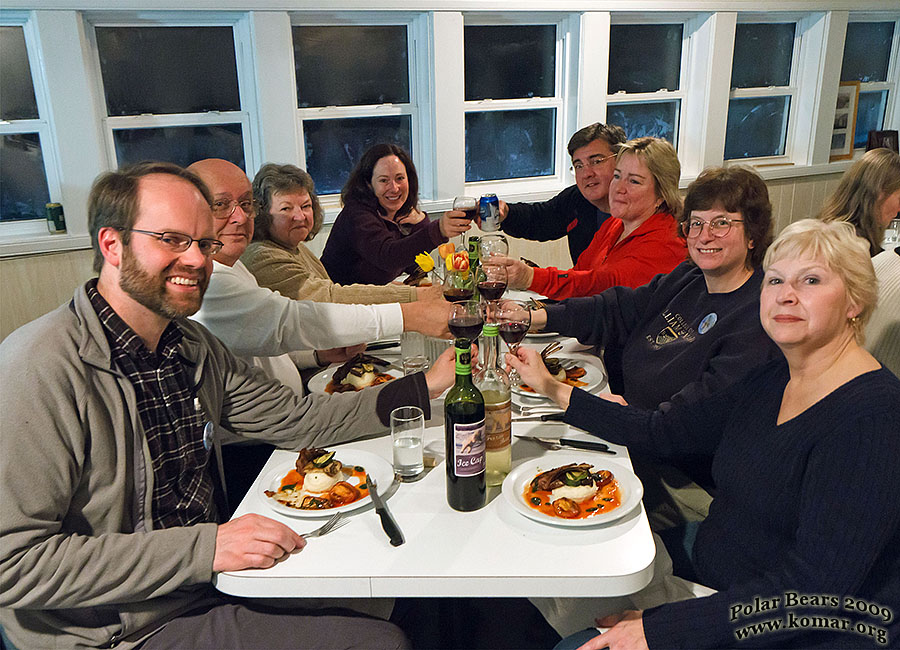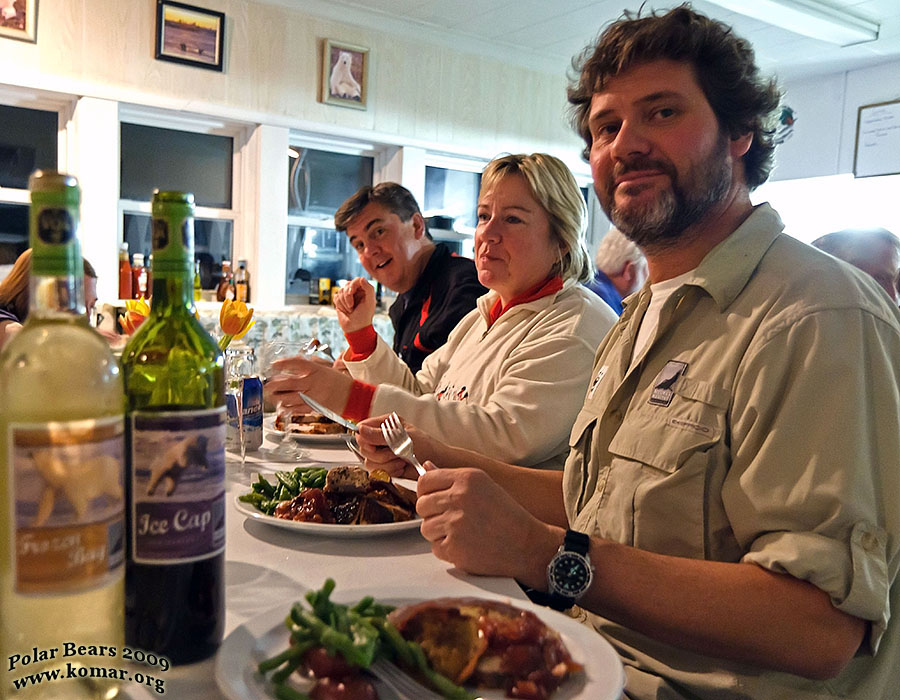 Chefs Beverly and Jocelyn made Baked Alaska the last night - WOW!!!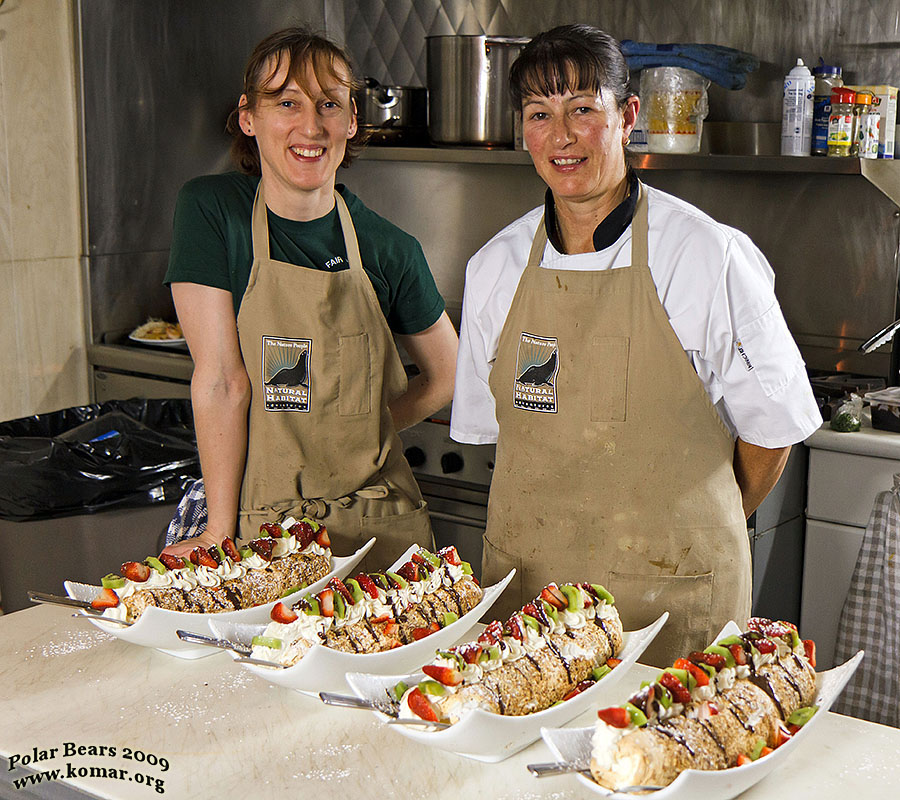 Paul shows what a Polar Bear would do with that tasty Baked Alaska! ;-)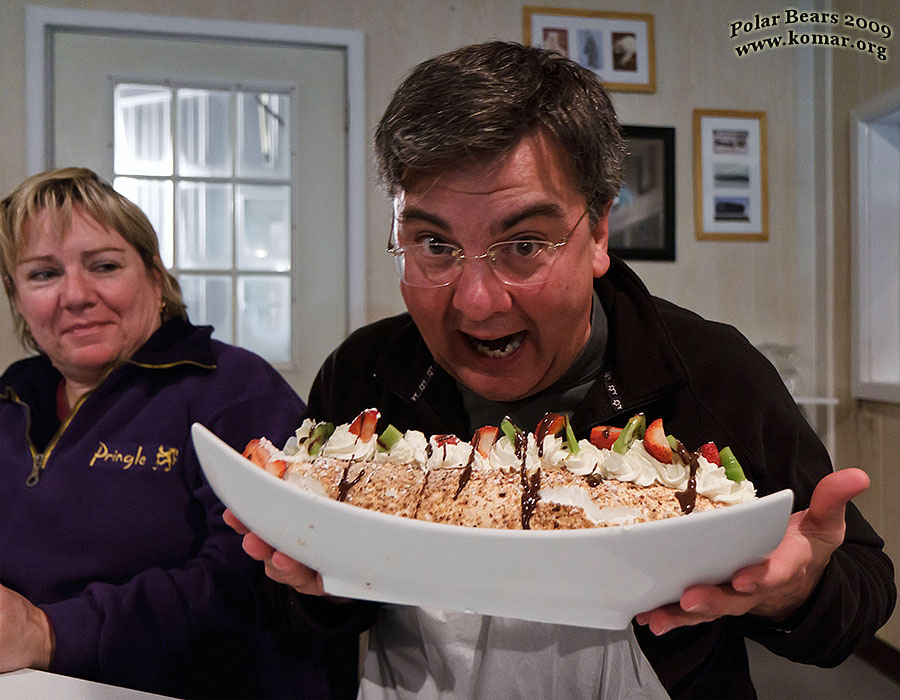 Periodically, you would hear/feel a "bump" while eating as someone else was hungry!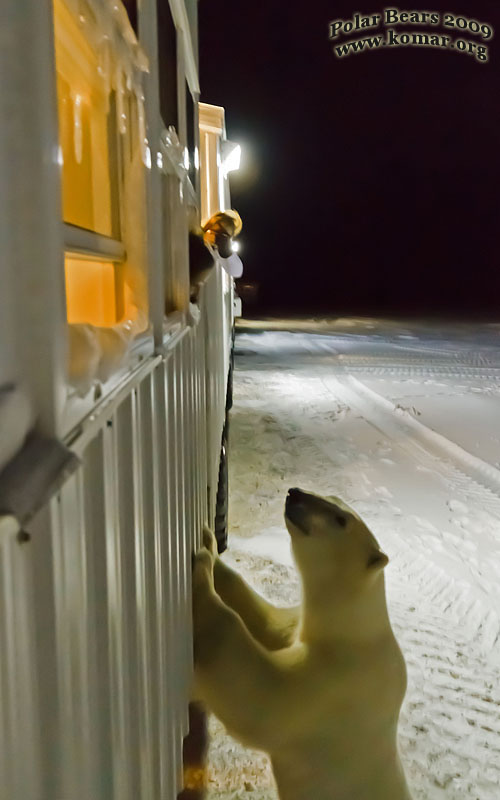 Janet brings up the sunrise -
mouseover image for closeup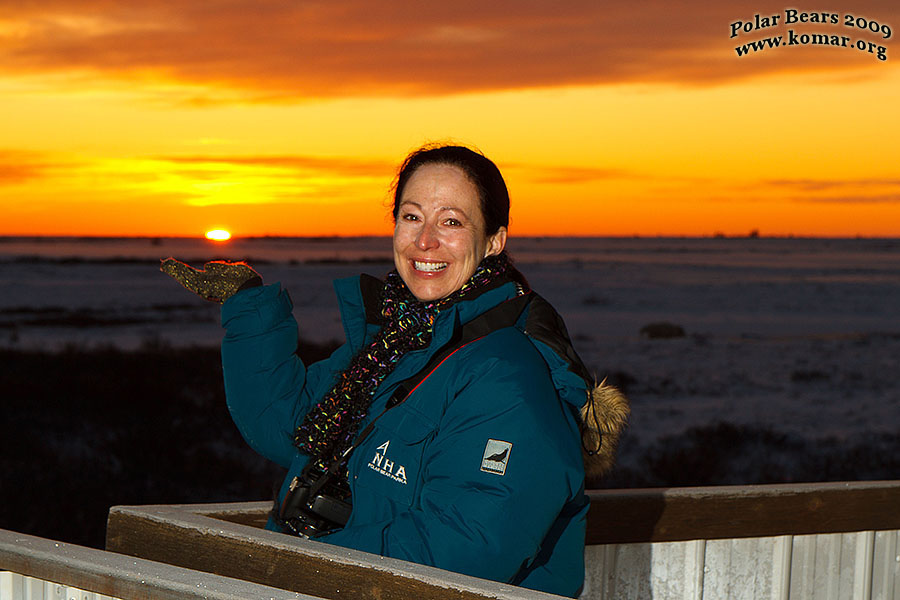 The Polar Rover would then head out from the Tundra Lodge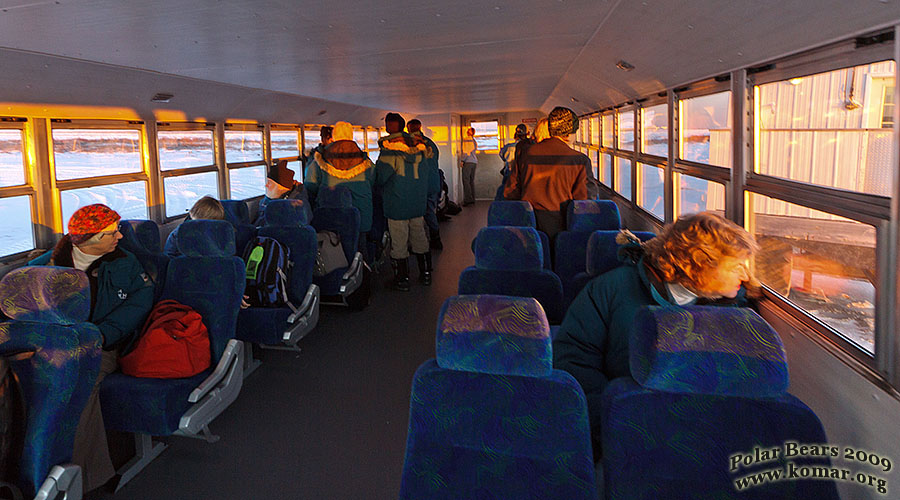 Polar Bears fighting 20 minutes after sunrise -
mouseover image to see 'em go at it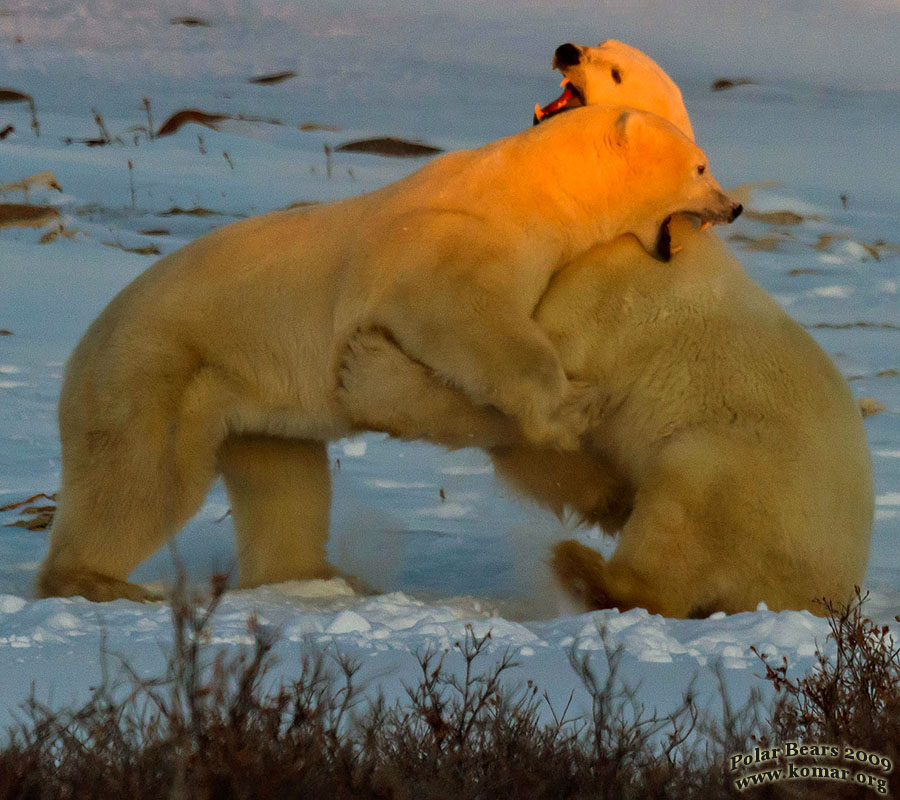 Another pair of Polar Bears sparring 35 minutes after sunrise -
mouseover to see 'em in action!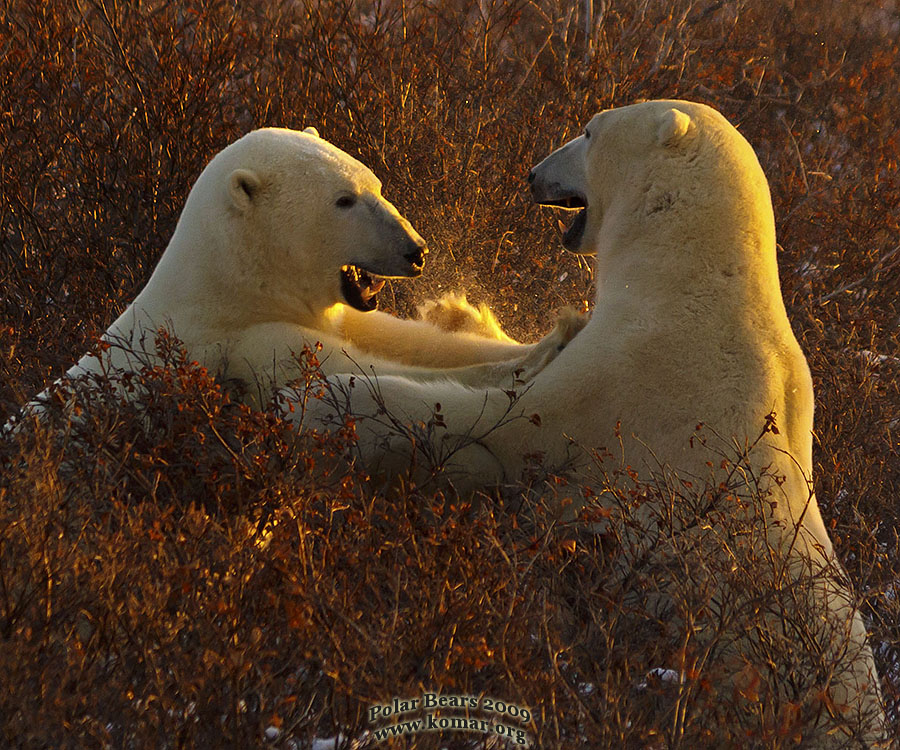 But they are just playing (reminds me of my two boys) as they are "best buddies" afterwards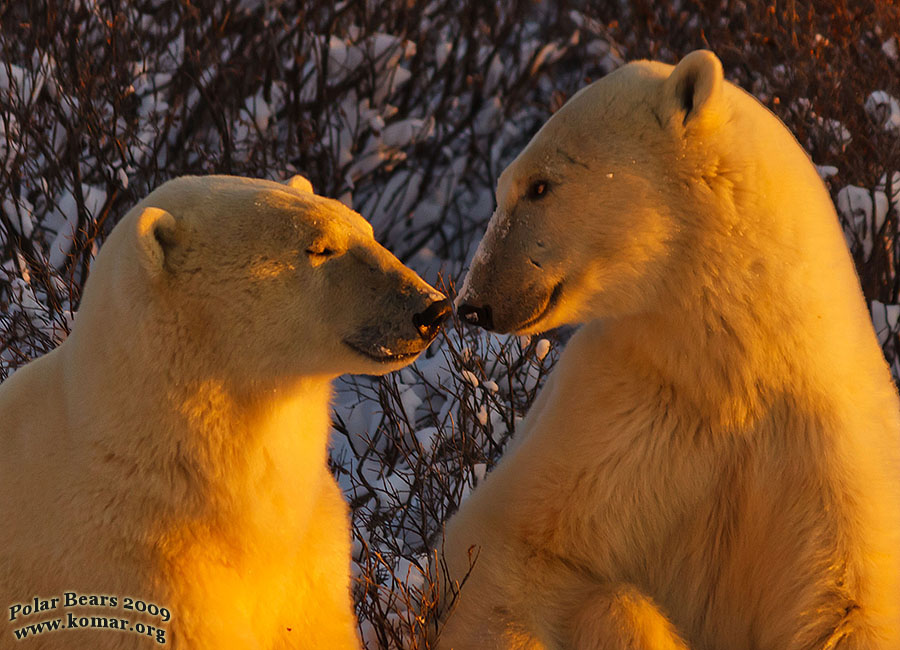 A Mother with her Cub watches the fighting ... and then moves away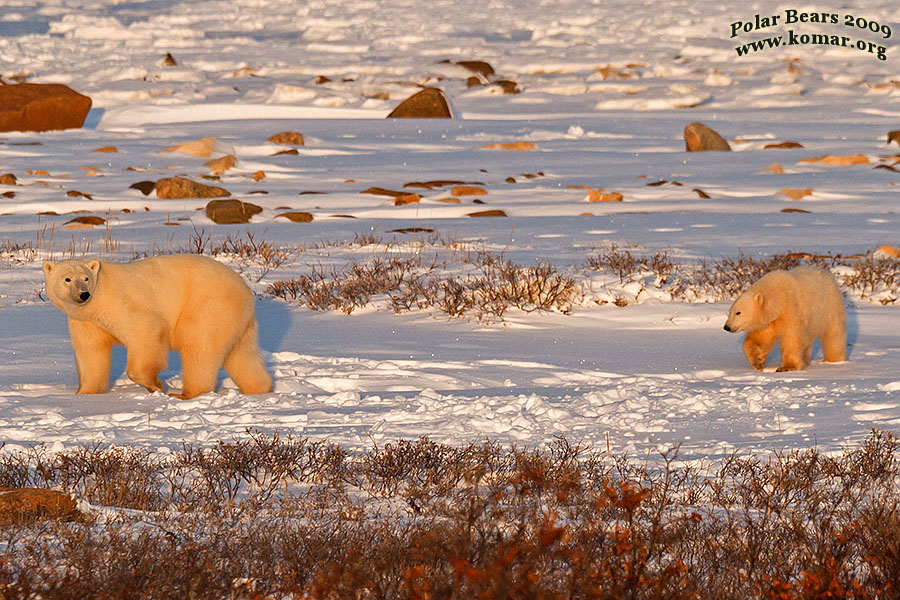 Another Polar Bear Mom with Cub -
mouseover image as she looks for threats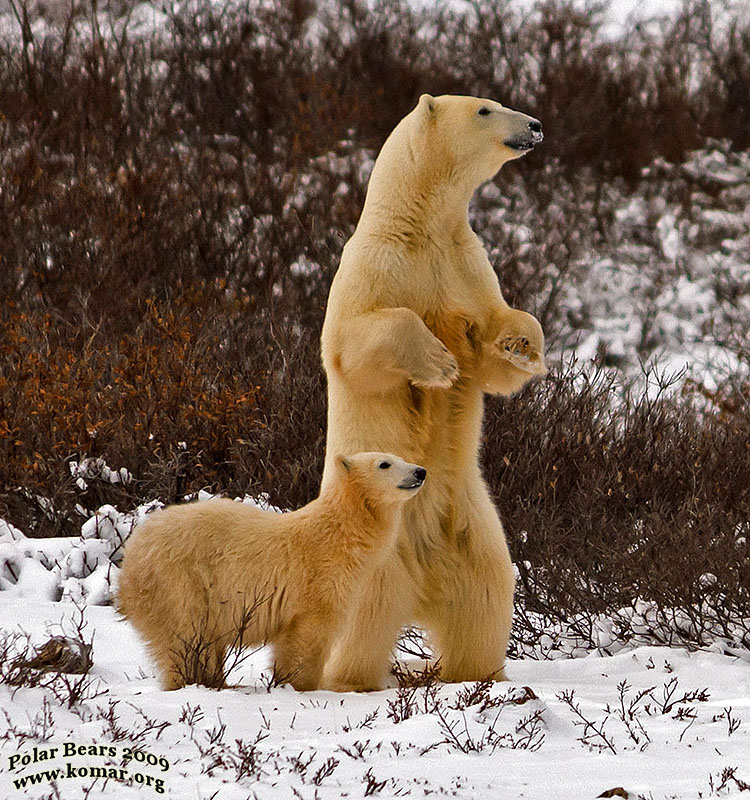 This Polar Bear Cub stays close to its Mom -
mouseover image to see 'em tuck in closer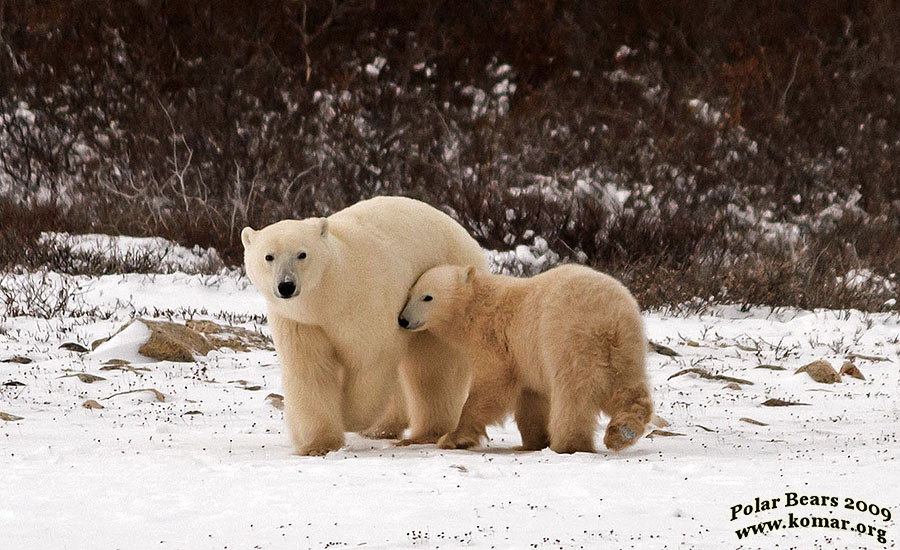 A Mother Polar Bear walks across the Tundra with her two Cubs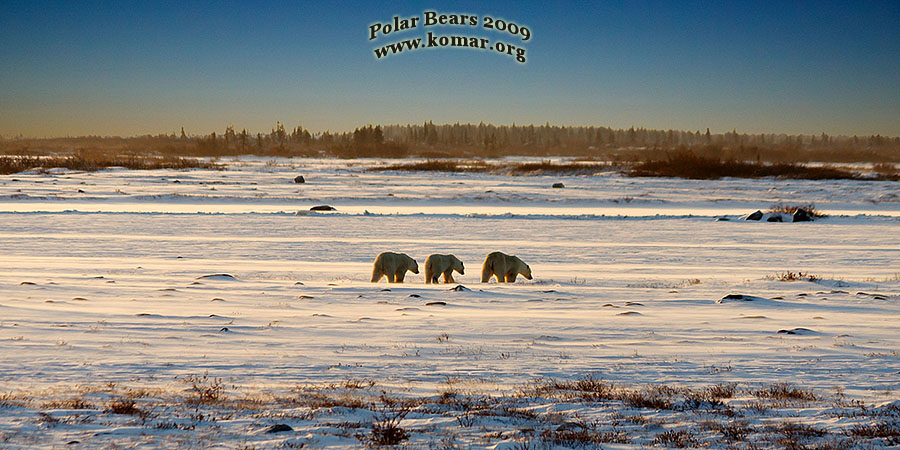 Hanging out on the Hudson Bay looking for seals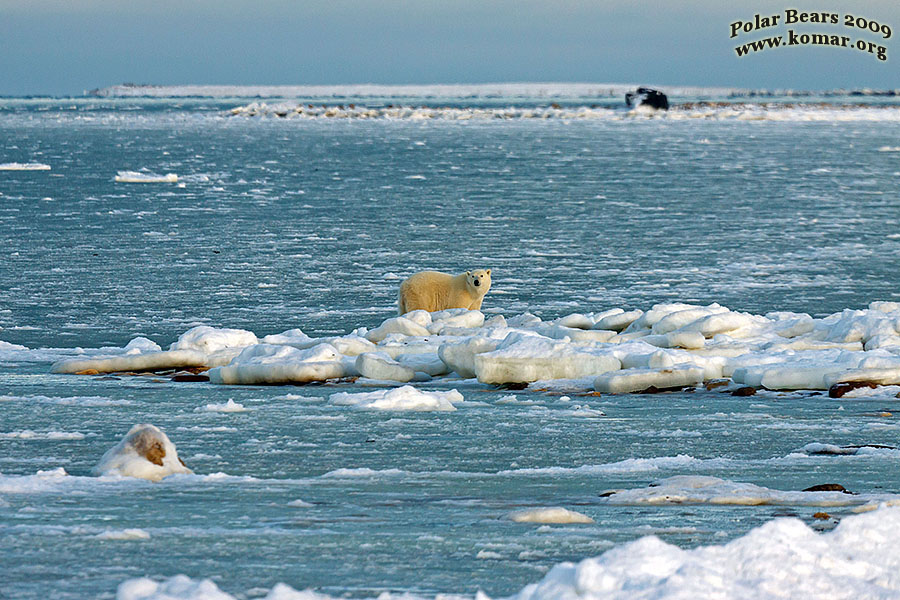 We didn't see any North Pole Polar Bears checking out submarines in Hudson Bay! ;-)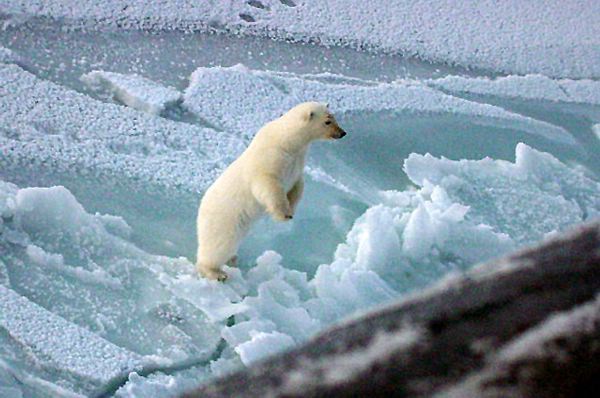 Polar Bear Slumber Party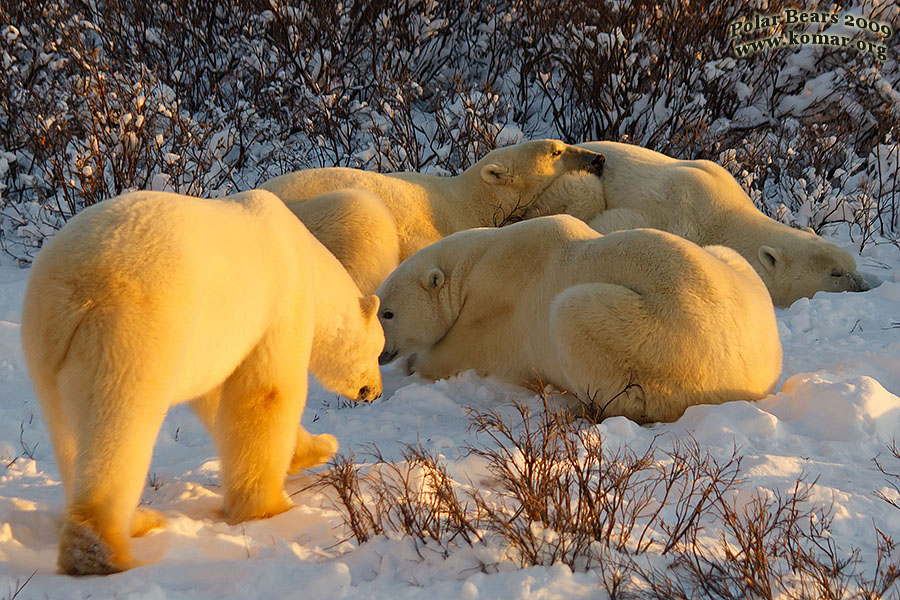 Exchanging gossip at the Polar Bear Party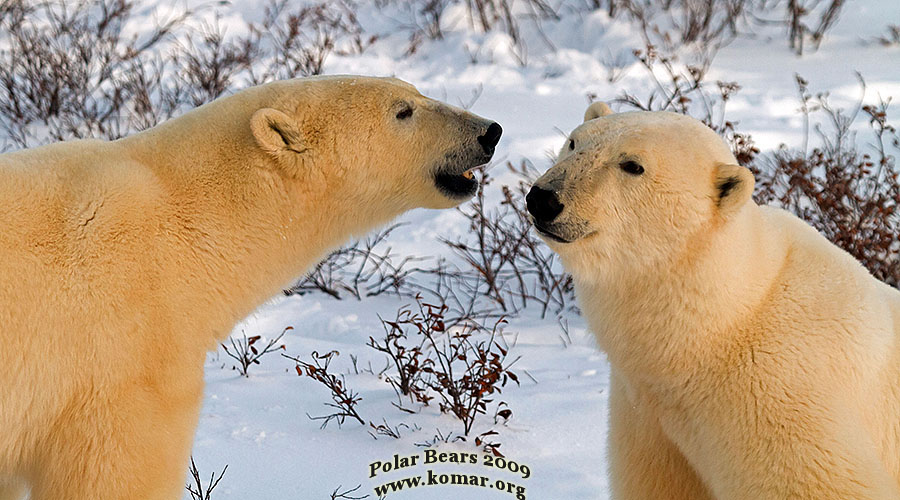 Soooo cute!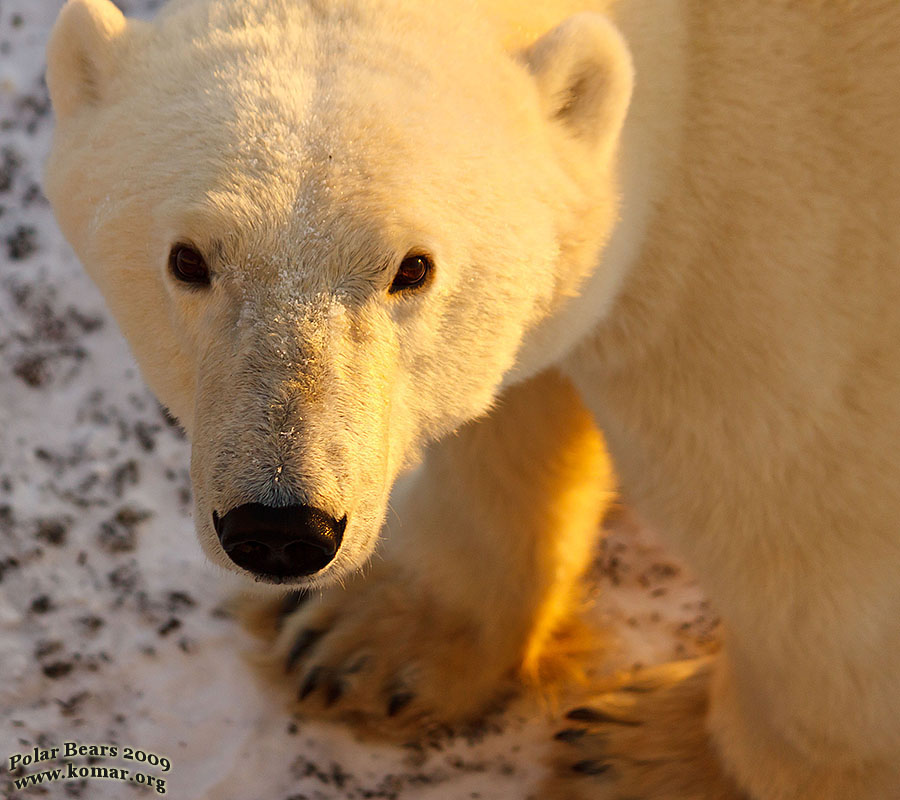 Perhaps not so cute if he's looking at you as dinner!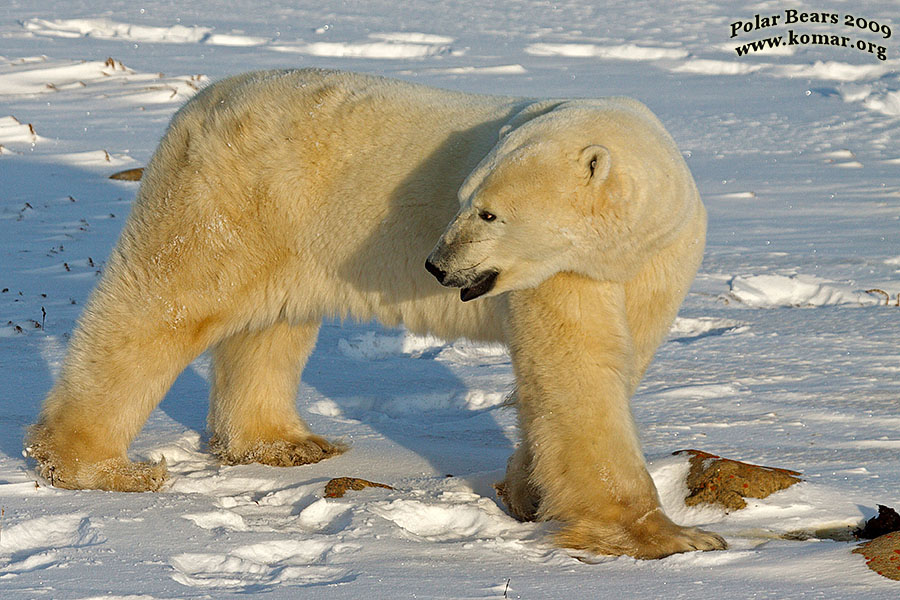 There was plenty of Polar Bear Photo Ops around the Tundra Lodge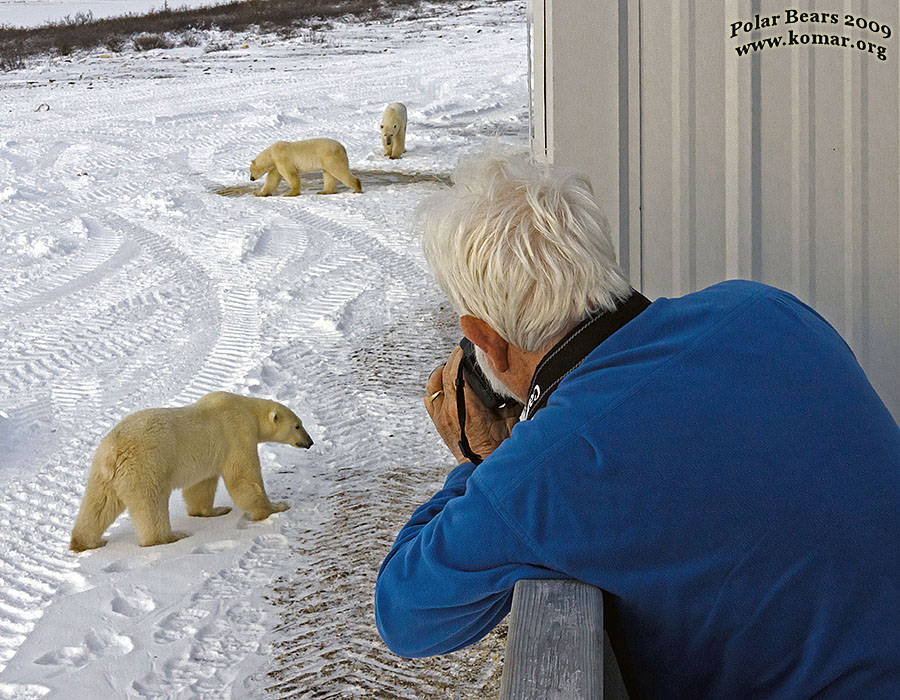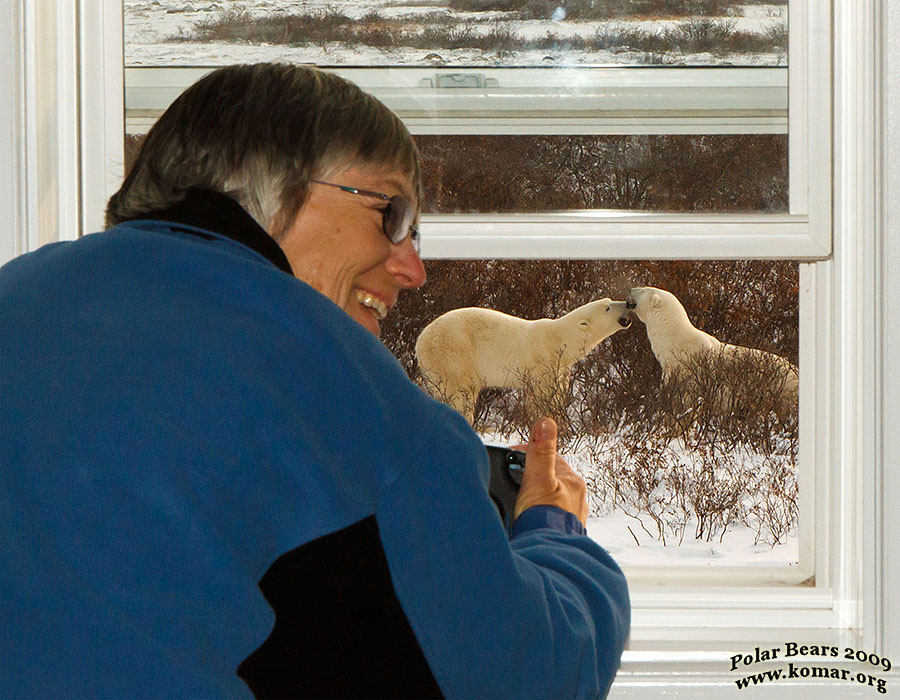 Even the re-supply vehicle stops to take pictures of Polar Bears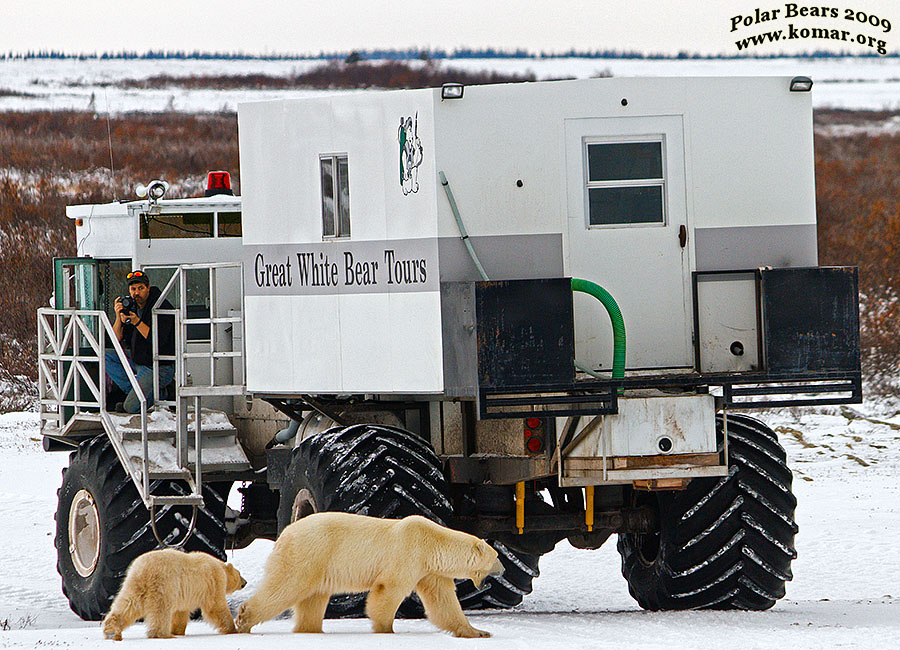 Regular Bears poop in the woods - Polar Bears poop in the snow! ;-)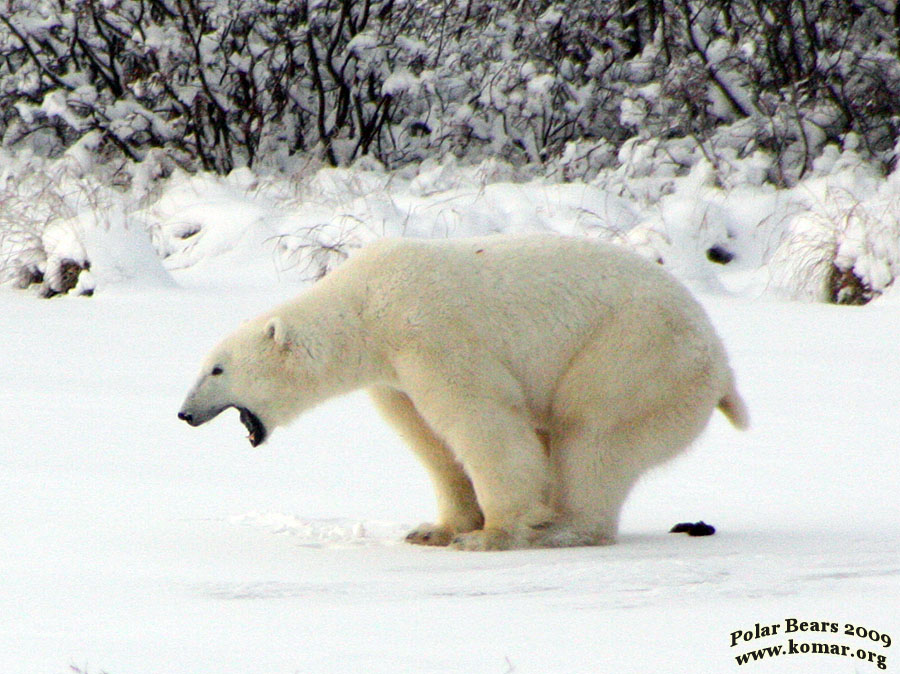 Polar Bear walking in the late afternoon light - especially long shadows at the high latitude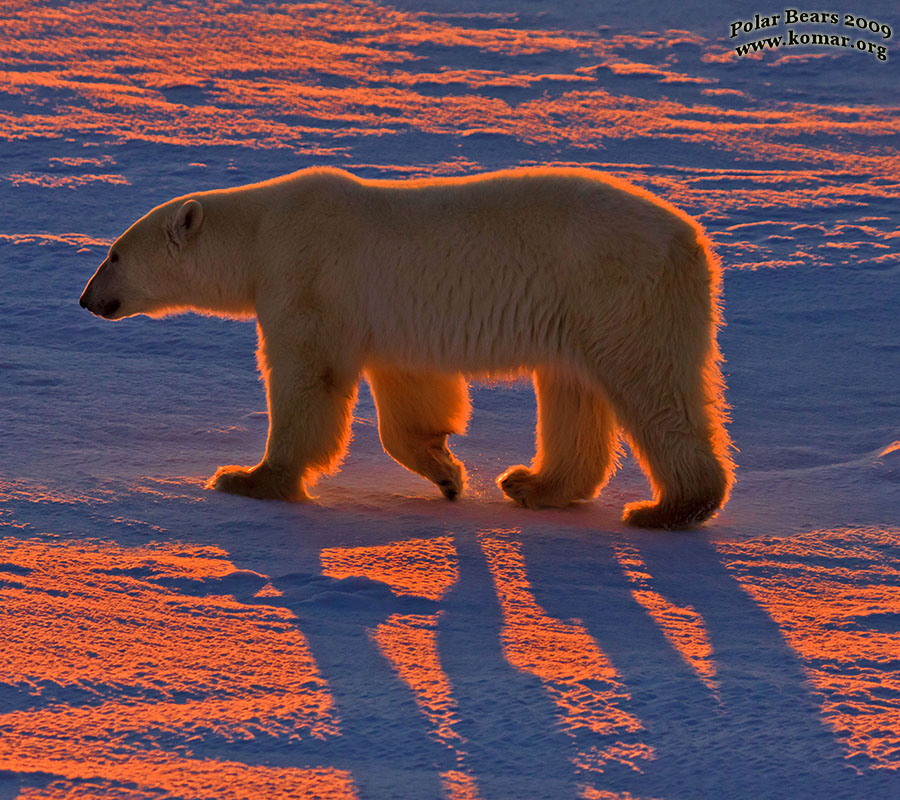 As seen above, I got some semi-decent pictures of Polar Bears sparring and then walking while backlit by the Sun
But wasn't lucky enough to replicate the quintessential picture of them sparring while backlit by the Sun - darn! ;-)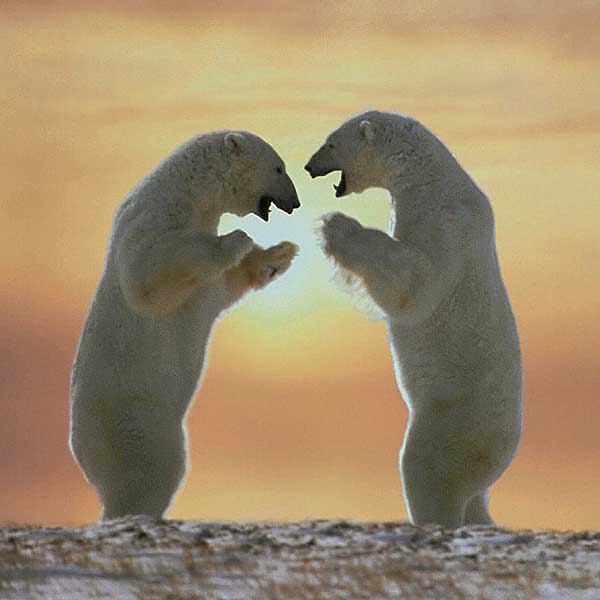 Everybody opted to put these on their room door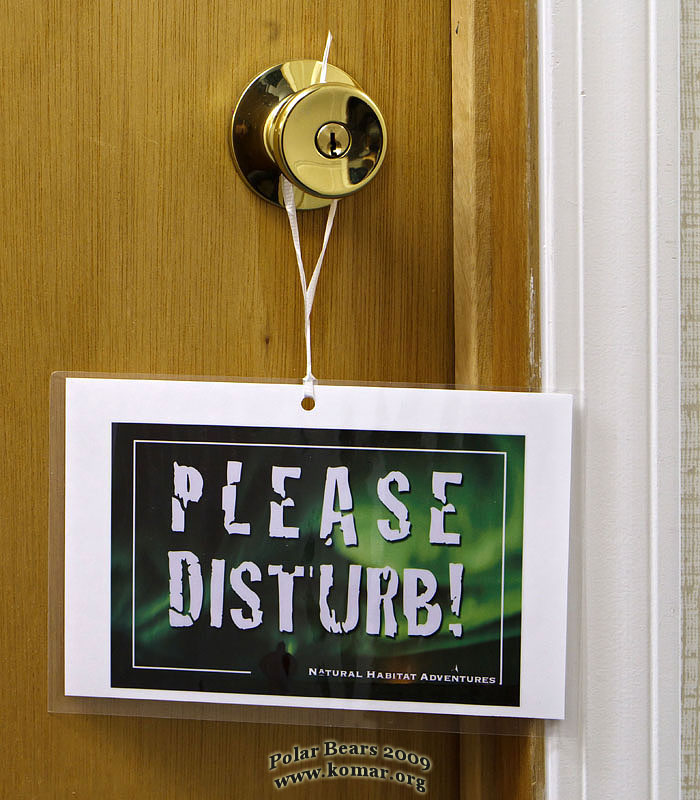 Aurora Borealis North of Churchill, Canada -
mouseover image to see another view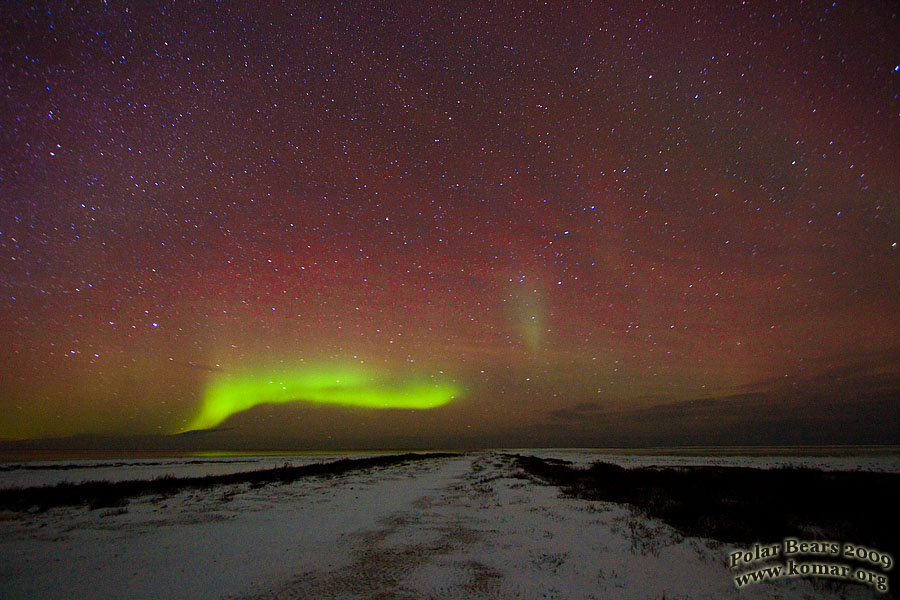 Another incredible sunset while Devin was driving us around in the Polar Rover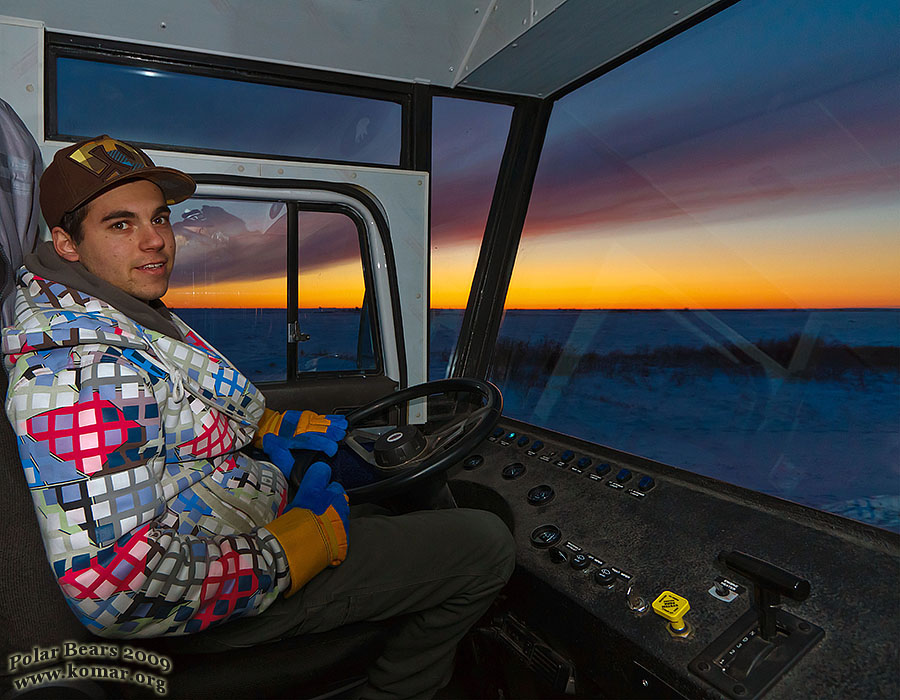 Devin stepped out to lock the hubs, so I sat down in the driver's seat! ;-)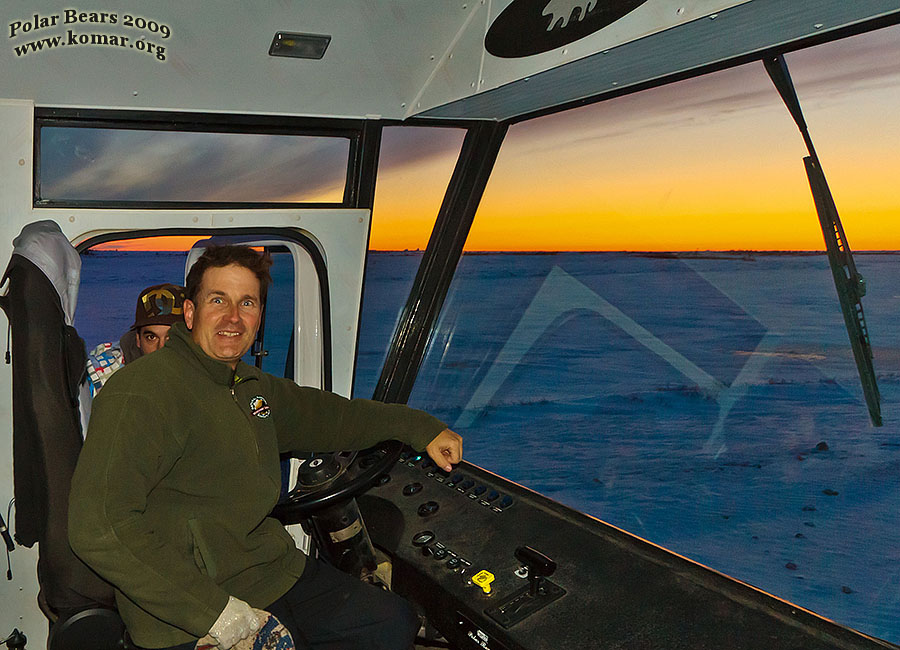 Jill (and everyone else) took countless pictures of the colorful sky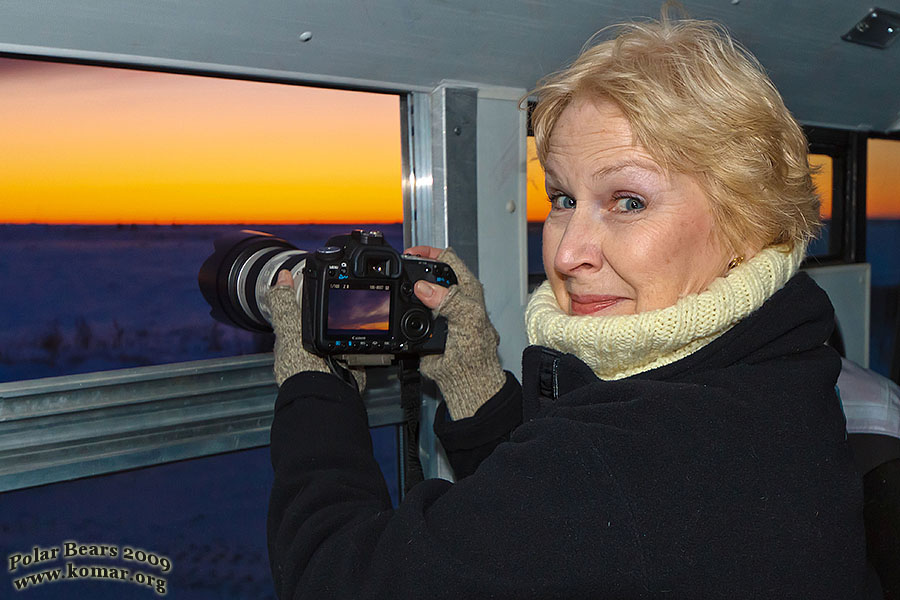 View of the Polar Rover from the Tundra Lodge - lights of Churchill on the horizon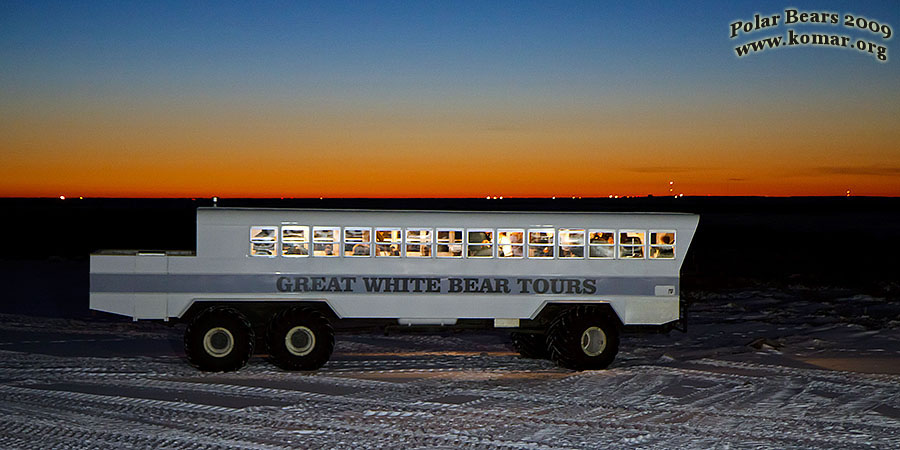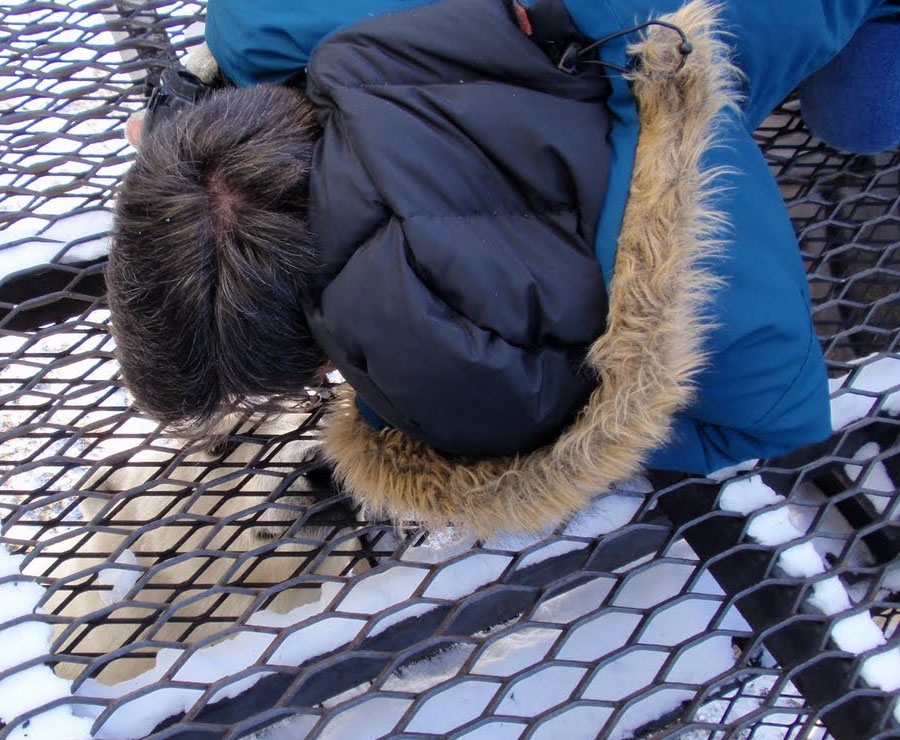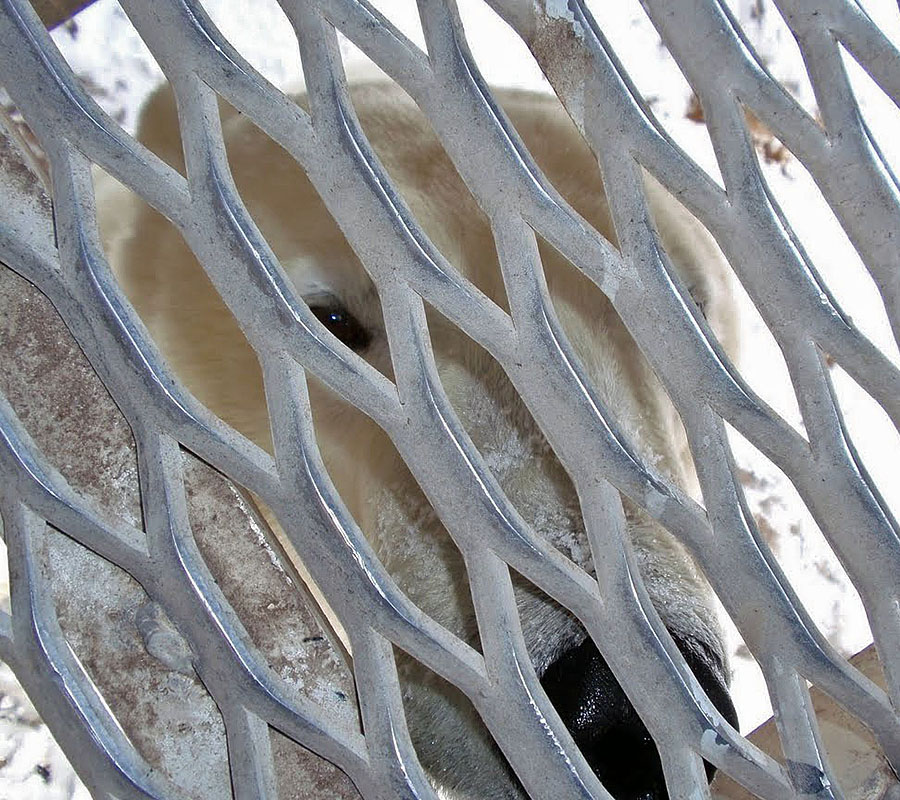 We never left the safety of the vehicles and had to play a game of Polar Bear Tag! ;-)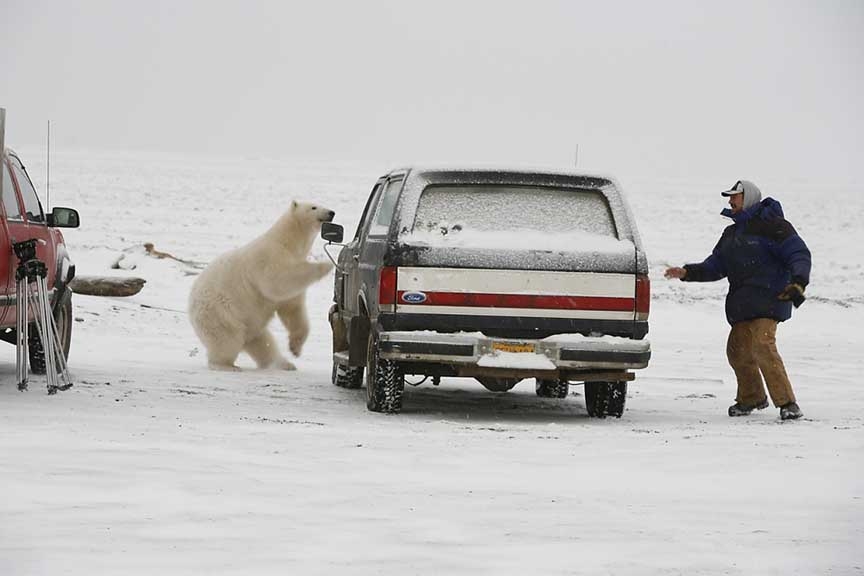 A mirage on the snowy Tundra due to temperature inversion -
mouseover image to see it change

A rare sighting of an Arctic Fox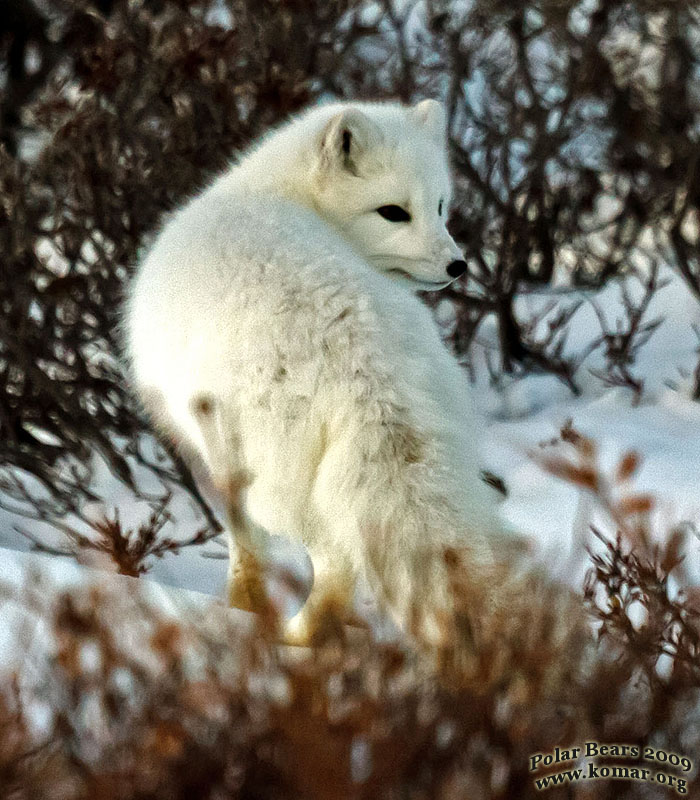 Mouseover image to see the Arctic Fox curl up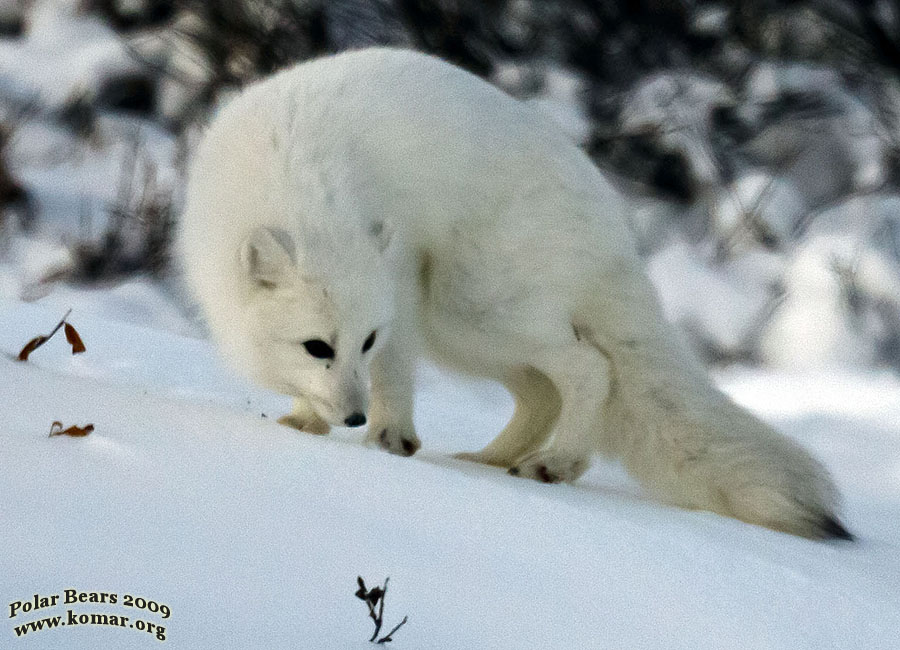 Tundra Lodge Staff says goodbye as we head back to Churchill after four wonderful days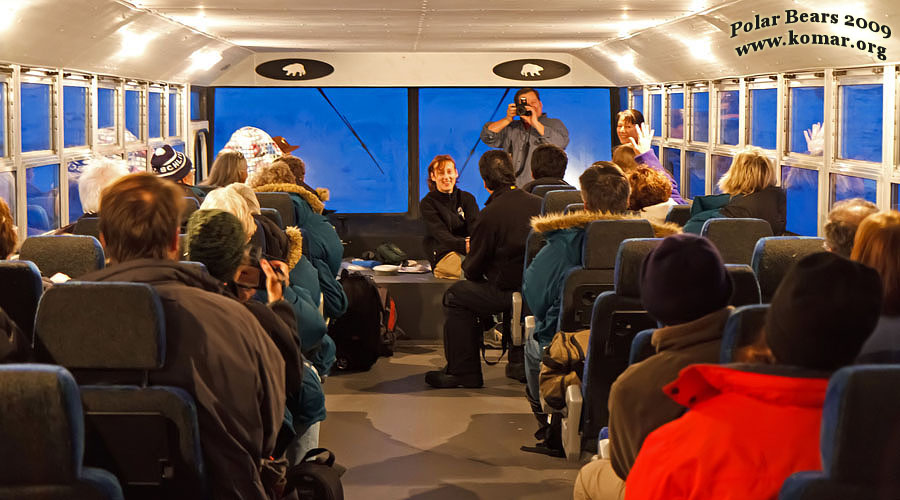 Paul is pretty excited to fly in a helicopter to see the Polar Bears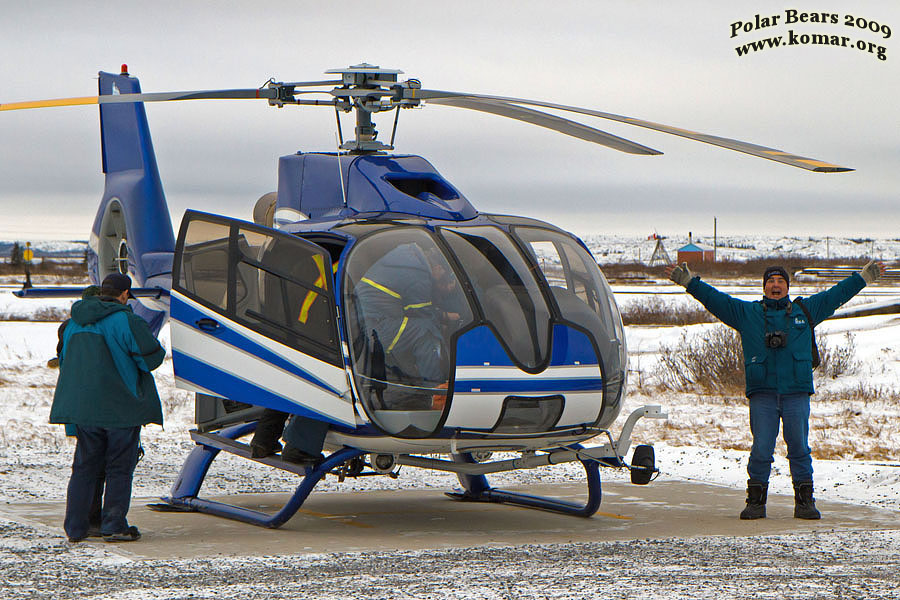 The Helicopter ride got a big thumbs-up!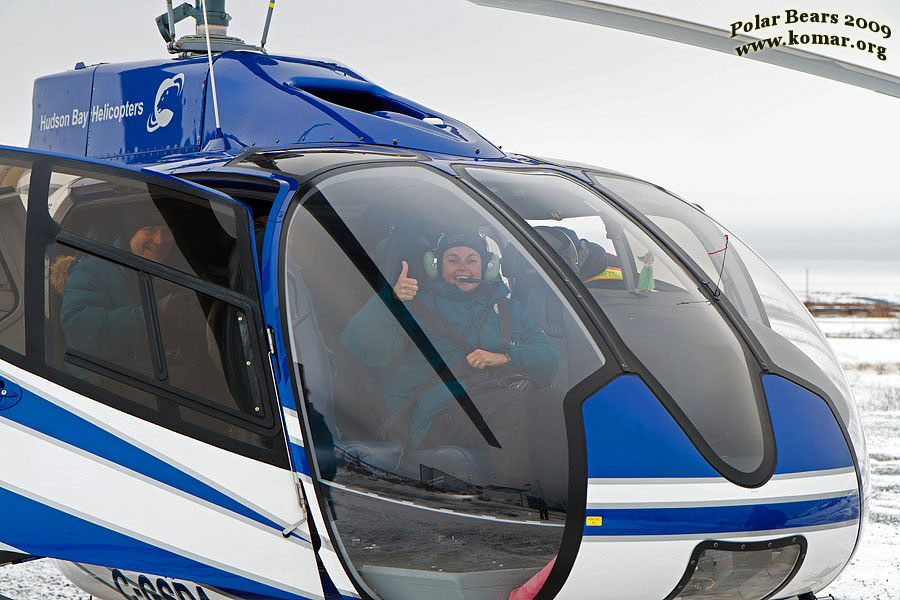 Time to do some dog sledding -
mouseover image to see Jon & Linda come up the trail

- watch dog sledding video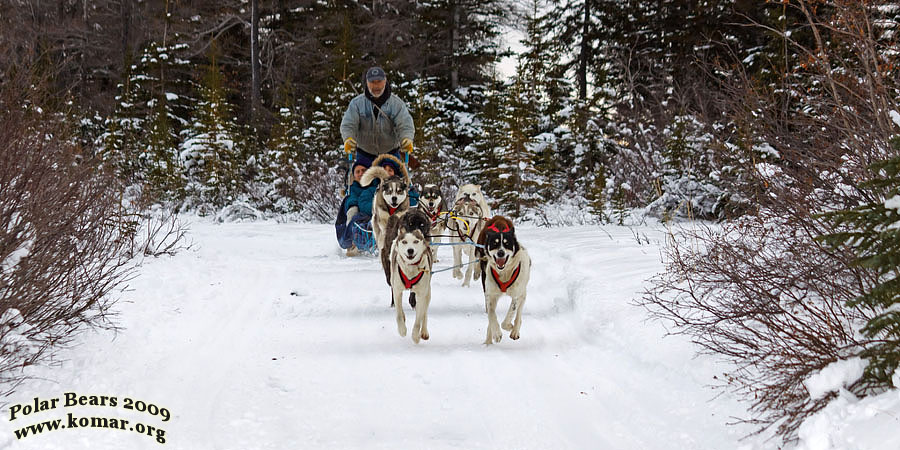 While I took wide-angles of the people, Steve got some nice closeups of the Dog Sledding in Churchill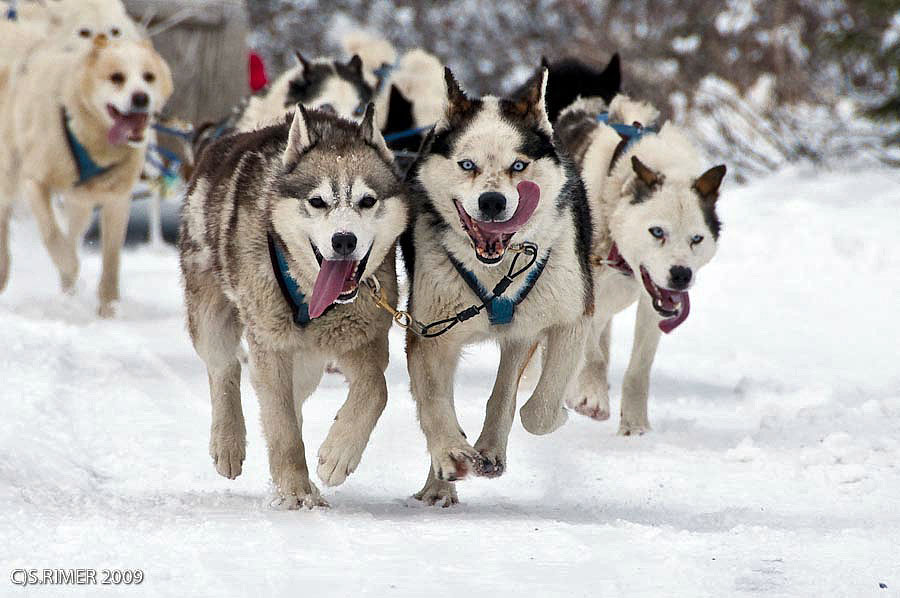 Super Cute Puppy -
mouseover image to see him swat the luggage tag! ;-)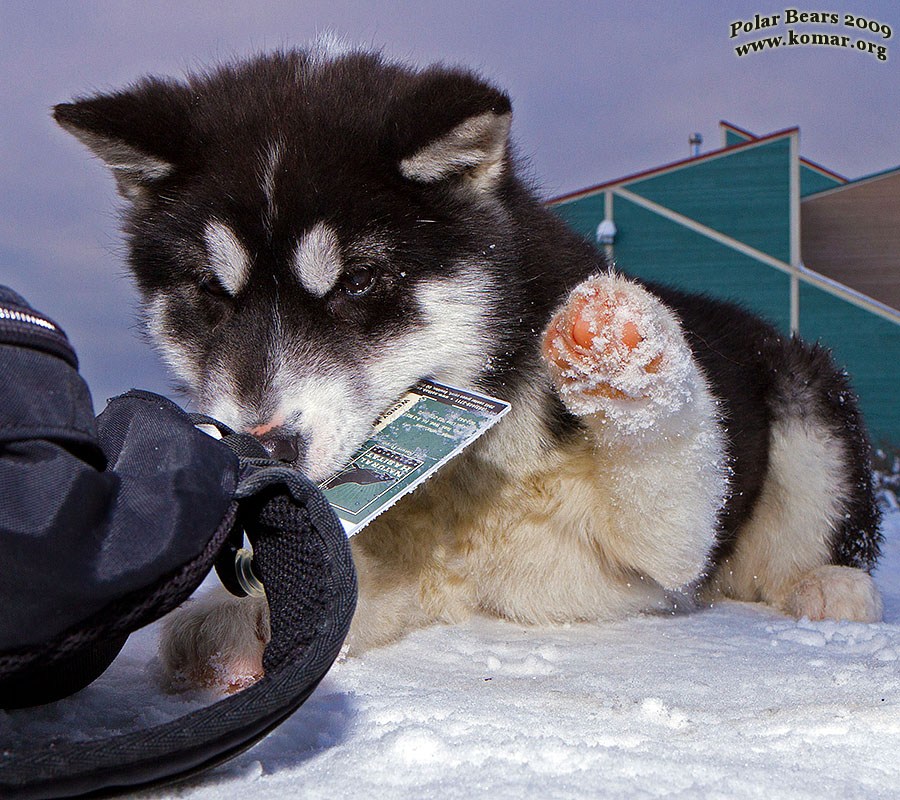 Everyone enjoyed some special one-on-one with the sled dogs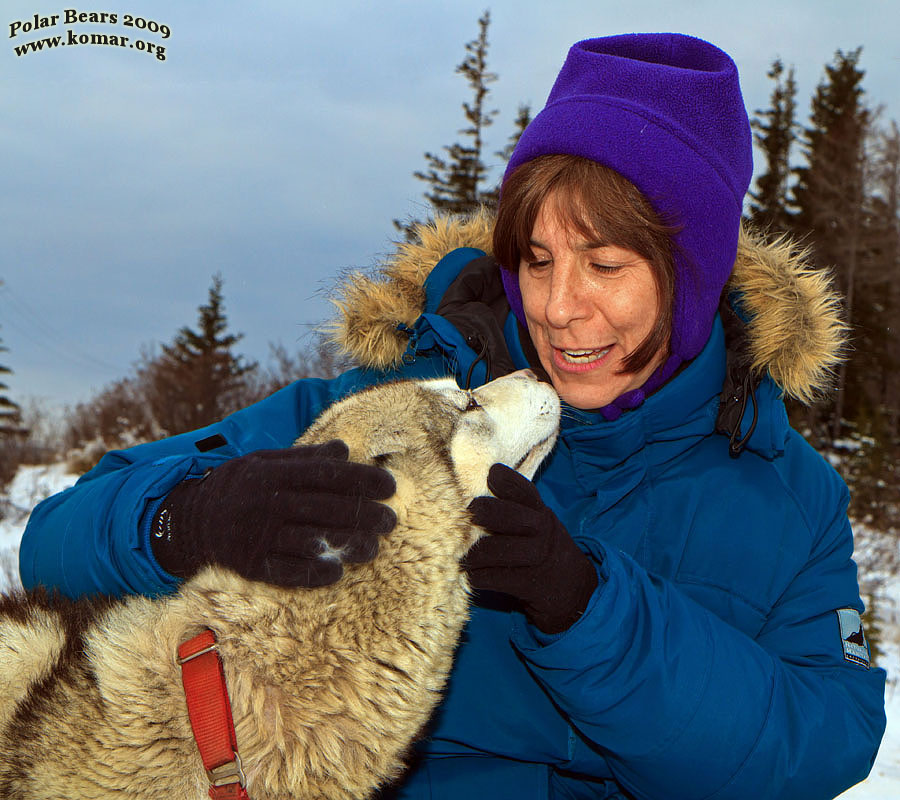 Last morning in the town of Churchill looking NW down the main street -
mouseover image to see wide-angle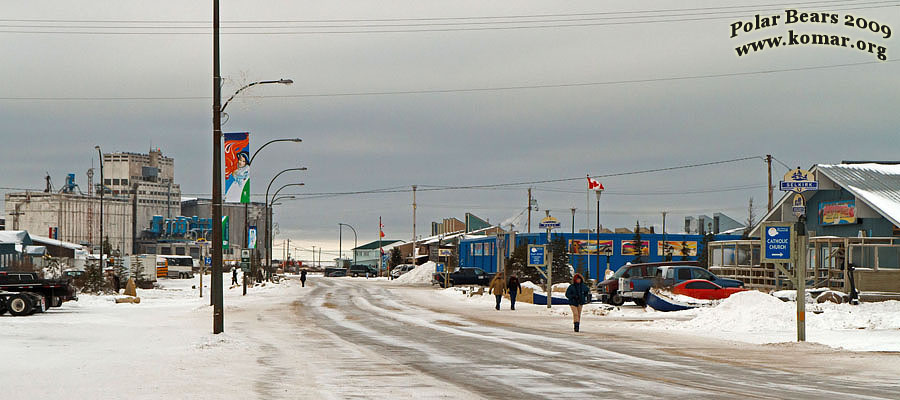 Classic picture of the Inukshuk (a balanced rock formation) near Churchill, Canada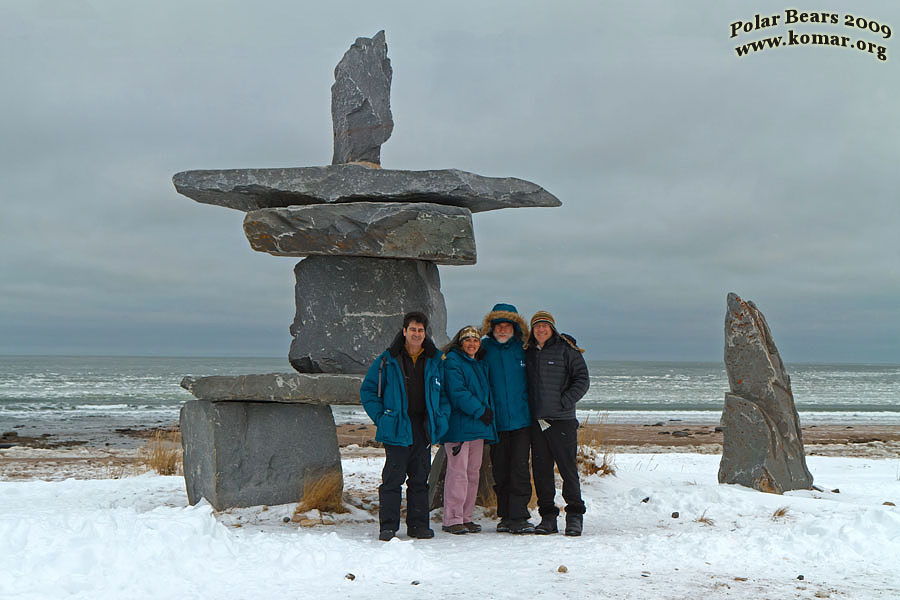 Be sure to stop by the Churchill post office to have your passport stamped with "Polar Bear Capital of the World"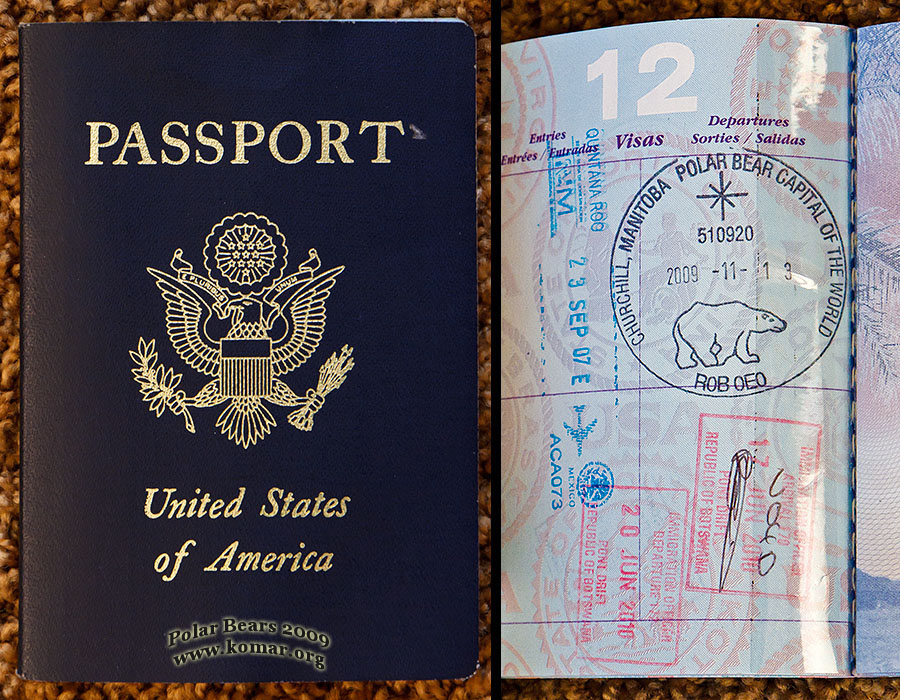 Hi-Def Polar Bear Videos:
Note: This was my first time shooting video with the Canon 7D. While it takes stunning 1920x1080 Hi-Def Video (above are "only" 1280x720), they are a bit shaky ... I got better later on - check out the
Galapagos Islands
and
Baby Hummingbirds! ;-)
Also check out the pictures/video from our
family on an African Safari trip.
More Web Pages with additional info and pictures: