Numerous people who have also had their natural lens removed have written me saying they see similar to what I describe below.
I've been very happy so far with the
Crystals implant for Cataract Surgery
- after a lifetime of glasses, it's life-changing to be able see good!
I expected some color shifts since my natural cloudy/yellow lens was replaced and it's wonderful seeing a "brighter more vivid" world. But one unexpected/interesting aspect is I see a violet glow that others do not - perhaps I'm more sensitive to the shorter end of the visible light spectrum. While I don't have a
"Sixth Sense"
that allows me to say
"I see dead people"
(!), I suspect I'm actually seeing Ultraviolet light! ;-)
Simulation of how I see in the Ultraviolet -
mouseover image to see overlays
Picture taken in the
shade on a sunny day
via remote release with a tripod mounted/remote Canon 7D and 17-55/2.8 lens at 1/100 second at F/5.6 and ISO400. I processed the camera RAW file using default settings of Lightroom with White Balance set to shade. Since the camera doesn't "see" Ultraviolet light, I had to use Photoshop to simulate my perception of what I visualize. I selected the "exposed" areas of the Black Light and using Levels, pushed Red to 5, Green to 5, Blue to 9, and RGB to 1.5. Background glow is pushing Blue to 1.15 for the whole image.
The UV bulb is a GE F15T8/BLB which has a peak emission at 368nm and is typically used in insect traps (bug zappers!) and inspection applications -
spec sheet here.
While I don't know the filtering characteristics of the glasses or UV filter, I see a MAJOR difference looking through them at the Black light - others see little/no difference.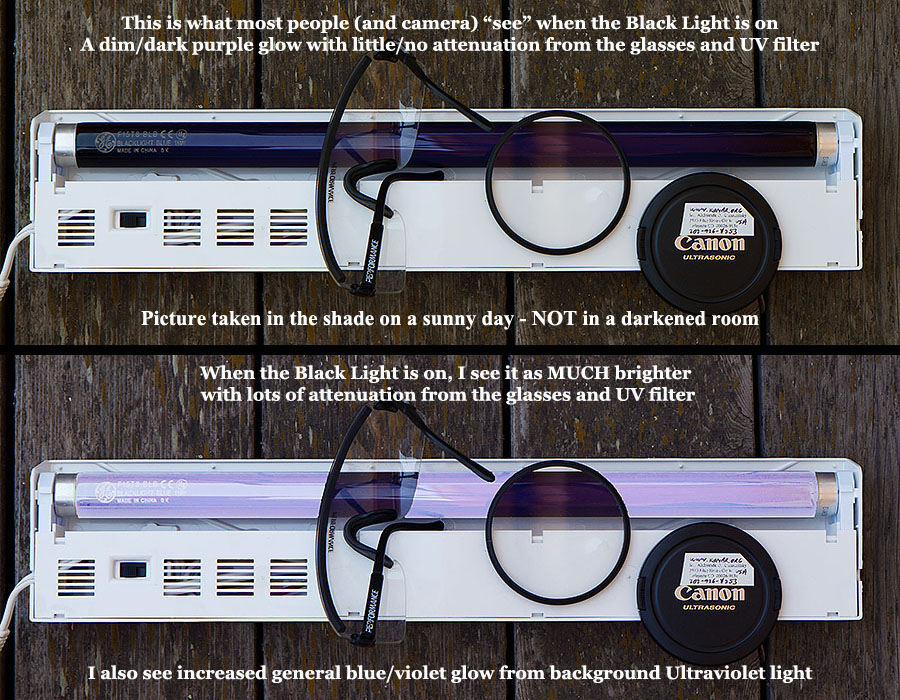 Others have described black lights similarly as deep purple with his one eye with a natural lens and bright lilac with the eye without
I've read that people who are Aphakia (do not or no longer have a natural lens) may be able to perceive ultraviolet light. A mainstream media writeup here and another here plus a personal experience that sounds familiar to what I'm seeing. An Eye Surgeon recently wrote about blue-violet color changes after Crystalens implants (PDF) and his experience is that only 3% of patients have experienced (or mentioned!) this phenomena ... but some people may just have more sensitive photoreceptors, so the vast majority of the patients would not see this.
The natural lens becomes increasingly yellow with age (which basically provides a Blue-Blocker filter) as seen in the image below. So I enlisted a few kids in the neighborhood to "volunteer" for me, and (compared to adults), they seem to see a bit more color glow on the black light, but nothing close to the huge difference I see with a UV filter or polycarbonate glasses.
The human crystalline lens at various ages from Sidney Lerman's "Radiant Energy and the Eye"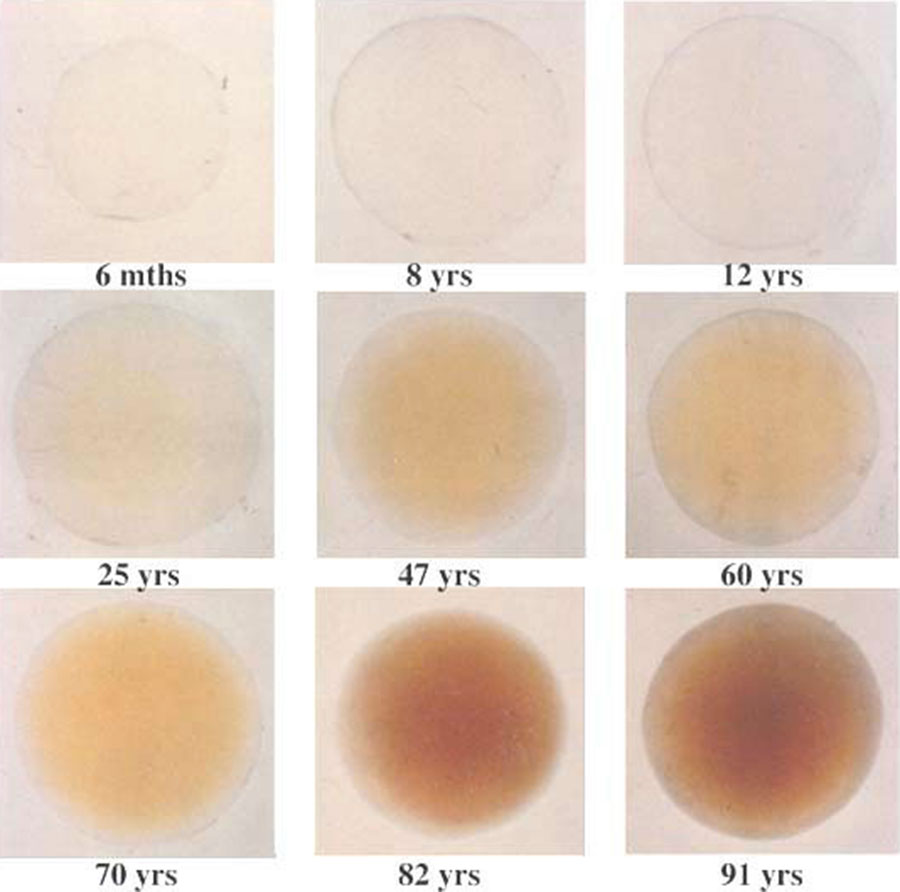 Unlike many IOL's, the Crystalens transmits some UV light and I suspect this may have been intentional by design in order to provide the clearest possible vision, especially in low-light. One medical literature review says the use of blue-blocking IOLs is not detrimental in visual acuity, color perception, and contrast sensitivity but another says blue-blocking IOLs decrease photoreception without providing significant photoprotection ... so even the experts don't agree. My eye-doctor-wanna-be opinion is Dr. Mainster is probably right - do not blue-block.
Several months after I wrote the above, out came this NY Times piece (related papers here and here) about aging eyes causing health woes.
Spectral transmittance of IOL's and crystalline lenses with median ages of 15, 25, 45, and 65 years
Click on image to see Dr. Mainster's chart in full-res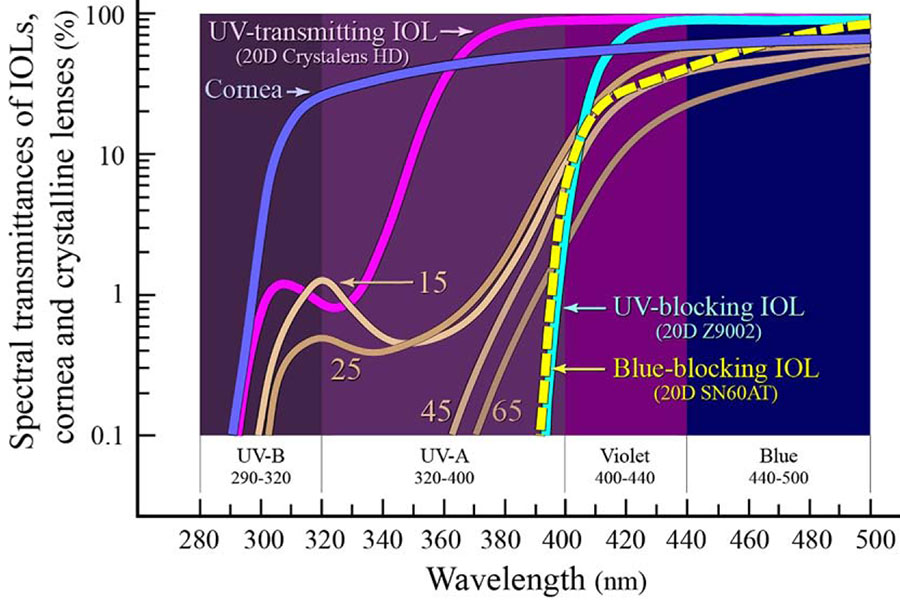 Here's Wikipedia's writeup on Color Vision that talks about the role of the Short, Medium, and Long cones in color perception. So perhaps a small percentage of people (myself included) have increased sensitivity in the S cones to light around 400nm (or shorter) ... but normally, the natural lens would filter that out - mine is now gone. It's worth noting that the "violet glow" is similar with both eyes. On a related note, I tested my color perception with an online FM100 Hue test and scored an 8 (seems pretty good) with the few errors in the green-blue area.
I actually noticed this the day after my first Cataract Surgery with my son's Colorado Rockies shorts (see below) and it adds a faint blue/violet sheen to the outdoors - indoors, most UV light is filtered. It does make sunrise/sunsets look even more awesome!
Here's a picture taken in the shade on a sunny day of my son's Colorado Rockies shorts and other misc.
The camera (and other people) don't see the purple glow - simulated with +20% Red & Blue channel
If I put a UV filter (or a pair of polycarbonate glasses) in front of my eyes, the purple glow goes away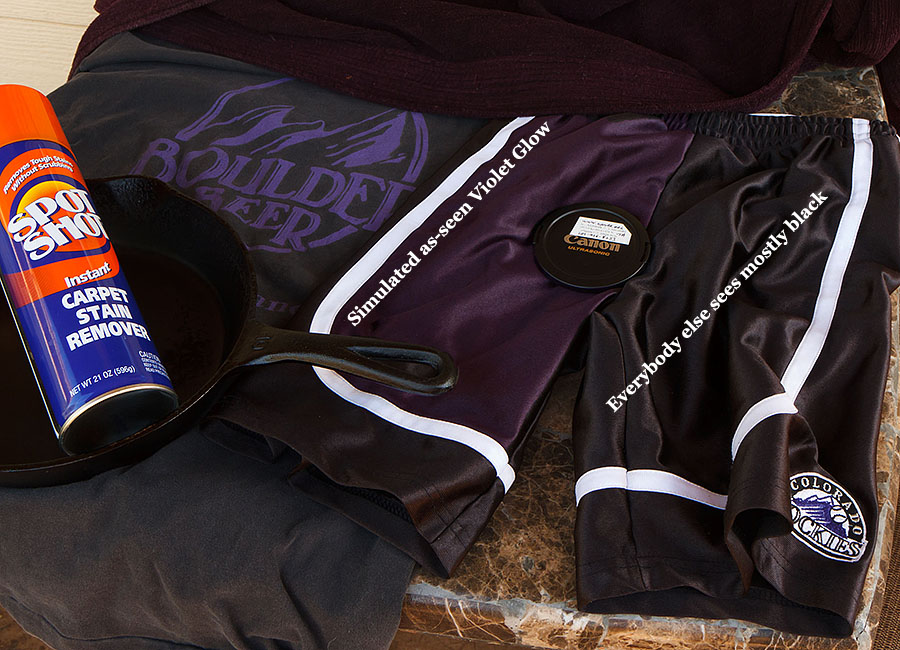 So being the over-analytical engineer (!), I've done various "tests" of my UV vision. It's a little harder now that both eyes have been done (which I'm very thankful for from a visual acuity perspective), since I can not compare/test myself with and without natural lens. I can see much better than others in a dark room lit only with a "black light" ... although ironically, other people can see fluorescence (stuff that glows in the dark) better than me because it stands out more - i.e. the rest of the room is dark for them!
Another test would be using a (scientific grade) prism (or diffraction grating) to split sunlight into different wavelengths and compare what I can see versus other people. Probably the best test would be getting access to Monochromator which generates selective wavelengths and quantify what I can see at the shorter end of the visual spectrum and into the Ultraviolet.
My son has a very small prism that casts rainbow colors which are well highlighted on the kitchen wall.
I put a yellow sticky where I saw the violet color end, and then asked my wife and kids (age 13 & 10) to show me the "end of the rainbow" ... which was less than I saw ... and about the same as the camera sees.

Mouseover image to see wide-angle view of setup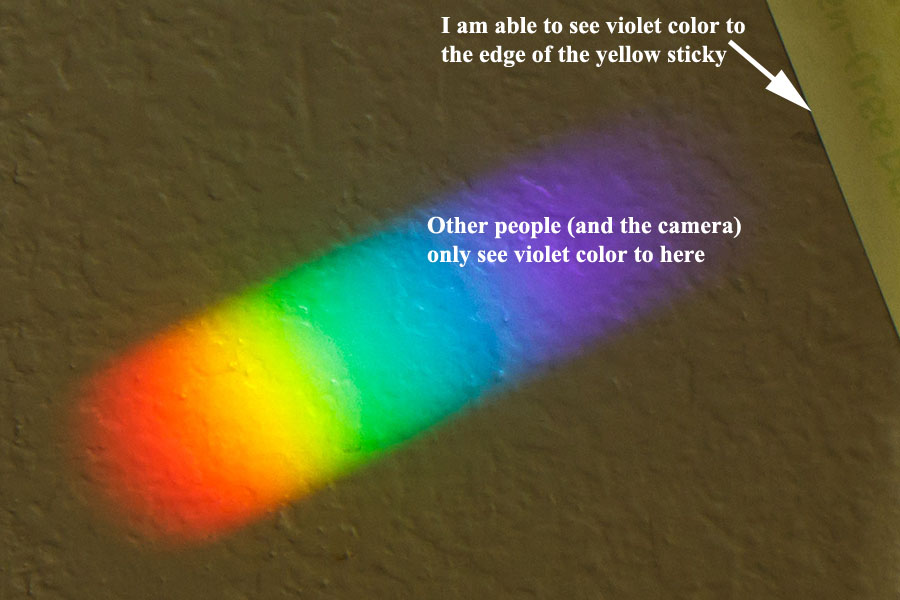 I do see this violet glow in other situations, although not as visible (pun intended) as the Colorado Rockies shorts. Two examples are there is a ever-so-slight blue tinge on asphalt (but not everything per Cyanopsia) there is a slight "white haze" on greenery - both of these seem somewhat similar to pictures I've seen taken with UV capable cameras. Both of these go away when I put a UV filter in front of my eye. And before I had the natural lens removed from my second eye, I could perceive this difference with the already operated-on eye.
A number of people (most who are aphakic - i.e. no natural lens) who have read my writeup and visual examples of seeing ultraviolet light have written to say they have similar ability. Some related interesting tidbits include during WWII, the British used aphakics for signaling using UV lights ... since only they could see it. When the initial telescopic observations of Venus were done, a small number of people said they could "see more" ... which was later confirmed when UV sensitive equipment became available. Walter Scott Houston, a fairly noted amateur astronomer, wrote columns for Sky & Telescope magazine for several decades ... and after his cataract surgery, he was able to see "more" of the night sky with is new Ultraviolet vision. Another example is Claude Monet's painting being influenced by his cataract and subsequent UV vision after removal.
November 8th, 2011 Update:
Andy Goris at Hewlett-Packard thought my UV vision was worth testing and graciously provided access to a Monochromator in his Lab. This uses an extremely bright light (which requires special cooling) and a diffraction grating to produce a very narrow (10nm) wavelength of light that is projected on a sphere with an exit port for viewing - i.e. this is some pretty serious test equipment!!!
The Oriel Instruments MS 257 Monochromator emitting at 450nm - note massive cooling radiator for source light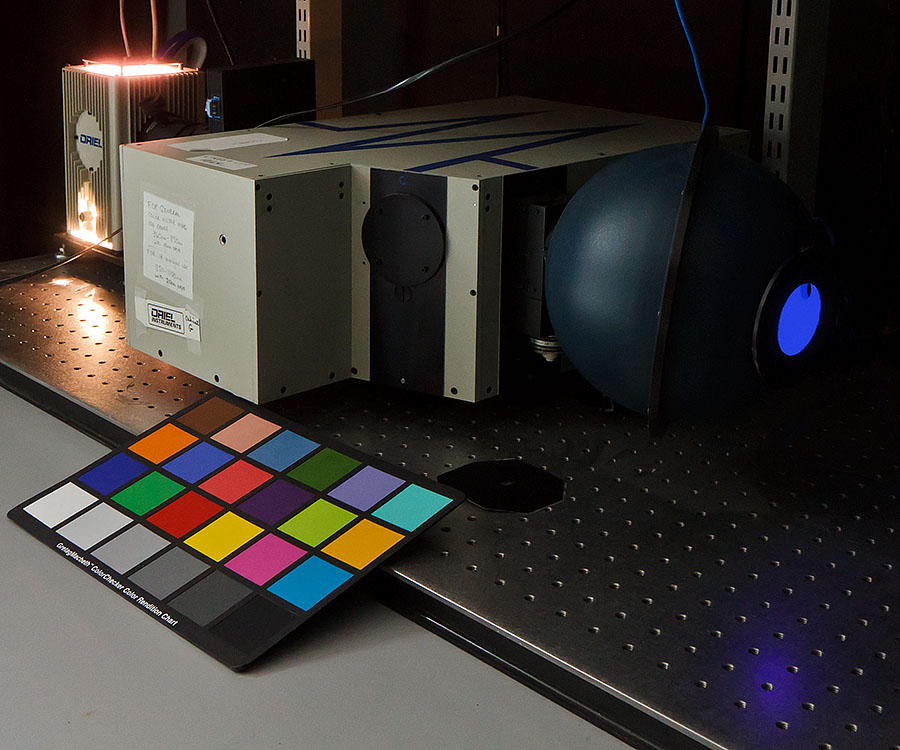 The test setup was in a dark room although there was some spillage of light from the monochromator bulb. I used a piece of cardboard to shield my eyes from this ... although a better approach would have been a black cloth completely draping myself and the viewing port ... which also would have prevented reflected light bouncing off the sphere. Andy's co-worker Murray then stepped through various wavelengths and I would describe what I could see in terms of color saturation, brightness, any difference when viewing through a UV filter & polycarbonate lens. The later was quite useful at the shorter wavelengths (which it filtered) as I could tell the difference between a "zero baseline" and what I could see.
Alek in front of the Monochromator - room was darkened for testing -
mouseover image to see Andy demo'ing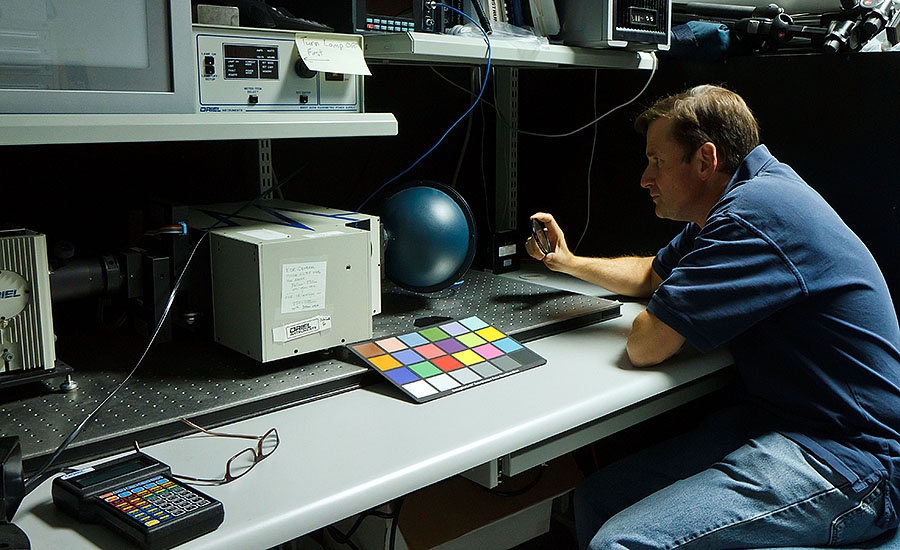 Andy Goris after testing Alek's UV sensitivity with the Monochromator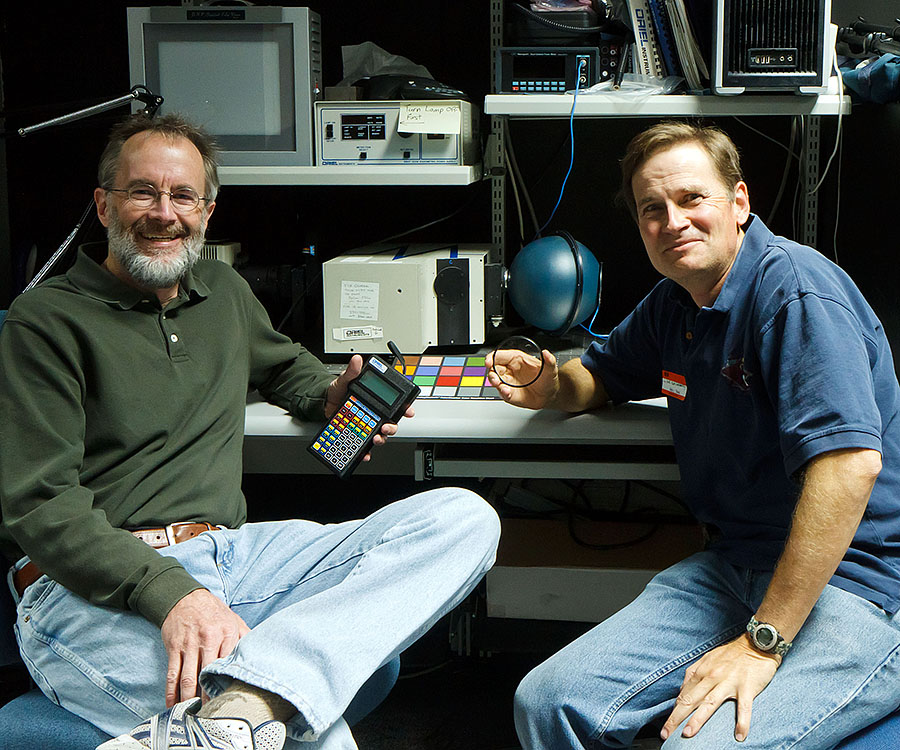 Results/Conclusions:
Andy had done some testing a week or so earlier with some co-workers and the vision cut-out for the 40-50 year olds was around 410-430nm.
As shown in the test results
, I was able to see quite a bit below that and still saw a bit of purple at 350nm and a tiny bit of brightness down to 340nm. So this seems to conclusively prove that I'm able to see into the Ultraviolet spectrum.