After a late morning dropoff at
Fortuna Bay
, several dozen of us retraced Shackleton's Walk to Stromness -
here's the official South Georgia map.
Recall that Shackleton had been trapped on the ice for many months after watching his ship get crushed, then traveled 800 miles across open ocean from Elephant Island (thanks to Frank Worsley's amazing celestial navigation), and after landing on South Georgia in May 1916, than had to do a 36 hour hike through the South Georgia Mountains using primitive gear ... with Winter weather setting in! Fortunately, we didn't have it that rough as we re-traced the final four miles (and ~1,000 vertical feet) of his trek to arrive at the now deserted whaling village of Stromness, South Georgia.
An intrepid band of hikers at Fortuna Bay about to retrace Shackleton's steps to Stromness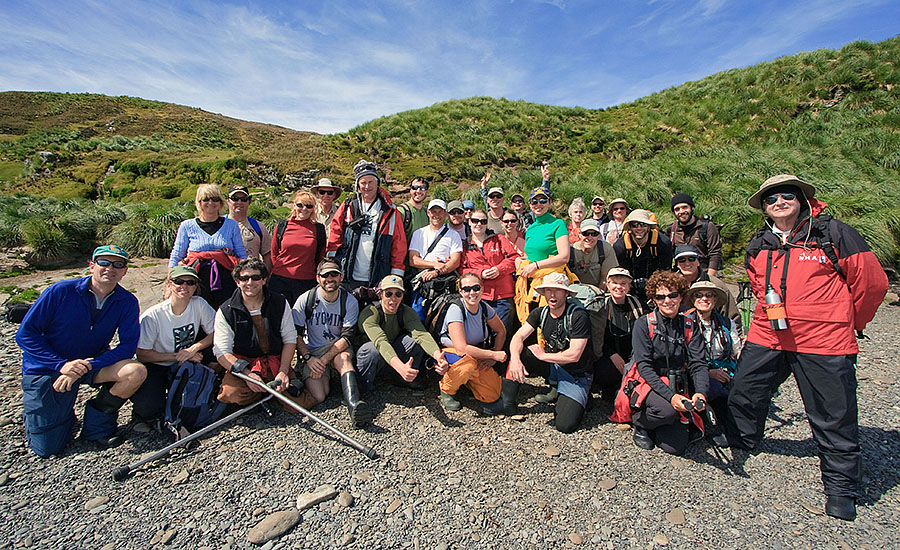 Lenticular Cloud over the mountains as we head inland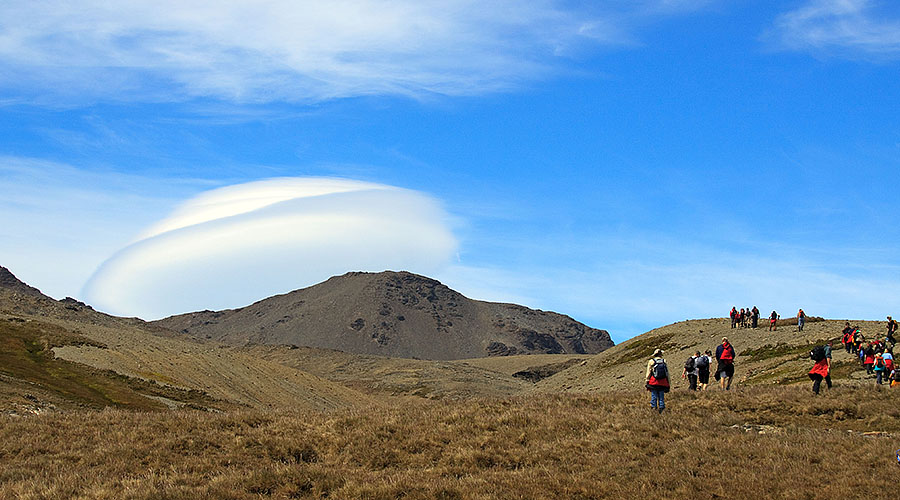 A herd of Reindeer going the other way back toward Fortuna Bay after the Ocean Nova has left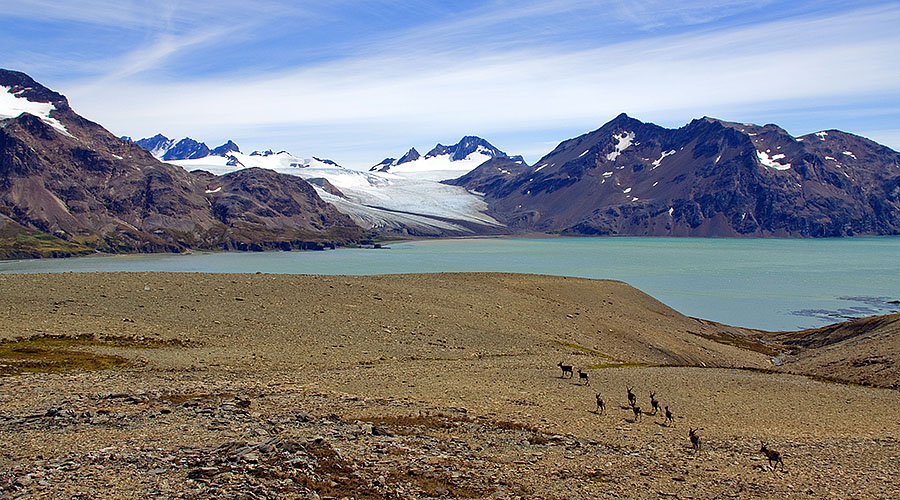 Alek (yours truly) doesn't quite look as tough as Ernest Shackleton! ;-)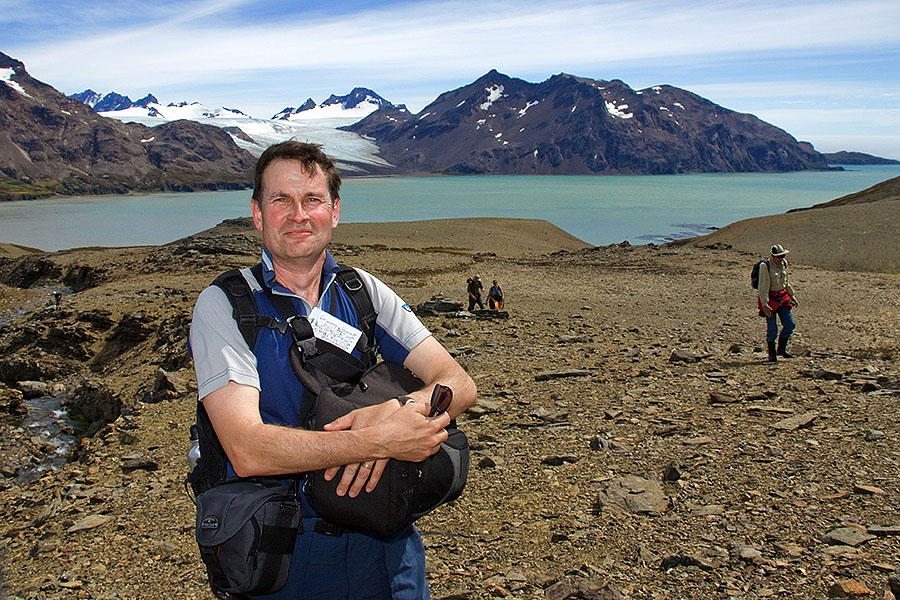 Although I look a bit "tougher" in this picture taken by Glen Delman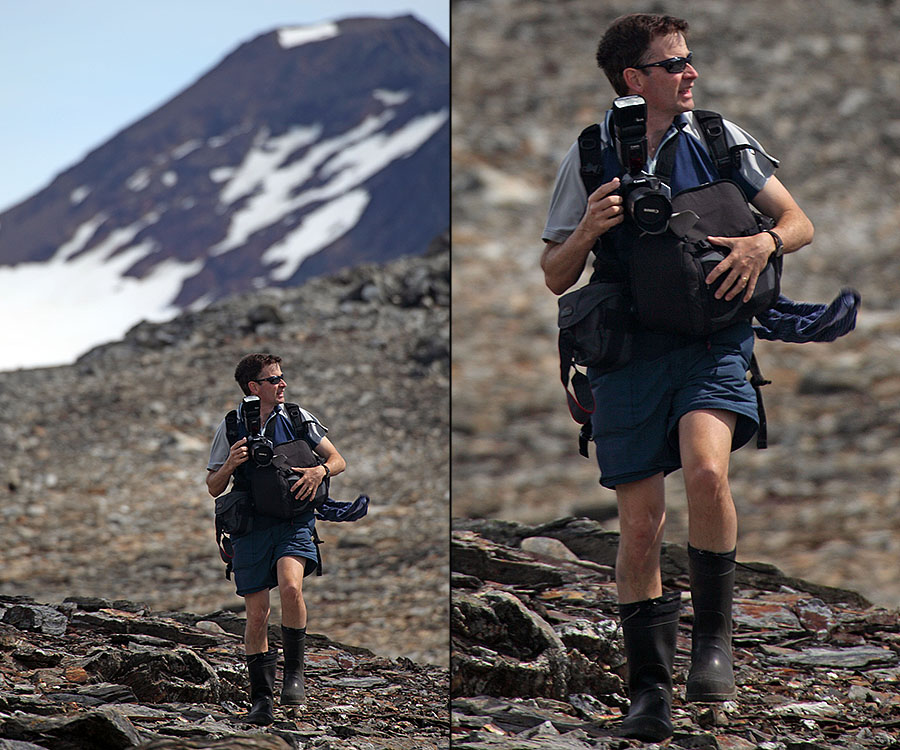 Johnnie Shackleton (great-nephew of Ernest) does look like an explorer!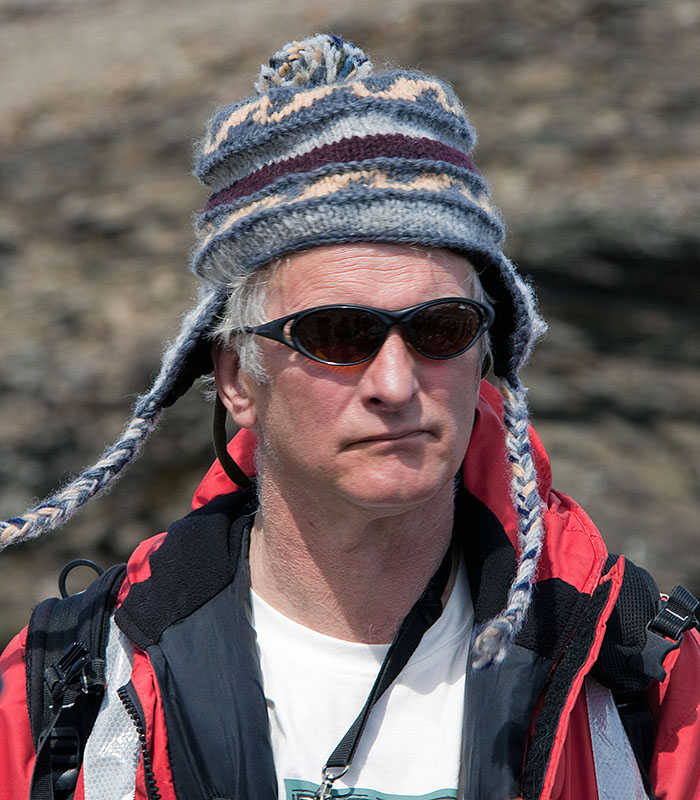 Alek just before jumping in the mountain lake to cool off ... as did several other people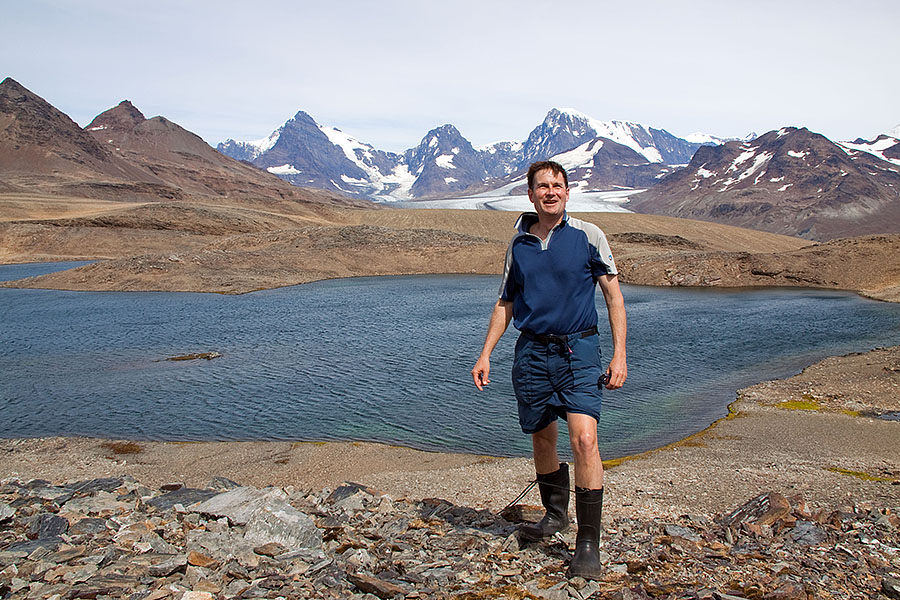 Brownwyn took this picture of Alek and Paco cooling off in a mountain lake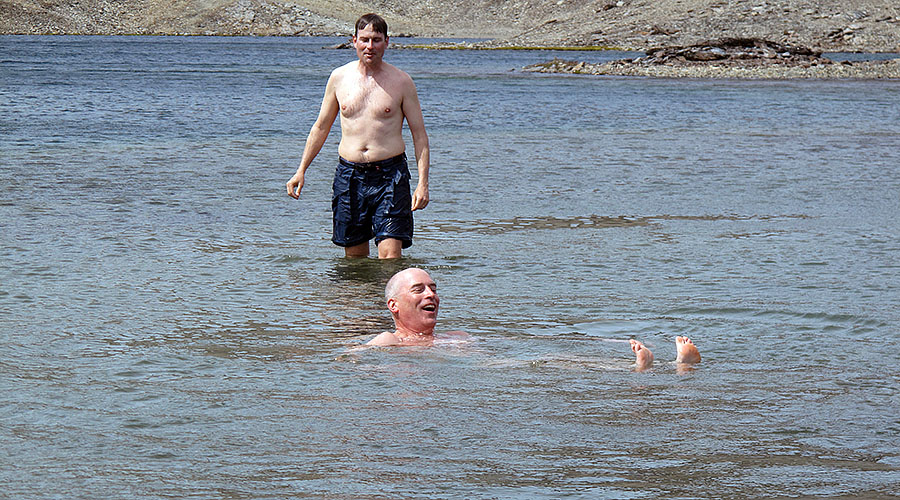 Linda was a very strong hiker and super nice lady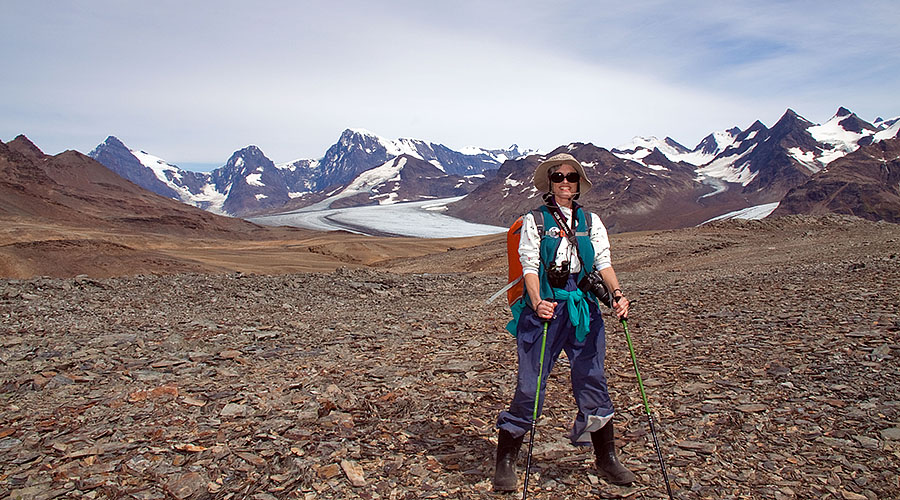 At the high point before descending into Stromness Harbor - haven't lost any hikers! ;-)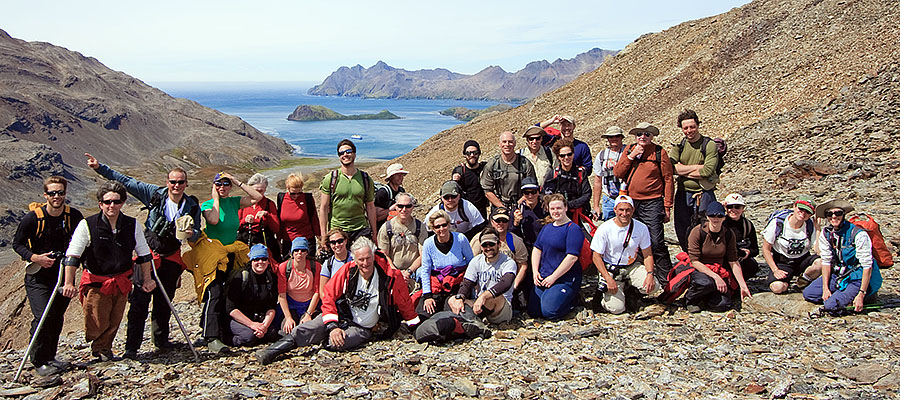 Conrad and Shackers at the Mountain Pass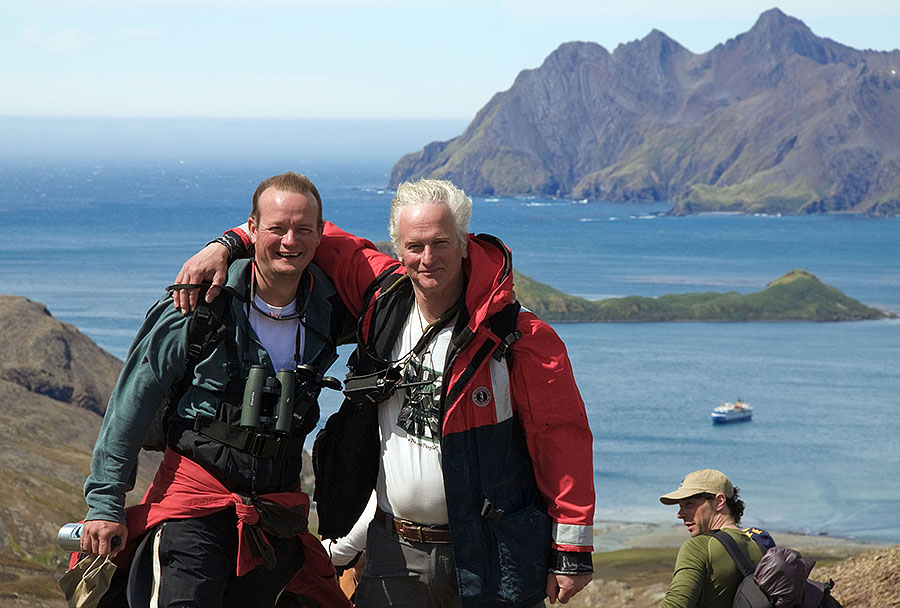 View of Stromness from the Pass - must have been quite the sight for Shackleton in 1916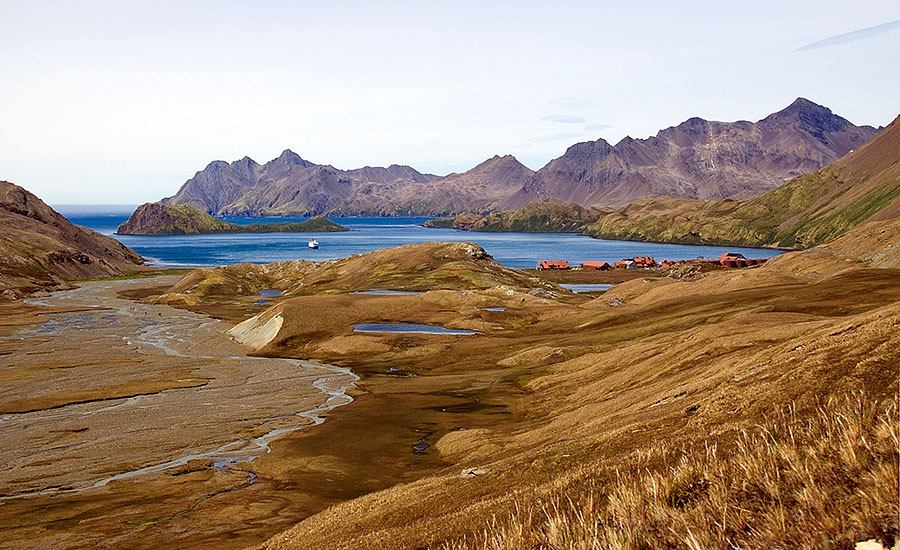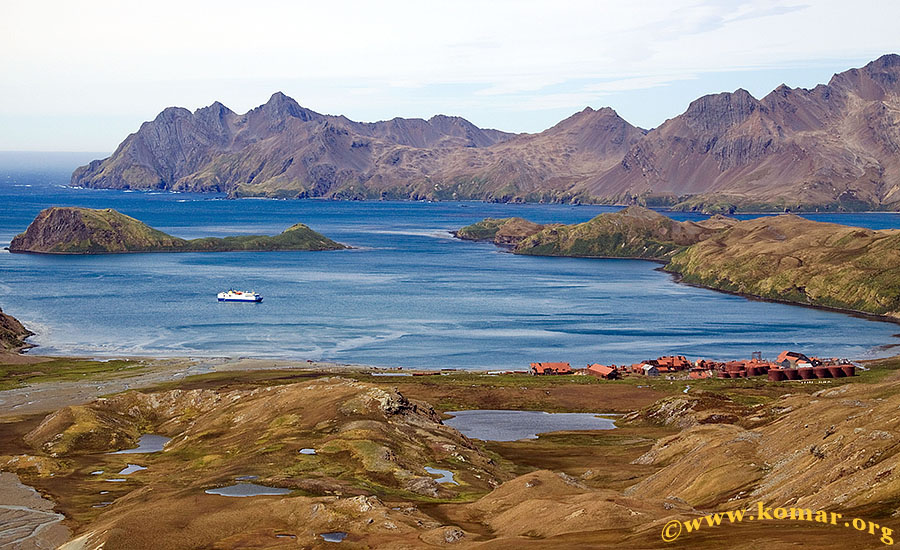 This was snow covered and very treacherous in May 1916 when Shackleton hiked down - picture by JillG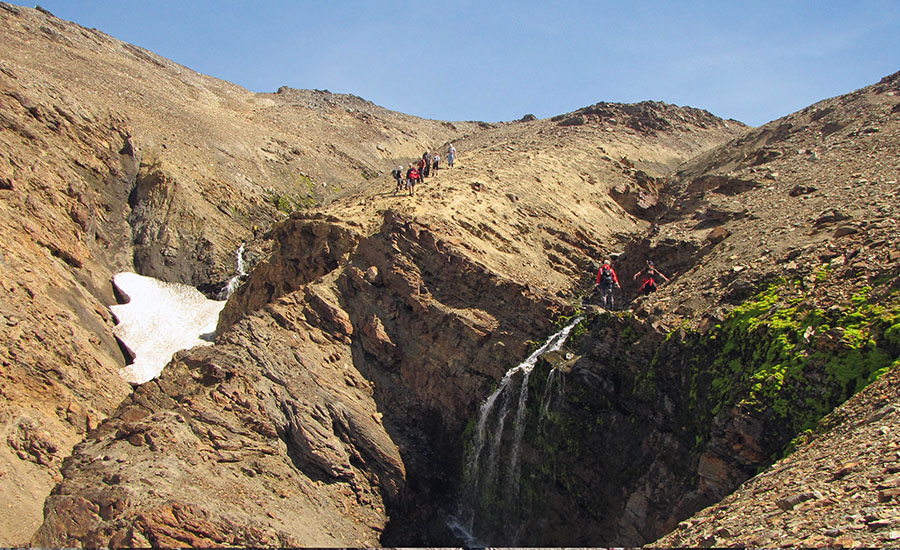 Descending down the mountain side toward Stromness -
mouseover image for close-up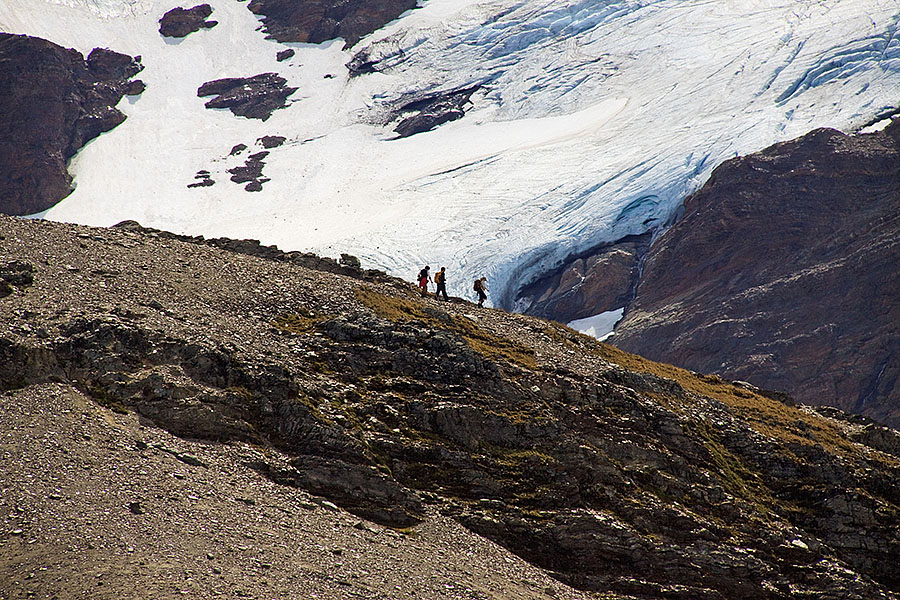 Debra (James looking on) had tons of energy even after the hike -
mouseover image for close-up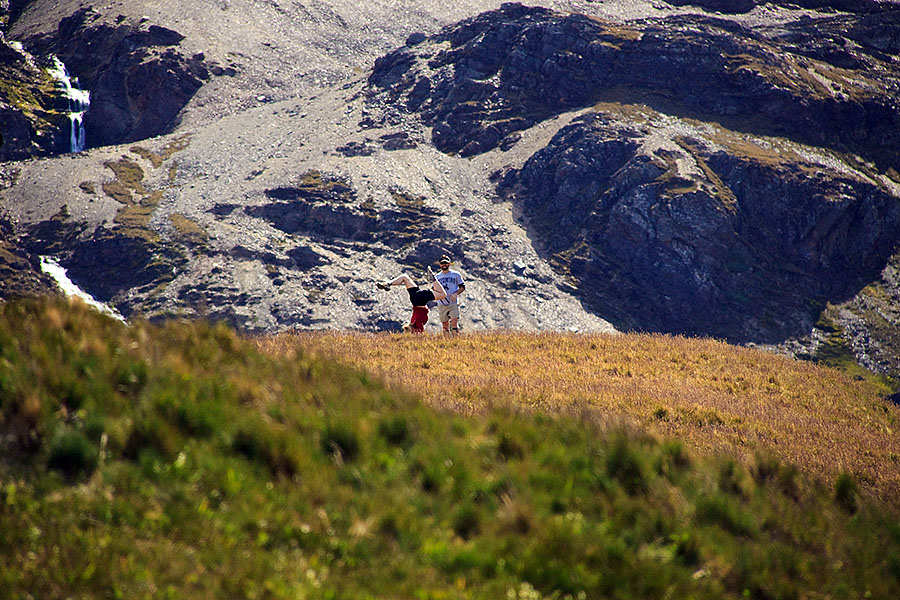 Lots of people hung out for a while on this peaceful grassy plateau just above Stromness Harbor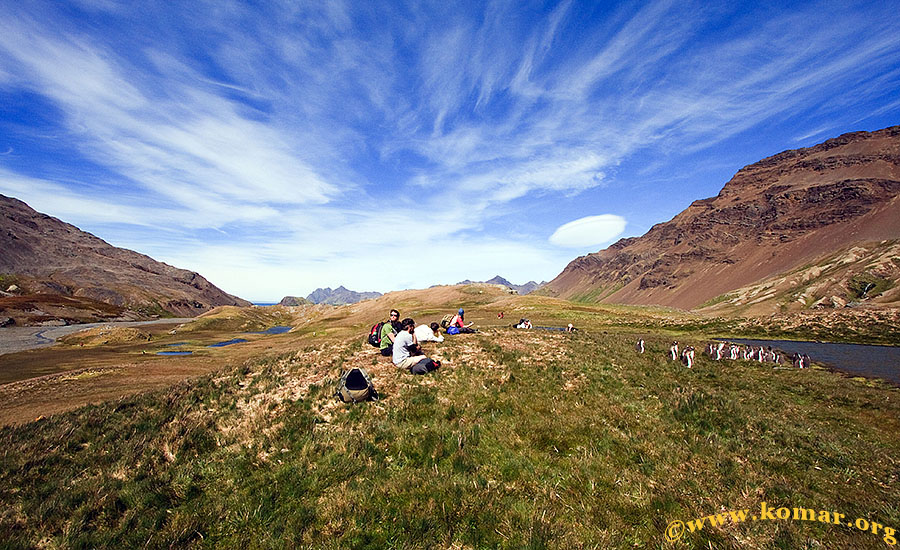 James takes a short nap despite the yammering penguins in the background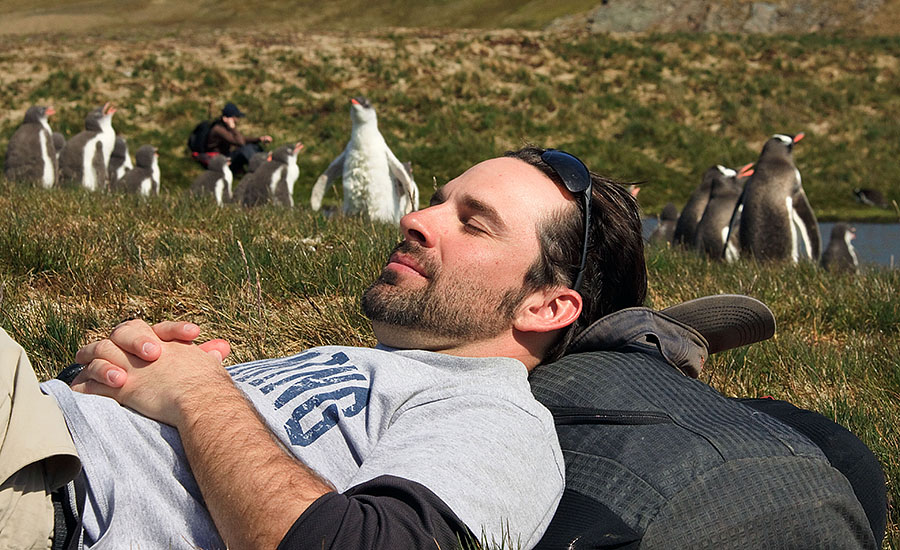 James up from his nap and watching the Gentoo penguins as Paul takes pictures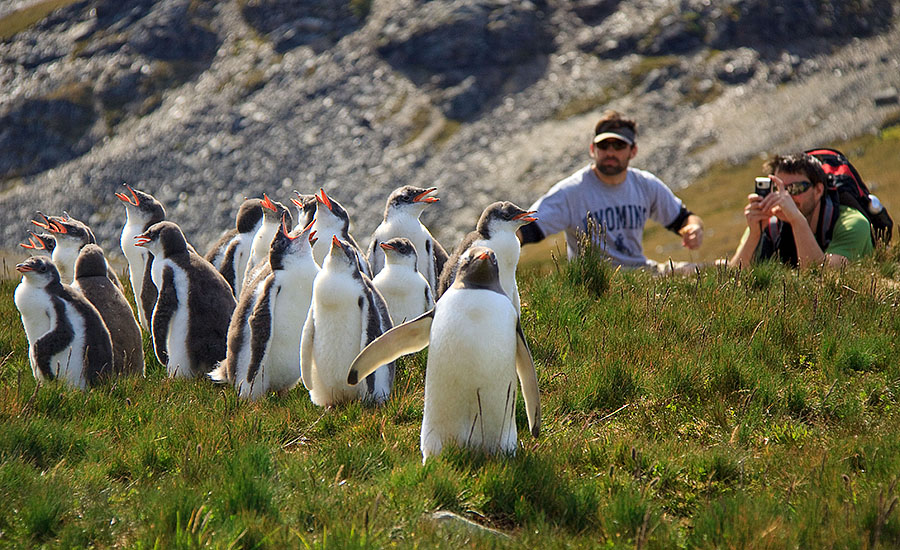 Debra keeping an eye on the Gentoo's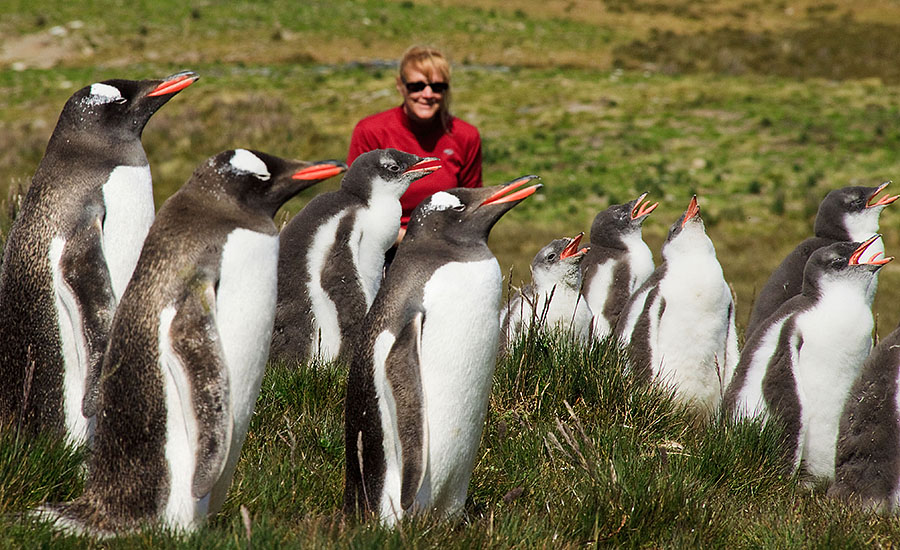 Gentoo penguins gathered around this pond of cool water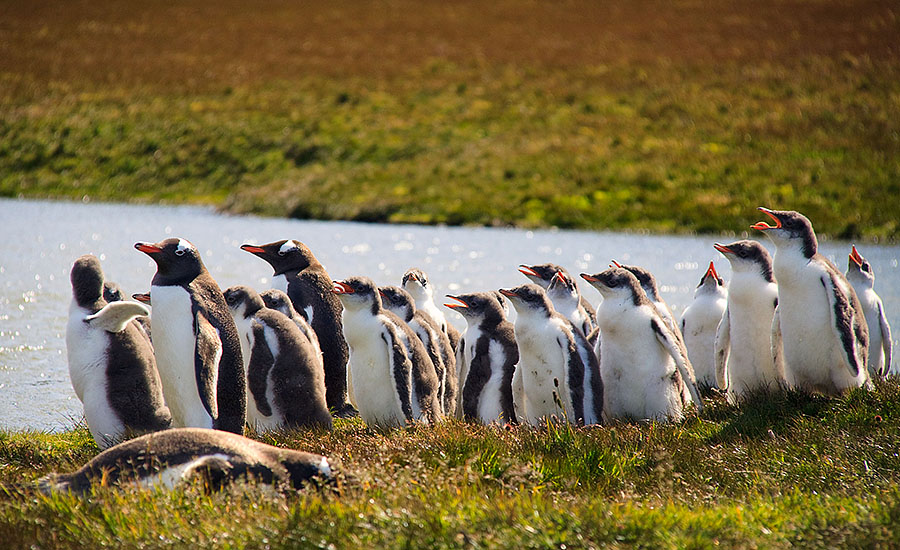 Panting penguins trying to stay cool in the unseasonably warm weather - almost 70°F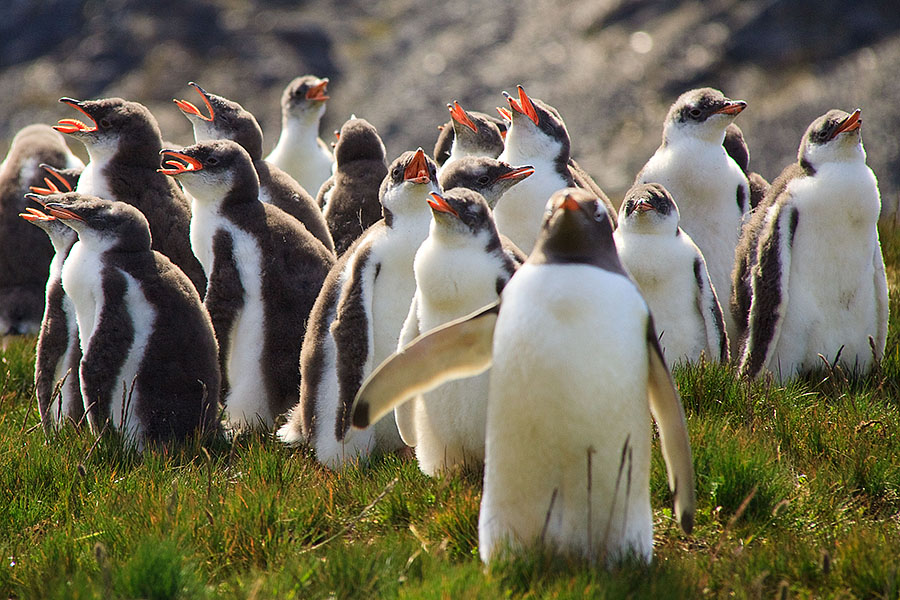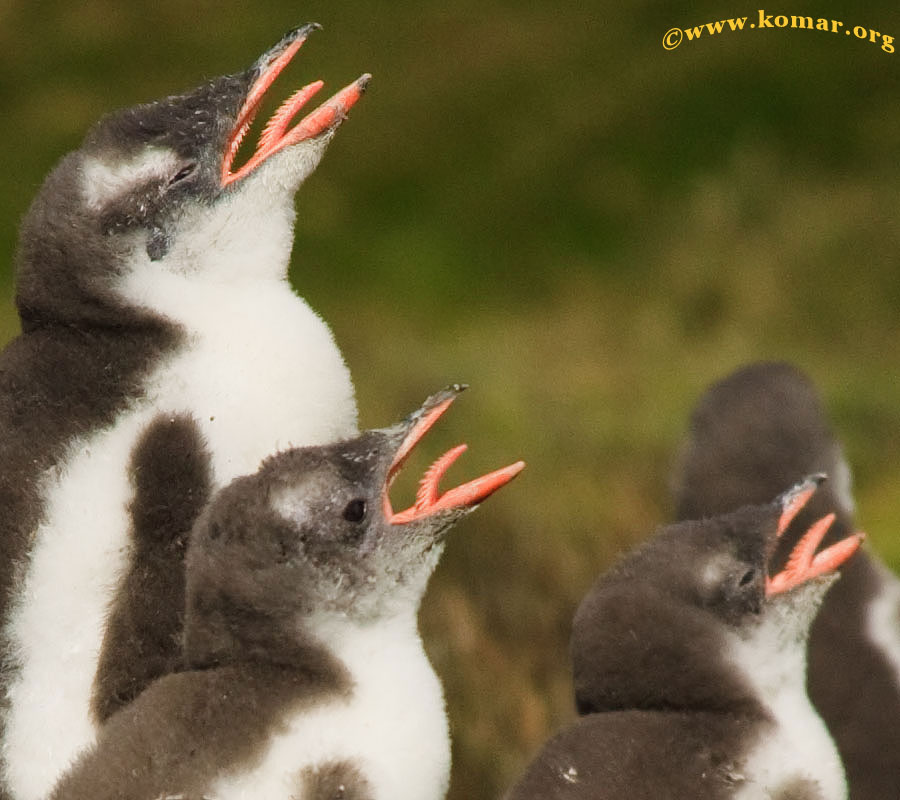 So periodically, the penguins would jump in the water to cool off even more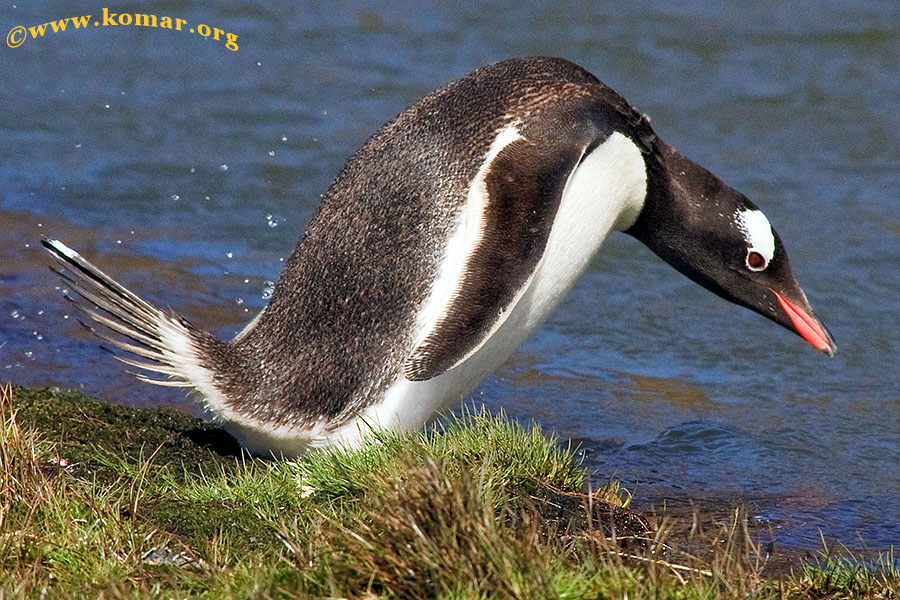 Gentoo Penguin "hops" out of the water -
mouseover image to see in action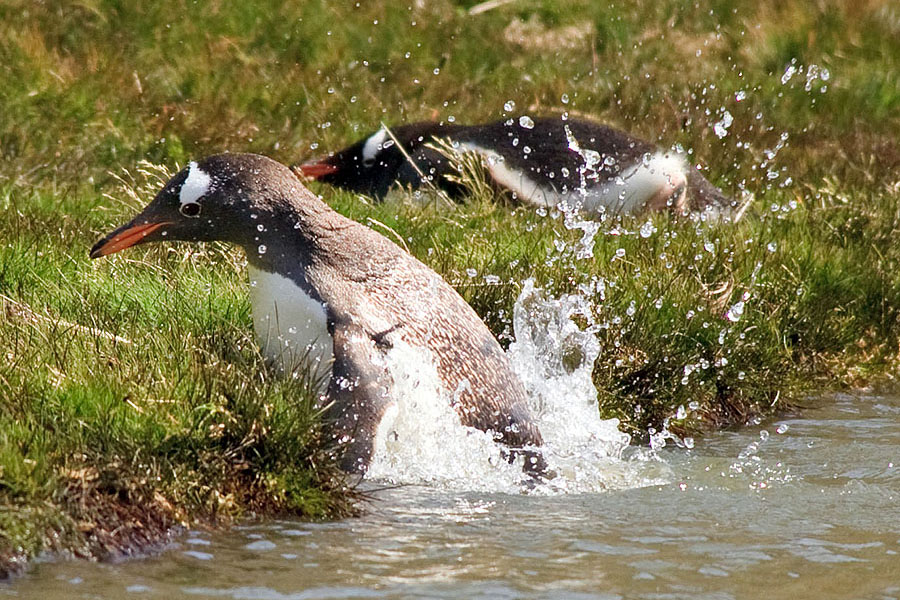 Gentoo Penguin poses on the grassy & mountainous landscape of South Georgia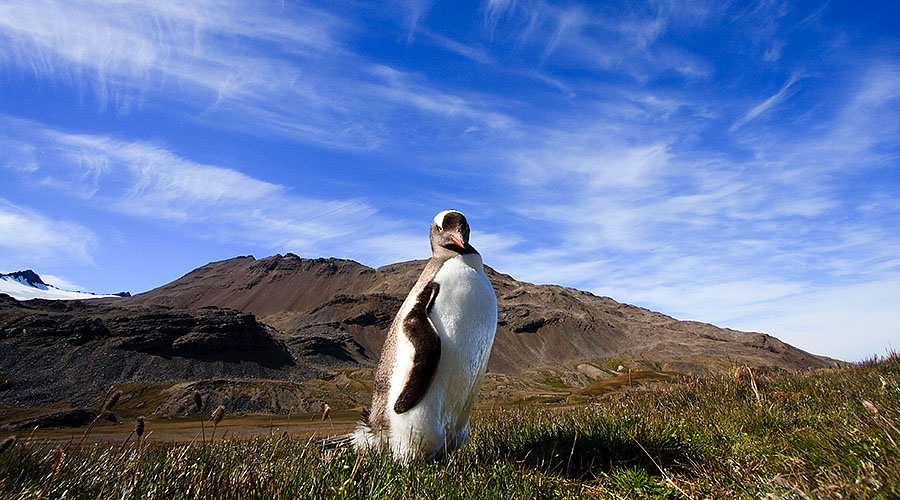 This little guy put on quite the show for me - seemed to like the camera!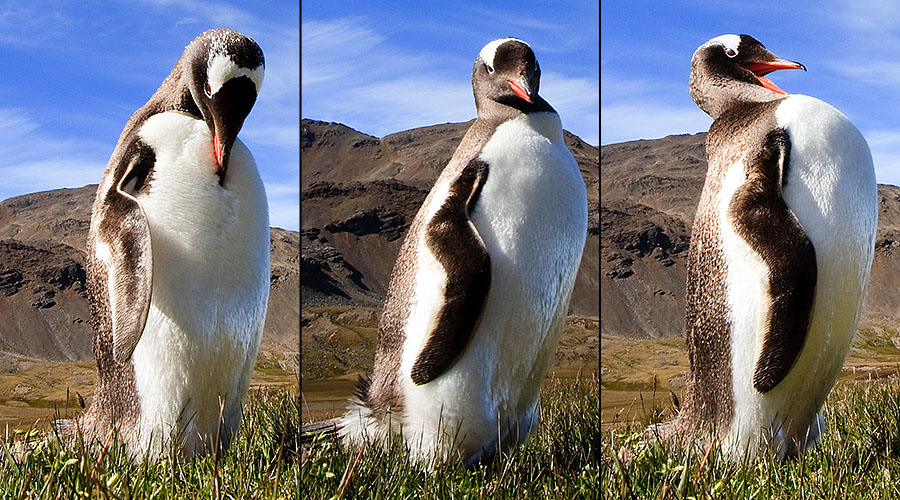 LindaC took this picture of a Skua eyeballing a penguin chick as a possible meal!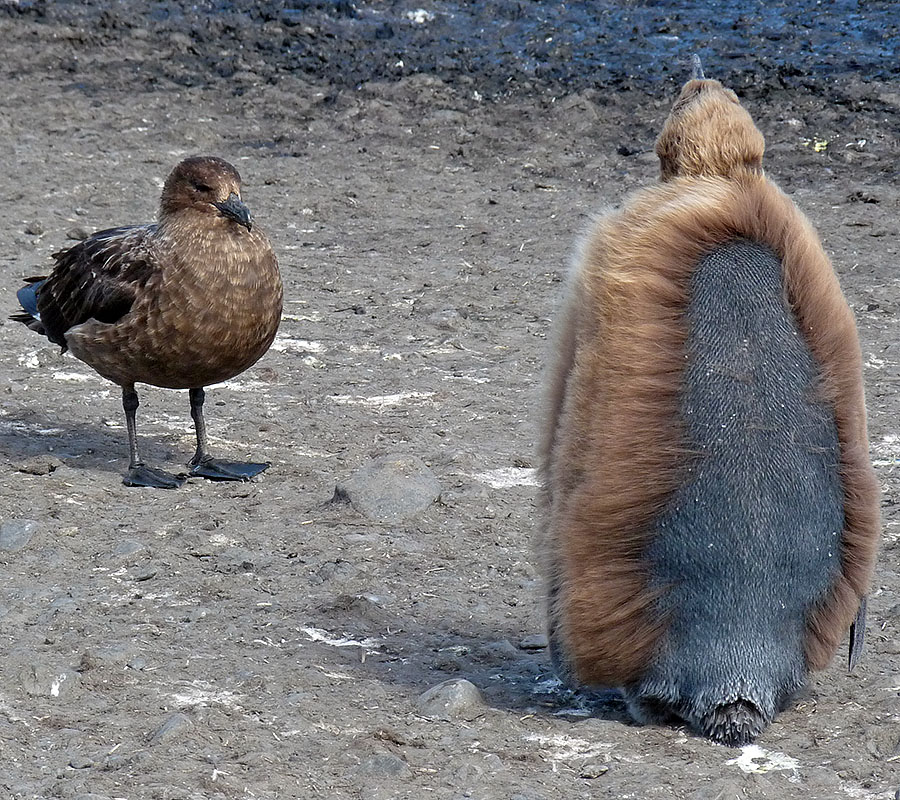 Almost down to the Stromness whaling station -
mouseover image to see Alek in the foreground!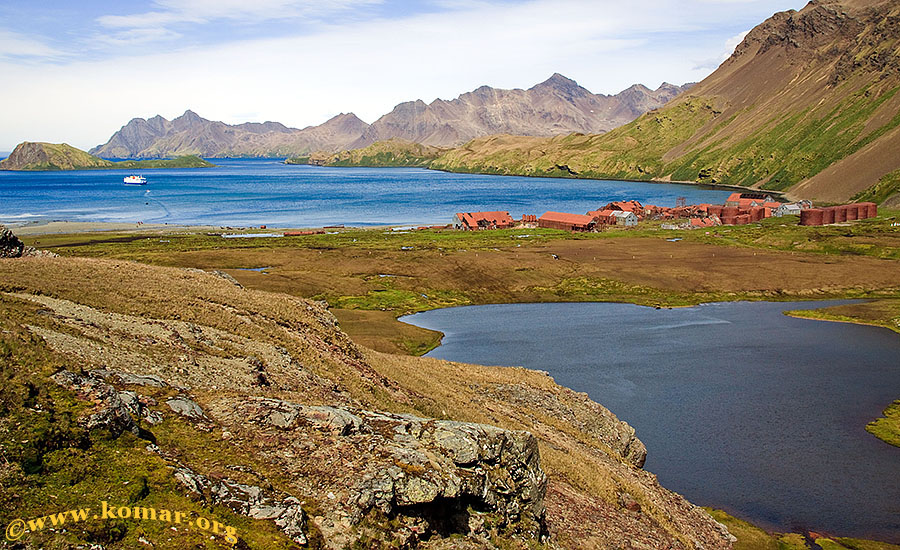 Paul "holds up" the Ocean Nova in Stromness Harbor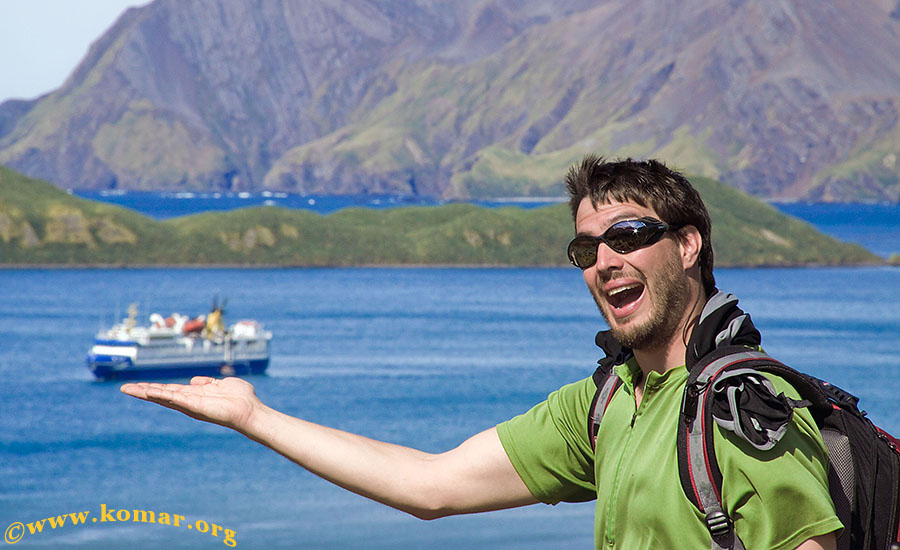 John and Lani pose with the Ocean Nova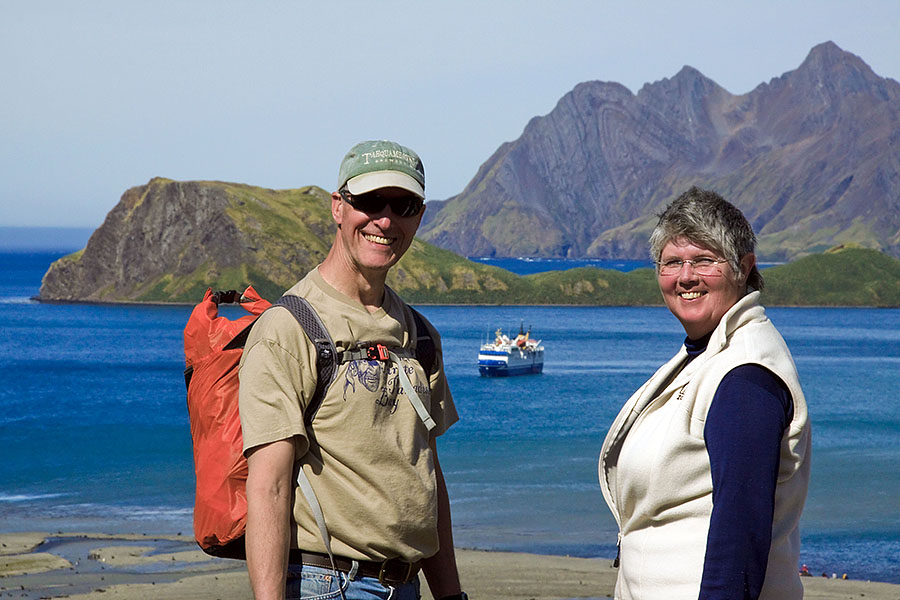 Glen on the beach takes a picture of the Ocean Nova -
mouseover image to see close-up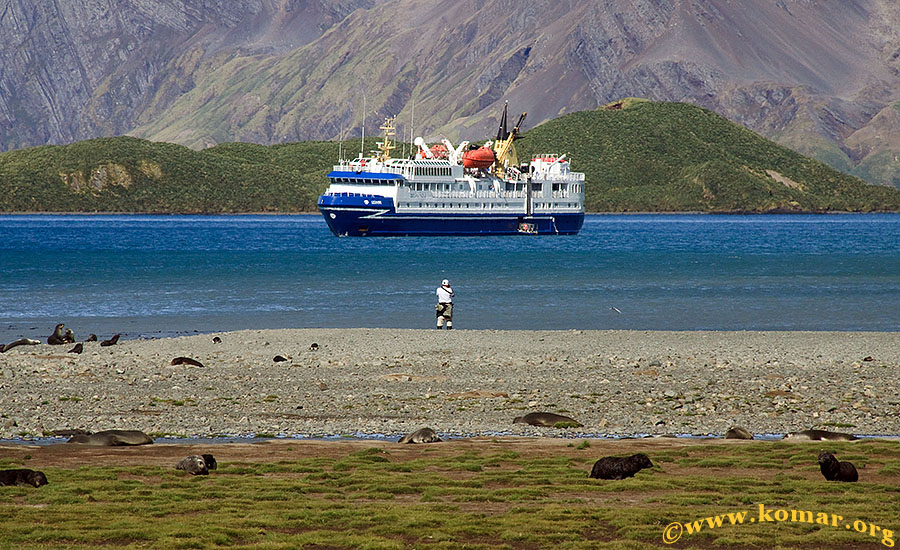 Gentoo penguin hanging out on beach at Stromness Harbor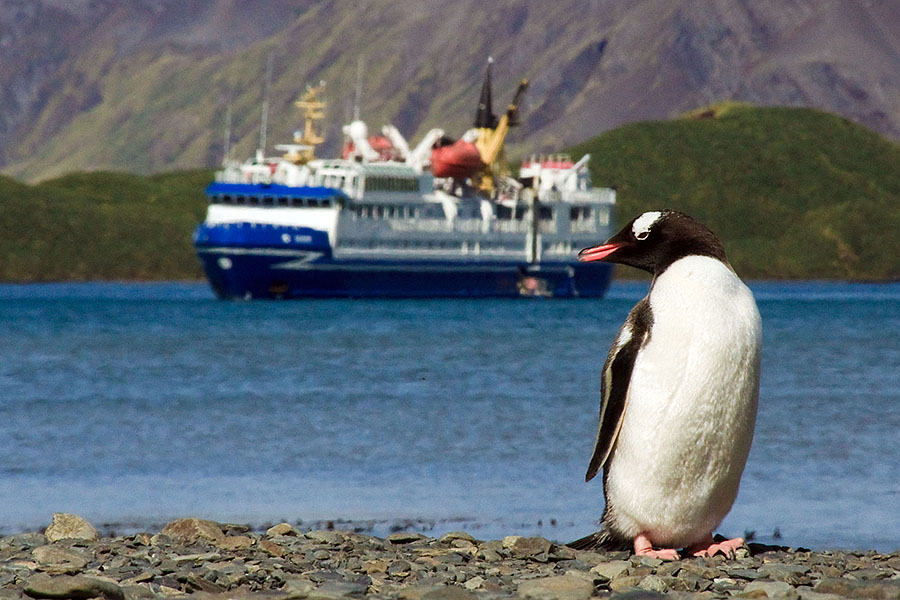 People, Penguins, and Seals with the rusting structures of Stromness in the background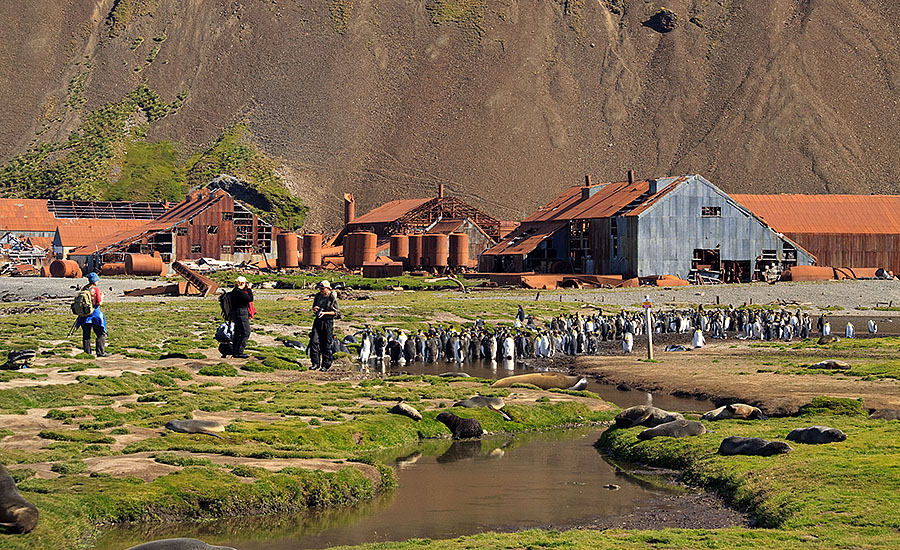 Isaac positions to get a picture of a seal staying cool in a stream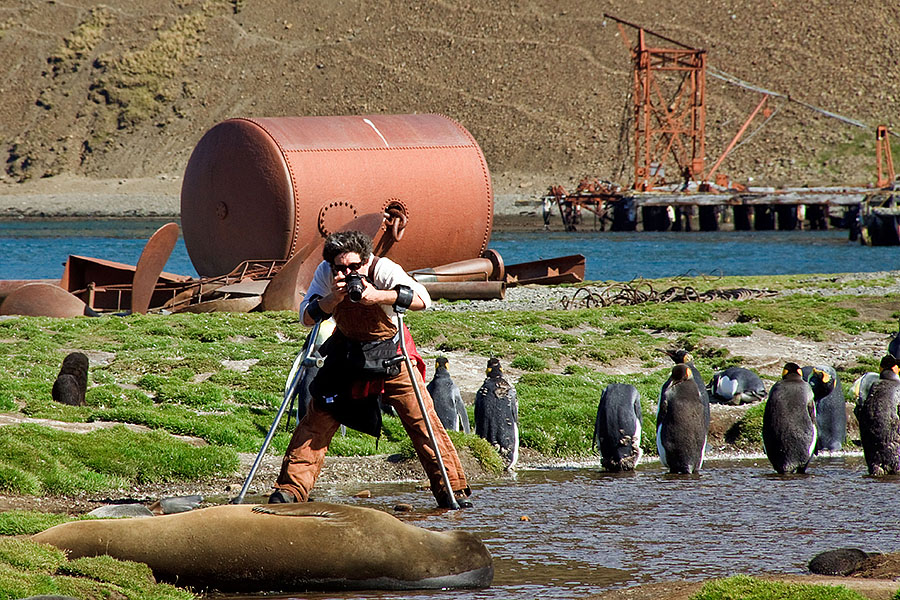 Suzanne and Isaac take a picture of Paco taking a picture of the same seal! ;-)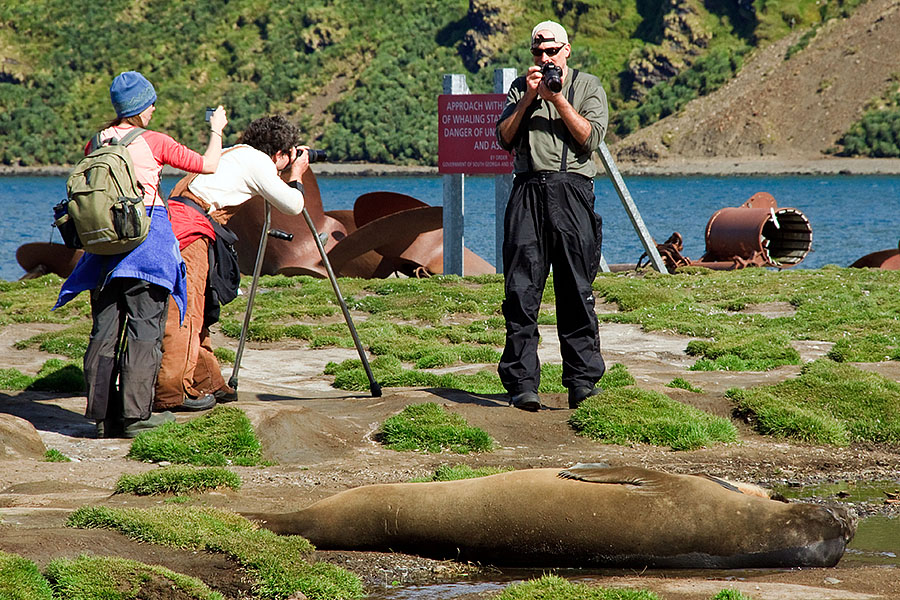 An Albino fur seal - one out of about a thousand have an absence of color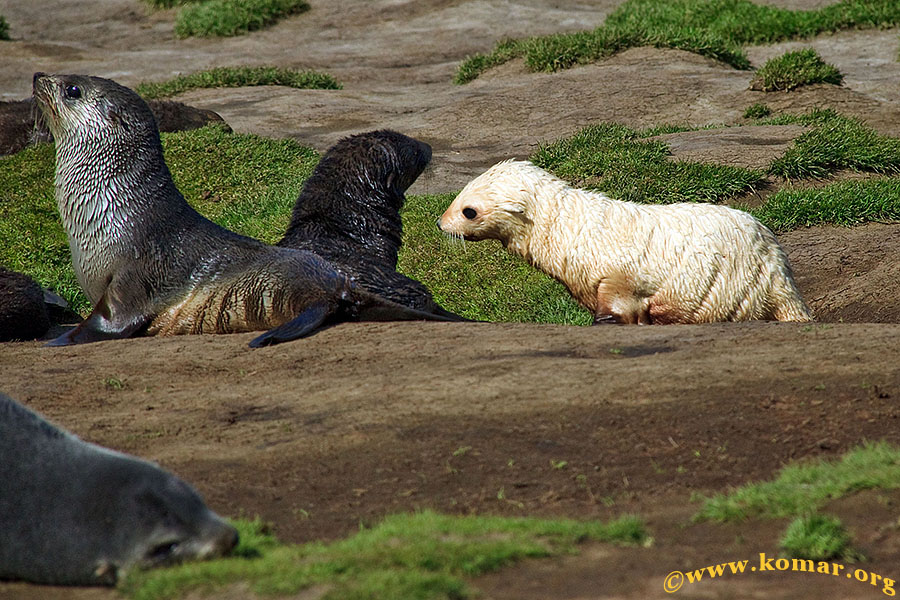 Little guy was pretty darn cute ... but predatory Leopard Seals can see 'em easier in water - bummer! :-(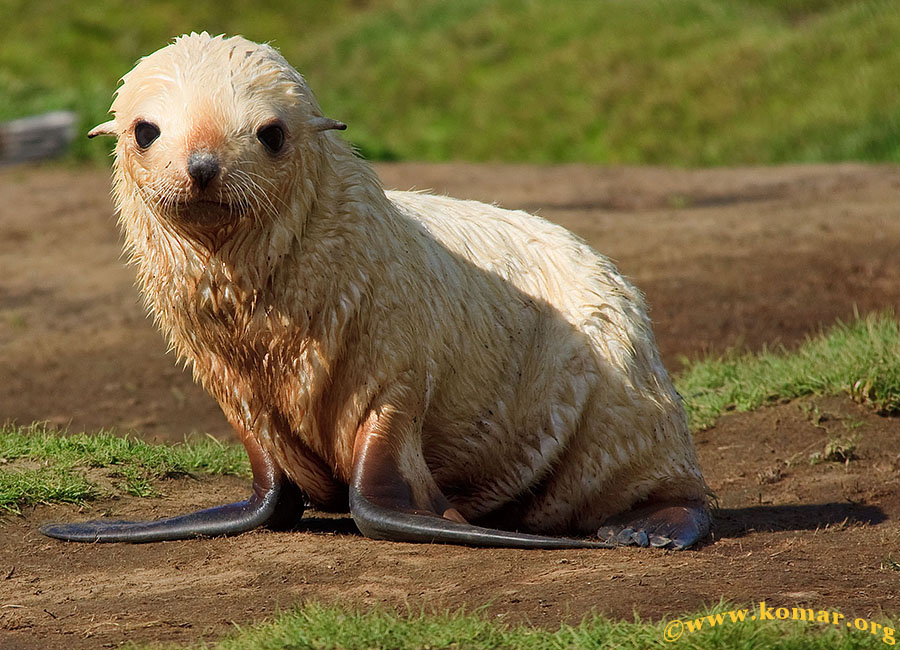 He put on quite a show for me -
mouseover image to see head back on straight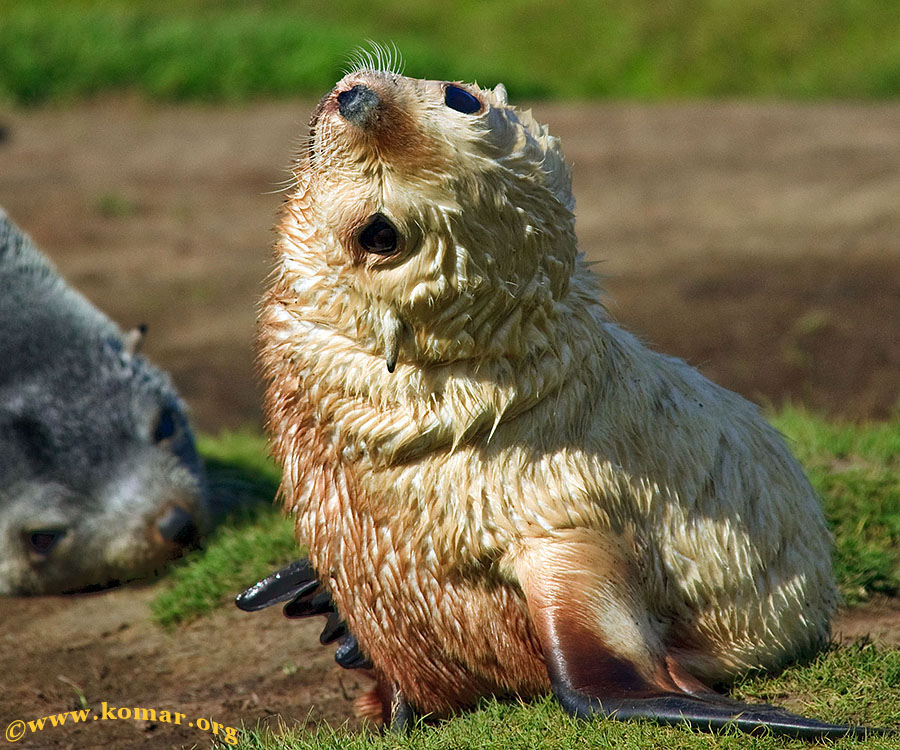 He finally strolled off - note flipper feet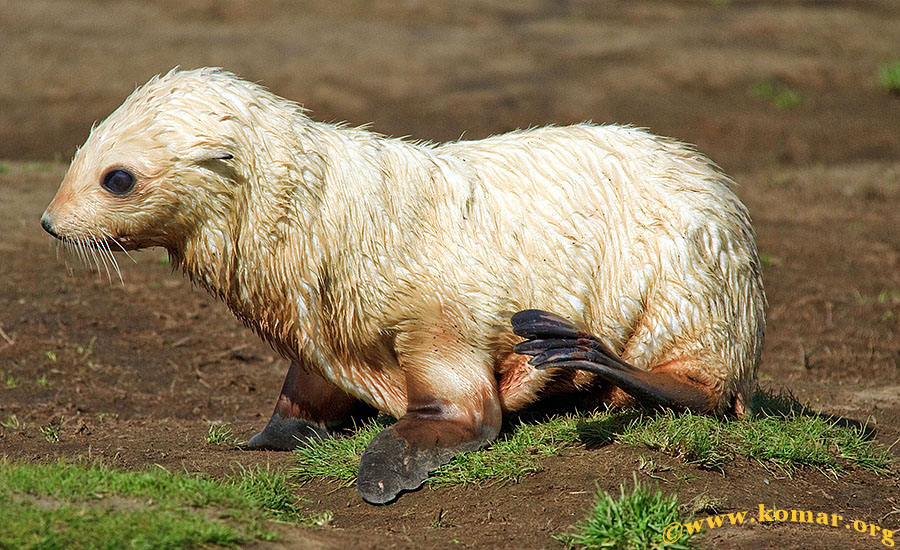 Reindeer were brought to South Georgia by the Norwegian whalers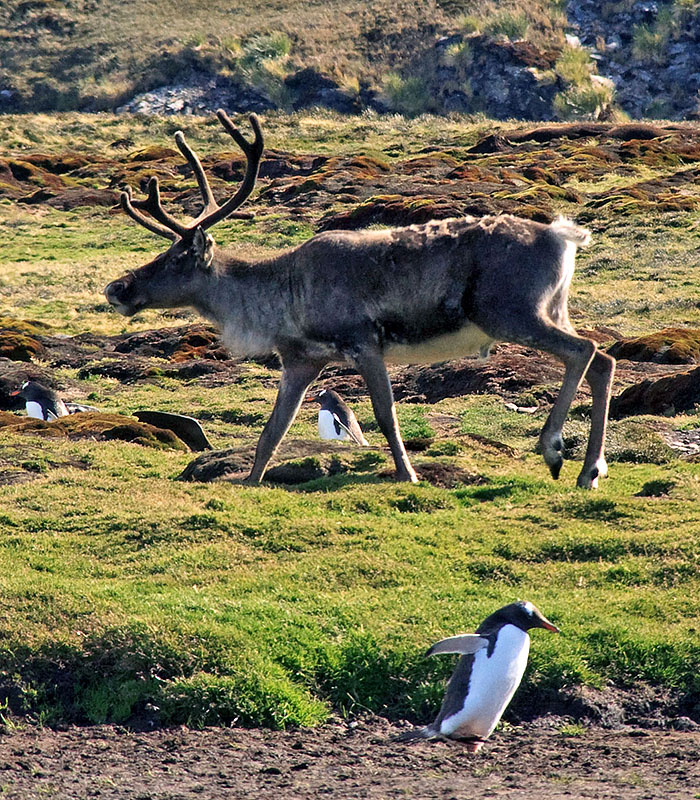 An Artic Tern (they migrate from one pole to the other!) flies over Stromness Harbor -
mouseover image to see it land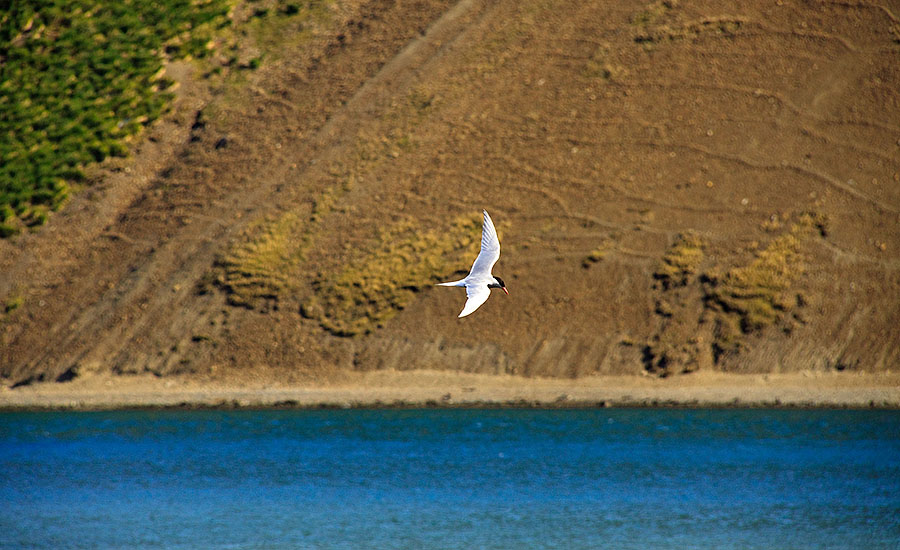 Solitary Gentoo penguin strolls down the beach just before we leave Stromness Harbor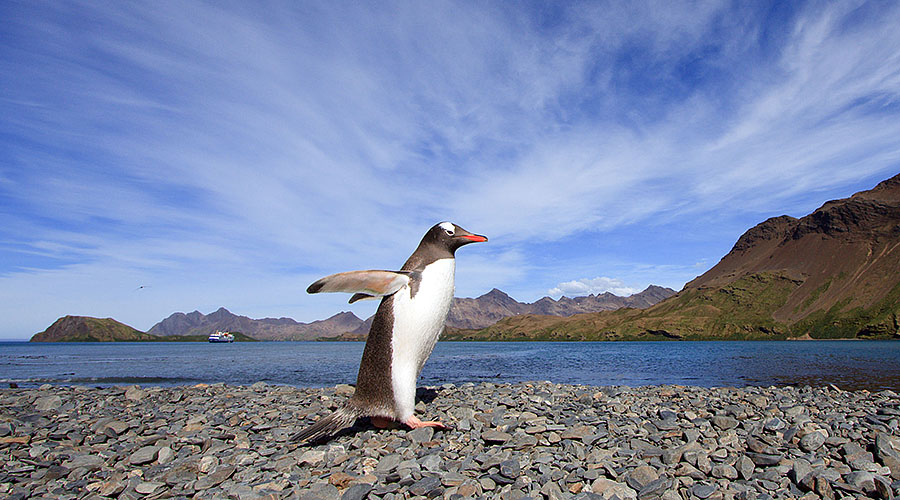 Debra, James, and Alek showing off their legs and Wellies! ;-)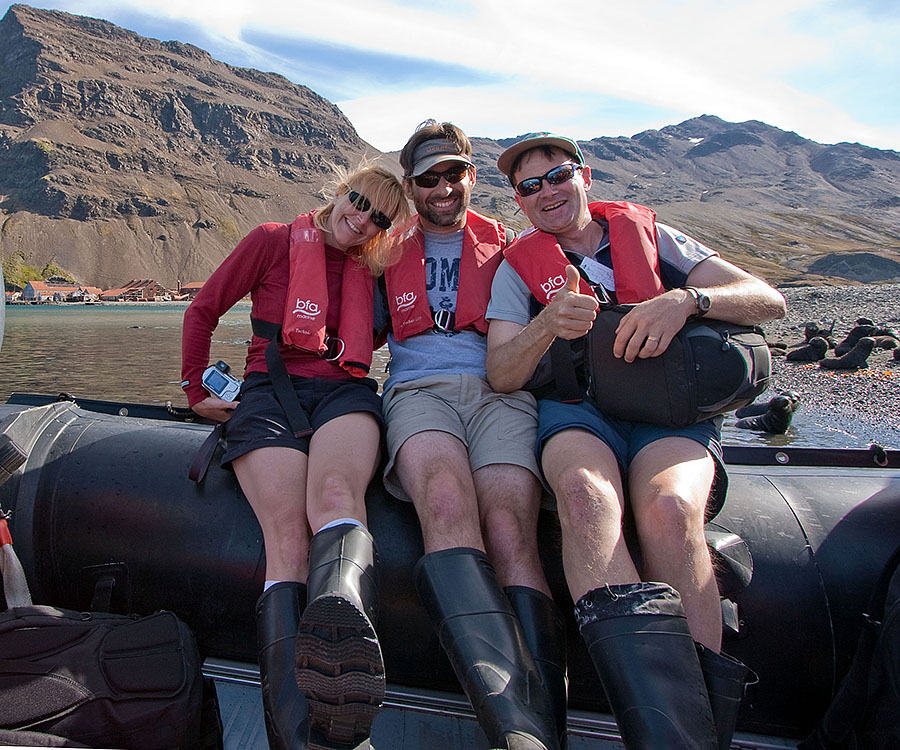 Paul riding back on the Zodiac -
mouseover image for sunglass reflection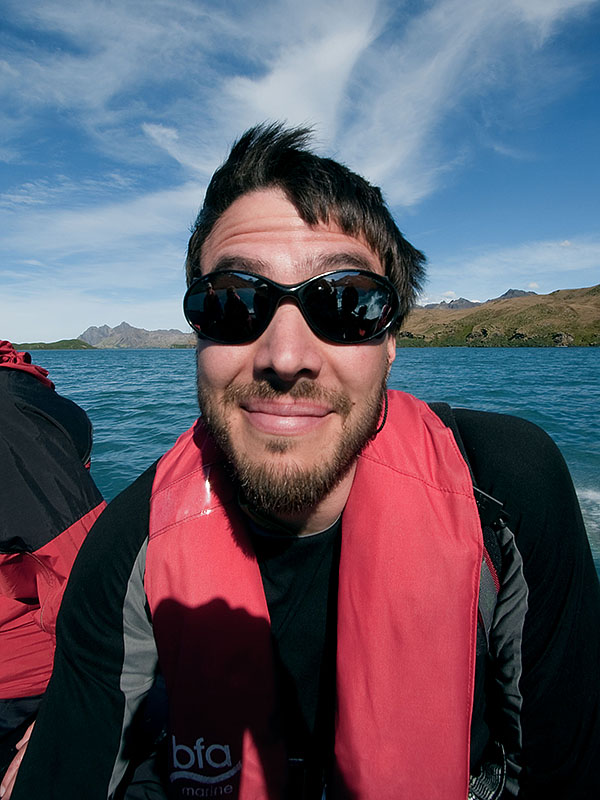 Andy looking heroic as he drives the Zodiac away from Stromness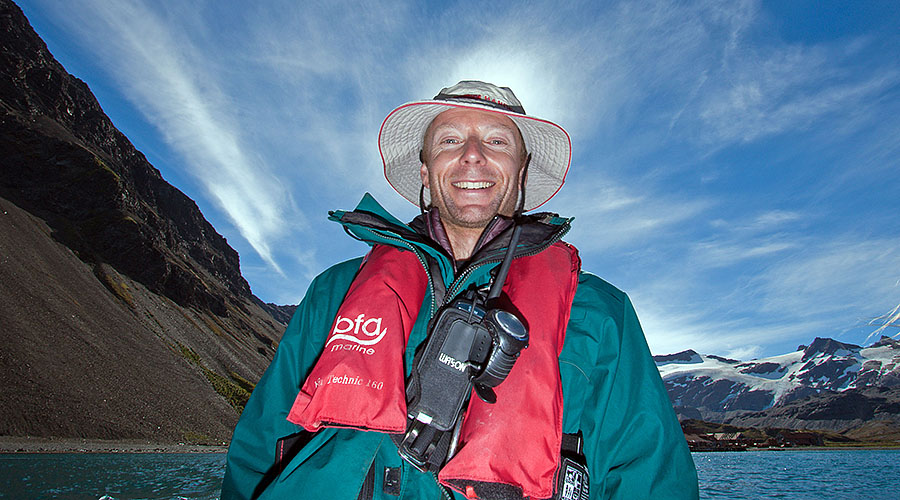 This was truly an amazing day ... although there were a so many fantastic days on our trip. The weather was gorgeous as we followed the last part of Shackleton's hike ... and stood where he heard the first sign of civilization (the whistle from the whaling station) and subsequent view of Stromness.
After dinner on the Ocean Nova (and a quick look at my pictures ;-), it was an early bed time since there would be another 5:30AM Zodiac run the next morning to see almost a million penguins in
Saint Andrews Bay, South Georgia!
Antarctica Cruise index