Big Larry bring cute women over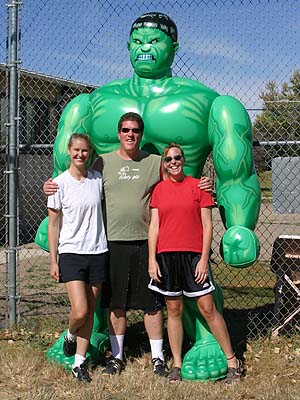 Hulk battle Big Larry for women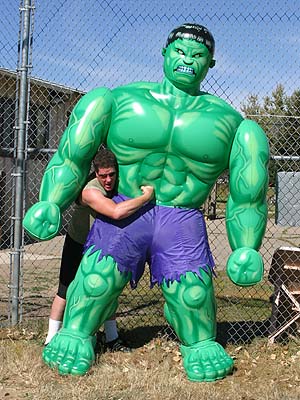 Hulk Frisbee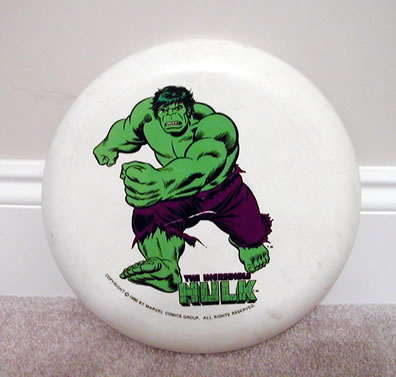 For Fall/2003 GRU, I ended up on team B-3 captained by Ben Bhohren. We were discussing team names, and with a couple of "honarary under-one-year-olds" on the team, my initial suggestions was the "Screaming Babies" - although they have been very well behaved and pretty darn cute too! Other ideas were being tossed about, and I mentioned I have a "Big Green Guy"

I was, of course, referring to none other than The Incredible Hulk!

I had obtained the Hulkster in a promotion and had various "antics" since. That generated a few Hulk-themed names, and someone suggested "The InHuckable Hulks" ... which I thought was a clever twist on frisbee ... and then (duuhhh!) realized a few days later it was also a good varient of "The Incredible Hulk" ... and so Ben/team decided we should go with that. BTW, I've played before with several of these folks back in Fall/2000 and have some nifty pictures of that tournament in the snow. In addition to the "Hulk shots" below, there are also some:
Another shot of the Hulksters and the Puny Human version of that one
Action pictures of the InHuckable Hulks
Hulk smashes Gary's hammer in the tournament!
Some impressive zoom capability of a Canon-10D digicam
Hulk also likes Halloween and Christmas

And now a few words from the Hulkster himself:
Hulk play GRU frisbee
Hulk not do to well
Hulk get mad
Hulk get stronger
Hulk SMASH frisbee!
Puny Humans get mad at Hulk for smashing frisbee - BAH!