Installing a Trailer Hitch - EASY!
We've owned a Toyota Sienna MiniVan for several years - it's a great Mommy-Mobile. As our kids have gotten older, they have enjoyed bike riding. While all four bikes can fit in the minivan, it takes up tons of space, so we got a used hitch style bike rack at a garage sale. That collected dust in our basement crawlspace for a few years until we finally decided to get a trailer hitch.

The local Toyota dealership wanted about $400 for a trailer hitch installed. But like most things these days, you can order 'em online (even though they are quite large/heavy) ... and we found a decent looking one for $144.00. To qualify for free shipping, I needed at least $150.00 ... so I added a generic black trailer hitch cover for $8 - score!

A week later, it arrived in a BIG box ... and with help from Dirk-n-Kyle, we pulled it out. Stay tuned and I'll provide some step-by-step directions of how to install a trailer hitch along with some pictures when we get around to installing it.
5-year old Kyle lifts the 40+ pound trailer hitch!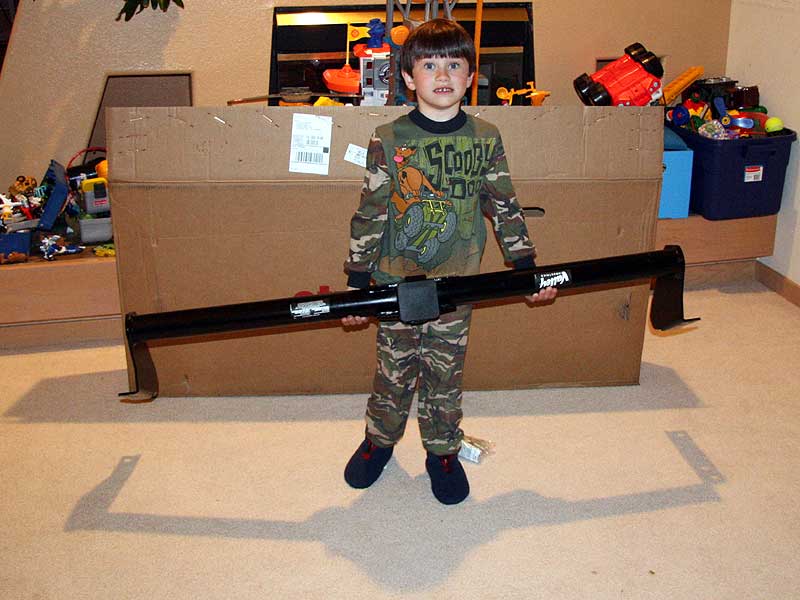 Back to How To's