The Best Biggest BBQ Grill!
A while back, I purchased a Member's Mark (manufactured by Grand Hall) Stainless Steel BBQ grill from Sam's Club. I thought this was the best bbq grill and/or you can read my BBQ Grill FAQ. While this was a fairly large grill, I had my wife's company over here for a BBQ last summer, and it took a bit of time to feed several dozen people as I could only put about 10 burgers on the grill at once. So I decided to "upgrade" my grill to the Grand Hall model XXXXX (I got an early "beta" model) and I figure I can grill a LOT of burgers at once with this monster bbq grill ... so I'm ready for 'em this year! ;-)

Bring on the Burgers to this Monster BBQ!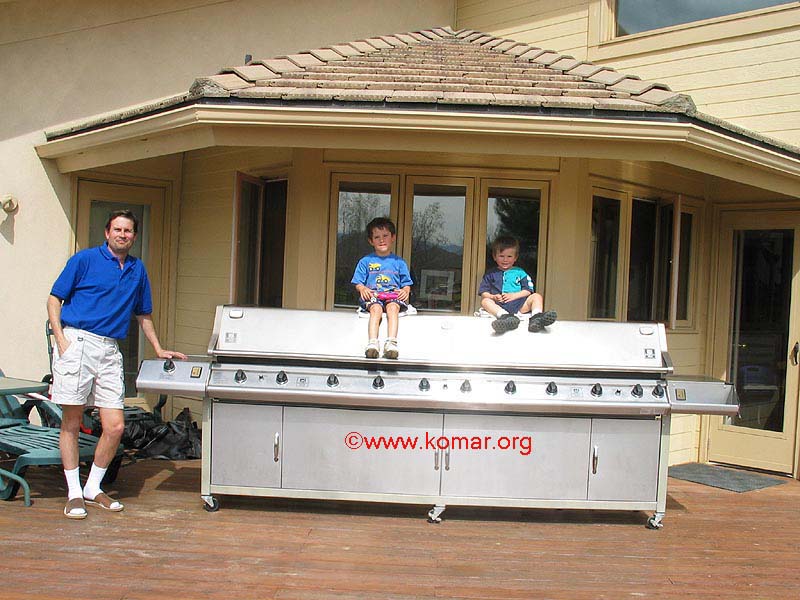 This monster bbq grill has ten primary burners (20,000 BTU each), an infrared burner (another 30,000 BTU), a side burner (still another 20,000 BTU) for a total of 250,000 BTU - that's some major heat! The Propane version takes *TWO* LP tanks (they are enclosed in the far left and right cabinets) which are needed to keep this monster going. For the Natural Gas option, they recommend at least a 1/2" inner diameter pipe with minimum 7" water column pressure. You can convert it from LP to NG and when I fire up all the burners, the gas meter spins about as fast as my electric meter did when I had my halloween decorations and 22,000 Christmas Lights going! ;-)

Additionals features/items include a spice rack, soft cover (over 15 feet long), dual tank gauges, very large enclosed area underneath (you can lie down inside of it!), rotissaree (two internal support "bars" are added to brace it due to the length), 120 VAC electric ignitor system with some sort of automotive-type transformer coil that must put out 20,000+ volts when you push any of the three ignitor buttons (you oughta see/hear it spark!), counter-balanced lid (it's surprisingly easy to open/close it), 3 temperature gauges, lotsa other misc. bells & whistles, almost 2,000 square inches of cooking surface, and tons of stainless steel. I haven't seen 'em on eBay, but shipping costs would be fortune as this puppy must weigh over 500 pounds and is a GIANT!

It also comes with serious bragging rights - size does matter when it comes to BBQ Grill's ... so this is not only the biggest, but also the best BBQ Grill!

Happy Grilling,
Email me how many burgers you think he can grill at once - ©2003 www.komar.org


P.S. Check out the Smallest BBQ Grill!