Grand Hall & Member's Mark BBQ grill from Sam's Club
April/2016 Update: After 14 years of grilling strong, it's time to "retire" the Member's Mark BBQ Grill. The cast iron burners are fairly rusted (I've re-drilled 'em out a few times), the stainless grates are starting to "splinter", and the bottom grease pan is about to fall apart - I have my wife's cookie sheet underneath catching things! Note that I could replace those items and continue using the BBQ as the rest of it is in good shape - they really built it well! So I've started to comparision shop and am disappointed to report that the current Member's Mark grills are a HUGE disappointment - they are not nearly as well constructed. I ended up getting the KitchenAid 720-0856V grill from Costco.

In 2002, I purchased a Member's Mark (manufactured by Grand Hall) Stainless Steel BBQ grill from Sam's Club. This is one nice grill! For $600, you get three primary burners (18,000 BTU each), an infrared burner (another 10,000 BTU), a side burner (still another 12,000 BTU), rotissaree, spice rack, large enclosed area, cover, push-button electric ignition, tank weight gauge, temperature gauge, other misc. bells & whistles, about 600 square inches of cooking surface, and TONSA stainless - this puppy must weigh over 200 pounds and is BIG! Oh yeah, the best part is that it also comes with serious BRAGGING RIGHTS - everyone that has seen it loves it!
My son Dirk helped assemble it (note old BBQ grill for comparison purposes)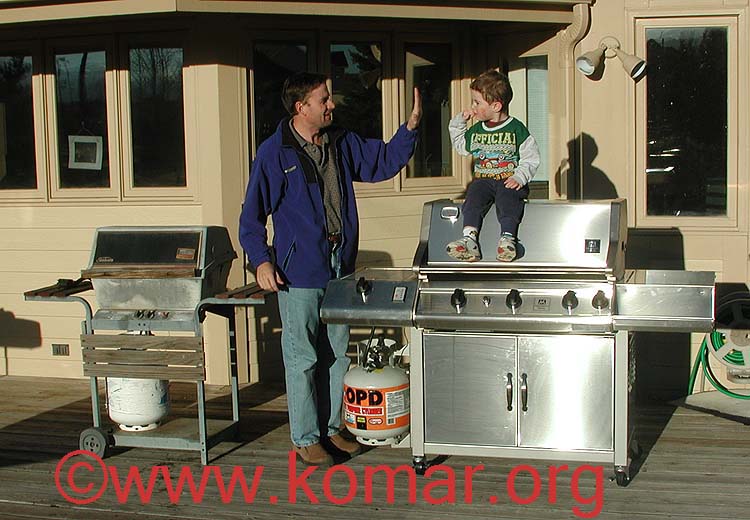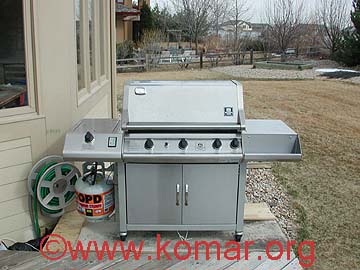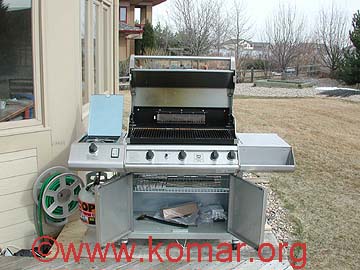 I had done a fair amount of research and this Member's Mark BBQ Grill from Sam's Club seemed to have everything ... except the 4-digit price tag! ;-) It was actually a pleasure putting this behemoth togather; it is very well designed/engineered and the installation instructions are excellent and well laid out.

Here is my Member's Mark BBQ Grill FAQ with various useful tidbits and some direct links to various web pages:

BTW, while I appreciate any suggestions/comments/etc. on what I wrote here, pls don't ask me which grill you buy ... the comments and pictures here (and of the nice Virco) are for YOU to help decide. If you do find this information helpful, drop me an Email with your favorite BBQ recipe!

Happy Grilling! ;-)
©2002-2015 www.komar.org - Alek Komarnitsky


P.S. LOTSA discussion about another bbq grill - check out my comments and pictures of the Virco Costco BBQ Grill



BBQ Grill Searching Courtesy of Google