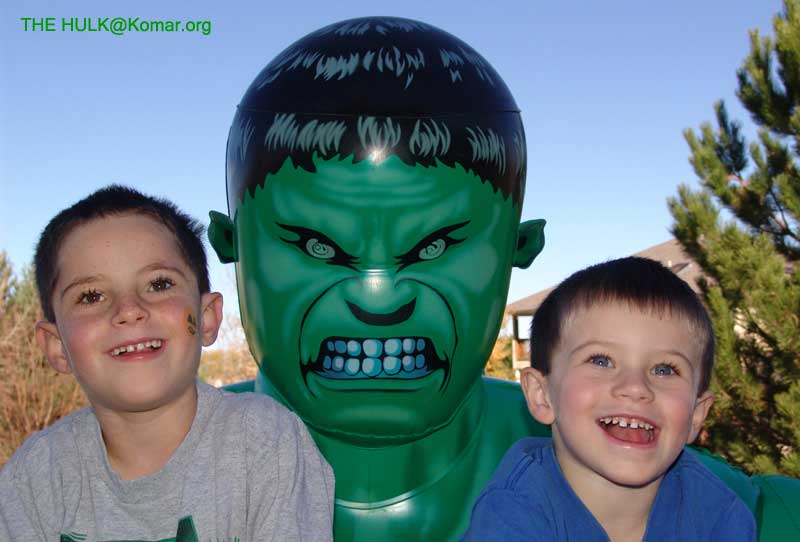 Pam King - CFCR Director of Operations
Alek - aka Mr. Christmas Lights! ;-)
Dr. Alessio Fasano - CFCR Medical Director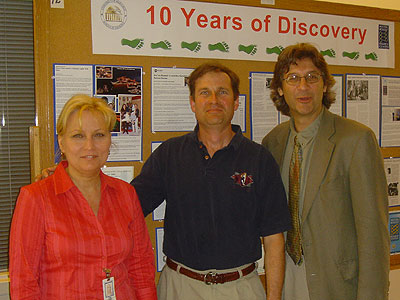 My kids (that's Dirk, Kyle, and their Big Green Buddy in the picture) were diagnosed with Celiac Disease when they were infants. This is an autoimmune disorder triggered by the protein gluten found in wheat, rye, barley and possibly oats. Similar to diabetes, you don't grow out of this ... and there is no cure short of going on a strict gluten-free diet. So while low-carb diets are the rage these days, it's a bit of a challenge when the kids go to events such as birthday parties (cake is a no-no unless made with rice flour) or after school/sports gatherings at a pizza joint. There's a LOT more I could write (spending 4 days at Children's hospital for "failure to thrive" is no fun), but the kids are doing great now, mostly thanx to the great efforts by my wonderful wife Wendy. Hopefully when my kids grow up, they will be able to go out with (old) Dad not only for (corn chip) Nacho's and Margarita's (Tequila is OK), but also Burgers (with a real bun) and Beer! ;-)
2013 Update: Dirk & Kyle are now 15 & 12 years old and we have just found out that the initial diagnosis was incorrect - i.e. it was a false positive for Celiac Disease. After living gluten-free for 13 years, this was life altering ... but fortunately in a good way. So while my kids don't have CD, I'd still like to continue my effort to support Celiac Disease research since it affects so many people.
So it's been suggested numerous times that I should require people to donate to charity so they can control the lights. I'm don't agree with that as I want the website to remain totally free and totally fun ... with any donations to Celiac charity to be completely optional. However, I'm debating doing something like if you donate a $100 to charity, you (and only you) get dedicated control of the entire Christmas Display for 10 minutes.
The webcams would still be live for everyone in the world to watch ... but only you could control the lights & inflatables. And the rest of the time, anyone in the world can continue to control the lights for free. I don't know if that is a good idea ... or maybe just dumb. So drop me a note and let me know what you think ... and for sure if you'd be willing to do it.