2014 is the last year for the Controllable Christmas Lights for Celiac Disease
Scroll down to see a sample of the responses after the announcement
For over a decade,
Alek's Controllable Christmas Lights for Celiac Disease
has been a festive online holiday tradition for
millions of Internet users world-wide
... see the entertaining snippet below of just some of the media attention. Check out how the
Christmas Display has evolved from 1999 to present
... and see the last year (with links to previous years) on the
Christmas Blog.
Three live webcams and X10 technology allows web surfers to not only view the live action, but also *control* 20,000+ lights ... plus inflate/deflate the giant 15' Santa Balloon, Santa on Skis, in a Helicopter, and flying a Plane ... along with Elmo, Frosty Family, SpongeBob SquarePants, and the Homer Simpson Santa - D'OH!
The website is totally free (and totally fun) but also raises awareness and funds for charity via optional/voluntary donations - over $83,000 for the Center for Celiac Research. I've supported this world-class research organization for almost a decade and even though I found out in 2013 that the original Celiac Diagnosis of my kids was a false positive (Email me for more details - nutshell summary is medical science is "hard" so not always 100% correct), I'm still helping them raise awareness and supporting research for an eventual cure.
But after all that, it's time to retire and Alek "Griswold" is hanging up his Santa Hat! ;-)
There are a myriad of hilarious stories through the years ... most notably from 2002-2004 when the technology wasn't quite there yet so I had to do a simulation - finally had to reveal as it got outa hand. There were many "challenges" doing it for real such as getting reliable wireless connectivity to the webcam at the neighbor's house, replacing burnt out lights (one goes out, they all go out darnit!), squirrels chewing through the wires, fixing leaks in the inflatable HULK's, water causing the GFCI's to trip, swapping X10 Super Sockets in the power panel (often during sub-zero temperatures), dealing with 70+ MPH winds (the greatest enemy of holiday displays is winds), scouring garage and post-holiday 50-75% off sales for lights, decorations, & inflatables, dealing with the media (they can be a PIA at times ... but I did enjoy the Heli ride!), the occasional knucklehead on the Internet (more than balanced out by the 99.9% of folks who loved the interactive display), and having my family "put up" with my craziness - "Alek I need to drive out of the garage - can you please move Homer Simpson?" - D'OH! ;-)
It's been a fun run ... with the best part being the countless messages from people saying it has brought some joy into their lives. And yes, the Controllable Halloween Decorations are over too. Update: Sold everything via Craigslist!
A special thanks to my Mom who flies out most Thanksgivings to help me setup - check out the "Elmo Santa" below she put together out of (literally) parts from Goodwill. And a Happy 50th Birthday to my wonderful wife Wendy.
See a sampling of responses to the announcement at the bottom of the web page.
Update: Sold everthing on Craigslist in late/2015 ... to prevent me from being tempted to set it up again! ;-)
Last year for Santa's Workshop!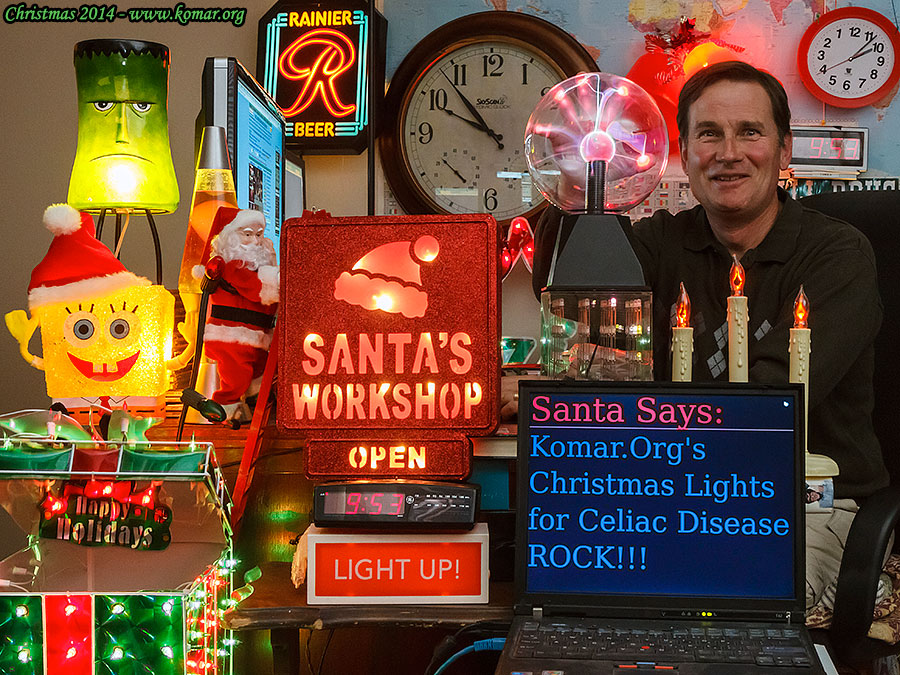 Horse drawn sleigh goes by the front yard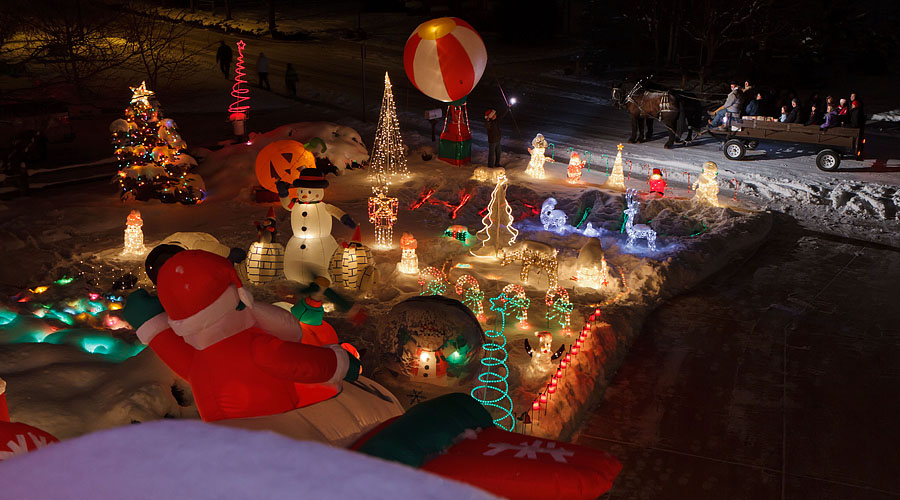 The three wise men - SpongeBob, Elmo, and Homer Simpson - D'OH! ;-)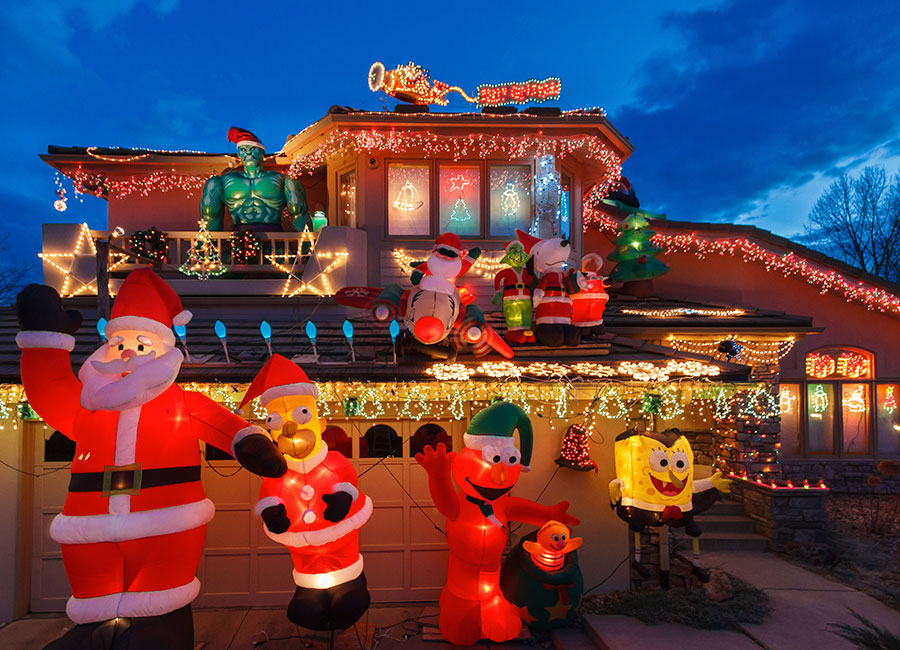 Mom was a big help through the years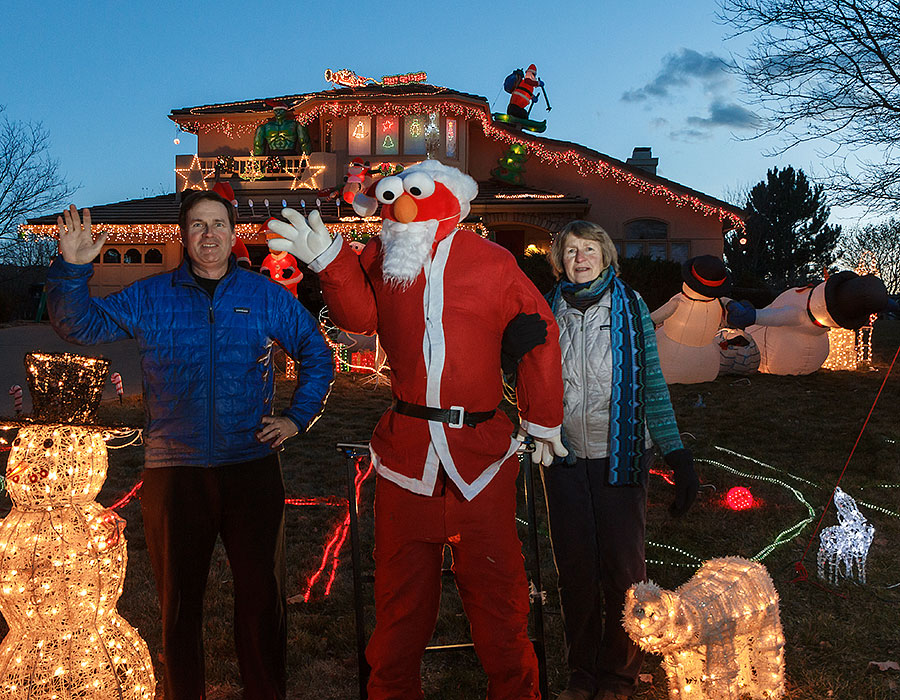 The complete history of the Controllable Christmas Lights for Celiac Disease
A compilation of snippets from various TV/media appearances - good comedy
Use the controls to play, step, pause, slow-down, and/or speed-up the animation.
| | | | | |
| --- | --- | --- | --- | --- |
| | | Frame Rate | | ... loading images ... |

In 2014, there were three webcams and eight X10 Zones - that's 256 possible combinations!
| | | | | |
| --- | --- | --- | --- | --- |
| | | Frame Rate | | ... loading images ... |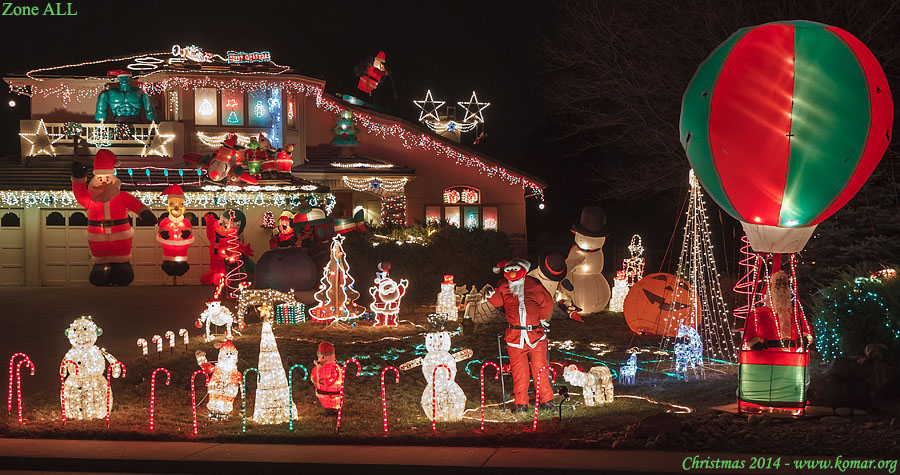 | | | | | |
| --- | --- | --- | --- | --- |
| | | Frame Rate | | ... loading images ... |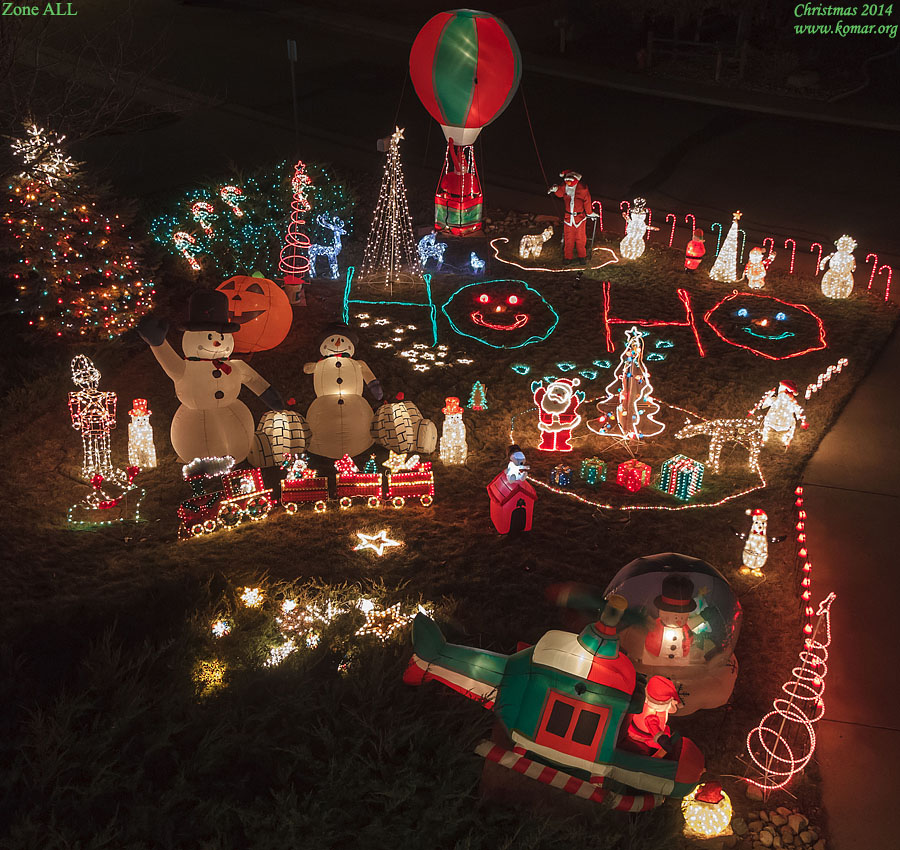 | | | | | |
| --- | --- | --- | --- | --- |
| | | Frame Rate | | ... loading images ... |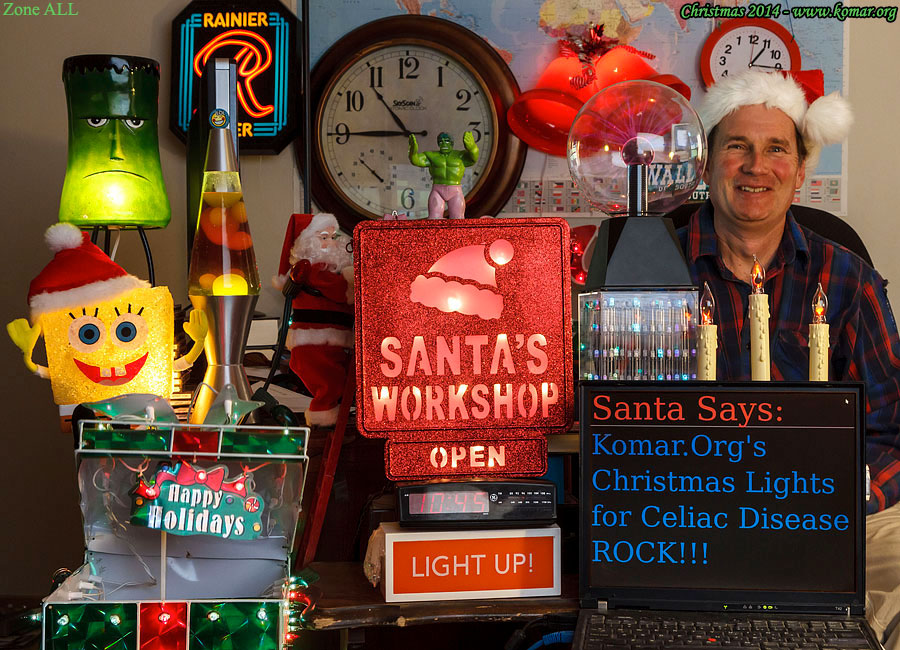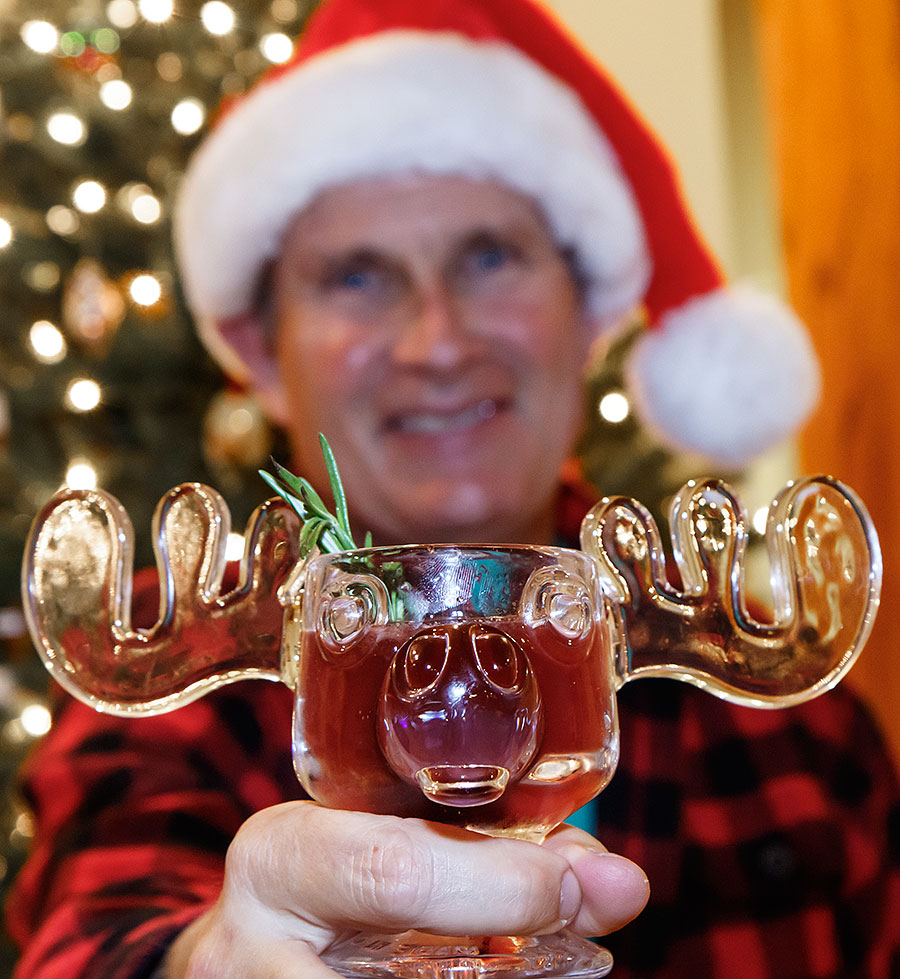 The announcement above resulted in an outpouring of heartwarming messages - here's a few selections
Denver Post has front page story about "Coloradan's world-famous Christmas-light display is seeing its last Noel" - screen shot
AlanE: how sad this will be the last year for your lights but you have given an people a lot of happy memories over the years thank you so much from us all
AnnD: it certainly has been a good run, bringing pleasure to so many. Hopefully those luscious looking doughnuts [My Mom makes 'em - pic and pic] will continue to be a tradition!
BobE: You're gonna bum a lot of people out. But in all seriousness, I look forward to your displays, it puts me in the mood for the holidays. Bluntly put, I'm just at a loss for words. I will enjoy my holiday; I just hope you decide to withdraw your decision to bring your display to an end, especially considering the fact that you've been doing it for a good cause.
Carolyn: I think I've been watching and playing with your lights since 2005 or 2006! Wow! I'm SO going to miss your Cam and Blogs!!! :'( It has been such a pleasure to visit every year and your lights have become part of my own traditions. I can't even look at inflatable decorations without thinking of you! Your time off is certainly well deserved and I Thank You for all of the hard work you have put into this! May you and your family have many more awesome Christmases ahead! Maybe you'll even consider a few non-controllable lights in the future. THANK YOU SO MUCH! Merry Christmas!!!
DaveM: The end of an Era!!! Jeffrey will be really depressed. [He's the neighborhood kid (see this pic ... and check out Blog Post #41 here) who's been a big help over the years and is a Griswold in training! ;-)]
DaveT: I am really sorry to hear that this will be the last year but thank you for doing the lights up until now. When you started doing this my daughter was 1 she is now 11 and has grown up looking at the lights each Christmas and Halloween. It will be missed but I think you deserve a well earned retirement.
Dean: Having thoroughly enjoyed your Halloween & Christmas lights over quite a few years I am sorry to see that this year will be the last. Thanks so much, Alek, for the entertainment!
Ed:We Can't thank you enough for all the wonderful years you have been doing this. All good things must sadly come to an end. Thanks for bringing Christmas Spirit to us each and every year. God Bless your family and hope you keep us updated about your family. Your Internet family willl be curious. Happy 2015!
JaniceK: Sorry to hear that you are hanging up your Santa hat. Christmas will not be the same without your wonderful web site.
JasonT: World's biggest Hulk fan, here. My love of Hulk is what brought me to your page years ago. Sorry to hear you won't be doing the display anymore, but I'm happy to know you'll be able to relax next fall instead of assembling your Christmas army. ;)
LynnC: Your pictures, displays & ramblings are FAB! We've enjoyed so much all these years...Thank you.
MarthaB: We crossed paths with you when my son was about 4 or 5 years old and completely obsessed with the Incredible Hulk. Internet searches found your pictures of "Hulky" cruising in a convertible that my son would have me pull up day after day for quite a long time. We finally reached out to you and you were so kind to write back to him "in character." It was such a big deal to him. My son was almost 6 when he was diagnosed with Celiac and through completely separate searches came across your inflatable displays on the internet. He recognized that inflatable Hulk which triggered me to piece together that the "Hulk you" and the "Inflatable you" were one and the same. We have enjoyed the displays ever since. My son will be turning 13 in February and although the Hulk is no longer an obsession, he (and his parents) will always fondly remember your cool pictures. Thank you so very much for the fun pictures and displays that you have provided. Like so many others, our family has thoroughly enjoyed.
MarkF: You're going to go down in history as one of the greatest yearly events on the internet, Alek
MicheleL: Just great Alek. This year my oldest daughter goes to college, our 15 year old dog dies & now you tell me it is the last year for the Christmas light display. What exactly do I have to get out of bed for?
Mike: Wow, I can't believe the lights are coming to an end. I've been coming here since 2006 and it's been a digital Christmas tradition. Thanks for all the years of fun, Alek. Great to hear your kids are un-diagnosed and doing well! Seems like a very fitting end to the saga.
NataleW: my kids are going to be so sad! Thank you for all these years though!
Ray: Although I can only begin to imagine all the work you must put into your simply amazing displays every year, I fervently hope you will reconsider retiring your displays & website. I only discovered it a couple years ago (yes, a little late to the party), but I became both addicted and enchanted with it after my first visit. If, indeed, this is the end, you will be greatly missed. I'll hold hope you will be back in '15... or '16 after a break for a year!
RichardL: Hey Alek. Thanks again for doing this for one last time. Checking on the status of the Komar.org lights has become a bit of a tradition and your efforts have certainly brightened the holidays for a lot of folks.
RobertC: Hey alek, I am very sorry to see that this year is your last year of such a wonderful display which I have been logging into every year for the last decade all the way from Cardiff south Wales uk. .. I hope you enjoy your retirement but I hope you realise you've brought joy and happiness to millions and you'll be missed by all.. Good bye good friend. ...
Scott: Your lights have been my families day after Thanksgiving tradition for almost 10 years now. we'll miss you next year
SebastianA: NooOOoooo! IT CAN'T END! You're an INTERNET INSTITUTION!!!
Shawn: OH, MAN! THIS IS MY TOP FAVORITE CONTROLLABLE WEBCAM! IT CAN'T END! I AM A HUGE FAN OF THIS! Thanks for bringing joy to me from Elma, NY near Buffalo, NY and to everyone else in the world! Sad to see you go after this year! I will control the lights as long as I can for the final days of this! Merry Christmas! :(
Shawn: You should have a virtual webcam set up so we can still pretend that we are controlling them, like you mentioned that you did before!
TimT: We have been buddies with Alek for 10 years now There has been a lot of overwhelmingly positive feedback from our readers about his site. Alek always returned the favor from a personal greeting to MajorGeek readers to wearing one of our G*E*E*K shirts that went worldwide in the media. It will be a shame to see this end but it.s been a fun ride. So for the last time we invite you to check out Alek's lights
Tim:Hi Alek, Your lights have become a tradition here in Ireland. I always look forward to the warm up during Halloween, knowing that the big event is only a few weeks away at Thanksgiving. It will be sad to see them being switched off for the last time after Christmas. It really will be the end of a Christmas tradition - a bit like Santa hanging up his hat. Good luck for the future!
TinaS: Thank you for filling our holiday nights with fun, humor and delight. We appreciate all the time and energy it took you to install all your lights and the constant time it took to maintain it. We always took our friends to see your whimsical display and will truly miss the tradition. But, alas, all good things must come to an end..so thank you Alek, from the bottom of our hearts.