Captain Crudd's Fish Recipes
My brother Kurt loves to fish and his good luck fishing shirt is Captain Crudd. So while I've got a few BBQ Grill recipes myself, here's a few tasty ones from Captain Crudd - came in handy after the 400+ pound slayfest in Seward Alaska. Scroll down to see some pictures of the Slab-o-Salmon!



Halibut Burrito
Poach Halibut with a little wine, lemon and pepper
Let cool somewhat
Crumple up on a Tortilla
Dress with SMOKED Cheddar Cheese, Capers, garlic cream sauce
Quick broil to melt cheese and roll up
Put a Pico Degallo (Basil, tomato, onion, cilantro) sauce on top
Corona or margarita is good with it
 
You can use left over Halibut from the night before too.
 

Halibut on the BBQ
Lay skin side down on foil
Mix Mayonaise, Shredded parmesan cheese in a bowl
Spread evenly over halibut maybe 1/8" thick
Make a 3 cuts into the meat lengthwise and push some mix into the cuts
BBQ till meat is all white and flakes off
 

Salmon on the BBQ
Same as halibut but use BBQ sauce

And here are a couple of up-scale recipes from Captain Crudd's wife.
Macadamia Nut-Crusted Halibut with Mango Puree and Scallion Oil

Chef de Cuisine Cliff Wharton and Executive Chef Jeff Tunks of TenPenh Restaurant . Washington, D.C.
Wine Pairing: Cô du Rhone Les Figuieres, Jean-Luc Colombo 2000 ( France)
Yield: 10 appetizer servings

Ingredients: 
For Halibut 
       3 pounds halibut filets, cut thick
       3 eggs
       1/4 cup water
       1/4 loaf brioche bread
       1/2 cup macadamia nuts
       1 mango
       8 Tablespoons white wine
       1 Tablespoon sugar
       1/4 cup cream
       Juice of 1 lime
       6 1/2 Tablespoons light olive oil
       1 teaspoon black sesame seeds, toasted
       Salt
For Scallion Oil 
       1 bunch scallions, green part only
       ½ cup olive oil
       Pinch sugar
       Pinch salt

Method:
Prepare the Macadamia Nut Crust:
Preheat the oven to 350 degrees. Place the macadamia nuts on a baking sheet and toast until golden. Allow to cool completely. In a food processor, puree brioche. Add the cooled macadamia nuts. Pulse until a crumbly mixture is formed. Pour crust mixture into a shallow dish and set aside until needed.

Prepare the Halibut:
Cut the halibut into 3 ounce pieces and season with salt. In a shallow dish, combine the eggs and water to create an egg wash. Dredge the halibut pieces in the egg wash and then coat the fish completely with the nut-crumb mixture to make a nice crust. In a non-stick pan, heat the oil. Sautéhe halibut pieces until the fish is golden brown on both sides. Remove the fish from the heat and place on a baking sheet. Set aside until needed.

Prepare the Mango Puree
Peel the mango and remove all the meat. In a small saucepan on medium heat, combine the mango meat with the sugar and white wine. Allow the liquid to reduce in volume by three quarters and then add the cream. Bring the mixture to a boil and then simmer for 5 minutes. Let the mixture cool slightly. In a food processor or blender, puréuntil smooth. Strain the mango puréthrough a sieve and into a bowl. Add the lime juice and season with salt, to taste. Set aside until needed. Prepare the Scallion Oil: Fill a bowl with ice and cold water. Bring a pot of salted water to a boil. Quickly blanch the green parts of scallions in the boiling water for 10 seconds. Strain the scallions from the pot and then immediately shock the scallion in the ice water to stop the cooking. Remove the scallions from the ice water and squeeze out any excess water. Dry the scallions thoroughly on paper towels. In a blender, combine the scallions with the olive oil, salt, and sugar. Puree mixture until smooth. Pour the scallion oil through a fine sieve and into a squeeze bottle. Set aside until needed.

To serve:
Preheat the oven to 350 degrees. Place the black sesame seeds on a baking sheet and toast for approximately 5 minutes. Allow to cool completely. Place the baking sheet of halibut into the warm oven and heat for approximately 5 minutes. Ladle a generous amount of warm mango puree onto the plates. Place the halibut in the center of plate on top of the mango puree. Garnish with a drizzle of scallion oil and sprinkle the sesame seeds around the plate. Serve immediately.



Halibut Breaded in Macadamia Nuts with Coconut Curry Mango Sauce

Ingredients:
   1-1/4 pound fresh Halibut, cut into 4 filets
   7 ounces roasted macadamia nuts
   2 Tablespoons flour plus 1/2 cup or so for dredging fish
   1 egg beaten with 2 Tablespoons water
   1/3 teaspoon cayenne
   4 Tablespoons butter (clarified butter is necessary if cooking large quantities)
   One 14-ounce can coconut milk
   1 Tablespoon peanut oil
   1 Tablespoon Taste of Thai Red Curry Paste (start with less, then taste to adjust - it is hot!)
   1/2 cup Major Grey Chutney, large chunks chipped fine
   1 fresh mango, peeled with seed removed, diced small
   2 to 3 Tablespoons fresh cilantro, sliced fine 

Combine nuts and 2 Tablespoons flour in food processor, pulsing so as not to over chop and become sticky. Beat cayenne into egg with a fork. Dredge filet first in flour, then egg, then nuts, pressing nuts onto fish. Refrigerate breaded fish while starting sauce.

Heat 2 Tablespoons peanut oil in a heavy saucepan. Add curry paste and cook one minute, whisking. Add coconut milk and chutney; bring to a boil. Boil lightly until milk is reduced to 1/2 its original volume or to desired thickness. Turn heat off and cover to keep warm.

Melt butter in large saute pan over medium heat. Add halibut and fry until deep golden brown, then turn to brown other side. If filets are very thick, place in 400-degree oven for 8 minutes after browning to finish cooking.

Just before fish is done, add chopped mango and cilantro to sauce. Serve sauce over fish sprinkled with a little more cilantro for color interest and perhaps a whole cilantro leaf.

Serves 4 with Jasmine Rice.
This recipe is adapted from Chef Jack Amon of Marx Brothers Cafe.



Super Duper Salmon Rub

Ingredients:
   3 tablespoons firmly packed dark brown sugar
   2 tablespoons smoked paprika 
   2 teaspoons sea salt
   1 1/2 teaspoons fresh ground black pepper 
   1 1/2 teaspoon chopped fresh thyme

While heating grill up to medium, place salmon on tin-foil, and lightly brush olive oil on top, generously coat salmon with rub, cook until done ... and then enjoy!
Captain Crudd pulled in salmon galore during the huge fishing season of 2010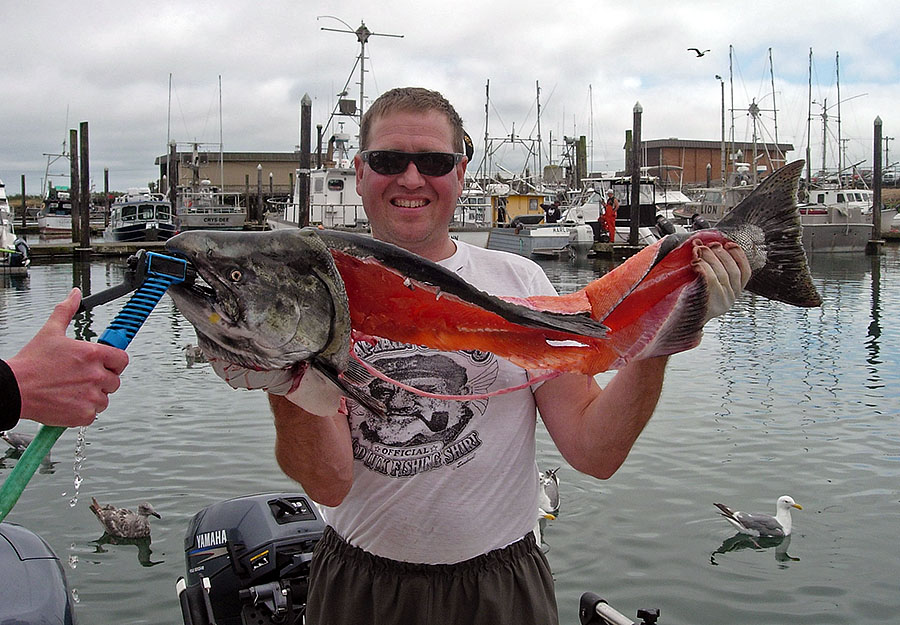 One of the many monster Slab-o-Salmon's caught and filleted by Captain Crudd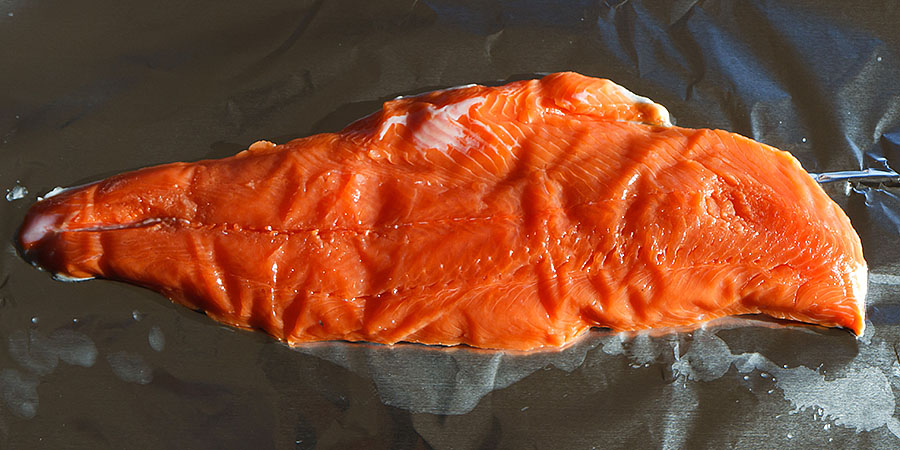 Captain Crudd's brother about to BBQ the Slab-o-Salmon ...
mouseover image for wide angle view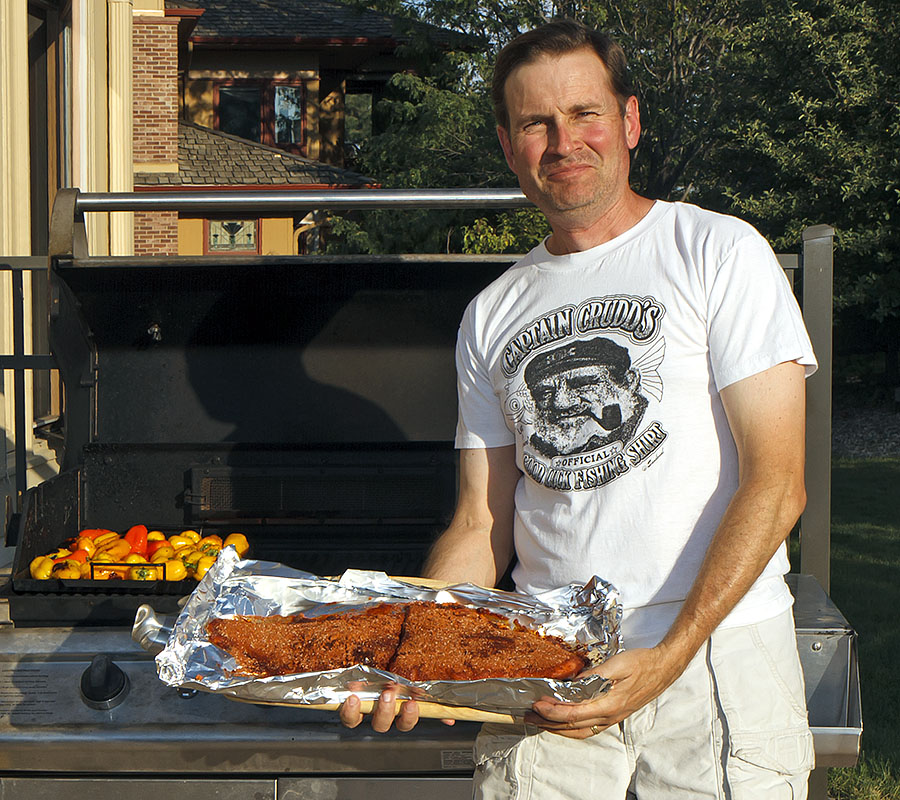 Captain Crudd's nephews (Dirk and Kyle) about to devour the Slab-o-Salmon!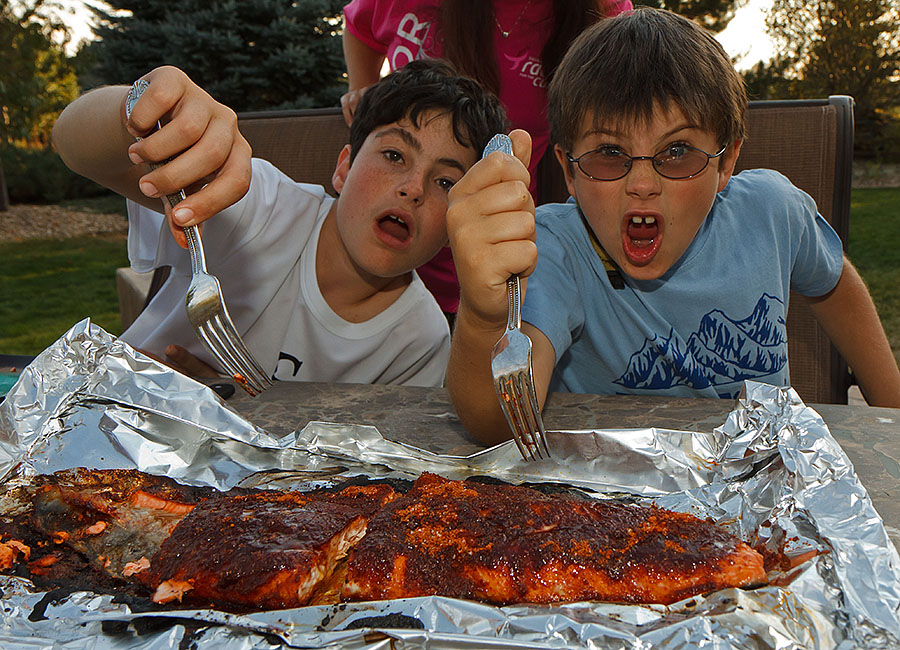 Not much left! ;-)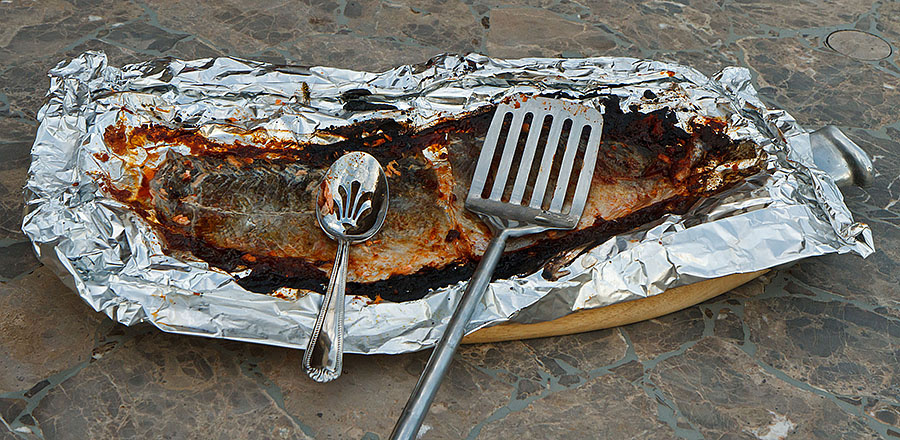 The Wasps were happy to finish off the scraps - they actually flew off with big chunks!
Use the controls to play, step, pause, slow-down, and/or speed-up the animation.
| | | | | |
| --- | --- | --- | --- | --- |
| | | Frame Rate | | ... loading images ... |