After seeing the Black Canyon of the Gunnison, we headed home and thought our
two week Colorado vacation roadtrip
was over ... but we got an unexpected bonus halfway home -
Cottonwood Pass.
We had stopped at the Curecanti National Recreation Area Ranger Station so my kids could get (yet another!) Junior Ranger Badge. As we were leaving, my wife Wendy asked casually how long was the drive from Gunnison to Salida ... to which the Ranger replied
"the normal way or the scenic route?"
I thought going East on Hwy 50 was the only route, but he said you can go North toward Crested Butte and then over Cottonwood Pass through the Collegiate Peaks. These are some pretty rugged 14,000+ peaks as can be seen here. But the Ranger assured me that while the 15 mile dirt road is closed in the Winter, it is quite driveable even with our 2WD Toyota Sienna Minivan.
So we took the scenic route which is a spectacular drive through tree lined roads, around Taylor Park Reservoir, and then finally climbing up & over Cottonwood Pass. While this route is probably 5-10 miles shorter by time you come out at Buena Vista, I'd guess it is about 15 minutes longer ... but well worth it. Was a welcome surprise and great way to end our two week road trip.
Mike Arbaney from Crested Butte with his gorgeous 1957 Oldsmobile at Cottonwood Pass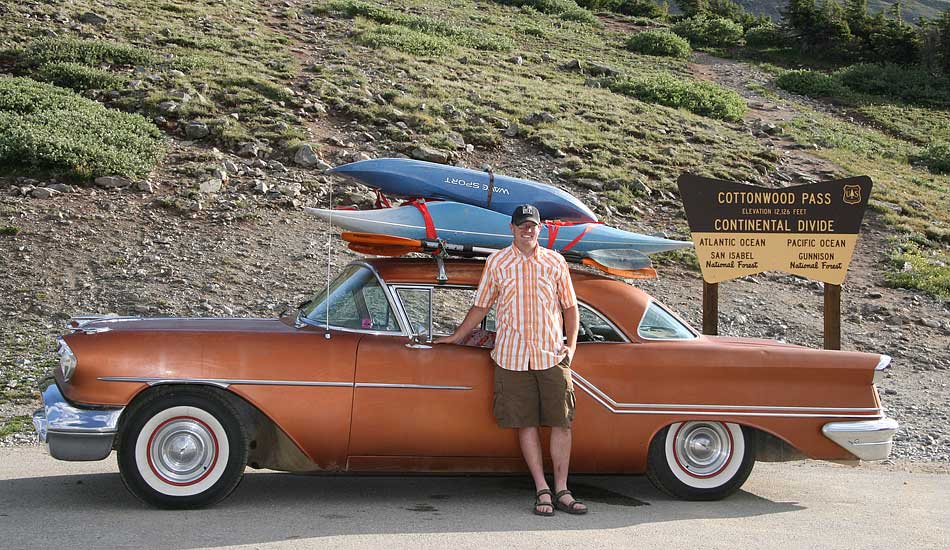 My sons Kyle (Atlantic side) and Dirk (Pacific side) at 12,126 feet on the Continental Divide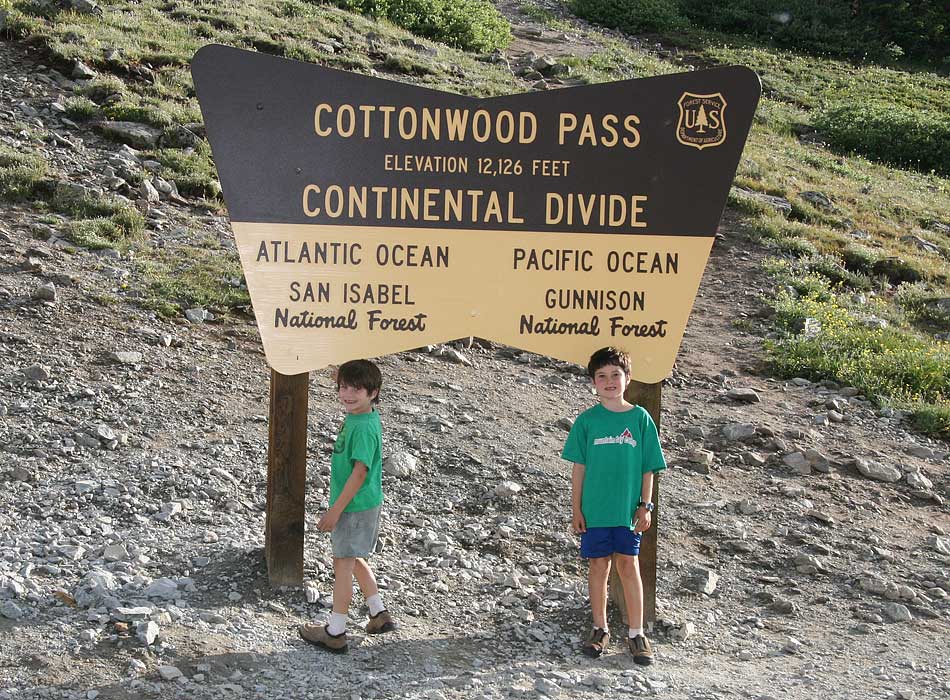 I was busy taking pictures while Wendy was driving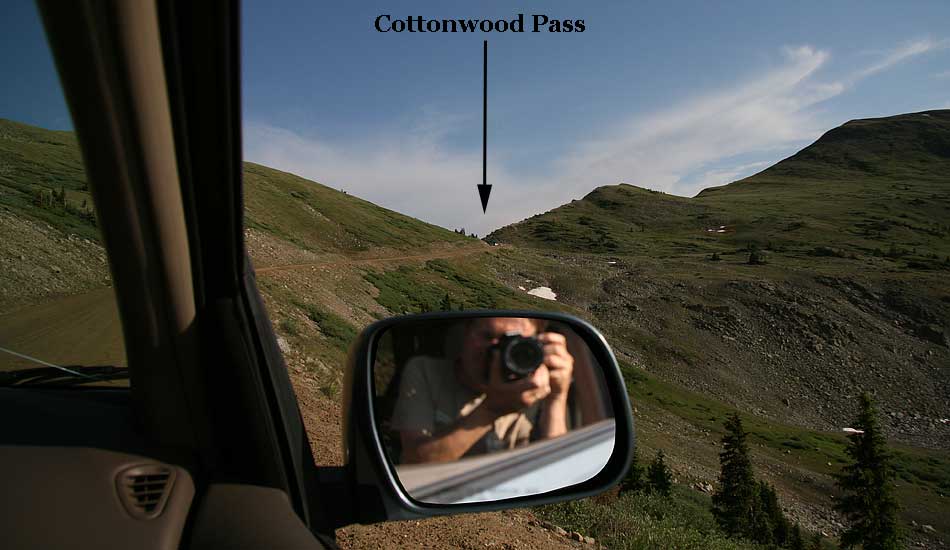 She found it reassuring to see another minivan going up the 15 miles of dirt road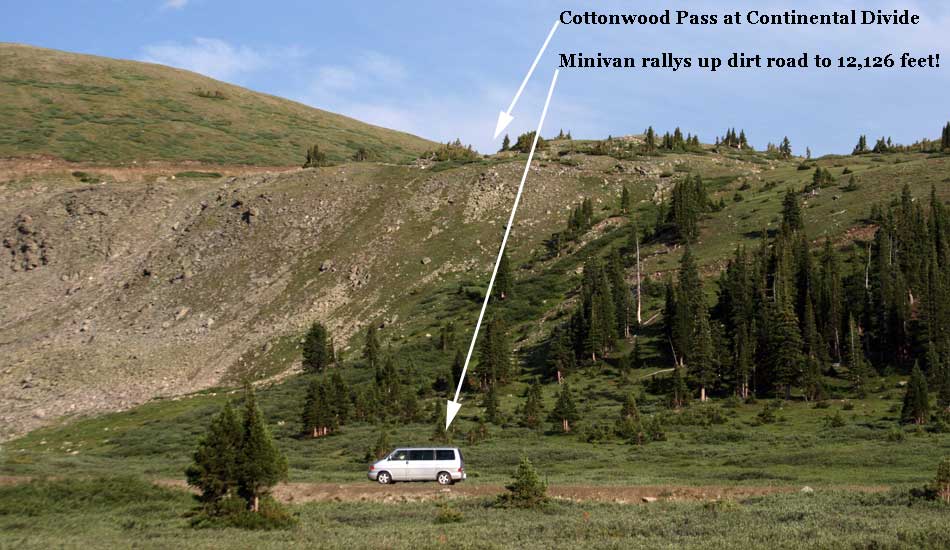 But Truck Trailers swinging wide on curves were her nemesis!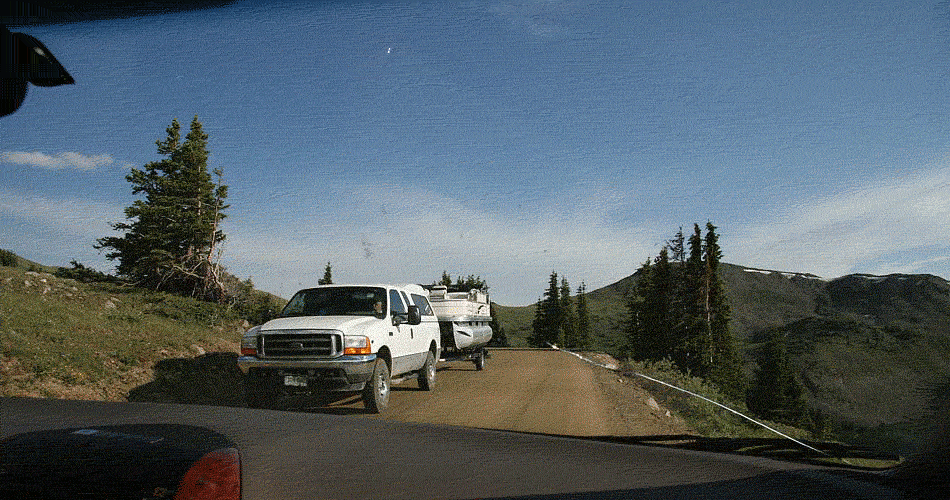 Dirk looks down the other (East) side of Cottonwood Pass - long, winding way down!