In June/2009, our family did an 18 day Colorado/Utah/Arizona road trip to see the National Parks -
Bryce
, Capitol Reef, Dinosaur,
Zion
, and the
North Rim of the Grand Canyon
... plus
zip lining
the last day. We started our trip off with a bang with a 4-day rafting trip down the Green river (starting at the Gates of Lodore just Northeast of Dinosaur National Park) run by
OARS
who did an outstanding job. An overview of the trip is below, and there are even more pictures from
Day 1
-
Day 2
-
Day 3
-
Day 4
... plus a nifty
action sequence
and some
night rafting pictures.
Alek & Kyle in front and Dirk & Wendy in back ready for a fun ride down the Green river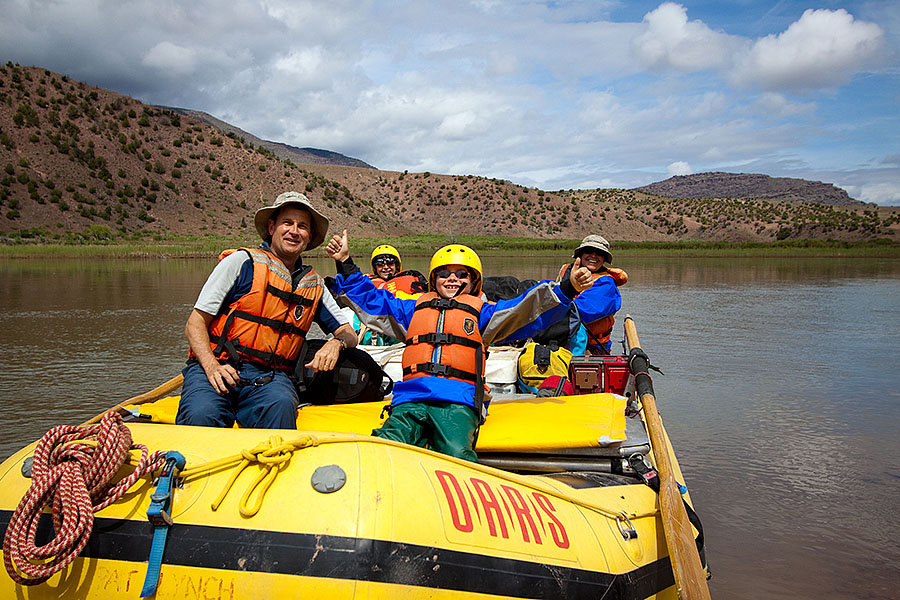 Kyle and Dirk look up at the steep canyon walls as we enter the Gates of Lodore (yes, that's my camera bag)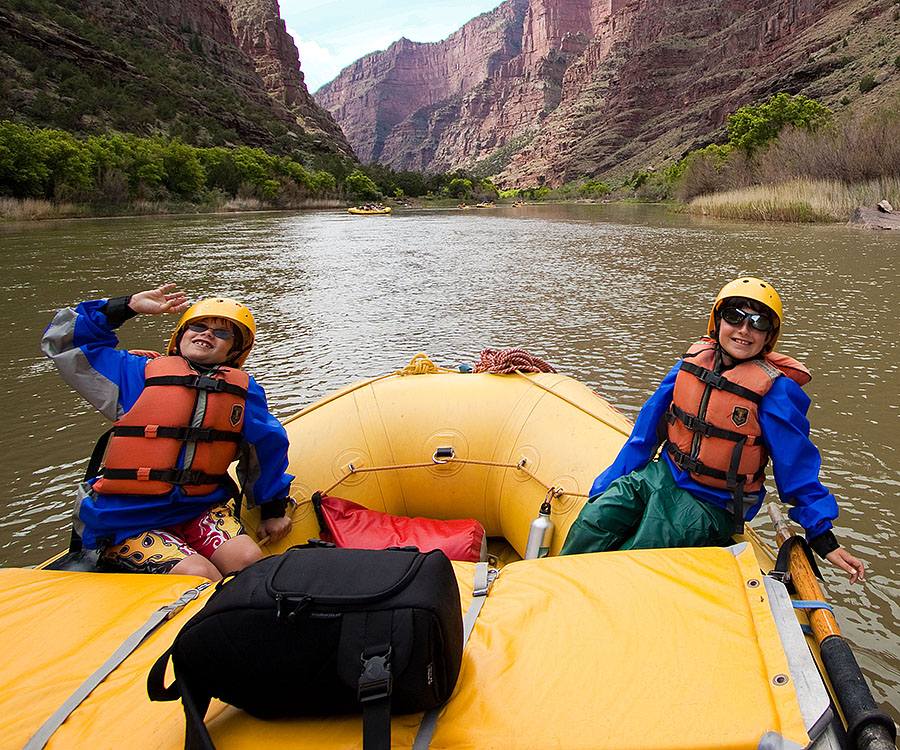 Dirk and Kyle give a big thumbs-up for the tasty lunch - the meals were darn good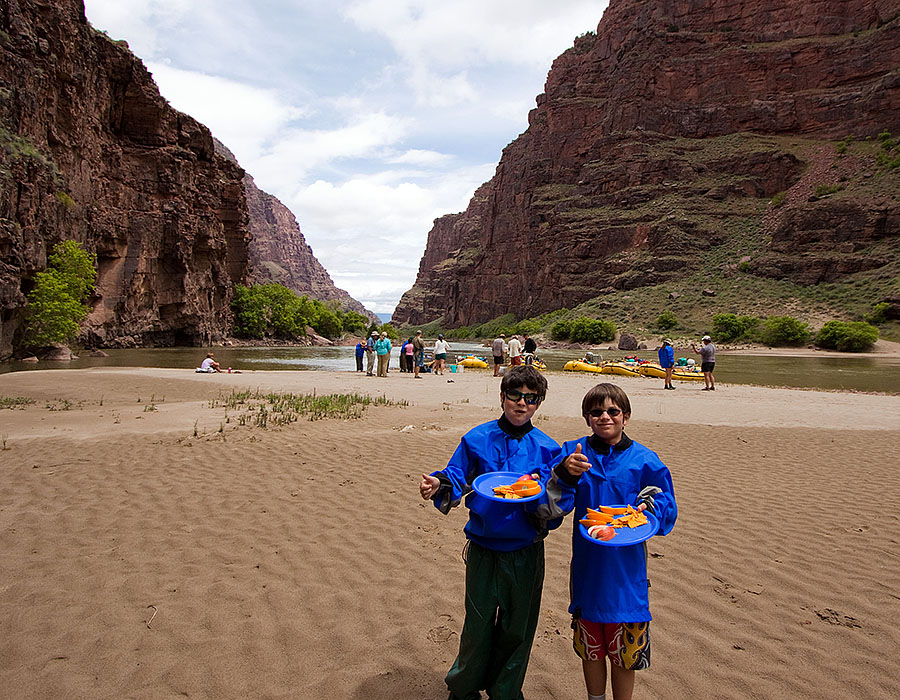 Alek uses Dirk's sunglasses to frame Wendy and our (great) guide Bret Wojciak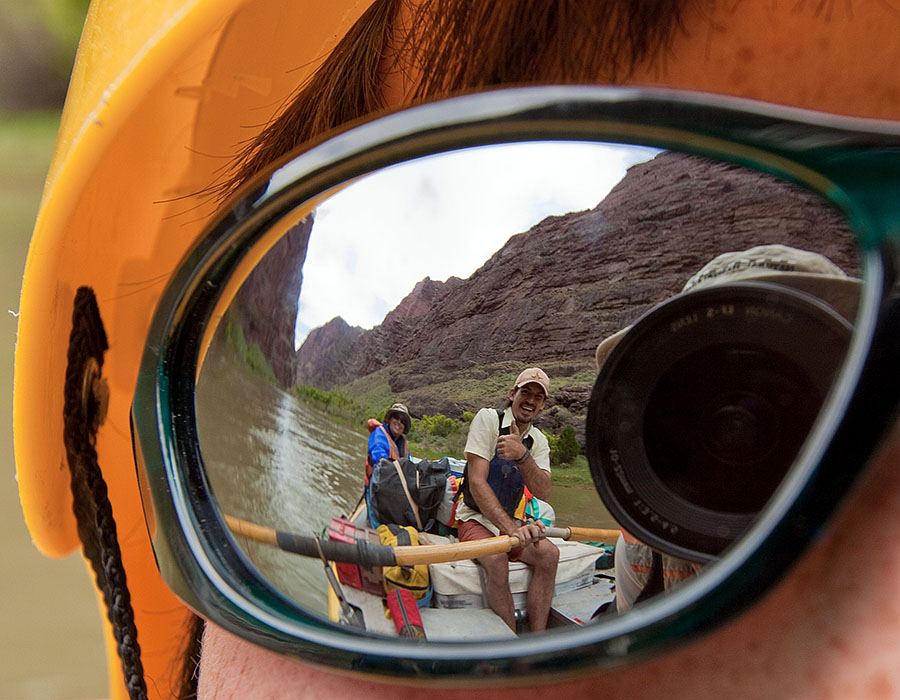 Camera bag has been stowed as we enter the first set of Green River rapids - lots more of these to come!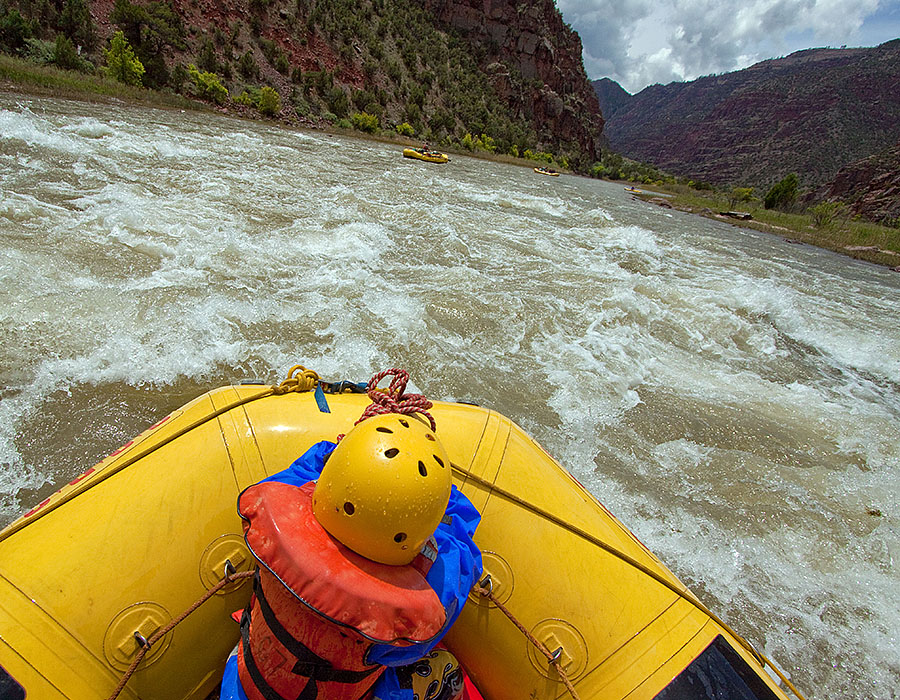 OARS river guides Steve, Bret, Seth, David, and Jay - they were awesome!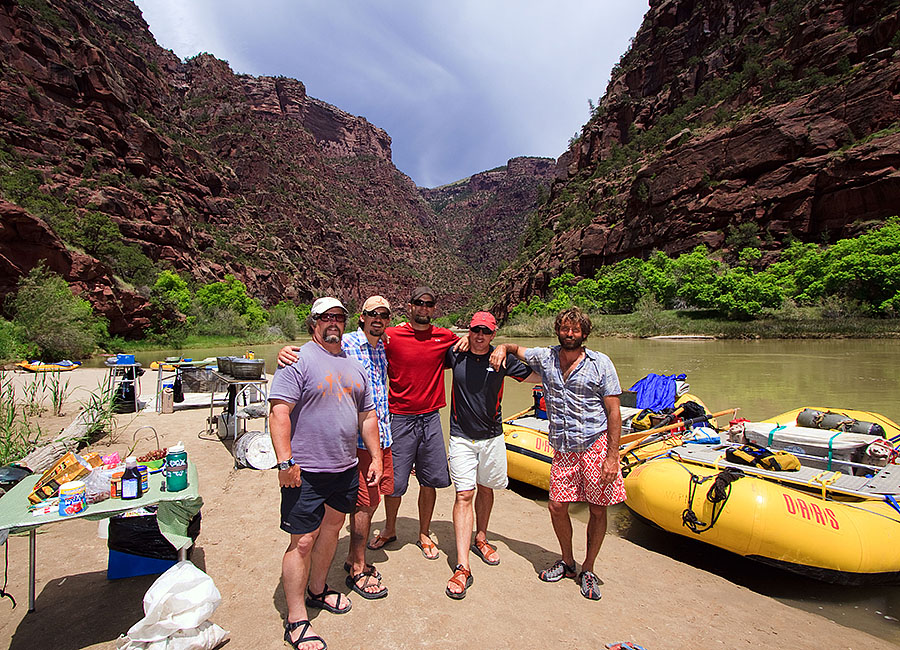 David and Kyle goofing around on the river - not sure who was having more fun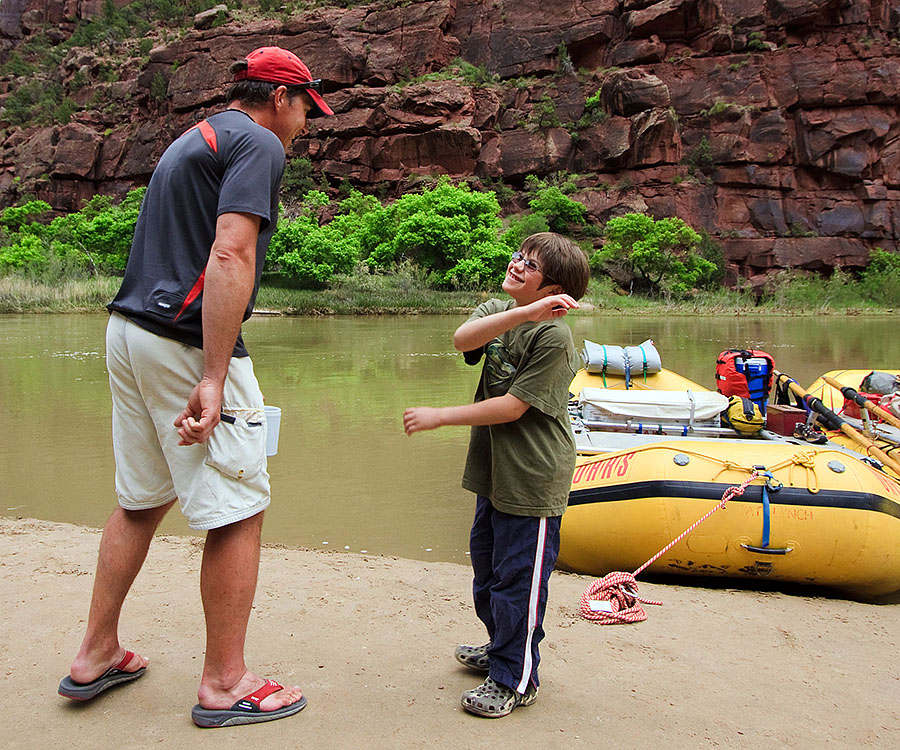 Horseshoes was a popular game to play while we were ashore (guides are cooking dinner)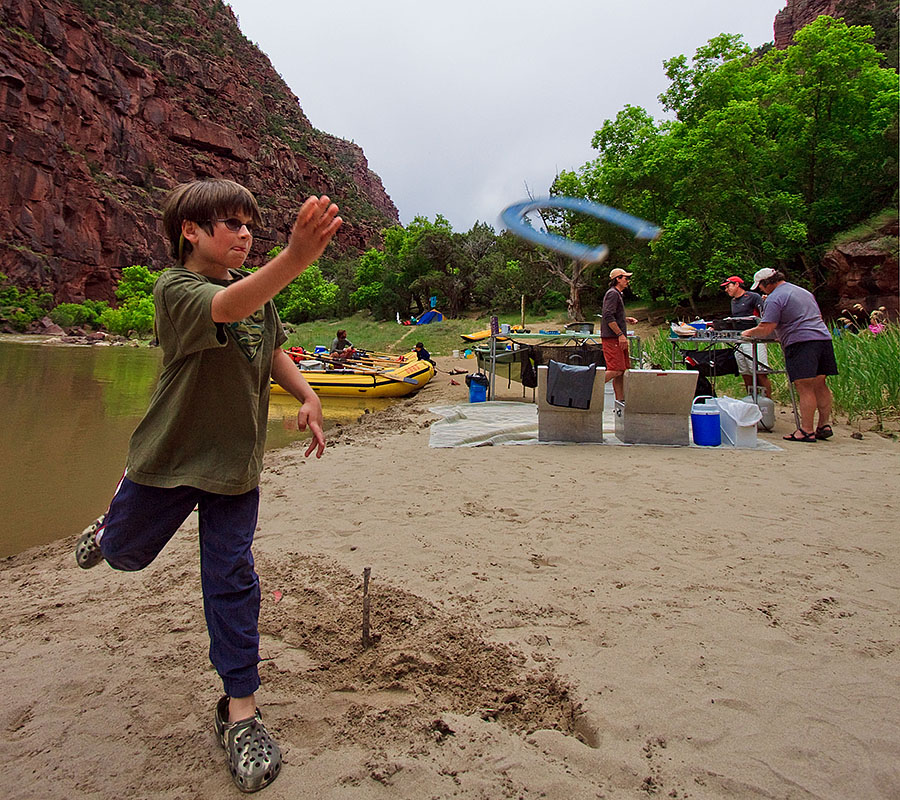 Seth provides a "ringer ruling" during a tight game between Jay & Kyle versus Dirk & David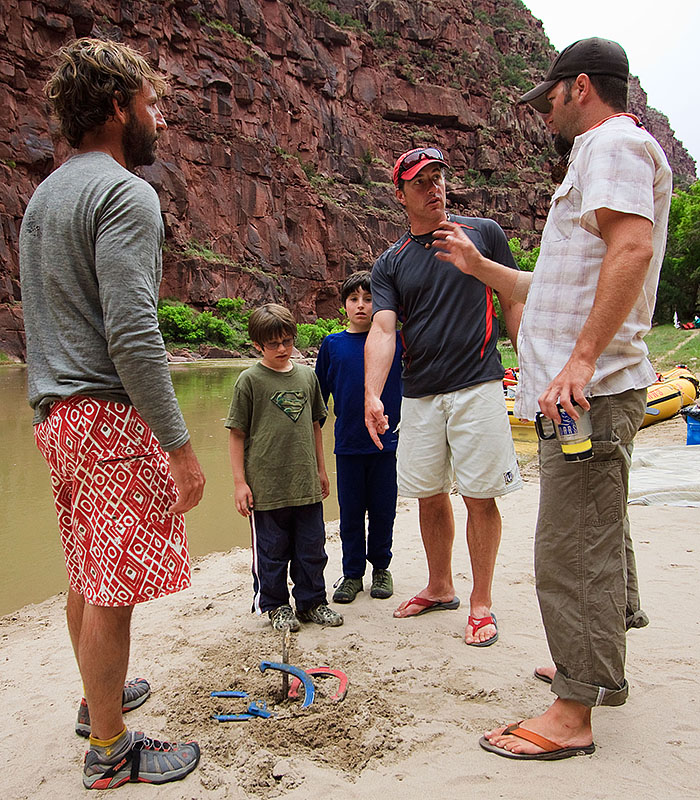 We spent hours playing the "washer throwing" game - simple, but darn fun - life on the river is good!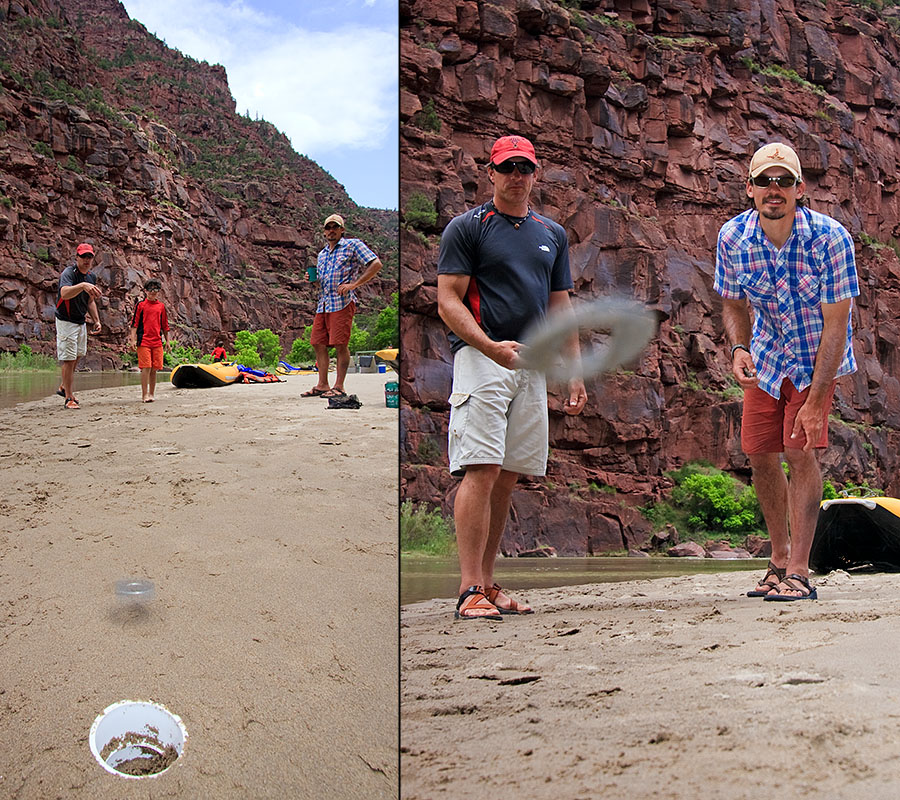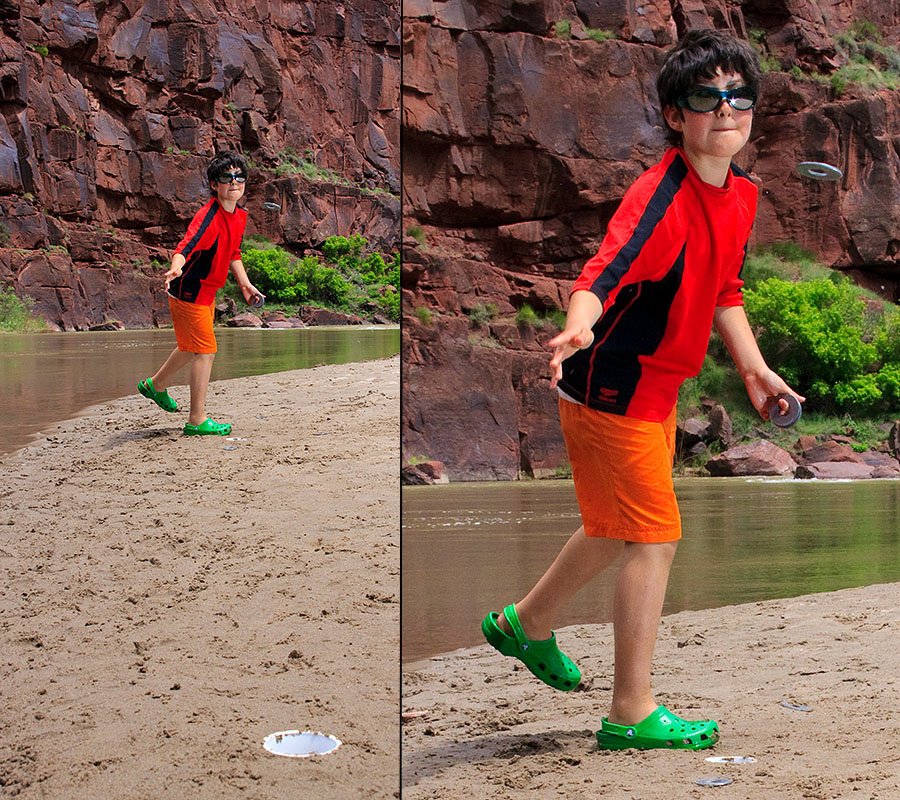 5 Guides and 10 passengers (5 missing) pose in front of a waterfall that we hiked to - wide angle view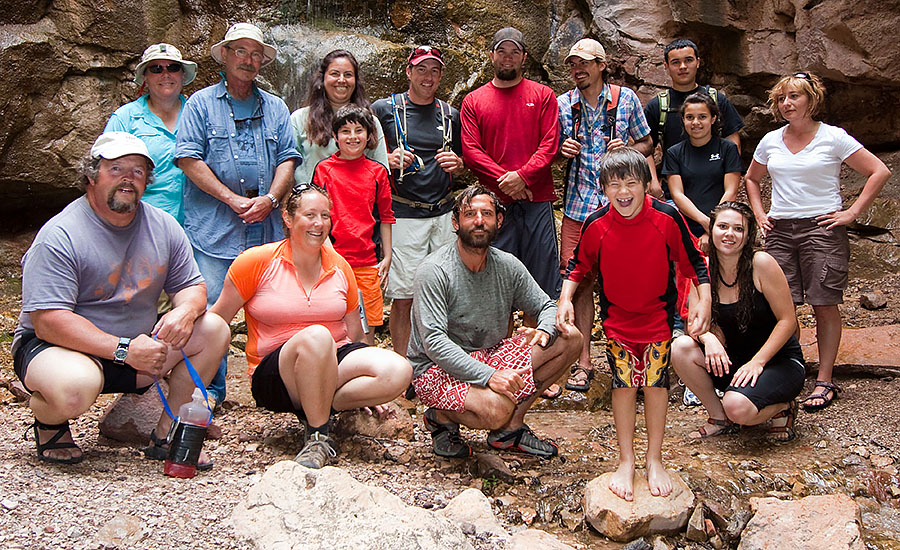 We saw a number of these Colorful Flowering Cactus plants - side view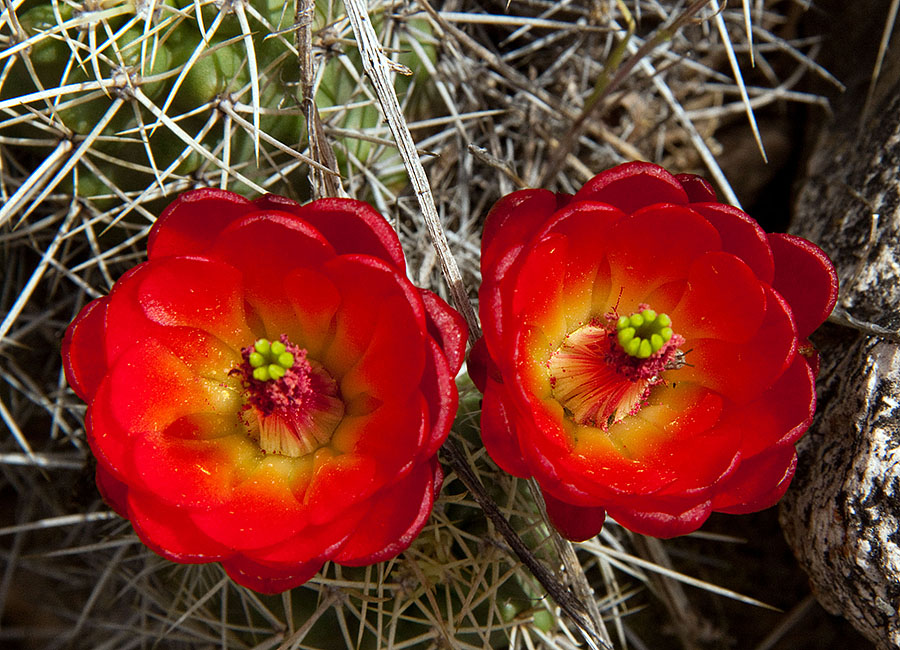 View of the Green River while hiking back from the waterfall -
mouseover image to see wide angle view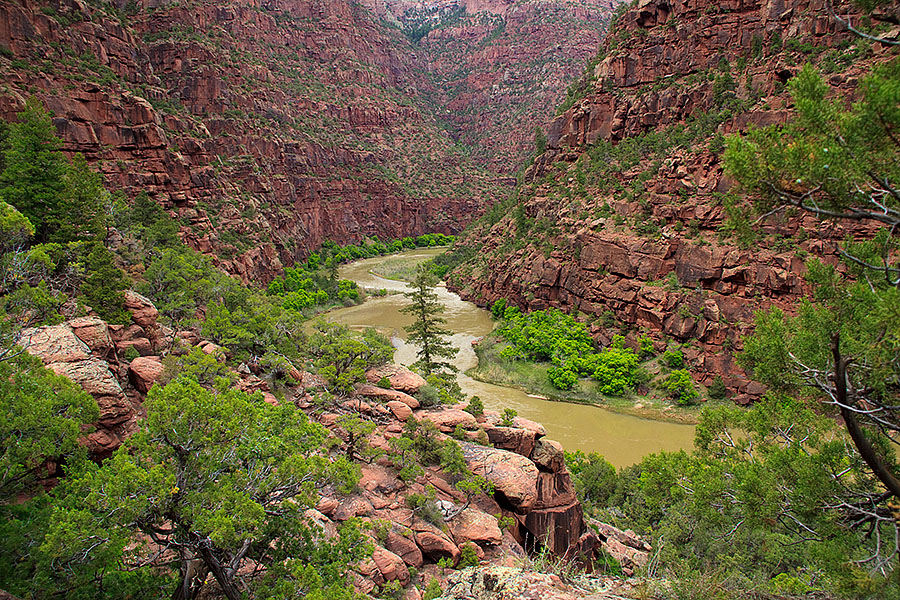 OARS Boats parked at our 2nd night campsite in the early evening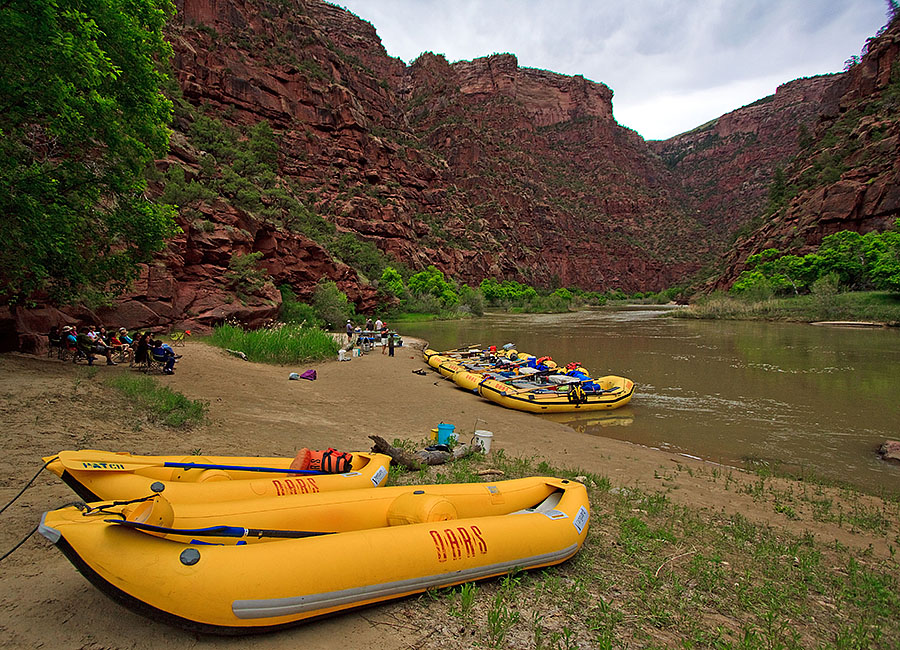 Long exposure (with LED light) of Moonlit Canyon Walls at 10:15PM that night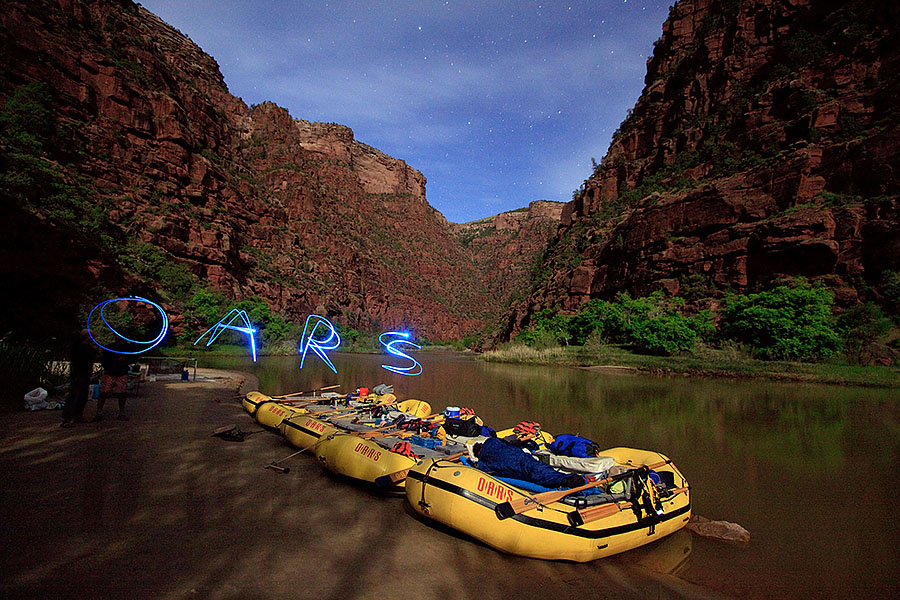 The OARS guides join in for a multi-flash exposure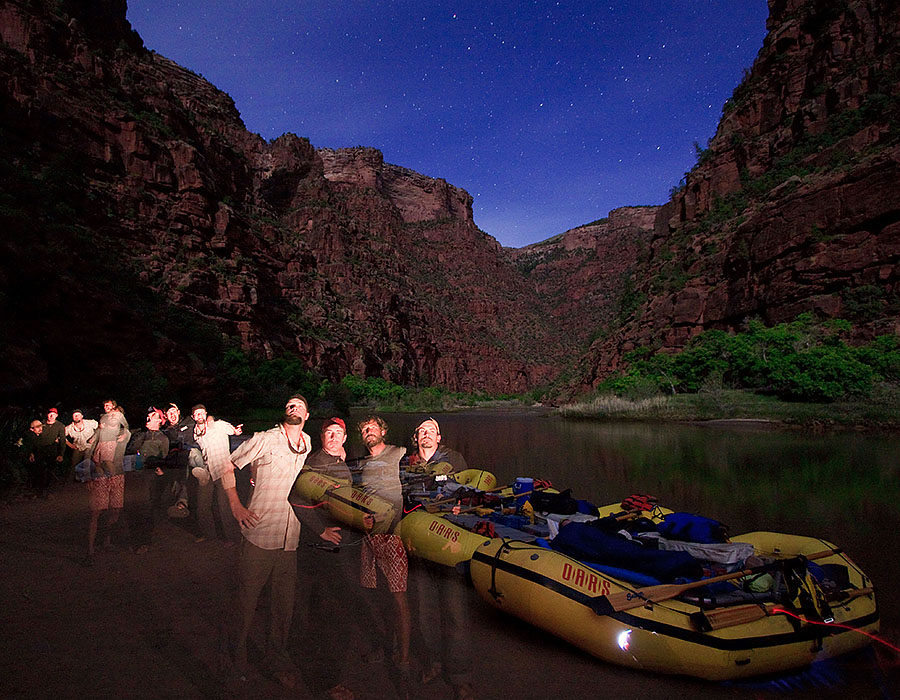 The Morning of Day 3 on the river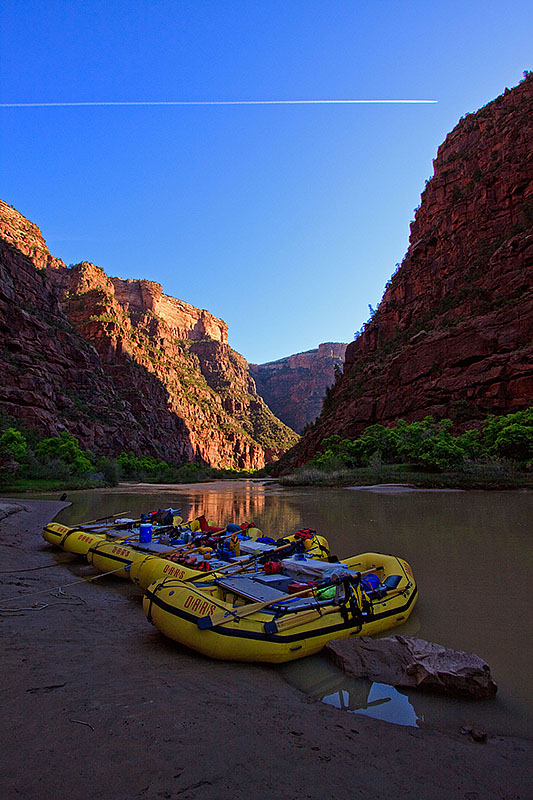 I moved to David's boat to get some pictures of Wendy, Kyle, and Dirk rafting the Green River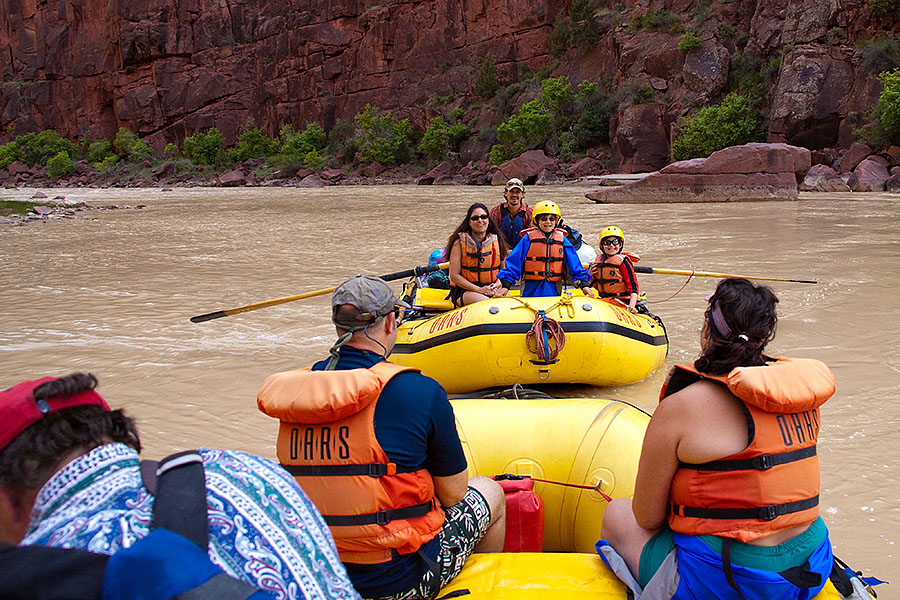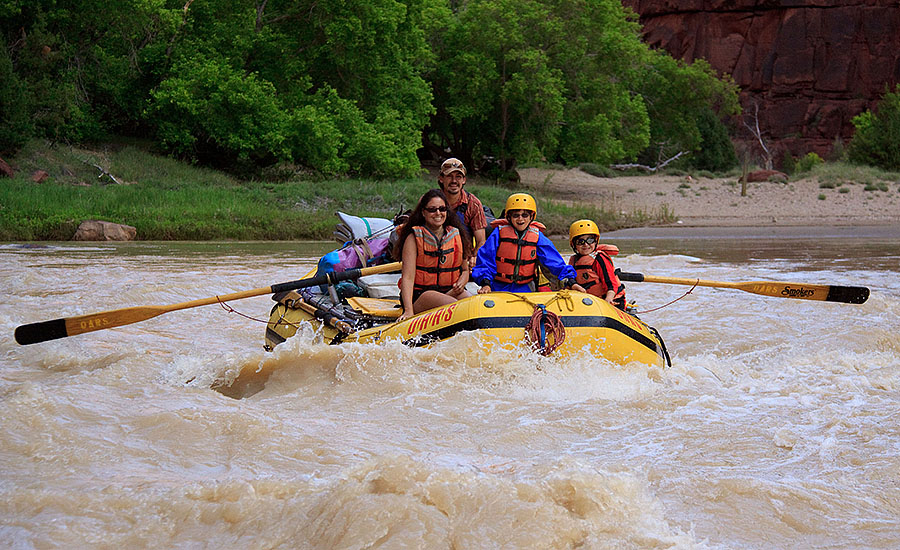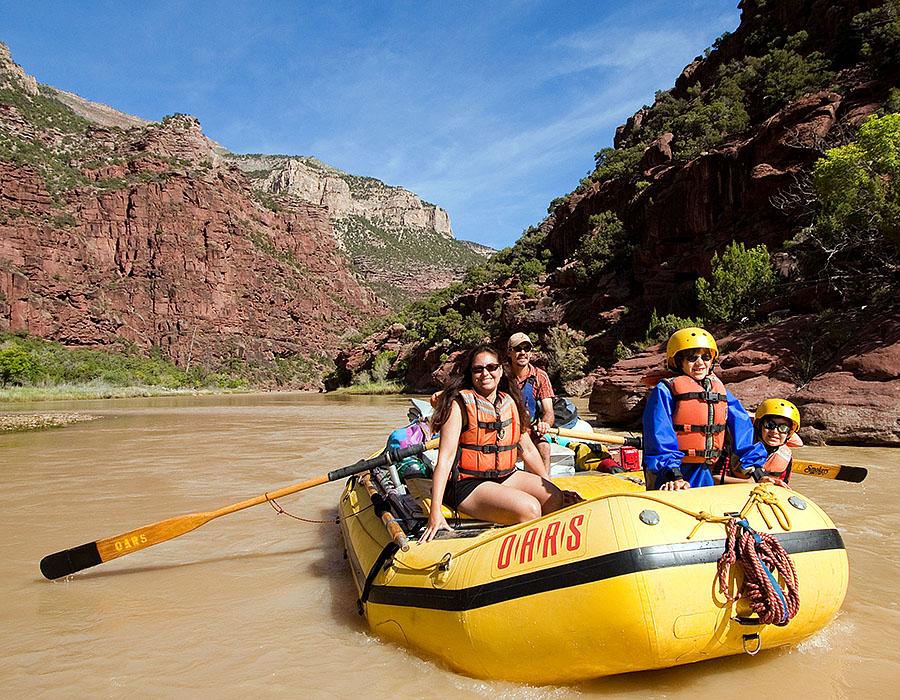 At mid-morning, we pulled into a sandbar for a short, but steep hike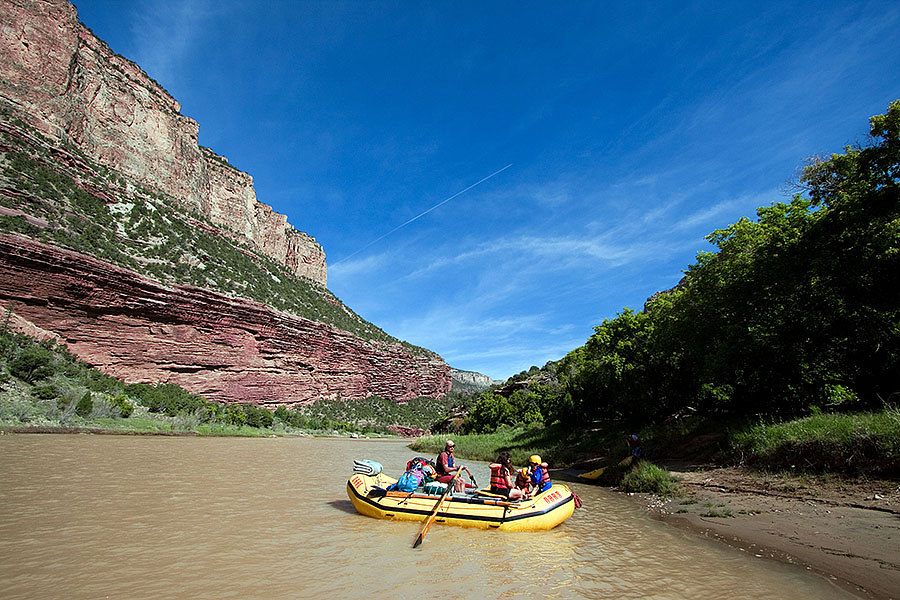 Yep, we were quite a bit above the Green River!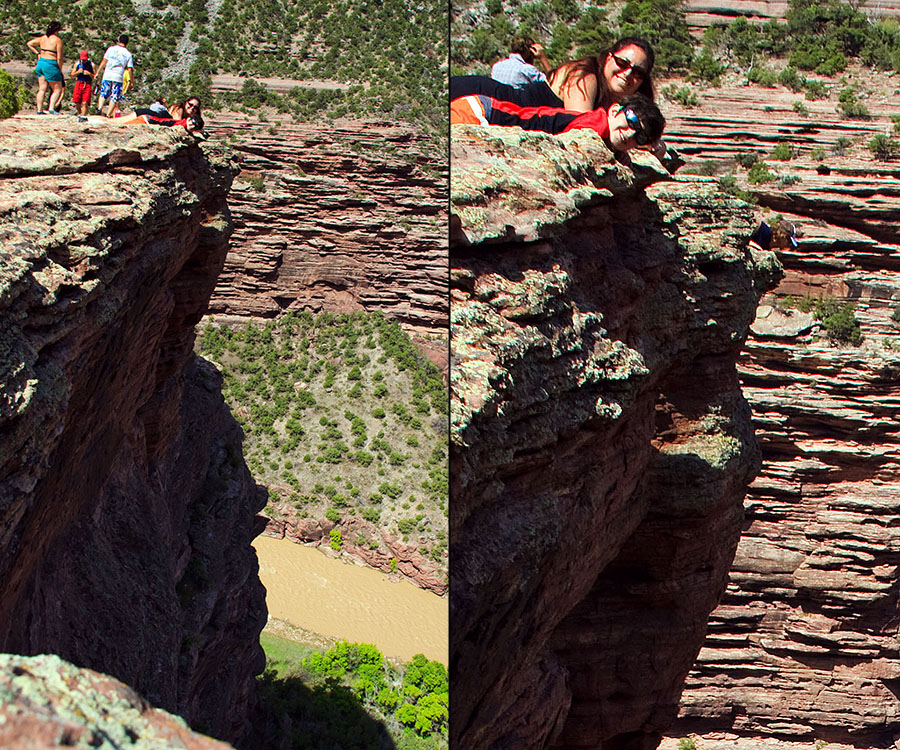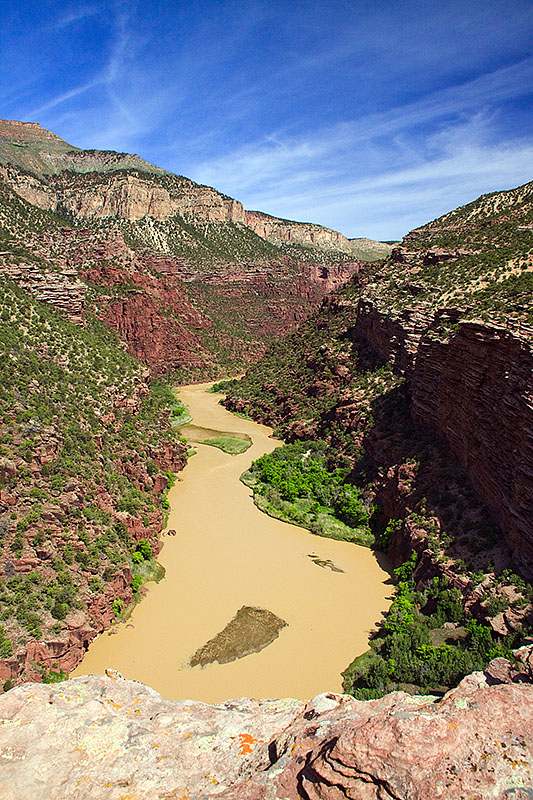 Dirk and Kyle as seen through a small natural arch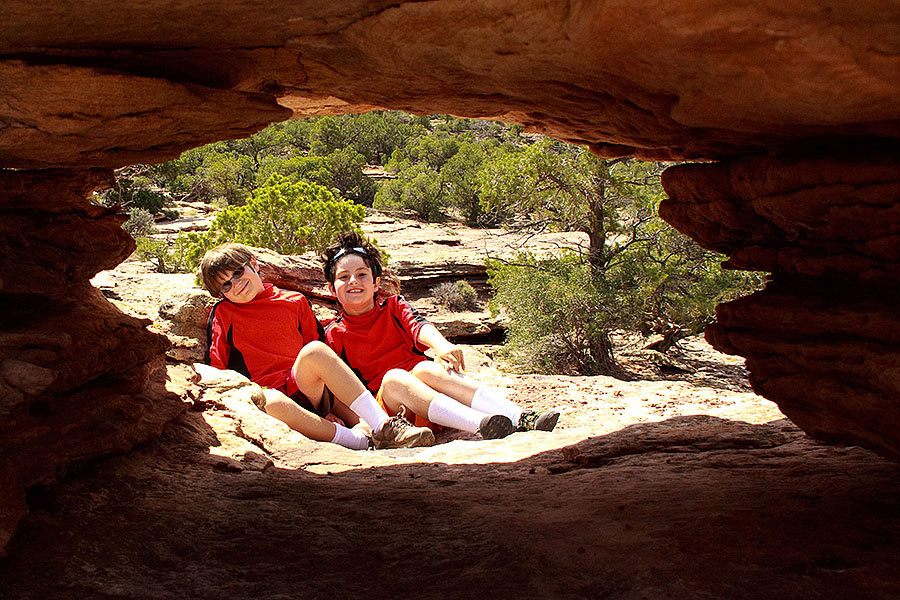 Back on the river - Kyle points out yet another cool looking rock formation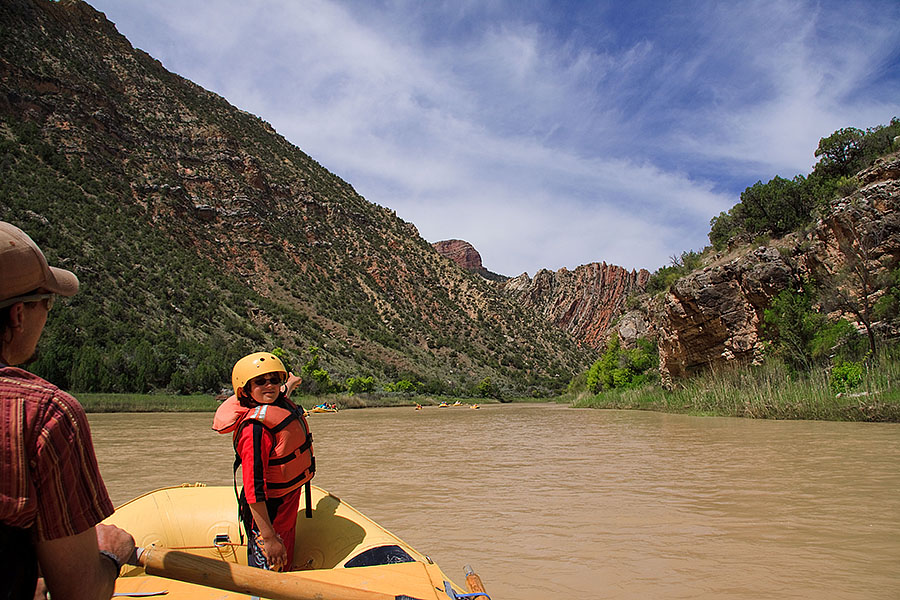 There was a nice eddy at the lunch spot, so Kyle and I took the tandem ducky out for a spin - overhead view here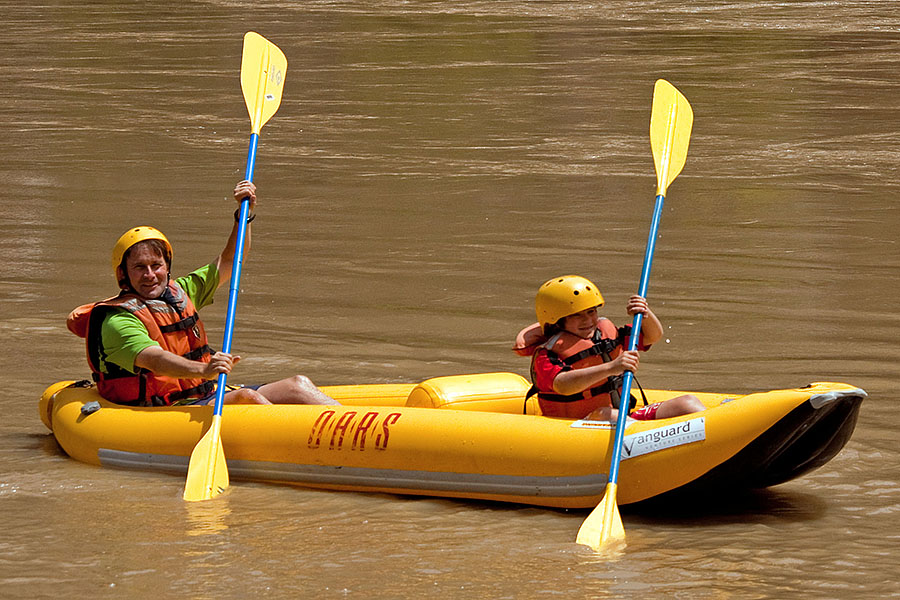 We did a couple of laps -
mouseover image to see closeup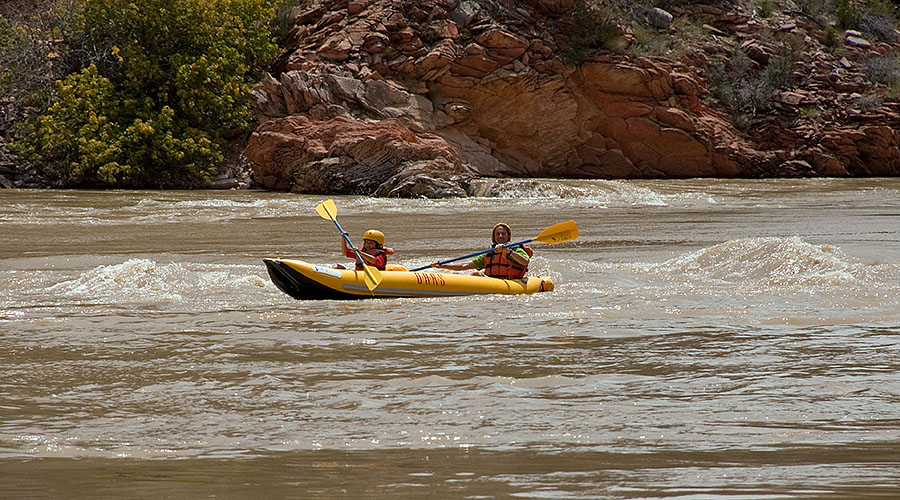 Taken with my ultra-wide lens while hanging out in front of the oar boat -
mouseover image to see a big wave!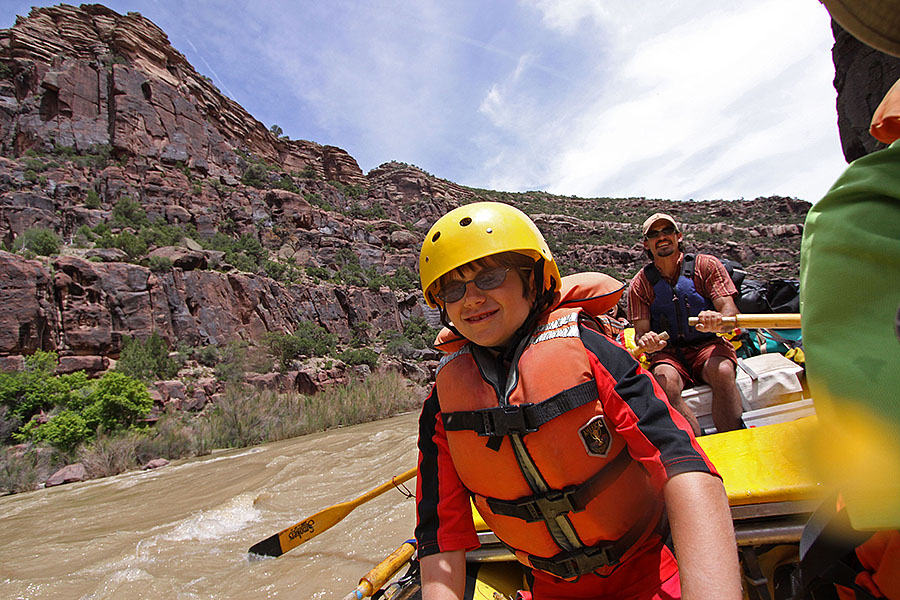 At the overnight stop, we hiked a few miles to a cool waterfall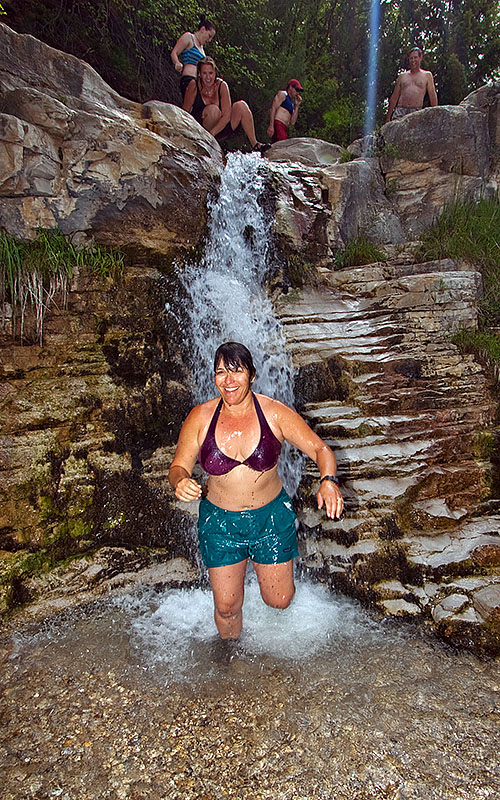 I'm not quite as glamorous ... ;-)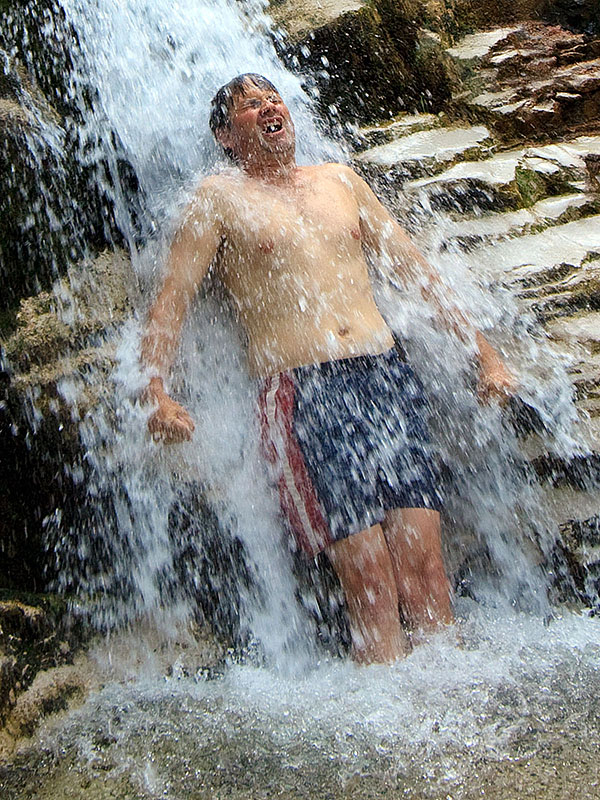 While we having fun at the waterfall, Bret was making some garlic bread for yet another gourmet dinner!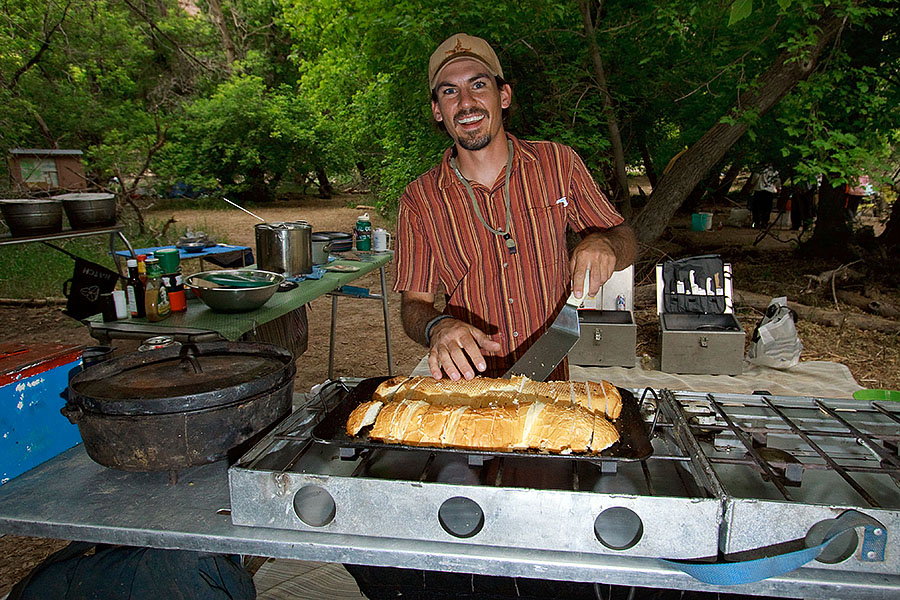 Seth made some awesome steaks -
mouseover image to see the Grillmaster in action!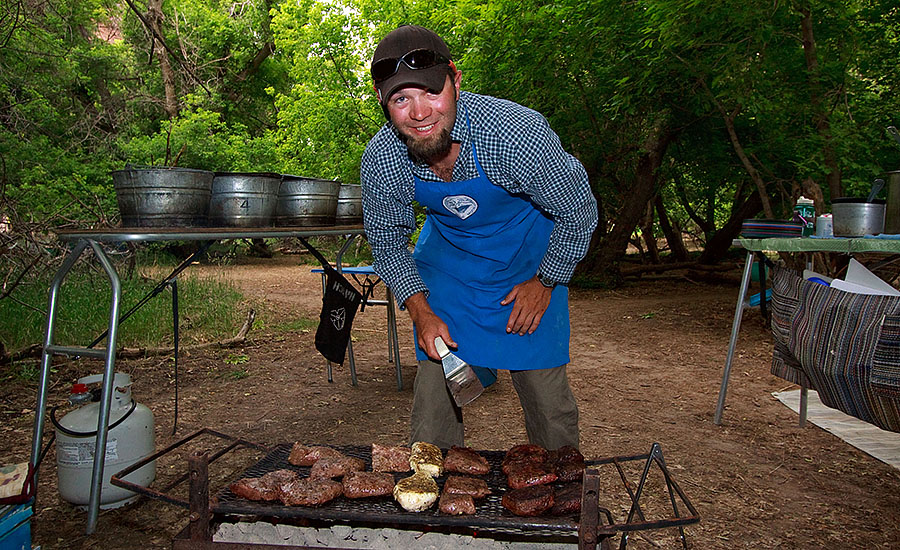 Very peaceful dinner venue by the Green River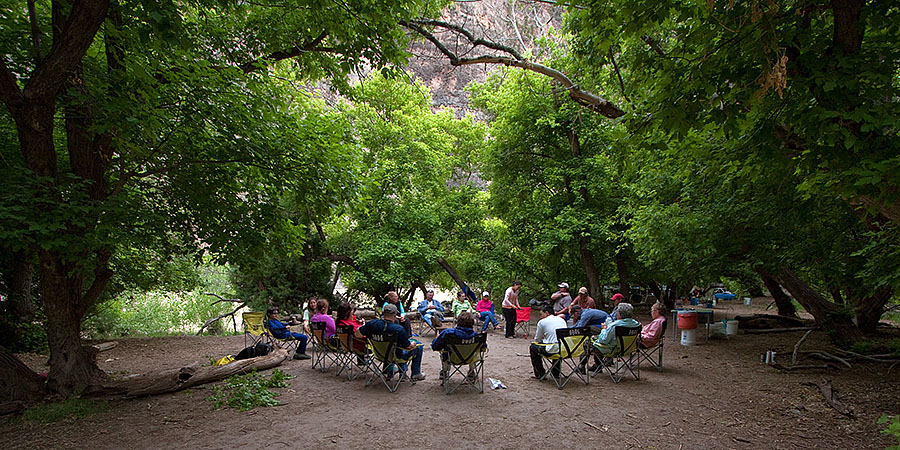 OARS guides provided impeccable service!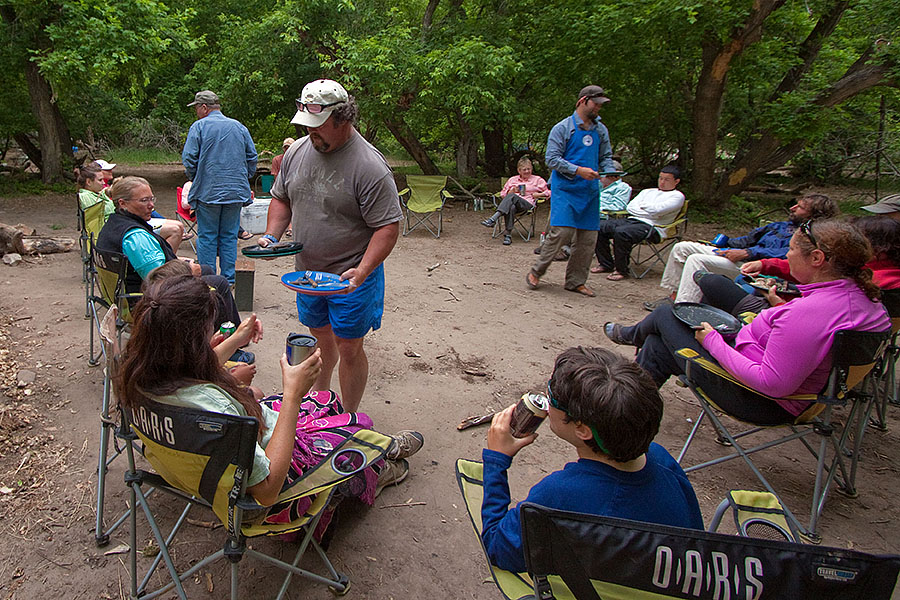 After dinner entertainment - Bret, Seth, and David finish off the shrimp cocktail in a speed eating contest!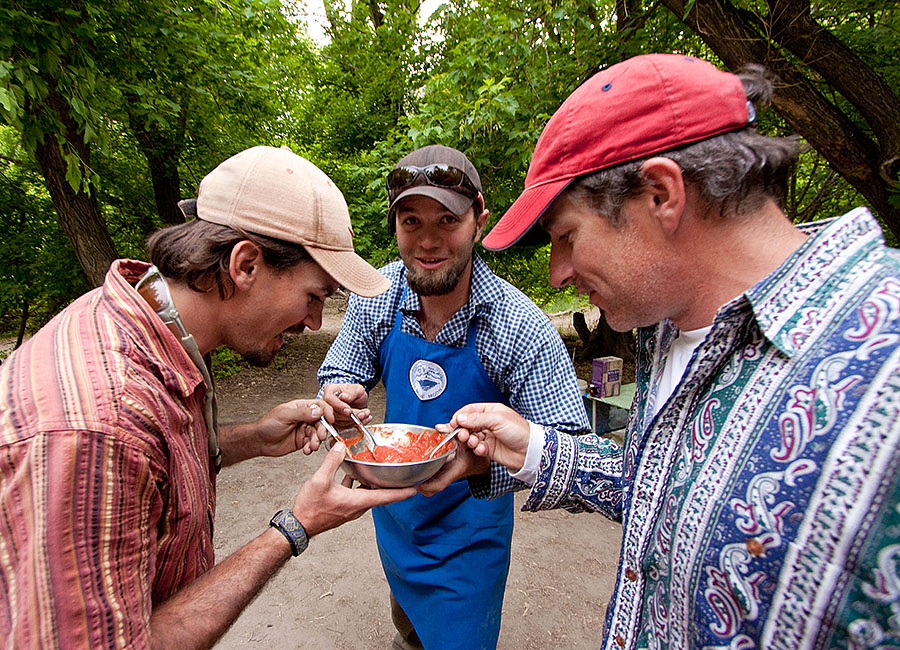 And in case you are wondering, here's where you did your business - was actually quite comfy and relaxing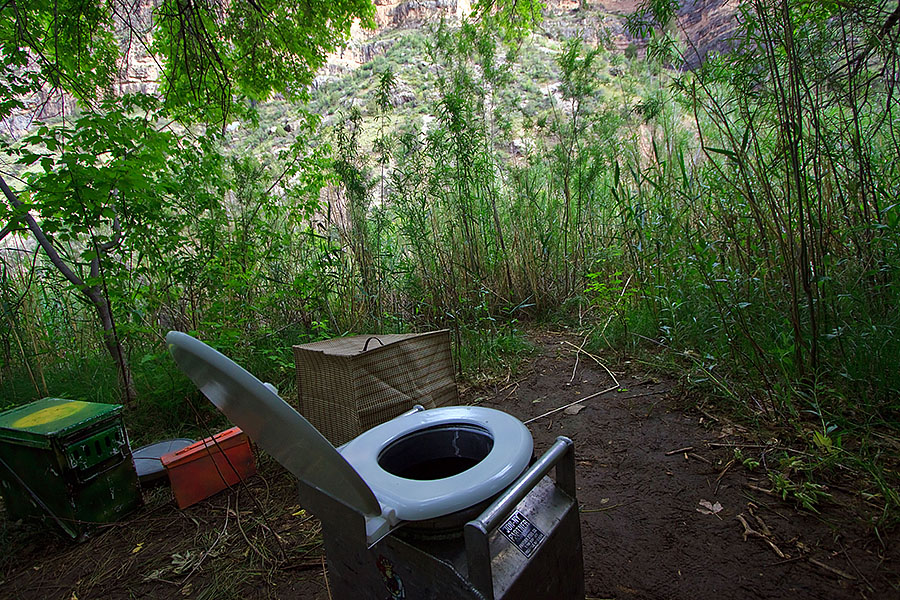 On the last day of river rafting, I had some fun taking some pictures from an unusual vantage point. Fellow traveler Tiffany (who had extensive rafting experience) agreed to paddle the tandem ducky inflatable - see picture above. She sat in the front facing downstream while I lay down in the back on my stomach, wedging my feet under the ducky divider. My arms hung off the rear end holding the camera about a foot above the water. My Canon 50D DSLR with an ultra-wide 10-22mm lens attached was in the waterproof
"Shake-n-Bake Bag"
along with a flash to provide some fill light.
I had, of course, asked the guides if they were OK with all this ... so I think they watched me closely while I was kayaking with Kyle to make sure I was comfortable in the water - safety is their top priority. So after getting a green light, I asked Bret (who was the guide in our oar boat that had my wife and kids in it) to follow the tandem ducky in the Rapids, coming as close as he was comfortable. Tiffany did an awesome job keeping the back of the kayak facing upstream as Bret did a great job sometimes closing to within five feet ... and less!
Wendy told me afterwards that everyone was just cracking up because here I was going backwards down the river, laying flat on my stomach with upper part of my body hanging out from behind the ducky about a foot above the water. And then we'd hit the rapids and while I felt semi-decently wedged in there, I would get bounced up & down all over the place. I might add that yes, I had no idea of what wave action we were about to hit (Tiffany would say "big waves coming") plus I was looking (via thick plastic) through a small camera viewfinder, so I was tunnel-visioned also.
Too bad nobody took a picture/video of the setup!
The resulting low/close angle results in pictures (see below) that are pretty wild ... how often do you see the bottom of an oar boat closing in on you as it gets tossed in the air above you by the rapids?!? And at one point, I even got dumped out of the Ducky, so I had fun couple minute ride through the rapids as I held on to the Shake-n-Bake bag (with the camera) until Tiffany and Bret were able to fish me out. One bummer is that it was a cloudy day, plus I was often shooting into the Sun, so it wasn't the best light by any means. But the fill flash helped ... along with big smiles on my family's faces! ;-)
Wendy, Kyle, and Dirk going down the Yampa River with OARS guide Bret Wojciak!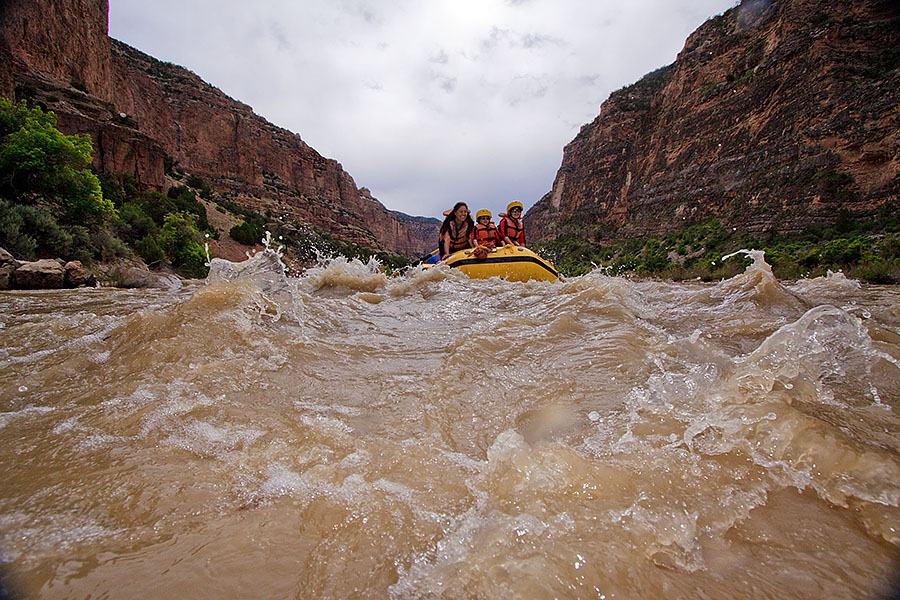 I asked Bret to try to get close for photos - he did a great job!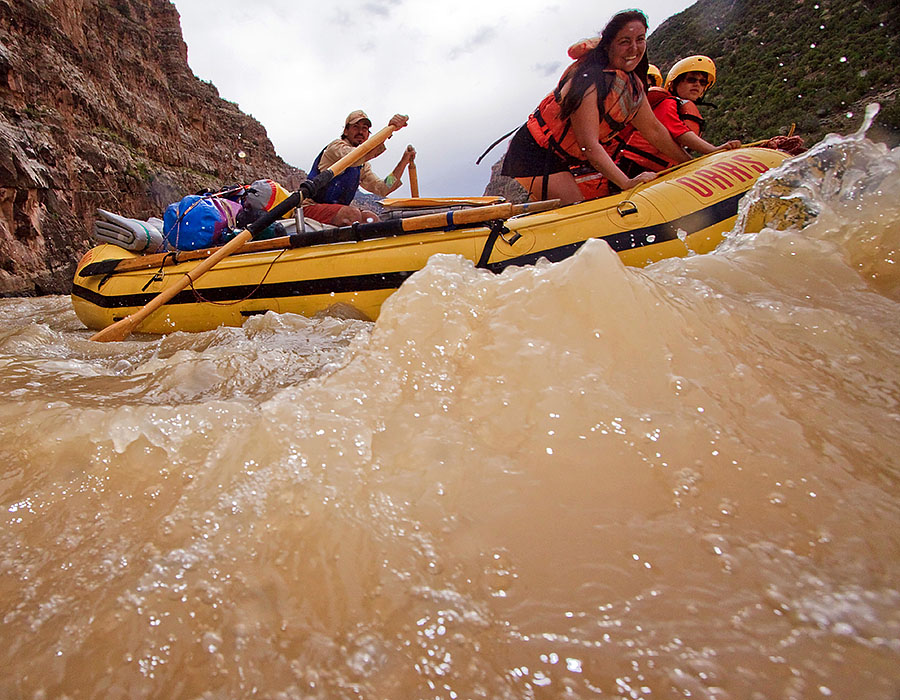 Since I was getting bounced around, the camera was often right at the water level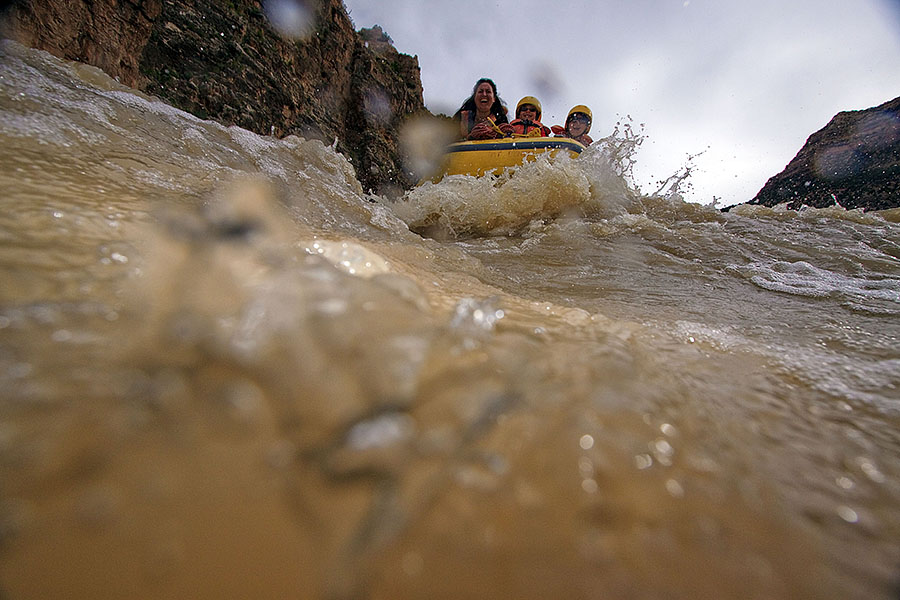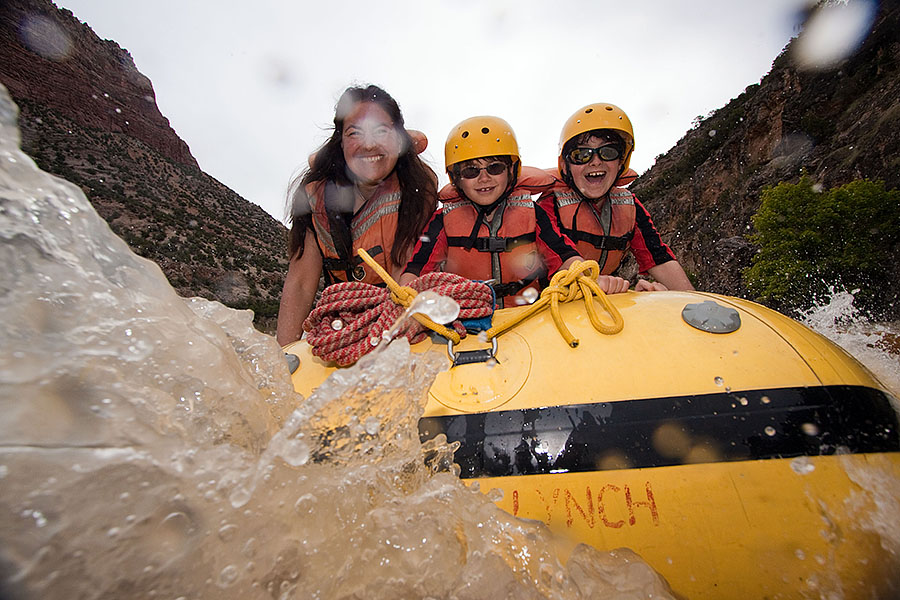 A second before I got tossed from the ducky into the Green River -
mouseover image to see even closer view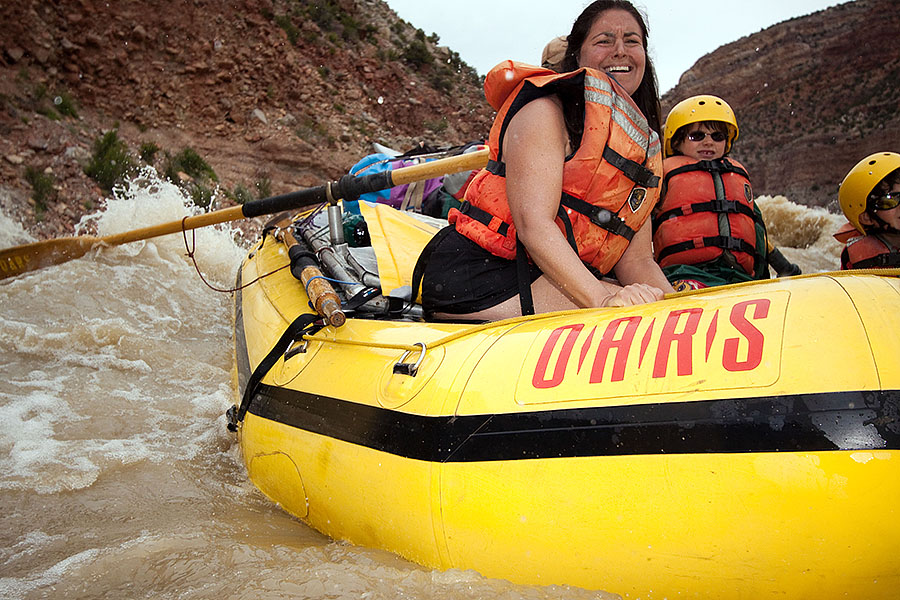 A combination of waves held up the ducky and pushed the Oar boat into it despite Bret's best efforts. He did a great job rotating the boat at the last second, but as we crested the next wave, our ducky rotated and got held up The last thing I remember as I looked through the camera viewfinder was seeing the front of the Oar Boat from above at about 30° pitch down and 45° roll angle and thinking I was going to fall into the Oar boat! However, I ended up falling into the Green River.
Fortunately, I held on to the "Shake-n-Bake" bag (which certainly passed the waterproof'ness test!) and after surfacing, rode out a decent-sized wave train into some mildly choppy water. At one point early on, I had a hand on the back of Bret's oar boat, but it slipped off. I was now a couple of dozen feet away, but slowly closed the distance even though I could only swim with one hand. I wasn't that concerned (I've been tossed into rapids before), but in hindsight, I should have given Bret a big thumbs up ... although Wendy said they could tell I was fine/calm because I held the "Shake-n-Bake" bag above the water.
I then realized that Dirk was in the ducky - apparently, he had gotten tossed out too, but only for a brief moment. They transferred him to the oar boat as I got closer, and then Tiffany paddled over and I handed her the camera bag, and climbed on board. And then it was back taking pictures (!) as the one below was shot six minutes after the one above. Note that Dirk is now in the BACK of the Oar Boat ... but he had a big smile as the waves continue!
Picture taken six minutes later after my fun little swim - Dirk (despite his short swim) is now in the back ... smiling!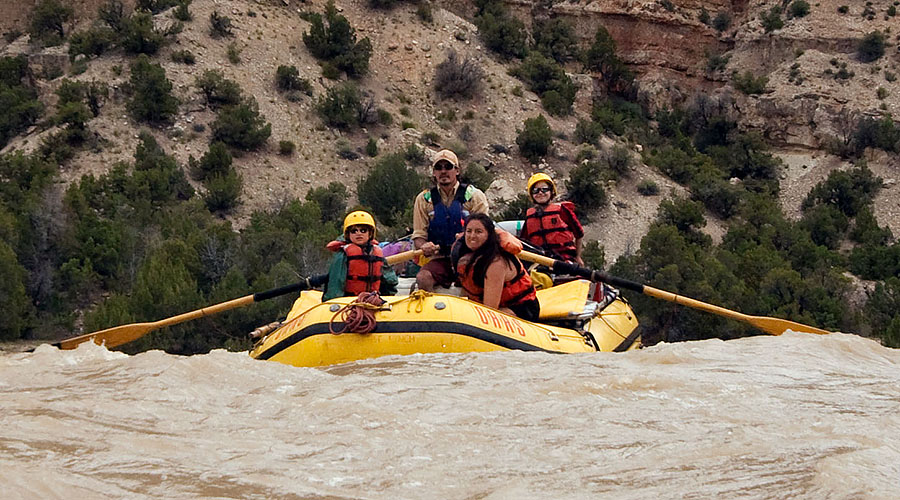 And then it was time to get wet again! ;-)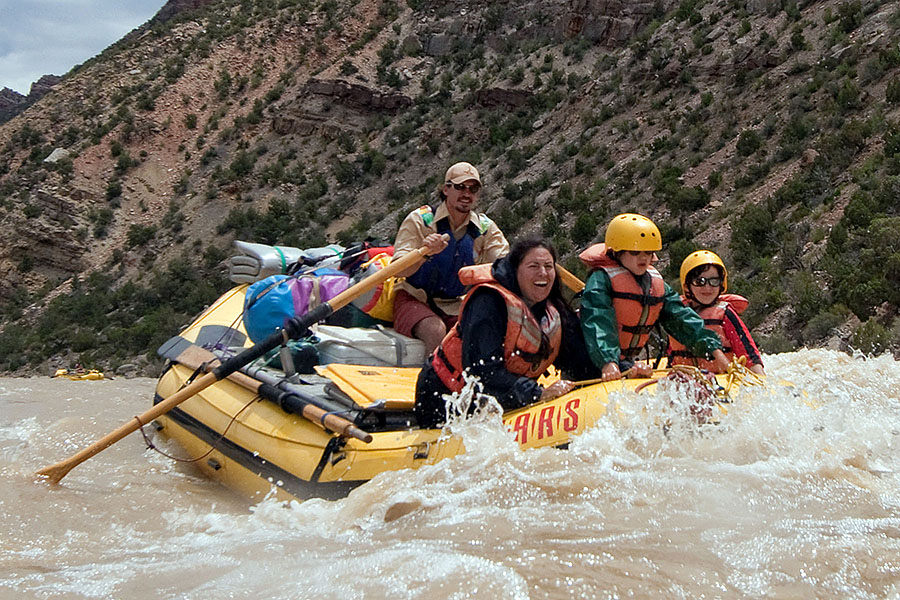 Tiffany was a great "ducky driver"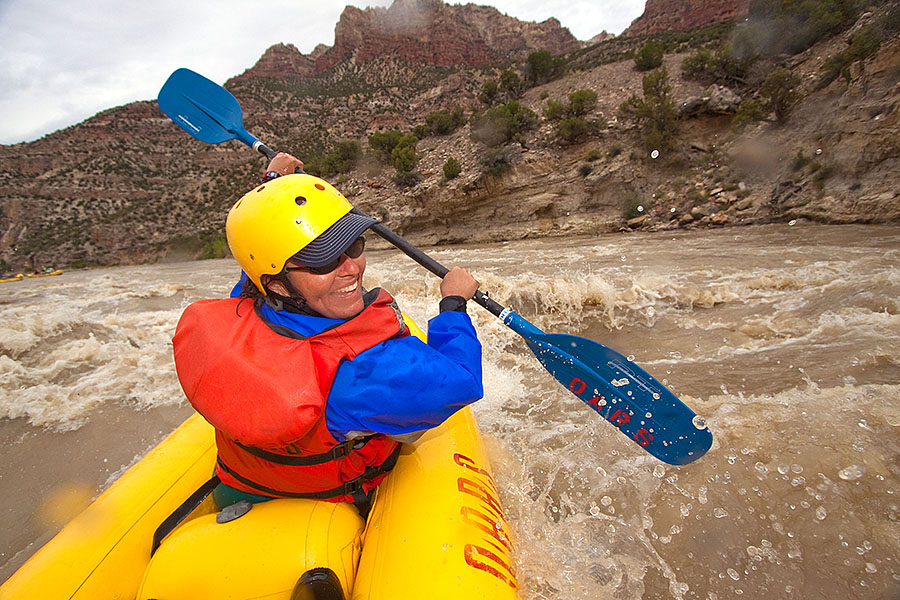 Brendan in the other ducky - he also went swimming so I ended up on the other hand of that "rescue" pulling him out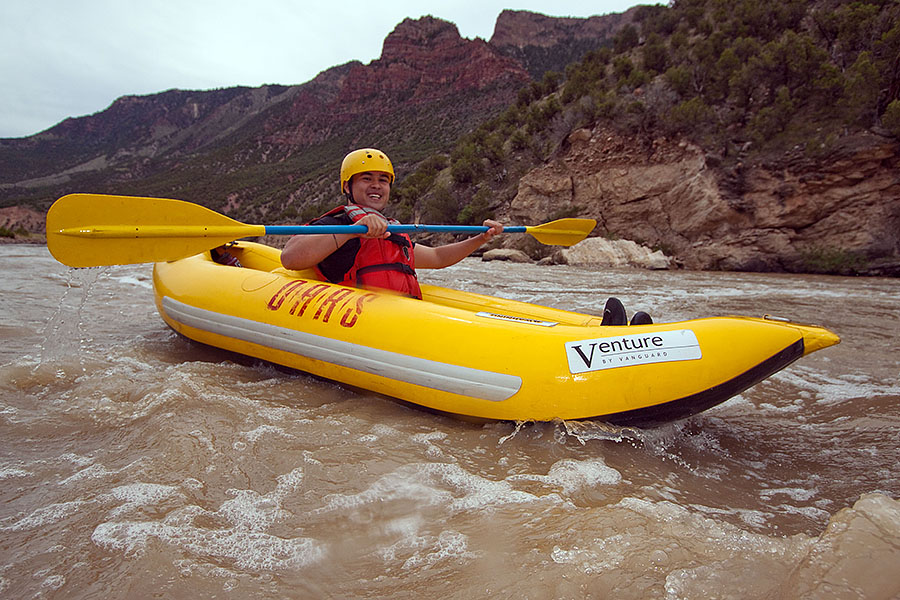 Kyle notices that they are on a collision course with a big rapid ...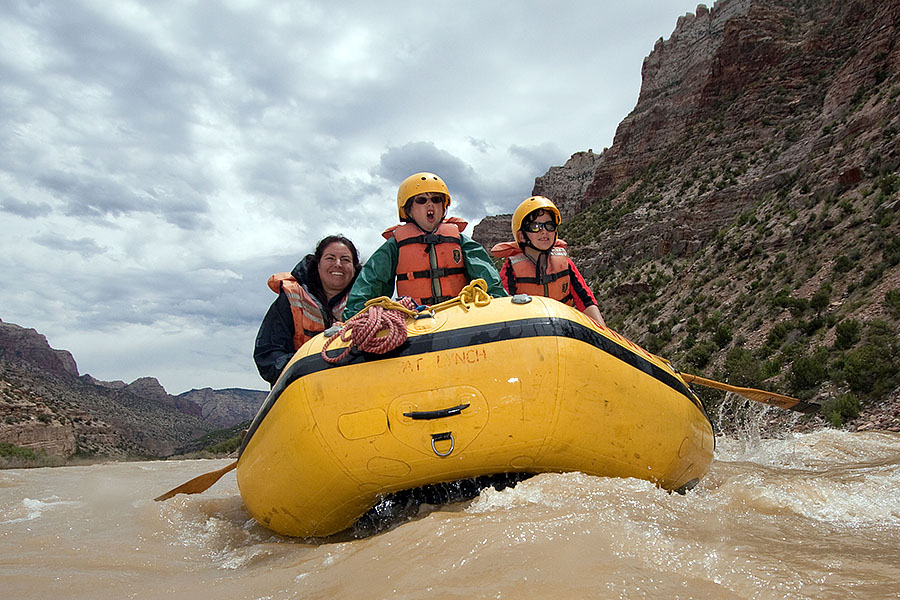 ... and the Oar Boat goes airborne in the big wave ...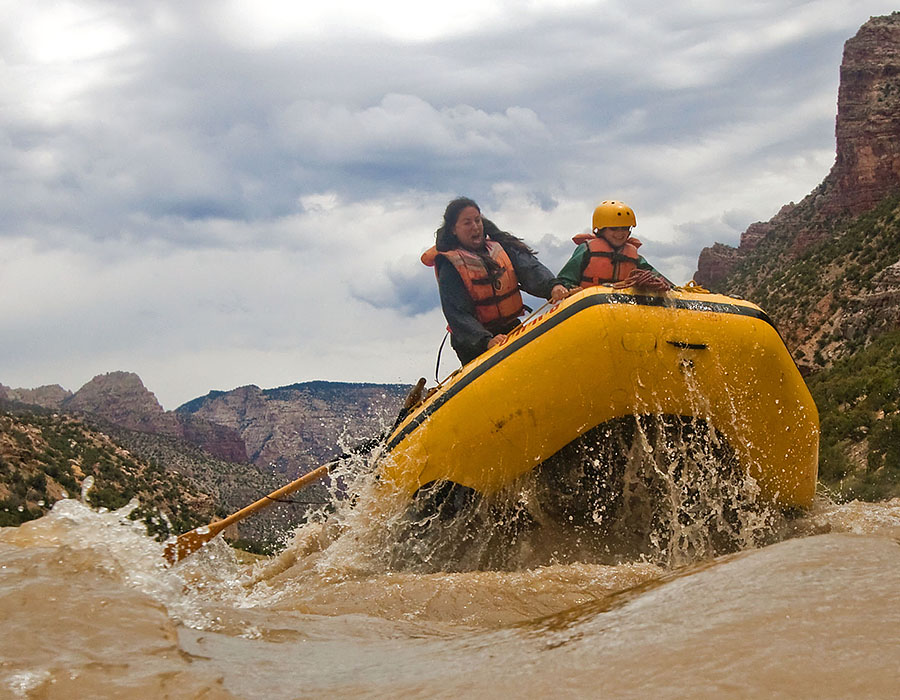 ... and then comes crashing down!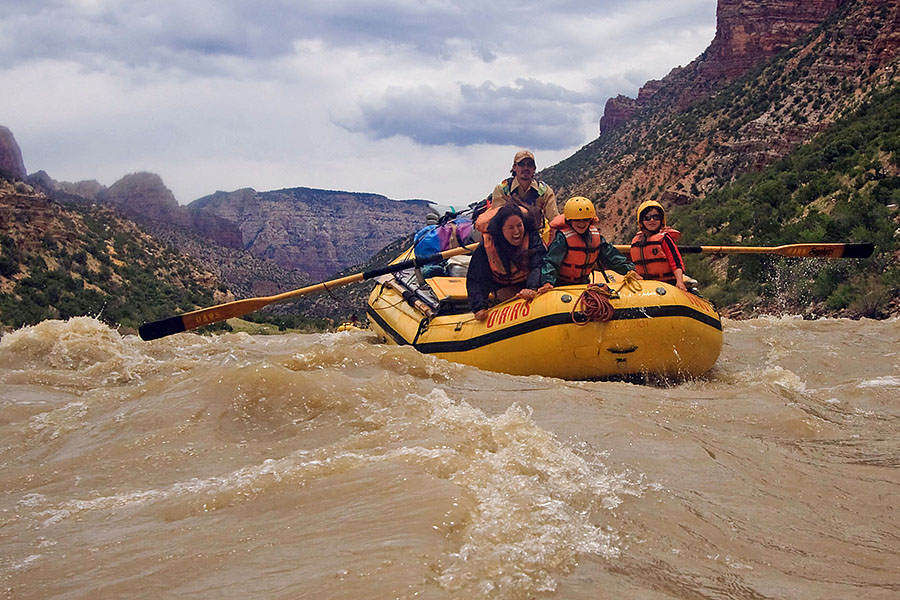 Bret kept a steady hand on the oars throughout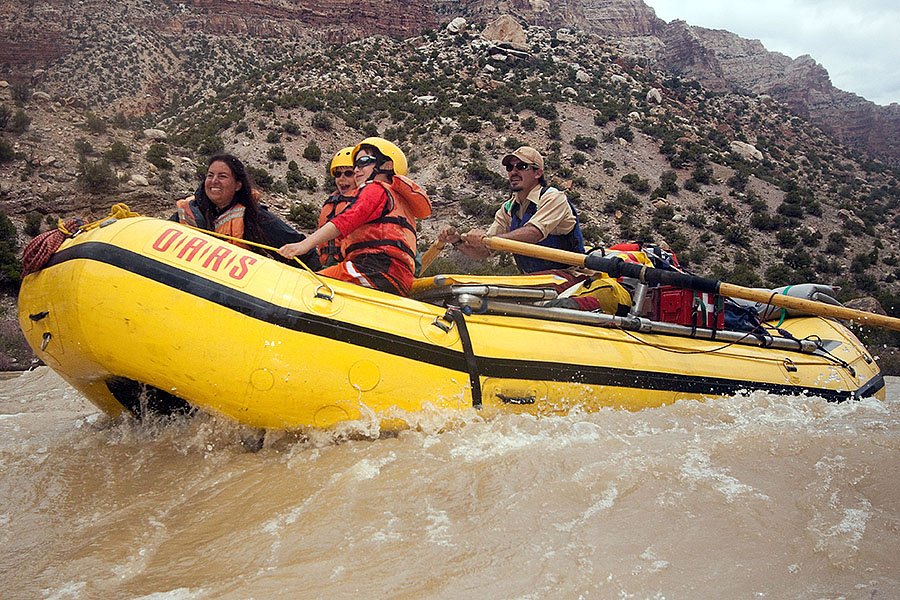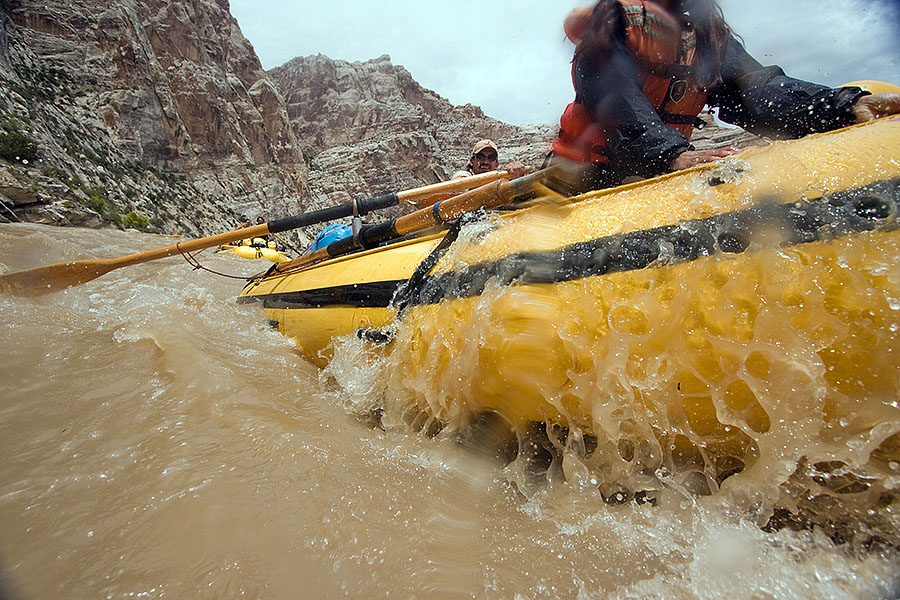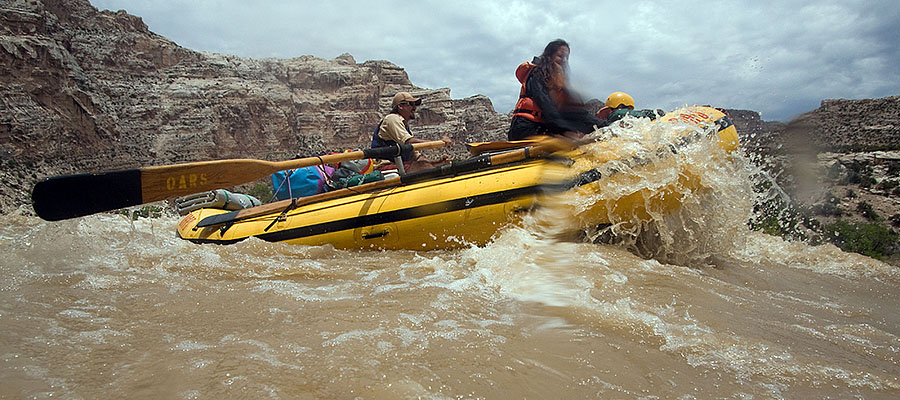 The OARS guides break down the boats at the take-out point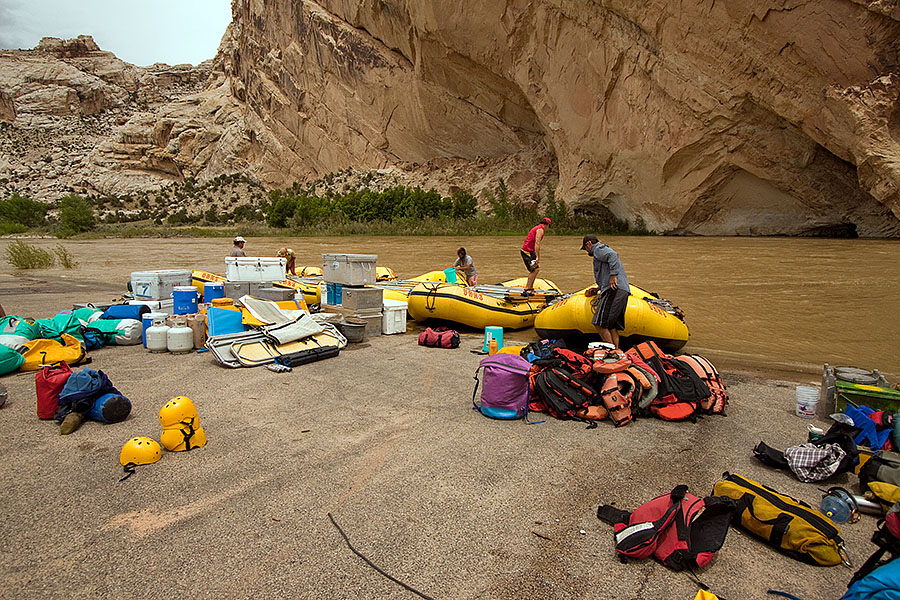 Bret and David in the back row with Steve, Jay, and Seth - great guides - awesome trip!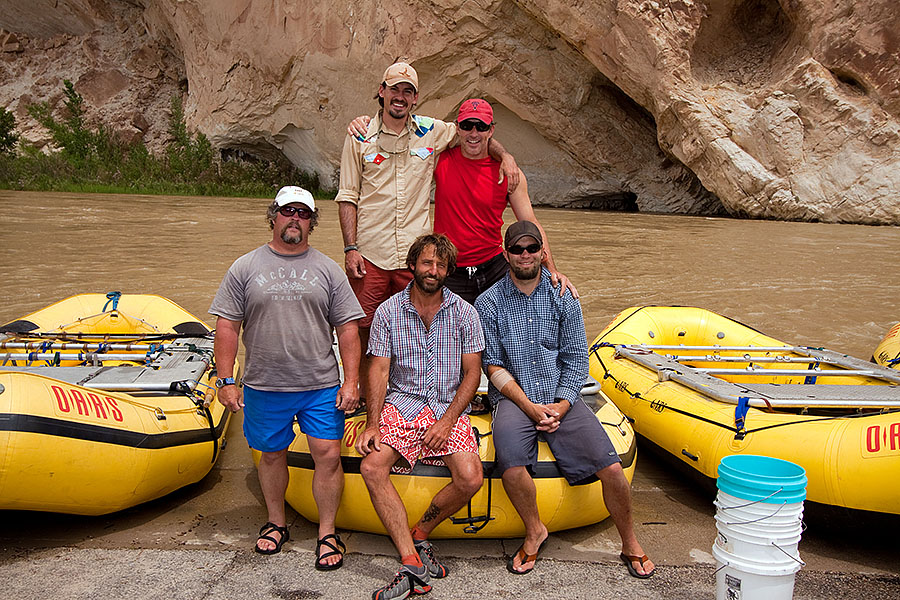 Even more rafting pictures from
Day 1
-
Day 2
-
Day 3
-
Day 4
... and a nifty
action sequence
plus
Night Rafting pictures.
P.S. I didn't have a waterproof point-n-shoot camera for this trip, but I did take one video with my Canon SD800IS inside a ziplock bag ... so it's a bit fuzzy. But pretty entertaining as I interview Dirk and Kyle as we are about to run Disaster Falls! BTW, the reference to Lava Falls is because they have watched the OARS IMAX Movie where that is the big water in the Grand Canyon - we hope to do that trip on my wife's 50th birthday! ;-)


PPS. I chatted with Bret, our excellent guide, as he prepared eggs for breakfast the last morning) and here's a blow-by-blow of our trip as transcribed from that discussion. We launched into the Green River at the Gates of Lodore, had lunch at Winnie's Grotto (which incidentally was written on my life vest), made it through Disaster Falls, and then camped the first night at PotCreek #1 after rafting about 8 miles. After waking up on day 2, we went through Triplet Falls and Hell's Half Mile, and camped at Rippling Brook #1 after another 6 miles on the water. While there, we did a hike up to a waterfall plus lots of horseshoes and "washer games" on the nice sandy beach. On Day 3, we stopped at Limestone Campground and hiked to that scenic overlook and then continued (total distance about 13 miles) to camp at Jones Hole #2 where we hiked up to Jones Creek and "Butt" Falls. On our final day, we floated through Island Park and Rainbow Park, and then had lunch at Split Mountain where Kyle and I had fun running the ducky through an eddy. We ended our trip at the Split Mountain put-out for a total of 54 miles on our 4 day trip.
Three months later I did the Green River again - the whole way in a Ducky - one scary looking "River Rat" ;-)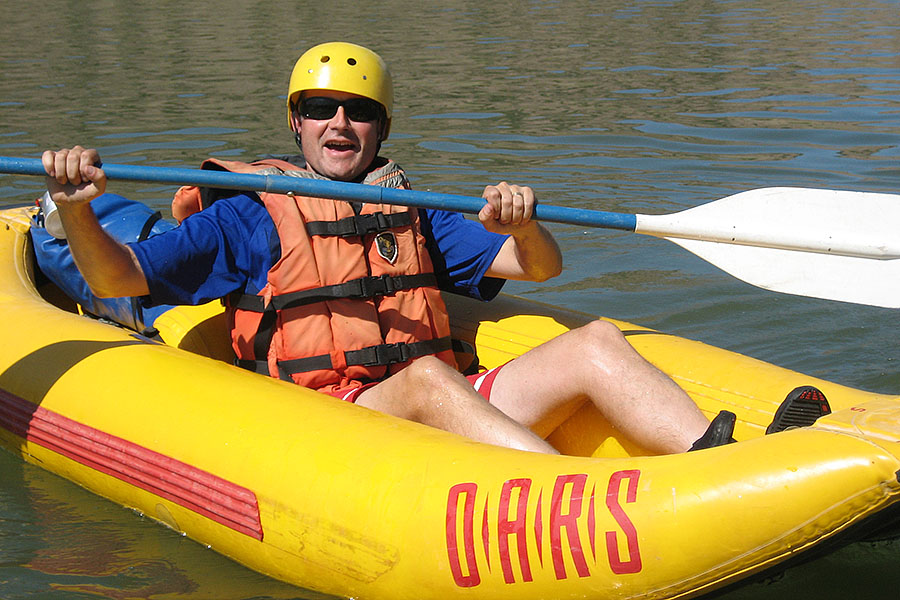 James was with me in the Double Ducky the morning we played football as we rafted down the Green River