Basement Carpet - finally!
After finishing the basement flooring I was ready to rollout the basement carpet (and pad) and I was finally just about done with the crawl space project.

For the last 3 years, I've collected some leftover/throwaway carpet (and pad) and had The Incredible Hulk stand guard over it. Ironically, my neighbor DaveM just re-did their living room, so I got some giant pieces of carpet and pad and ended up with way more than I needed. The first weekend of May was cold and rainy/snowy, so I was able to put about 10 hours into this and it goes fairly quickly. I tossed a bunch of the carpet and pad up into the crawl space. The pad is easily trimmed with scissors and a staple gun is used to anchor it - just want to make sure it doesn't move as I overlay the basement carpet. The monster piece of carpet measures 14' by 18' - this was a bear to move and get positioned, but it sure filled up a big chunk of the crawlspace and reduced the amount of fill-in required. I used a box cutter knife (cut from the back side) to trim the carpet. I decided not to use a knee kicker or power puller to stretch it but instead pounded in some 1/2" by 1" "nails" to anchor the carpet and then pulled it by hand, hammering in nails every 5' or so. Seems to work just fine with no bunching. It was kinda like a giant puzzle after that as I would lay out the remaining pieces to see which fit best and then filled in the gaps. I trimmed the touching pieces as best as possible and used duct tape on the bottom and those nails to make 'em match up semi-decently ... you may want to use a glue gun for the no-seam look.

Next up: start moving my basement junk into the now carpetted crawl space!
Hulk guards the basement carpet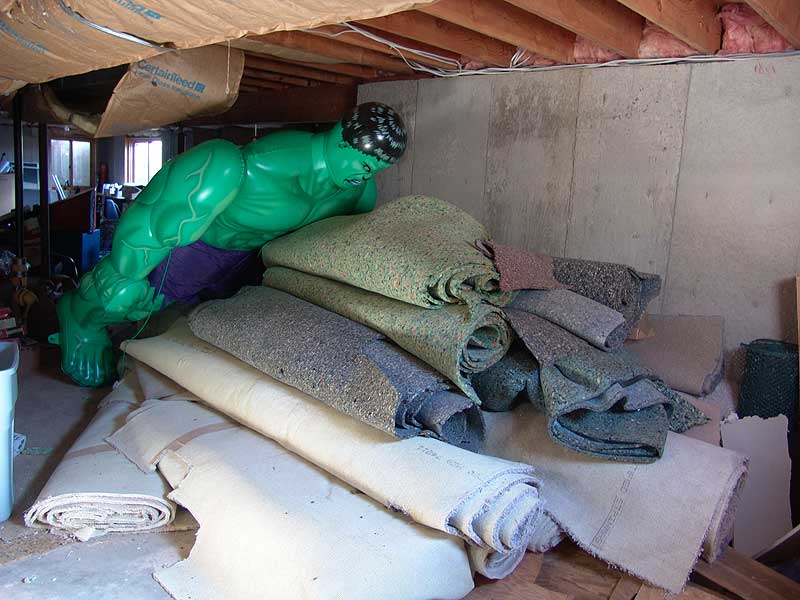 Some (!) of the carpet and pad tossed into the crawl space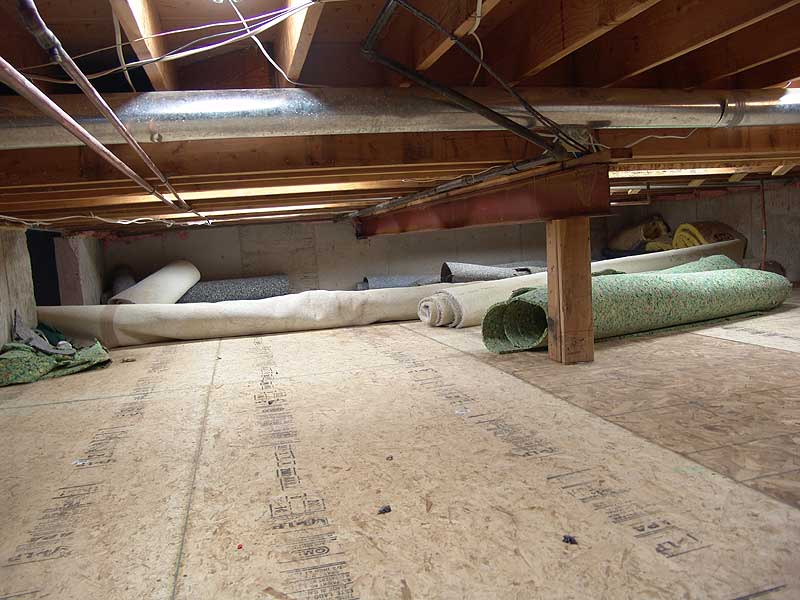 View from the South cut-out ... hard work getting it up there!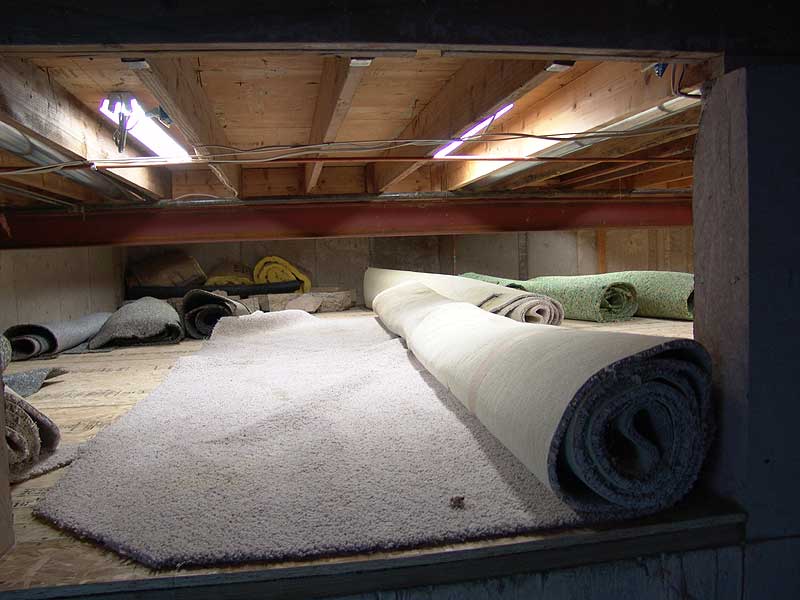 Putting down the pad among all the carpet rolls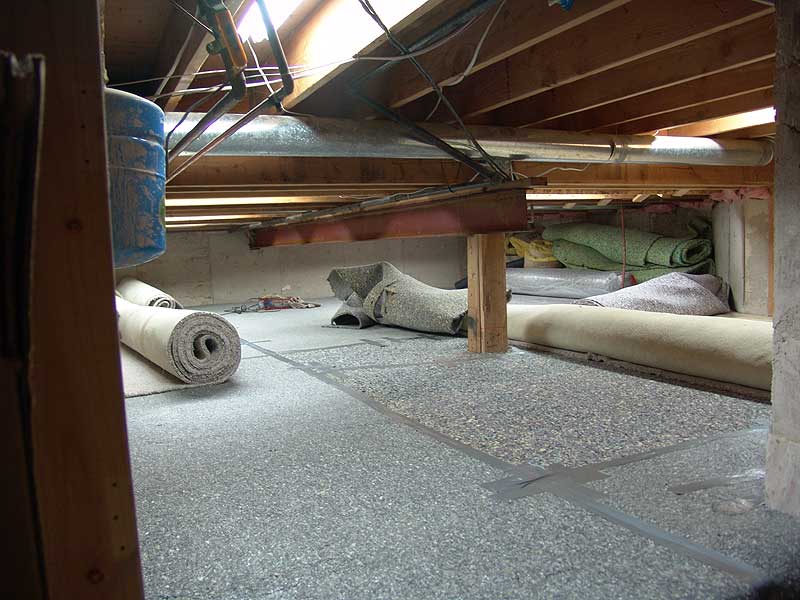 Dirk-n-Kyle help me roll out the carpet pad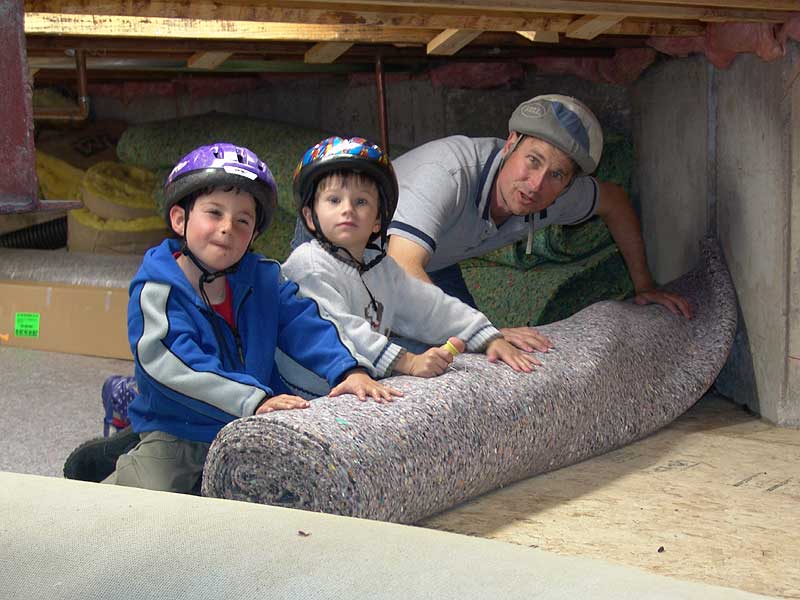 Now I gotta roll out this monster 14'x18' piece of carpet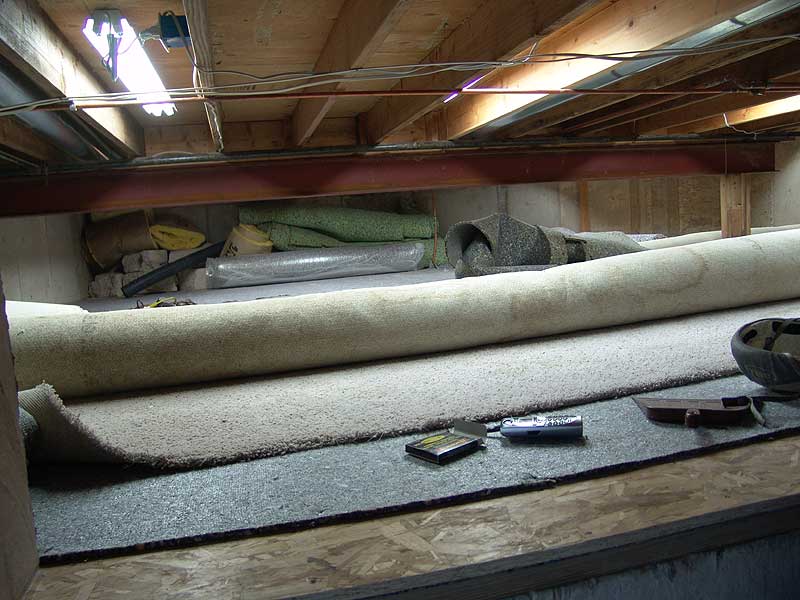 Fortunately I have some helpers ...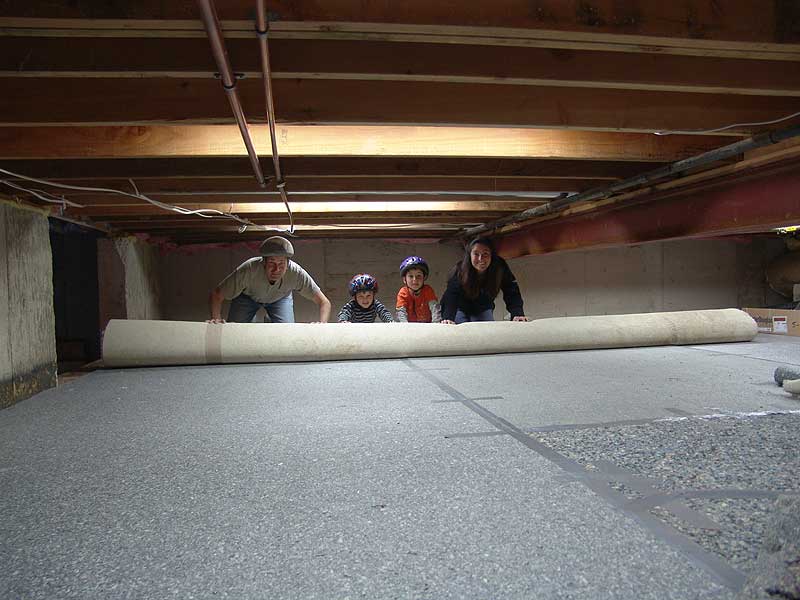 Wendy goes without helmet - doesn't want to mess up her hair! ;-)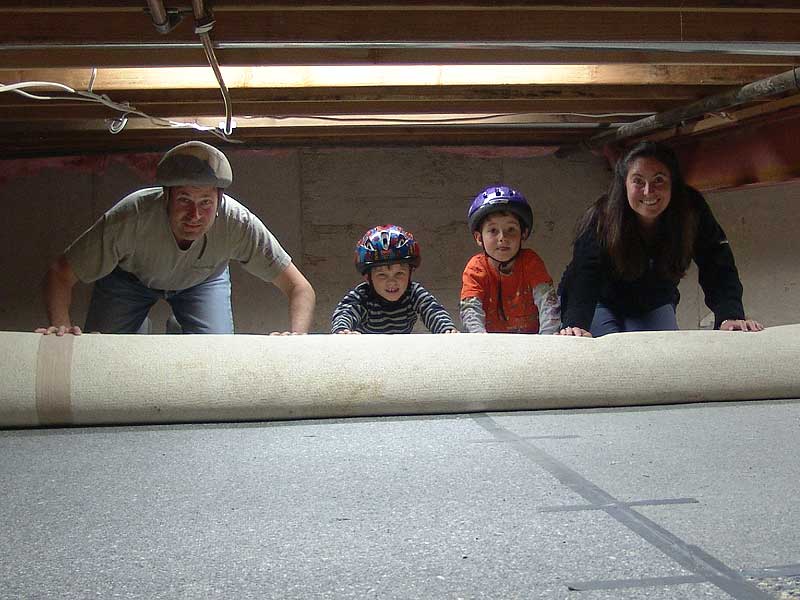 But Kyle first has to check out the carpet roll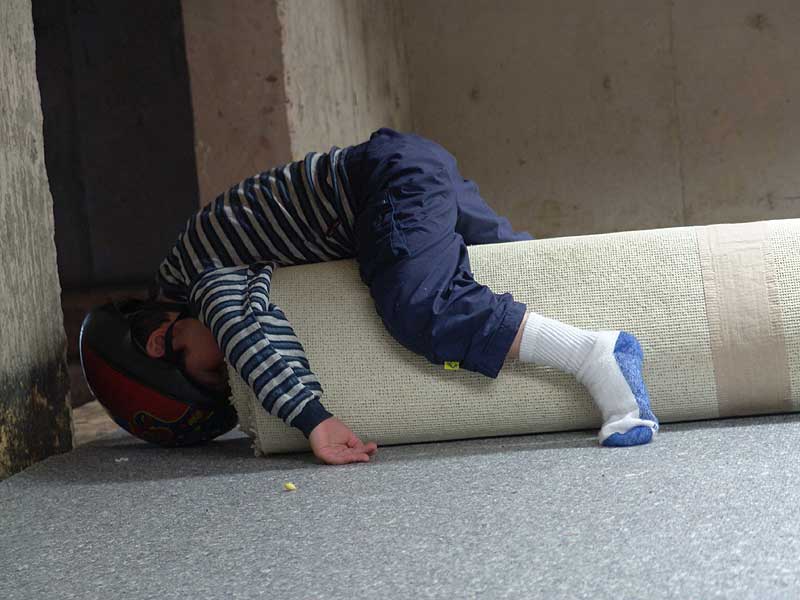 Couldn't decide which picture was cuter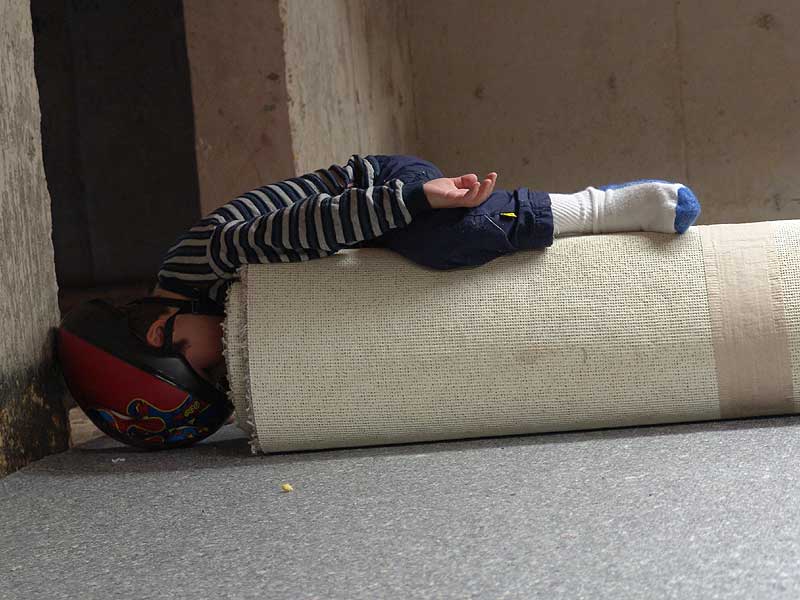 He's actually "talking" to Dirk on the other end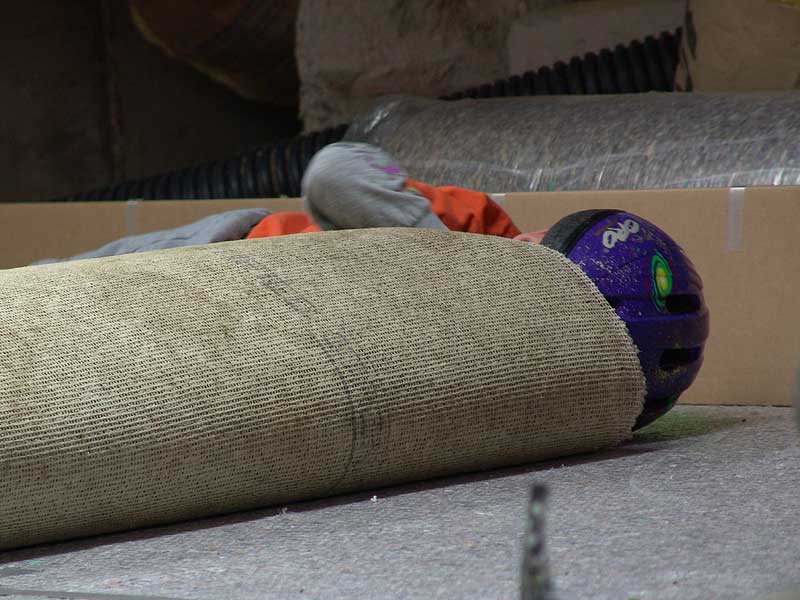 ALL DONE - looking to the North through the concrete cut-out - note extra pad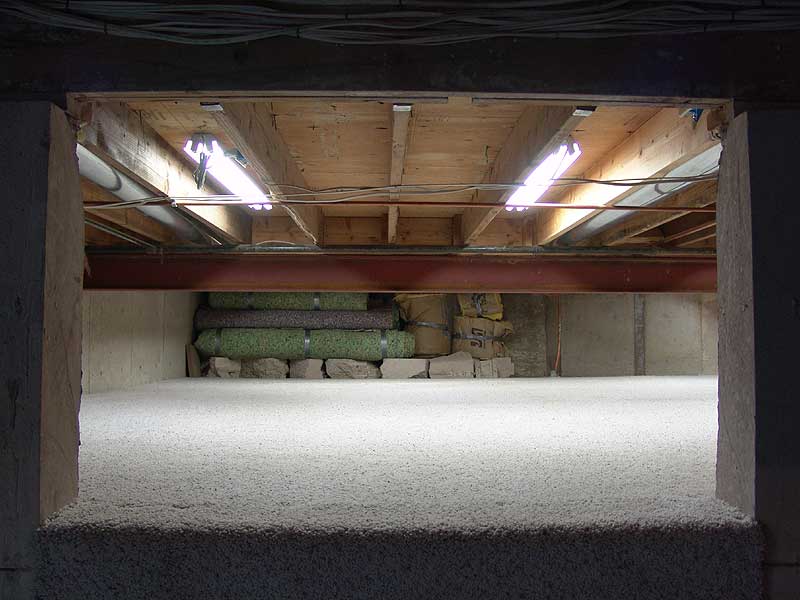 Basement Carpet view from the pre-existing cut-out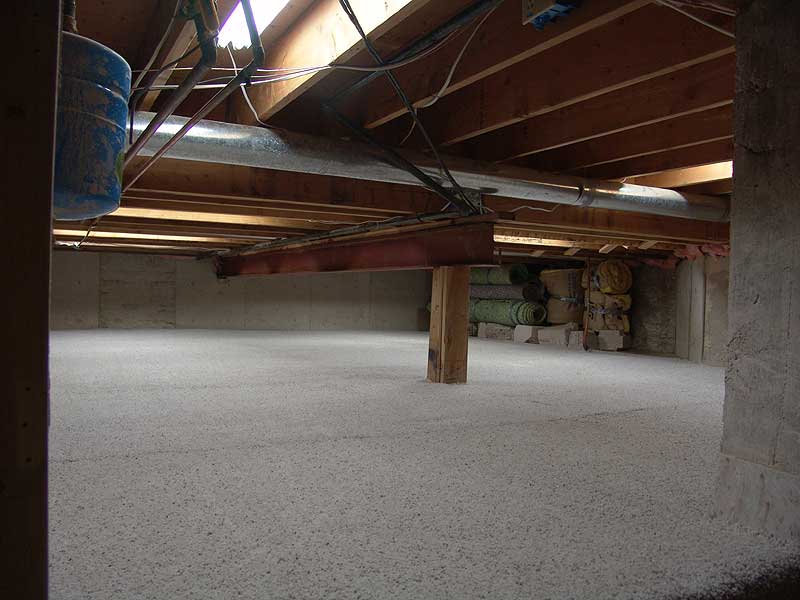 Looks pretty pristine ...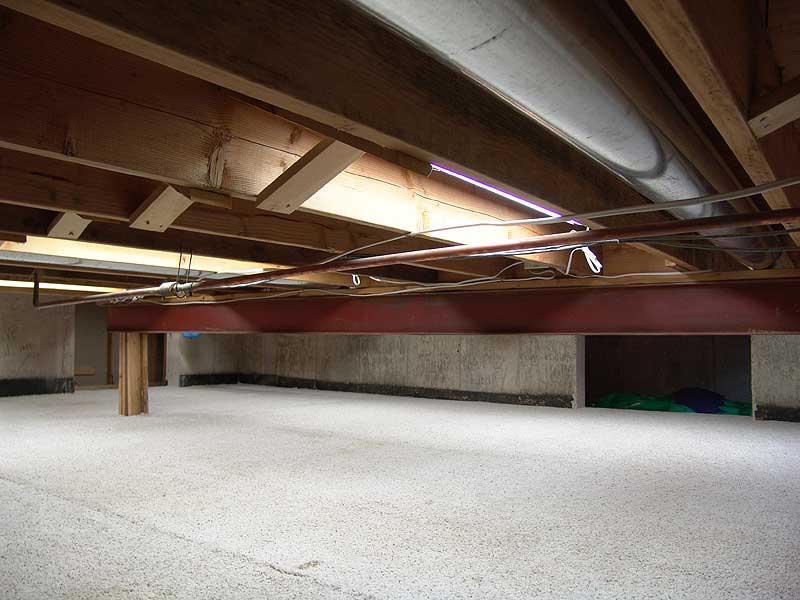 In fact, the boys decided they wanted to have a sleepover down there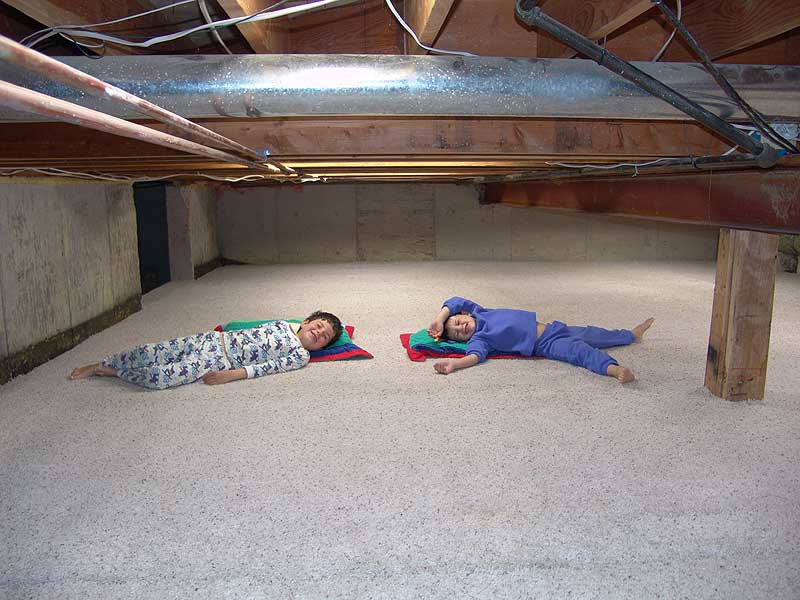 Kyle decides that Dirk is a better pillow ...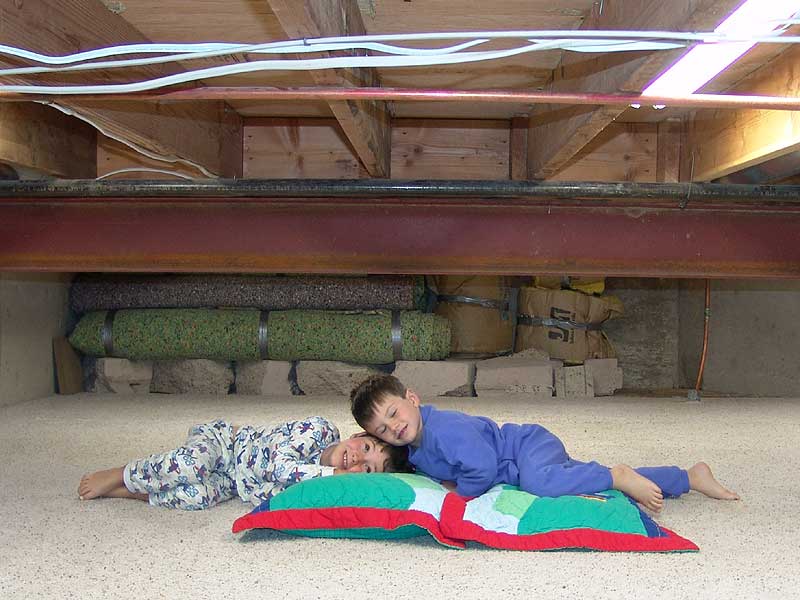 All this junk is heading in there shortly!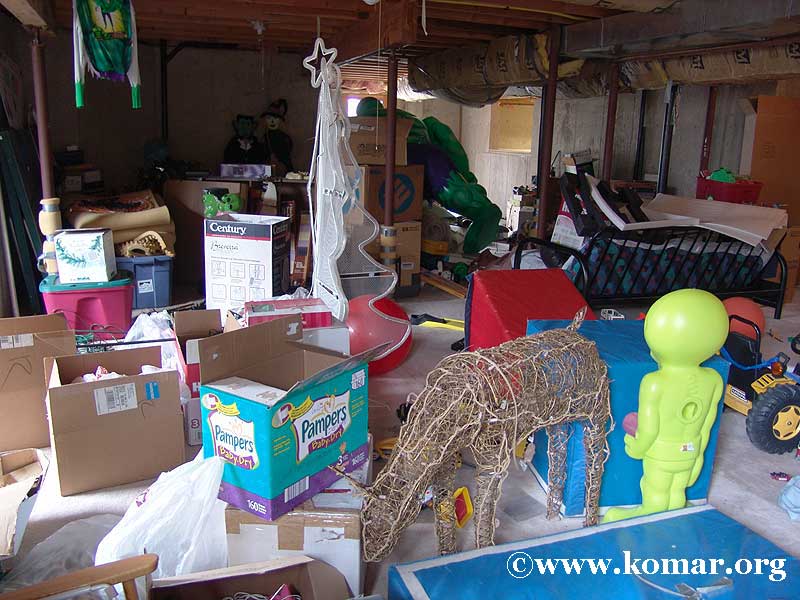 ©2005 www.komar.org - Alek Komarnitsky