Our trip to Africa started on May 28th, 2010 with this South African Airways A340-300 at JFK
We were in seats 74/75HK ... wayyy in the back, but fortunate to have a window/aisle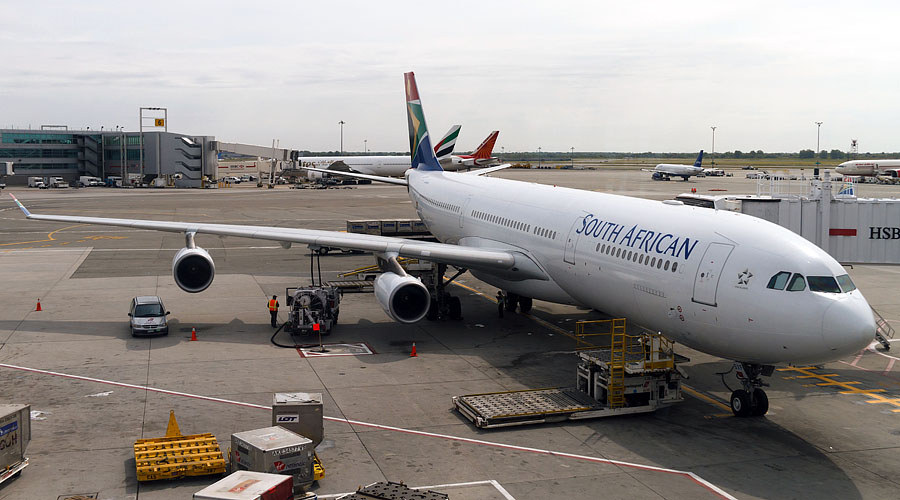 The in-flight entertainment system kept our kids entertained ... plus tracks our progress - it's a longgg flight!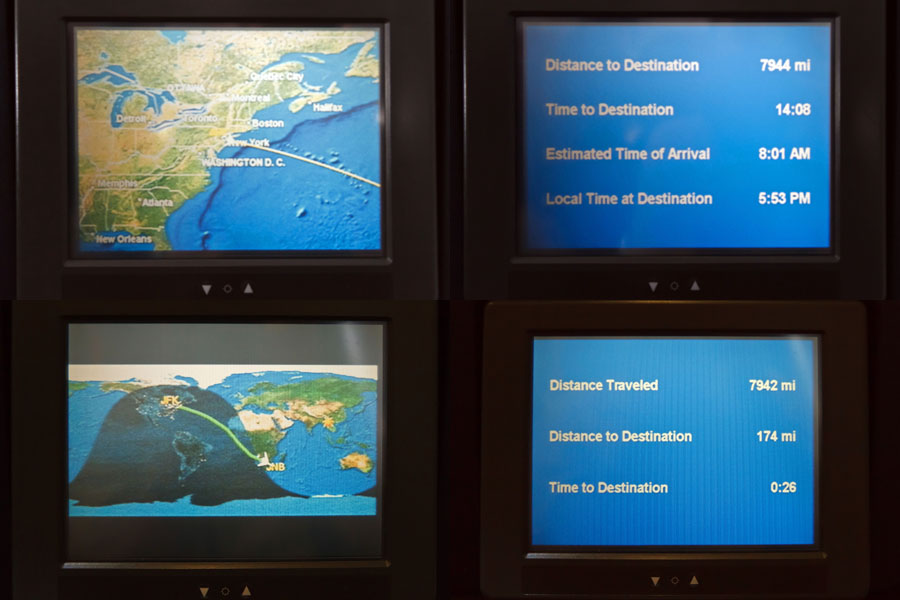 Johannesburg Airport was decked out for the World Cup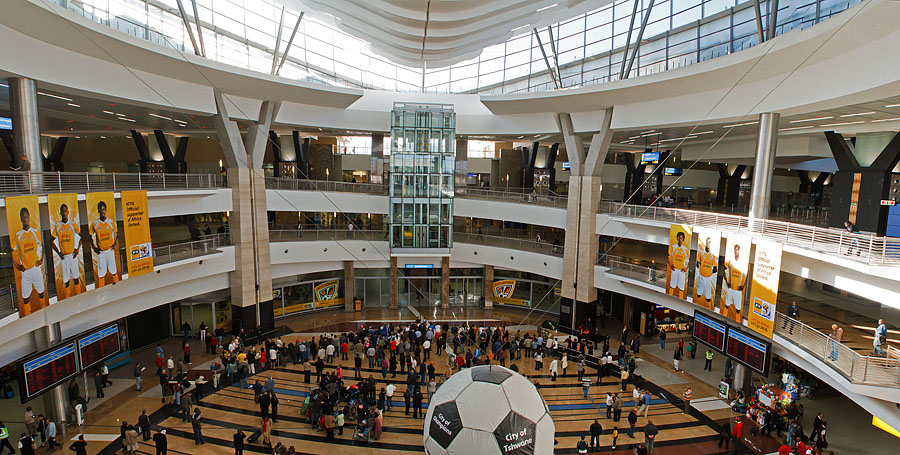 We were a bit jet-lagged, but still had another flight to do ... but just a short charter from JNB to Tswalu
Tswalu was a pretty incredible camp and made us completely forgot how jet-lagged we were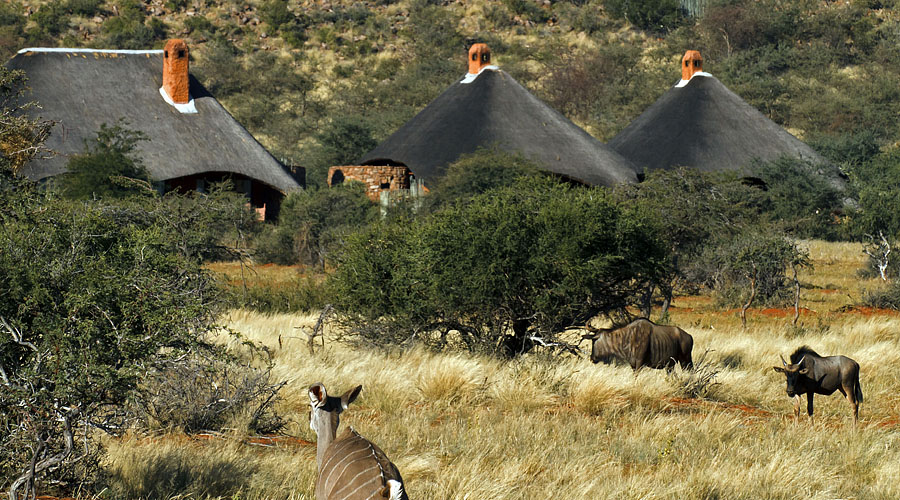 We were up before dawn every day - the wilderness was incredibly scenic and we hardly ever saw another vehicle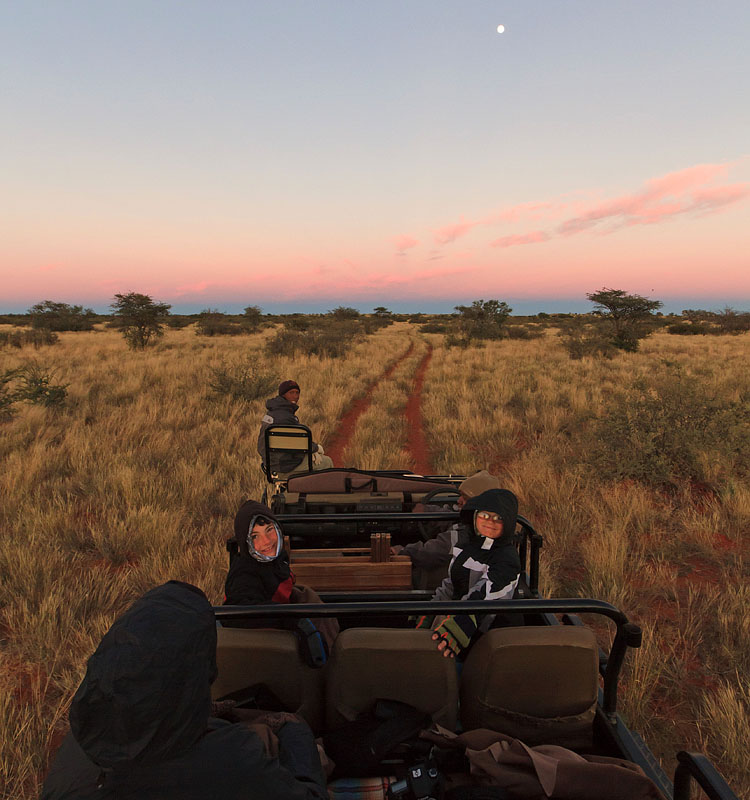 Richard gives Kyle some tracking lessons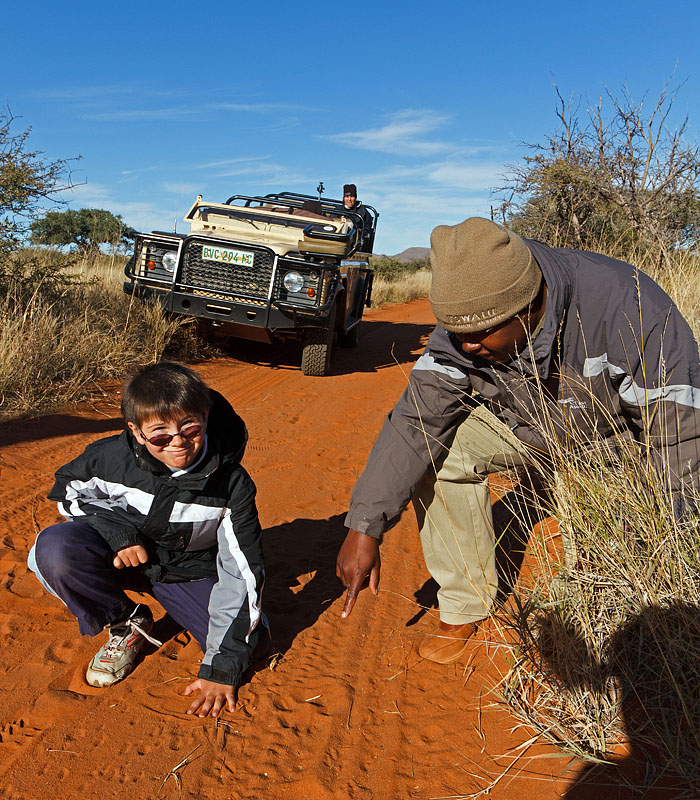 Kyle hand next to a Lion's footprint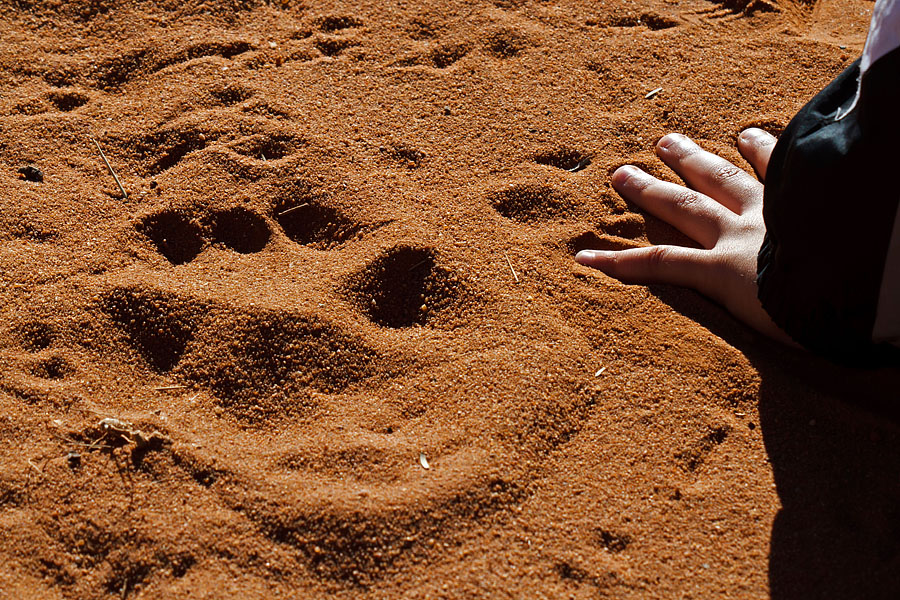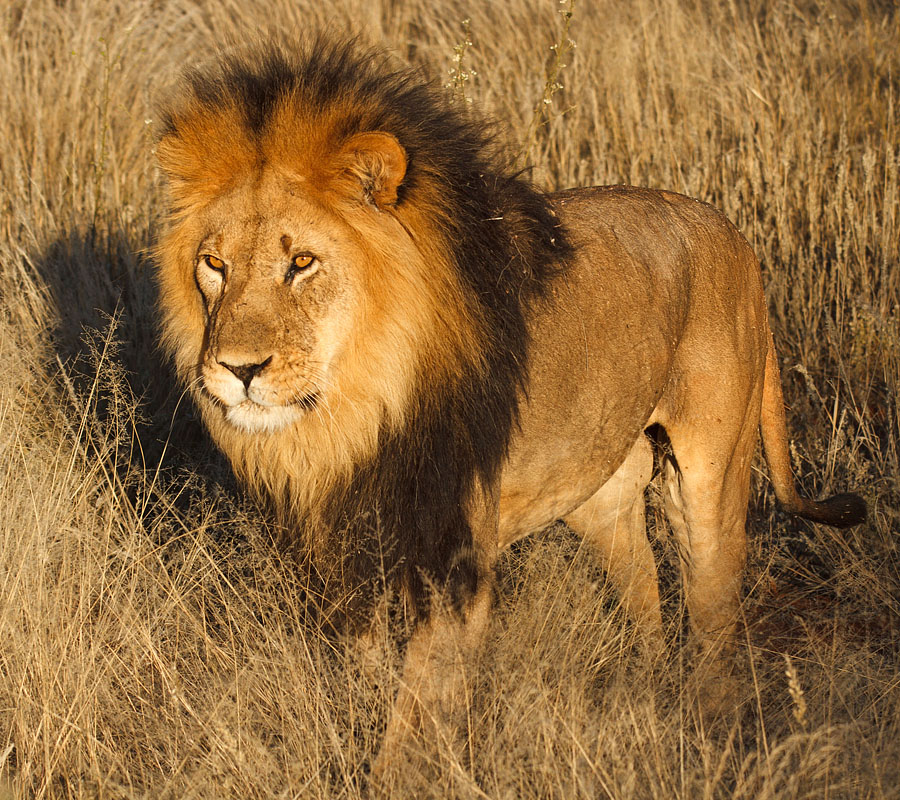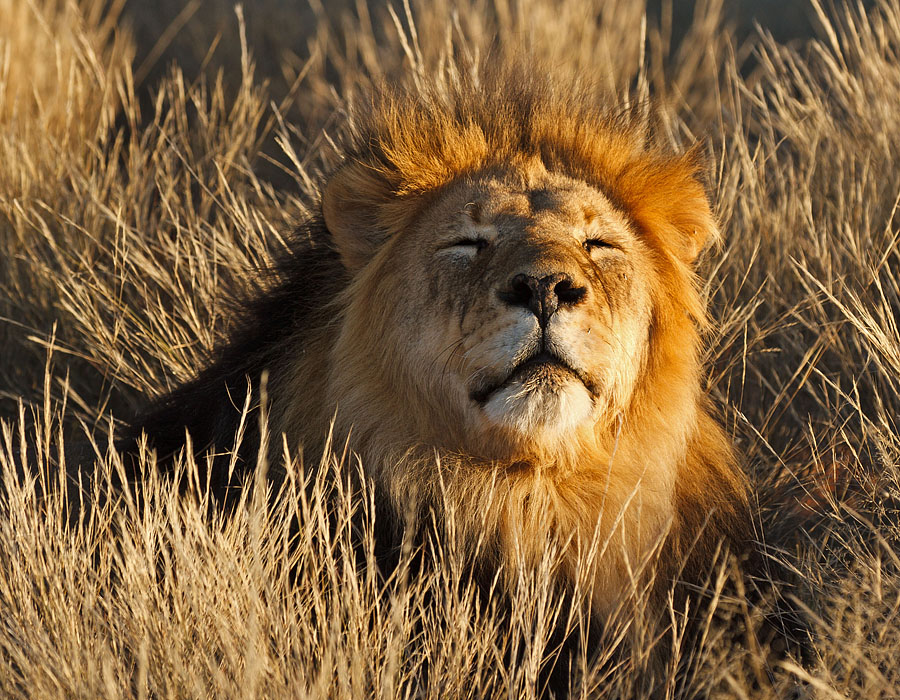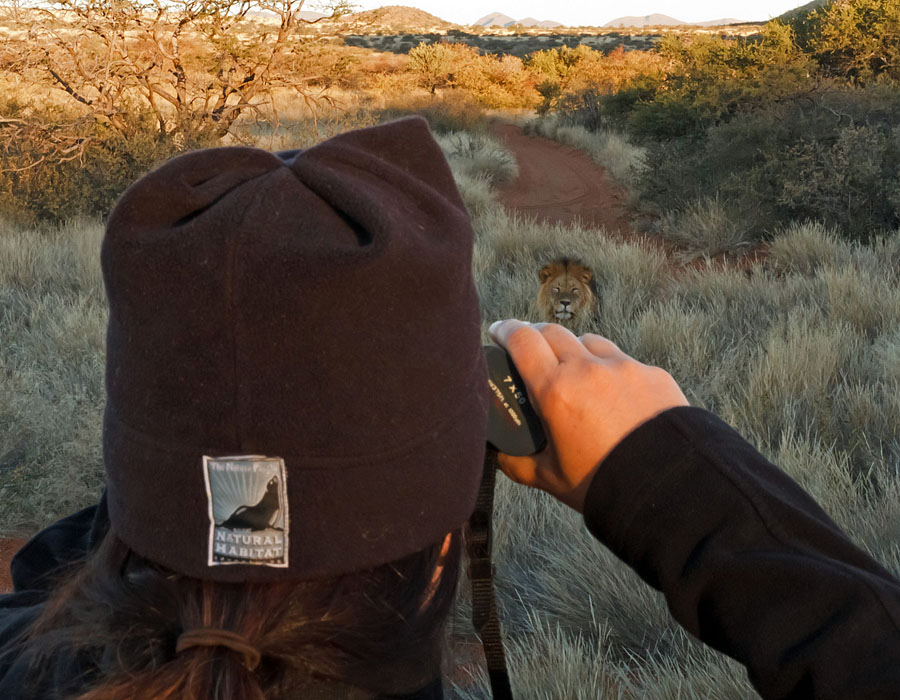 Some warthogs enjoy in a water hole next to Camp
Kyle takes a dip in his water hole - infinity edge on left side was quite popular with birds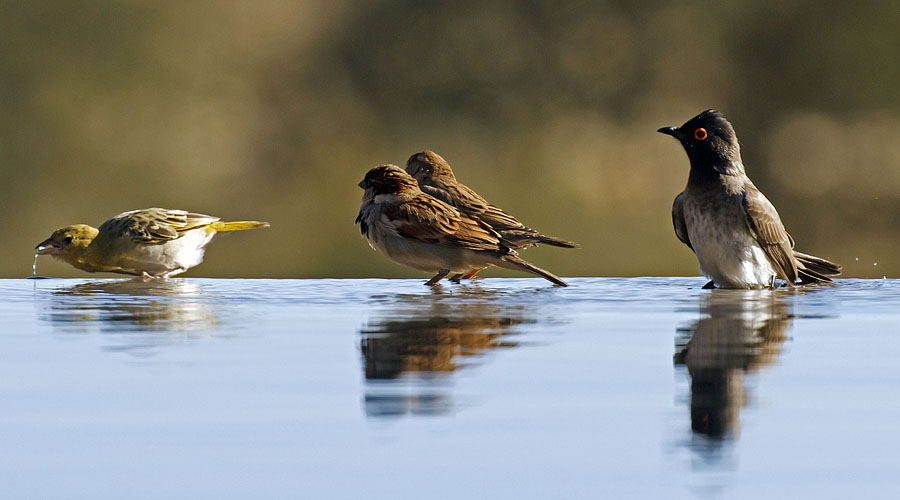 Mouseover next two images to see the birds in action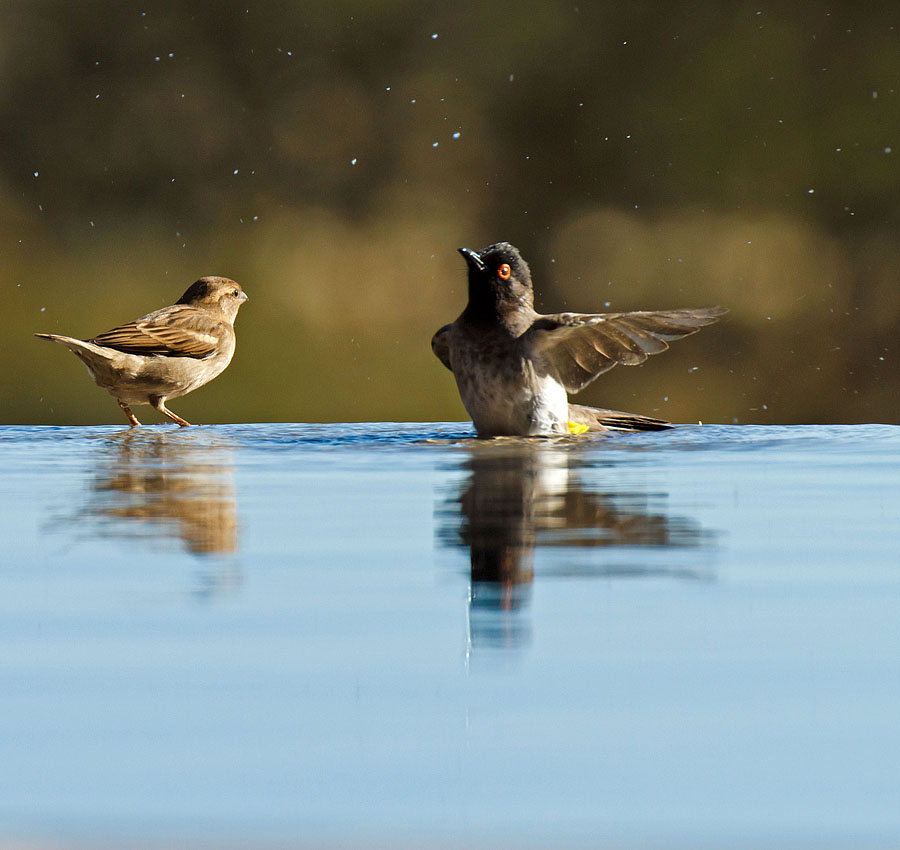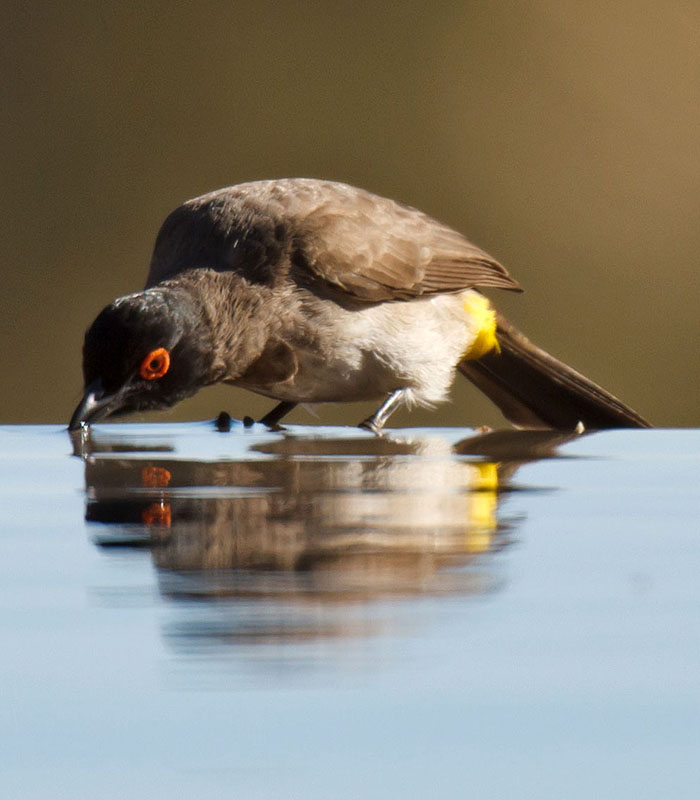 Following the afternoon safari, we'd stop for a Sundowner at sunset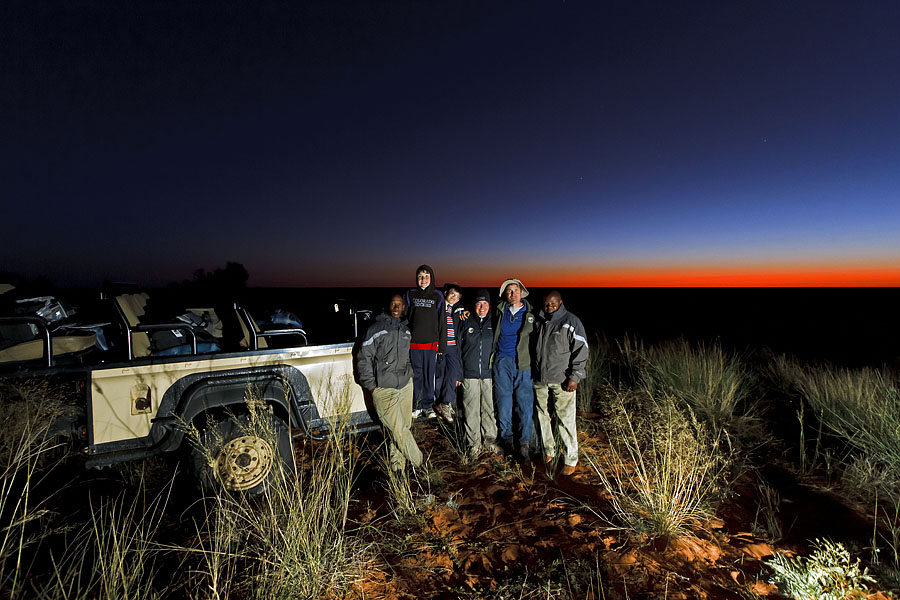 We would then do an extended night drive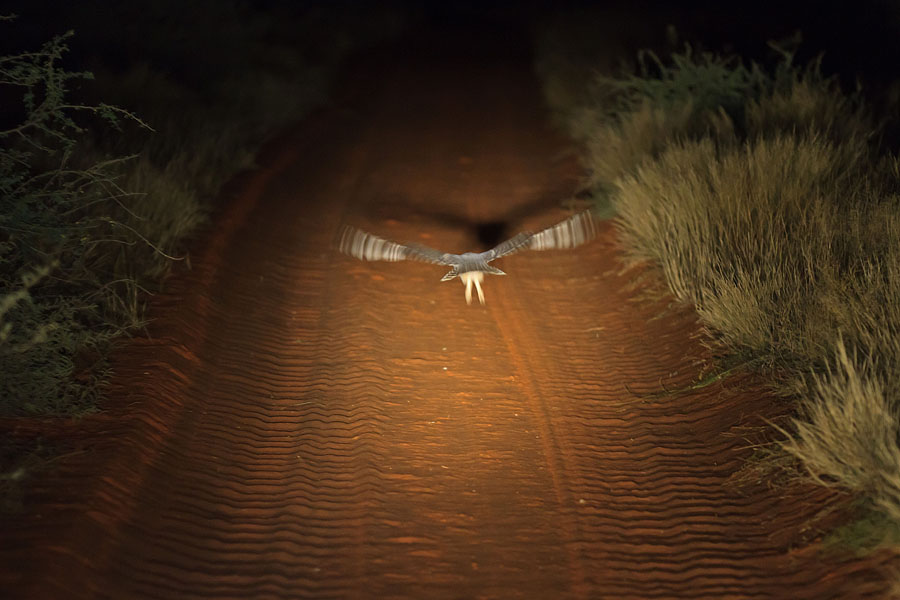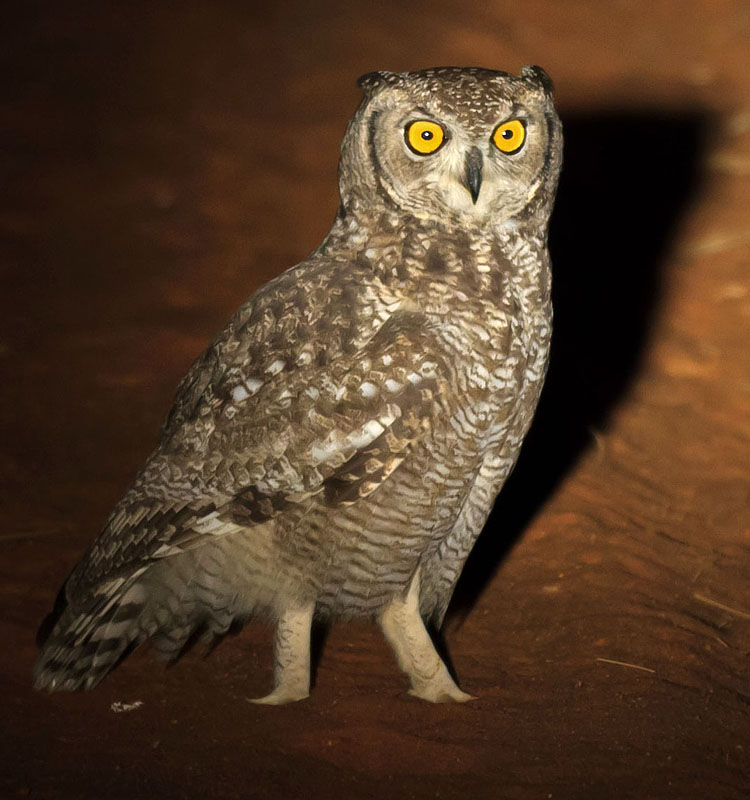 Mouseover to see this owl "blink" at 'ya!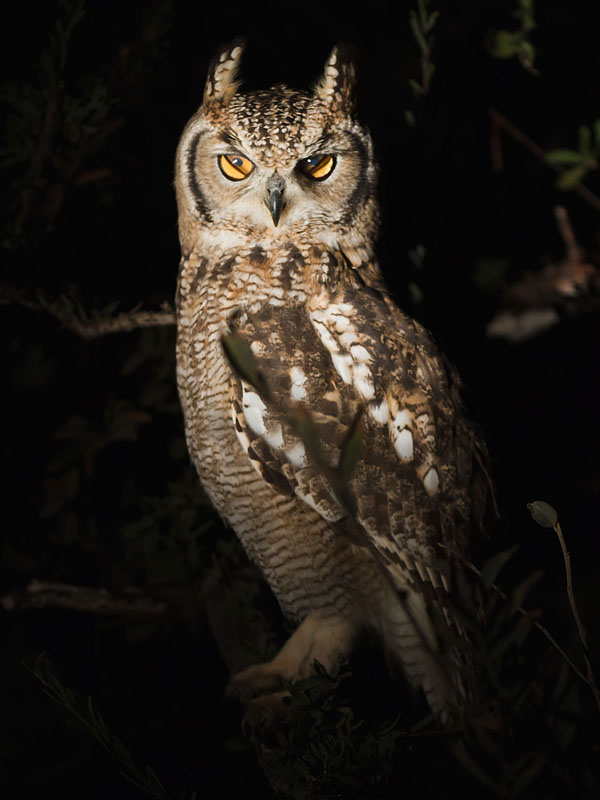 Dinners were taken in the Boma ... which (hopefully! ;-) keep the animals out from the delicious dinners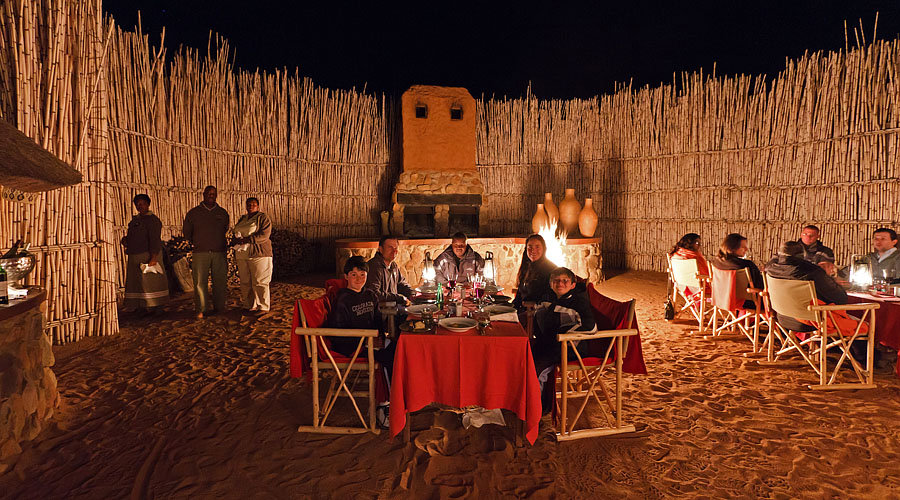 After a couple of days, we were sad to have to fly back to Johannesburg - note no TSA! ;-)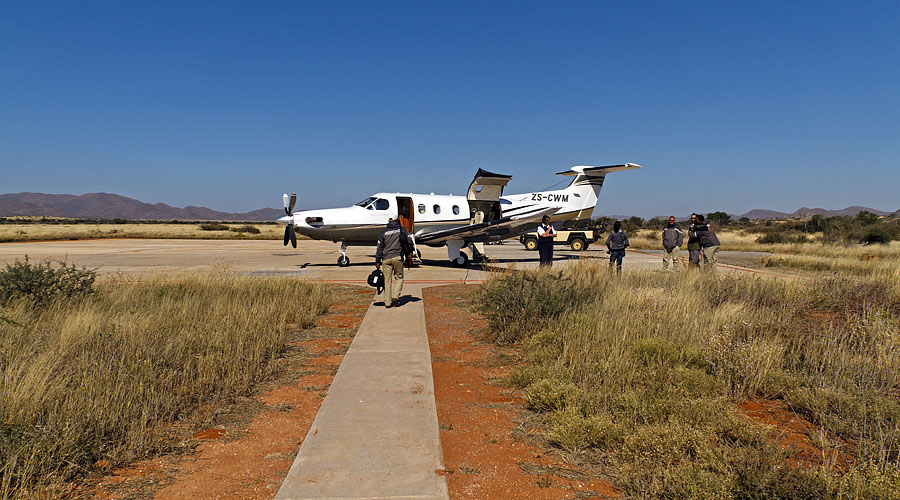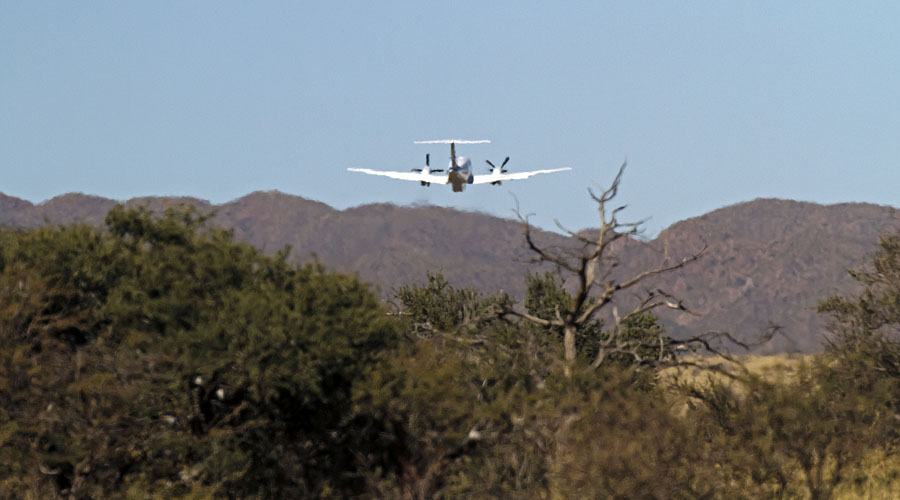 ---
After an overnight in Johannesburg, we flew to Maun, Botswana
where we met our guide for the next 12 days - Thuto Moutloatse was fantastic!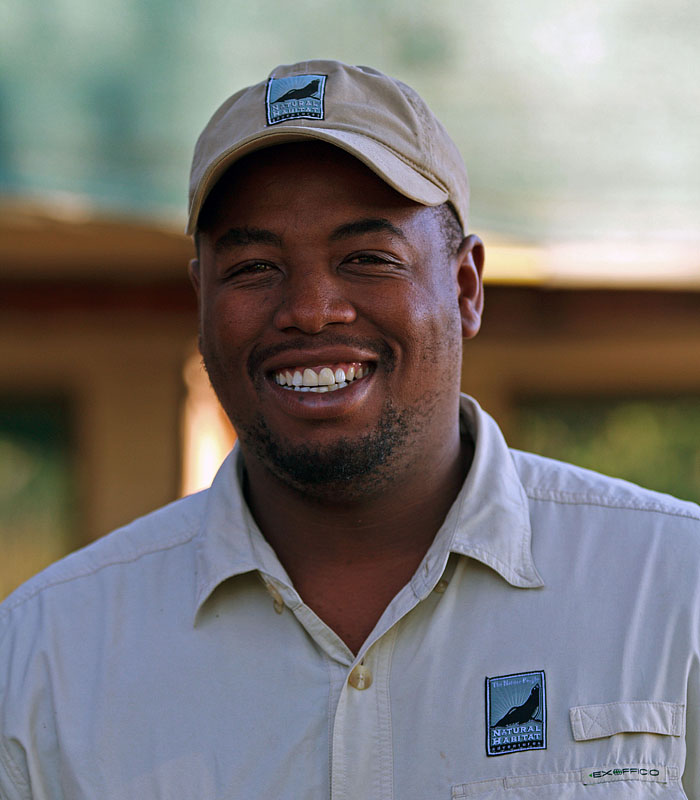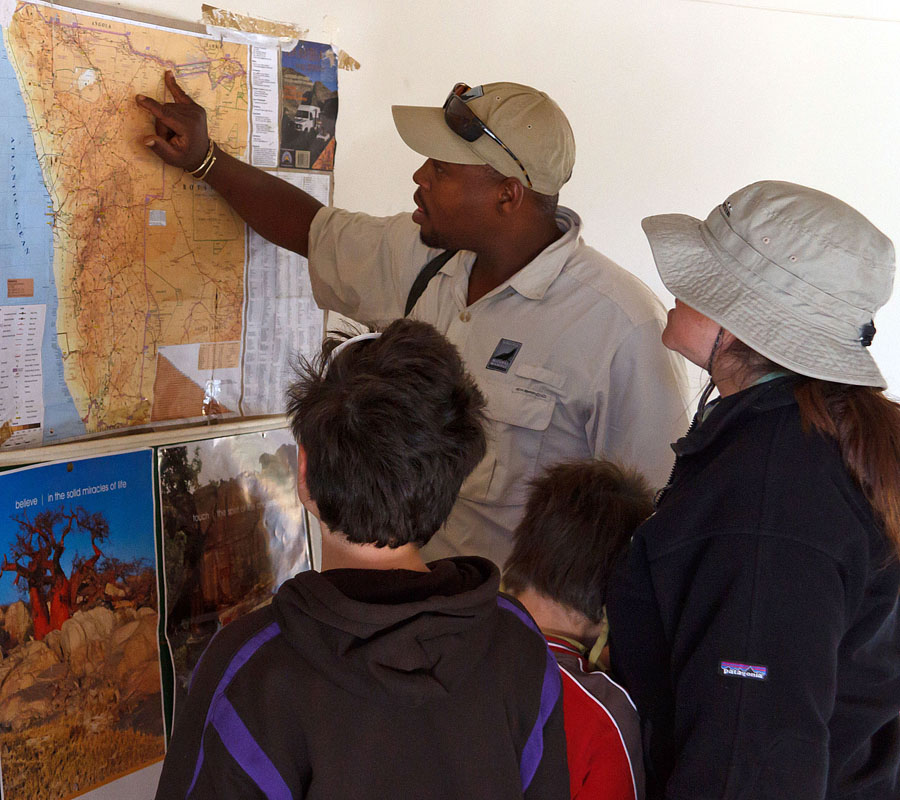 Thuto and Kyle with an elephant hip bone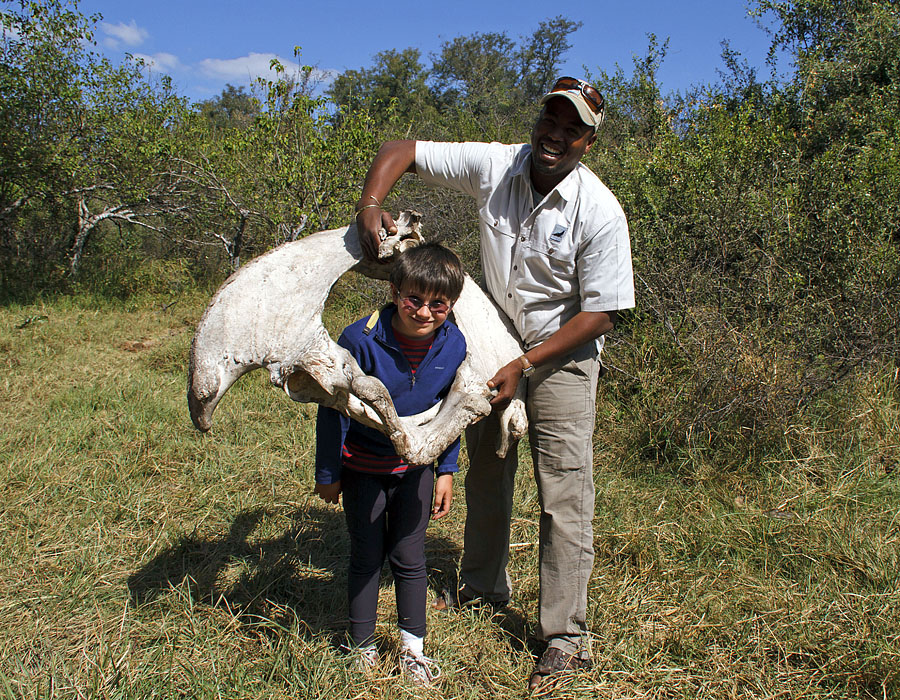 This Hippo was having fun in the water -
mouseover image to see two of 'em! ;-)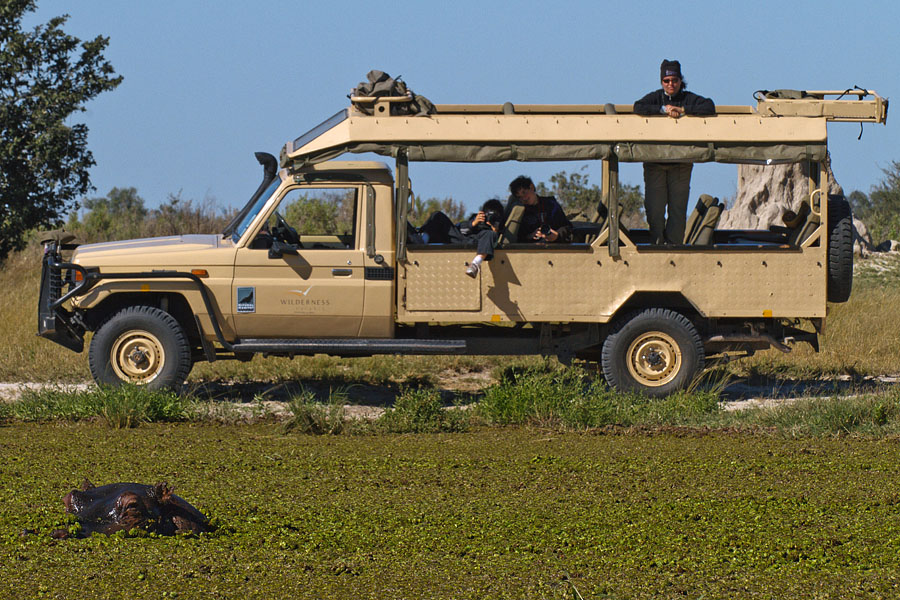 The Hippo would disappear under the Lily Pads ... and then re-appear 50' away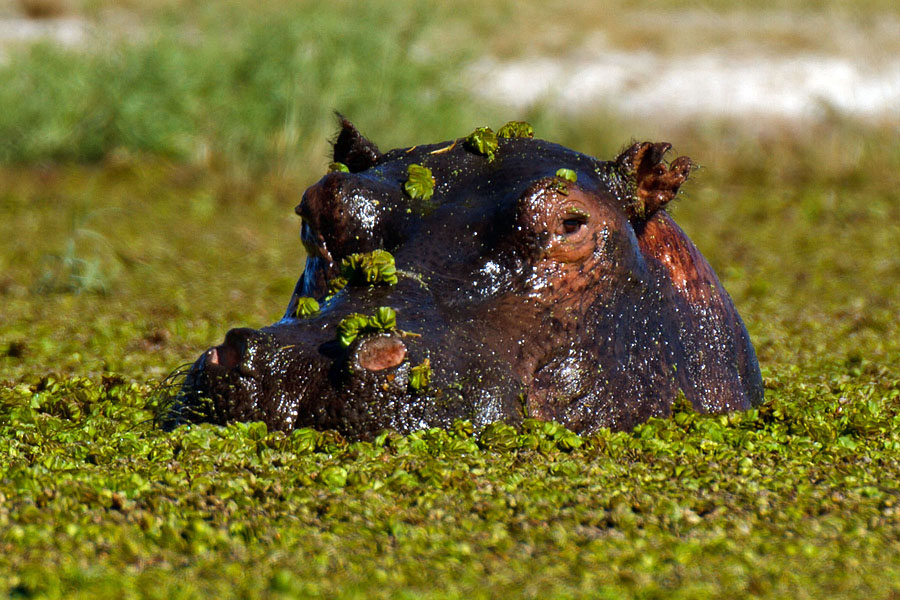 An even bigger grey animal is, of course, the African Elephant ... and we saw plenty of those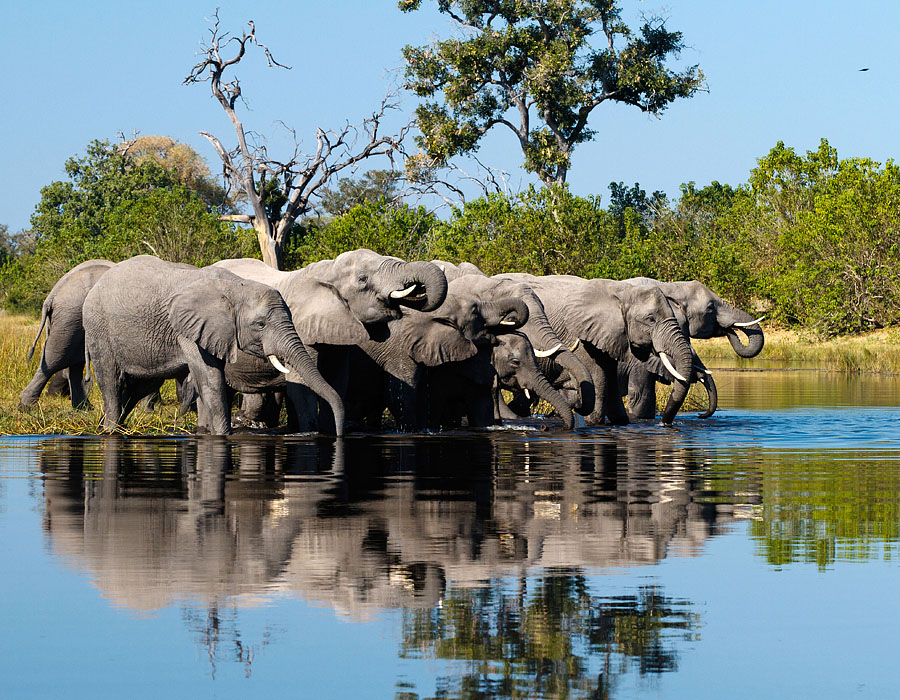 Wendy isn't into photography, but even she was taking pictures of the Elephants! ;-)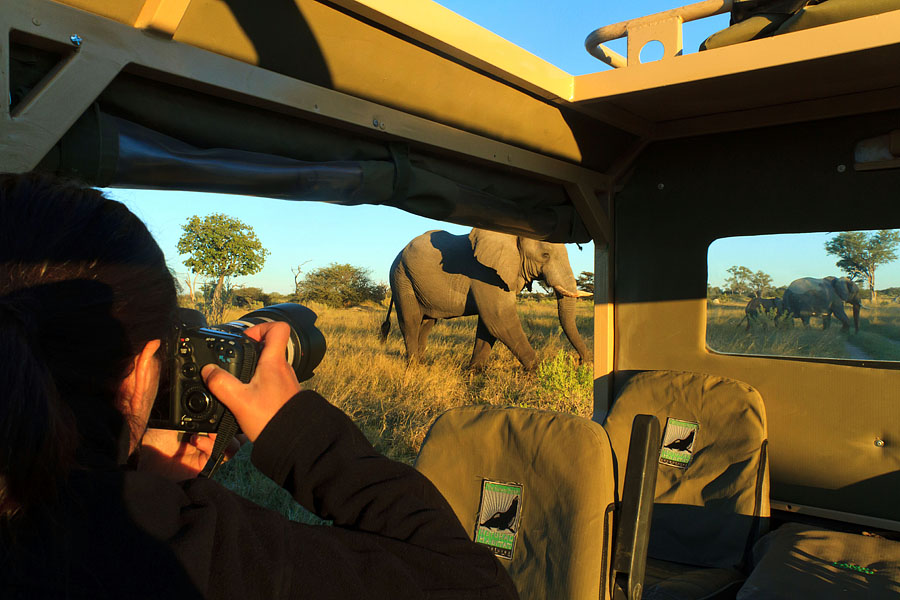 Wendy and Kyle with their Big Grey Buddy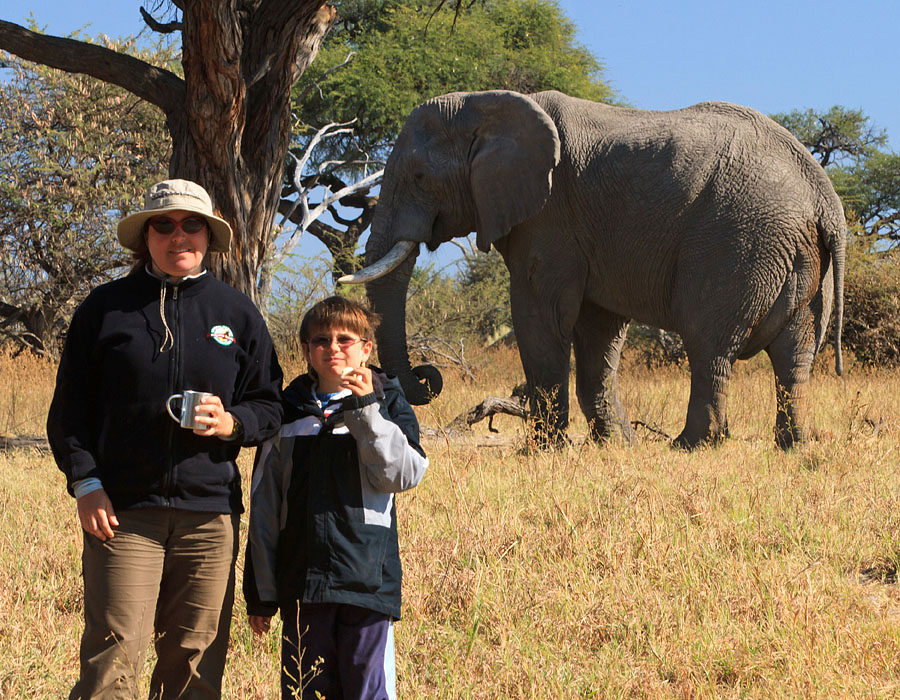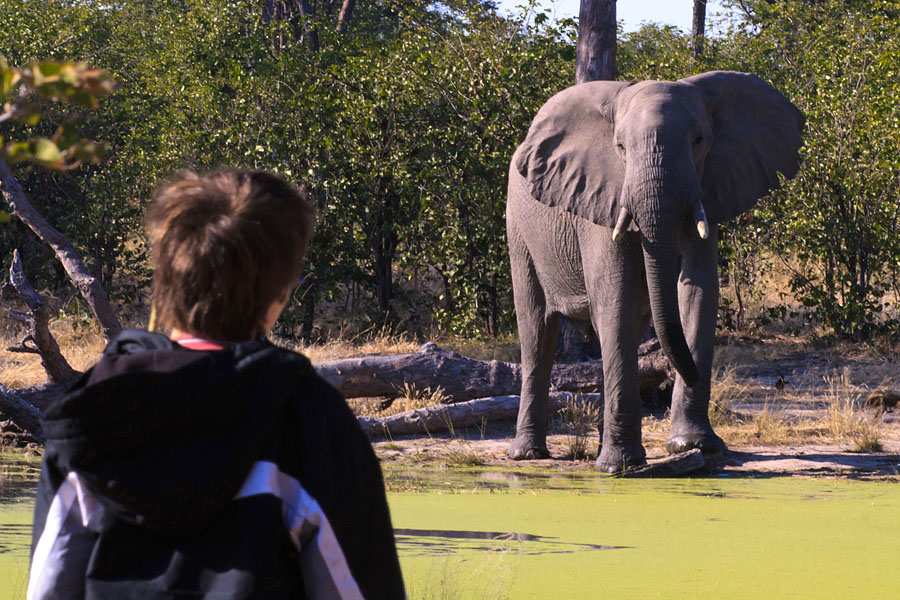 African Elephant Mock Charge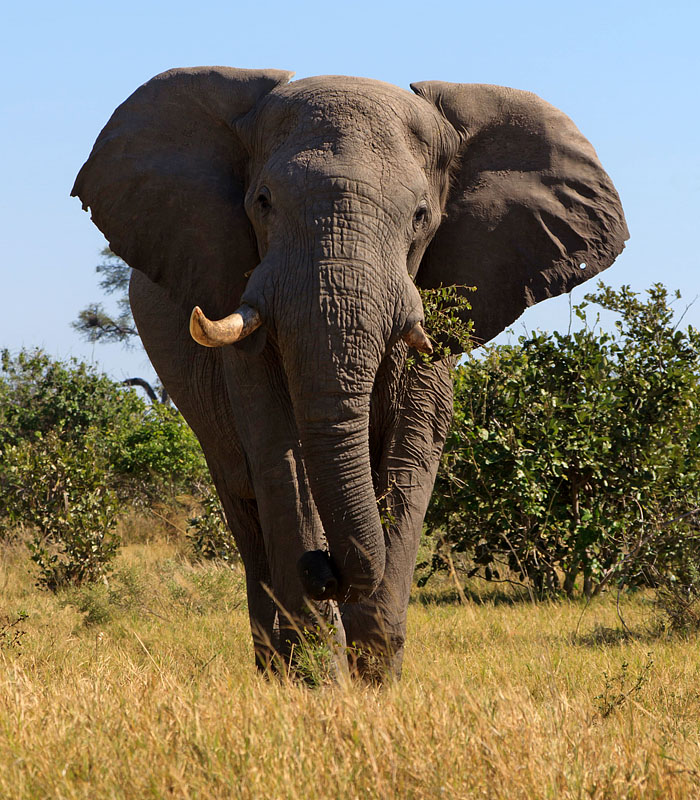 Closeups of these "Gentle Giants"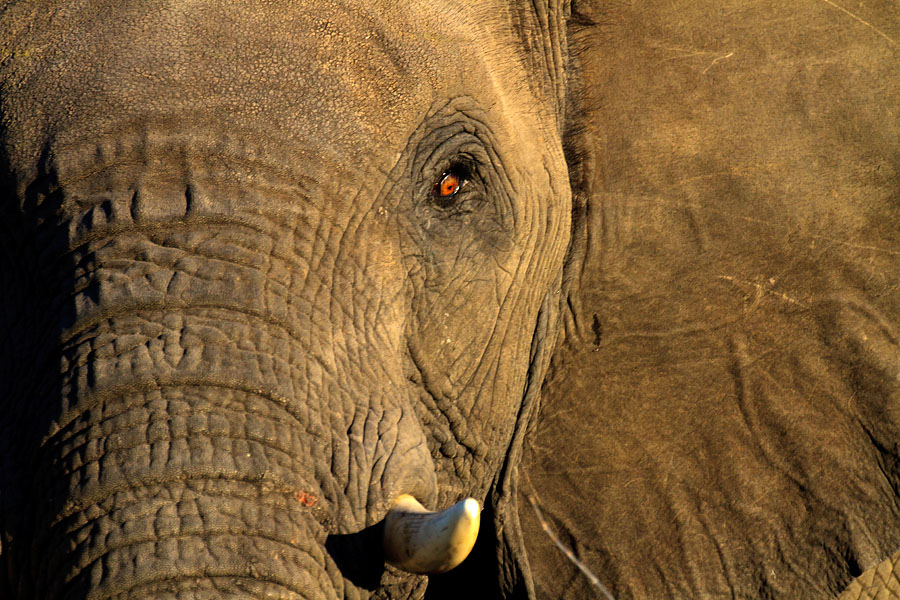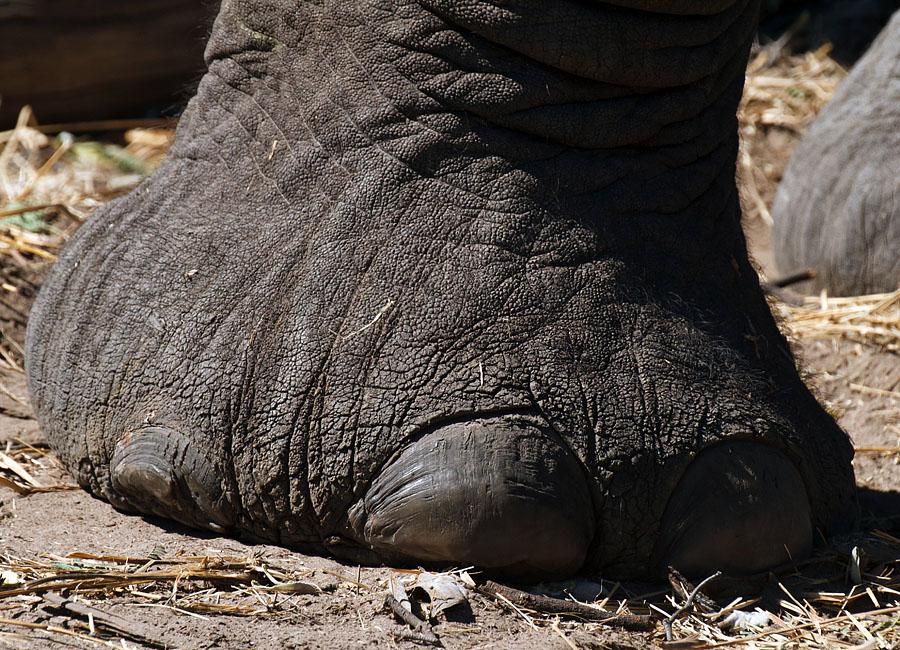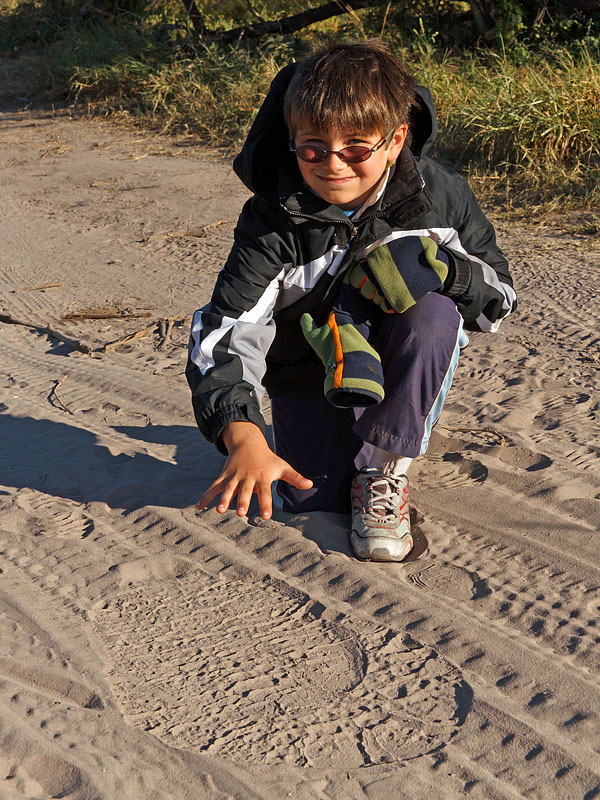 One of many Sundowners on the African plains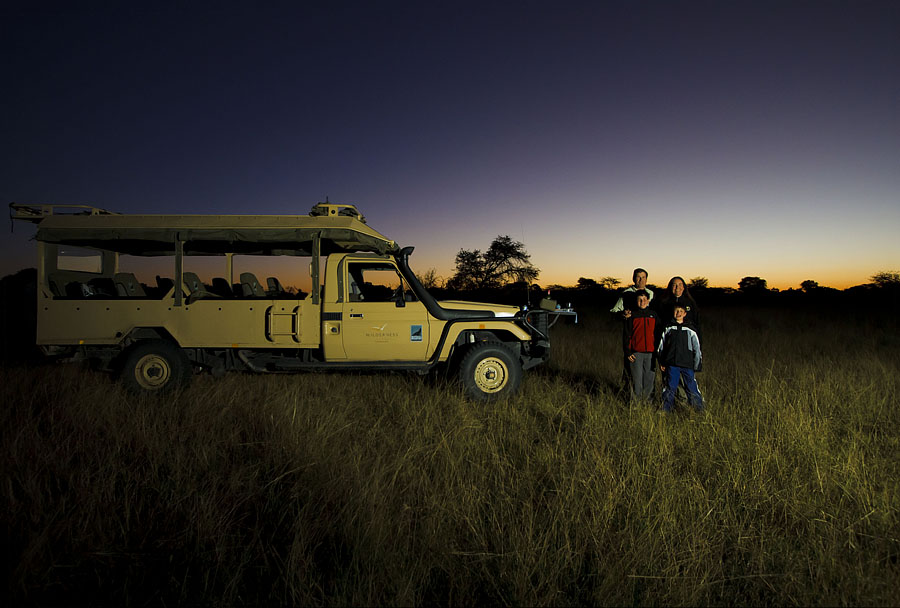 Thuto was a multi-talented guide!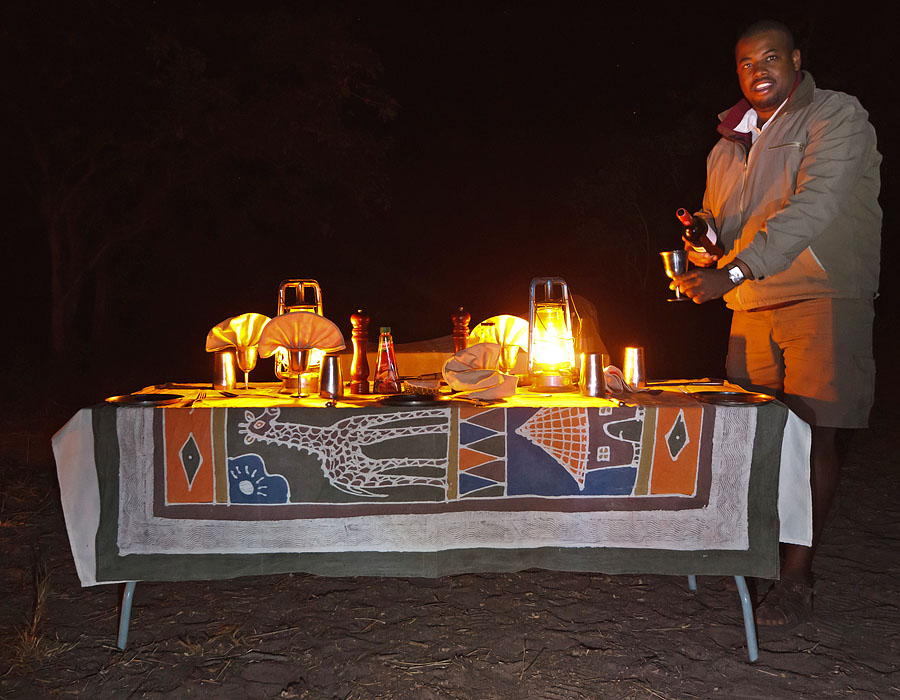 The "Safari Ice Cream Wagon" (as Thuto called it) an hour before dawn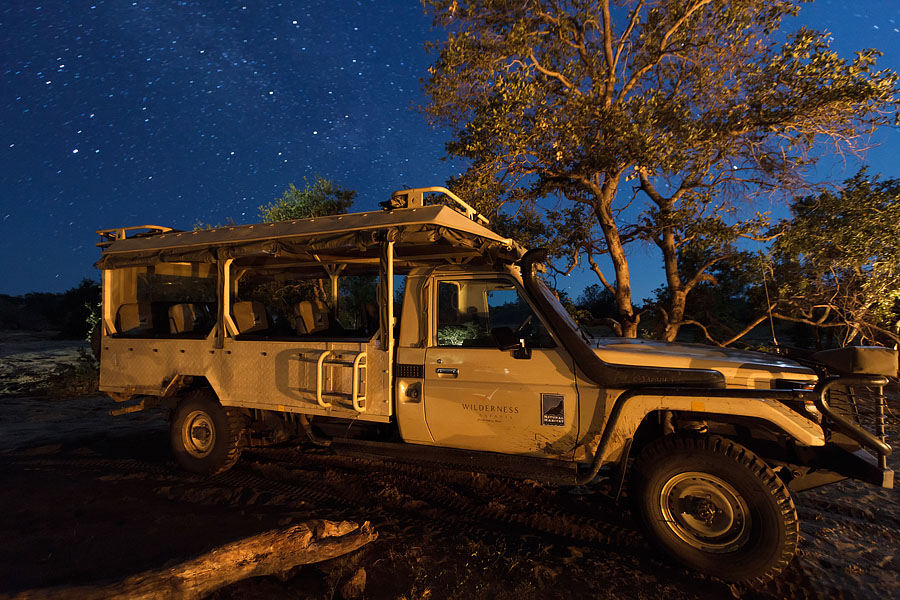 The next morning - it's not an African Safari unless you get stuck at least once!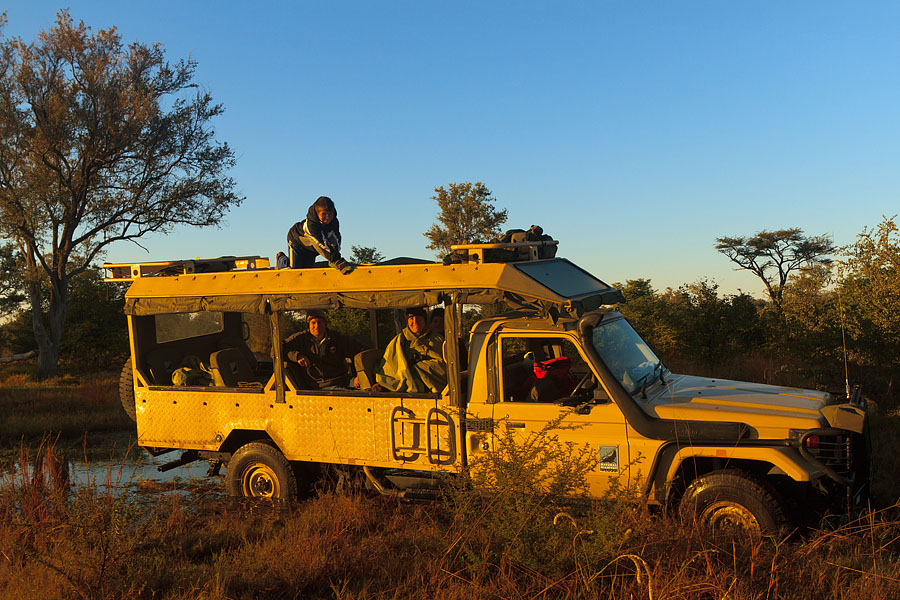 Thuto to the rescue!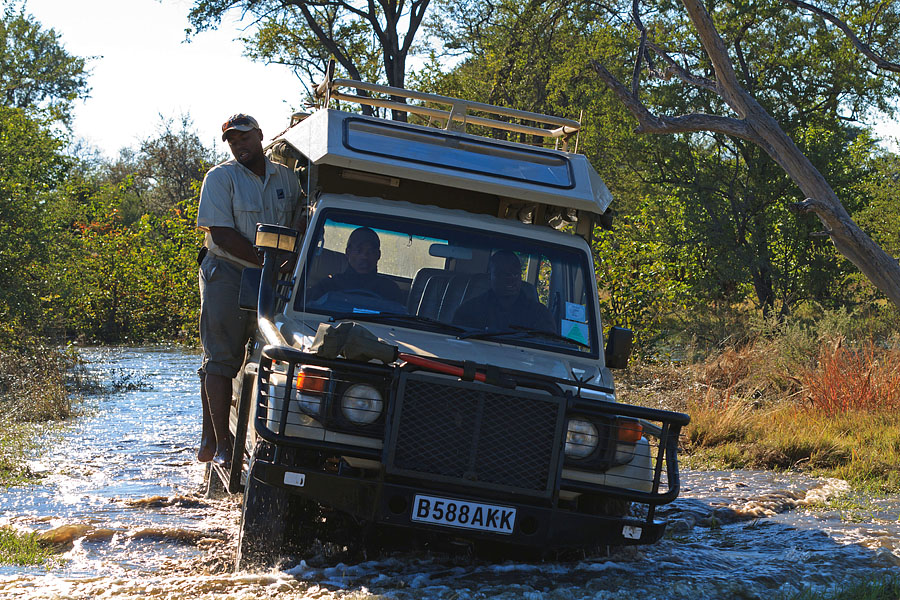 Thuto "poses" with a Vervet Monkey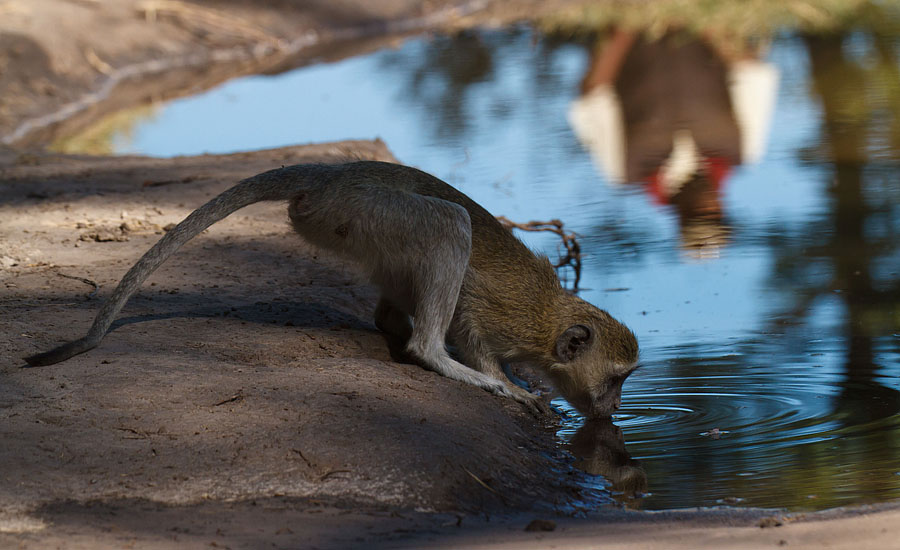 Fasscinating to observe these very human like creatures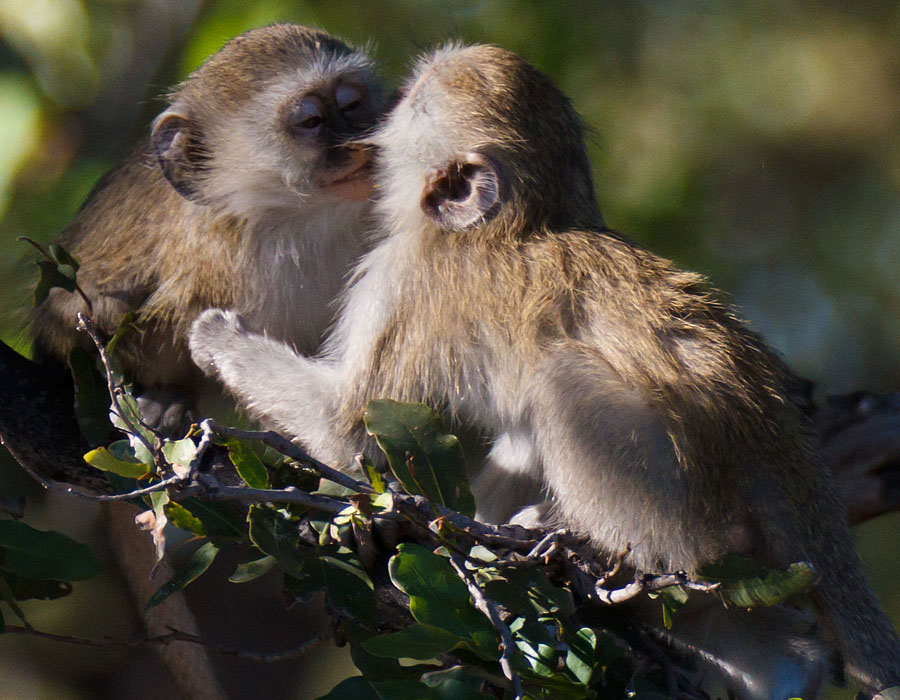 Mouseover image to see Vervet Monkey eating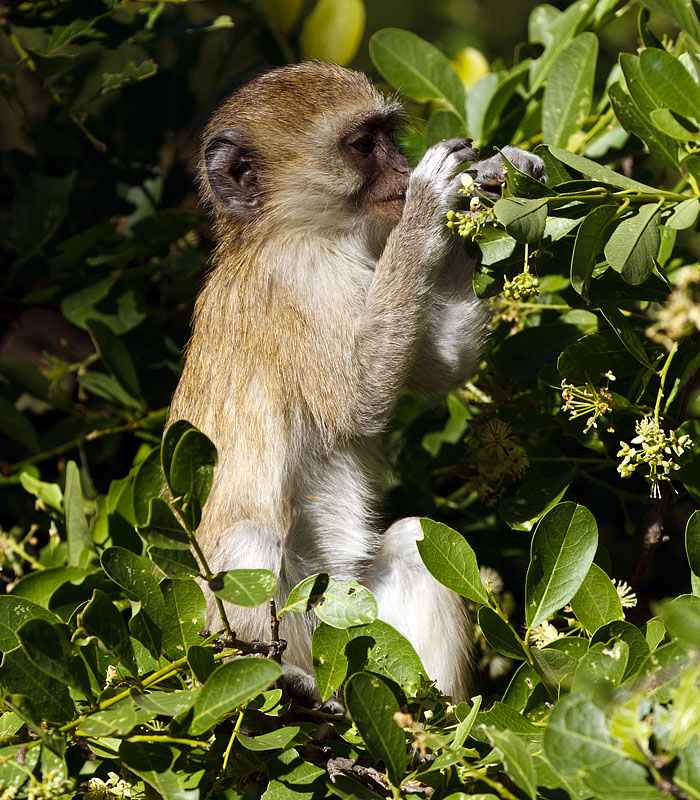 Later on, we saw this very cute Baboon Family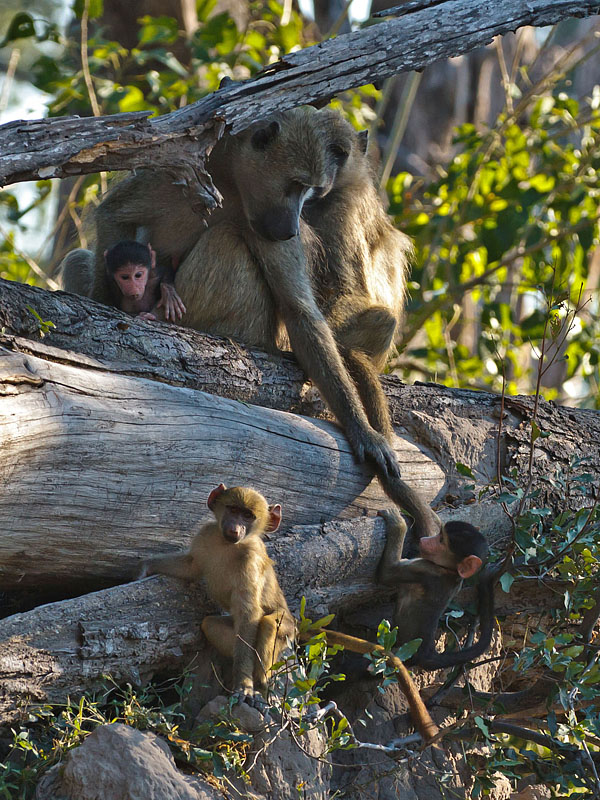 It is rare to see Wild Dogs - we had some great sightings!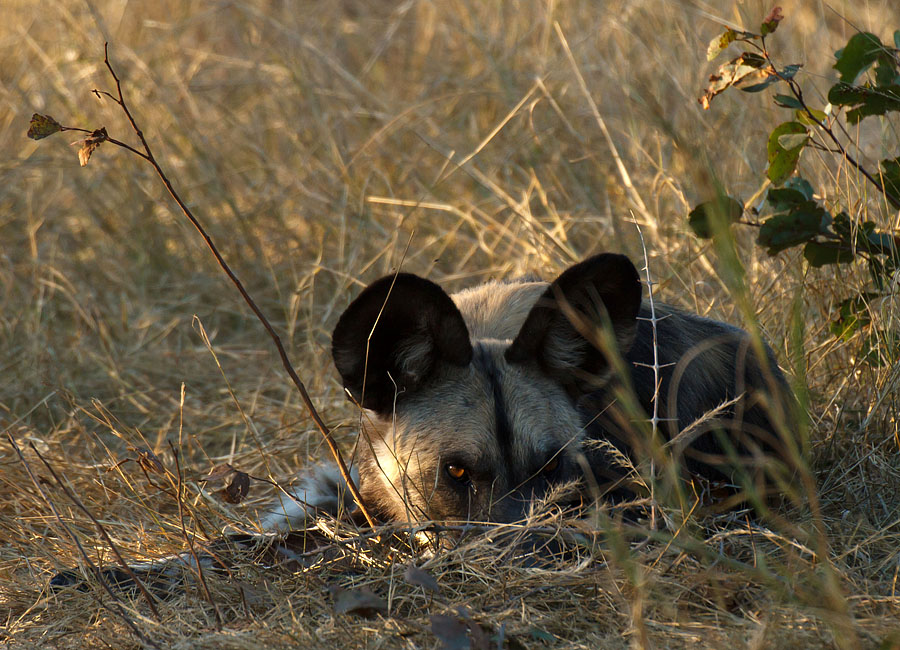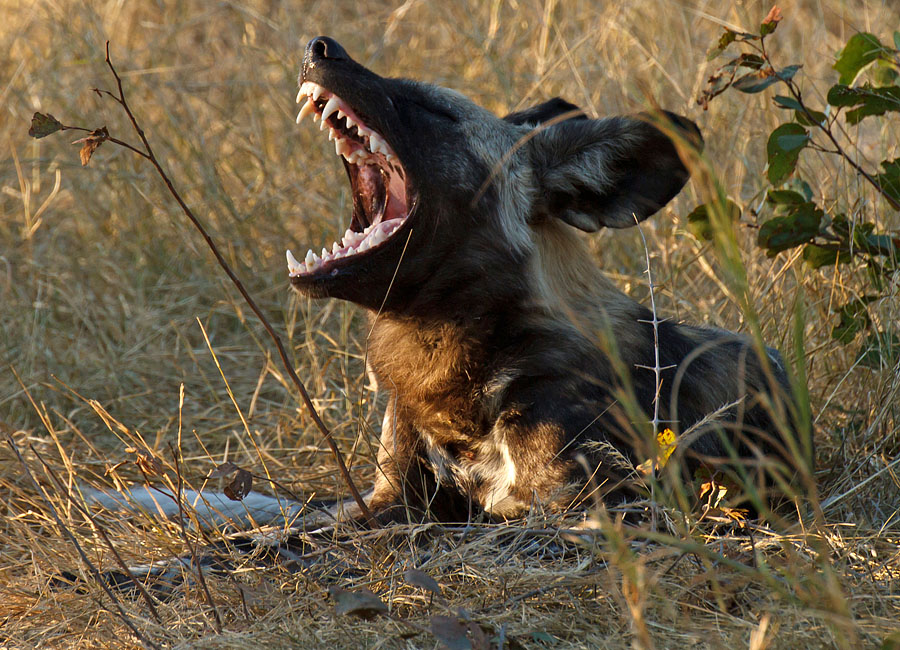 Wild Dogs greeting each other -
mouseover image to see 'em get flipped!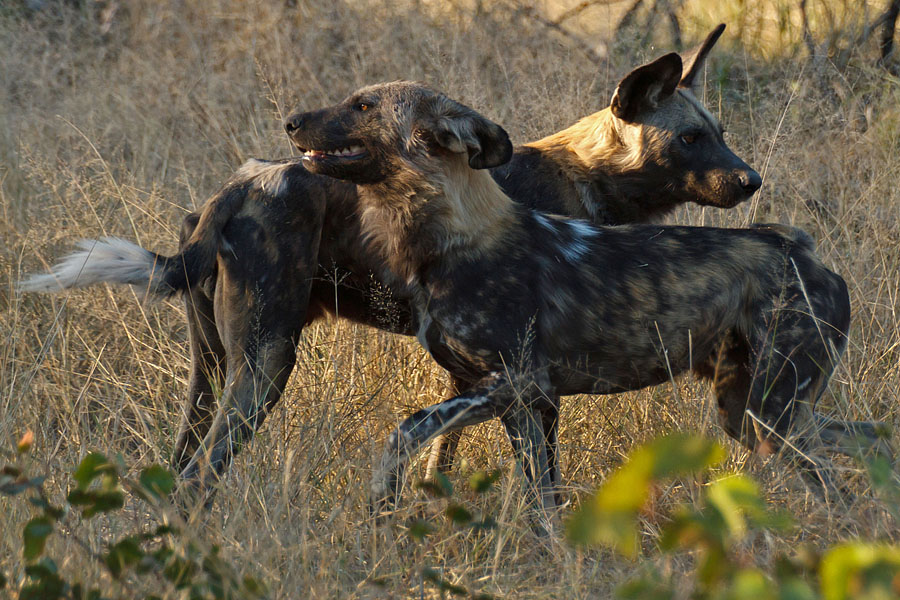 Safari Ice Cream Wagon at a major road intersection

Mouseover image to see closeup with distance back to Republic of Boulder! ;-)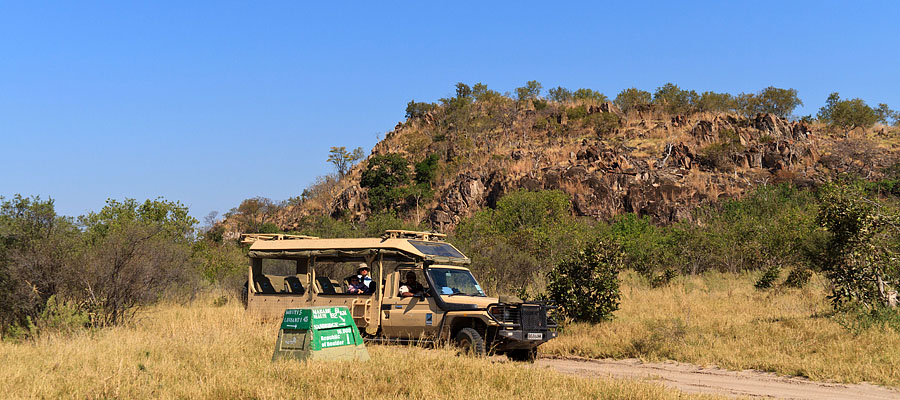 Alek the intrepid photographer in the Safari vehicle -
mouseover image to see closeup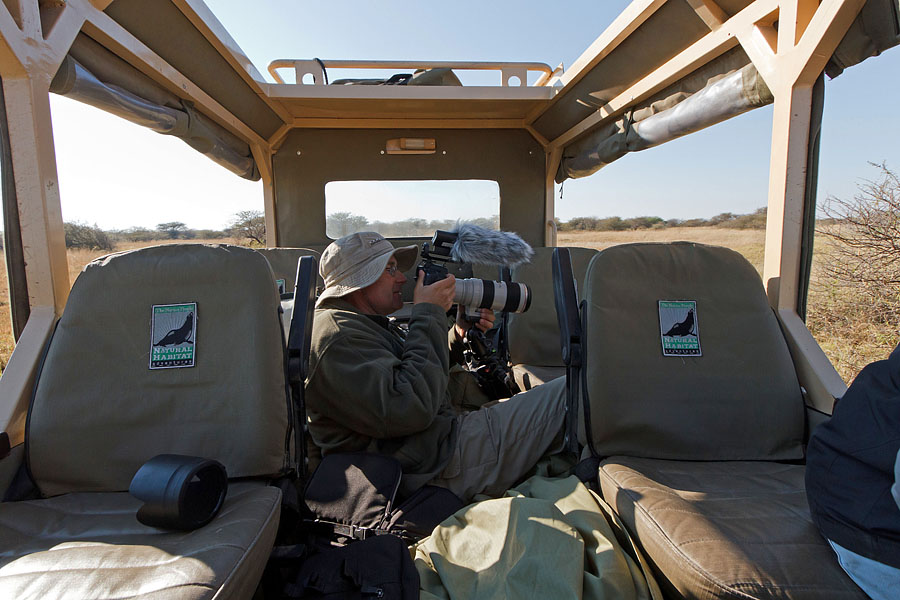 A herd of Wildebeest with an elephant skull in the foreground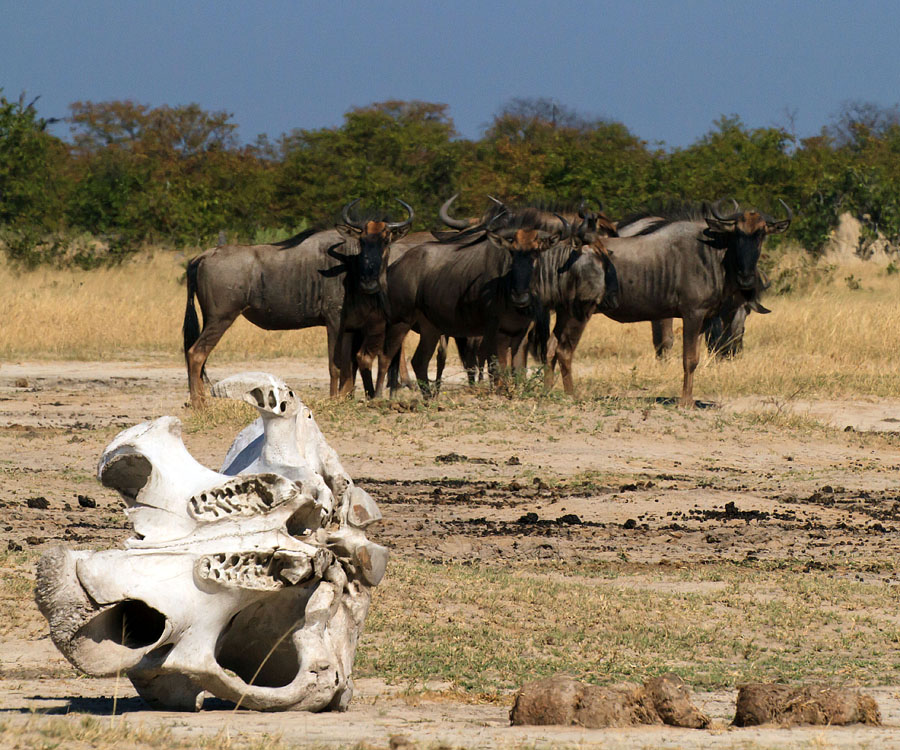 The very colorful Lilac Breasted Roller
Easy to photograph on a branch ... but much, much harder to photograph in flight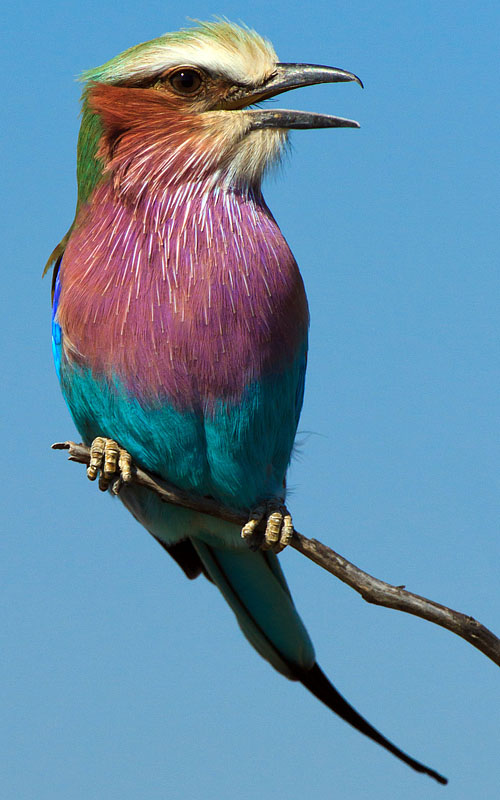 Another colorful creature was this Chameleon that Thuto spotted while driving back in the night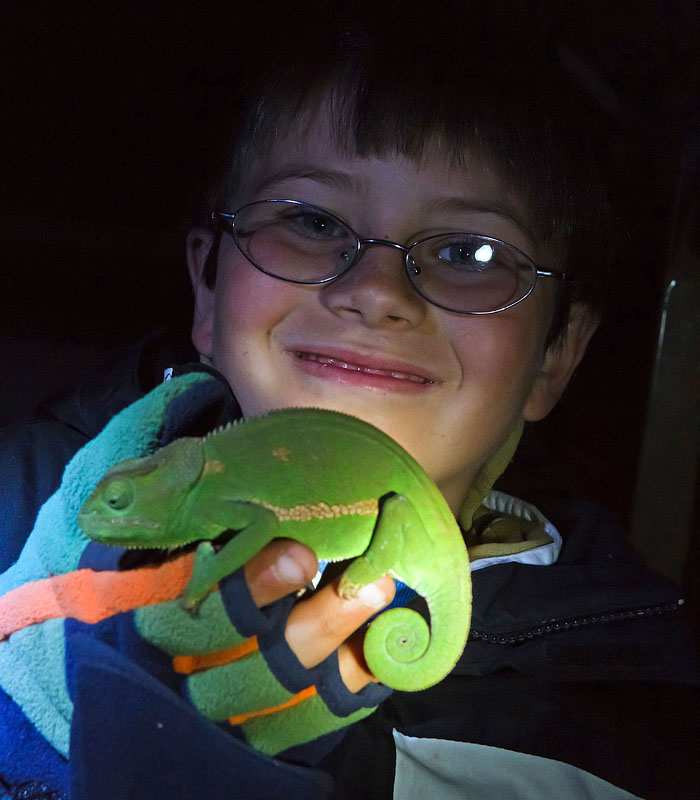 One evening, Thuto stopped the Safari Rover all of sudden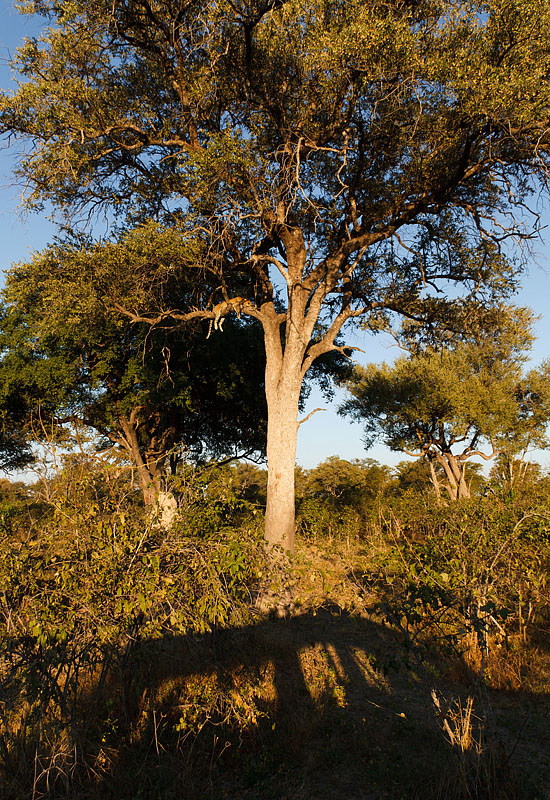 Yep, that's a leopard up in the tree - easy to see once your excellent guide points it out!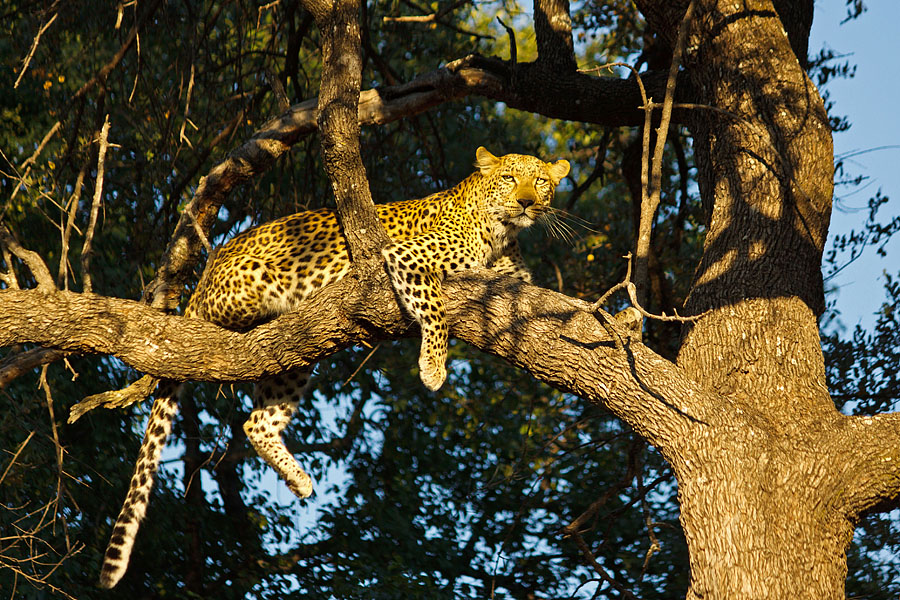 Beautiful low golden light on this leopard -
mouseover next two images to see in action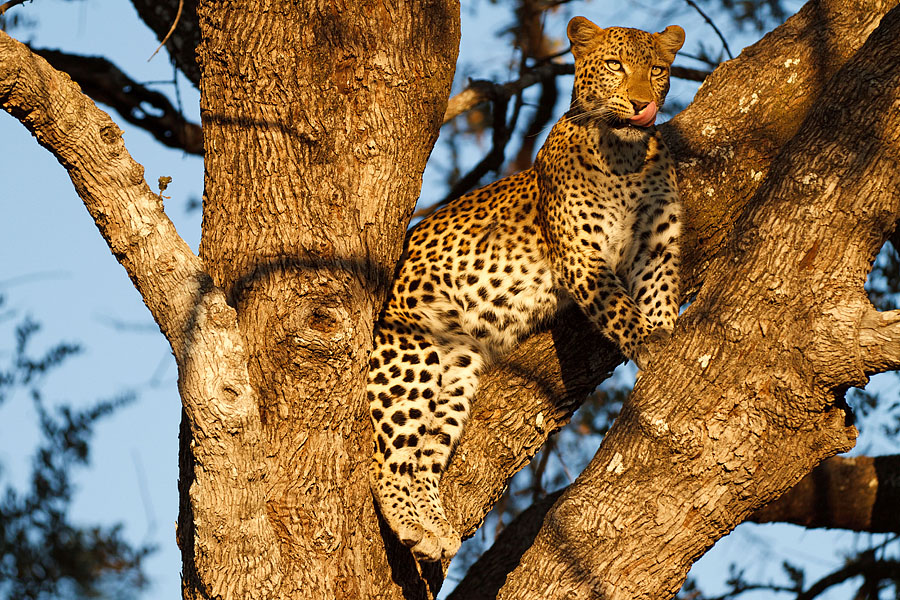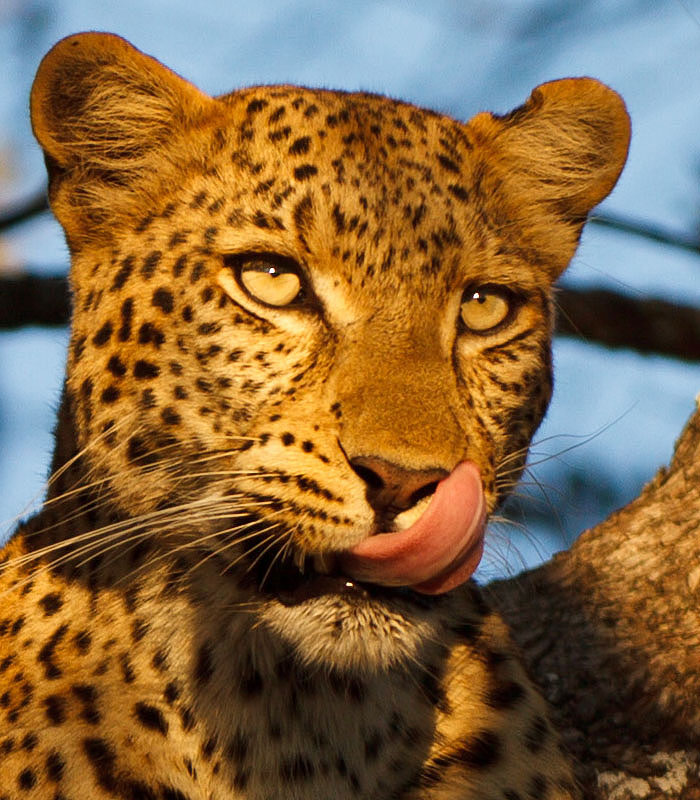 Leopard smiles for the camera!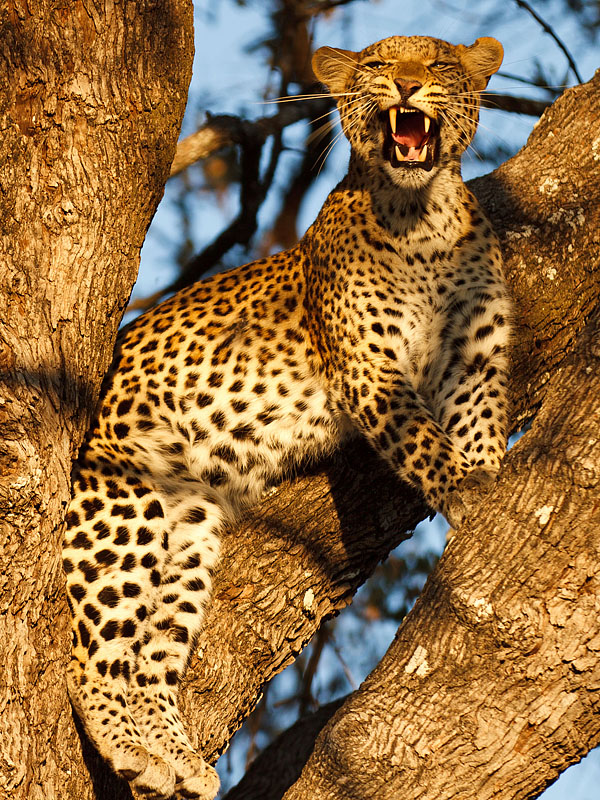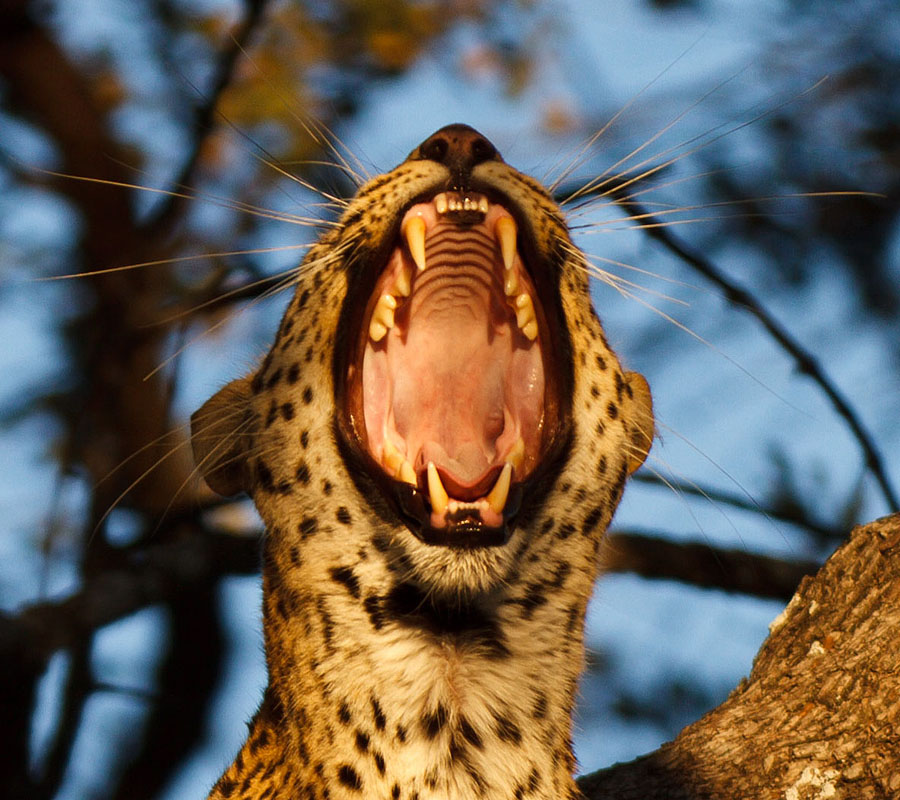 Another night, a leopard was walking down the path ... and walked underneath our vehicle several times!
Picture taken with camera on upside down tripod hung over the side on wireless remote -
mouseover for closer view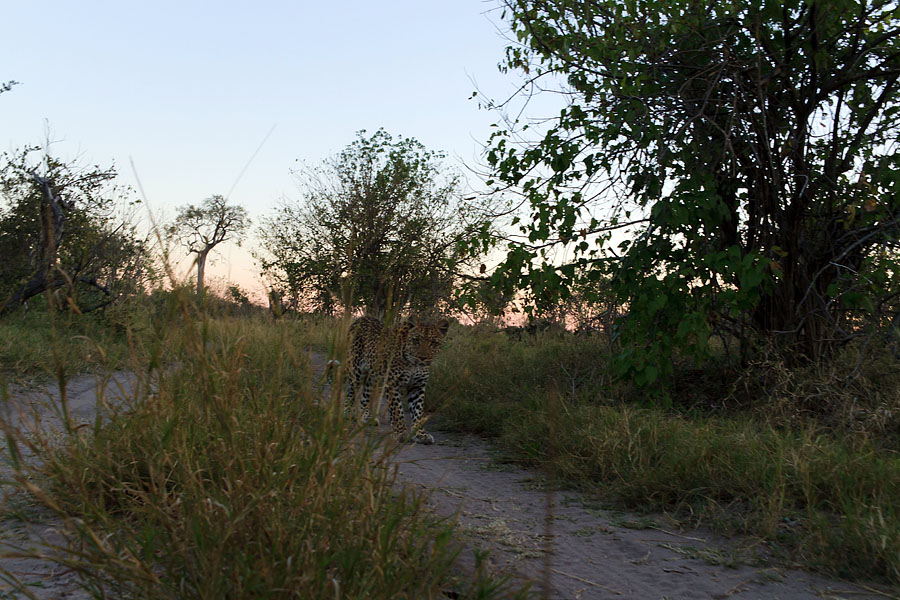 A similar low-angle picture of a lioness approaching our vehicle after sunset -
mouseover image to see closeup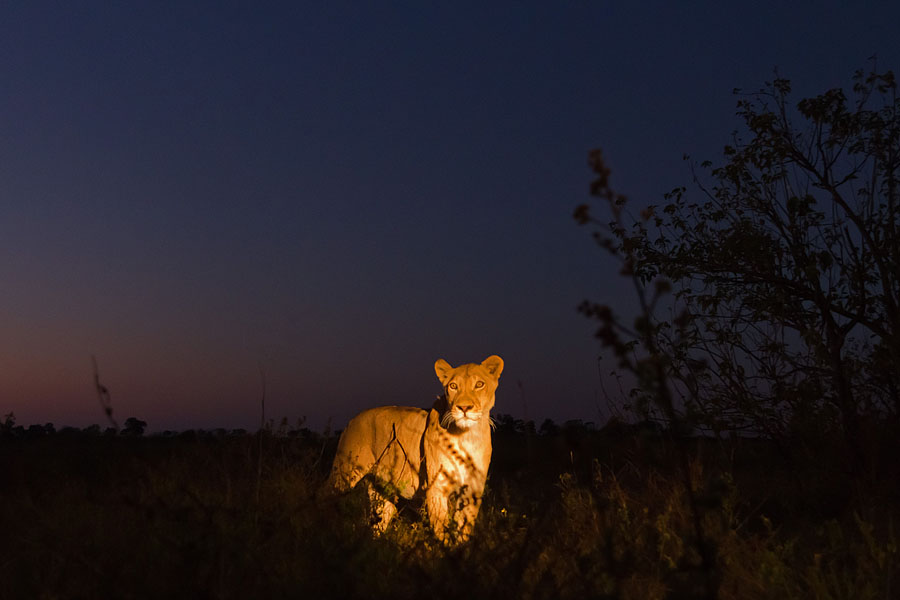 African sunsets were glorious -
mouseover image to see closeup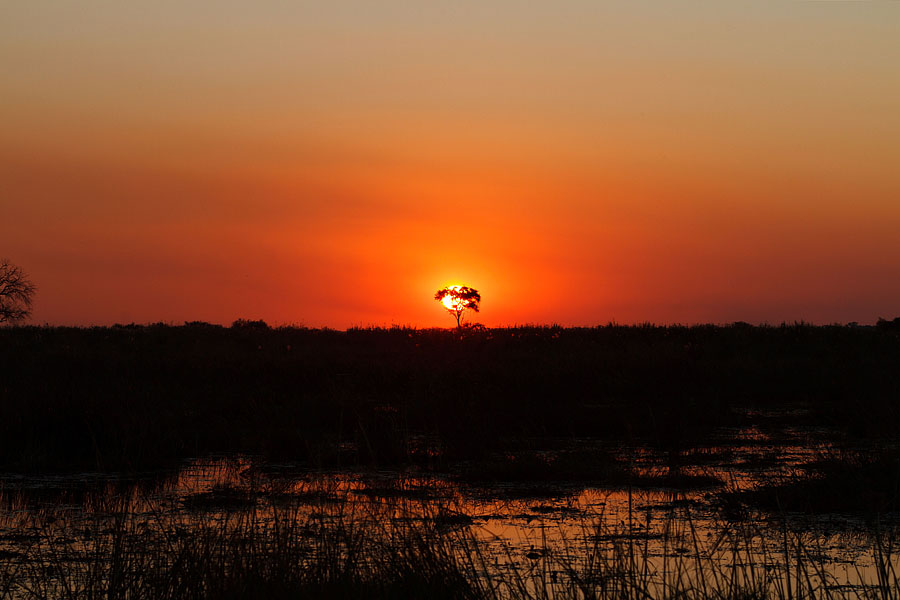 While Alek and Wendy enjoy a glass of wine as the sun sets ...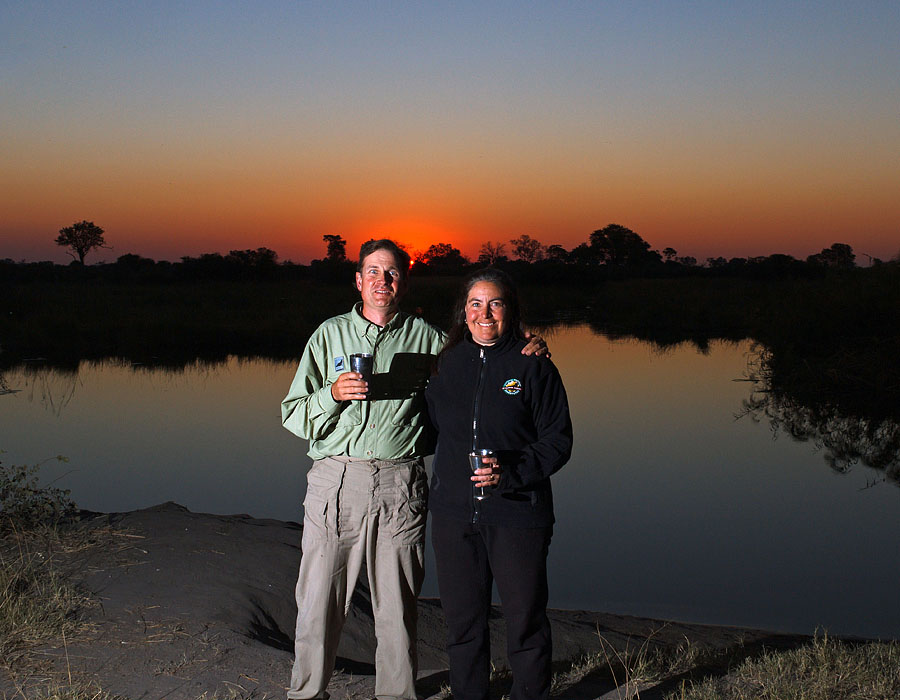 Thuto gives Kyle a spin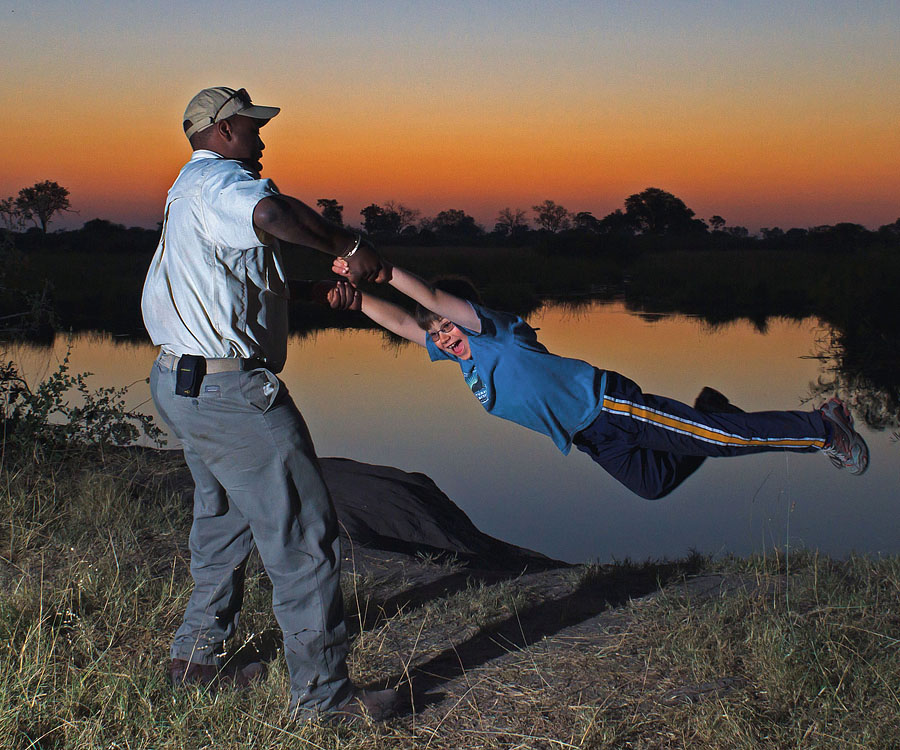 Kyle was "jumping for joy" because of the GREAT time he was having in Africa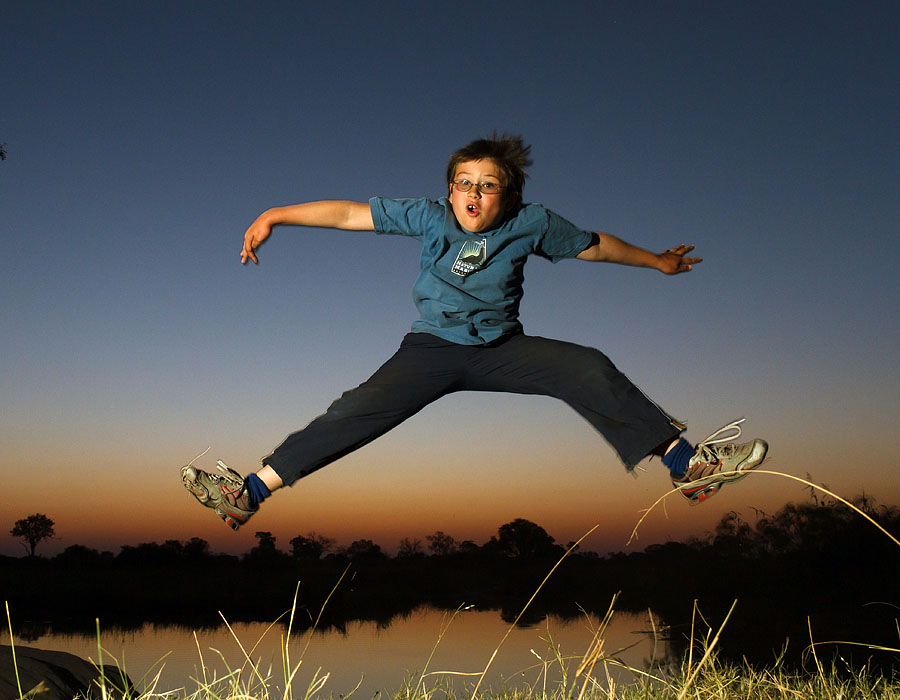 Morning were beautiful too - sunrise lighting up some morning fog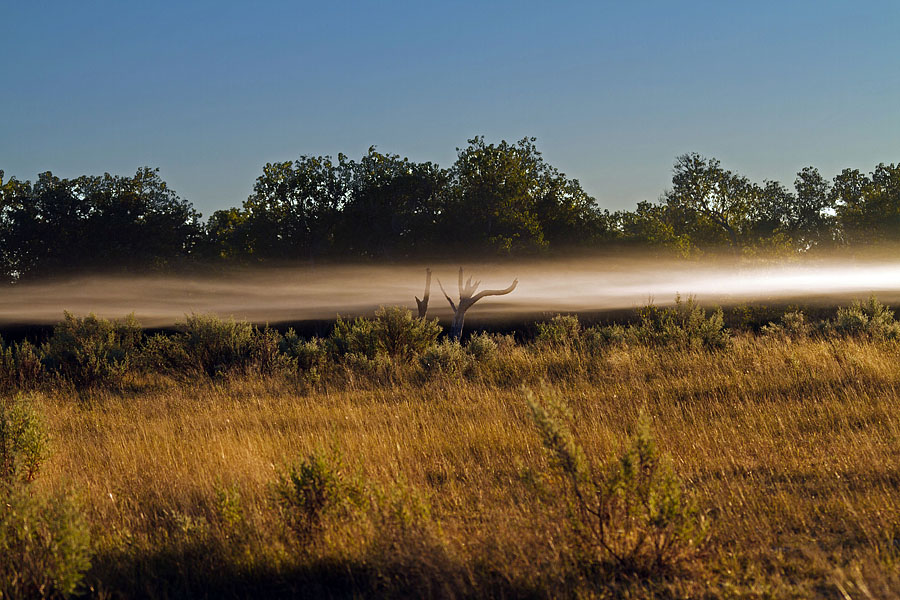 Thuto pointed out these "animals" to us - some ants were returning from raiding a Termite colony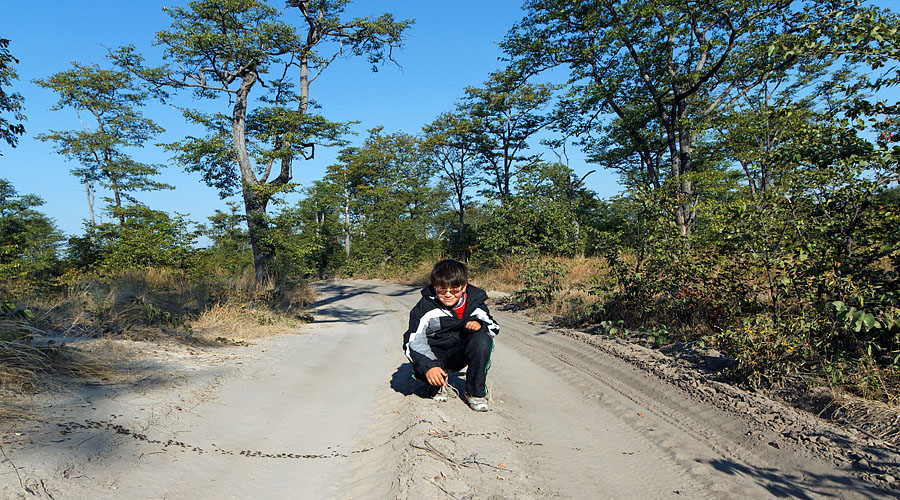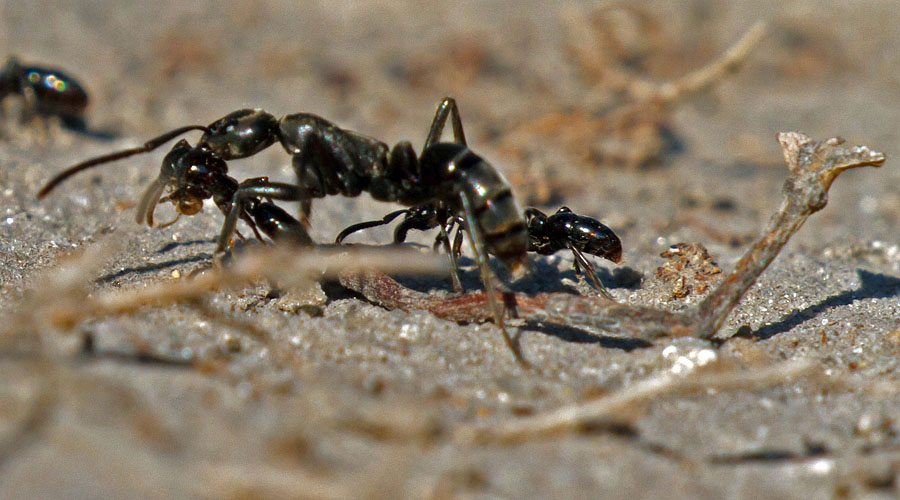 Kyle was quite the photographer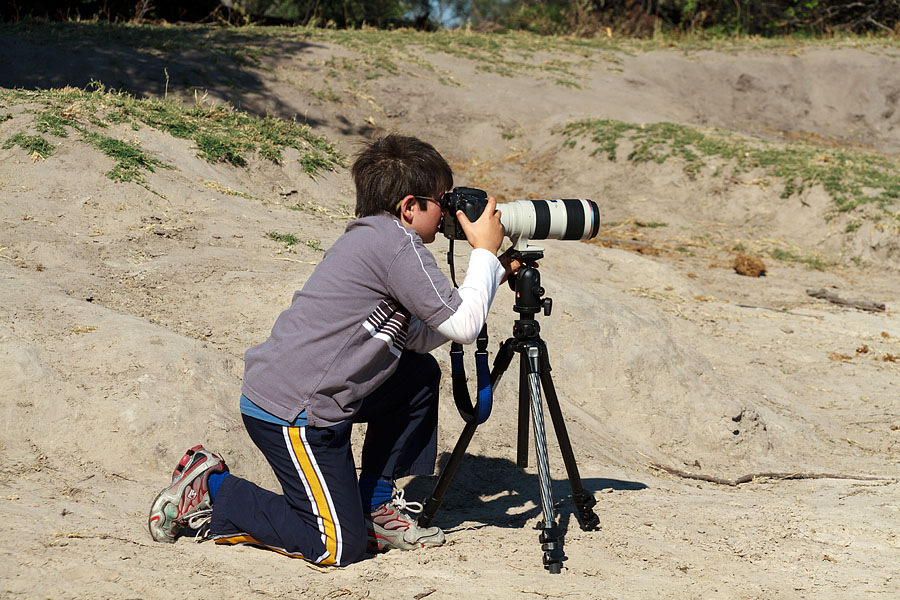 Zebra's and an Elephant - Wendy was quite proud that she got the "double" shot and I didn't! ;-)
And HEY, it's even a triple shot - note the bird flying in front of the tree trunk.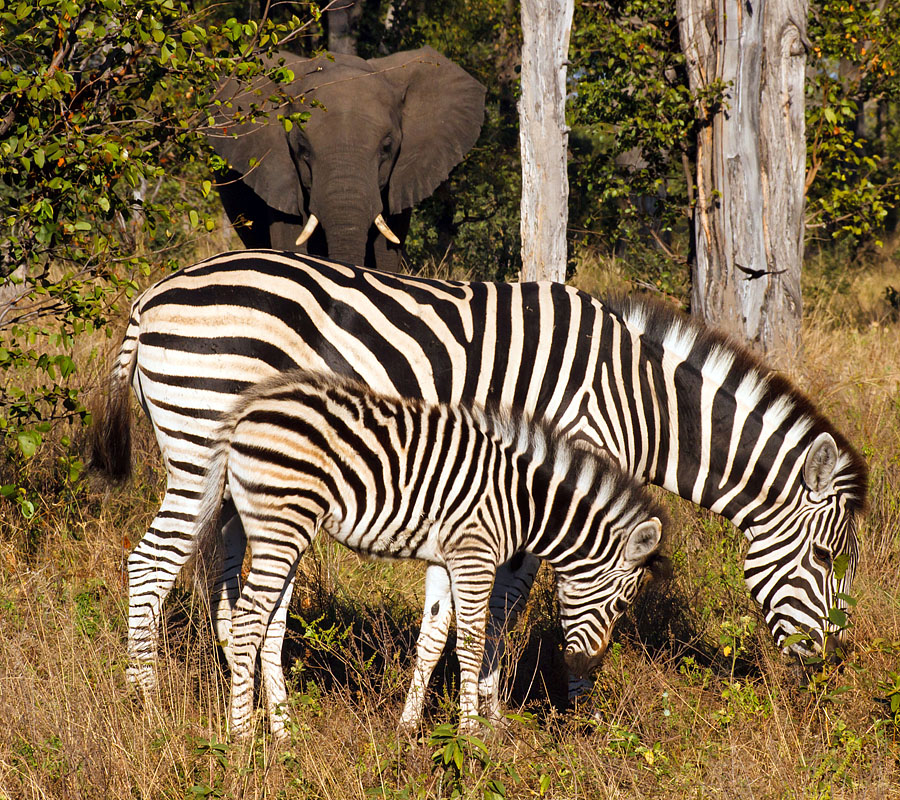 African Bee-Eaters ... beautiful birds to watch
We came across a couple of Cheetah -
mouseover image to see my picture of Dana Allen taking our picture!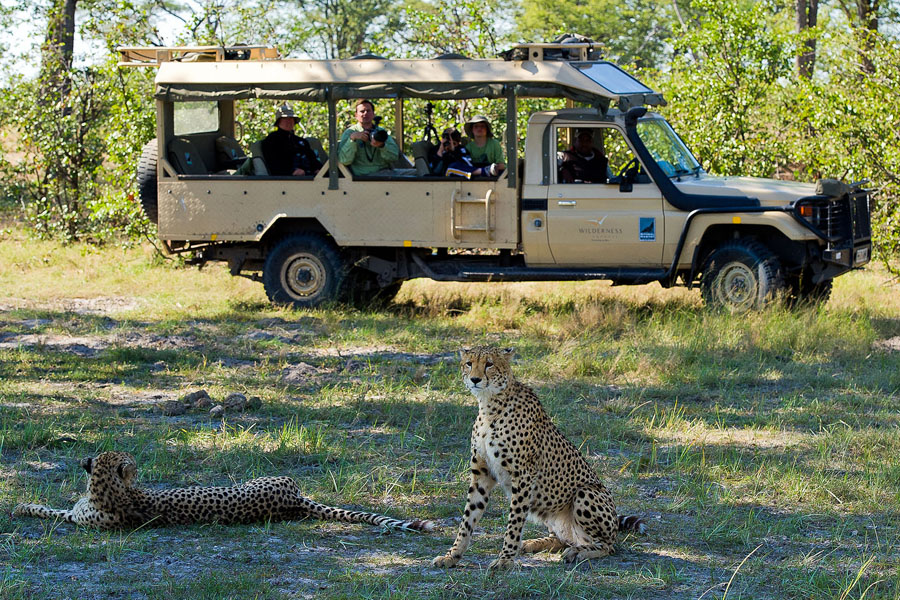 Cheetah scratching the tree
Dana's picture of me taking a picture of the Cheetah scratching the tree! ;-)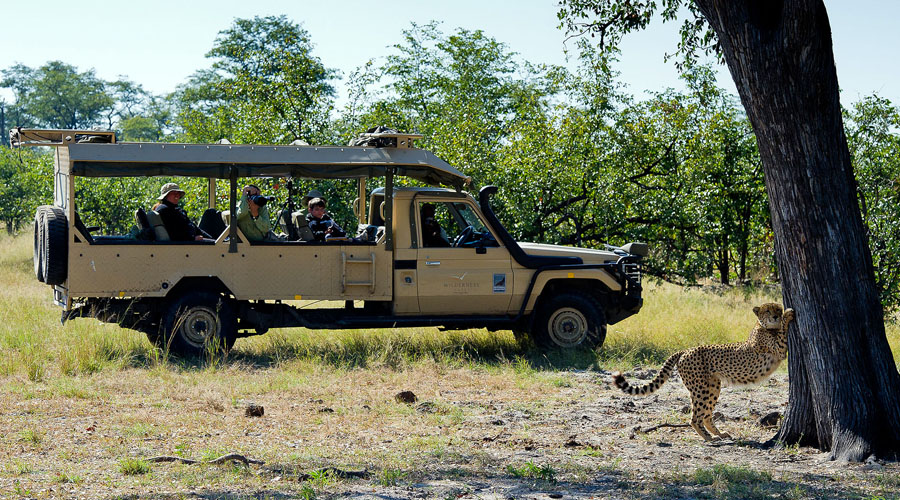 We followed the two Cheetahs and Thuto (yet again) correctly predicted they would go up on this tree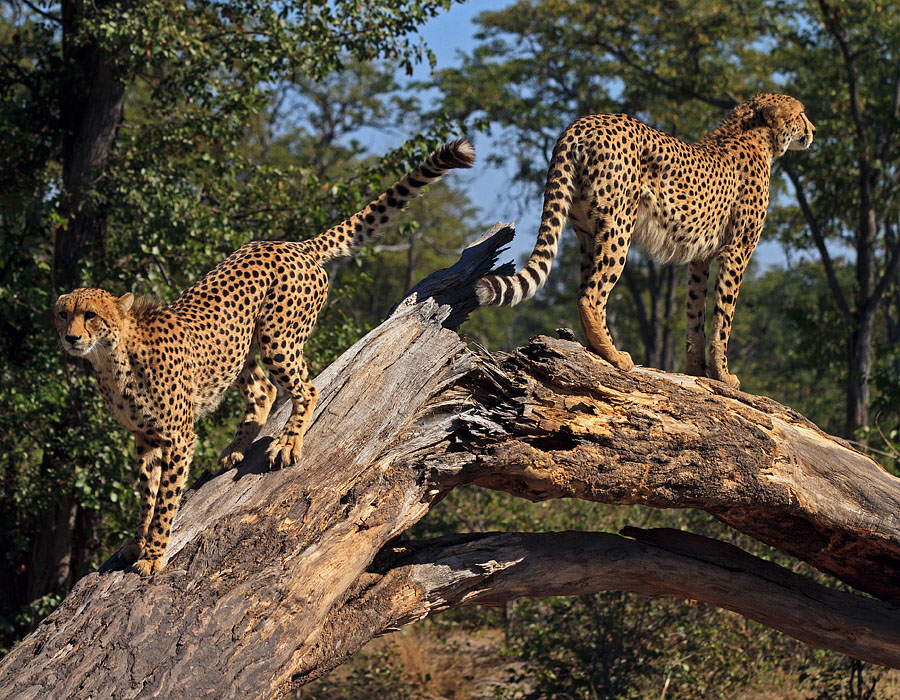 Mouseover image to see closeup of Cheetah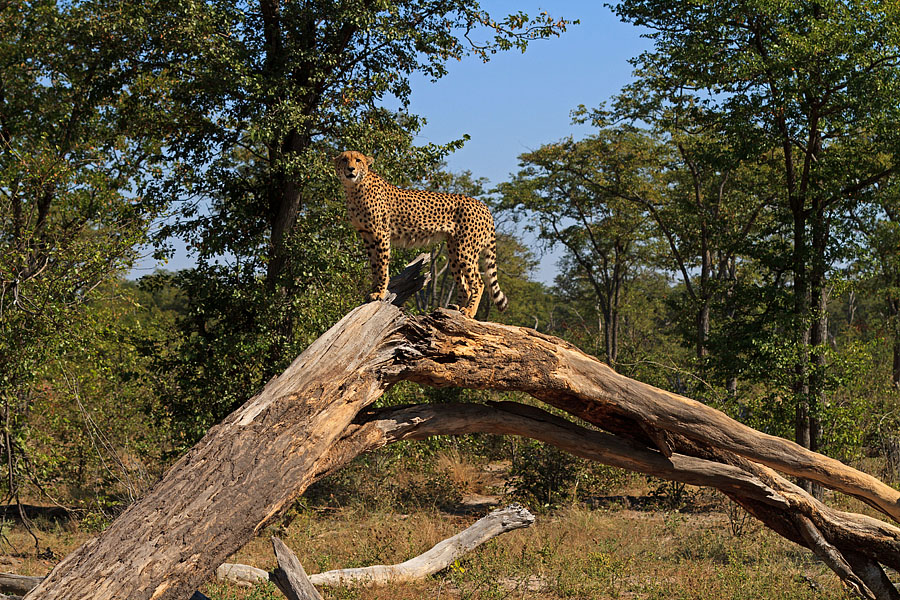 After following the Cheetah, we came across a Leopard having ... uhhhhh ... lunch!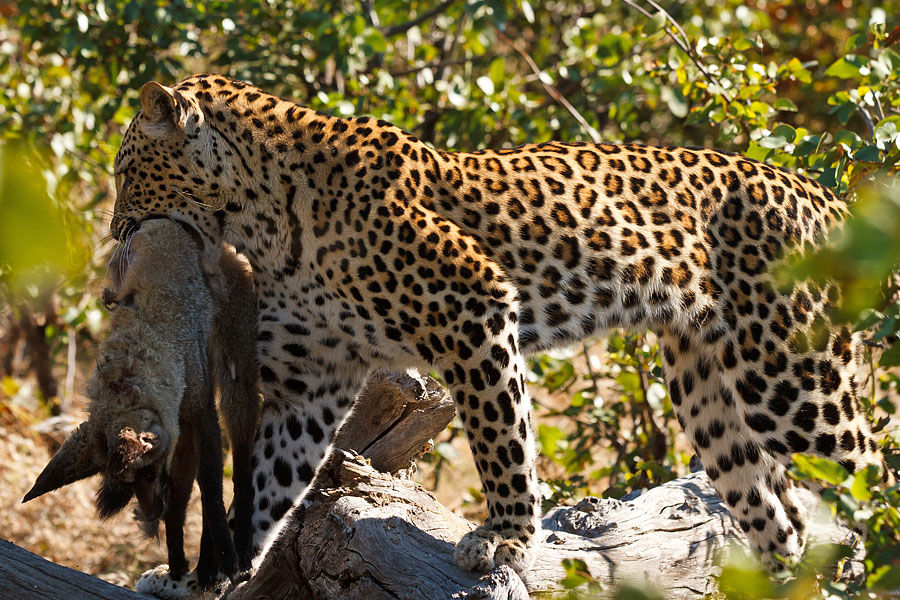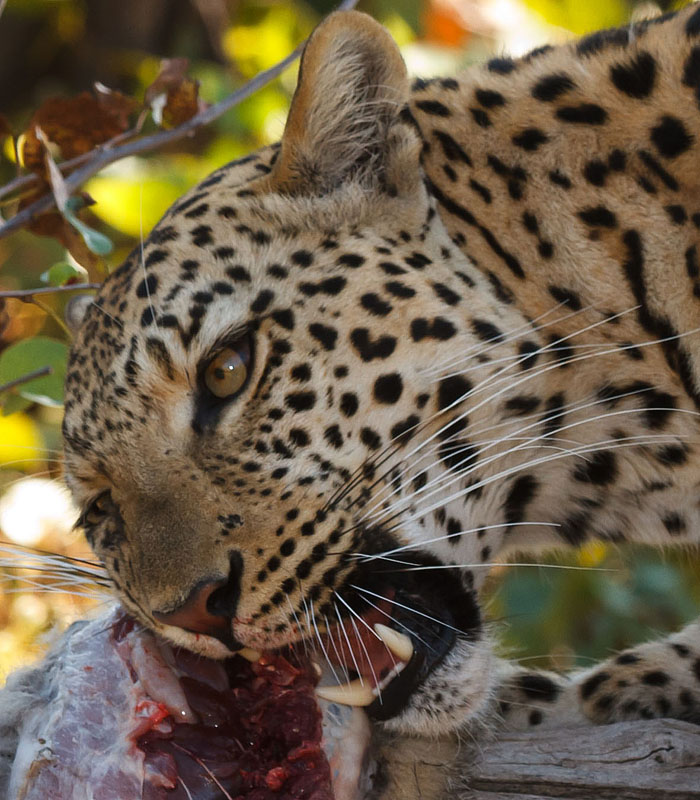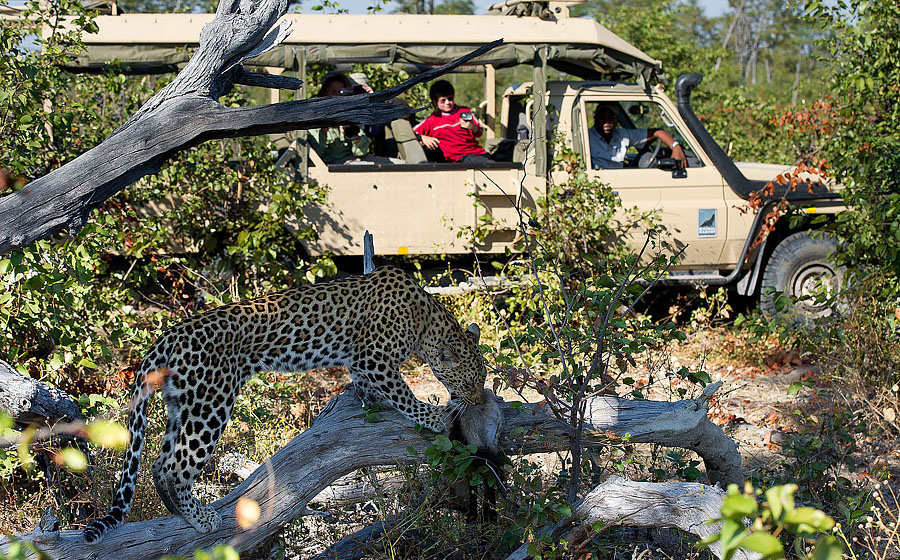 Driving in the Africa wilderness - note Lilac Breasted Roller flying next to bridge - got 'em in flight ... kinda! ;-)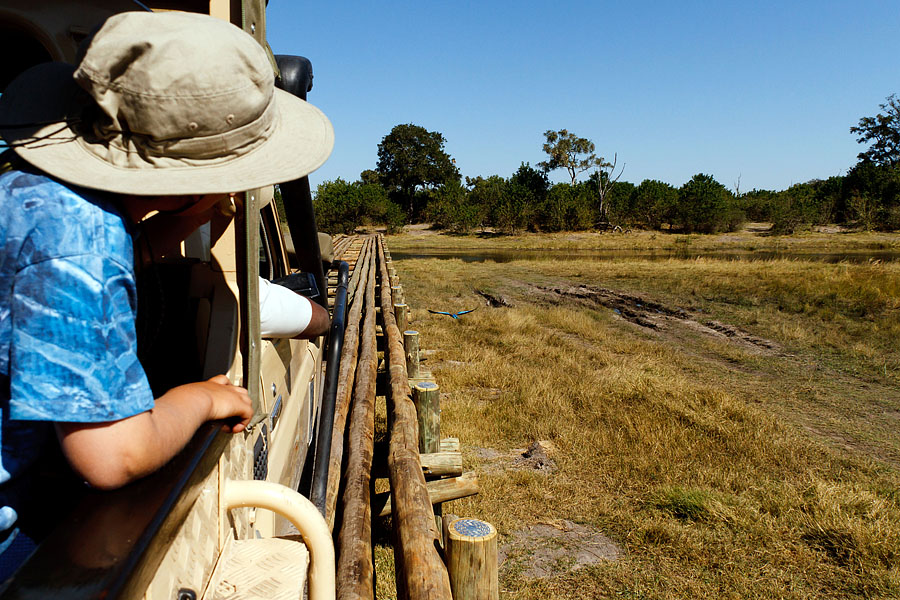 A few minutes later we saw a plane fly overhead and yet another elephant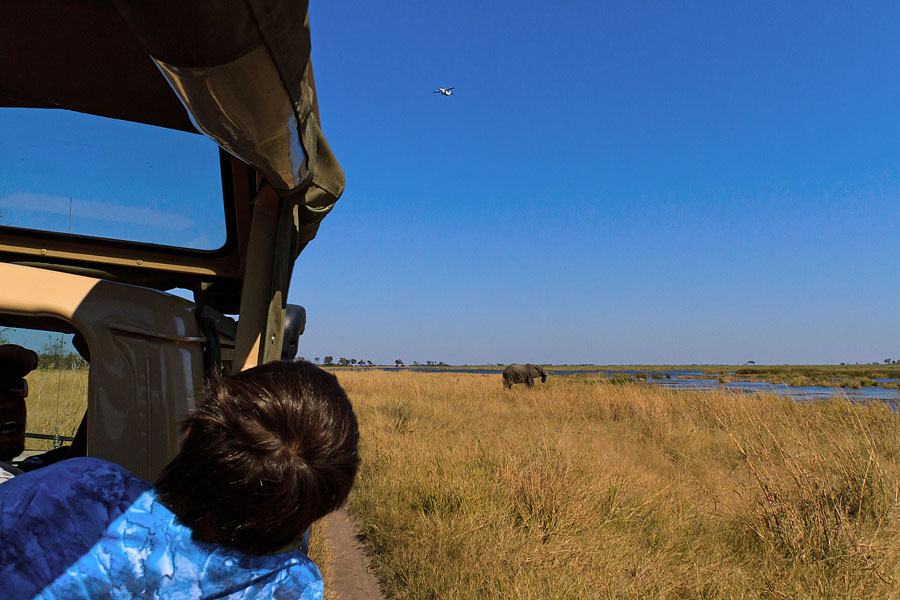 Elephants have the right-of-way in Africa!
A Bachelor herd of elephants - note low ground-angle for the picture ...
Another low-angle picture of a ... uhhhhhh ... 5-legged Elephant! ;-)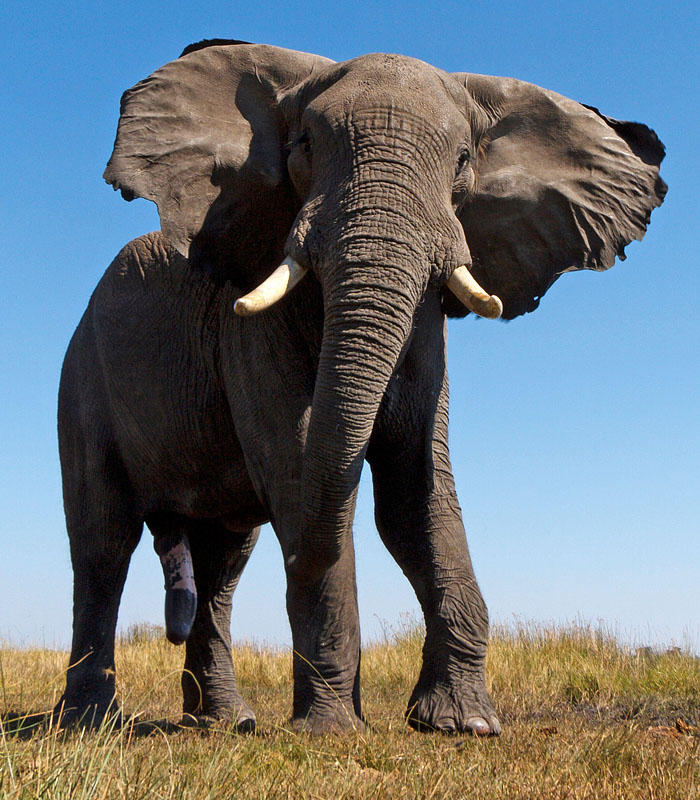 After taking those earlier pictures, I wanted a shot of me with the elephant! ;-)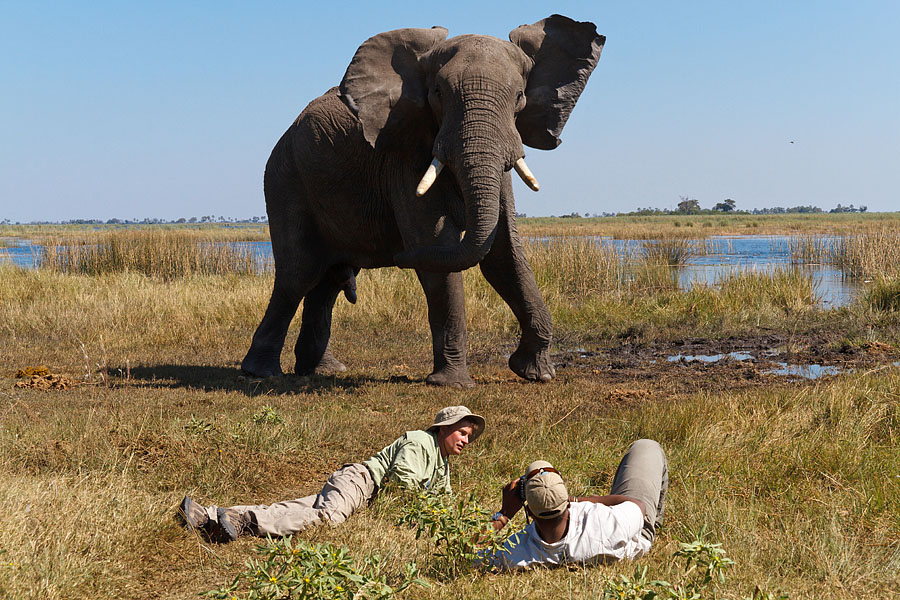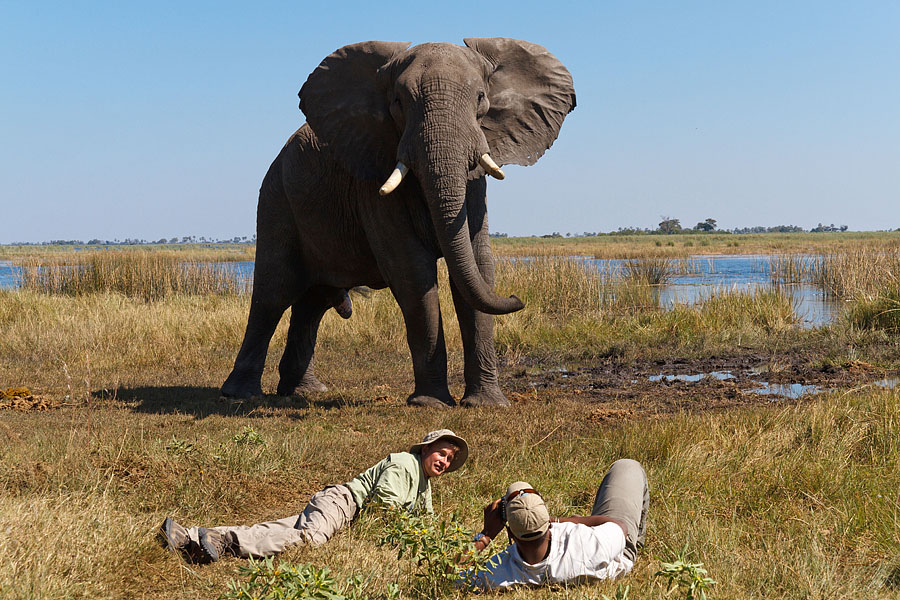 All too soon, it was time to leave Thuto - he was awesome!
---
We flew to Kasane and took a boat cruise on the Chobe River - lots of Hippos!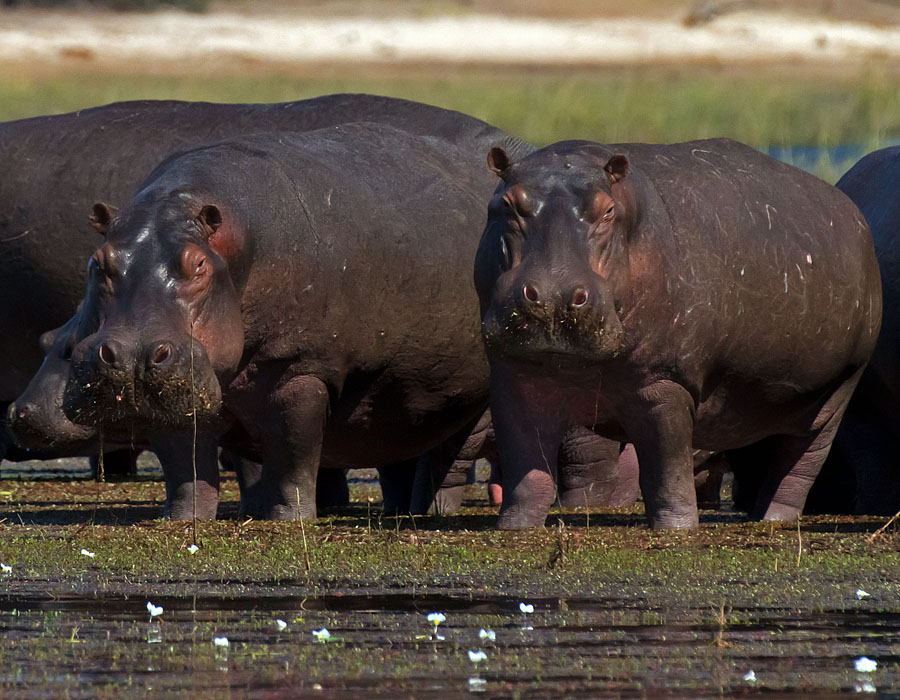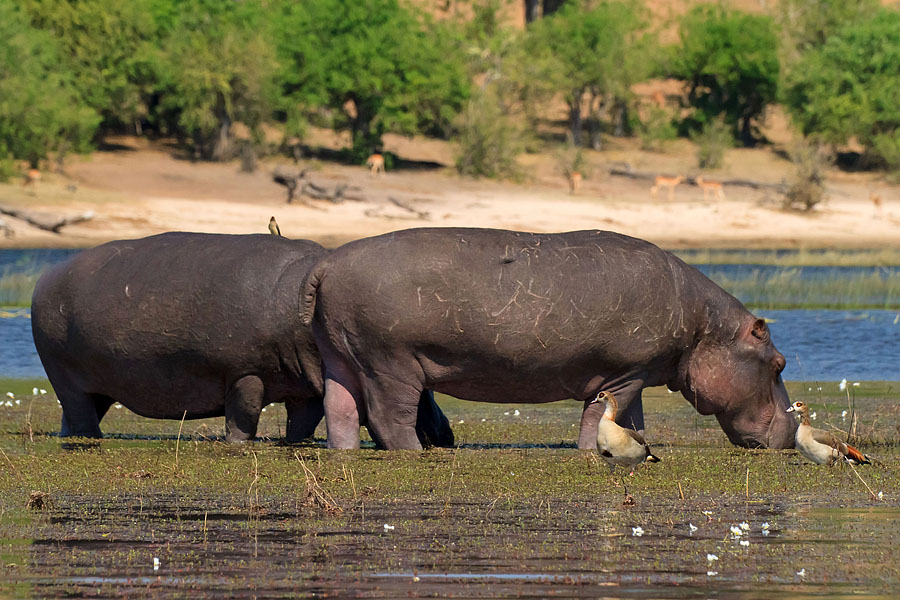 We then drove to Livingstone, Zambia and saw more Hippos on our sundowner cruise on the Zambezi
This Hippo was eating dinner -
mouseover image to see him chomp down!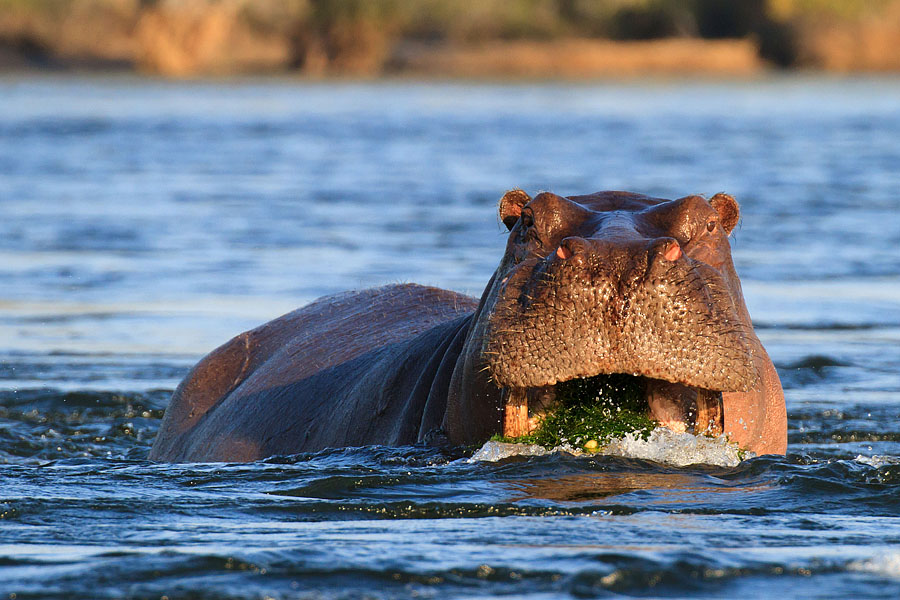 We also saw these Bee-Eaters nesting in a bank - they were always in motion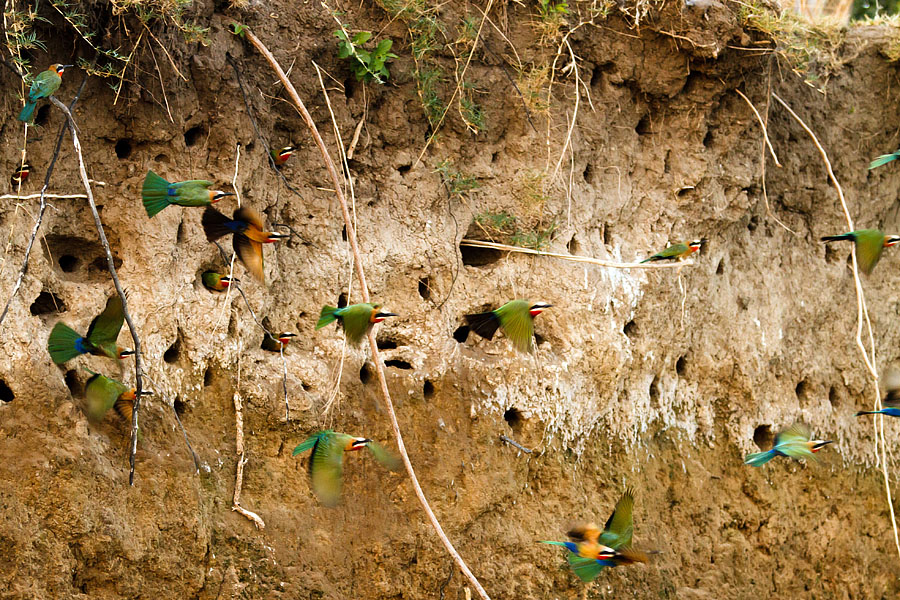 Here's a pretty funny bottle opener at our camp, Toka Leya! ;-)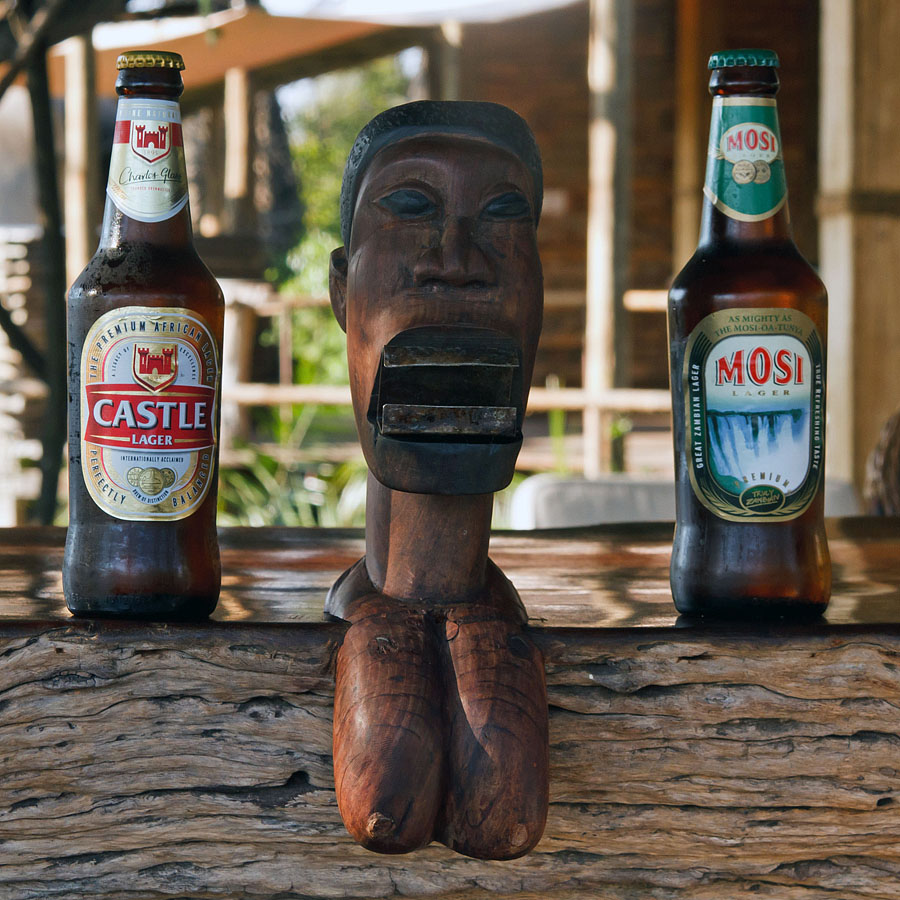 Alek was careful not to slip at the Victoria Falls precipice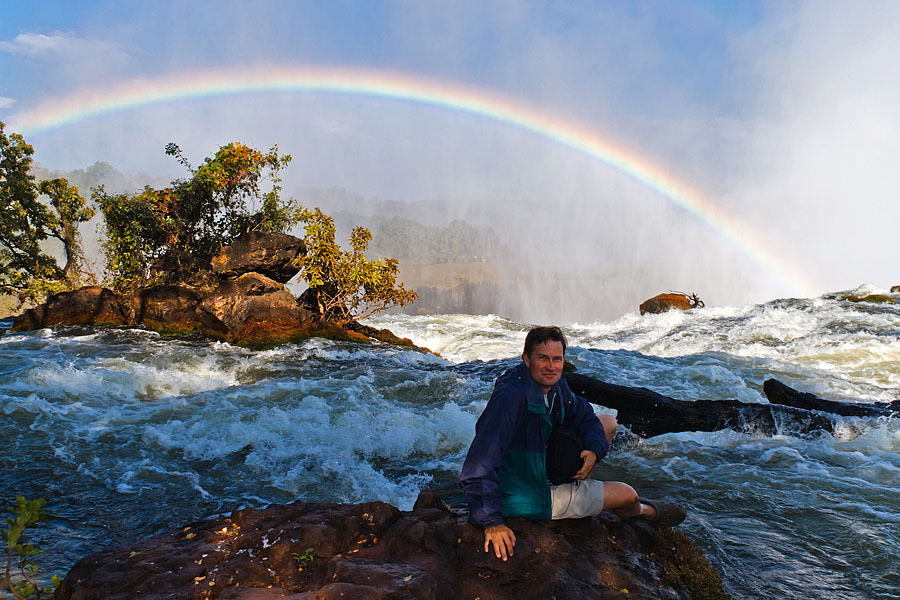 ---
We then headed over to Zimbabwe ... where you have to watch out for "traffic"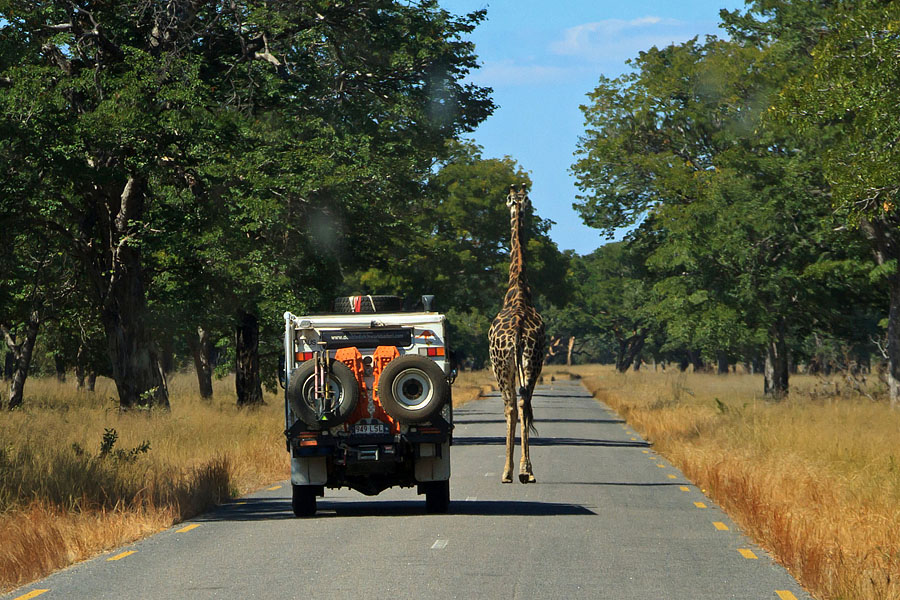 A more quintessential picture of a giraffe family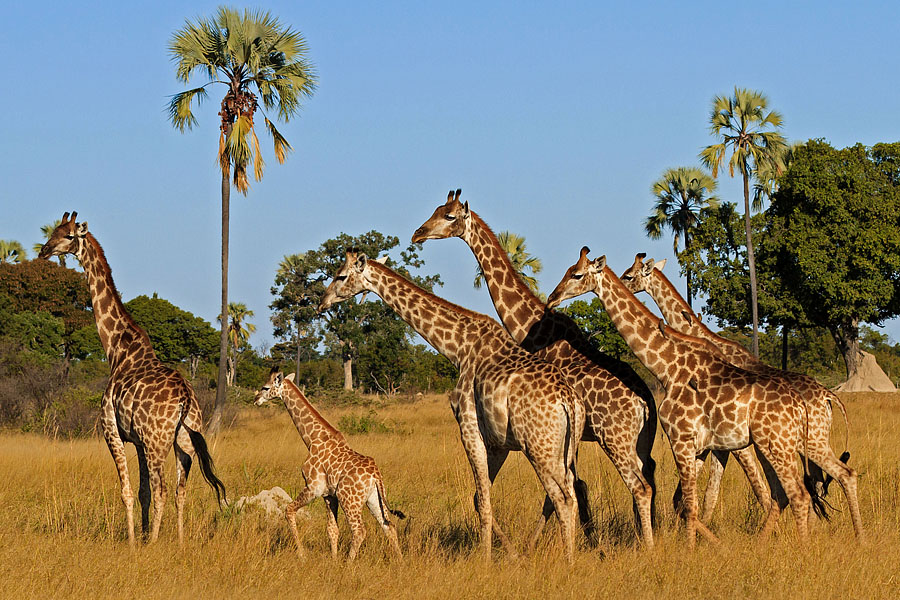 Yet another picture of a Lilac Breasted Roller perched on a branch ... but still had not captured one in flight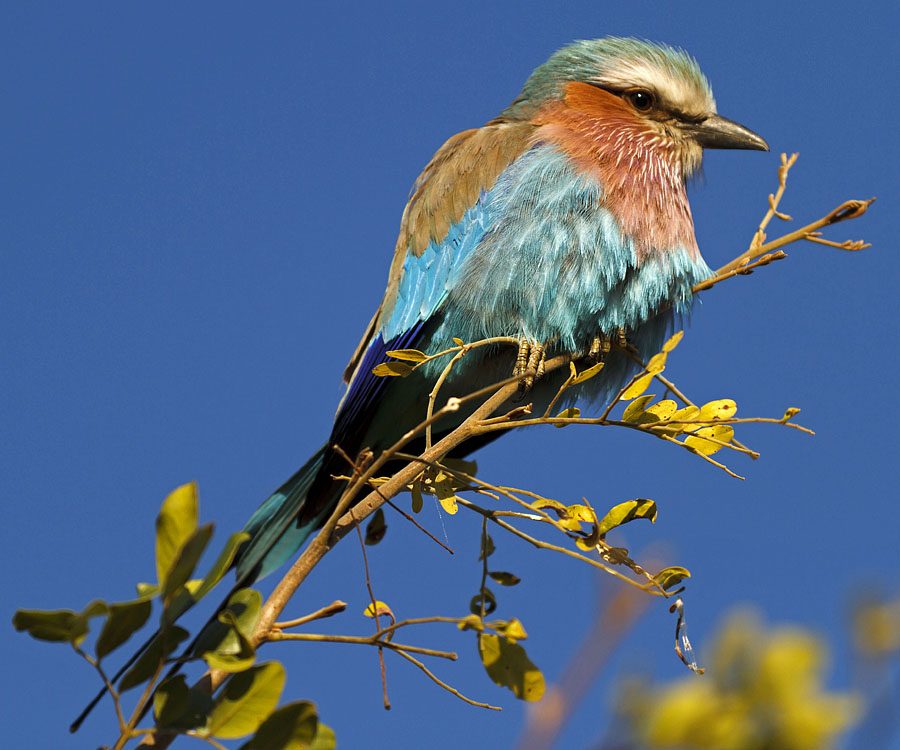 Elephant frames the sunset in Zimbabwe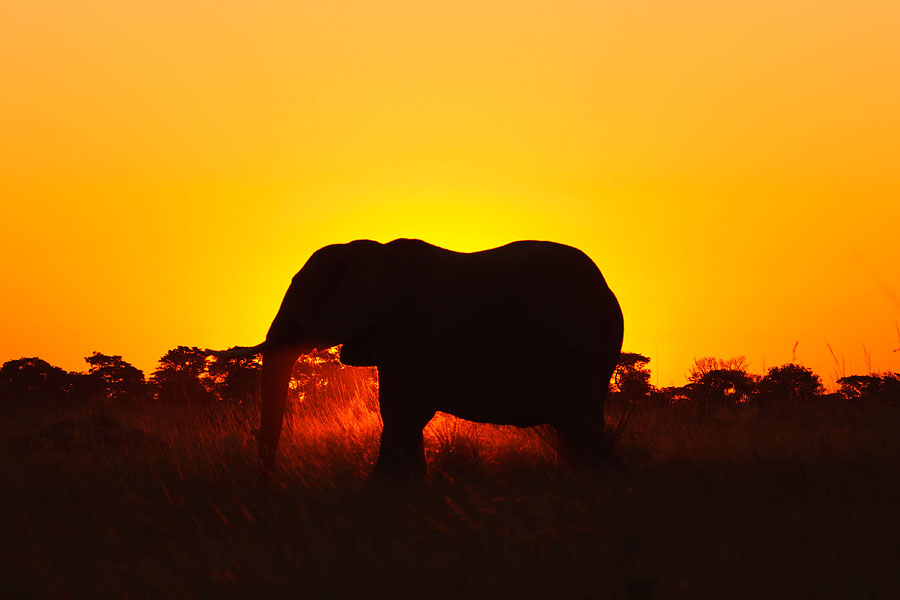 It was actually quite dim when we came across this Lion family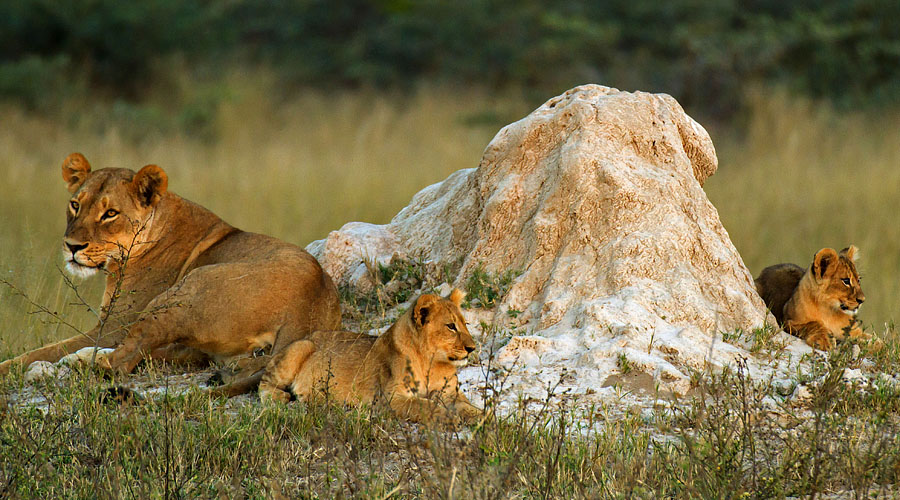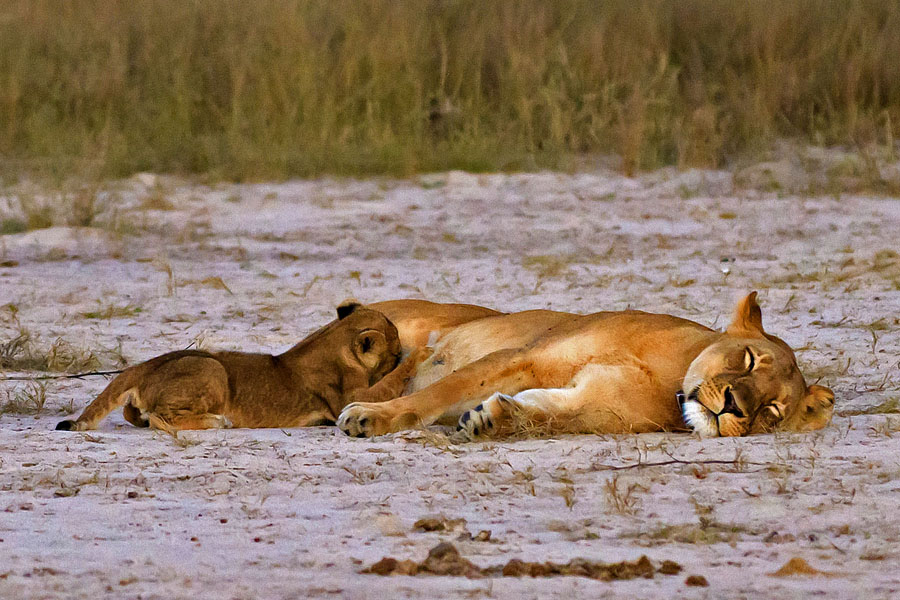 So we went back the next morning ... and found the cubs!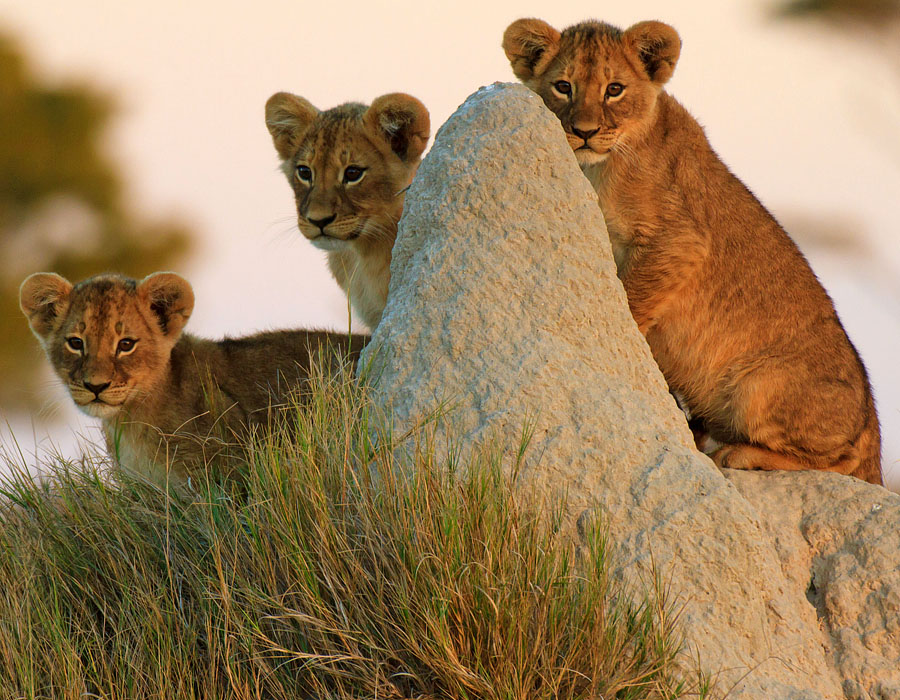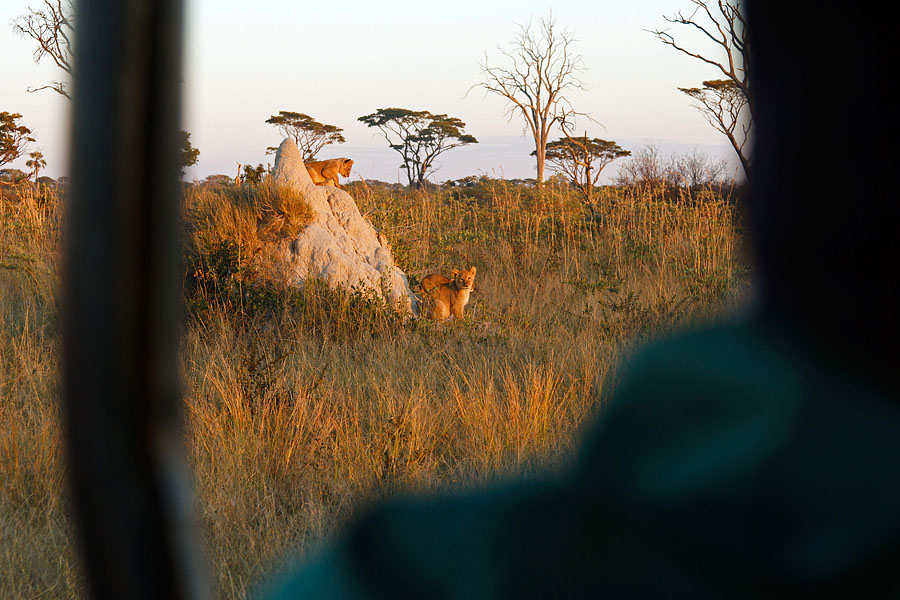 ---
We then flew back to Johannesburg (it's a hub) and drove north to Botswana - more elephants!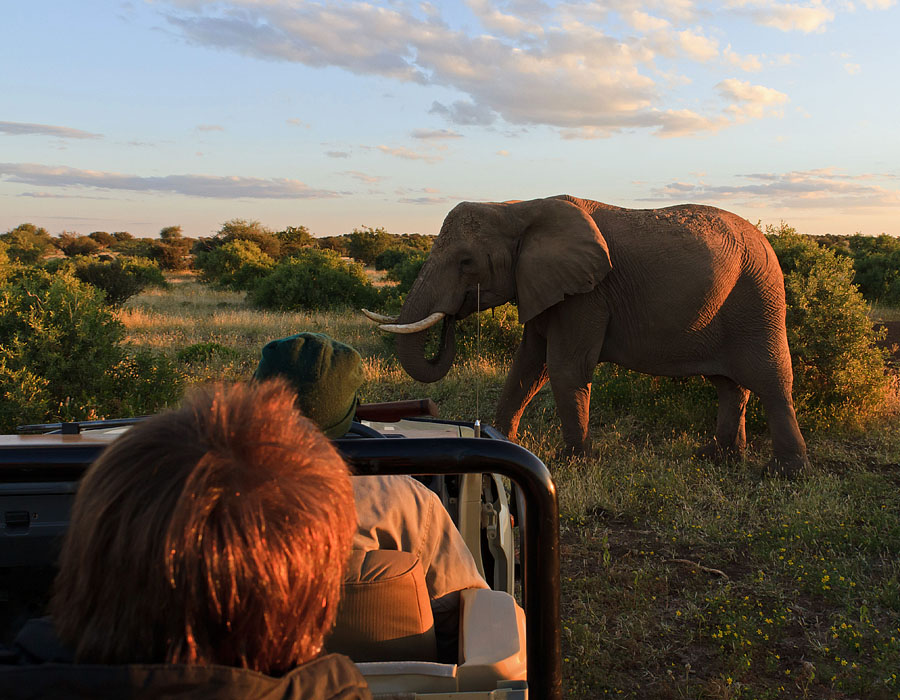 We were very lucky to see Wild Dogs again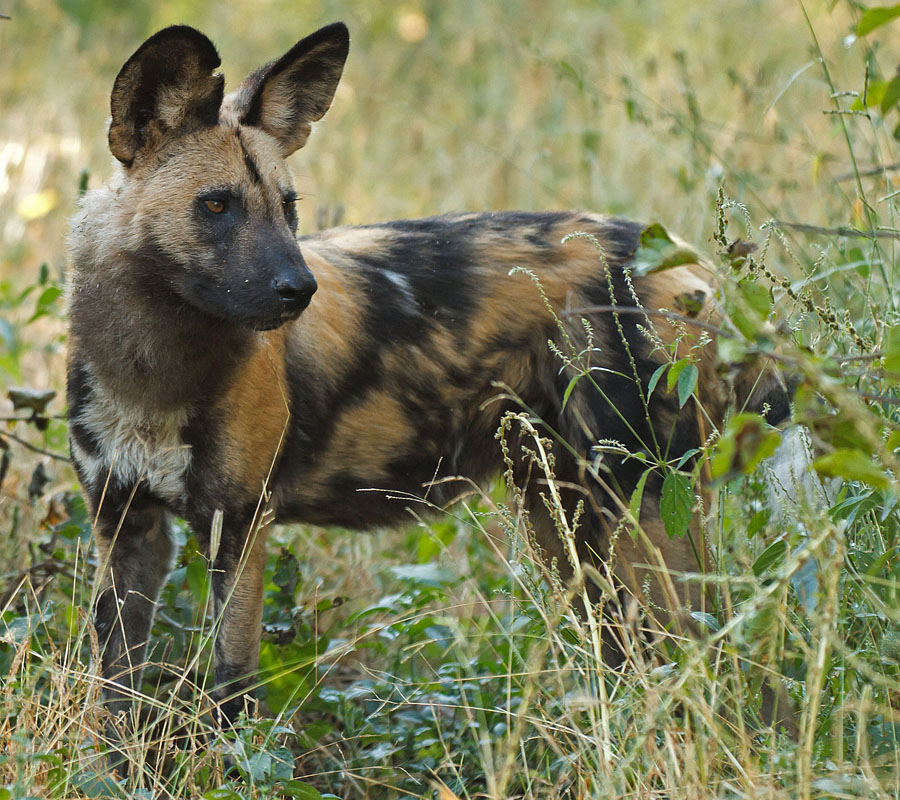 And even a baby hyena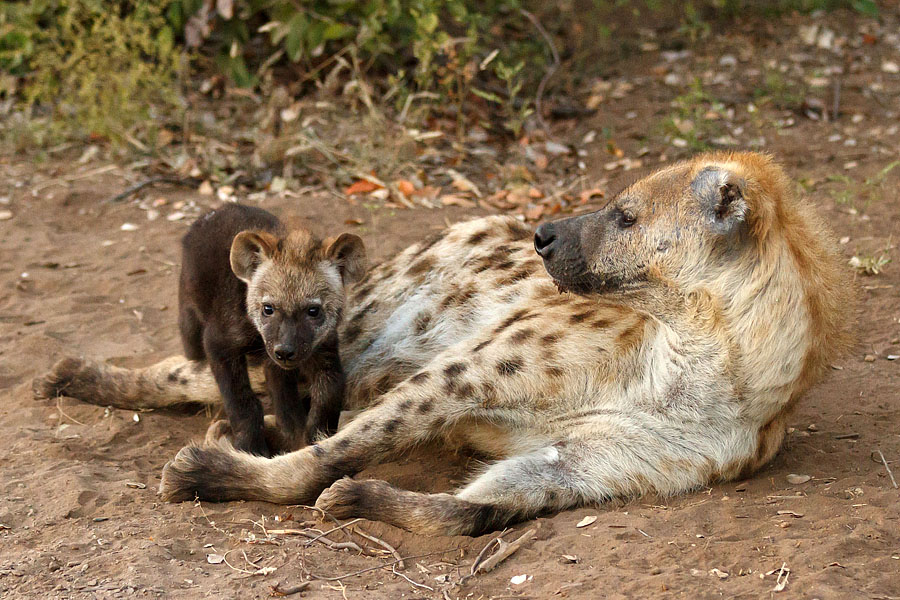 This warthog posted nicely for me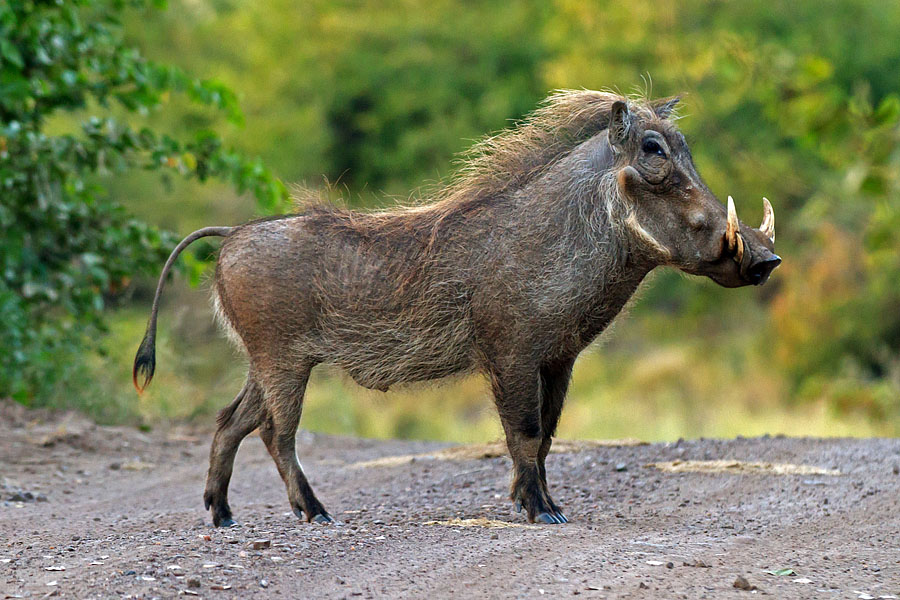 We actually saw this Cheetah hunt -
mouseover images to see in action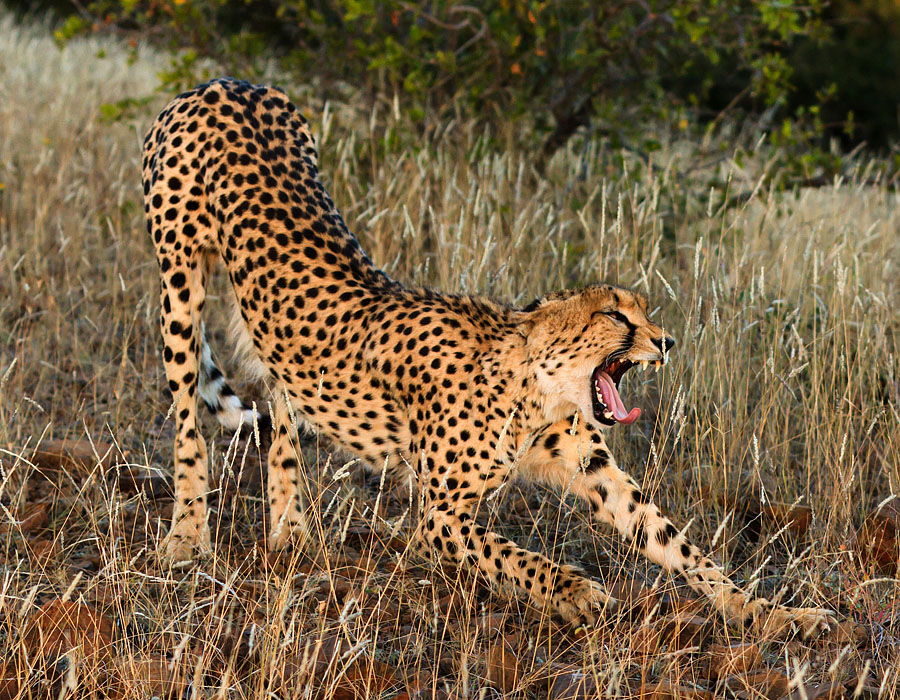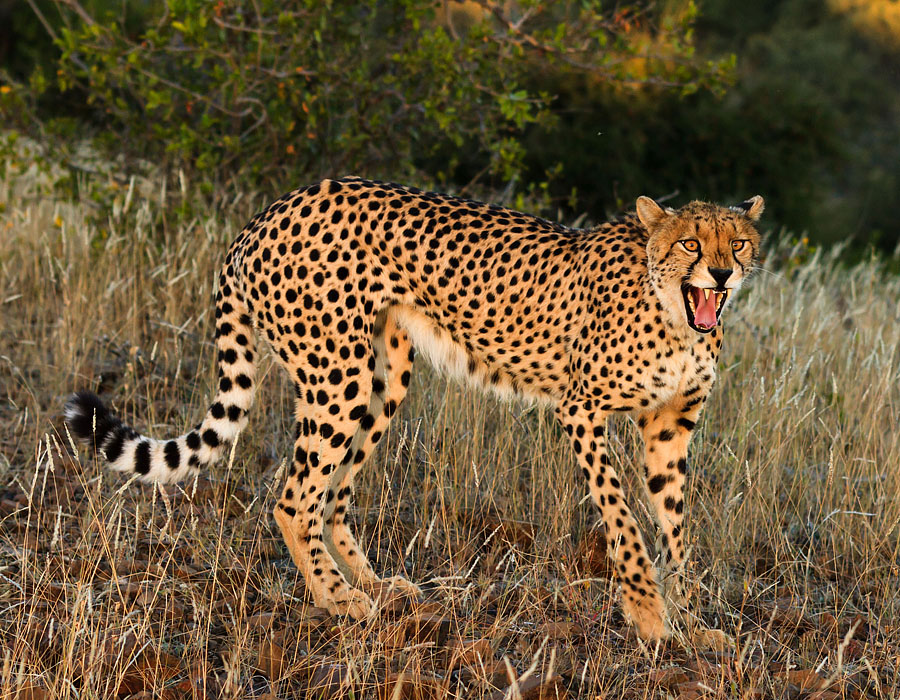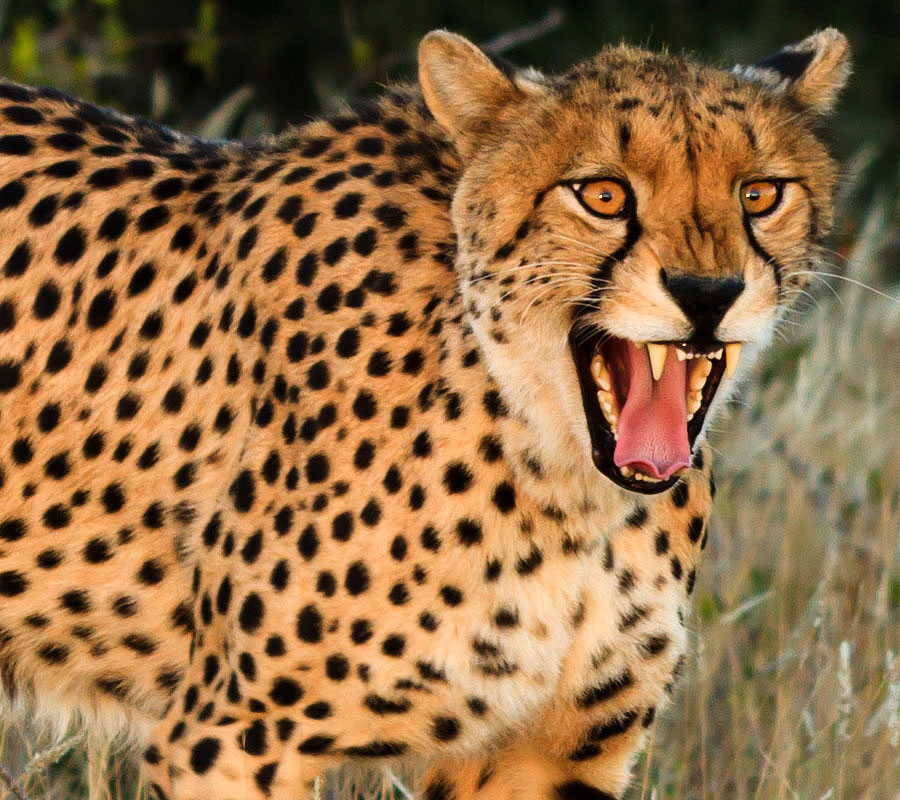 Lion Cubs at night -
Mouseover image to see 'em in action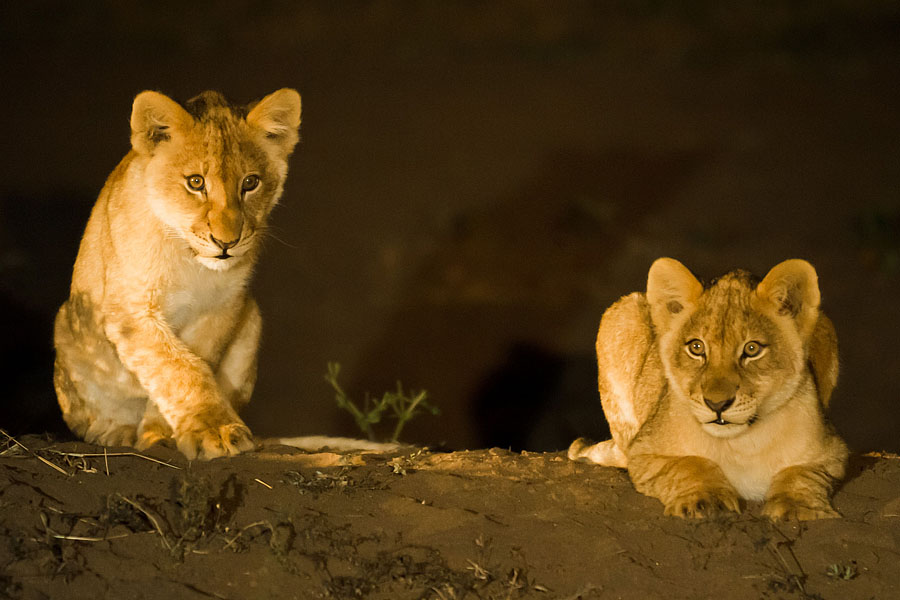 On the last morning, we saw a Lilac Breasted Roller on a Branch ... and he flew for me -
mouseover to see 'em fly