Galapagos Islands
My wonderful wife Wendy works at Natural Habitat Adventures
(they run incredible nature trips worldwide) and she had previously visited the Galapagos Islands in 1996. Fifteen years later, she returned with her family as Dirk, Kyle, and I were fortunate to join her week-long live-aboard ship to see the nifty wildlife and scenery.
My wife Wendy and sons Dirk-n-Kyle hang out with Guide Gustavo and Sea Lions in the Galapagos Islands
Self-portrait (remote in left hand) of Alek with Nazca Boobies on Genovesa, Galapagos Islands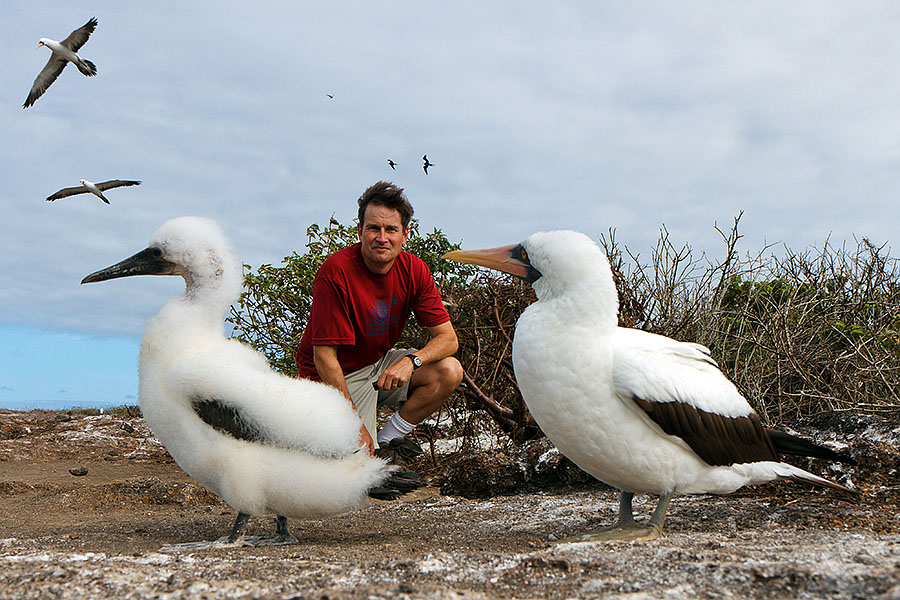 ---
Kyle and I with our 11 bags (includes two camera bags and a Nathab gear bag) - 222 pounds - YIKES!
Thanks to the recent Continental-United merger, we were able to use miles for the flight from Denver to Quito, Ecuador
After a day of flying and a midnight landing in Quito, we headed out the next day to the Otavalo Market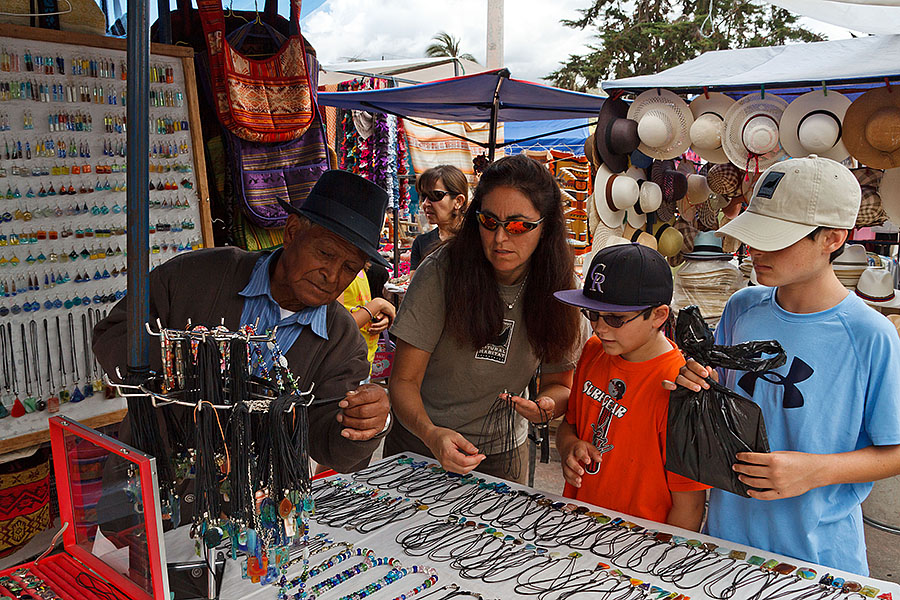 Our Guide Gustavo points out some of the "interesting" (and tasty!) fruits to Dirk and Wendy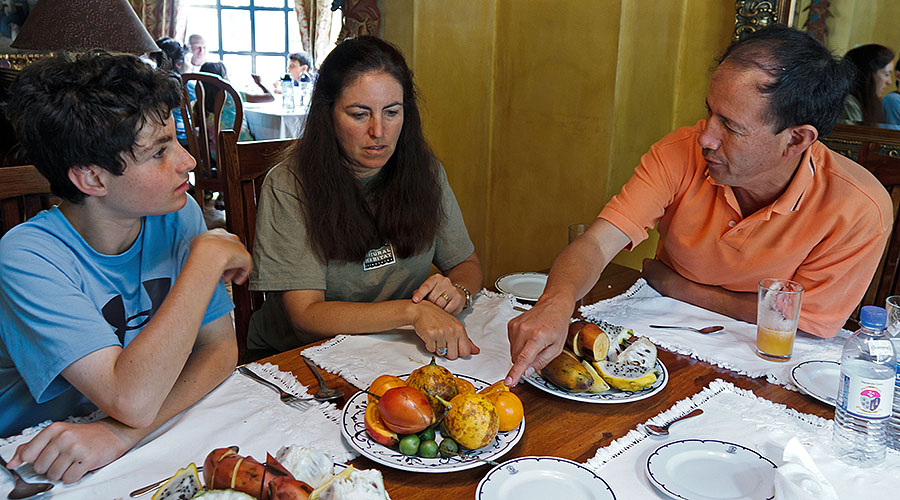 Dirk and Kyle found the teeter-totter more interesting than the Llama - Boys will be boys! ;-)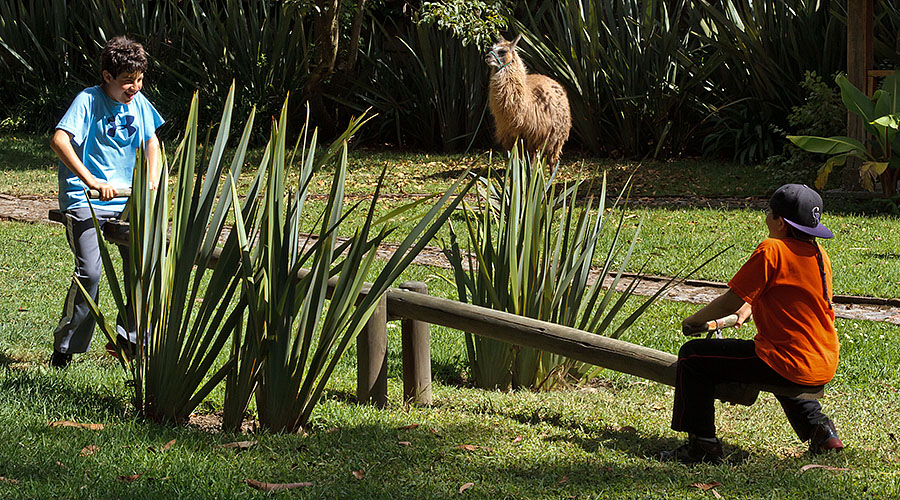 We hooked up with our group the next day and went to the Equator Monument
This was built years ago ... but then they found out it wasn't placed exactly at zero Latitude - D'OH! ;-)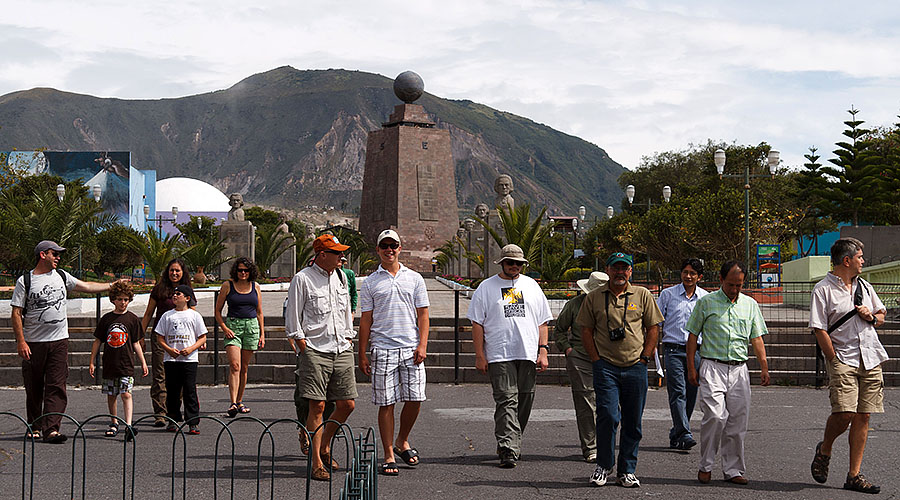 Dirk and Kyle at the actual Zero Latitude Line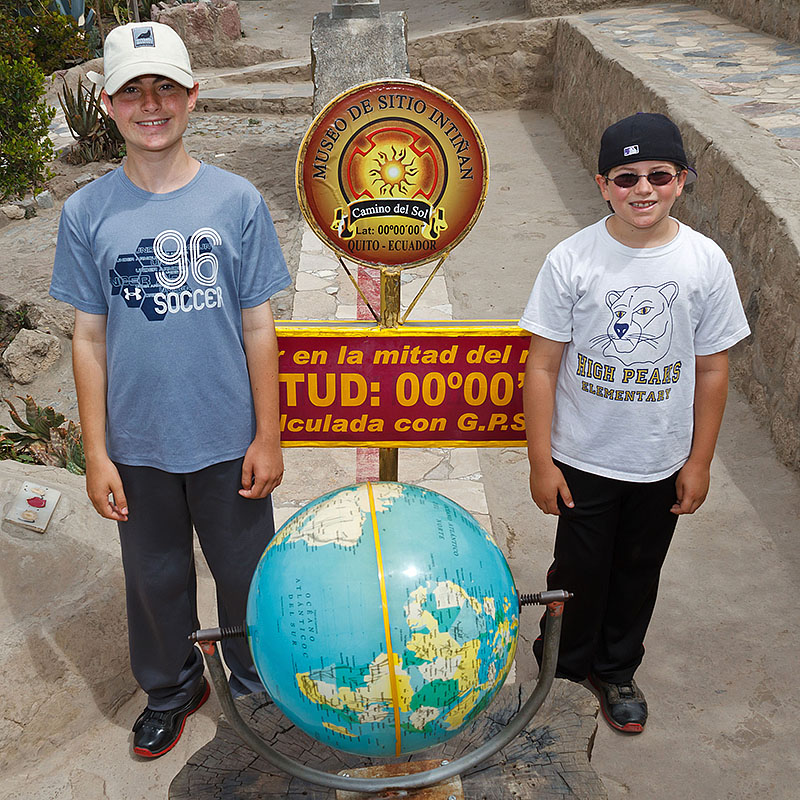 It's quite touristy with various pseudo-science demos - like how water drains clockwise on the South side and CCW on the North
Most people don't watch the initial (biased) pour - residual rotational energy of the water dwarfs the Coriolis effect
As an Engineer, it was amusing to watch ... and I did discreetly point out to my family the smoke-n-mirrors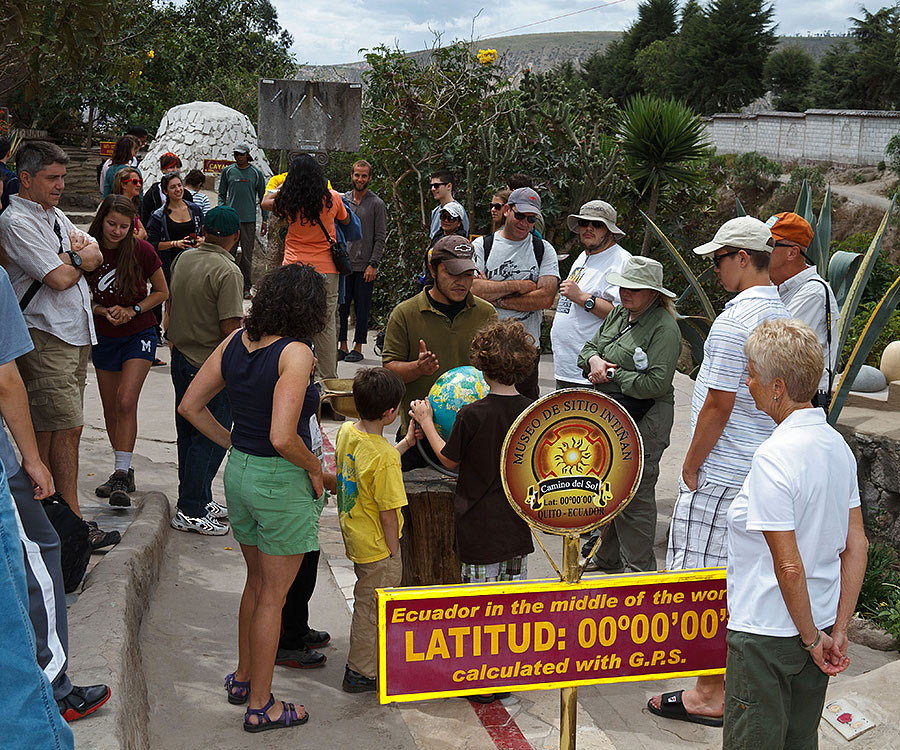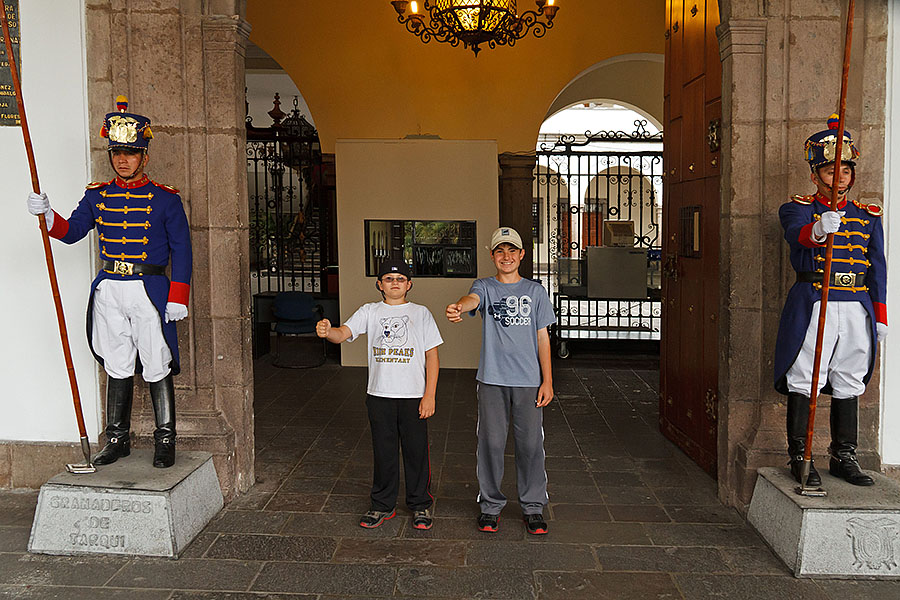 Quito had some pretty incredible churches -
mouseover image to see closeup of the (real) gold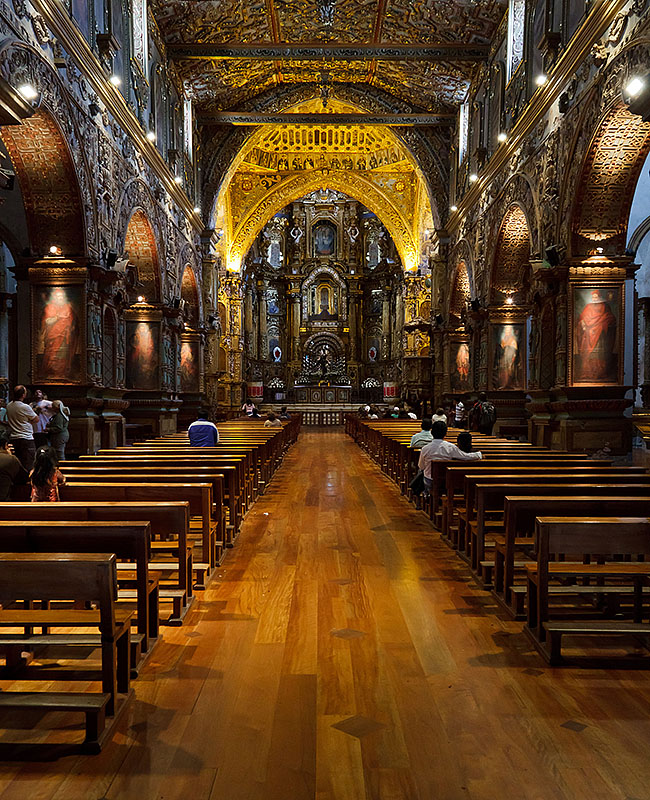 Lady of Quito Statue overlooks the city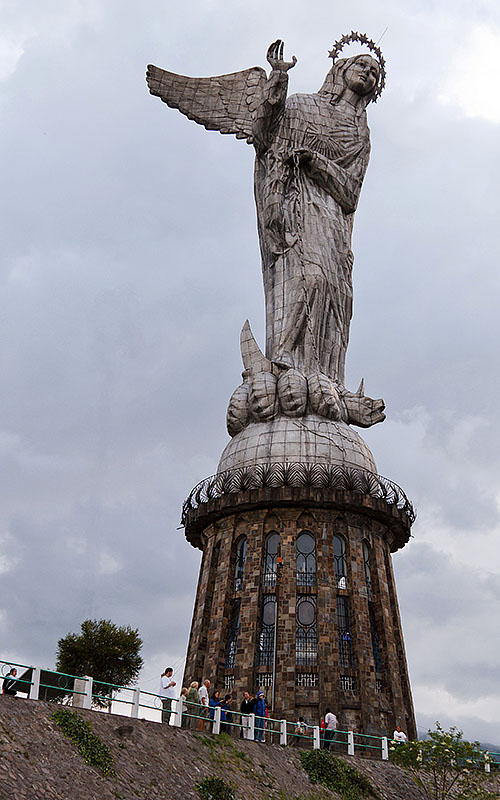 The following morning, we took a couple hour flight from Quito to the Galapagos Islands
The A320 was super clean with free entertainment and meal service - shades of an earlier era in air travel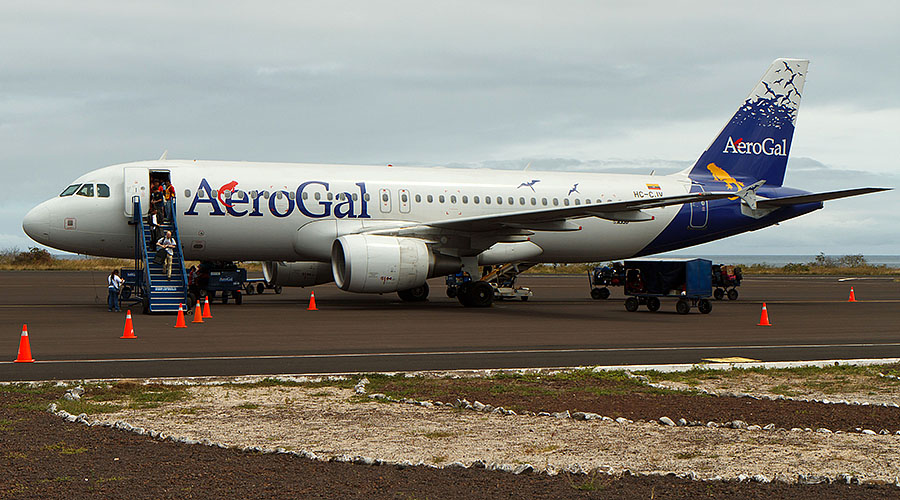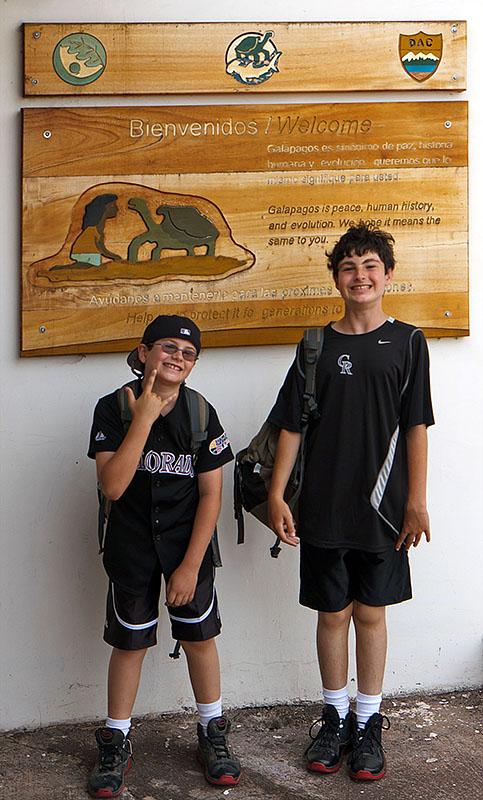 The Letty was our home for the next week -
mouseover image to see wide-angle view of the San Cristobal harbor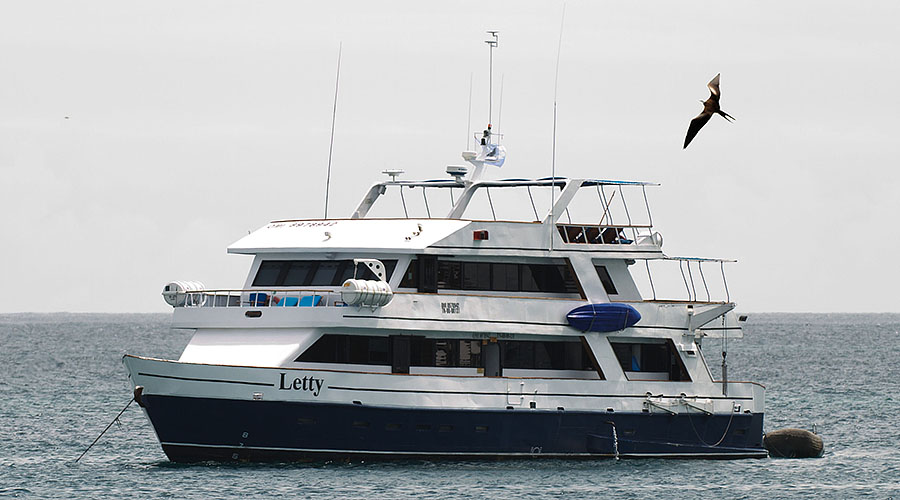 We started seeing wildlife right away -
mouseover image to see the Sea Lion close their eyes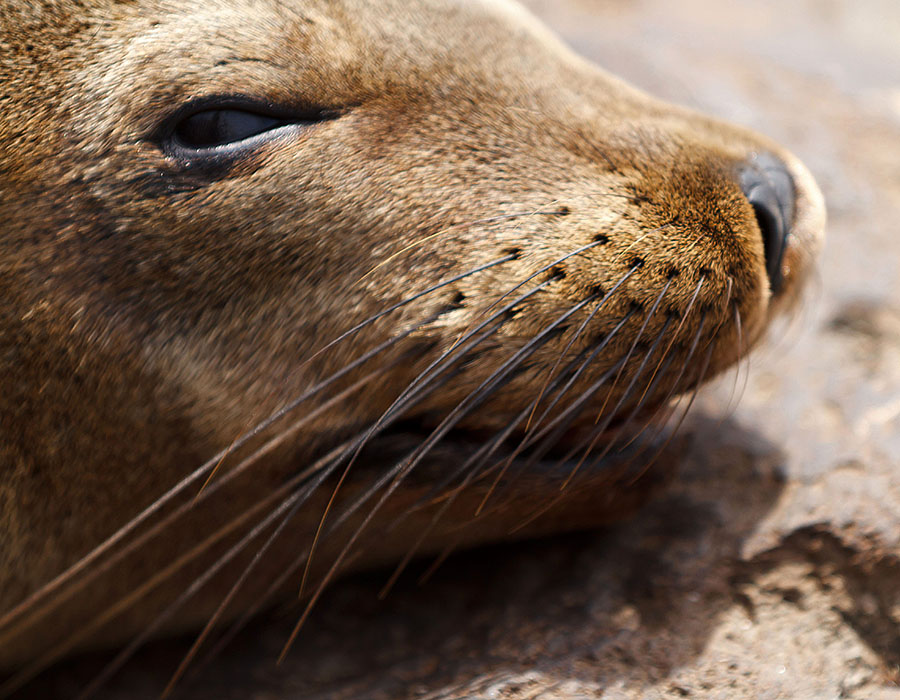 Later that afternoon, we went snorkeling ... so Ben (and the rest of us) got to see Sea Lions in the water too!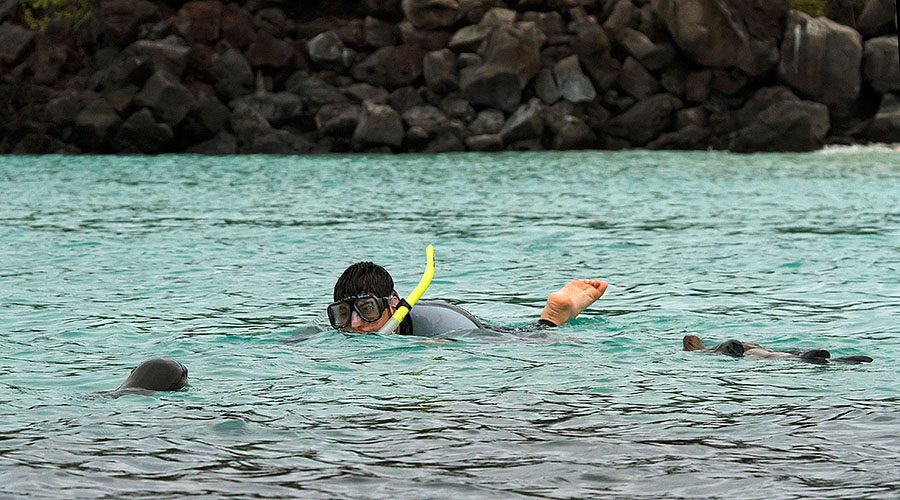 Ron, Hannah, and Michael at sunset onboard the Letty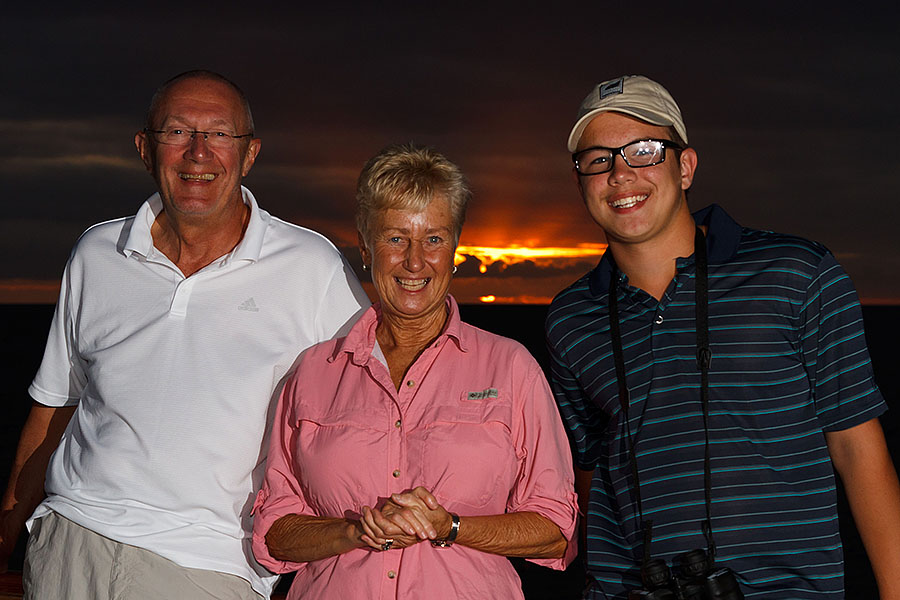 Eric (sister ship to the Letty) in front of Kicker Rock, Galapagos Island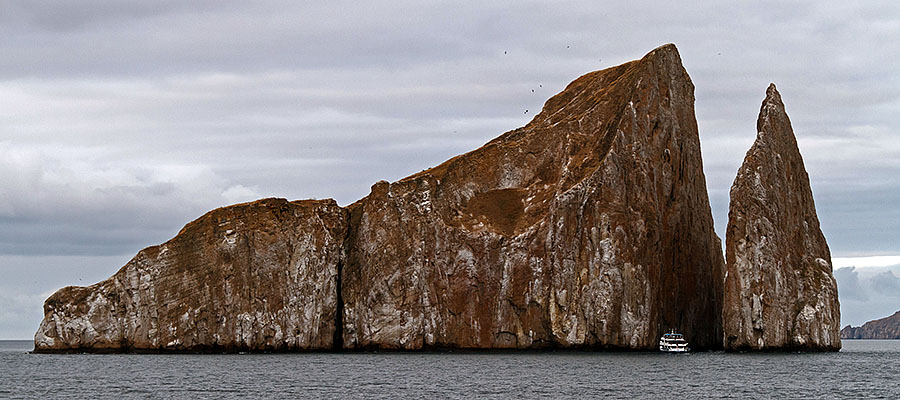 The next day, we went to Genovesa Island - perhaps this is a descendant of one of Darwin's Finches ... or is it?!? ;-)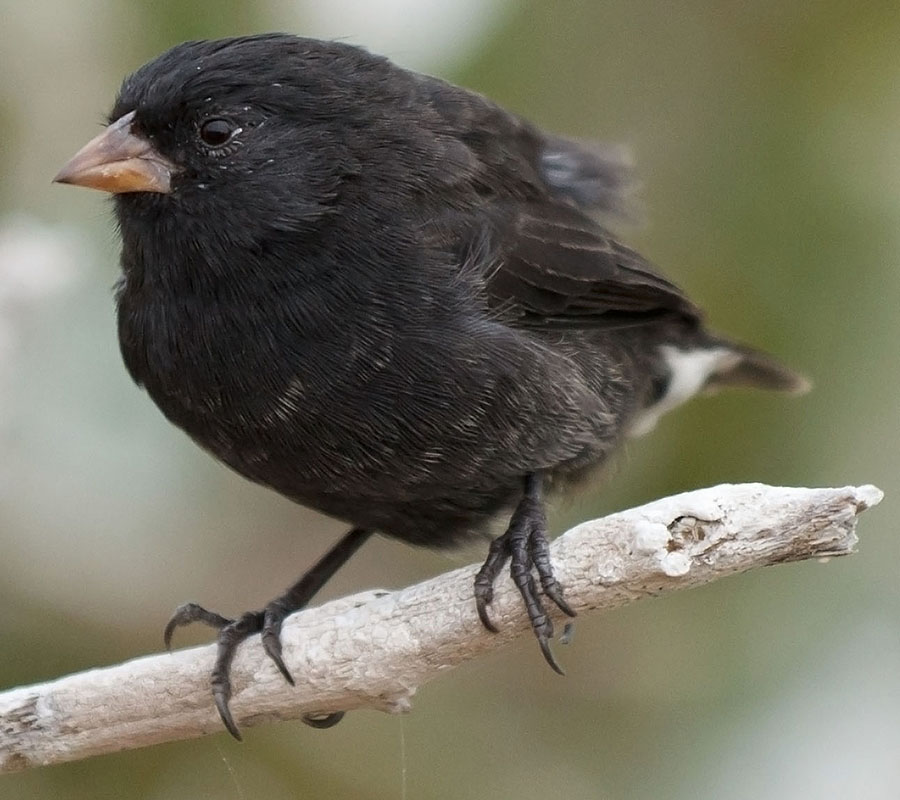 Short-Eared Owls are rarely seen - our only sighting was airborne for ~2 seconds -
mouseover image to see it flying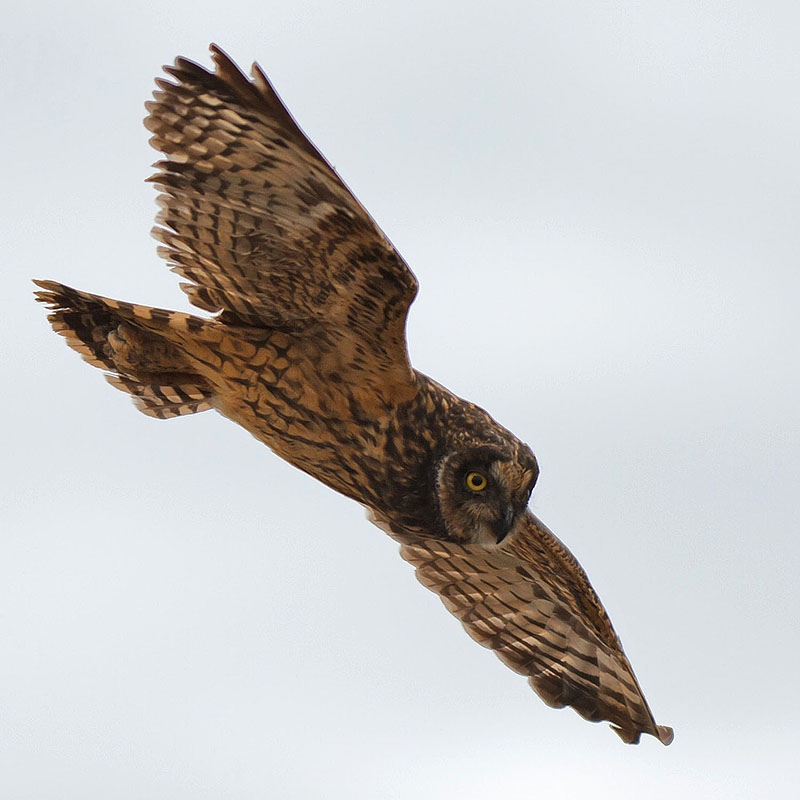 Red-Footed Boobies -
mouseover image to see 'em squawking at each other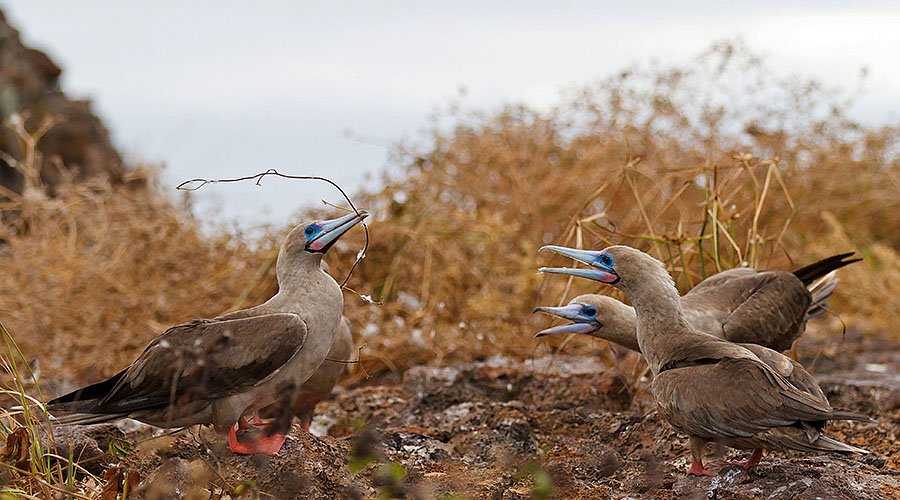 Red-Footed Booby from 0.6 meters away with wide-angle lens - 1.6x17mm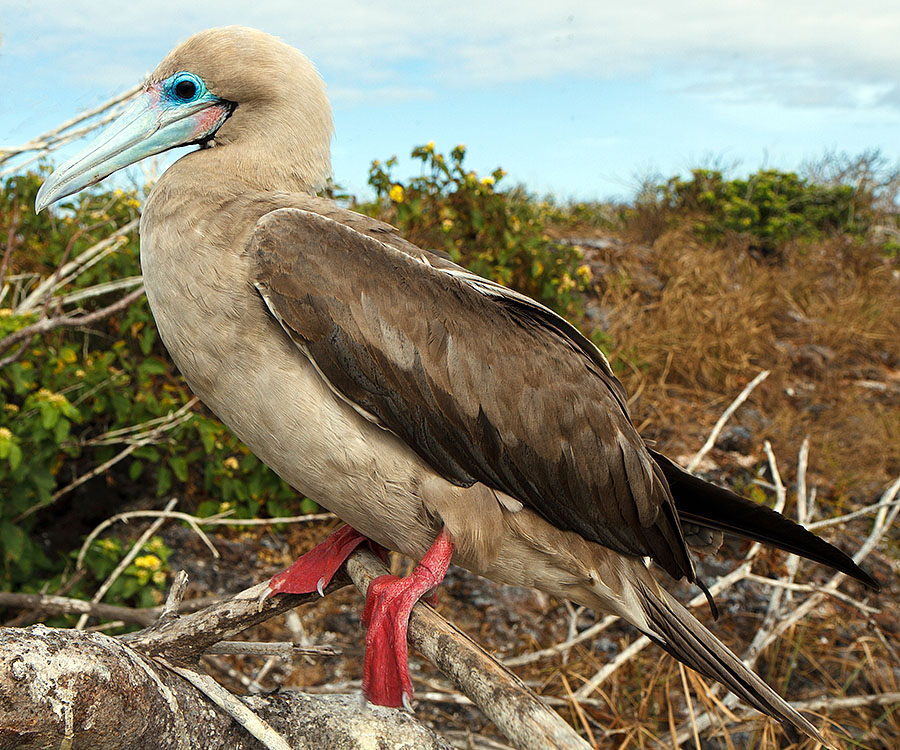 Red-Footed Booby from 6 meters away with telephoto lens - 1.6x200mm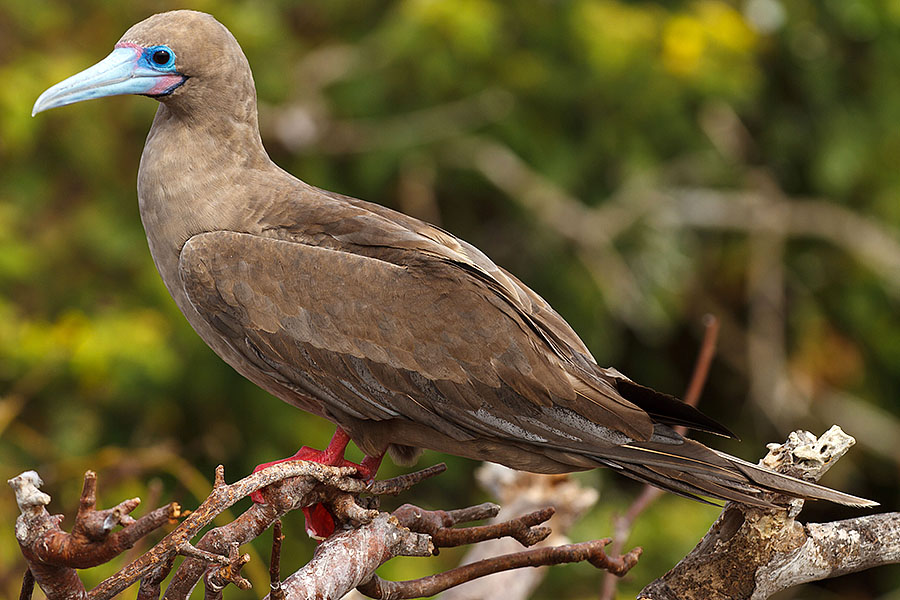 Head-on picture of the Red-Footed Booby -
mouseover image to see closeup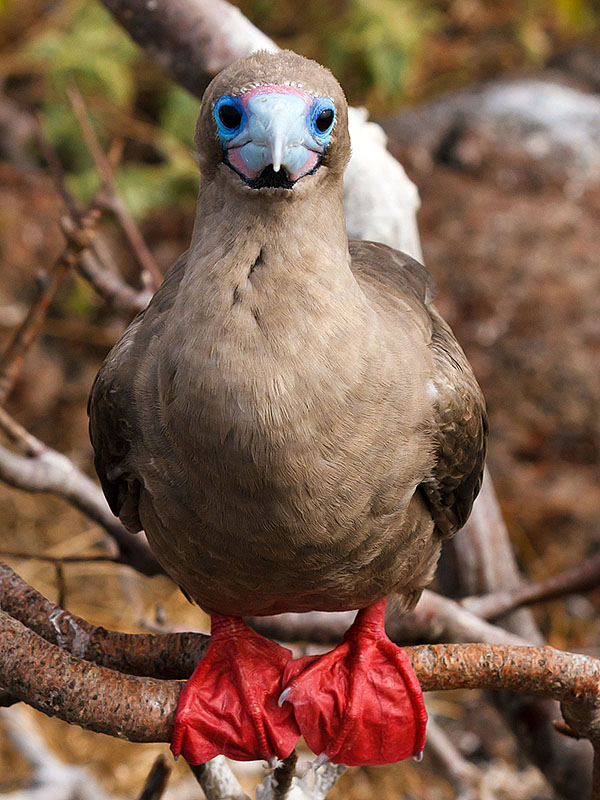 Very pretty colors and details on the Red-Footed Booby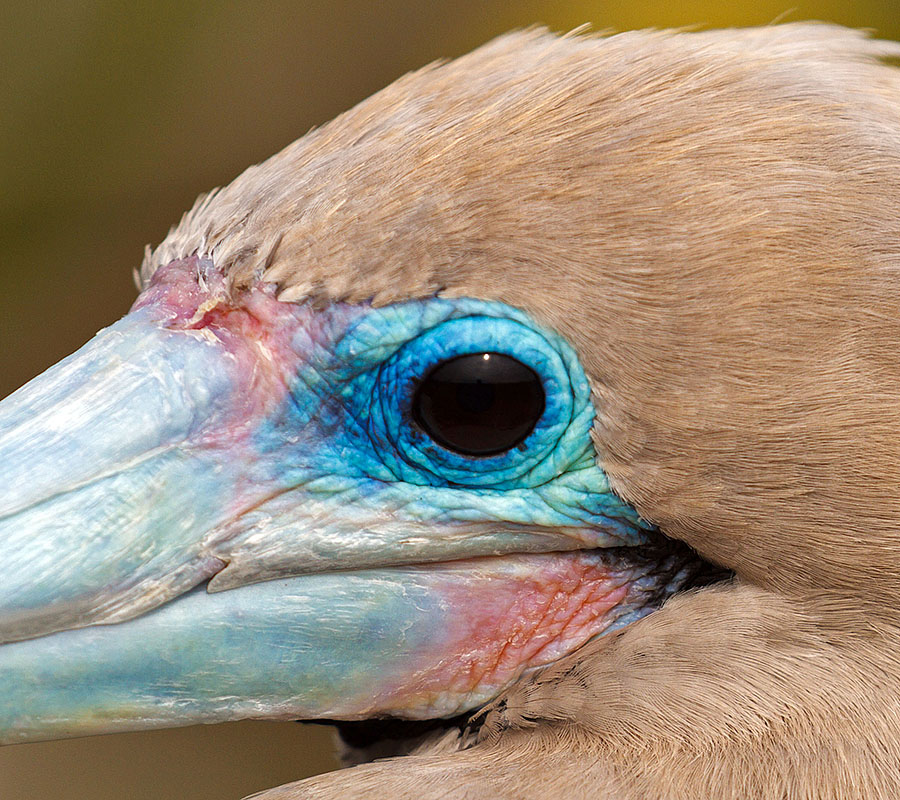 This is why they are called the Red-Footed Booby! ;-)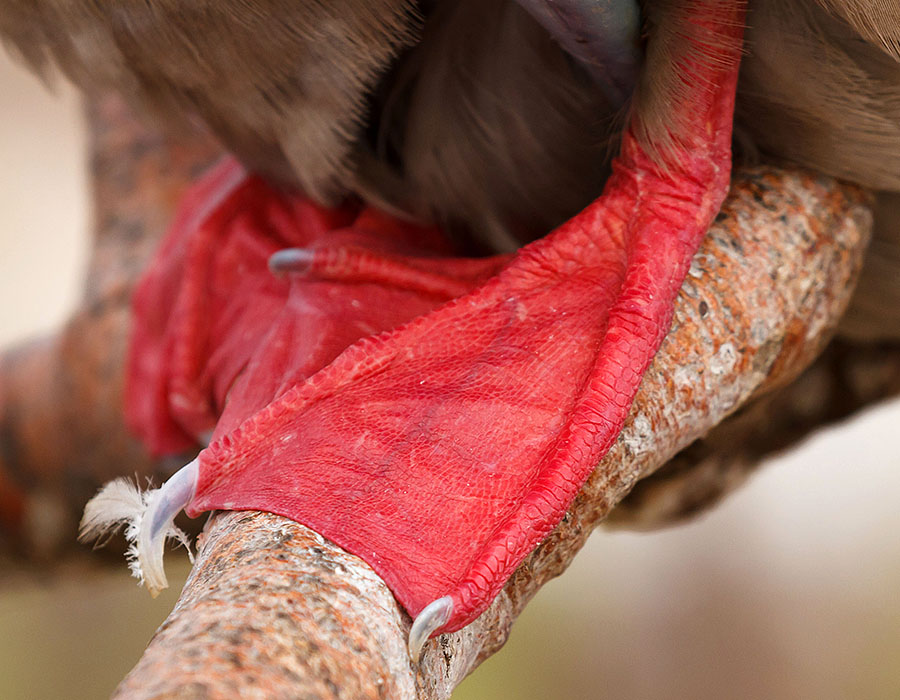 Leaving the island of Genovesa - good example of typical dry landing in the Panga's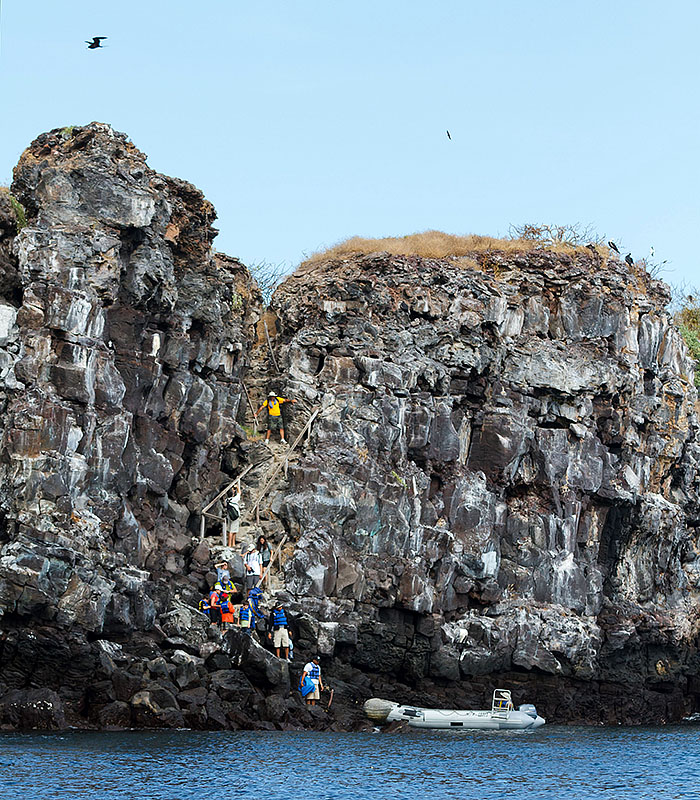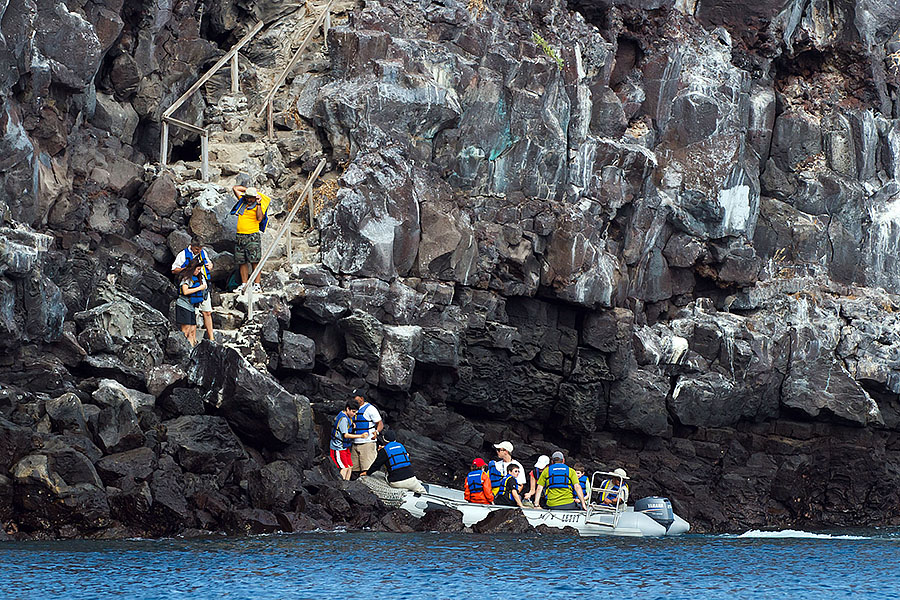 The Panga's (aka Zodiac boats) took us to/from the ship & shore

After walking on land, it was time to get off the Panga's in the afternoon ... into the water!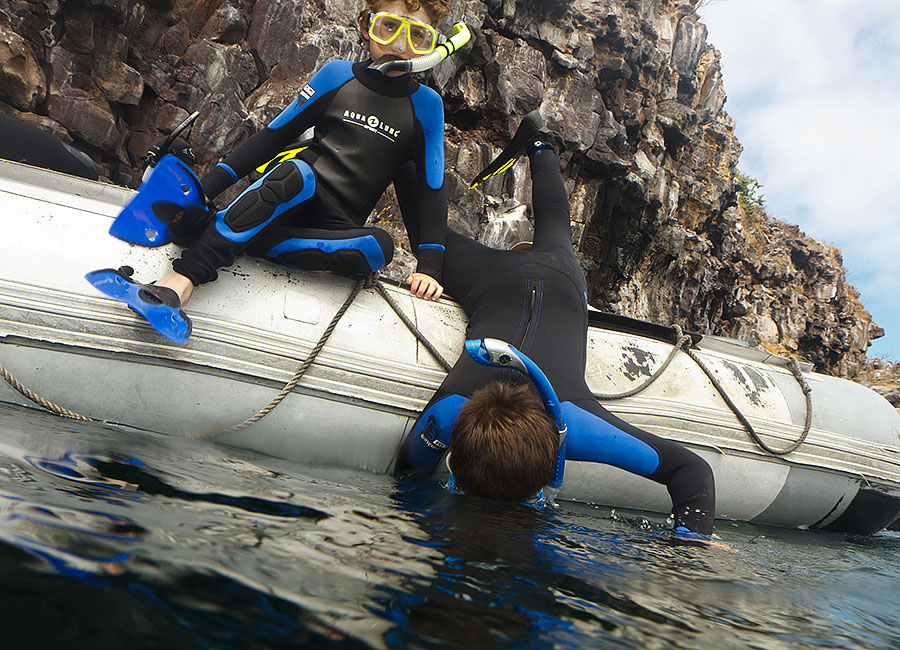 Kyle and Zach snorkeling for sealife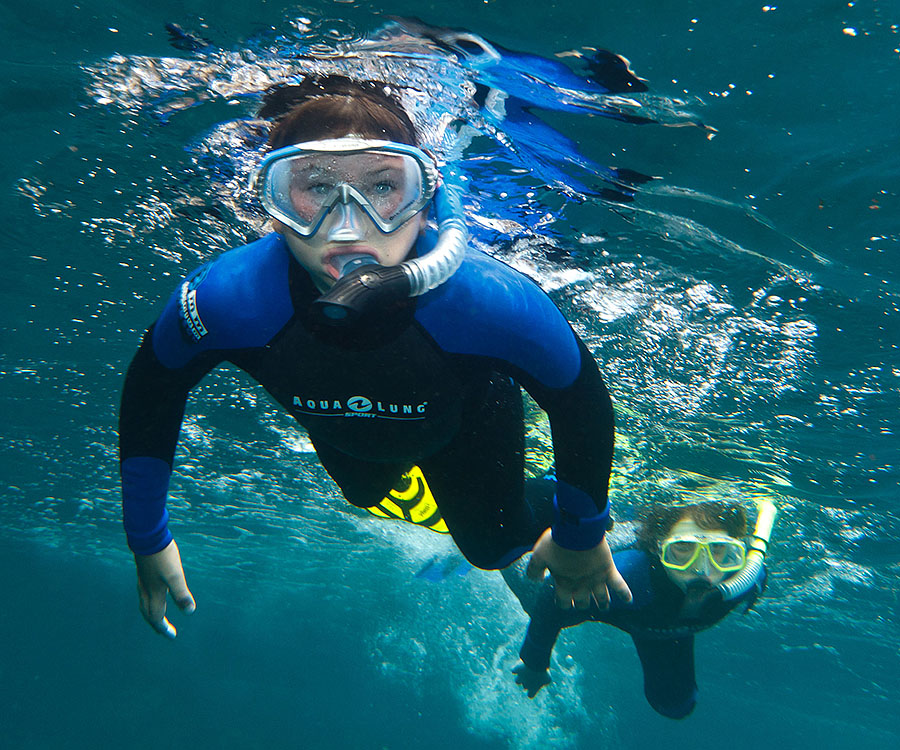 During the week, we saw lots of turtles, penguins, a few sharks, and many sea lions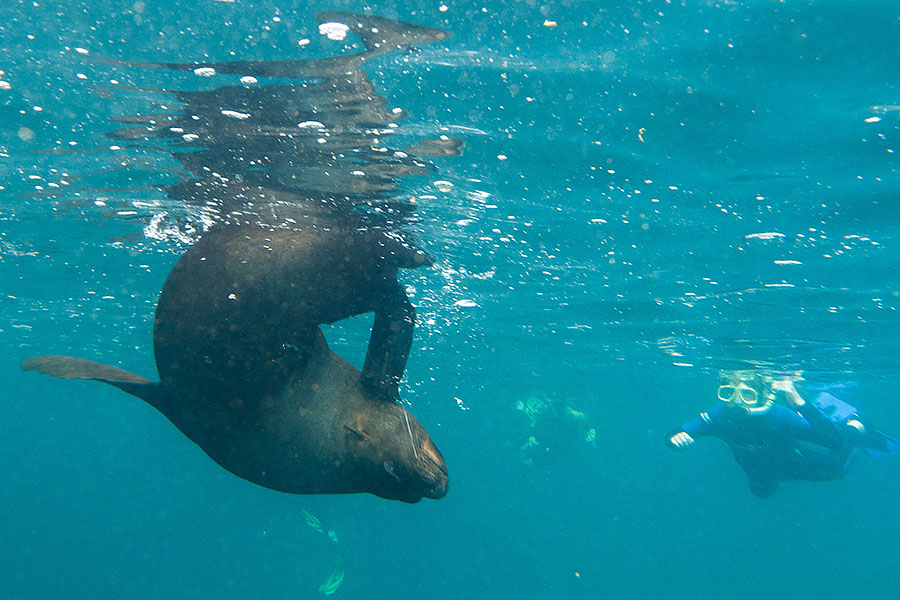 Ed waves to a Sea Lion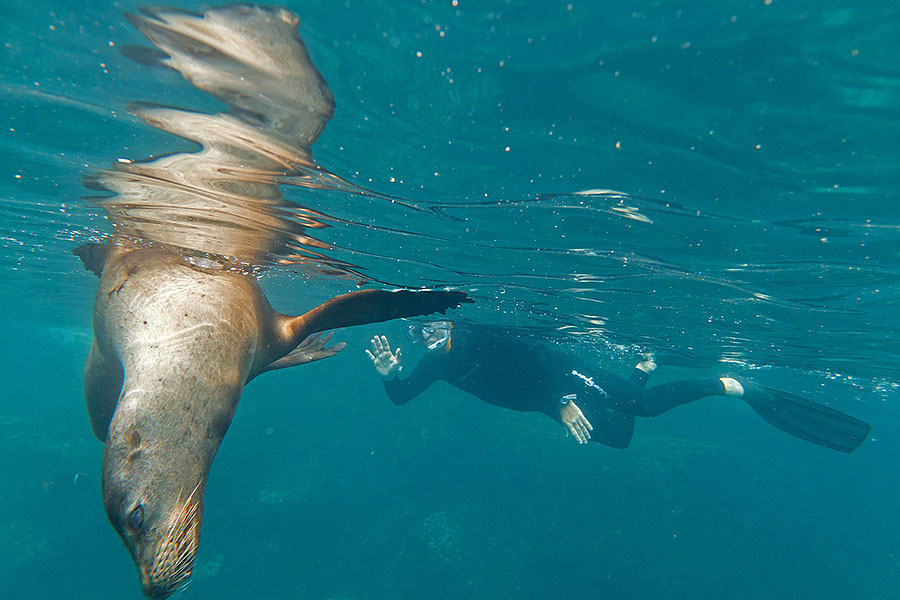 Yet another Sea Lion blowing bubbles as he swims toward me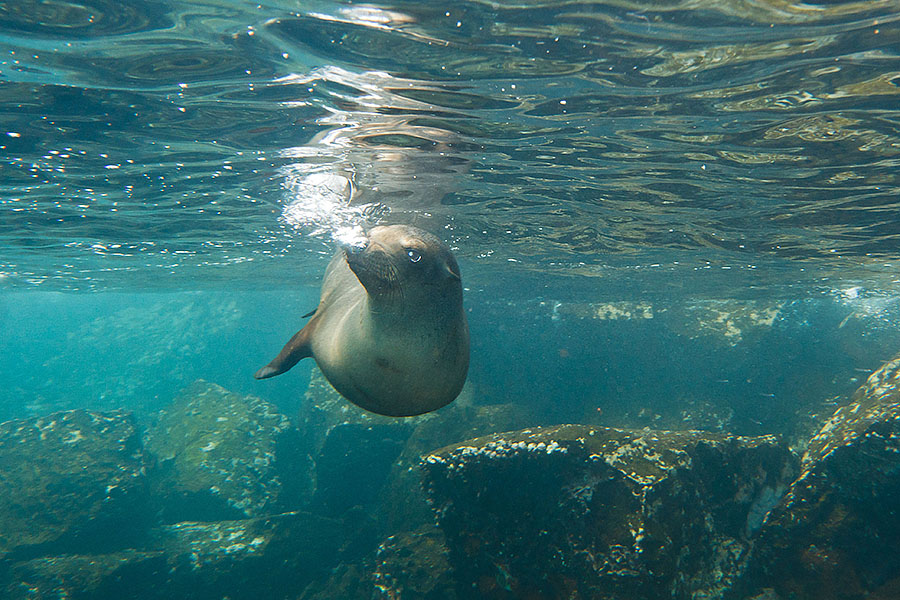 Esther and Ben keep an eye out for wildlife from the Sea Kayak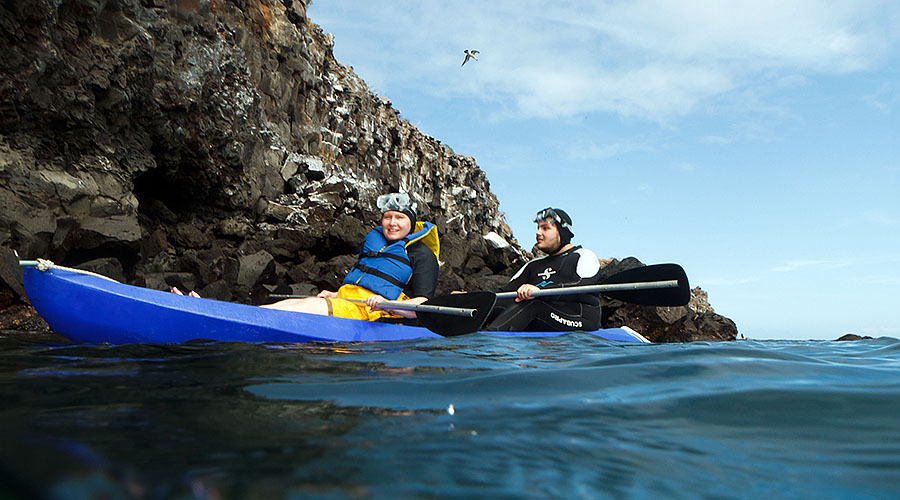 Is that a Sea Lion or Kyle playing in the surf at Darwin Bay?!? ;-)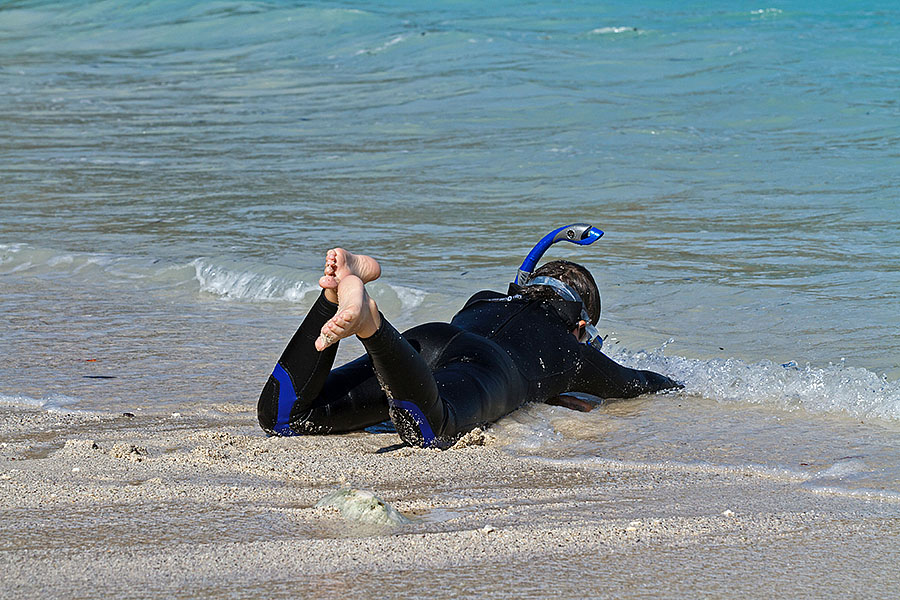 Sea Lions aren't as dark once they dry out on the sand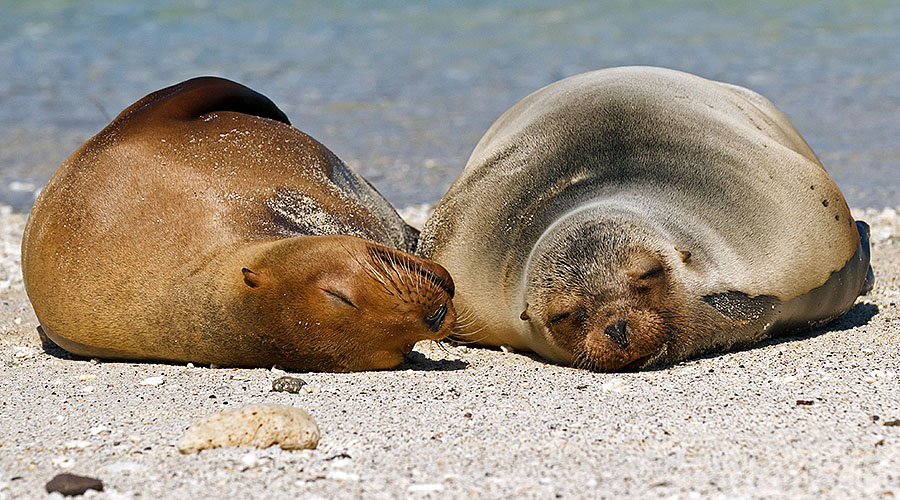 This Sea Lion had some bad breath! ;-)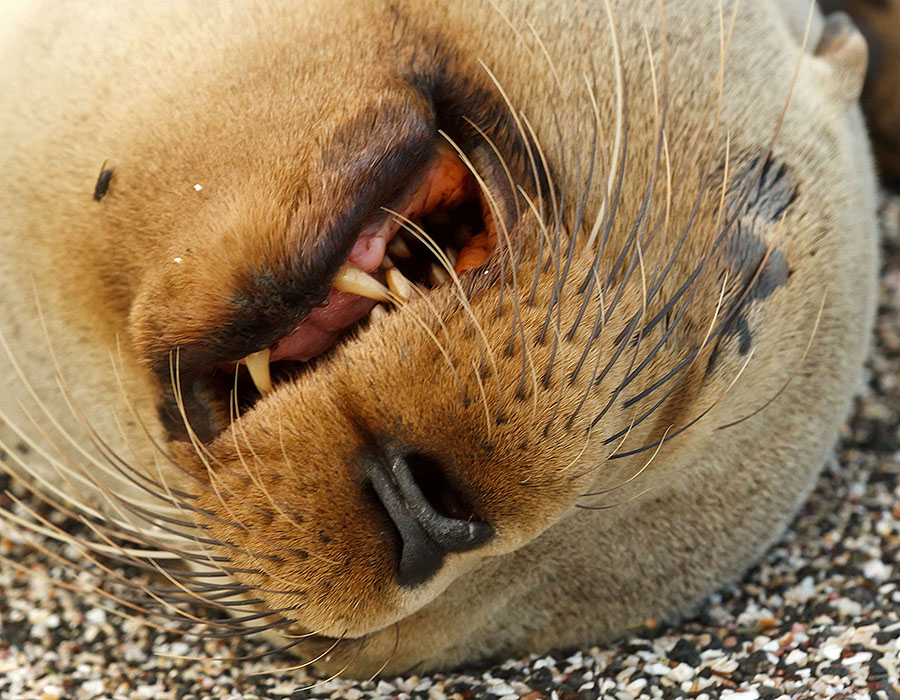 A juvenile/immature yellow-crowned night Heron perched on the rock keeps an eye on the cameraman
GrrlScientist asks her readers to ID this bird it and after quite a bit of debate, she answers the question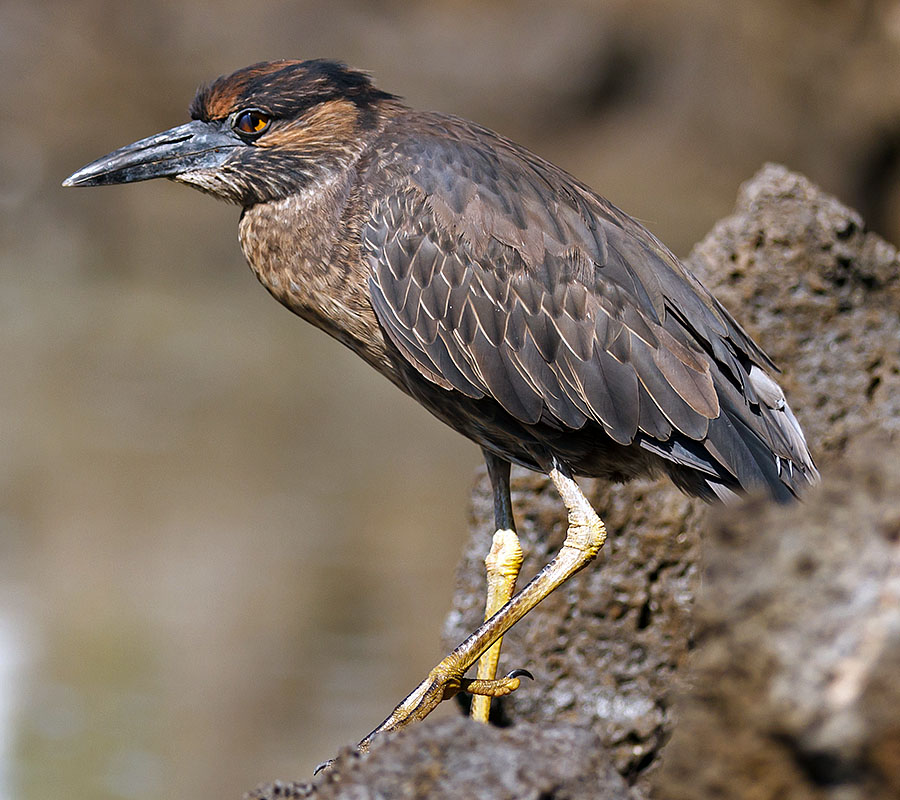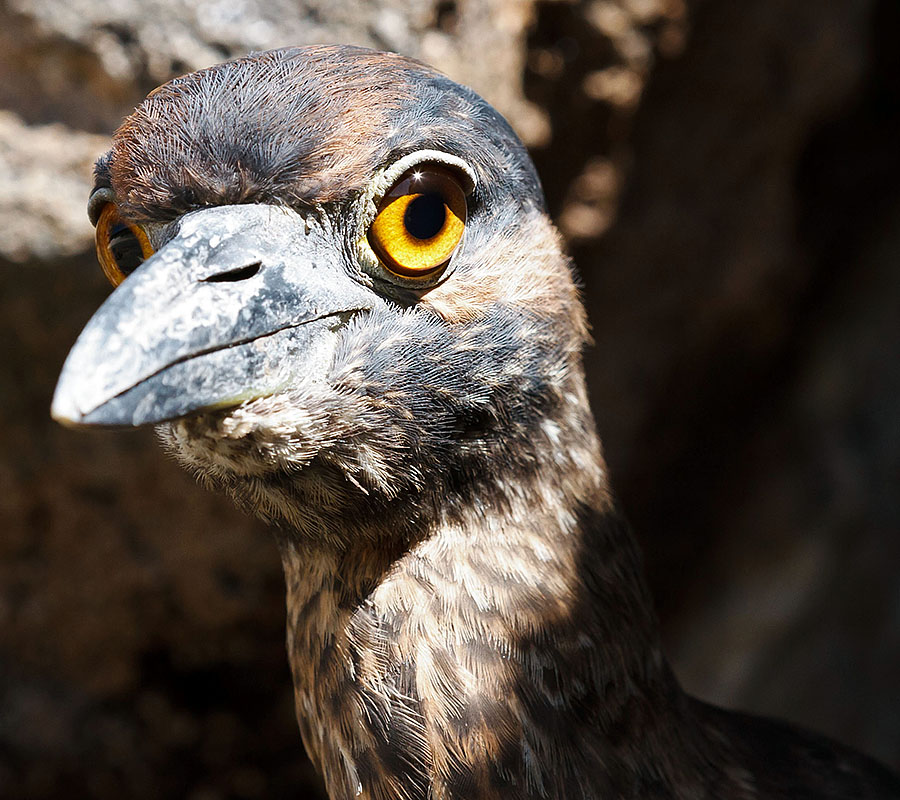 Ricardo taking pictures of Male Great Frigatebirds
Male Great Frigatebird -
mouseover image to see closeup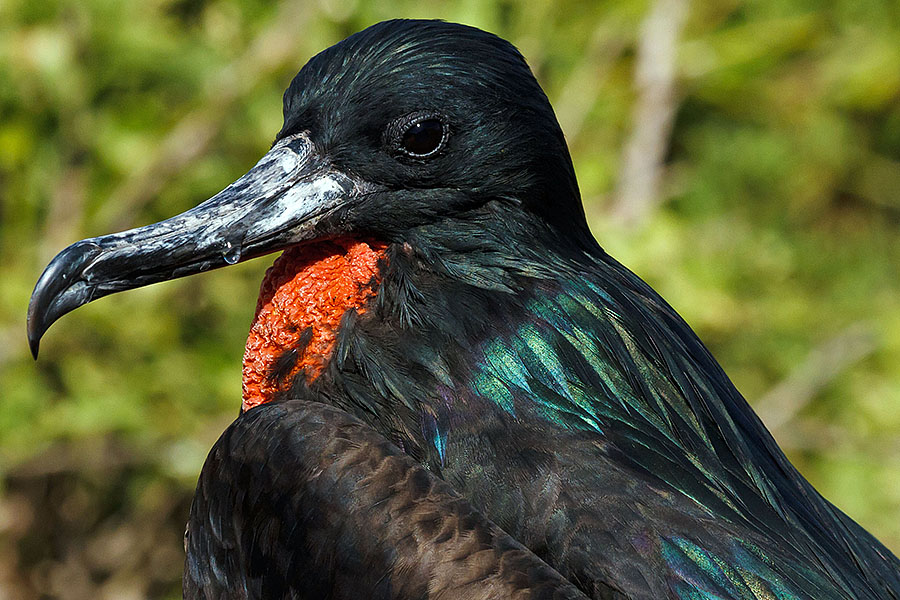 Nesting Frigatebird -
mouseover image to see closeup of the chick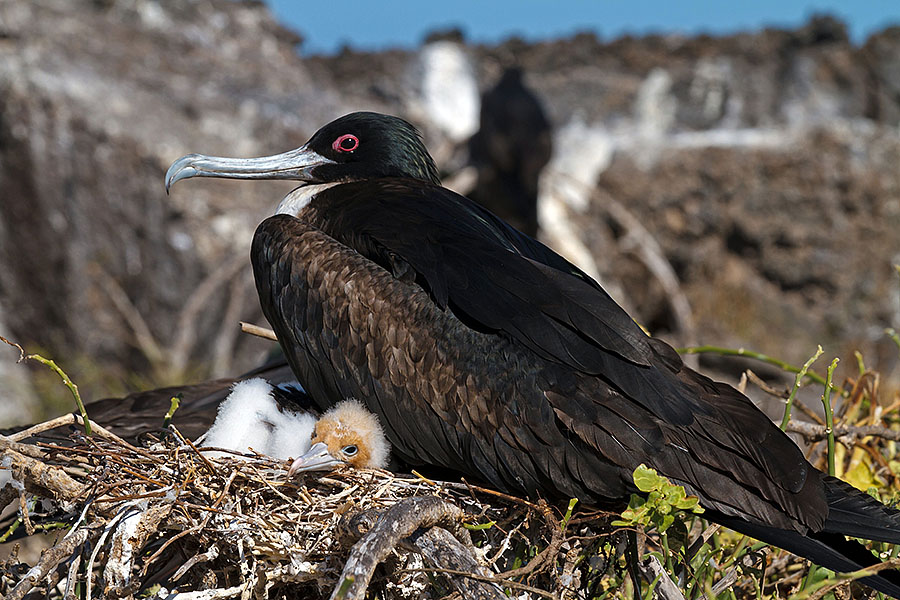 Marine Iguana does a Godzilla imitation in front of the ships anchored off of Genovesa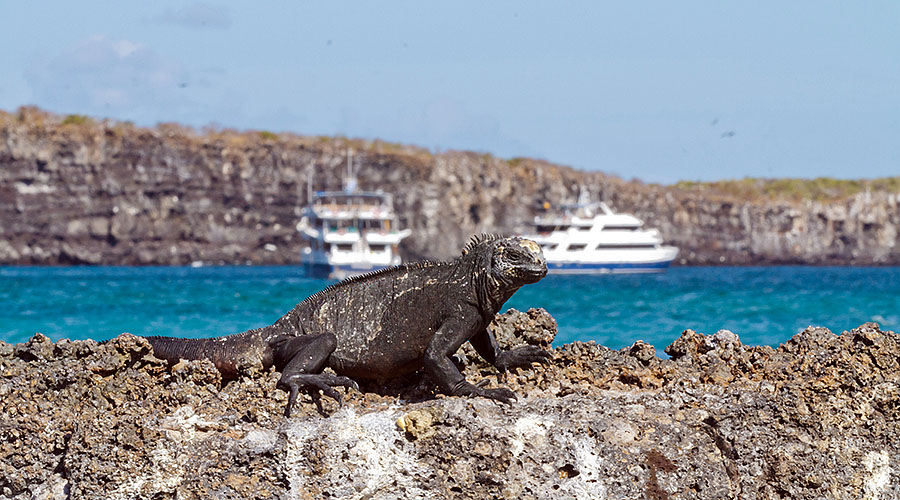 Kyle and I at sunrise looking at Fernandina while anchored at Tagus Cove, Isabela, Galapagos Islands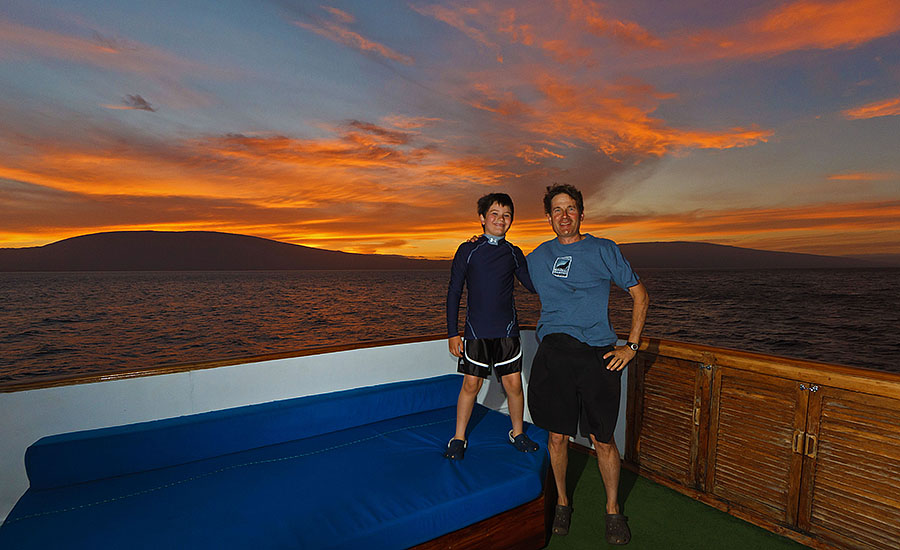 A morning ride in the Panga's to check out the scenery and wildlife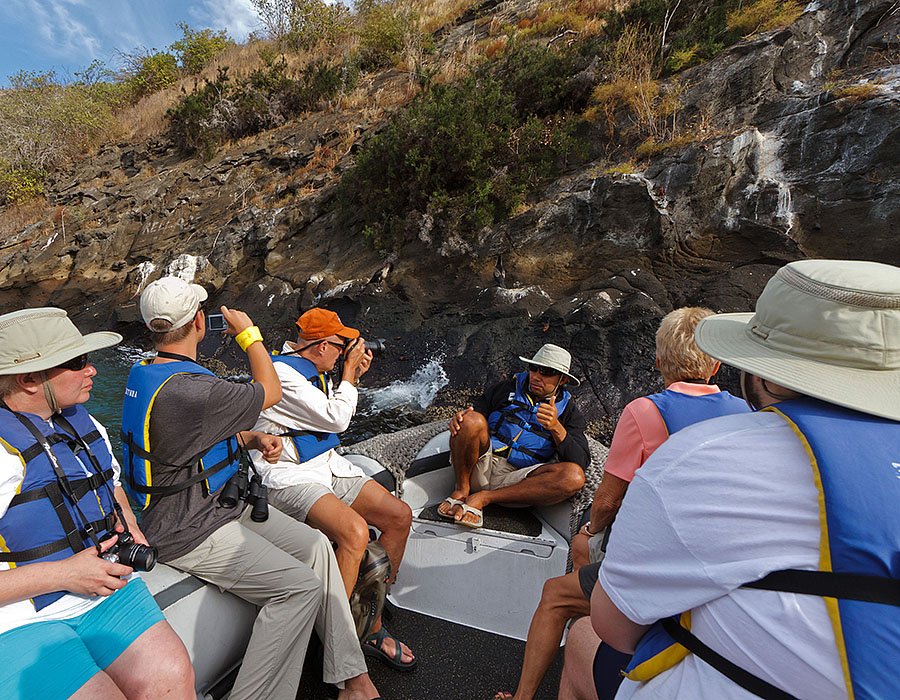 Getting back on the Letty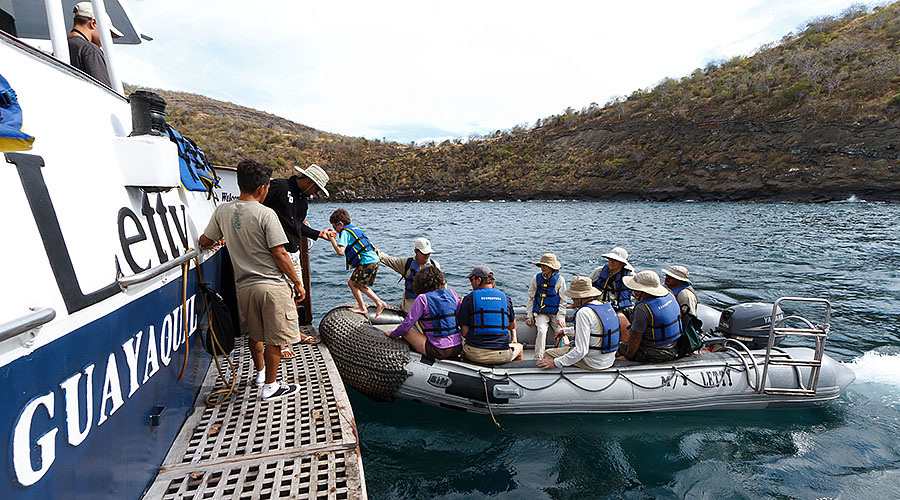 We saw many Galapagos Sea Turtle's during our snorkels - here one is feeding - note how the shore drops off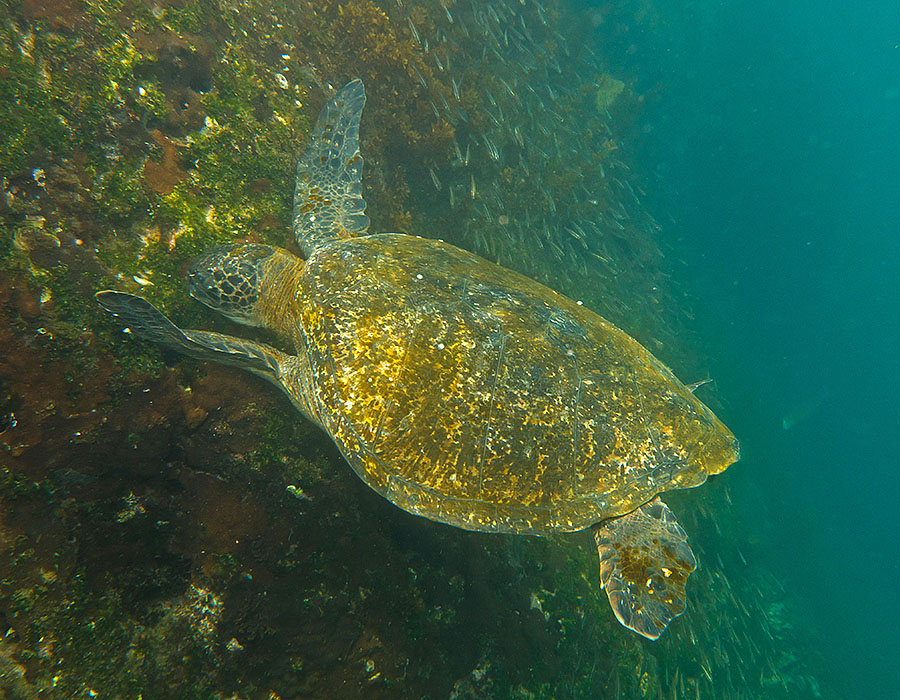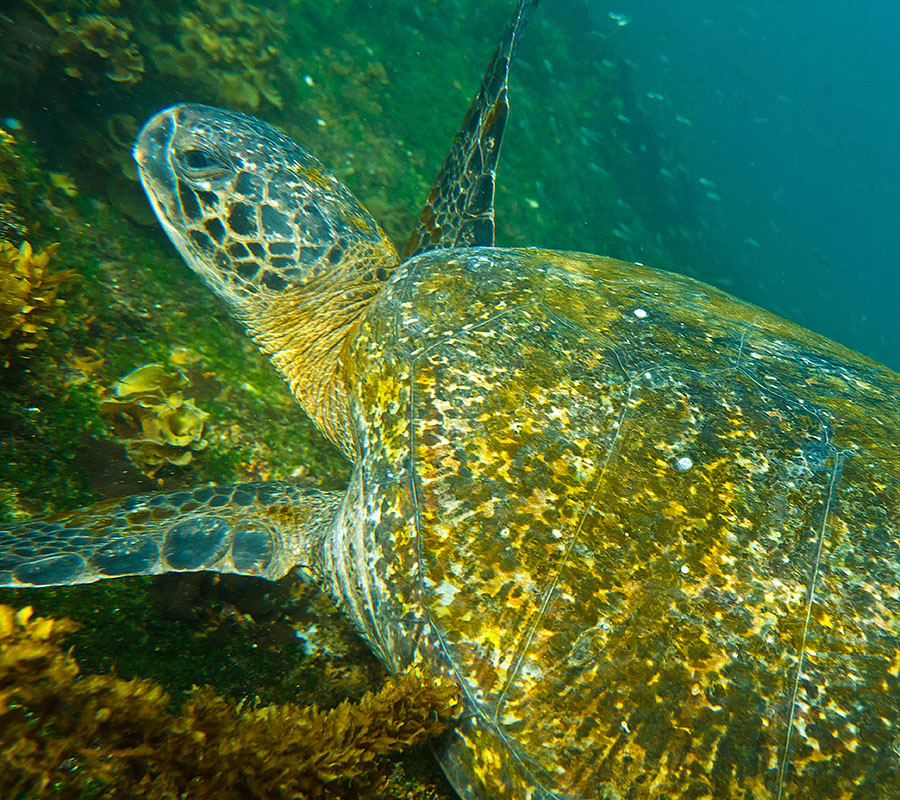 Sea Turtle heading off into the deep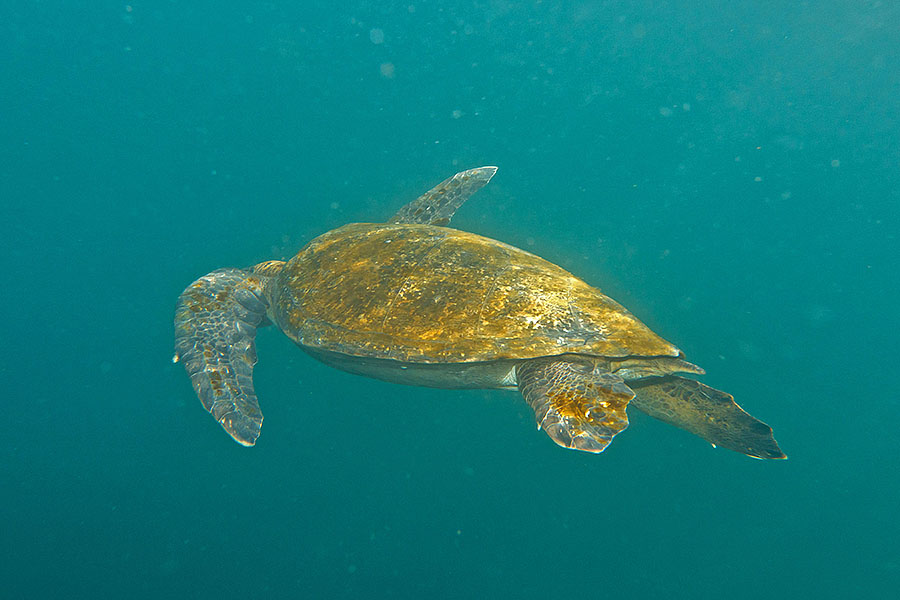 Undersea vegetation was beautiful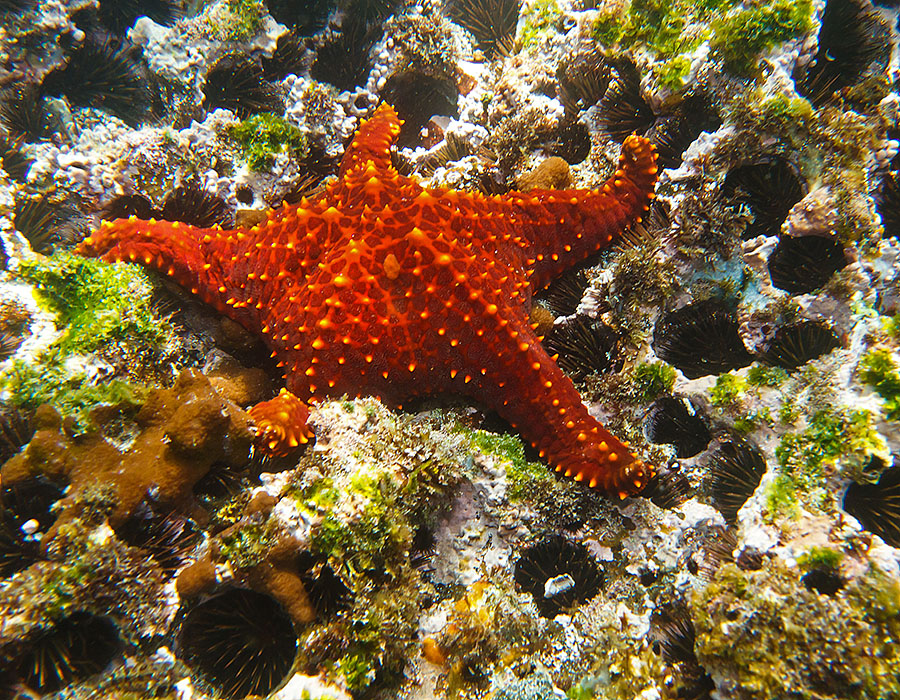 The Galapagos Penguins would dart around and turn on a dime - very cool!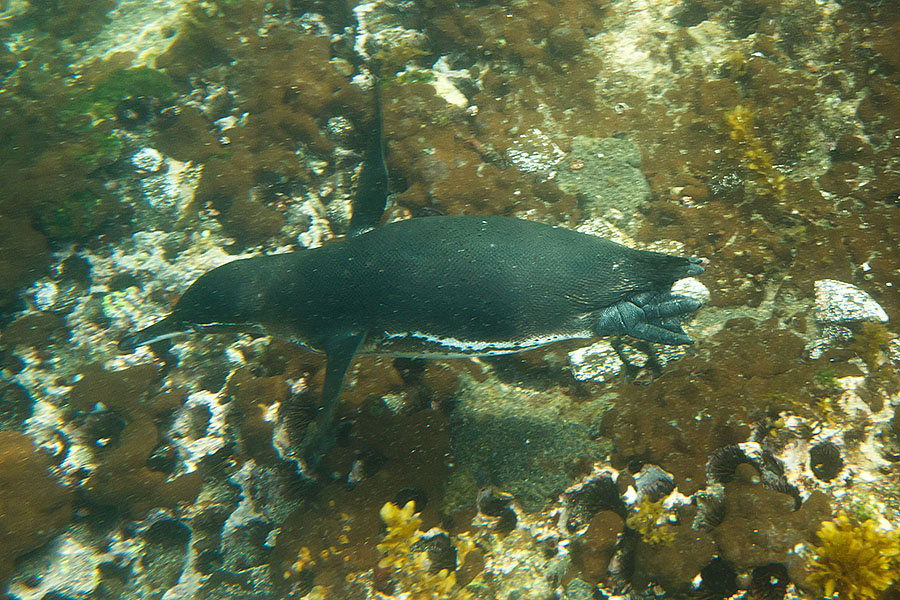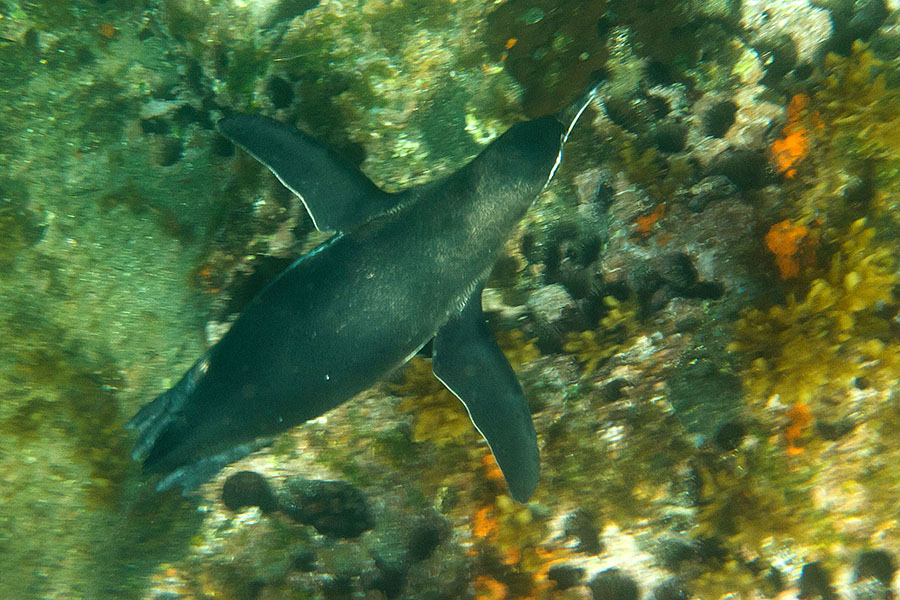 Galapagos Penguin swimming past some Chocolate Chip Sea Stars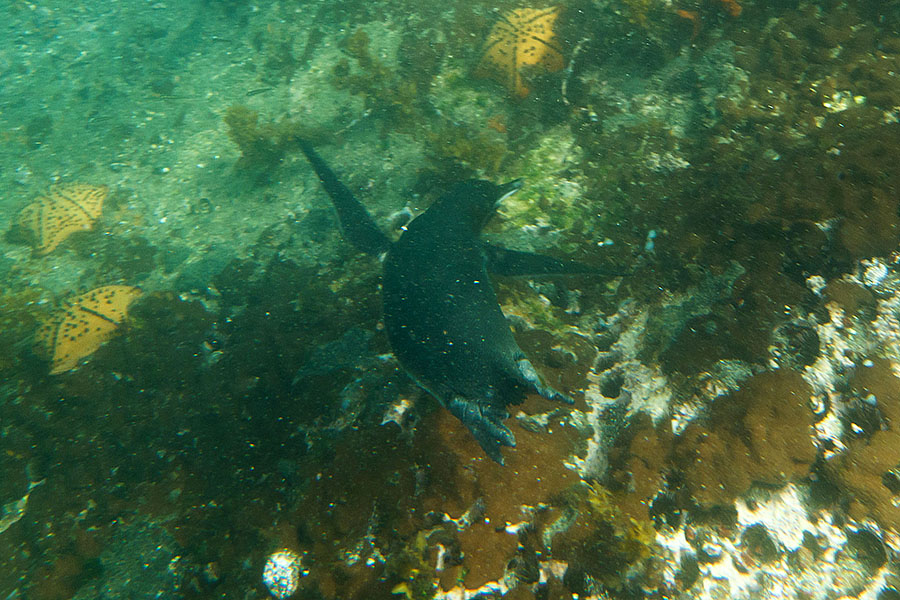 Above water picture of the Galapagos Penguin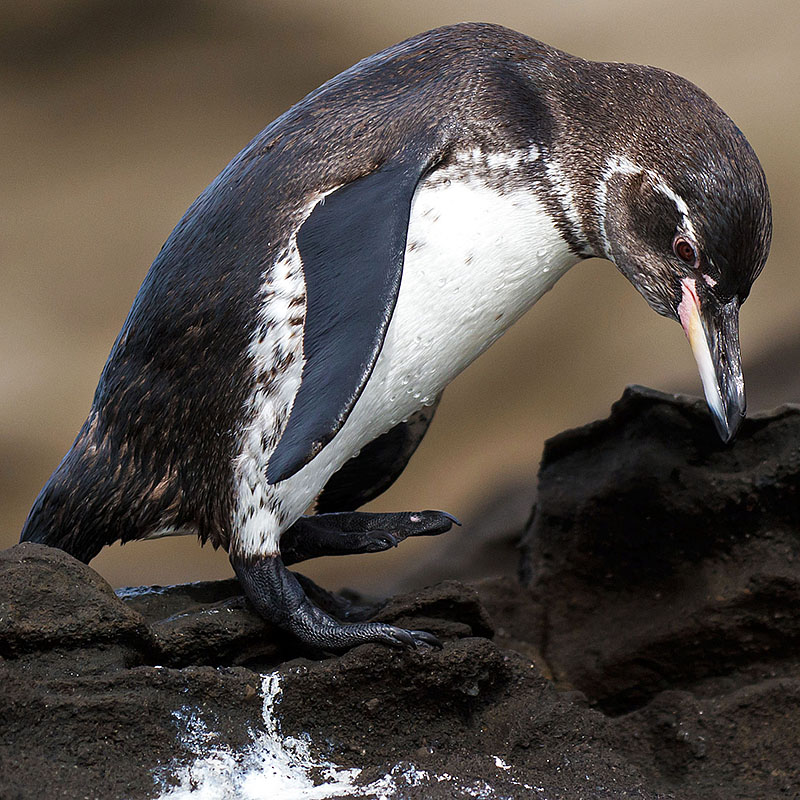 A Marine Iguana swims by a Galapagos Penguin on a rock outcropping -
mouseover image to see closeup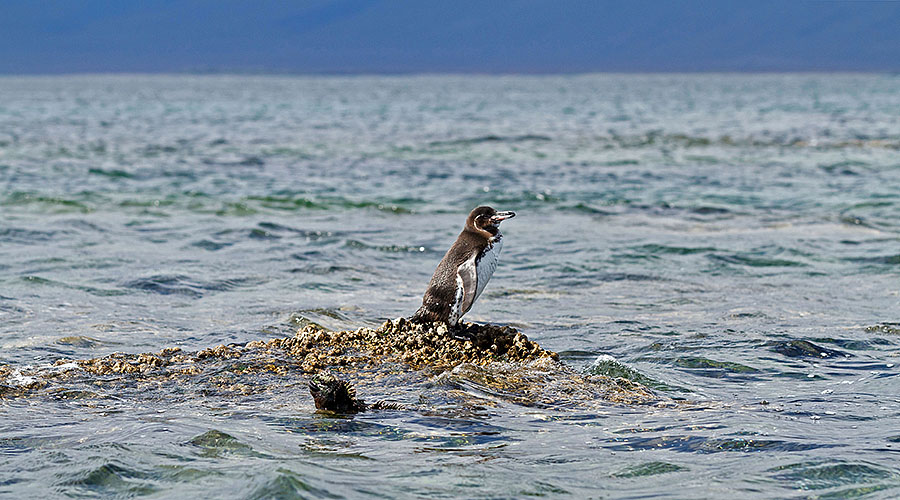 The various types of Iguanas on the Galapagos all looked very pre-historic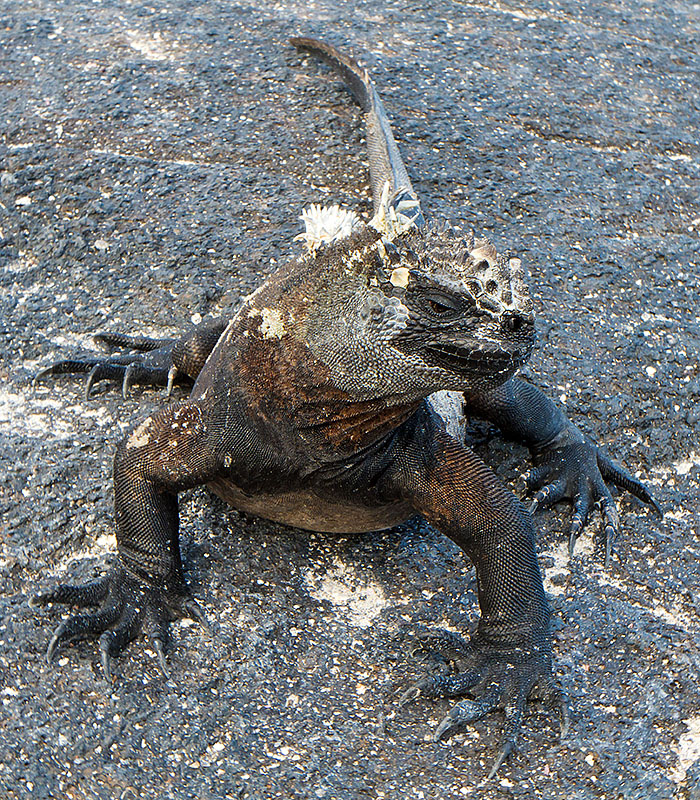 These creatures look like they came out of the Dinosaur era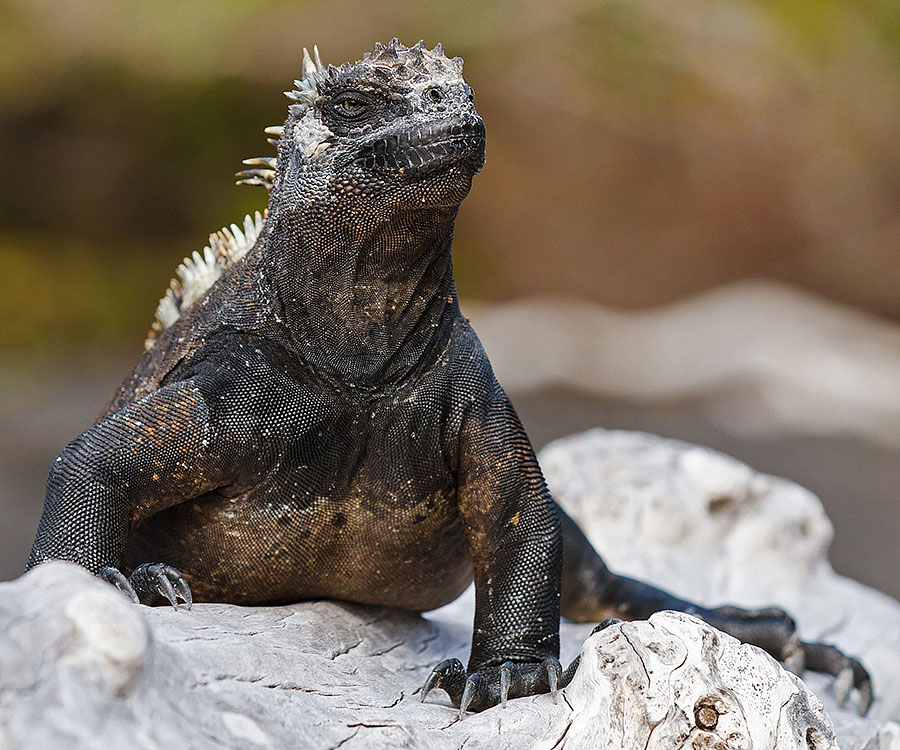 A face only a mother could love! ;-)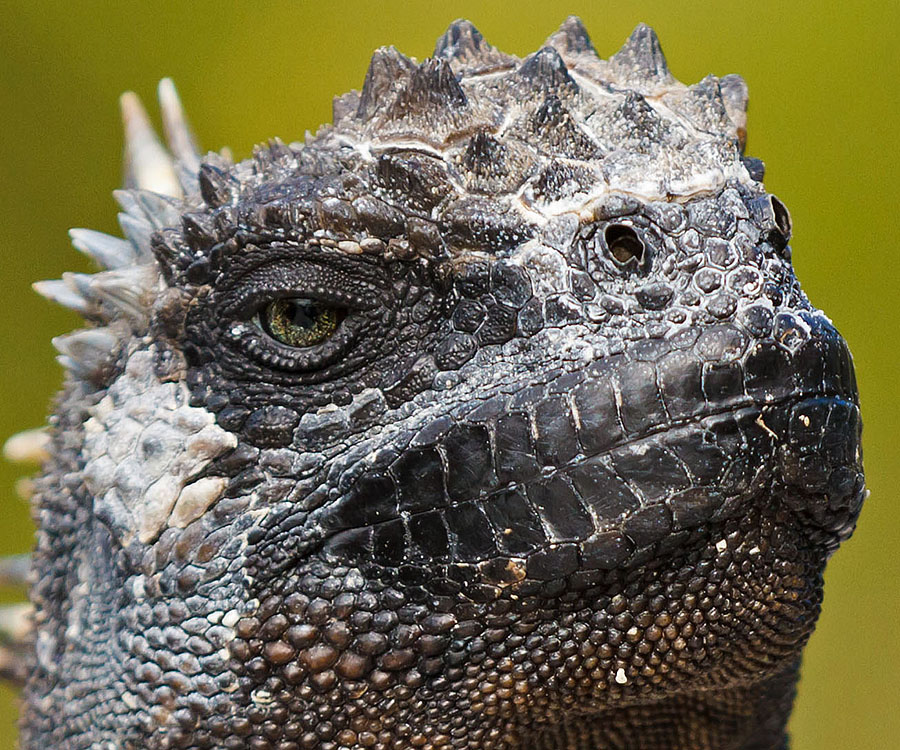 Or perhaps they are leftover extra's from a Godzilla film?!? ;-)
Guide Gustavo talks to Wendy, Esther, Dirk, Kyle, and Ben about the whale skeleton on Isabela, Galapagos Islands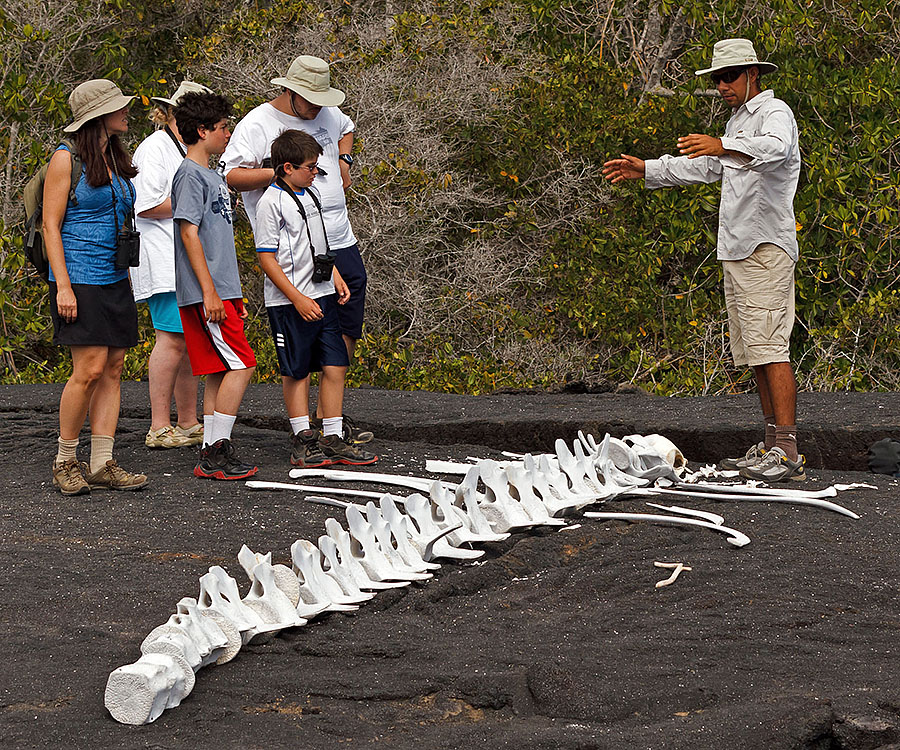 Gustavo provides a helping hand to Kyle as he jumps over a crack in the Lava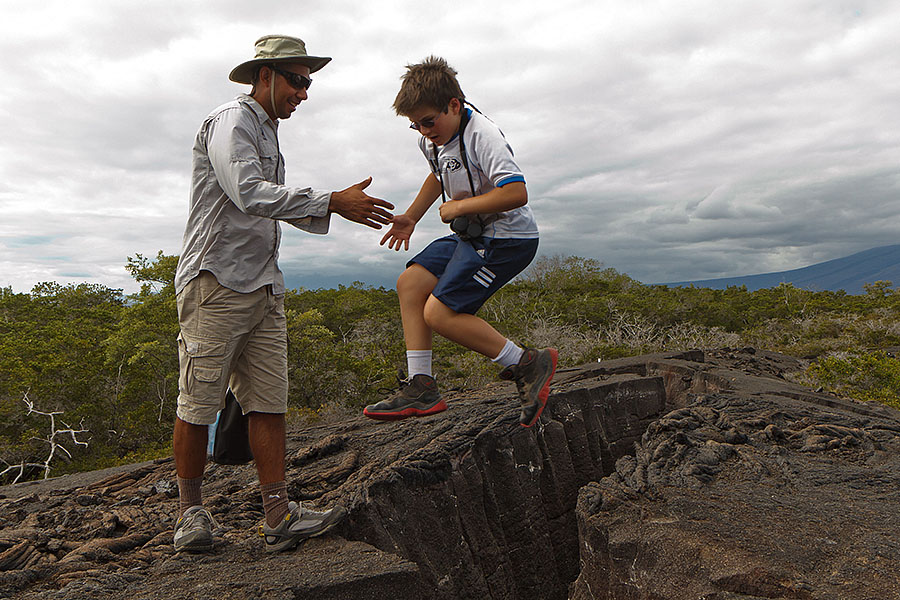 A lizard capture a cricket/locust - nature can be cruel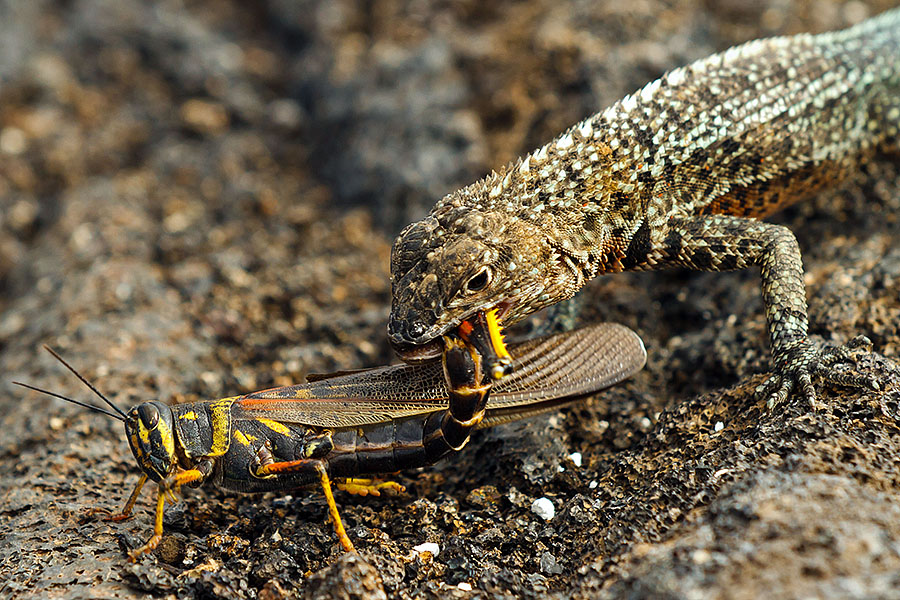 A tasty meal coming up -
mouseover image to see gruesome closeup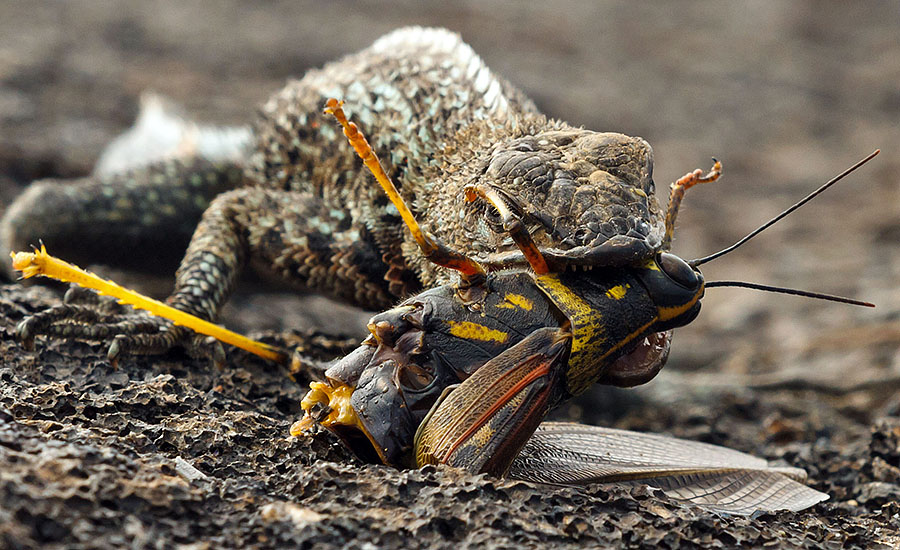 The Sally Lightfoot crabs were pretty gnarly looking too!!!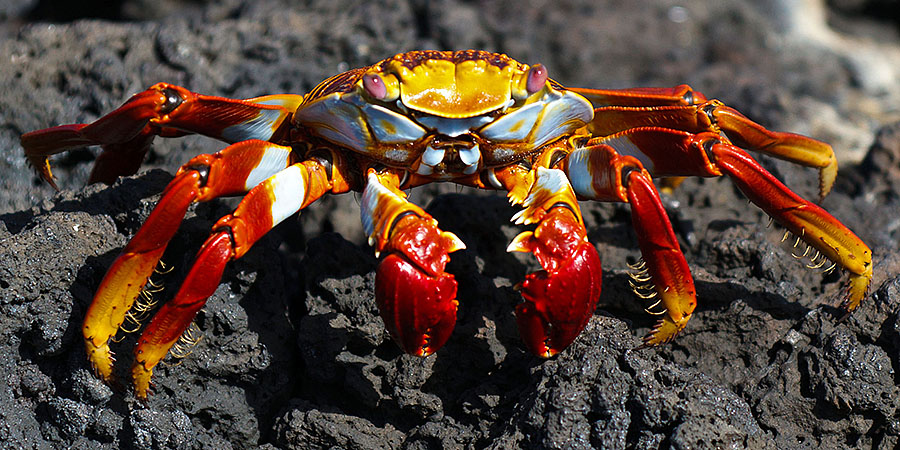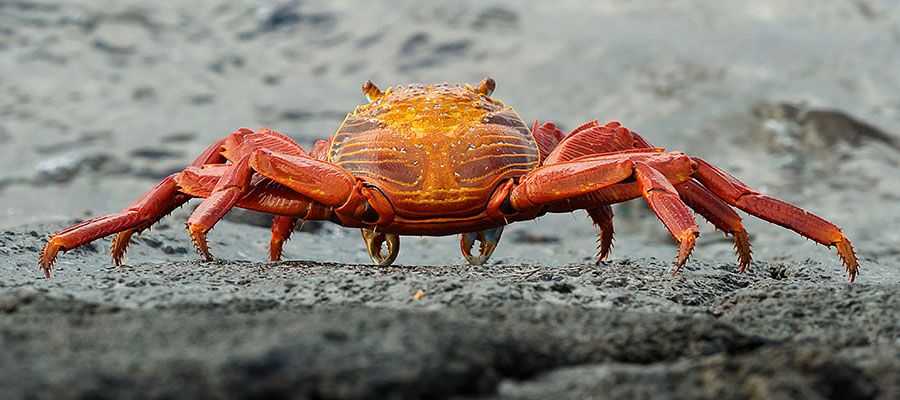 A baby Sea Lion and Gustavo checking each other out - wanna play?!? ;-)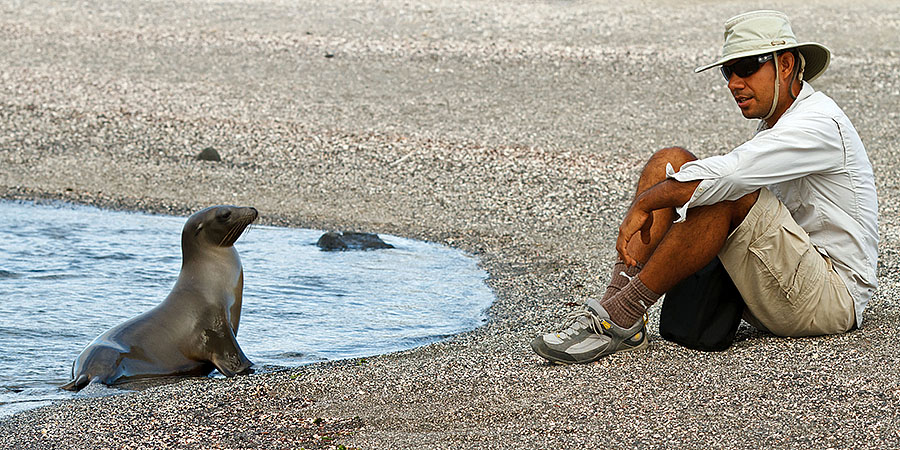 Dirk-n-Kyle as Sea Lions! ;-)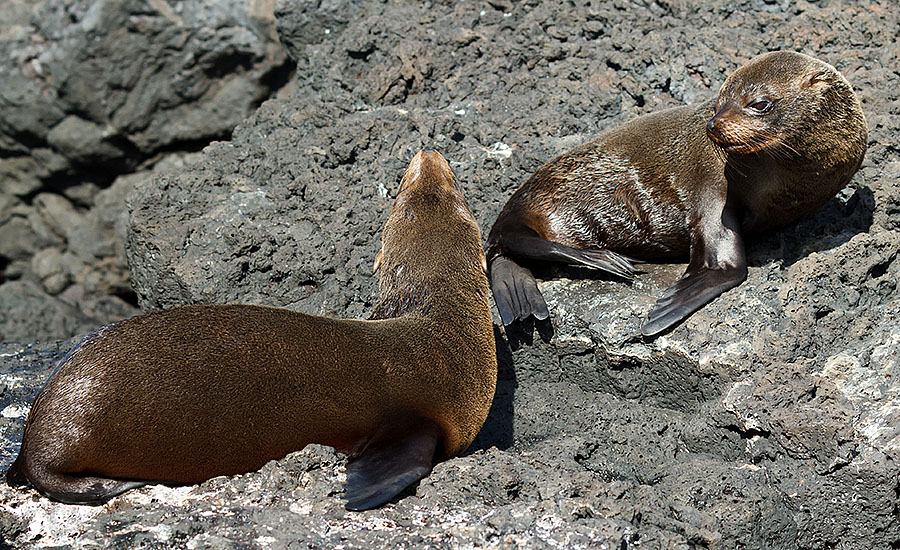 Pink Flamingo Lagoon on Santiago, Galapagos Islands -
mouseover to see how close we are to the rocks!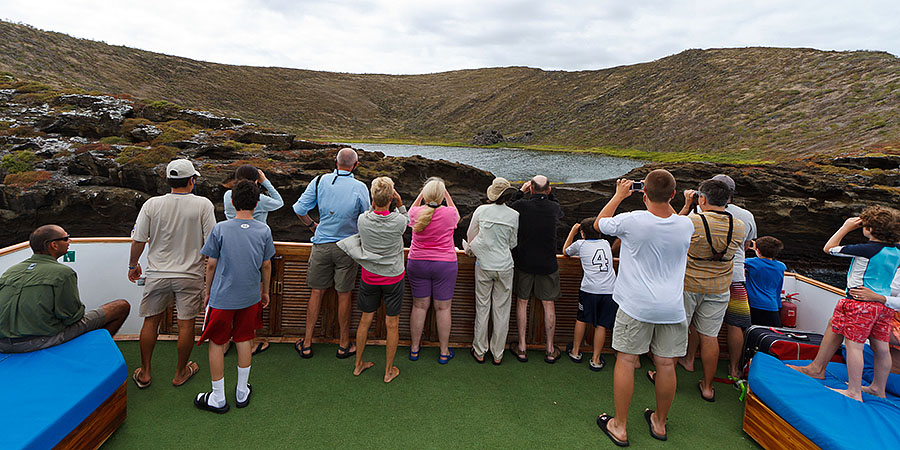 On the far side of the Lagoon there were ... Pink Flamingo's!!! ;-)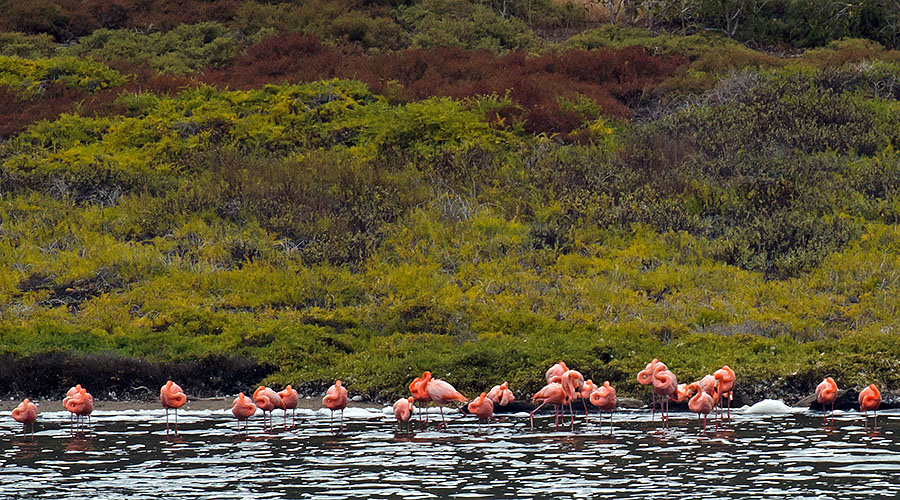 Picturesque Pinnacle Rock at Bartolome, Galapagos Islands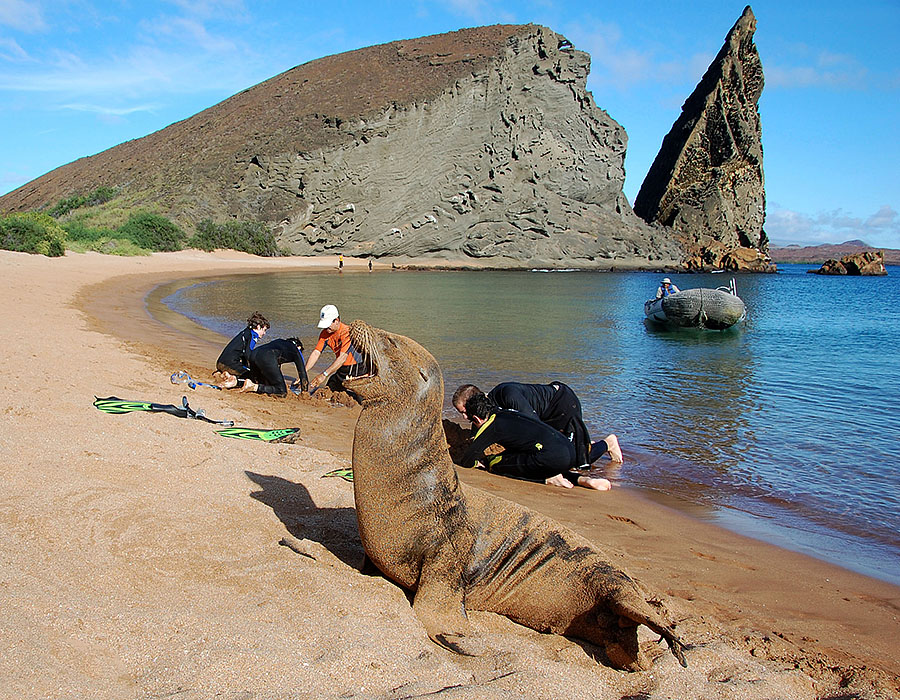 Wendy hanging out with a new found friend on the beach of Bartolome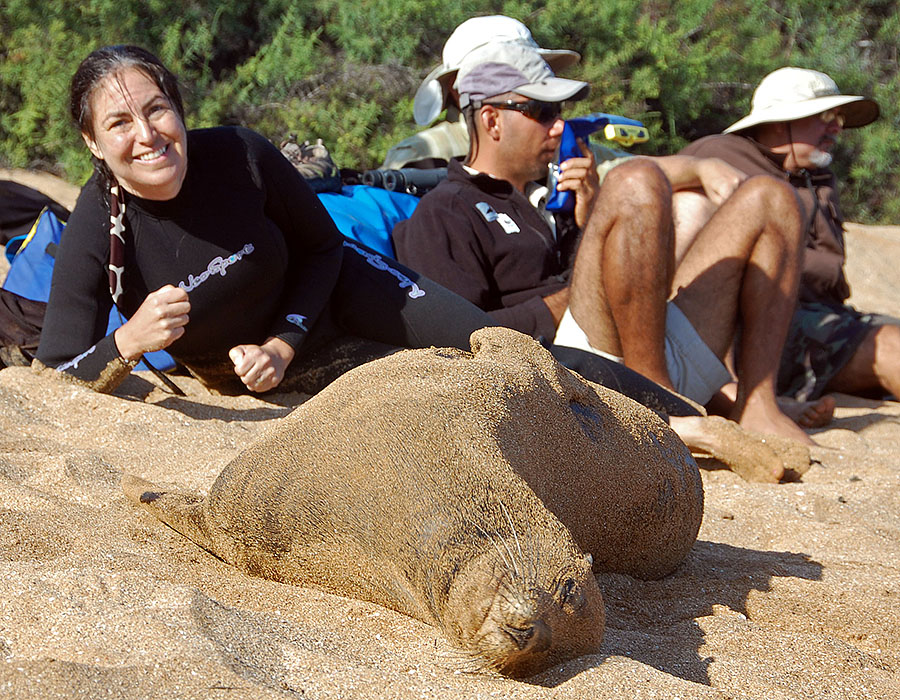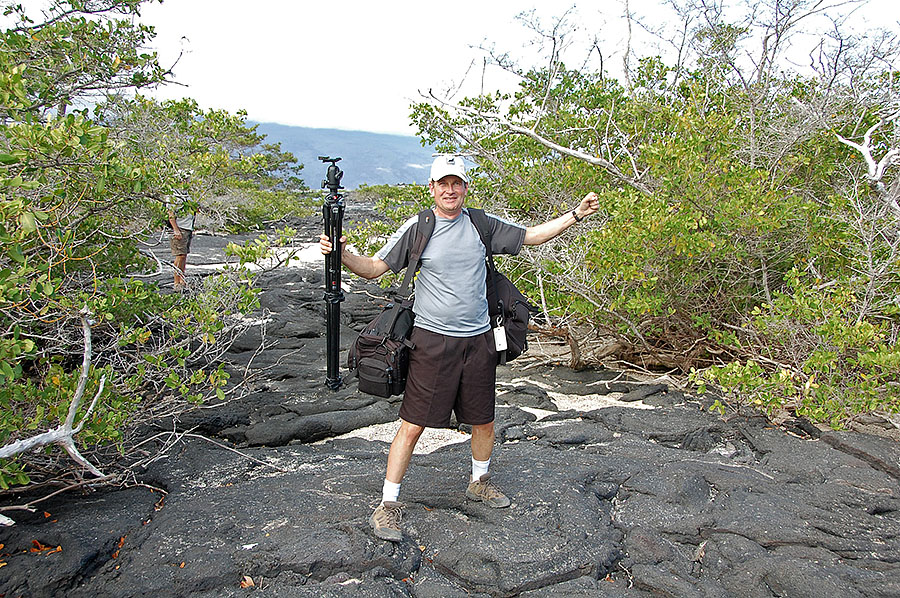 The group at sunrise climbing up the summit of Bartolome, Galapagos Islands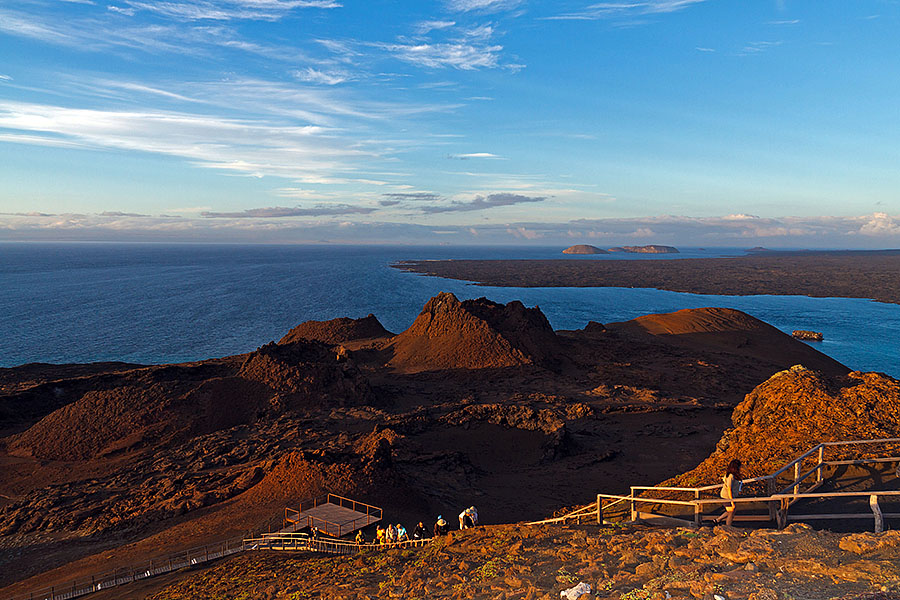 Nathab group on top of Bartolome, Galapagos Island
Zach, Ed, Esther, Ricardo, Michael, Ron, Hannah, Dirk, Wendy, Melissa, Calvin, Kyle, Javier, Ben, Alek
Kneeling: Guides Pepe and Gustavo - Not Pictured: Bob and Betsy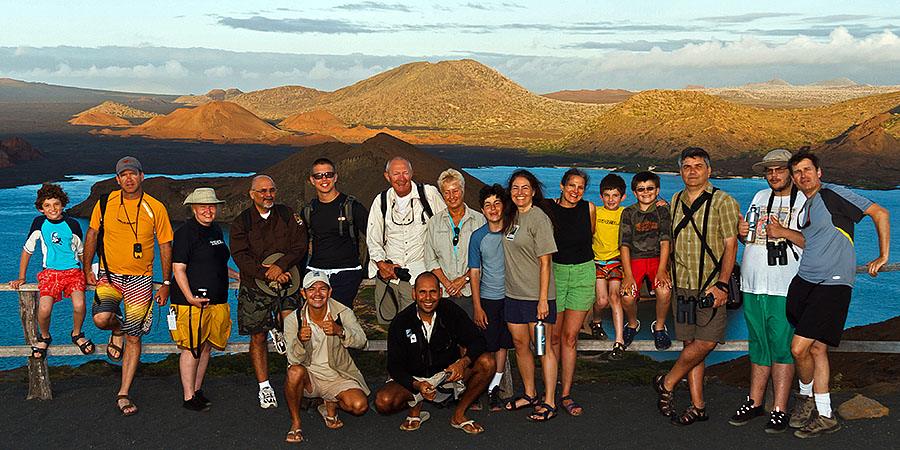 Back Home - Kyle and Dirk assist me with doing all the laundry from the trip! ;-)
---
I took just over 6,000 pictures as there were lots of photo ops. I hope you enjoy the saga! ;-)
June 30, 2011: Traveling to the Galapagos
July 1: Otavalo Market
July 2: Quito and the Equator
July 3: Flying to Galapagos Islands and boarding our ship at San Cristobal
July 4: Genovesa, Galapagos Islands
July 5: Fernandina & Isabela, Galapagos Islands
July 6: Santiago Point & Chinese Hat, Galapagos Islands
July 7: Bartolome, Galapagos Islands
July 8: Santa Cruz, Galapagos Islands
July 8: Darwin Center, Galapagos Islands
July 9: Espanola, Galapagos Islands
July 10: Departing the Galapagos and back to Quito
July 11-13: Mindo, Ecuador
July 14: Flying back home ... on my birthday! ;-)
July 15: Doing all the laundry from the trip - see last picture above - D'OH! ;-)