Our two peach trees have periodic harvests -
2007 was a decent year
and
2008 was HUGE
as was 2010 (no pics), followed by
2012 which provided a MONSTER crop
... which had over a two thousand peaches, but many broken branches ... so we then called 'em Franken-Tree's! ;-)
We got basically zippo the next 3 years ... but 2016 is another big year, and even with fewer branches (and aggressive early season pruning), I'd estimate we got about 1,500 peaches from the two trees! I gave away over 500 peaches, but we still gorged ourselves during the harvest and after hours (!) of peeling/slicing, we'll being having lots of yummy peaches in the winter.
Aug 29th: Kitchen counter is full (yet again!) with hand-picked luscious peaches!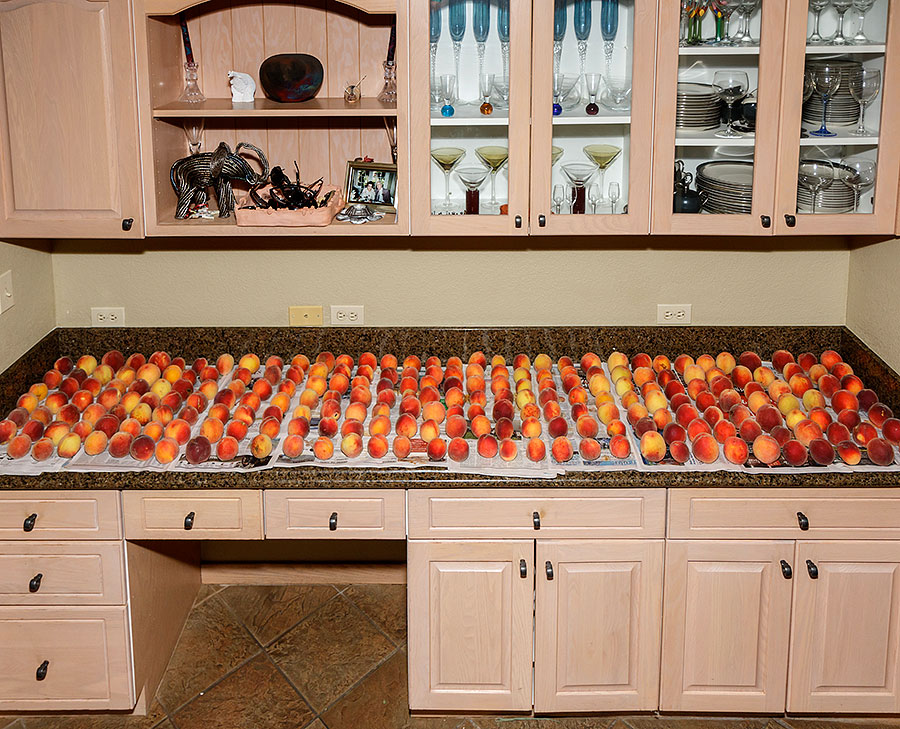 Jun 29th: Dumpster Diving at Summit middle school which was undergoing renovation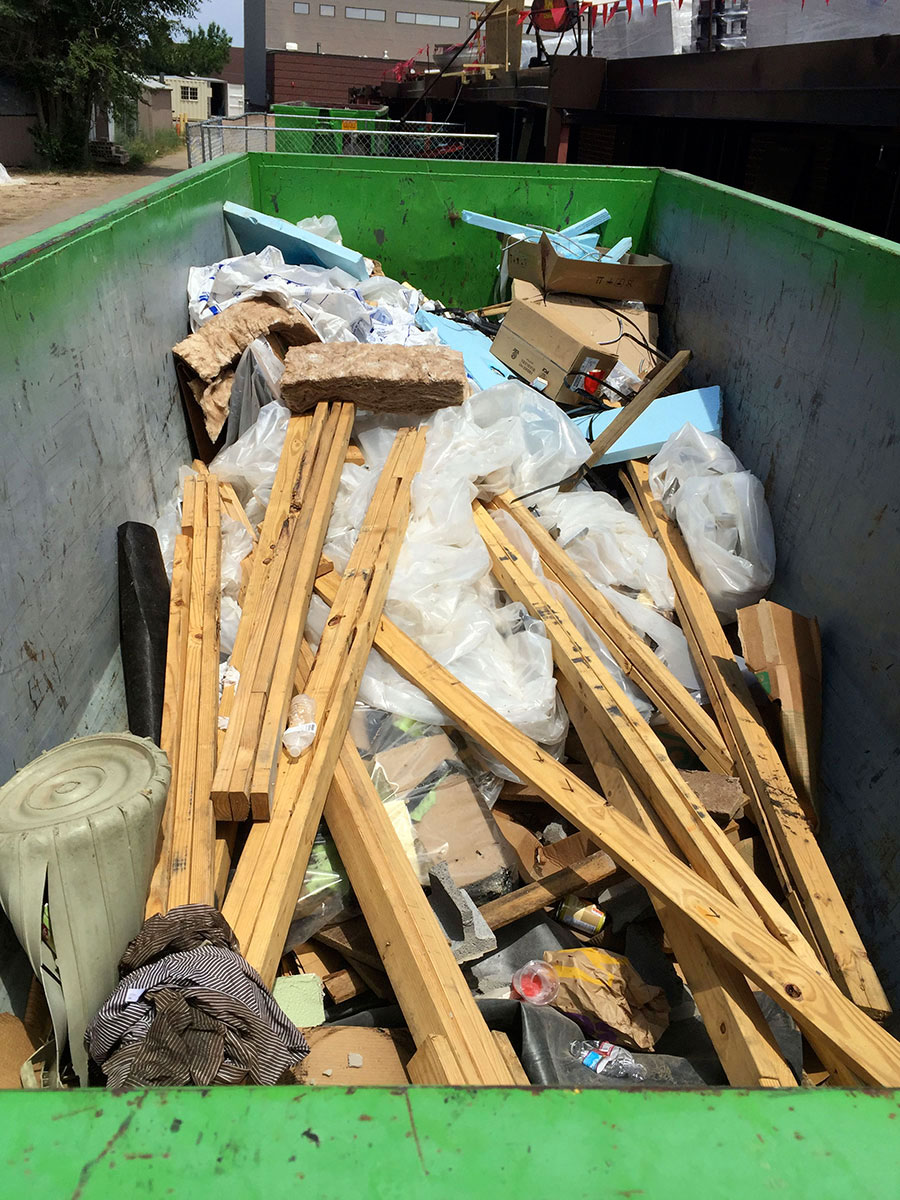 The ladder was needed to jump in the dumpster for the wood ... and get out safely! ;-)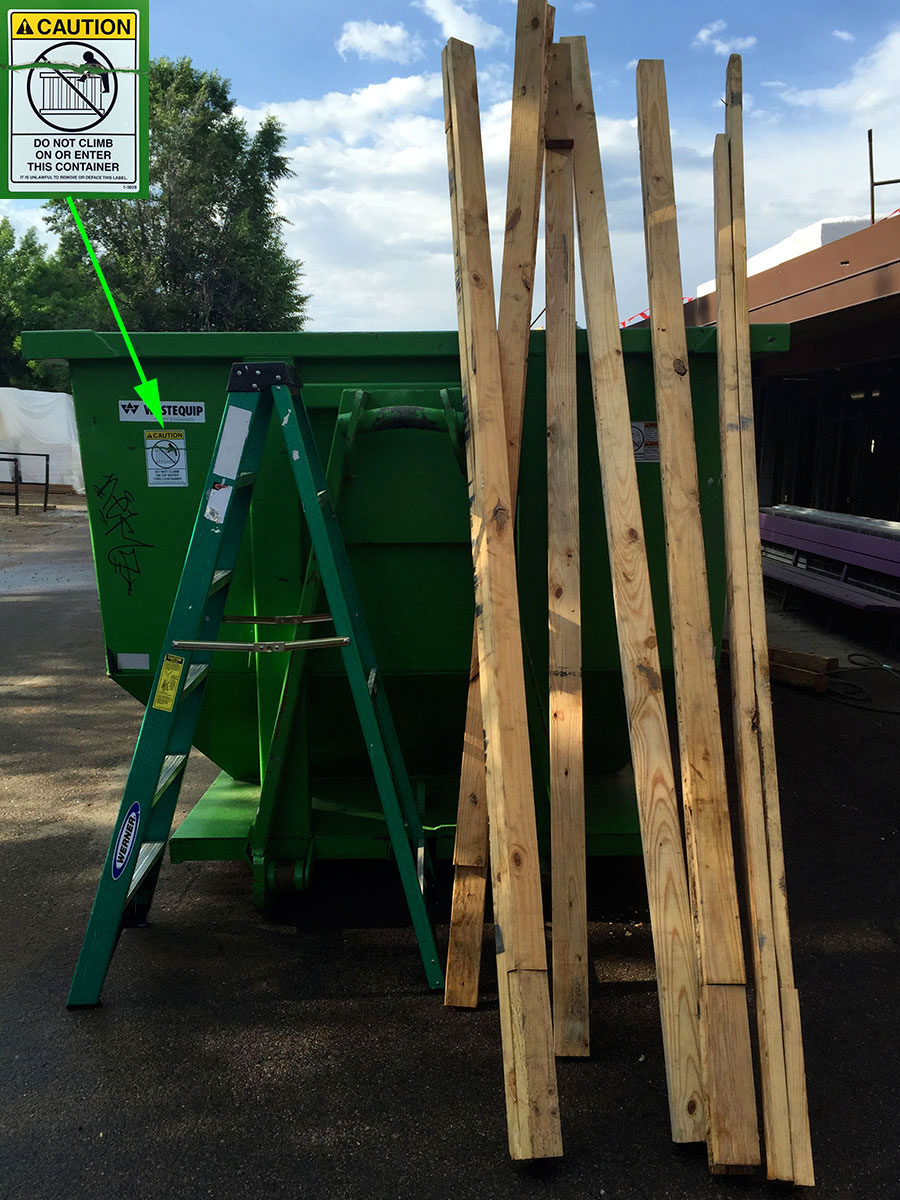 Handy-dandy mini-van is the getaway car - a great haul of 12 foot 2x4's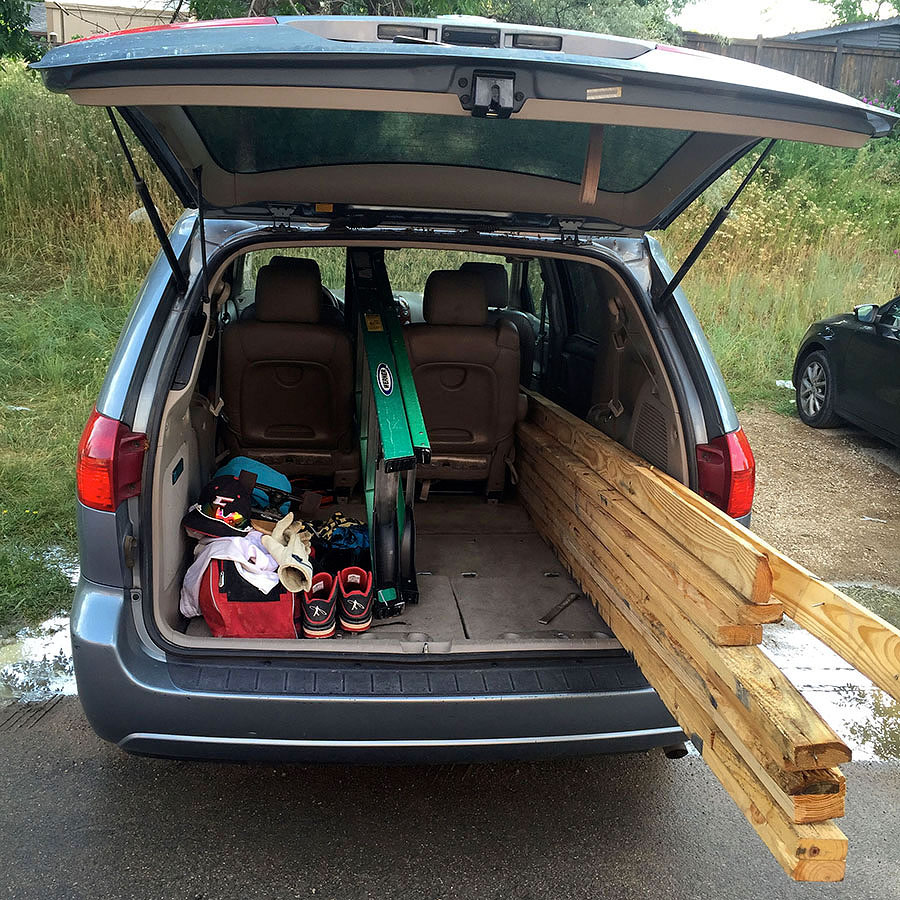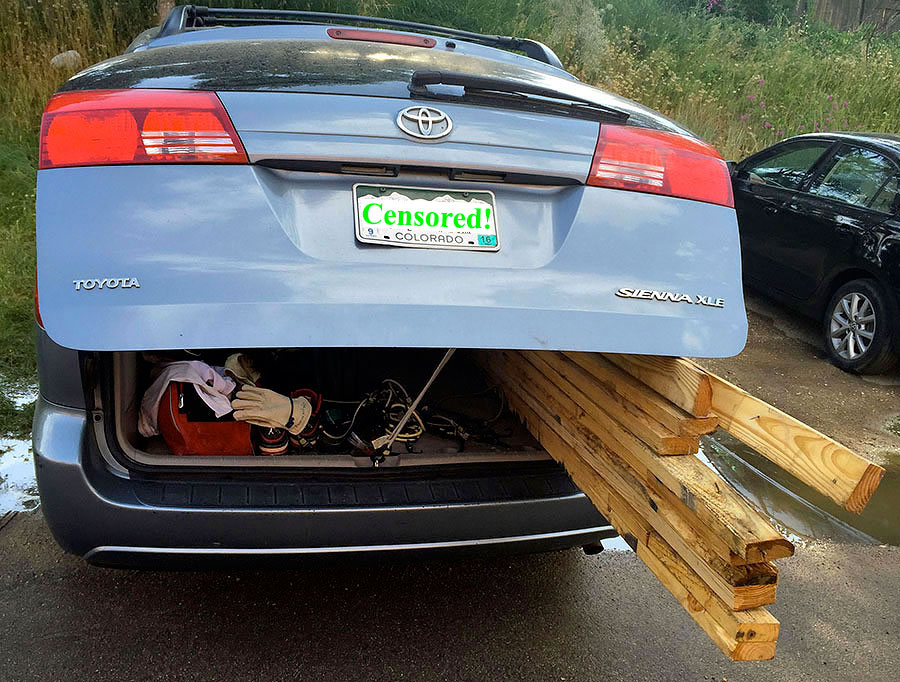 Ended up with ~50 pieces of wood supporting the branches - they really do look like Franken-Trees! ;-)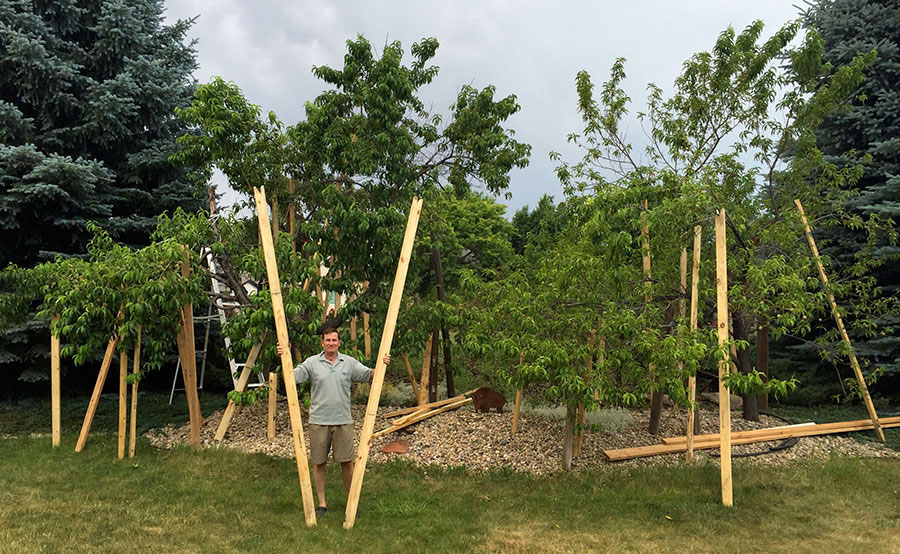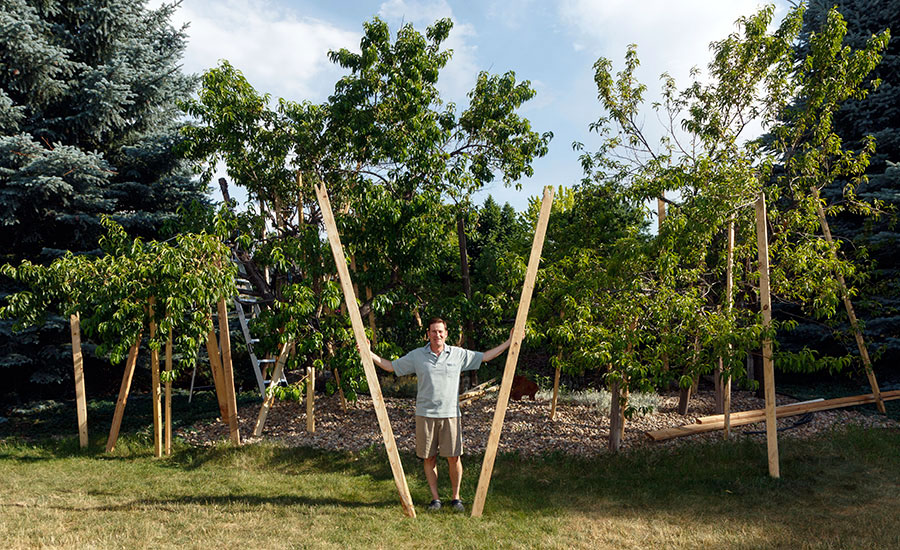 Here's the ~50 pieces of wood all piled up after the peach picking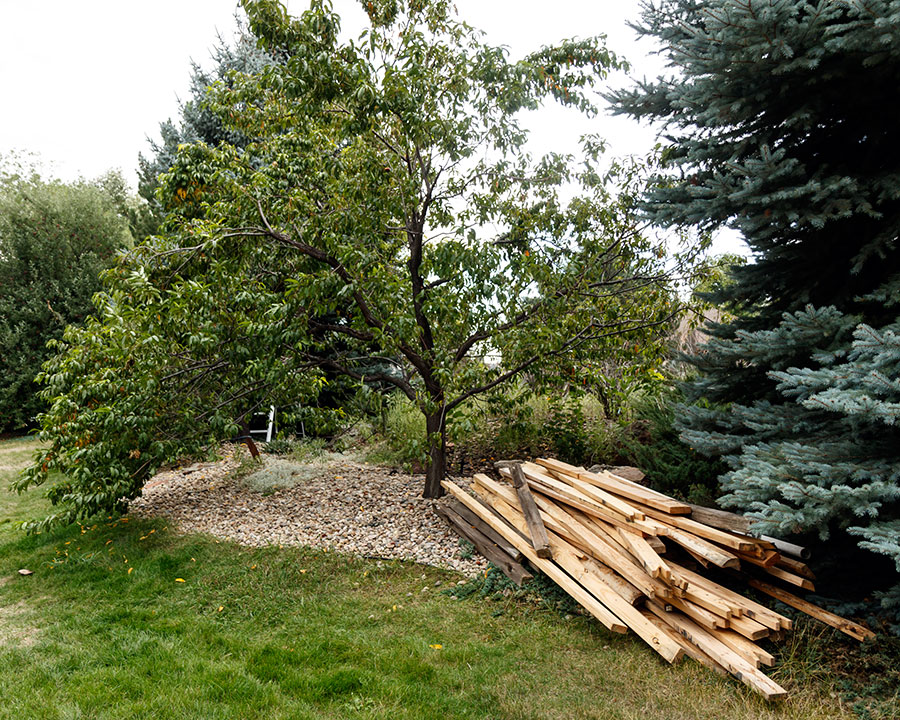 The rabbits started nibbling on the peaches early!
Use the controls to play, step, pause, slow-down, and/or speed-up the animation.
| | | | | |
| --- | --- | --- | --- | --- |
| | | Frame Rate | | ... loading images ... |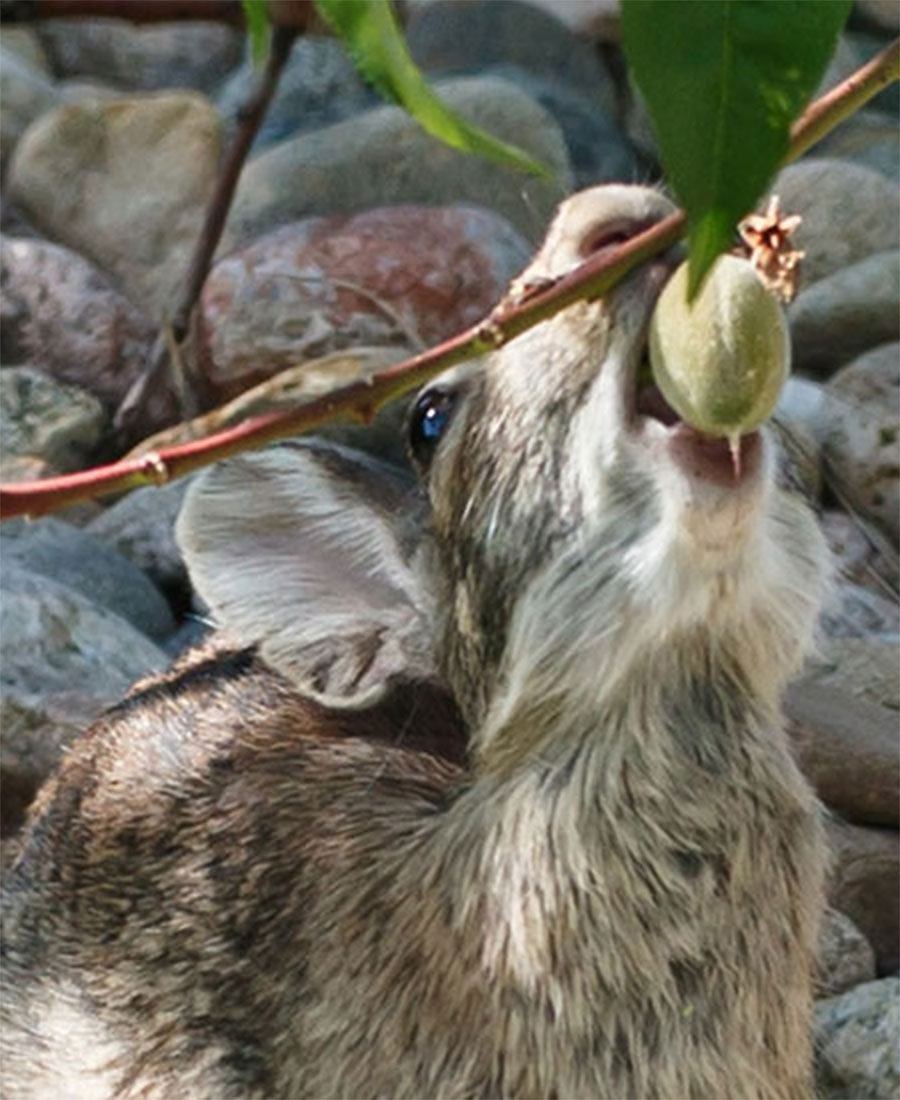 | | | | | |
| --- | --- | --- | --- | --- |
| | | Frame Rate | | ... loading images ... |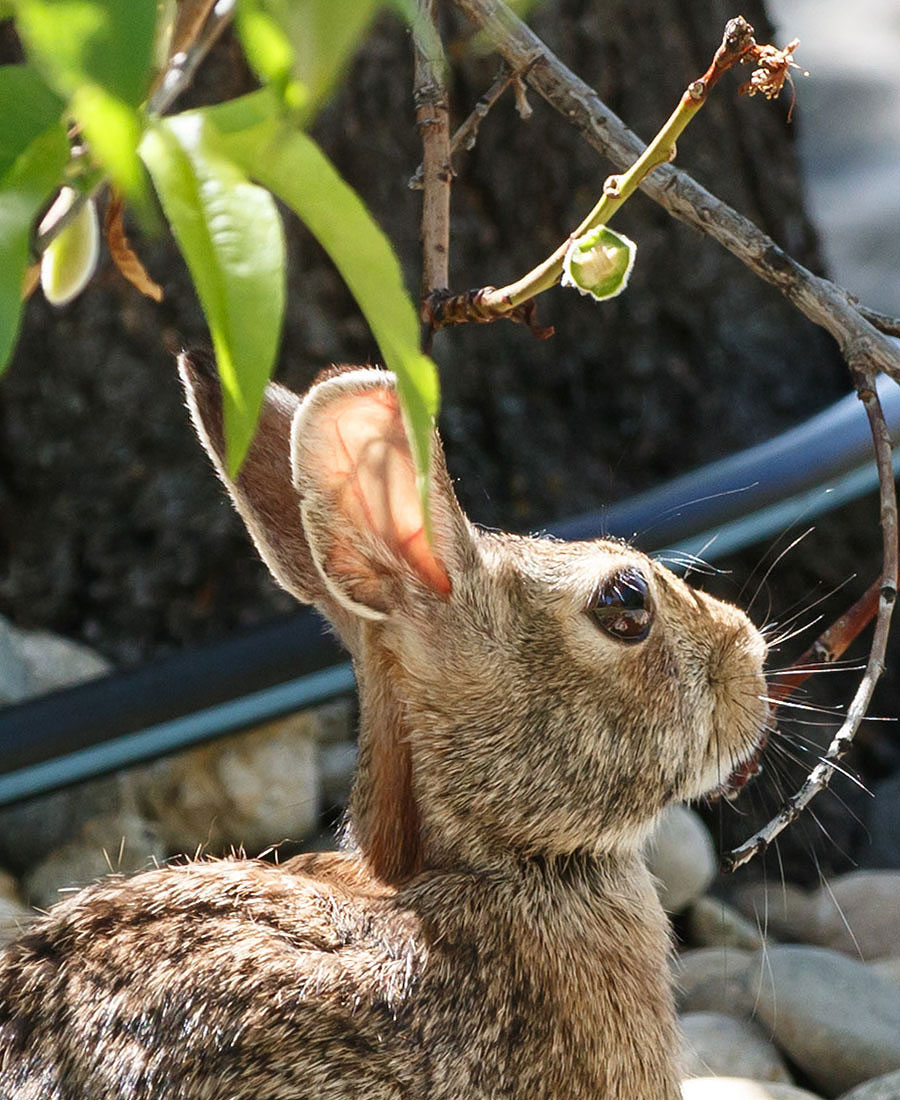 Aug 18th: Peaches are getting ripe and ready to start pickin'! ;-)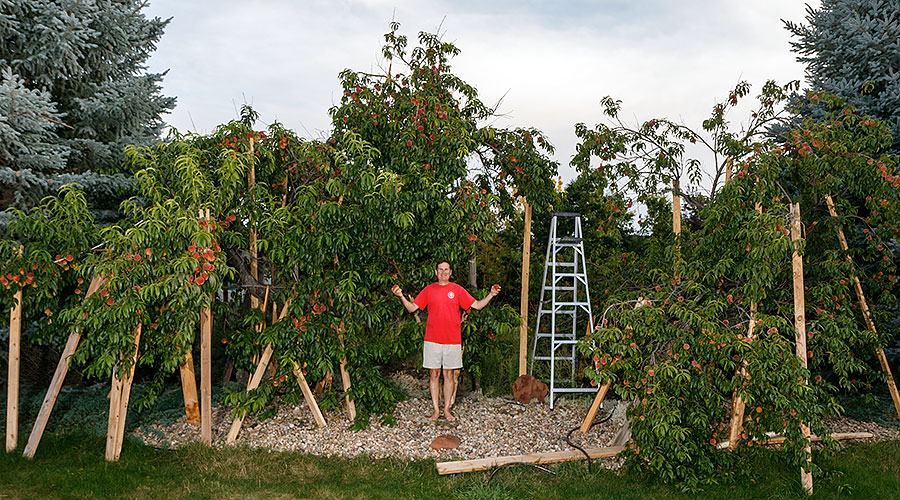 Even with the wood supports, the branches are pulled way over by the weight of the peaches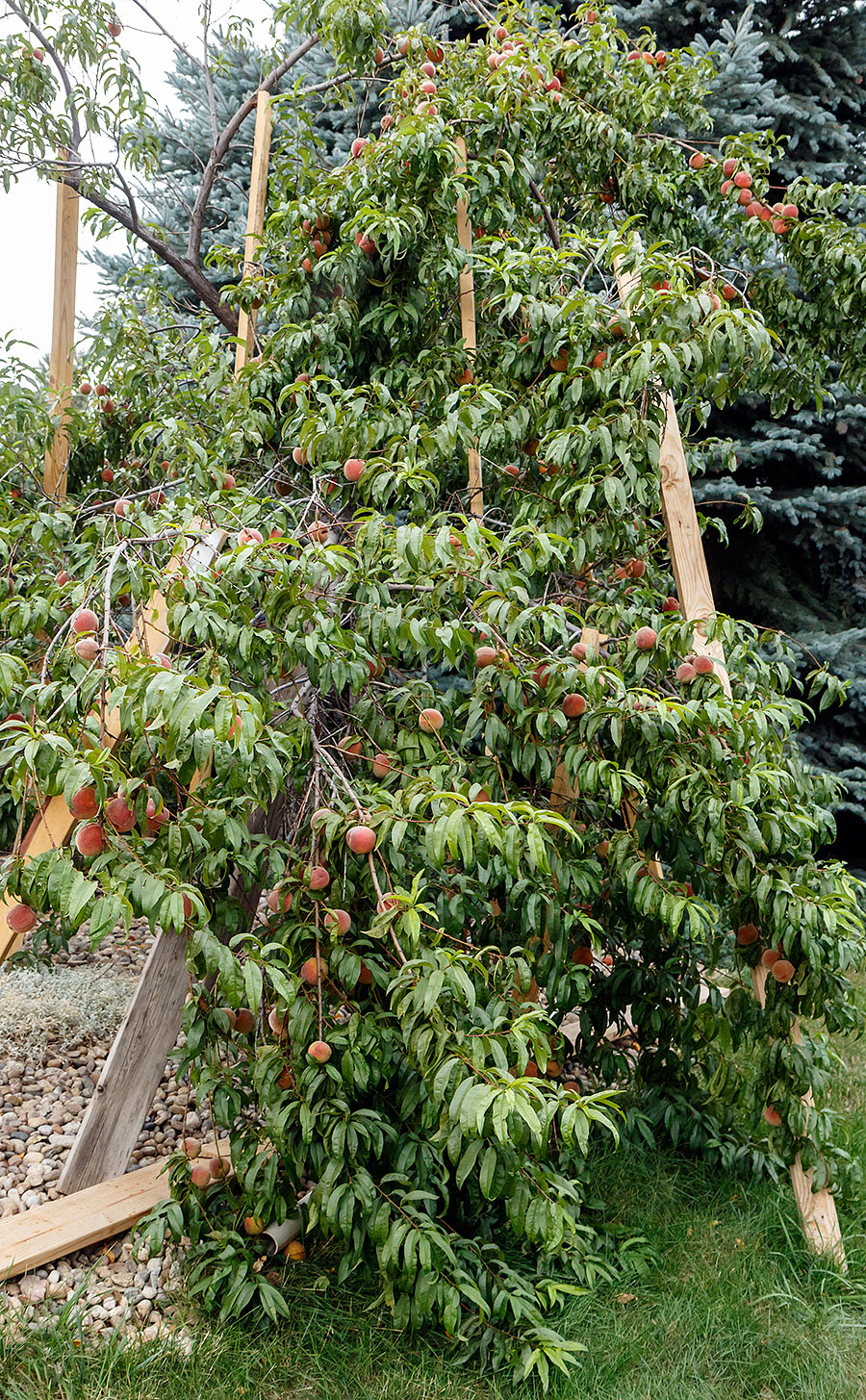 So far, only a few broken branches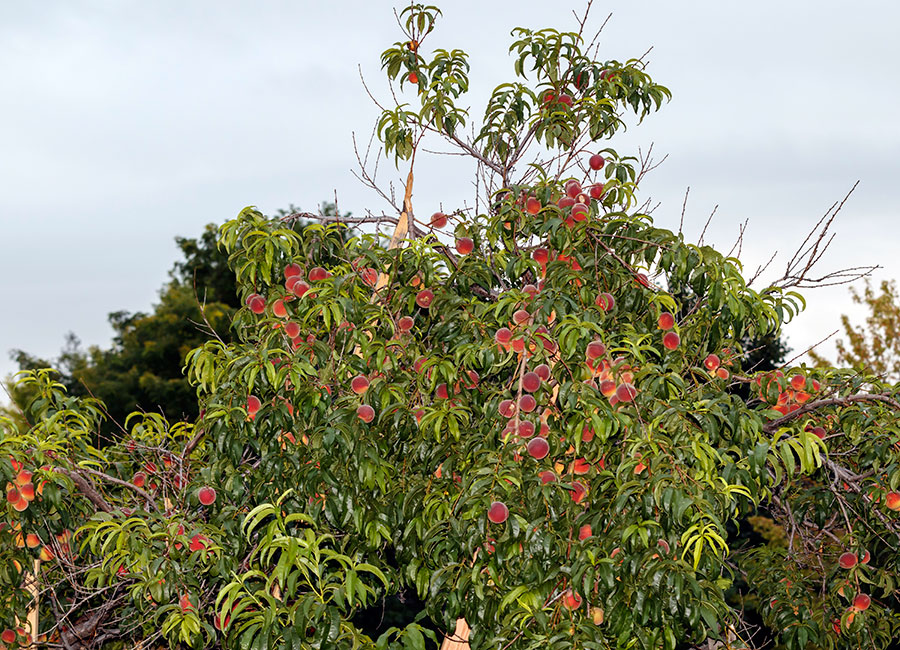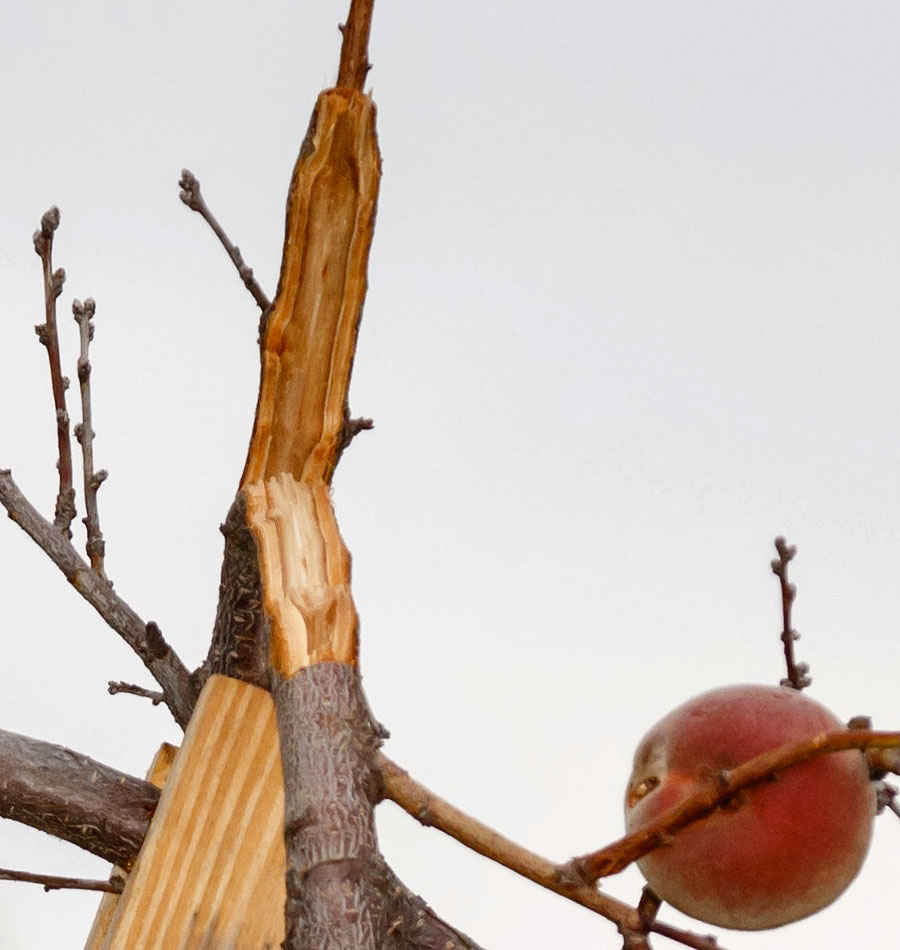 But I did have a "Neutral Plane Split" on a main branch from the west tree
Due to the weight, the downward curving branch is in compression on the bottom half and tension on the top half ... so it cracks in the middle. KyleC from my Ultimate Frisbee team (who is an tree guru) explained all this to me and said the "solution" is to bolt it back together.
Read more here
... and because it's a pretty heavy branch, I did the following over-engineering job ...
now it really is a Franken-Tree! ;-)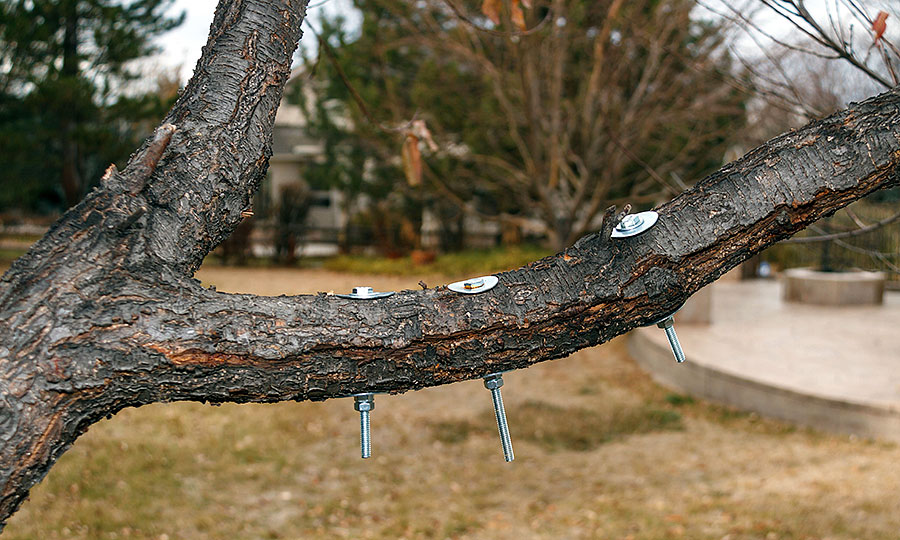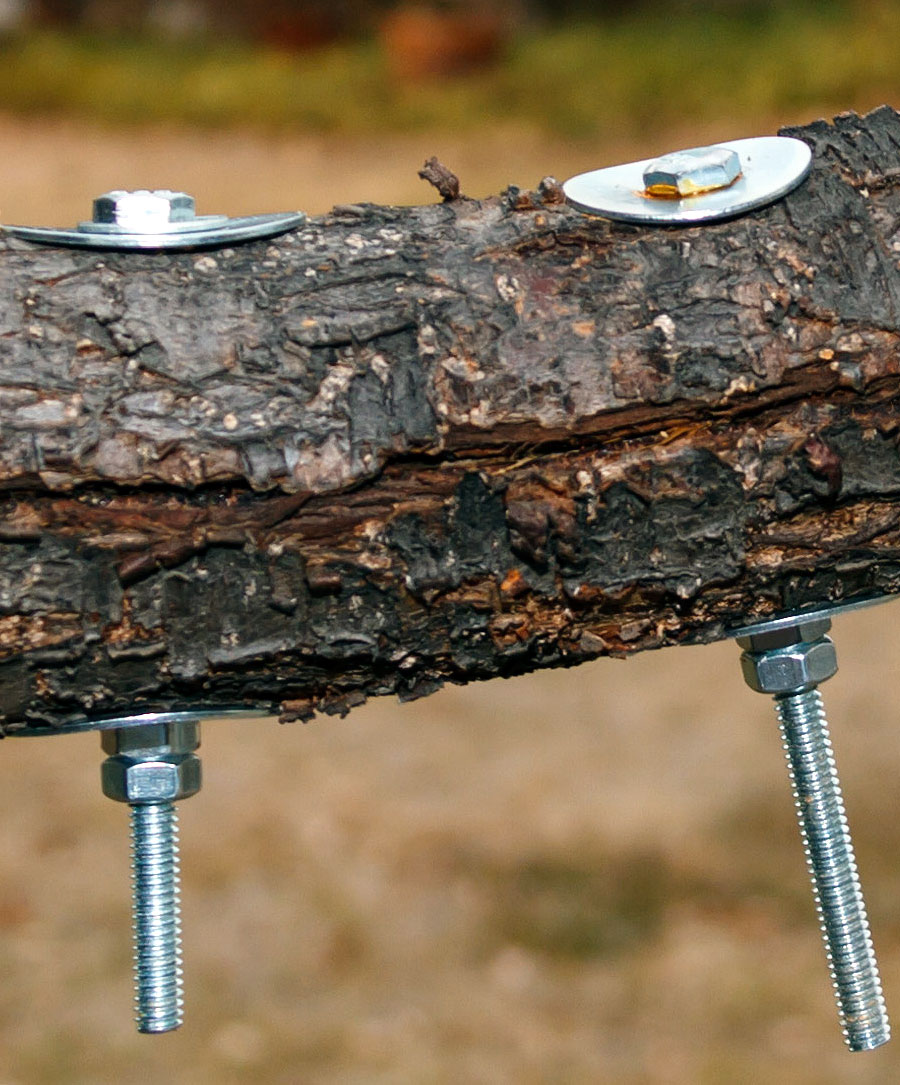 Aug 18th: Peaches are getting ripe and ready to start pickin'! ;-)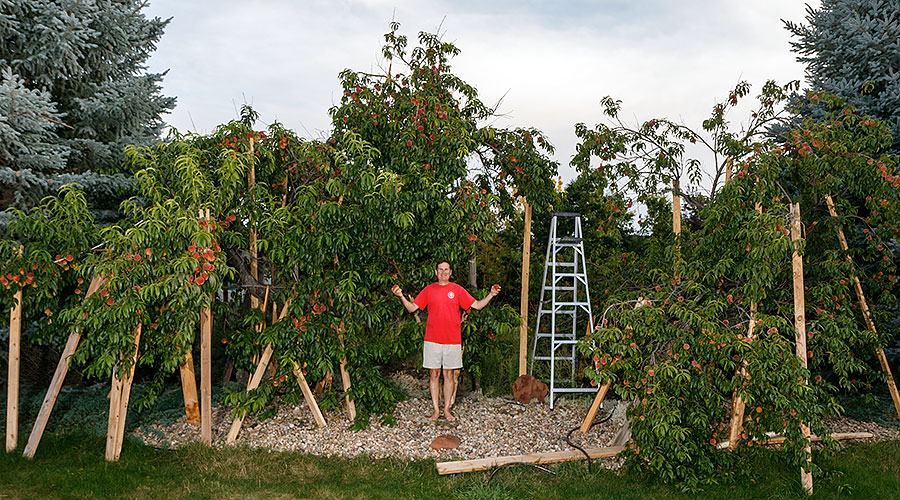 Aug 18th: Some peaches have started to fall off - Foxes, Squirrels, Birds, Wasps, go after 'em quick!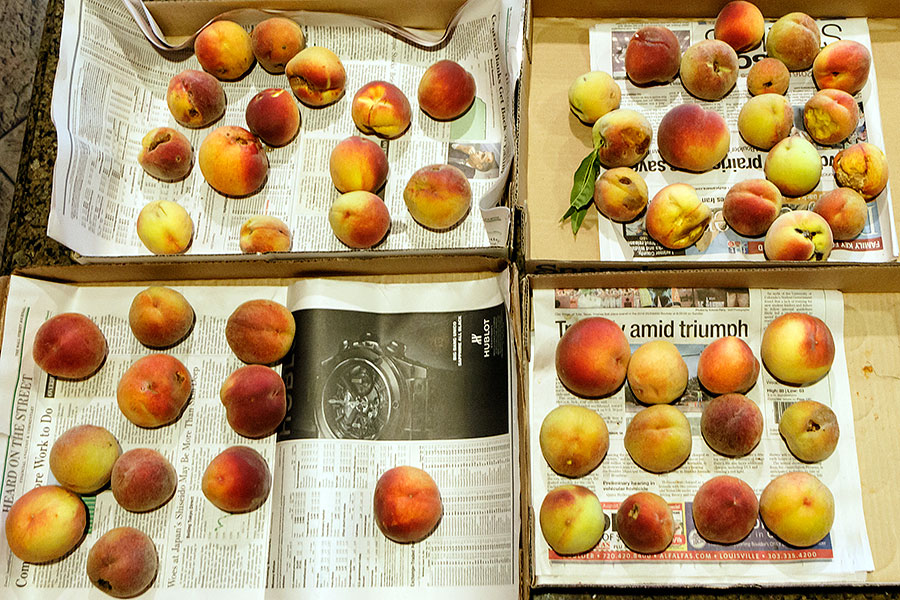 Wasps just engorge themselves on peaches that has fallen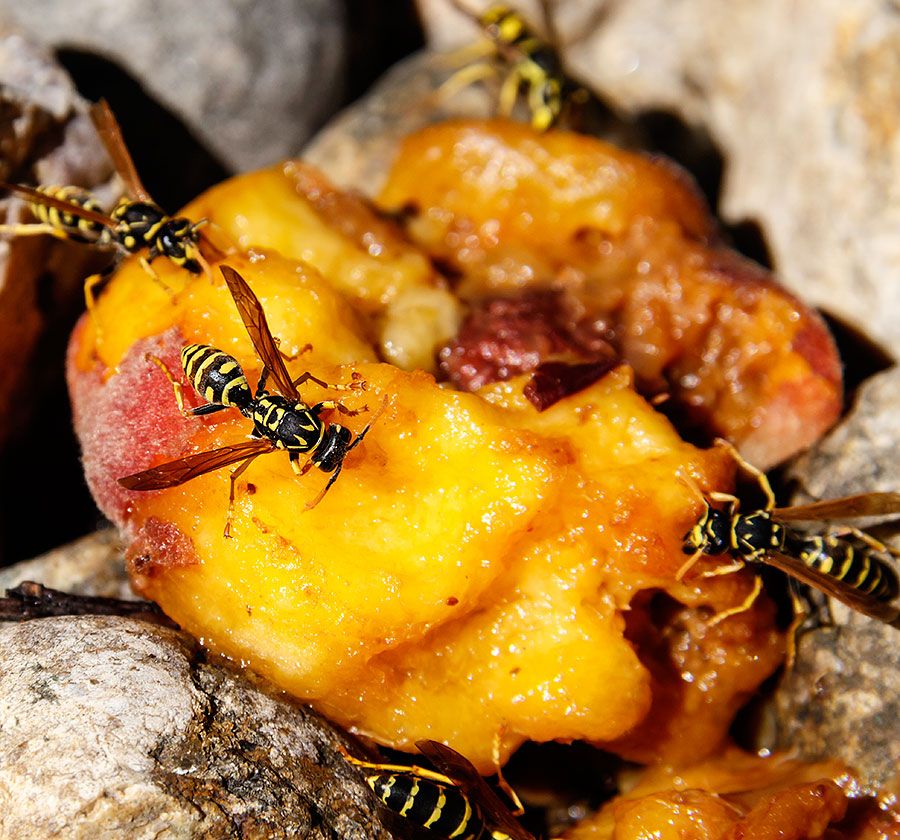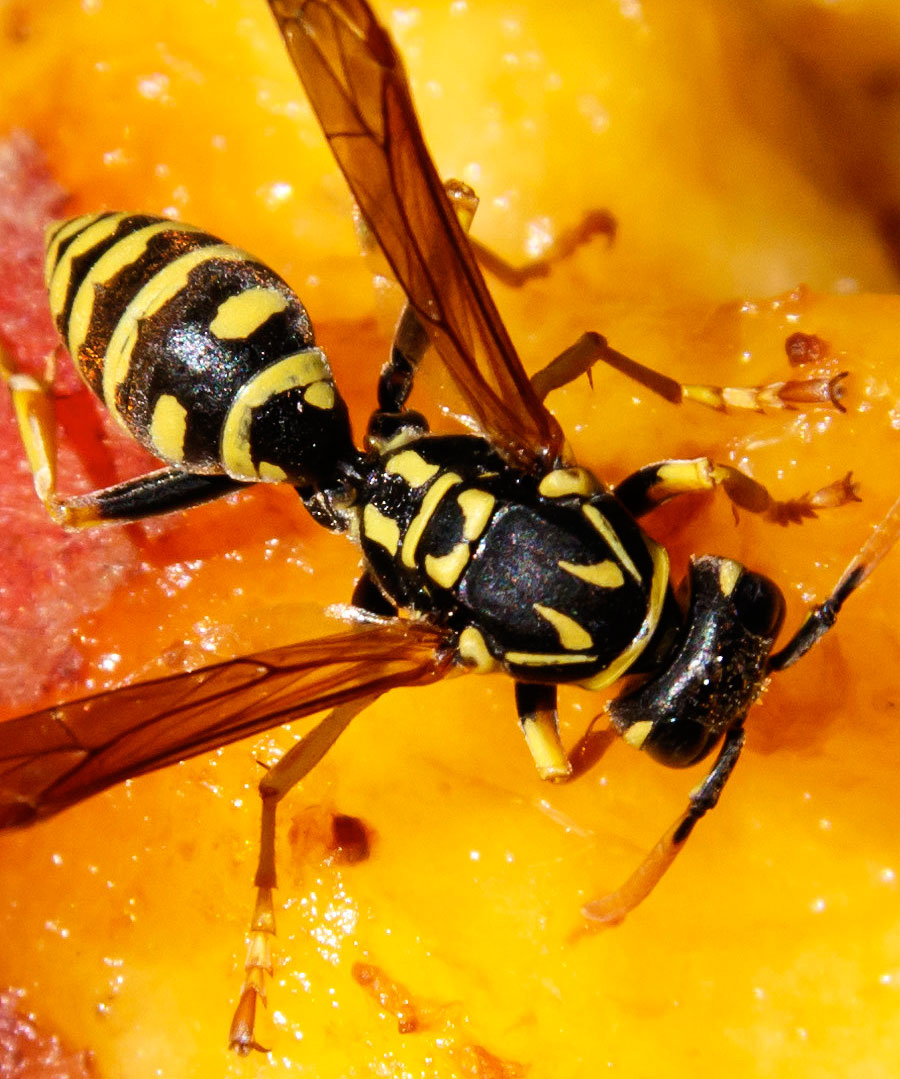 Even Grasshoppers get in on the action!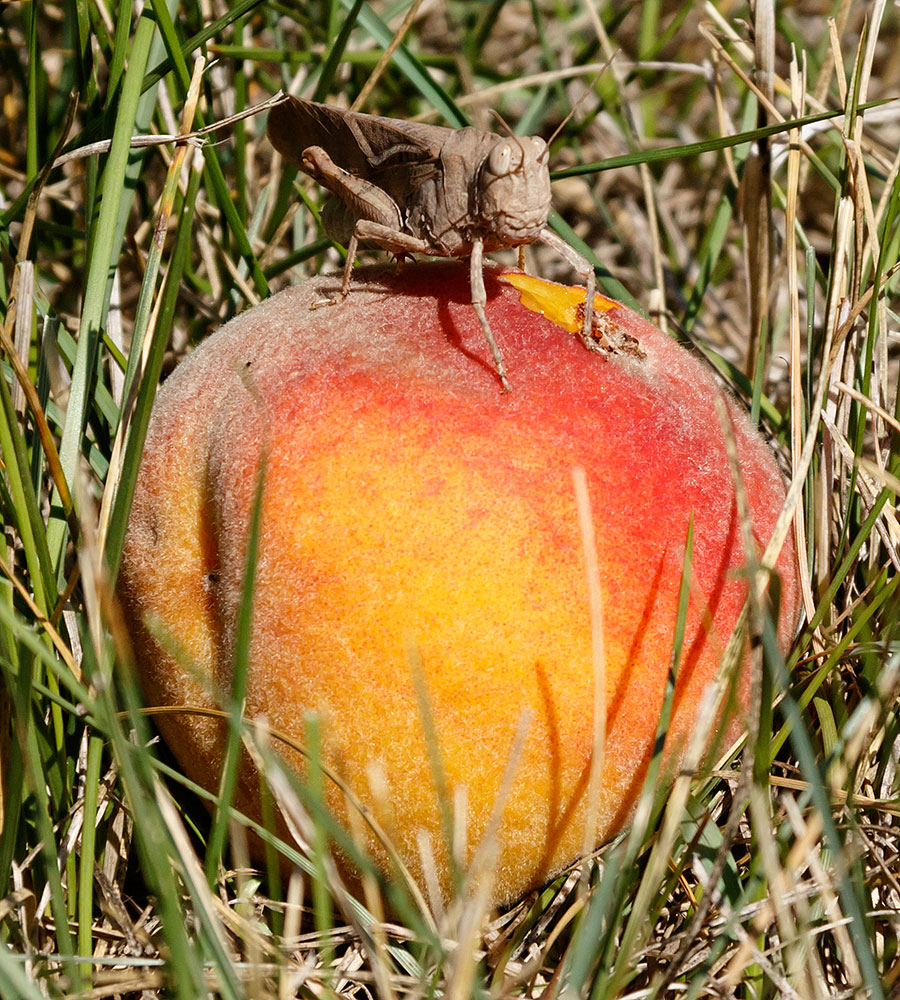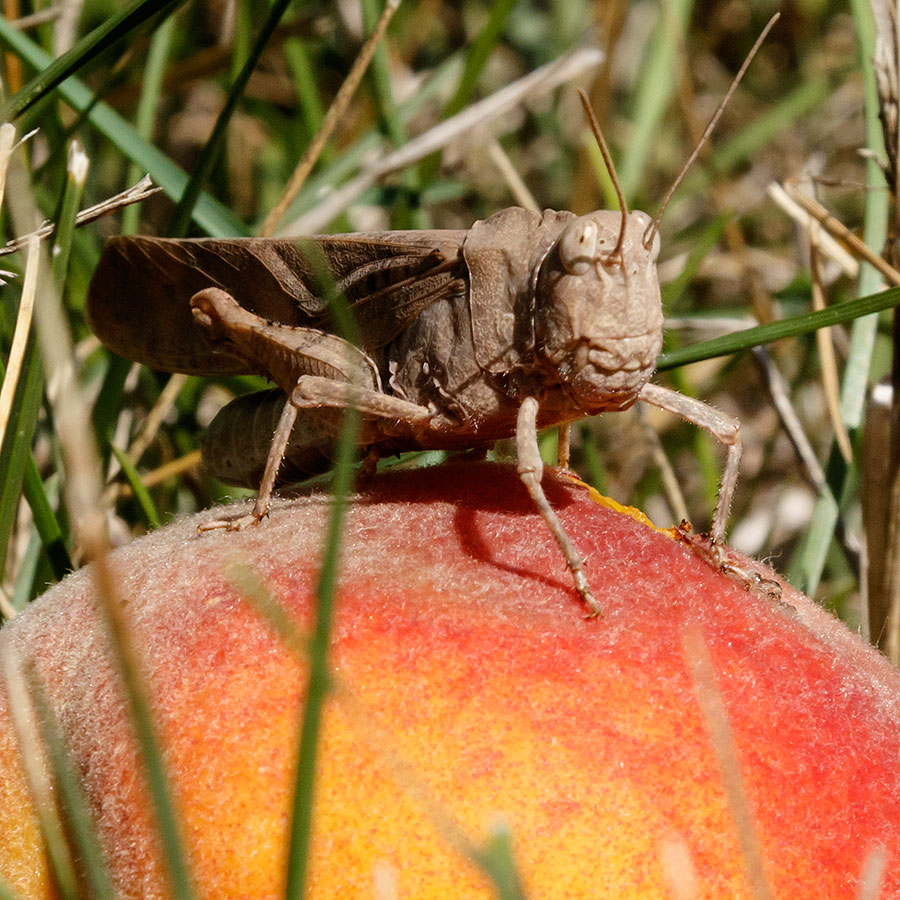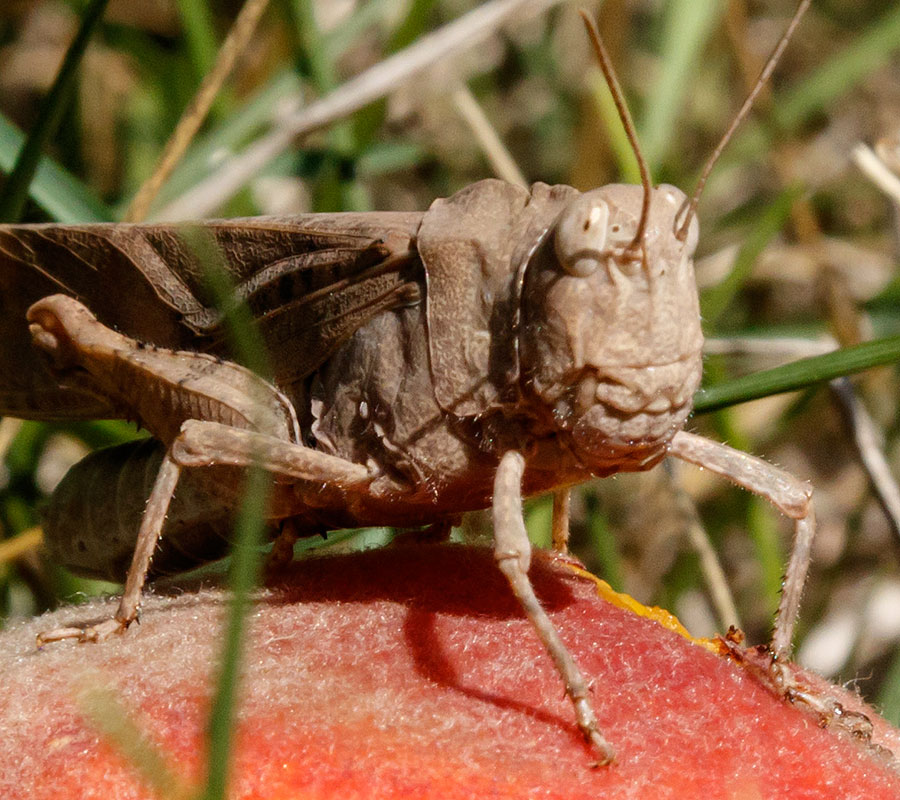 Nifty picture of a dragonfly and a bug next to the peaches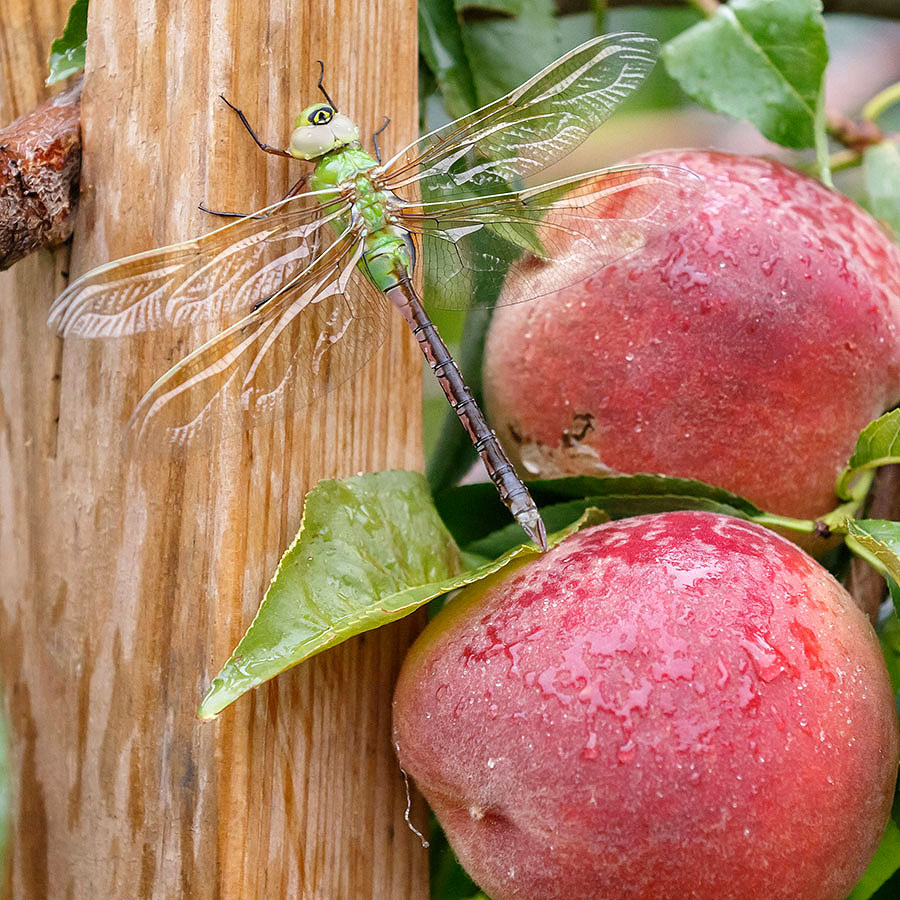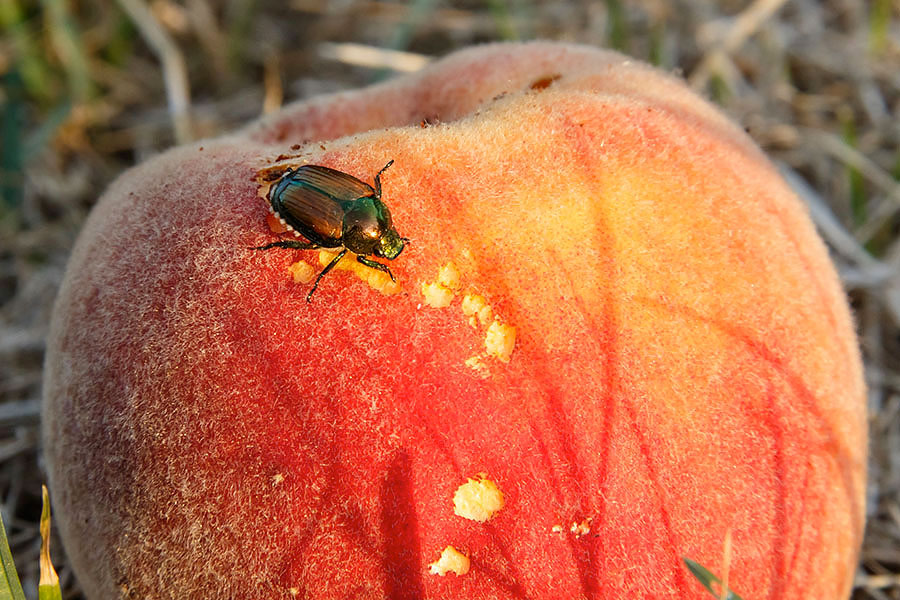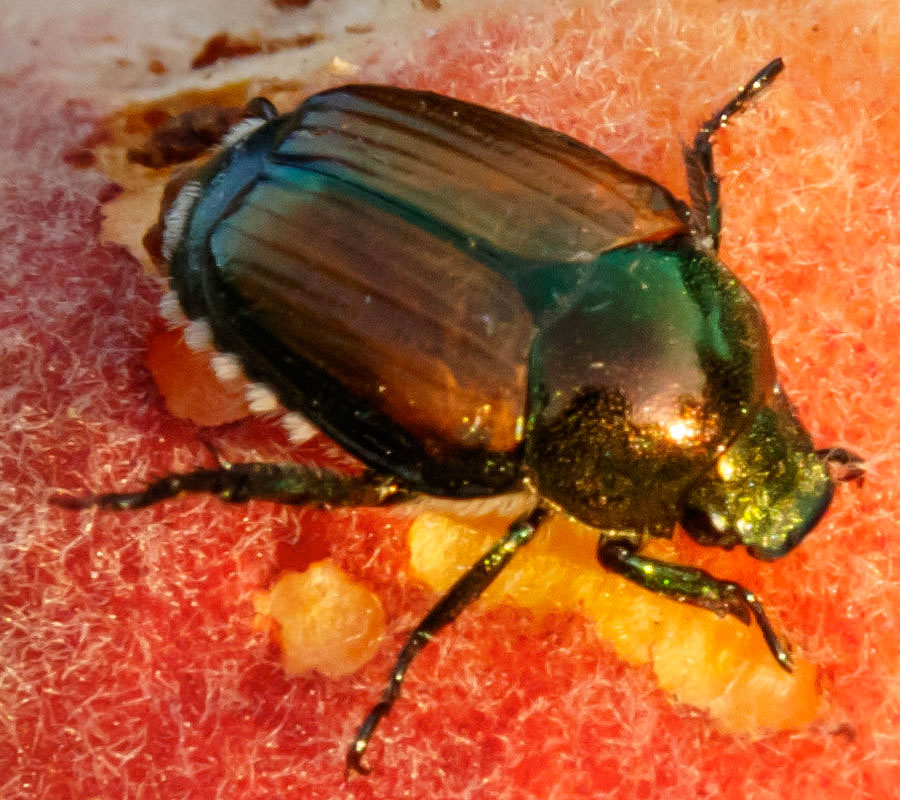 I sometimes find bugs when I cut 'em - the most was 7 in one! (the peach was still good)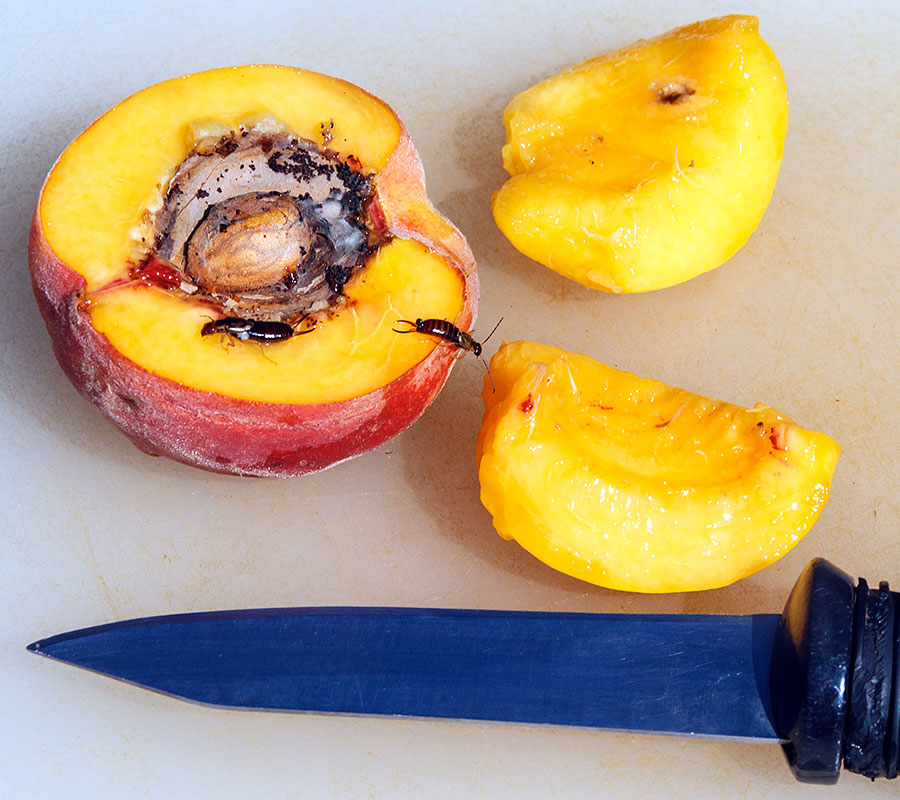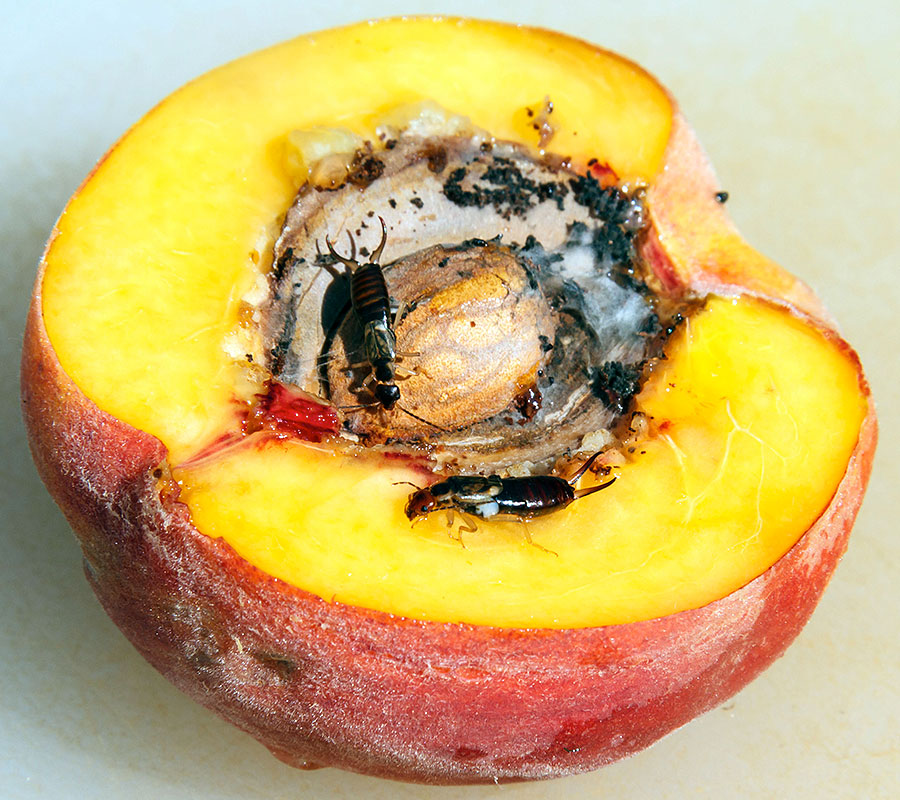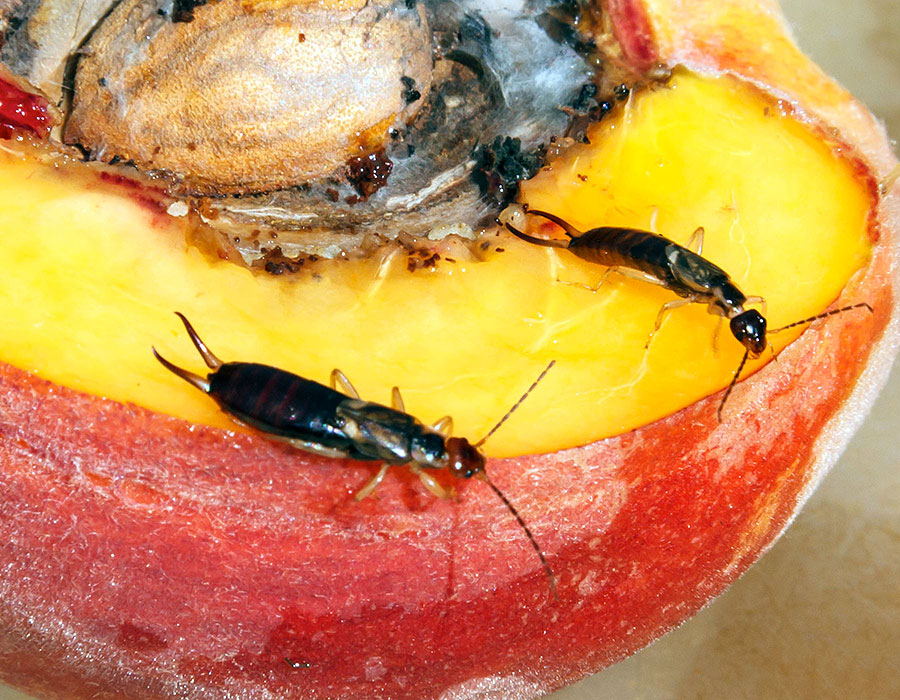 And yes, those bugs are still moving around! ;-)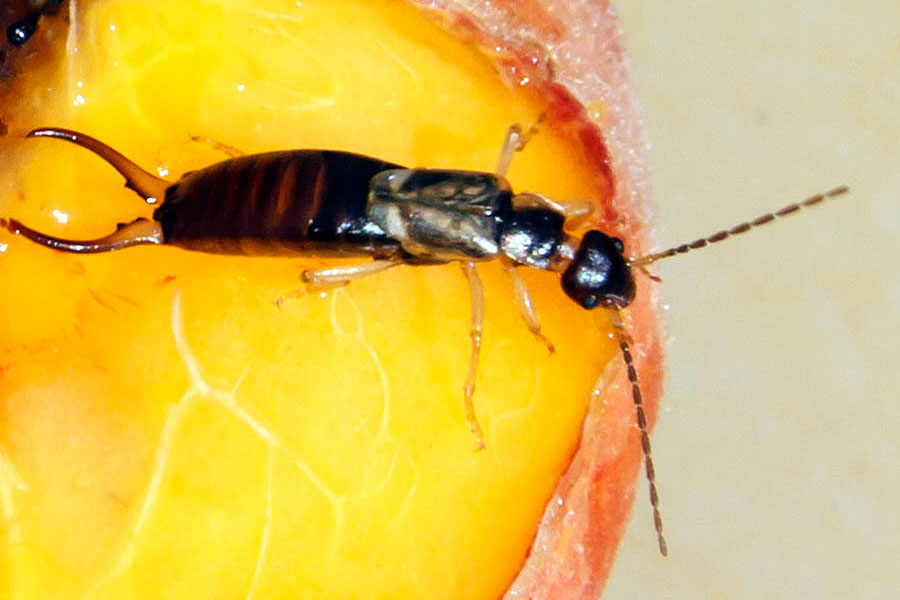 BBQ'ed peaches on the grill was a daily dessert!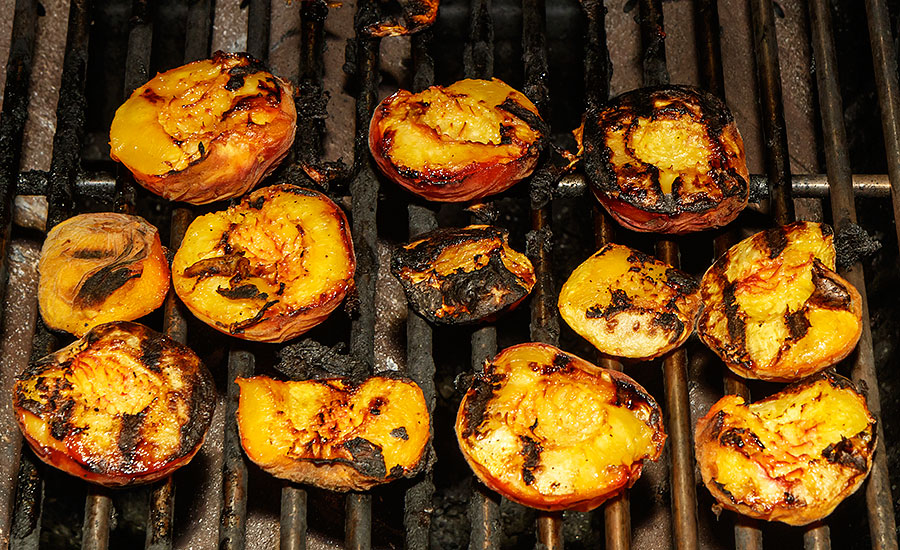 Here's where I spent hours and hours cutting, peeling peaches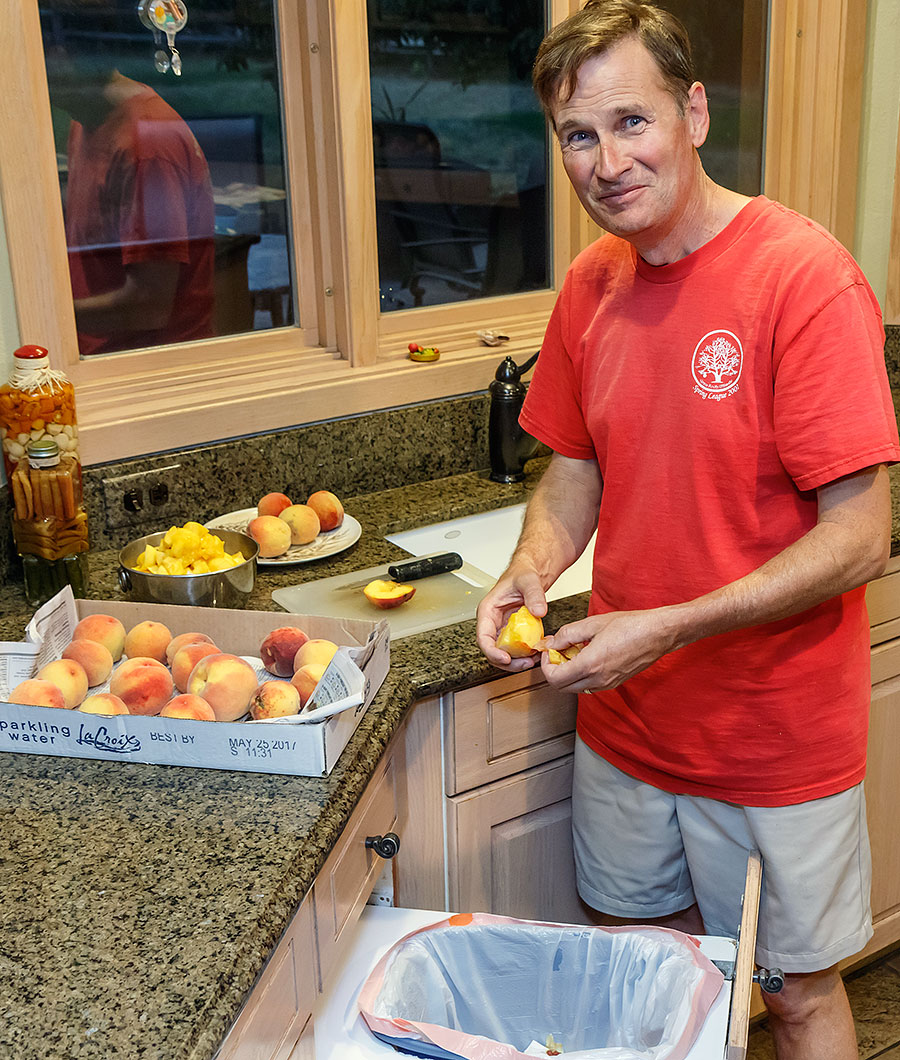 Aug 20th: The pile of peaches starts to grow - many more are bruised, frozen, and eaten! ;-)

Aug 23rd: Round #1 - 224 hand-picked luscious peaches fill up the kitchen counter!

Aug 29th: Round #2 - another 238 hand-picked luscious peaches!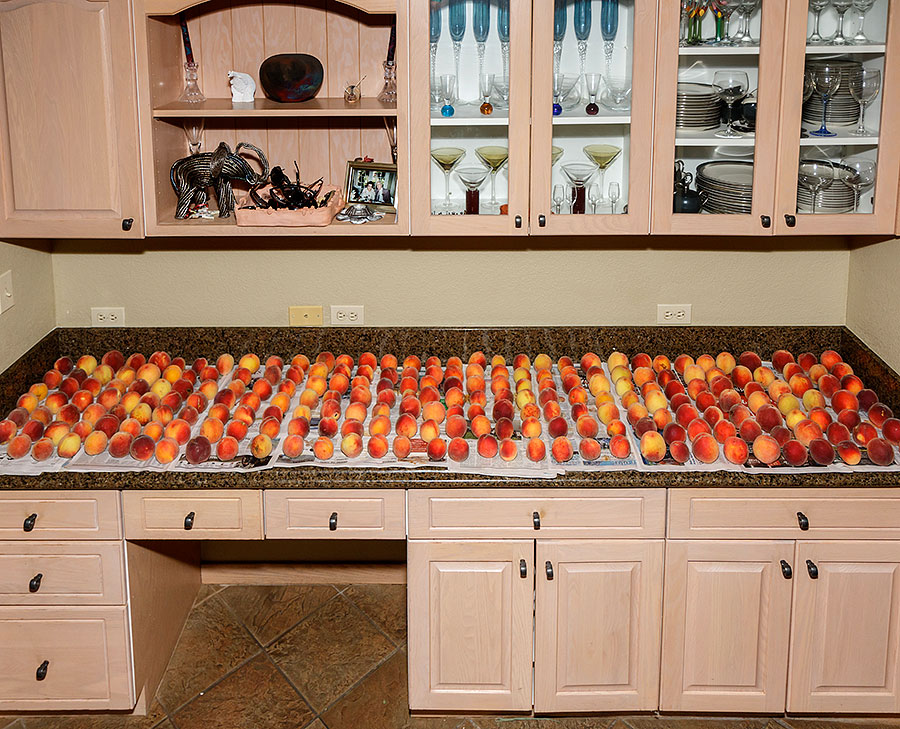 Aug 29th: The outside freezer/fridge is stuffed with peaches!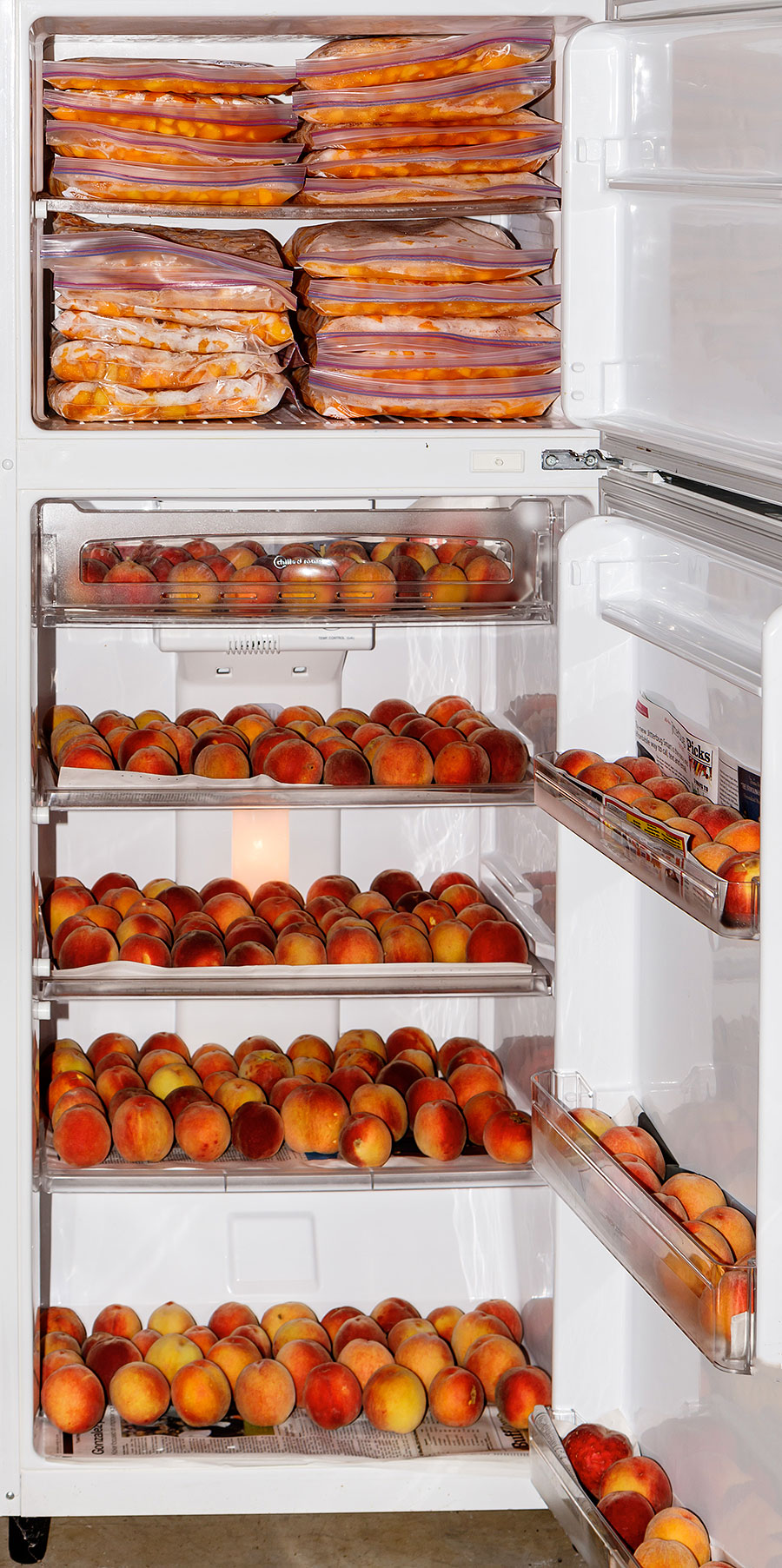 Closeup of 20 frozen bags of peeled & sliced peaches - gonna be yummy in the winter!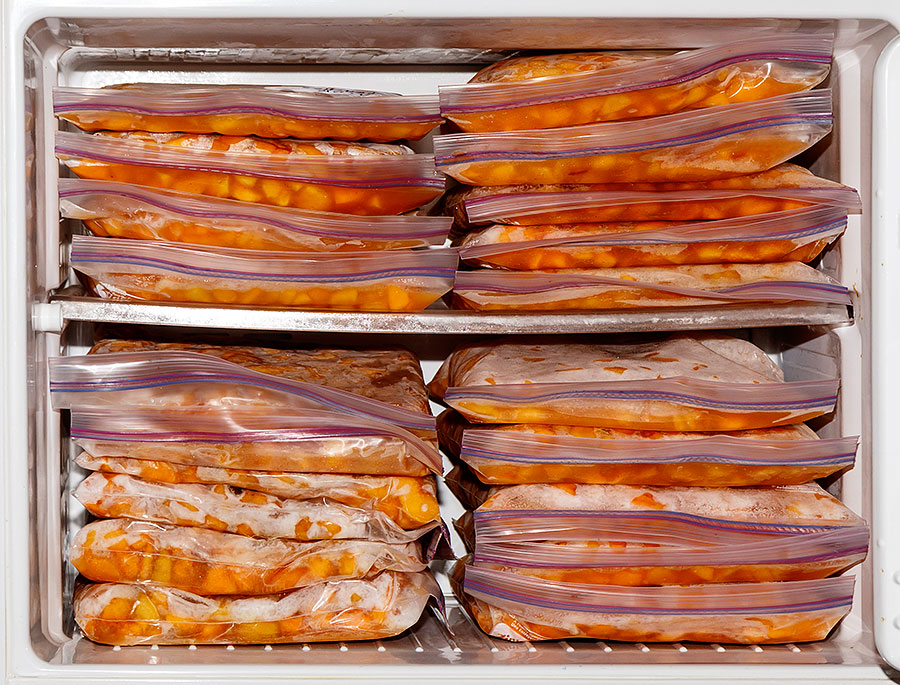 Video of the monster peach harvest in 2012 - 2016 was all hand-picked by yours truly
A neighbor had a good idea using clothesline attached up high (he had a 20 foot 2x6!) and I tried this with a few branches. After threading a garden hose through it (to protect the branches), it worked OK; the challenge was finding a good "anchor" point on the outlying branches (with tension applied, it wanted to "pull up" the branch and strip it) ... and truly getting high enough for a good vertical angle. Since the wood was free (and provides a "distinctive" look), I went with that approach! ;-)