BBQ Shrimp
Three bbq shrimp recipes here - one sweet, one spicy, and a Tequila version - try 'em all!
BTW, for the full Shrimp on the Barbie affect on those summer days on the deck/beach, I recommend "pre-funking" with a Hulk Lemon Drop Martini and then having watermelon margarita's with dinner. And if you want a Surf and Turf Recipe, I recommend adding my BBQ Flank Steak.

NOTE: For all of these barbeque shrimp recipes, you can also stir-fry ... which also comes out darn good. Pour a small amount of the marinade into a large skillet, and get it darn hot - remember the old chinese saying, little oil, lotta heat. Drain the rest of the marinade into a bowl that we'll use in a moment. Put the shrimp into the skillet and cook for a few minutes - stirring frequently. Don't put too many in at once and add more marinade if needed. Once the shrimp is done, pour the leftover shrimp marinade into the skillet and get it good-n-hot (it has touched raw shrimp, so you don't want it to make you sick) ... and then let it cool and serve as a dipping and/or pouring sauce at the table - quite good to dribble onto your rice-n-shrimp ... check out the spicy bbq shrimp pictures at the bottom.

Drop me a note and let me know how your bbq shrimp and/or shrimp on the barbie turns out for 'ya!

BBQ Grill cleaning and back to my best BBQ grill recipes - ©2002-2005 www.komar.org




And here is another bbq shrimp recipe that I got from Jeramie Shamp - that I have tweeked quite a bit. If you don't care for spicy shrimp (which the below one is), this is your ticket for sweet shrimp on the barbie. I actually have made both of 'em several times now, and it's a nice treat comparing 'em side-by-side.

INGREDIENTS
   2 pounds LARGE shrimp, uncooked, pull the skin/tails off 
   1 finely chopped onion
   1 cup olive oil
   1 tsp cayenne pepper
   1/2 tsp salt
   1/2 tsp oregano
   1 tsp garlic powder
   1/4 cup Maple Syrup
   Optionally a pound-o-bacon 


DIRECTIONS
   In a large bowl, mix everything togather (except bacon) and then add shrimp.
   Leave it in the fridge overnight (PREFERABLE) or at least for several hours.
   Flip occasionally to distribute shrimp marinade. Pull out from fridge an hour
   or so beforehand to let things warm/loosen up a bit.

   The next day, preheat your bbq grill while skewering the shrimp.
   Optionally place flat on a fine-screen mesh cookware - less work!
   Wrap in bacon and grill. Be careful about flames from the dripping marinade. 
   Serve over rice, pasta, or as-is ... but be sure to drip some marinade on 'em!

   ALEK NOTE: Even without bacon, this bbq shrimp rocks!

   


Got a followup-Email from Rob V who wrote:
   First off - Killer recipes - tried both the spicey and sweet.
   I have a bit of a sweet tooth so thats my favorite.

   I just did another batch tonight (The local grocery store is 
   having a sale on shrimp - 4.99/lb for jumbos - and when I say 
   jumbos - i mean like 20 per pound) 

   I made a few changes to the sweet that were a big hit tonight.
   added about 1 Tbs of teriyaki sauce.  Not the normal stuff - 
   but the sweet cooking kind -it gave it a great flavor.
   also - added a bit (maybe 1/4 cup) of Orange Juice - it kind of 
   helps complete the flavor (IMO) May sound weird - but tryit - 
   I use it in all of my big BBQ receipes - wings/ribs/etc..it gives 
   it a good added taste and helps things gel up a bit.





Tina Plumb sent me this yummy Hawaiian Salmon recipe and then suggested I try her "Drunk Shrimp" recipe ... which is darn, darn good!

INGREDIENTS
   1 pound of naked large shrimp uncooked but thawed
   1/4 patron silver
   6 cloves of garlic minced
   1 tablespoon of Natures Seasoning (it.s a salt/pepper/garlic/etc mix)
   1 table spoon of lemon juice
   2 table spoons of sugar in the raw (or organic honey)
   2 table spoons of melted unsalted butter

FOR EXTRA FUN: slice of lemon, Salt Shaker, shot glass of Patron Silver

 
DIRECTIONS:
Put the shrimp in a large zip lock baggie, make sure they are completely thawed.
In a medium bowl combine all other ingredients. Stir them together until sugar 
or honey is completely combined or dissolved. Lick left hand and poor a little 
salt on it, take a swig of the tequila and follow up with a slice of lemon;
my mouth is watering as I write this!

Pour the sauce into the Ziploc baggie and allow it to marinate for 2-24 hours. 
Beyond 24 hours the shrimp literally starts to cooks itself (like ceviche) and 
it does NOT have the right texture after BBQ-ing.

10 minutes before skewering place the wooden skewers in a baking dish and cover
them with cold water. Allow them to soak for a minimum of 10 minutes, 30 is ideal,
but I know you're hungry. Load up your shrimp for the Barbie and cook until pink all over. 





This shrimp recipe is derived from one I got from Lori Kaess (lkaess AT comcast.net) and it's great - the bbq shrimp gets "soaked/infused" with flavor which seems hard to do with most marinades. I've altered the original recipe slightly, using cilantro rather than parsley and adding a "dash" (or more!) of Dave's Insanity Sauce. I extended the marinade times a bit below, but a couple of hours is adequate.

This recipe easily scales up - I had 4.5 pounds of (Colossal U-16) Shrimp for six adults. There were three serious "shrimper's" in this group, and they polished it all off and said it was the best ever ... in fact, some "trash talking" ensued about how much more they could eat, and so sometime in the future, I may have a "Shrimp-Off" to determine who can eat the most bbq shrimp! ;-)


INGREDIENTS
   2 pounds LARGE shrimp, uncooked, pull the skin/tails off 
   1 cup olive oil
   1 lemon, juiced
   2 tablespoons hot pepper sauce
   3 cloves garlic, minced
   1 tablespoon tomato paste (I just use ketchup)
   2 teaspoons dried oregano
   1 teaspoon salt
   1 teaspoon ground black pepper
   1/4 cup chopped fresh cilantro (original called for parsley)
   "dash" of Dave's Insanity super-hot sauce (be careful!)
      Add more Dave's and/or Chili Powder if you like very spicy

   
DIRECTIONS
   In a large bowl, mix together all of the ingredients except the shrimp.
   Let sit overnight at room temperature in a tupperware container, shaking 
   occasionally as the ingredients settle. This should really "infuse" the
   oil with flavor. Dip each shrimp in the marinade to fully coat, and then
   put all of the shrimp and marinade in a container and put in the fridge
   for several hours, flipping occasionally to distribute marinade.
   Or just do all the above at once. 

   While preheating your bbq grill, skewer shrimp. Put on the grill for a
   few minutes, flipping once. You should not have to brush w/marinade.
   Serve over rice, pasta, or as-is.

The Ingredients for making the Spicy BBQ Shrimp Marinade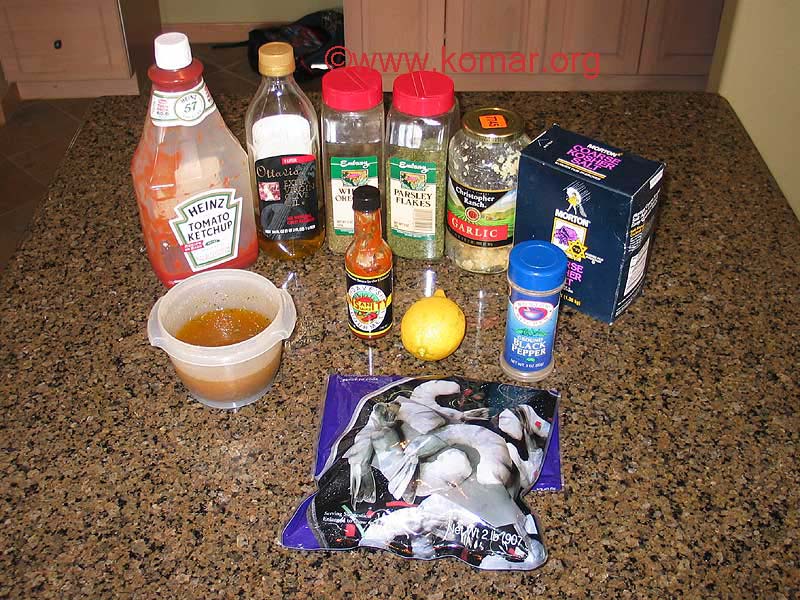 After the Shrimp has marinated for a few hours
BBQ (via stir-fry approach) the shrimp - note rice side dish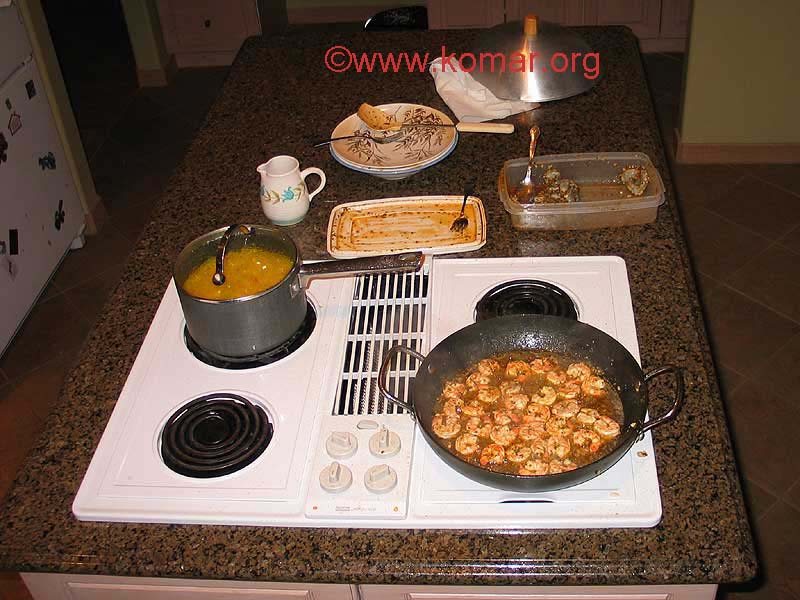 Closeup of the stir-fry shrimp - yummy!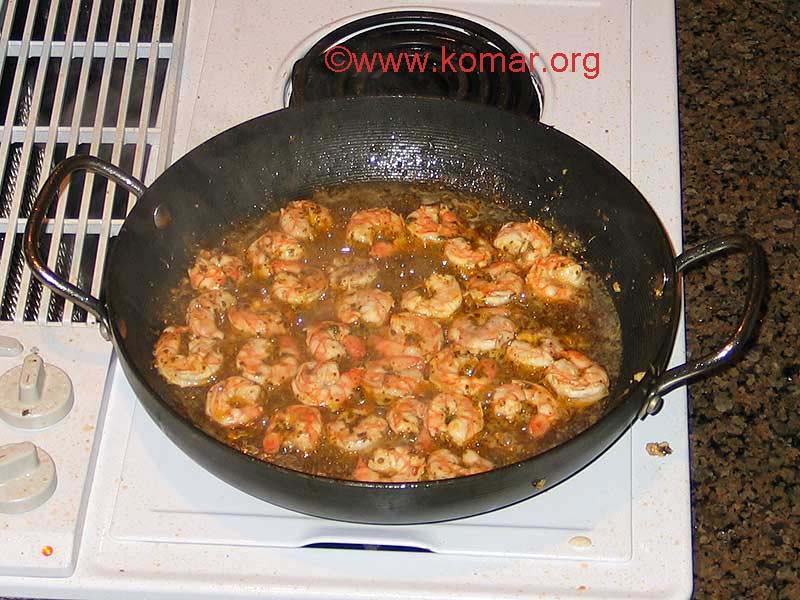 BBQ Shrimp is ready for serving, with marinade for extra dipping