Stamped Concrete Patio Deck - MONGO!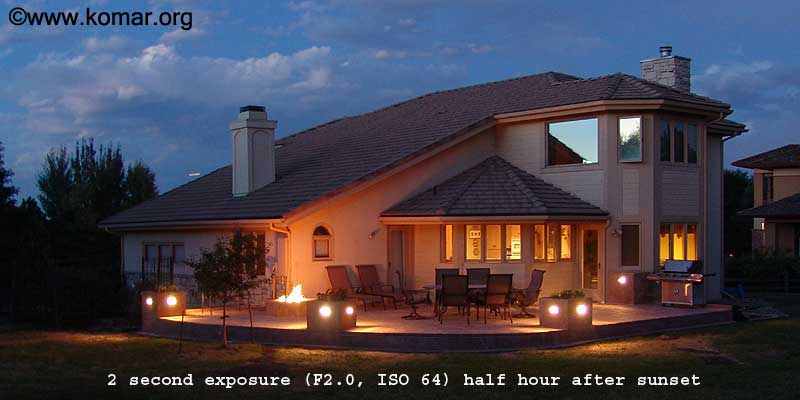 The Concrete Cam
is DONE and was subsequently pressed back into service viewing
my halloween decorations
and
christmas lights.
It was a lotta fun while it was up as 34,827 people (based on unique IP addresses) checked it out between August 23rd and September 8th, 2005.
Here's a super-duper quick-time MPEG movie of 20 tons of concrete being poured and then stamped
and there were some
smiling faces at the end
... or maybe they were happy because I bought 'em all beer!
Read all the comment from Internet surfers in the Concrete Blog, and I really appreciate the suggestions from folks on various aspects of the project, especially those of you in the concrete business. And if this wasn't exciting enough, you are welcome to watch grass grow or, as noted, have fun with my Halloween and Christmas decorations webcam which will not only let you view the lights, but also turn 'em on & off! ;-)
Some misc. issues included some landscaping to (try to) cover up the concrete edging that was poured too high on the East side, a patch (that still looks like a patch - grrrr) on the West concrete flower pot and there was a bunch of misc. finishing work.
I still have more more pictures/stories of the patio project to add - yikes, it's already Spring/2006 - I'll do 'em soon. In the meantime, read my two cents on the Republic of Boulder and the Rocky Mountain News versus Denver Post.
The Concrete Cam Blog had lotsa comments - that final one was:
All done sealing -
the wet look ROCKS.
This completes the major part of the project. Left to do is some landscaping to hide the non-level
mow strip
, re-install/adjust the
patio lights
for straightness, replace lights on house, install safety fences, lay down flagstone on the vertical structures, and I'm sure a few other misc. things ... but we can finally reclaim our back deck.
---
Living near Denver Colorado is tough on wood decks due to the dry sunny climate. This is especially true for our patio deck since it is SouthWest facing. So it just gets pounded by the sun. I've tried the "really good deck stain with 6-year warrenty" which lasts all of a year or two ... and then the deck looks like crap again. So after 7 years, we're going to replace it with a Colorado stamped concrete patio deck - needless to say, I'm "pumped" about that! ;-)










My father-in-law Larry recently helped me reverse the patio door but doing this project myself is a bit more than I want to bite off. My original design was about 460 square feet, but then my neighbors and convinced us (mostly my wife Wendy!) that we should "go big or go home" ... so I increased it to about 710 square feet. I go into much more detail on my deck designs page, but you can see below the existing angular patio deck is outlined in black - the "new-n-improved" mongo stamped concrete deck is outlined in red. One unfortunate thing is that back in 2002, I planted 3 shade trees - two of these will have to come out. And taking their place will be 2 patio umbrellas which it turns out is going to be better anyway ... and a heck of a lot cheaper than some sort of shade structure.

I talked to several stamped concrete contractors and main issue was trying to figure out if fibermesh concrete is adaquate, or do I really need rebar ... so I decided to go with both! The last thing I want to have to do is bring out the concrete cutters again as I did (willingly) when I finished my basement crawlspace.

The outdoor patio lighting turned out real nice as did the patio fire pit. I have satellite pictures from beforehand, and also took tons of pictures during the project, so expect me to (finally) wrap up this saga by summer/2006 with updates:

Step 1: Deck Cleaning - getting all the junk off
Step 2: Deck Demolition Derby - 'nuff said!
Step 3: Laying out the concrete forms and molds
Step 4: Misc. finish work such as French Drains
Step 5: Pour the concrete and stamp it!
Step 6: Finishing the patio!
Step 7: Sealing the Stamped Concrete - as desired every couple of years





Stamped Concrete Patio Design - JPEG and PDF








©2005 www.komar.org - Alek Komarnitsky