SCREENSHOT of Alek's 2006 Halloween Decorations Webcams for Celiac Disease
Use the halloween webcams to view live images of a buncha halloween decorations & lights and also CONTROL them - heck, you can even inflate (or deflate) the giant Frankenstein & Homer Simpson - D'oh! The webcams run 7x24 and you can turn stuff on & off from 1700 to 2200 MST (GMT-7). Plus you can send "Instant Messages via Webcam" for everyone to see. Watch lots of trick-or-treating on Halloween night!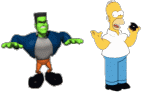 ---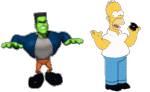 Franken-Homer Cursor: Remove - Tiny - Small - Standard - Big - HULK'in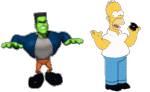 Spooky Halloween Music



to add to the over $16,000 raised for Celiac Disease.

If you enjoy the Halloween lights, please consider donating a few dollars (tax deductible) to the
University of Maryland Center for Celiac Research.
Donate more and
I'll list your name/company below
for bazillions of web surfers to see - 2006 donators are:
---
Halloween main page - also includes historical/future stuff
HULK says Puny Humans can add their spooky halloweeny comments now in the Halloween Blog

While I appreciate the folks who have asked if they can donate/PayPal to cover the costs of the lights and (wind powered!) electricity, I've never asked for donations and don't plan to change that. While it is a bit of work to put up all the Halloween stuff, I do it anyway for the neighborhood kids and the web site is just my way of saying "Happy Halloween" to folks around the world. If you feel compelled to make some sort of donation, my kids have celiac disease so make a donation toward medical research - tell 'em Komar.Org sent 'ya! ;-)

BTW, for the actual night of Halloween, I have "HULK SMASH" audio playing really loud. So when the kids come by, I ask the smallest (and scaredest one) kid to tell the Hulk to be "Shut Up". It requires a little prodding, but eventually they will say "Be Quiet Hulk" ... and I, of course, hit the OFF button on my wireless X10 remote in my pocket and 'lo and behold, the Hulk is quiet ... since the speaker's power is toggled off. Always get a great response and that kid then feels pretty good! ;-)
---
Circuit Layout for Halloween 2006


Circuit   X10-Zone   Amps   Lights   Description
Garage        1       1.6      100   Garage lights/RIP's ... non-controllable
Garage        2       7.4    1,900   Garage Icicles, Arch, Mailbox
Panel-1       2       4.2    1,600   Bugville
Window-L      2       0.3       50   Bat in Lower Window
Balcony       3       2.6      400   Bats, Flag, RIP, Hulk light
Panel-2       3       1.4      600   Ghost Outline
Panel-3       4       3.1      900   Ghost Eyeballs, Bubble Lights, Inflatable Witch
Panel-4       4       3.6    1,100   Upper Roof Icicles
Office-1      5       0.5       50   Haunted Office Scarecrow Pumpkins
Panel-5       5       0.5       50   Inflateable Pumpkin
Window-U      5       0.5      100   Upper Window Decorations
Garage        6       1.2      100   

Inflateable FRANKENSTEIN


Office-2      6       0.5        0   Rainier Beer Sign
Garage        7       1.2      100   Inflateable Homer - D'OH!
Office-3      7       0.5       50   Haunted Office Star
TOTALS       15      29.1    7,100   TOTALS

2006 Halloween Decorations Webcam Updates
2006_09_01:
For reference, here is the
halloween 2005 webcam updates
and it should be a blast again in 2006.
2006_09_05: I continue to use Wind Power for my electricity - wonder how many times I'll be asked this year where the windmill is on my property! ;-) What actually happens is you pay an extra surcharge (basically a $1 per 100 KWH) on your electric bill that goes to Colorado wind farms - My electric meter spins pretty fast when my thousands of holiday lights are on, so I hope those windmills can keep up! ;-)
2006_09_09: Since my holiday webcams have been fairly popular over the years, I ante'd up the big bucks for a 3rd (and subsequently 4th) dedicated servers to handle the images. I'm running mod_perl with Apache2 (KeepAlive turned OFF) on Linux (of course), so the whole setup should scale pretty well. One web server will handle the main halloween decorations webcam (and X10 control panel) with a seperate dedicated web server handling image refreshes for each of the three webcams; that's the maximum amount of load balancing I can do for this real-time application. Each web server has a 100 Mbps connection, so the combined throughput is 400 Mbps powered by a total of 11.6 GHz of CPU power with 6 GBytes of RAM - bring on the slashdot effect!
2006_09_15: Here's the outdoor webcam housing that I built last year for the D-Link DSC-6620G wireless webcam I bought. It was fun to use this to watch my stamped concrete patio poured - check out the deck designs. The D-Link DSC-6620G is a nice (and expensive) webcam, but the image quality could be better if I could just have a little more control over the webcam exposure and focus. Any techies out there have any suggestions on how to improve that?
2006_09_16: To amplify what is written above, here's an example of an exposure issue I'm trying to resolve on the D-Link DCS-6620G. This picture is shot with "auto" exposure and is what I have been using. It's a bit too bright and the colors are blown out. I can set the exposure manually, but the the slowest setting is 1/50 second ... which is a bit too dark ... although kinda spooky. So the webcam almost certainly can do slower shutter speeds - just give me a darn option to set it! And playing with the brightness/etc. options doesn't work since this appears to be post-image processing and makes the picture look worse. I've also asked D-Link if there is a way to manually force the auto-focus to ignore those pesky Aspen leaves in the foreground, but still haven't gotten an answer back from 'em on either of those questions - bummer because it would be a nice capability for them to enable that the product already has. Finally, I still wish I knew how to rebroadcast the MPEG4 video feed from the DLINK DCS-6620G webcam rather than my current approach of FTP'ing up JPEG's that are refreshed every few seconds. This is a pretty non-trivial problem, but if any techies (or someone from D-Link) can provide some pointers, pls let me know. BTW, this webcam appears to be made by Vivotek.
2006_09_20: Hope to start deploying the halloween decorations this weekend. Since I buy all my stuff the previous year at the 50-75-90% off sales, (I'm not an eBay'er) it is always fun to dig around in my basement crawl space and see some of the junk stuff I bought.
2006_09_25: While configuring one of my webcams, I noticed that it had reverted back to the default settings. Upon further testing, it became apparent that it would not save changes on a power cycle ... and a funky error message in one of the sub-menu's implied that the Flash Memory had croaked. After spending a few hours on the phone with D-Link (literally between being on hold and getting disconnected several times while being passed around), I finally chatted with some nice folks in their Multi-Media group who agreed it had a serious problem ... so we're doing an exchange.
2006_09_30: I have turned on the halloween blog for those that want to ask questions, make suggestions, or just toss in their two cents.
2006_10_03: Several companies have each donated a $1,000 toward Celiac Disease Research - see the complete list at the top of this page. The total so far this year is $4,350 for a grand total raised so far of over $13,000. One of 'em sent me a giant Homer Simpson inflatable - D'OH! ;-)
2006_10_05: I've switched over to the "new-n-improved" Perl code. I'm obviously not a web designer ... and yea, it's a bit over the top (heh, heh!) ... but I appreciate any thoughts, comments, and/or suggestions on the halloween blog. I have also turned on the webcams - power controls will probably be turned on after I put the Halloween Decorations out this weekend.
2006_10_09: X10 power controls will be turned on tonight - incidentally, the first snow of the season is predicted.
2006_10_10: The paper says "officially" snow was recorded in town - a whoppping 0.1" - I never saw it. As expected, the X10 controls got pounded last night - found a few very minor bugs in the Perl code, but overall very pleased with how it worked. Halloween Blog is getting a bit of traffic - some good comedy over there.
2006_10_12: A number of folks who live overseas begged asked if the webcam could be turned on early, so I did. The lights aren't as impressive as they are at night, but plenty of action on the inflatables ... plus I put some scary looking beer out there.
2006_10_13: Put up the very last of the Halloween Decorations & Lights - 7,000 lights with 4 inflatables, plus The Incredible HULK (!) and uploaded some initial pictures to the main halloween page.
2006_10_18: First real (!) Colorado Snow came down last night - check out the pictures and time-lapse video.
2006_10_23: Dr. Alessio Fasano, Medical Director of the University of Maryland Center for Celiac Research (beneficiary of the Halloween Decorations fund-raising efforts) is selected as entrepreneur of the year for his work toward treatment of Celiac Disease. Here's a picture of me in May/2005 with Dr. Fasano and Operations Director Pam King from their 10th anniversary event. For Christmas/2005, he was quoted in the Washington Post about my controllable holiday lights saying "I took control of everything from here ... I could turn on and off the lights ... he's proving this can definitely be done ... I have to say, hats off to this fella." So now I guess I have the opportunity to say "Hats off to you Dr. Fasano, Pam King, and the rest of the CFCR Staff" for your efforts to find a cure for Celiac Disease - thanks!
2006_10_31: I'd estimate over 200 trick or treaters tonight - was really busy and a ton of fun. I have some time-lapse footage of the evening available at the halloween movies page