SCREENSHOT of Alek's 2007 Controllable Halloween Decorations for Celiac Disease
Use the three halloween webcams to view live images of a buncha halloween decorations & lights and also CONTROL them - heck, you can even inflate (or deflate) the giant Frankenstein & Homer Simpson - D'oh! The webcams run 7x24 and you can turn stuff on & off from 1800 to 2200 MDT (GMT-6). Plus you can send "Instant Messages via Webcam" for everyone to see. Watch lots of trick-or-treating on Halloween night!
---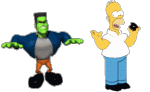 Franken-Homer Cursor: Remove - Tiny - Small - Standard - Big - HULK'in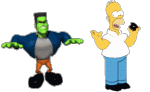 Spooky Halloween Music


---
---
Halloween main page - also includes historical/future stuff
HULK
says
Puny Humans
can add their spooky halloweeny comments now in the
Halloween Blog
While I appreciate the folks who have asked if they can donate/PayPal to cover the costs of the lights and (wind powered!) electricity, I've never asked for donations and don't plan to change that. While it is a bit of work to put up all the Halloween stuff, I do it anyway for the neighborhood kids and the web site is just my way of saying "Happy Halloween" to folks around the world. If you feel compelled to make some sort of donation, my kids have celiac disease so make a donation toward medical research - tell 'em Komar.Org sent 'ya! ;-)
BTW, for the actual night of Halloween, I have "HULK SMASH" audio playing really loud. So when the kids come by, I ask the smallest (and scaredest one) kid to tell the Hulk to be "Shut Up". It requires a little prodding, but eventually they will say "Be Quiet Hulk" ... and I, of course, hit the OFF button on my wireless X10 remote in my pocket and 'lo and behold, the Hulk is quiet ... since the speaker's power is toggled off. Always get a great response and that kid then feels pretty good! ;-)
---
Circuit Layout for Halloween 2007


Circuit   X10-Zone   Amps   Lights   Description
Garage        1       5.6    1,600   Garage Icicles, RIP's down driveway
Office-1      1       0.2        1   Groovy Lava Lamp (toggle to 'activate' head/brain underneath it)
Panel-1       1       1.3      257   Driveway Pumpkins, Bubble Lights, Inflatable Witch
Balcony       2       5.0    1,400   Stuff above garage and SpongeBob SquarePants
Office-1      2       0.2       50   Haunted Office Bat
Panel-2       2       3.0      900   BOO on Front Lawn, Flamingos, Fish, Poo Bears, Ghost
Office-1      3       0.5       50   Haunted Office Skull, Darth Vader Mask
Panel-4       3       7.0    1,800   Upper Roof Icicles, Purple Eyeballs
Garage        4       1.6       52   Inflatable Pumpkin, lighted Alien & Frankenstein
Office-1      4       0.2        3   Pumpkin Candles, Hulk Lamp
Panel-5       4       0.5       50   Inflatable Pumpkin on lawn
Window-U      4       0.6      150   Upper Window Decorations
Garage        5       0.8      200   ON, 

Inflatable FRANKENSTEIN


Office-1      5       0.2      100   Blue LED Rope Light on Skeleton
Garage        6       2.0      400   OFF, Inflatable Homer - D'OH!
Office-1      6       0.2        1   Rainier Beer Sign
TOTALS       16      28.9    7,014   TOTALS

2007 Halloween Decorations Webcam Updates
2007_09_01:
For reference, here is the
halloween 2006 webcam updates
and it should be a blast again in 2007. I've re-enabled commenting on the
Halloween Blog
which has more extensive play-by-play than the summary here.
2007_09_02: As noted at the top of the page, the Controllable Halloween Decorations for Celiac Disease raises awareness and encourages people who enjoy the light show to donate to the University of Maryland. My two kids have Celiac so this is personal for me. Read more here and consider adding to the over $17,000 raised so far.
2007_09_03: My neighbors have already put out their Halloween Decorations as can be seen in this webcam closeup - WOW!
2007_09_05: I continue to use Wind Power for my electricity - wonder how many times I'll be asked this year where the windmill is on my property! ;-) What actually happens is you pay an extra surcharge (about $1 per 100 KWH) on your electric bill which goes to Colorado wind farms. My electric meter spins pretty fast when my thousands of holiday lights are on, so I hope those windmills can keep up! ;-) Along those lines, the holiday display is again carbon neutral (Al Gore would be proud!) as I will make a donation to cover twice the estimated 2 MegaWatt-Hours of electricity that will be used.
2007_09_08: At a garage sale this morning, I picked up these giant inflatable Colorado Rockies Baseballs - they were actually commissioned/used by the team. Debating how to work those into the holiday display.
2007_09_15: I'm going to try to get another year out of the D-Link DCS6620G wireless webcams. There are a few more hot pixels on 'em ... plus one has a broken gear tooth, so I can't do vertical panning unless I move it manually - that will be in the office. The D-Link DSC-6620G is a nice (not cheap) webcam, but the image quality could be better if I could just have a little more control over the webcam exposure and focus - here's a summary of the D-Link issues. Any techies out there have any suggestions on how to improve that?
2007_09_17: My holiday webcams have been fairly popular over the years, so for the geeks out there, the configuration this year is three dedicated servers running Linux/Apache2/mod_perl. One web server will handle the main halloween decorations webcam (and X10 control panel) with the other two web servers handling image refreshes for each of the three webcams. Yea, for maximum load balancing of this real-time application I could add one more server. Each web server has a 100 Mbps connection, so the combined throughput is 300 Mbps powered by a total of 8.8 GHz of CPU power with 5 GBytes of RAM - bring on the slashdot effect!
2007_09_21: Have had a couple of neighbors ask "so what are you going to do this year Alek?" ... and one says her kids are wondering when the Hulk is doing to show up at the "crazy house." I told 'em in a week or so ...
2007_09_27: Put up first strand of lights on the roof - watch the scary halloween movie ... and more halloween decorations will be going up in the next few days.
2007_10_05: Turned on the webcams and X10 controls yesterday and as expected, there were a couple of misc. teething issues the first few days. The X10 Super Socket on Zone-4 blew out ... so I'll have to replace that. Looks like the Fan Blower on the Skull stopped working - will check tomorrow. A coding error wiped out the IM logs for the first two days - added better error checking along with several other very minor coding fixes. Overall, this is by far the smoothest start to the holiday season I've had. And oh yeah, I still need to put up more lights before the cold, rainy weather comes on Sunday.
2007_10_08: Fan Blower on Skull was unfixable, so Christmas Elmo donated his and after some Open-Fan Transplant Surgery the Skull is back in action ... and it's a stronger fan too! Gusty winds on Saturday knocked down two of the witches on the balcony and I need to fix/add a few other things (most notably the Haunted Office), but overall, halloween 2007 is looking good!
2007_10_14: Finished up the Haunted Office which ended up looking just a bit spooky! Had some rainy weather over the weekend - webcam2 view - so this caused the main garage GFI to trip several times ... but otherwise, the whole system continues to work pretty smoothly. Have had several charity donations, so the total raised for Celiac Disease Research is now over $18,000.
2007_10_18: Updated the halloween maps page with data from the first half of the month - web surfers from 78 countries have come by so far. Got some pictures of some "neighborhood stalkers" who come by every day - 1 and 2. Had to do minor fixing of Frankenstein ... and UPS should deliver the HULK'in SURPRISE today - heh, heh! ;-)
2007_10_21: A cold front moved in and the first sprinkling of snow showed up this morning. More importantly, Hulk's "long-lost twin brother" showed up (via UPS) and there are two of 'em on the balcony now - Whole house picture and closeup of the Hulk brothers! ;-)
2007_10_28: My hometown baseball team, the Colorado Rockies, made the World Series. Unfortunately, they got swept in four straight games by the Boston Red Sox. Even despite having the monster baseballs out in the front yard for good luck - darn! ;-)



©2002-2007 www.komar.org