SCREENSHOT of Alek's 2012 Controllable Halloween Decorations for Celiac Disease
Use the three halloween webcams for a live view of a buncha halloween decorations & lights and also CONTROL them - heck, you can even inflate or deflate the giant Frankenstein & Homer Simpson - D'OH! All three webcams are online from 1800 to 2200 MDT (GMT-6) which is when you can turn stuff on & off and "entertain" the neighbors. Plus send "Instant Messages via Webcam" for all to see. Watch for trick-or-treaters Halloween night!
---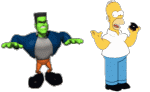 Franken-Homer Cursor: Remove - Tiny - Small - Normal - Big - HULK'in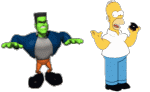 Spooky Halloween Music


---
---
Halloween main page - also includes historical/future stuff
HULK
says
Puny Humans
can add their spooky halloweeny comments in the
Halloween Blog
While I appreciate the folks who have asked if they can donate/PayPal to cover the costs of the lights and (wind powered!) electricity, I've never asked for donations and don't plan to change that. It is a bit of work to put up all the Halloween stuff, but I enjoy doing it for the neighborhood kids and the web site is just my way of saying "Happy Halloween" and "Merry Christmas" to folks around the world. If you feel compelled to make some sort of donation, my kids have celiac disease so make a donation toward medical research - tell 'em Komar.Org sent 'ya! ;-)
BTW, for the actual night of Halloween, I have "HULK SMASH" audio playing really loud. So when the kids come by, I ask the smallest (and scare'dest one) kid to tell the Hulk to "Shut Up". It requires a little prodding, but eventually they will say "Be Quiet Hulk" ... and I, of course, hit the OFF button on my wireless X10 remote in my pocket and 'lo and behold, the Hulk is quiet ... since the speaker's power is toggled off. Always get a great response and that kid then feels pretty good! ;-)
---
Circuit Layout & Electrical Analysis for Halloween 2012


Circuit   X10-Zone   Amps   Lights   Description
1-Balcony     1       0.8      300   Upper Roof Icicles and Purple Orb
1-Garage-E    1       6.0    2,500   Garage Icicles, Driveway RIP's & Graves, Lighted Arch
1-Panel-1     1       7.7    2,200   Upper Roof Icicles, Purple Orb, Snapping Spider, Pooh & Bubble Lights, Pumpkin Jack
2-Balcony     2       1.7      400   Bloody Hands, Pirates, Skulls, Witch, Hulk Light
2-Garage-E    2       1.3      600   Driveway Orange Rope Lights, BOO
2-Panel-2     2       2.8      600   Inflatable Grim Reaper on Motorcycle, Witches, Bats, Purple Rope Light, Candy Canes
3-Balcony     3       1.7      400   Roof Pumpkins and Frankenstein, Balcony "Opera" Pumpkins, SpongeBob SquarePants
3-Panel-3     3       1.6      350   Giant Inflatable Pumpkin and Pumpkin Patch ... plus USA Flag!
3-Window-U    3       0.7      350   Upper Window Decorations
4-Balcony     4       1.5      400   Blue Rope Light around Balcony Skulls, RIP, Spider
4-Garage-W    4       0.8      100   Lighted Alien, Inflatable Headless Horseman
4-Panel-4     4       1.0      300   Inflatable Giant Green Skull and Lighted Skulls
5-Balcony     5       1.0      300   Railing Decorations and Skulls Light
5-Garage-W    5       0.9      100   

Lighted & Inflatable FRANKENSTEIN


5-Panel-4     5       0.7      300   ON
6-Garage-W    6       0.9      100   LED Skeleton, Inflatable Homer Simpson - D'OH!
6-Panel-4     6       1.1      400   OFF
7-Office      *       1.1      300   Various stuff in the Haunted Office!   ;-)
                                        1:Brain Dude/Disco Ball   2:Rainier Beer Sign    3:Smilin' Pumpkin
                                        4:

Groovy Lava Lamp

        5:Skull/Hulk Lamp      6:Light-Up/3-D Cube
TOTALS       18      33.3   10,000   TOTALS

A question often asked is how much does it cost to light the holiday display - the electrical meter does spin a bit faster. That's easy to calculate - with all 10,000 lights ON, the current draw is 33.3 amps. Multiply by 120 Volts and divide by 1,000 to get 3.9 KiloWatts. The electricity cost in Colorado is about 10 cents per KiloWatt-Hour, so to run the display continuously for an hour, it costs 39 cents/hour - not much!
But remember that Internet Surfers are turning the lights on & off
... so divide that by two and then multiply by the 4 hours/day it's active, and the electricty costs 78 cents per day. Multiply that by 31 days and for $24, a whole month of holiday fun is provided to people around the world ... plus some awareness and thousands of dollars in donations for Celiac Disease Research!
2012 Halloween Decorations Webcam Updates
2012_09_20:
As noted at the top of the page, the
Controllable Halloween Decorations for Celiac Disease
raises awareness and encourages people who enjoy the light show to donate to the University of Maryland. My two kids have Celiac so this is personal for me.
Read more here and consider adding to the over $70,000 raised so far.
For reference, here is the
halloween 2011 webcam updates.
2012_09_25: I'm trying to get some upgraded webcams for the display this year (wish me luck) and hope to have everything online by mid-October. And remember that since this is an election year, we'll be having "voting" for your favorite candidate - Obama, Romney, or HULK for President - support the Green Party Candidate who almost won in 2008! ;-)
2012_09_28: Commenting is turned on for the Halloween Blog.
2012_10_07: For years, I've been using servers from Softlayer, the largest privately owned hosting company in the world ... and thanks to their help, the Controllable Halloween Decorations & Christmas Lights for Celiac Disease are now running on newer/faster hardware to enhance the experience for web surfers around the world. To summarize, they offer kick-a** servers, network, and customer support ... plus are some great people to work with - highly recommended!
2012_10_13: While I don't have everything setup yet, I turned on the webcams and X10 controls tonight. It's a good way to get the "rust" out of the system and "exercise" the code. There were very few hiccups ... and most of the work was spent addressing stuff for the election voting, since that last happened 4 years ago. I detected some ballot stuffing in 2008 ... and since I now have better analysis tools to determine PRO/CON bias, it's perhaps not surprising that I again saw ballot stuffing in 2012! ;-
2012_10_17: Pretty much everything is setup and working. One minor annoying thing is Hulk #1 has a small leak in his head at the right ear seam ... and I haven't been able to get a good patch. So while I can pump it back up each evening, he looks like he is falling asleep several hours later - D'OH!
2012_10_21: The fine folks at IQinVision were nice enough to send me a loaner network camera for the holiday season ... so I swapped out webcam #3 in the Haunted Office. Check out the higher image quality in Blog post #105 - OH YEAH! ;-)
2012_10_23: The great X10 products and fantastic customer support from JV Digital Engineering have been a great help. I recently got an XTBM Signal Analyzer which has allowed me to figure out where my signal-suckers and noise emitters are and then apply an XPPF filter on one particular area. The XTB-IIR/III X10 signal booster ensures a powerful signal goes to all X10 modules so that when Internet surfers clicks ON/OFF, that happens reliably. If you are an X10 user, I strongly encourage you check out JV Digital Engineering - Jeff Volp makes some great products (the craftsmanship is exquisite) and is a genuine pleasure to work with.
2012_10_26: It has been a warm and sunny October ... but we finally got our first couple inches of snow. After a day or two of cold weather, it should warm right back up so will be great weather for trick-or-treating on Halloween.
2012_10_30: The weather forecast for Halloween night is sunny and 70°F ... so should see quite a few trick-or-treaters. I have hundreds of pieces of candy for the little kids and quite a few liquid refreshments for the "big" kids - hopefully this will be enough! ;-)
2012_10_31: It was sunny and 70°F today with zero wind, so perfect night for trick-or-treaters. I'd estimate about 150 people came by, and fortunately I had enough candy for the kids and libations for the adults. As typical, lots of people watching online - screenshot here - and you can relive the entire evening in one minute time-lapse videos from the webcams on the Halloween Movies page. Fun for everyone and especially me seeing all the smiles.
2012_11_01: I shut down the X10 controls/display after allowing one final day of "voting" for the Presidential contest between Obama, Romney, and the HULK. It was very close ... with quite a bit of ballot stuffing. Fortunately, the Perl scripts were able to detect this ... and after manual verification, those votes were invalidated. In 2008, Obama won with 21,966 votes ... followed by McCain with 21,821 and HULK with 21,692. For 2012, it looks like we are sending a Big Green Monster to the White House as the final tally was:
16,161 - HULK
15,373 - Romney
15,345 - Obama
Congratulations to the Green Party Candidate and I'm sure he'll do a SMASHING job! ;-)
2012_11_02: The display was taken down as (famous last words) I made it through another year without falling off the roof. If you missed the takedown action, here the timelapse videos via webcam 1 and 2.



© 2002-2012 www.komar.org - Author: Alek Komarnitsky