SCREENSHOT of Alek's 2008 Controllable Halloween Decorations for Celiac Disease
Use the three halloween webcams to view live images of a buncha halloween decorations & lights and also CONTROL them - heck, you can even inflate (or deflate) the giant Frankenstein & Homer Simpson - D'oh! All three webcams are online from 1800 to 2200 MDT (GMT-6) which is when you can turn stuff on & off and "entertain" the neighbors. Plus send "Instant Messages via Webcam" for all to see. Watch lots of trick-or-treating on Halloween night!
Since 2008 is an election year, you can cast your vote for Obama, McCain, or THE HULK for President - support the Green Party Candidate!
---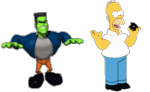 Franken-Homer Cursor: Remove - Tiny - Small - Normal - Big - HULK'in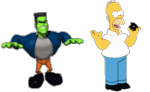 Spooky Halloween Music


---
---
Halloween main page - also includes historical/future stuff
HULK
says
Puny Humans
can add their spooky halloweeny comments in the
Halloween Blog
While I appreciate the folks who have asked if they can donate/PayPal to cover the costs of the lights and (wind powered!) electricity, I've never asked for donations and don't plan to change that. While it is a bit of work to put up all the Halloween stuff, I do it anyway for the neighborhood kids and the web site is just my way of saying "Happy Halloween" and "Merry Christmas" to folks around the world. If you feel compelled to make some sort of donation, my kids have celiac disease so make a donation toward medical research - tell 'em Komar.Org sent 'ya! ;-)
BTW, for the actual night of Halloween, I have "HULK SMASH" audio playing really loud. So when the kids come by, I ask the smallest (and scaredest one) kid to tell the Hulk to be "Shut Up". It requires a little prodding, but eventually they will say "Be Quiet Hulk" ... and I, of course, hit the OFF button on my wireless X10 remote in my pocket and 'lo and behold, the Hulk is quiet ... since the speaker's power is toggled off. Always get a great response and that kid then feels pretty good! ;-)
---
Circuit Layout & Electrical Analysis for Halloween 2008


Circuit   X10-Zone   Amps   Lights   Description
Garage        1       2.7    1,400   Garage LED Icicles, RIP's down driveway, Green Rope Light
Balcony       2       1.8      707   Blue & Green Rope Light, RIPs, TIGGER!
Panel-2       2       0.8      300   Inflatable Witch, Purple Rope Light
Panel-3       3       8.5    2,014   Upper Roof Icicles, Purple Eyeballs, Inflatable Pumpkins
Balcony       4       4.1    1,214   RWB Rope Light, Flag, Hulk Light, Roof Pumpkins, Stuff above Garage
Garage        4       1.2      107   Inflatable Grim Reaper
Panel-4       4       0.9        7   Inflatable Grim Reaper on Motorcycle
Window-U      4       0.7      250   Upper Window Decorations
Balcony       5       0.5      200   ON
Garage        5       0.8      107   

Inflatable FRANKENSTEIN


Panel-1       5       3.3    1,407   Inflatable Skull, Red, White and Blue BOO
Balcony       6       1.2      400   OFF
Garage        6       0.8      107   Inflatable Homer Simpson - D'OH!
Panel-1       6       1.8      815   Green Minis, Flashing Icicles, POO and Warner Brothers Lights
Office        *       1.0       58   Various stuff in the Haunted Office!   ;-)
                                        1:

Groovy Lava Lamp

     2:Witch Light       3:Pumpkins
                                        4:Exposed Brain Dude   5:Hulk Lamp/Skull   6:Rainier Beer Sign
TOTALS       15      30.1    9,093   TOTALS

A question I'm often asked is how much does it cost to light the holiday display - the electrical meter does spin a bit faster. That's easy to calculate - with all 9,093 lights ON, the current draw is 30.1 amps. Multiply by 120 Volts and divide by 1,000 to get 3.6 KiloWatts. The approximate cost of electricity in Colorado is 10 cents per KiloWatt-Hour ... so to run the display continuously for an hour, it costs 36 cents/hour - not much!
But remember that Internet Surfers are turning the lights on & off
... so divde that by two and then multiply by the 4 hours/day it's active, and the electricty costs 72 cents per day. Multiply that by 31 days and for $22, a whole month of holiday fun is provided to people around the world ... plus some awareness and thousands of dollars in donations for Celiac Disease Research!
2008 Halloween Decorations Webcam Updates
2008_09_02:
For reference, here is the
halloween 2007 webcam updates
and it should be a blast again in 2008. I've re-enabled commenting on the
Halloween Blog
which has more extensive play-by-play than the summary here. Note that since this is an election year, we'll be having
"voting"
for your favorite candidate - Obama, McCain, or
HULK for President
- support the Green Party Candidate! ;-)
2008_09_05: As noted at the top of the page, the Controllable Halloween Decorations for Celiac Disease raises awareness and encourages people who enjoy the light show to donate to the University of Maryland. My two kids have Celiac so this is personal for me. Read more here and consider adding to the over $25,000 raised so far.
2008_09_10: I continue to use Wind Power for my electricity - wonder how many times I'll be asked this year where the windmill is on my property! ;-) What actually happens is you pay an extra surcharge (about $1 per 100 KWH) on your electric bill which goes to Colorado wind farms. My electric meter spins pretty fast when my thousands of holiday lights are on, so I hope those windmills can keep up! ;-) Along those lines, the holiday display will again be carbon neutral (Al Gore would be proud!) as I will make a donation to cover twice the estimated 2 MegaWatt-Hours of electricity that will be used.
2008_09_15: A spectaculer full moonset over the Colorado Rockies this morning!
2008_09_17: My holiday webcams have been fairly popular over the years, so for the geeks out there, the configuration this year is again three dedicated servers running Linux/Apache2/mod_perl. One web server will handle the main halloween decorations webcam (and X10 control panel) with the other two web servers handling image refreshes for each of the three webcams. Yea, for maximum load balancing of this real-time application I could add one more server. Each web server has a 100 Mbps connection, so the combined throughput is 300 Mbps powered by a total of 8.8 GHz of CPU power with 5 GBytes of RAM - bring on the slashdot effect!
2008_09_21: One neighbor said her kids are wondering when the "stuff" is going to show up - here's a picture of 'em last year in a double stroller with Homer and Frankenstein. I replied that I'm hoping to have things ready by October 1st.
2008_09_23: In the past, I've had webcam1 for halloween installed next to my driveway, but I'm going to see how well it works across the street at my neighbor's house. This is how it is setup for Christmas, but the Aspen leaves haven't dropped yet, so the view will be slightly obscured. But it's a much better location with a great view of the ON/OFF on the roof. Along those lines, I'll try to get yet another year out of the D-Link DCS6620G wireless webcams. Webcam2 has few more hot pixels on it and webcam3 has a broken gear tooth, so I can't do vertical panning unless I move it manually, but it can just be in the Haunted Office. The D-Link DSC-6620G is a nice (not cheap) webcam, but the image quality could be better if I could just have a little more control over the webcam exposure and focus - here's a summary of the D-Link issues. Any techies out there have any suggestions on how to improve that?
2008_09_25: I've put up the Skulls visible on webcam2 and installed the first strand of lights - the upper roof icicles ... and will be adding some animated time-lapse footage to the scary halloween movie page for those that are interested. More halloween decorations will be going up in the next few days. While up on the roof, one long-time neighbor walked by and said "way to go Alek, our kids look forward to your halloween display every year and we are counting on 'ya!"
2008_09_30: With lots of help from my two sons, about half of the halloween decorations have been deployed so far including some of the inflatables such as Frankenstein, the Grim Reaper, and Homer Simpson. Some neighbors were walking by and said "good job Alek" and raised their hands up in the air just like like Homer does - D'OH! ;-) I turned on the entire system tonight and it worked quite well as Internet surfers had fun with it and shook out a few minor bugs that were easy to fix - overall, a very smooth start for the Holiday season.
2008_10_07: Most of the outside halloween decorating is now done along with the Haunted Office ... which includes Heads-Up Harry who is a big hit with Internet Surfers - quite frightening! ;-)
2008_10_13: When I did "presidential voting" in 2004, a Kerry-Bot came by and tried to electronically stuff the ballot. Wellll, an Obama-Bot came by tonight and voted for the Democratic nominee 1,163 times (in 25 minutes) - at least they also cast 277 votes for the Hulk, but only 1 for McCain. Ironically, this IP address was from Alberta, Canada. So I have invalidated those votes except for one ... which was for McCain - D'OH! ;-) So far, 6,716 votes have been cast for Obama, 7,484 for McCain, and 6,433 for the Hulk (daily voting data) - the Green Party Candidate needs to start making a SMASHING comeback!
2008_10_19: Further auditing of the voting records show that several McCain-Bot's have come by to electronically stuff the ballot for their candidate and I've tossed those votes. There has been a resurgence for the Green Party Candidate, and with two weeks and two days to go, the HULK has taken the lead in the close race with 11,923 votes versus McCain at 11,649 and Obama at 11,404. The technology behind the controllable halloween decorations continue to operate well with few hiccups - most annoying one is that the Grim Reaper has trouble standing tall upon being inflated. I've updated the halloween maps page with the list of 88 countries that have checked out the display.
2008_10_26: So a nice guy in nearby Erie, Colorado was selling his old Dell Latitude 3800 on Craigslist ... and the 750 MHz Pentium III with 512 MBytes of RAM was preloaded with Ubuntu 8.04. So that is now being used for the Halloween Instant Text Messages which are simply displayed using Firefox 3.0.3 and the ReloadEvery extension. Also hooked up to the laptop's serial port is an X10 Firecracker interface that sends the on/off commands to the lights & decorations.
2008_10_28: With a week to go before the election, Obama has 15,489 votes, McCain has 15,480, and Hulk has 15,481 - WOW - it doesn't get much closer than that! I continue to see electronic vote stuffing and have been invalidating those that are excessive; my guess is we'll probably see more of those until the November 4th election. And with all those lights turning on & off thousands of times, it's not surprising that an X10 Super Socket blew - listen to that here along with my explanation.
2008_10_30: The weather prediction for tomorrow night is the warmest Halloween on record ... so expect a LOT of trick-or-treaters along with many web surfers from around the world. And don't forget to vote as it is still incredibly close with the Hulk now in a narrow lead with 17,534 votes, Obama with 17,525, and McCain with 17.516.