Halloween & Christmas Pictures
Webcams were initially cool like free aerial pictures, but folks rapidly realized that it wasn't really that interesting to do stuff like watching grass grow or watching paint dry. The Halloween decorations webcam and Christmas lights webcam (even with bazillions of lights) are no exception, but every once in a while, they captured some "interesting" stuff that might be classified as cool pictures ... above and beyond just cars driving by, people gawking at the pictures of christmas lights, etc. Plus there are a number of funny christmas lights pictures and there is also a collection of halloween pictures.
2002 christmas pictures: First year for webcam/webcontrol - includes Alek guessing sex of unborn child on webcam, Rescue Hero toys, Snowman vandelization, real-time Rock Papers Scissors Roshambo Contest and more!


2003 Halloween pictures: Aurora Borealias, Jamestown fire, the Hulk, and more cool pictures!
2003 christmas pictures: Not many cool pictures here, but I did add an animated-GIF showing the Slashdot Affect.


2004 Halloween Pictures: Ghost kid, pesky varmit chews through some wires, and other misc.
2004 Christmas Pictures: Hulk reading USA Today, more Roshambo, and other misc. pictures of christmas lights.


2005 Halloween Pictures: Frankenstein, Wasps, Margaritas, and more.
2005 Christmas Pictures: Giant inflatable Frosty and Santa and three webcams!


2006 Halloween Pictures: Homer Simpson - 'nuff said - D'OH!!!
2006 Christmas Pictures: More inflatables, more lights, more everything!


2007 Halloween Pictures: SpongeBob SquarePants - yea, baby!
2007 Christmas Pictures: More inflatables, more lights, more everything!


2008 Halloween Pictures: Grim Reaper ... on a Motorcycle!
2008 Christmas Pictures: Lots of pics, plus TV coverage of the Christmas KFC Win!


2009 Halloween Pictures: Headless Horseman rides!
2009 Christmas Pictures: SpongeBobSquarePants stops by


2010 Halloween Pictures: No display due to personal reasons
2010 Christmas Pictures: Monster Santa Balloon lands in the display


2011 Halloween Pictures: Back with full spooky power after a year off! ;-)
2011 Christmas Pictures: Added anoher Homer-Santa


2012 Christmas Pictures: Santa's Workshop gets a hi-def webcam


2013 Halloween Pictures: Same Spooky Stuff!
2013 Christmas Pictures: Red Baron Snoopy and another SpongeBob! ;-)


2014 Halloween Pictures: Last Year ... :-(
2014 Christmas Pictures: Last Year ... :-(
Halloween is a ton of fun and a good warm up for Christmas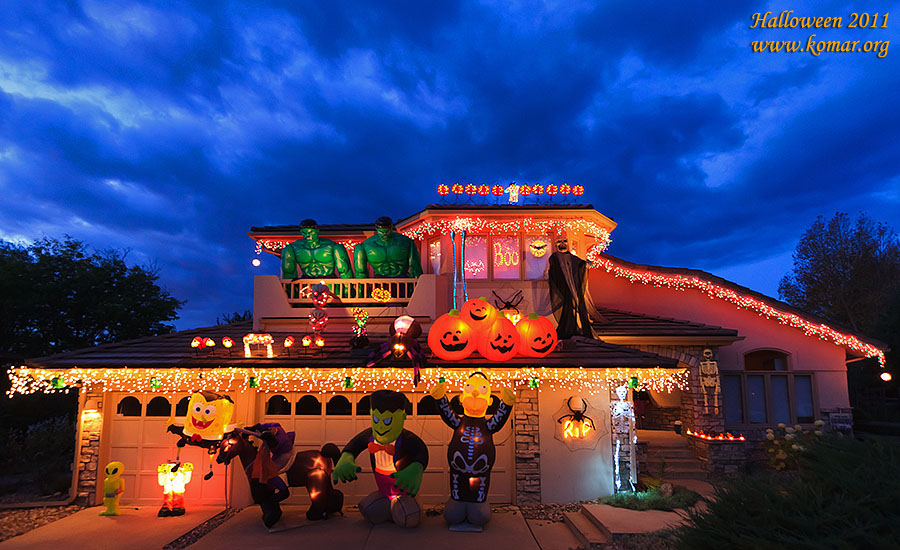 Full-on Inflatable Fun for Christmas ... HO-HO-HO!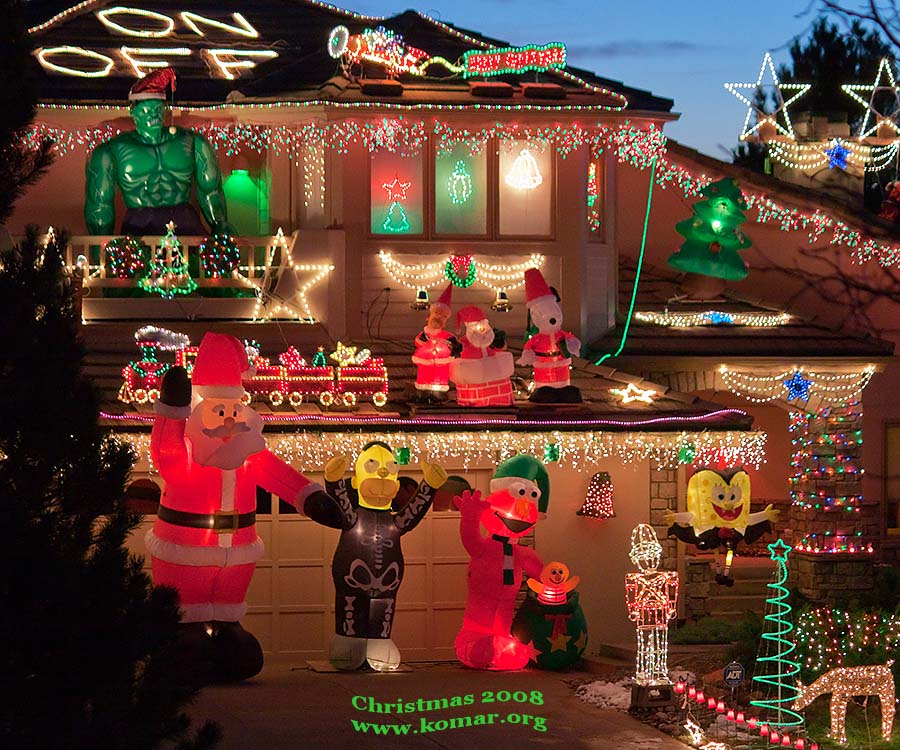 Webcam2 view of the Christmas Lights in the Front Yard - Mouse Over for no snow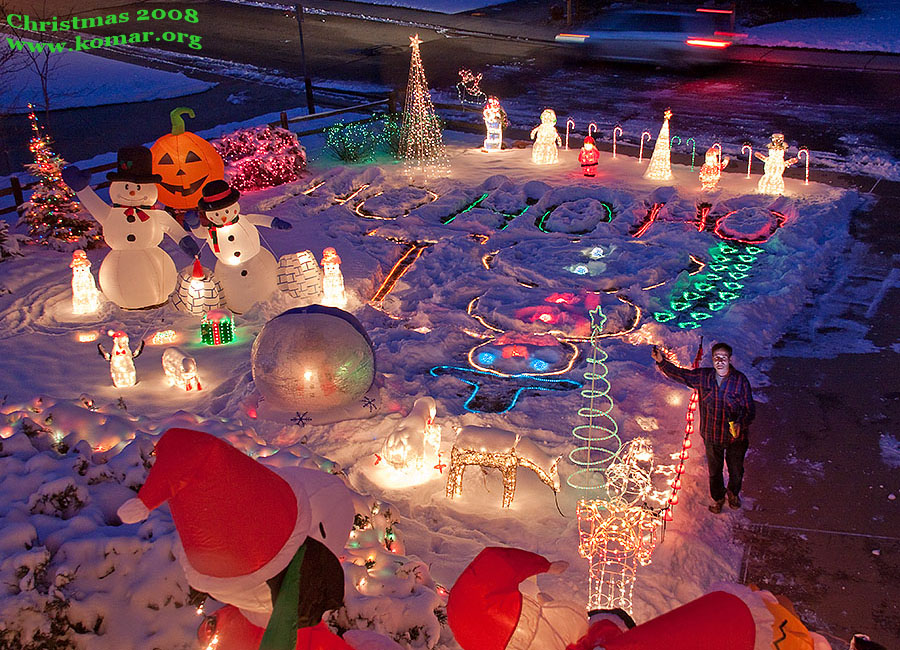 Webcam3 looks into Santa's Workshop ... with the Chief Christmas Lights Elf! ;-)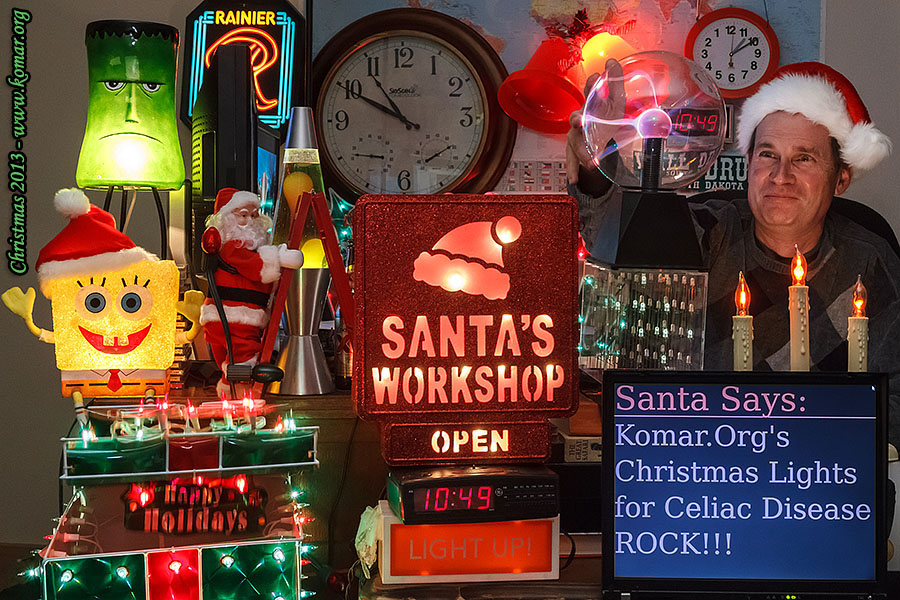 More cool pictures from my Halloween stuff and Christmas stuff. And if you want something to listen to while checking all this out, here is some free halloween music and free christmas music.